This website is made possible by readers. I may earn a small commission when you buy through the links in this article at no extra cost to you. Learn more.
Overview
I reviewed the Tropical Sunday Champagne Brunch that comes with free-flow champagne in late May. Starting from $223 and up, this is one of the most luxurious (ly-priced) buffets you can find in Singapore. Is it worth it? I'll find out.
Who is Alvin Leung?
Chef Alvin Leung, also known as the "Demon Chef", is a renowned and influential figure in the culinary world. Born in London, raised in Canada, and now based in Hong Kong, Leung has made a significant impact with his unique approach to cooking.
He gained international recognition for his two-Michelin-starred restaurant Bo Innovation, which showcases his distinctive style of "X-treme Chinese cuisine" which Alvin defines as in x-perience, x-citing, and x-factor.
Leung's culinary philosophy revolves around pushing boundaries, challenging traditional culinary norms, and incorporating elements of molecular gastronomy into Chinese cuisine. His dishes often feature unexpected combinations, innovative techniques, and a bold fusion of flavors.
While I have no doubt that he brings out his philosophy at his Michelin-starred restaurant, but does it translate to a buffet setting? Unlikely, as Leung's intention with 15 Stamford Road is evident – to provide straightforward and comforting Asian-inspired dishes, free from the elaborate molecular techniques for which his renowned Bo Innovation in Hong Kong is celebrated..
But is it worth in when the x-factor that Leung's dishes are known for is stripped away? I'll find out.
Unless you are staying at the hotel, most of you would be heading down in a Grab or by public transport since you are likely to have copious amount of alcohol.
I took a train down the City Hall and going up the escalator immediately after the gantry and exiting on the doors on the left, you should see The Capitol Kempinski Hotel building. Entering the building will lead you through the arcade, where the restaurant is tucked away on the other end.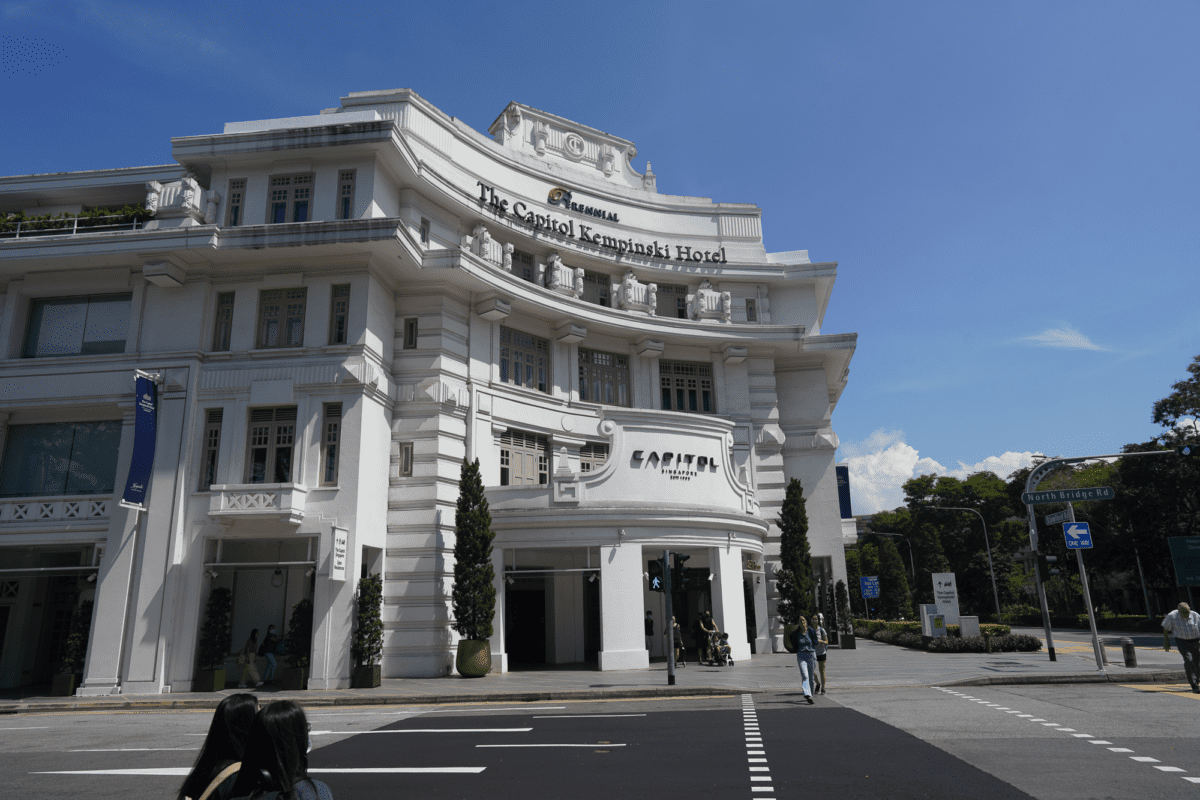 While the hotel driveway and lobby are fairly quiet save for the coming and going of guests. While I immediately spotted the restaurant's entrance, I was a little early and headed into the hotel lobby to take a seat.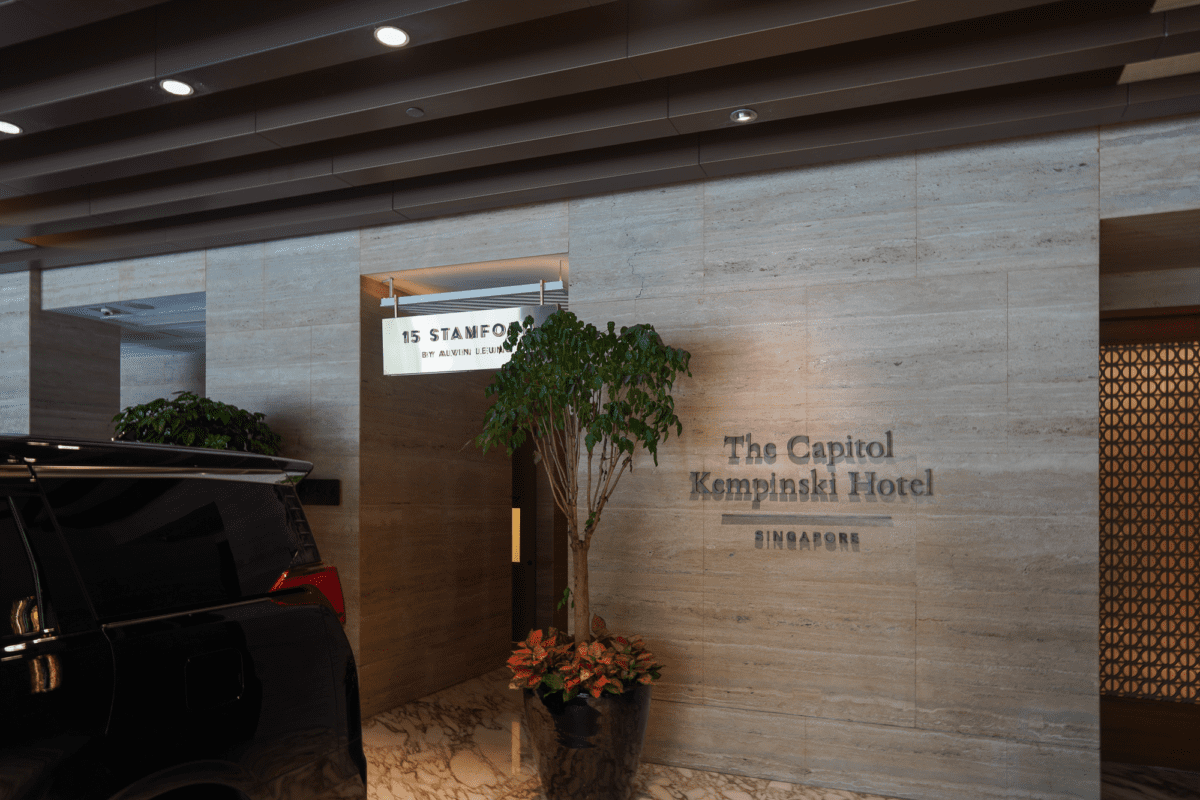 I noted that there was no way to enter the restaurant directly from the hotel lobby. Since I didn't want to waste any buffet time, I decided to go back out and head into the restaurant to ask if I could take photos before the buffet starts at 12.
But no one likes ads, so I got rid of them. If my articles helped you, I ask for your support so I can continue to provide unbiased reviews and recommendations. Every cent donated through Patreon will go into improving the quality of this site.
As soon as I stepped inside, I found myself thoroughly impressed by the retail area. The ambiance was elevated by the presence of warm oak accents and elegant marble finishes, creating a sophisticated backdrop for the exquisite chocolates and brandies on display. The attention to detail was impeccable, as these products were showcased with the utmost care and presented in a manner that mirrored the reverence bestowed upon fine jewelry.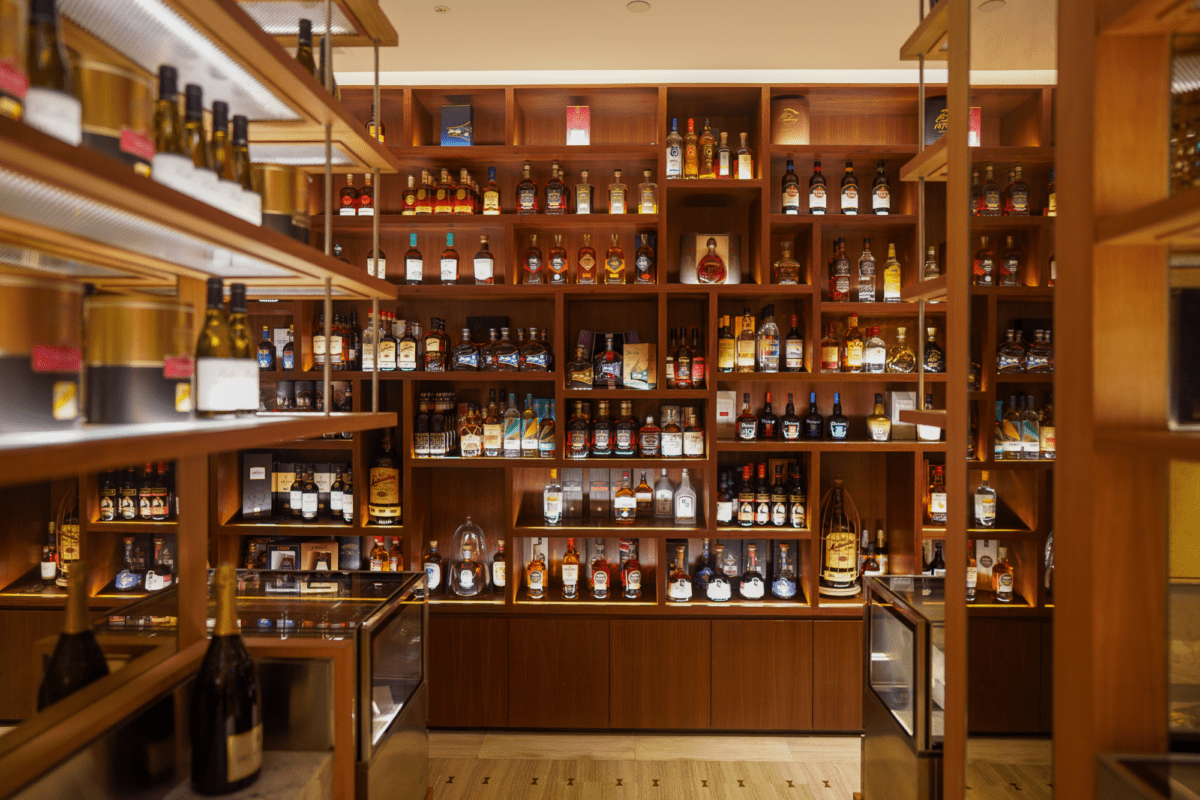 It was 30 minutes before the start of the buffet, so I didn't mind at all when they said they were unable to allow me to take photos earlier as they were still preparing. They did usher me to a lounge area, strategically positioned in front of the exquisite bar. I observed the orchestration of the buffet going on as my company increased with my fellow early birds.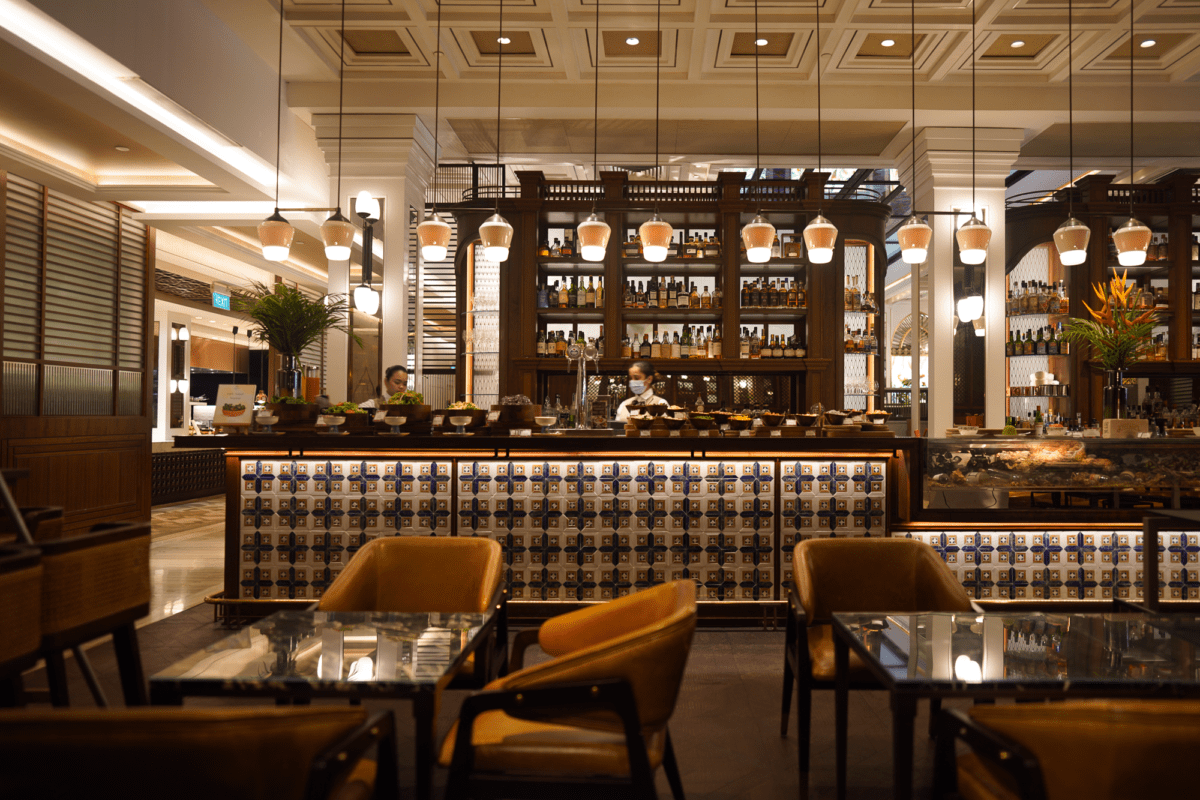 When the time came, I was guided into the main dining area with a simple yet thoughtful explanation of each section.
Ambience
The interior design of 15 Stamford was designed by design firm AvroKO who pulled influences from the beautiful colonial building it's house in. It reflects the neo-classical style popularized by R.A.J Biwell, the key architect of the time and the same architect who was behind the iconic Raffles Hotel. Distinct Southeast Asian accents have been masterfully blended in for a unique design that is beautiful and timeless.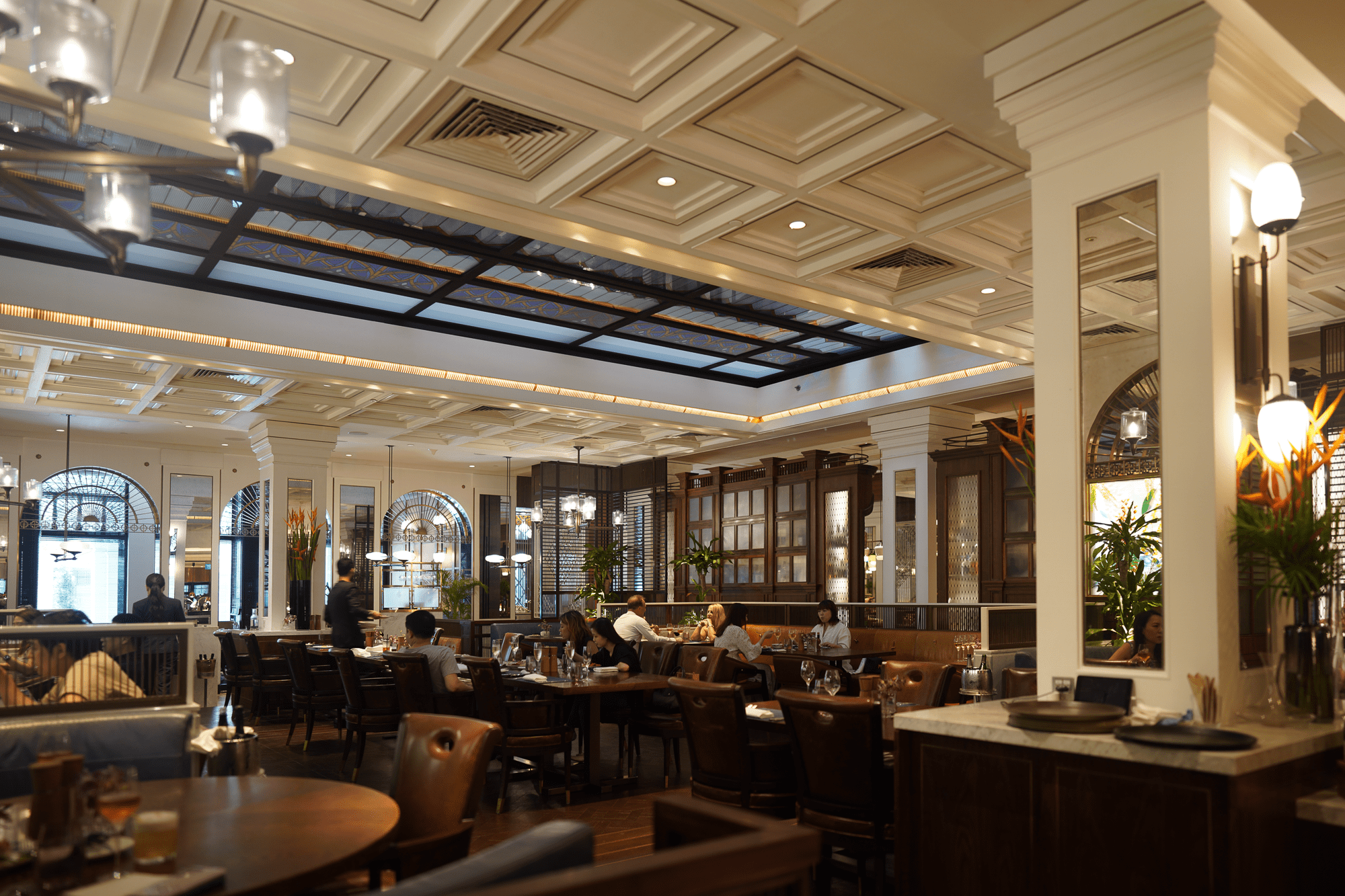 What immediately jumped out at me was the contrast of classic European colonial detailing and Asian details that felt somehow familiar. Select Chinese ornaments such as antiques and vases add flavor and color, but it's the custom-made plates and beautifully illustrated signs by each station that really shows the attention to details.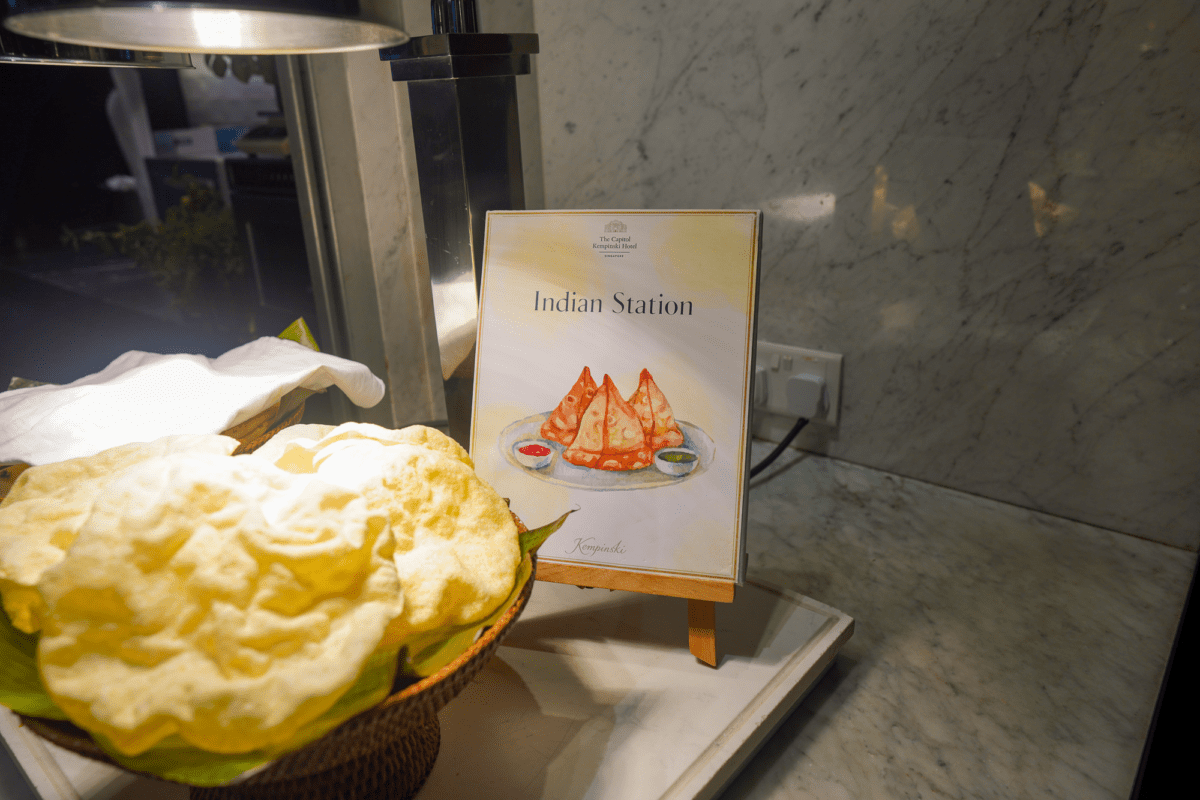 This modern space is one of the most beautiful I've seen and it is a perfect place if you want to impress a date.
Alcohol (and Price)
A 200+ price tag would certainly be questionable if not for the free-flow champagne. Apart from the four tiers of champagne, the free-flow extends to cocktails and beers on the menu.
I was a little disappointed to find that the craft beers were not on tap, but they poured it out into a glass when served and I could not tell the difference.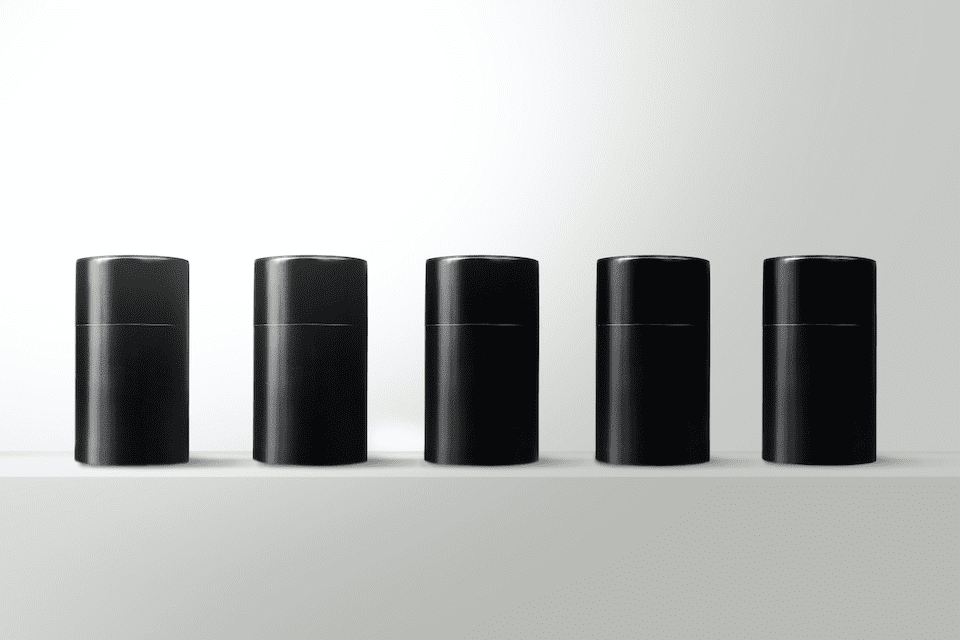 I found a 100 year old company that would create these heirloom quality canisters for me. They are handmade and will keep your tea leaves, coffee beans or anything that you need dry for years to come.
or read review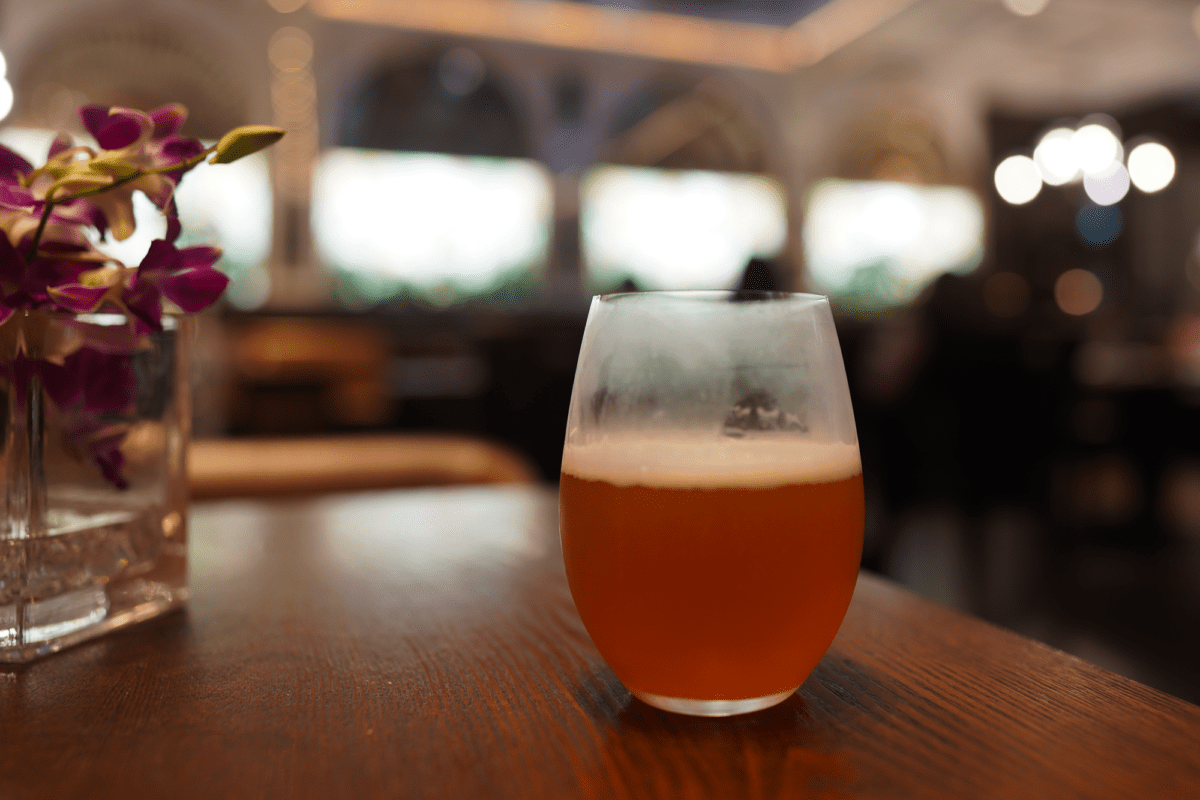 I also tried an Old Fashioned but the alcohol was so overpowering that I could not finish.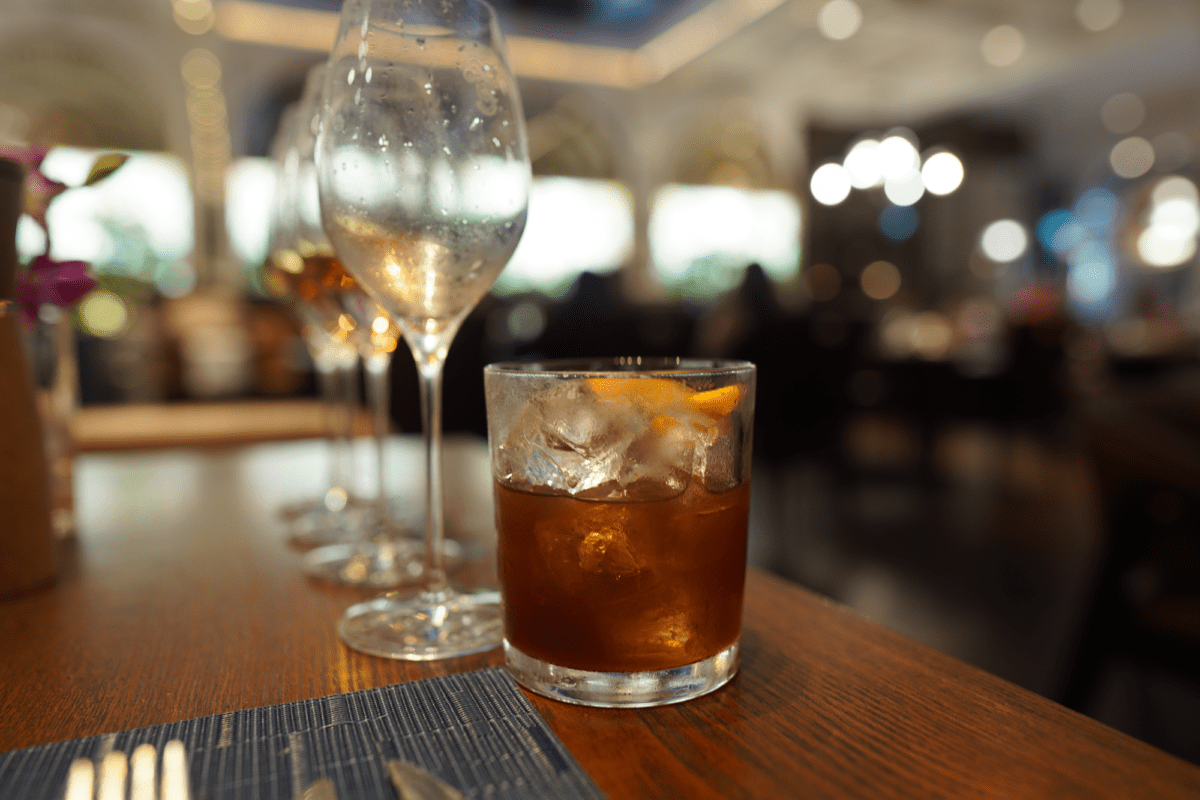 But all these are really just extras to the main character—champagne.
There are four price tiers that you can get with the buffet, and each with different price points. Since the champagne is the only difference between these tiers, you are effectively paying for a champagne upgrade.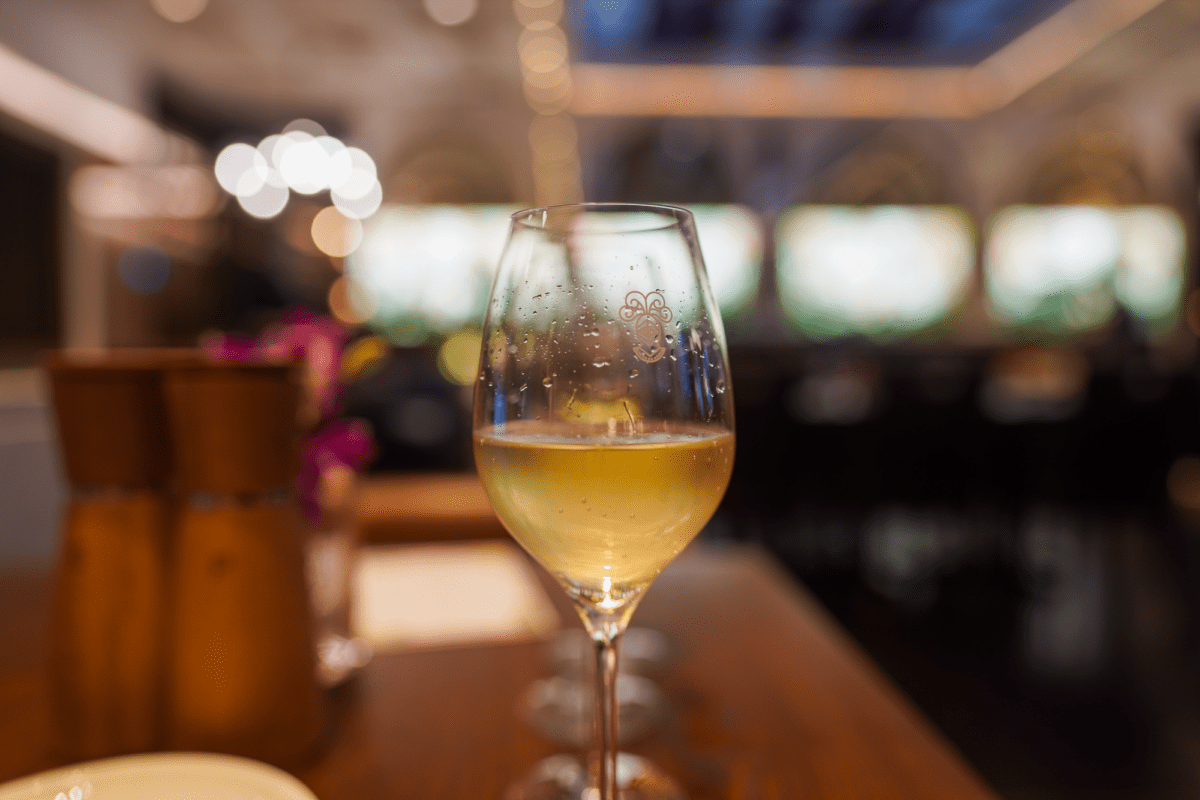 I (gladly) tried all four champagne in hope of helping you with your choice. Let's take a look at the prices (nett)
Telmont champagne ($223.34 or base price)
Telmont Rose champagne ($258.98 or +$35.64 from base price)
Billecard Rose champagne ($294.62 or +$71.28 from base price)
Billecard Blanc de Blancs champagne ($318.38 or +$95.04 from base price)
To begin, it's worth mentioning that alcohol is an integral part of the Sunday brunch experience. So, if you are not an avid drinker, the Sunday brunch at 15 Stamford at Alvin Leung would automatically be not worth it.
This can be pretty limiting since I have foodie friends that simply don't drink alcohol beyond a glass. It would be great to see a non-alcoholic option introduced to accommodate those who prefer to enjoy the culinary experience without alcohol.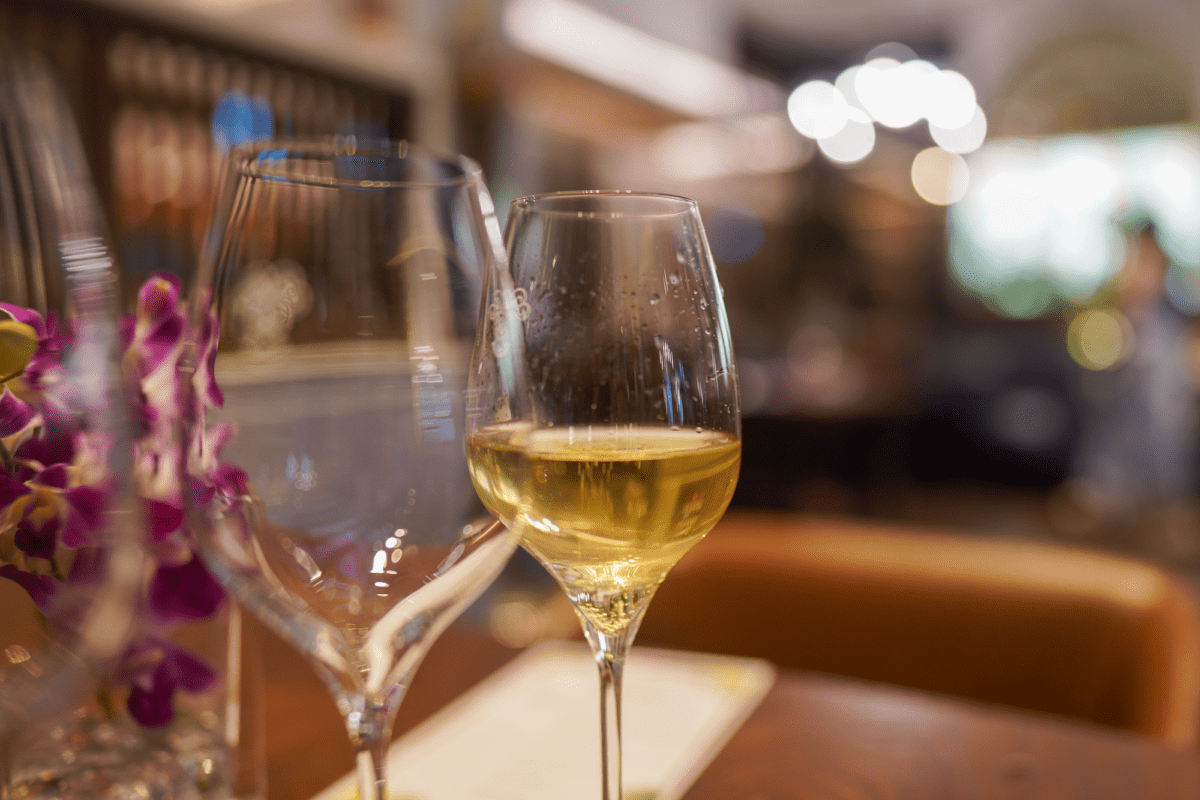 If you do love to drink like me, then you are in the right place. But which of these should you go for? Here's my thoughts for each:
Telmont (Réserve Brut)
The delicate gold liquid exudes fine and lively bubbles creating a delightful effervescence and mouthfeel. I was able to pick up the harmonious blend of fruity and floral notes with a hint of vanilla. I am personally not a fan of Bruts which leaves a poor aftertaste for me, and the Telmont, despite its impeccable taste, was no different.

Telmont Rose (Réserve Rosé)
The rose pours a lovely pale salmon color, with a lively stream of bubbles that gradually settles into a consistent effervescence. What makes this champagne truly pleasurable is its fine bubbles and medium acidity, which come together to create a creamy mouthfeel. There is a slightly bitter aftertaste which was neither bad nor good, but would undoubtedly take a toll on my taste buds after a few glasses.

Billecart Rose (Salmon Brut Rose)
The Billecart Rose was noticeably fruitier in smell with a more pleasant after taste. The floral notes, while delicate, was much more apparent. It has a much smoother mouthfeel that I thoroughly enjoy and feels much more complementary to the wide selection of dishes available.

Billecart Blanc de Blancs (Salmon Blanc de Blancs Grand Cru)
At the highest price tier, the champagne exemplifies the highest standard of quality, elegance, and finesse. The radiant pale golden color immediately stands out from the rest, hinting a sophistication from within. I was surprised by the intensity of aromas that is both clean and pure, and clearly exceeds the other three offerings. Unlike the other three, this was not a champagne that I would get sick of. I continued to pair it with all the different dishes I tried, and it was both a great pairing and a welcomed palate cleanser.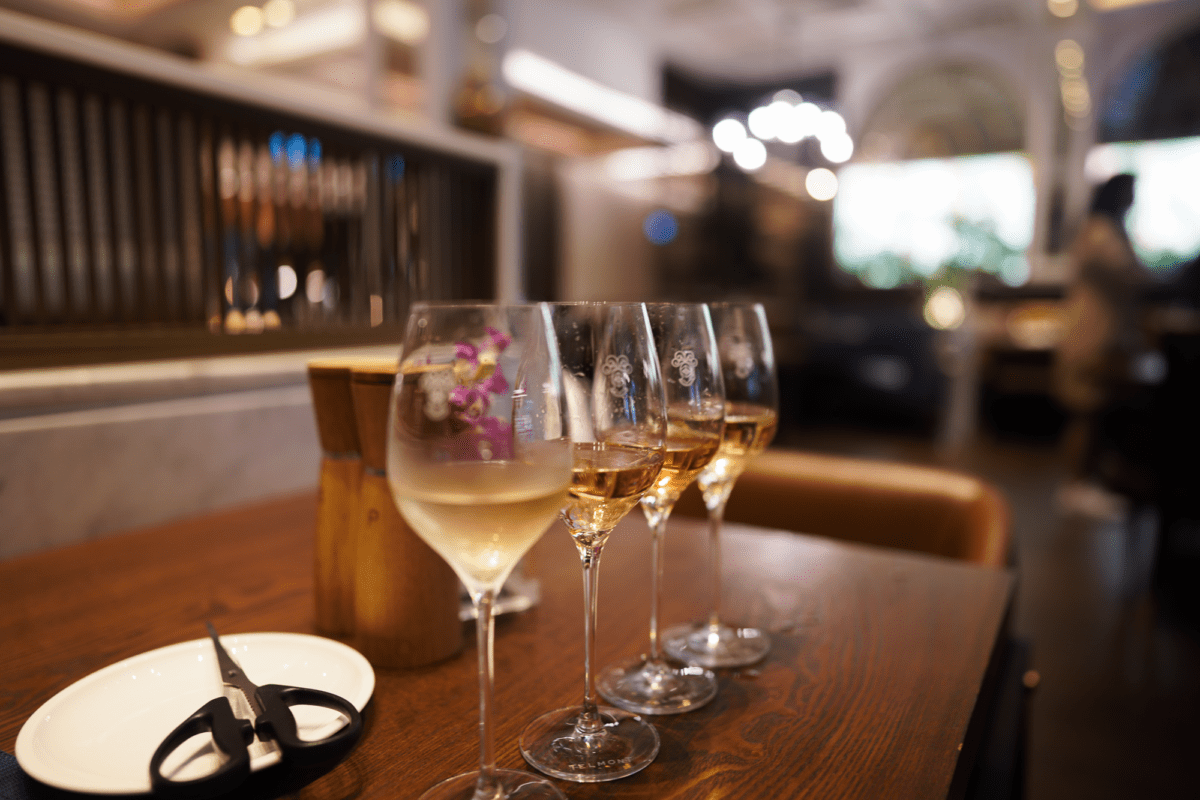 Moving up each of the tiers will bring in obvious, discernible benefits. I would personally go for either the Billecart Rose or Blanc de Blancs if you love champagne. The Billecart Blanc de Blancs was just so versatile that it paired well with the variety of food available for the Sunday brunch.
That said, even as a heavy drinker myself, I reached by threshold at approximately five glasses, give or take some that I wanted to taste but couldn't finish.
The effervescence of champagne will undoubtedly occupy space in your stomach, so you might want to take this into account when deciding which one to go for.
You might also want to note that some of the bottles were served unchilled if you order at the beginning. The server did inform me and gave me less of it and advised that I wait for it to chill. But, I thought it was a simple detail they overlooked that could be easy to fix with better planning.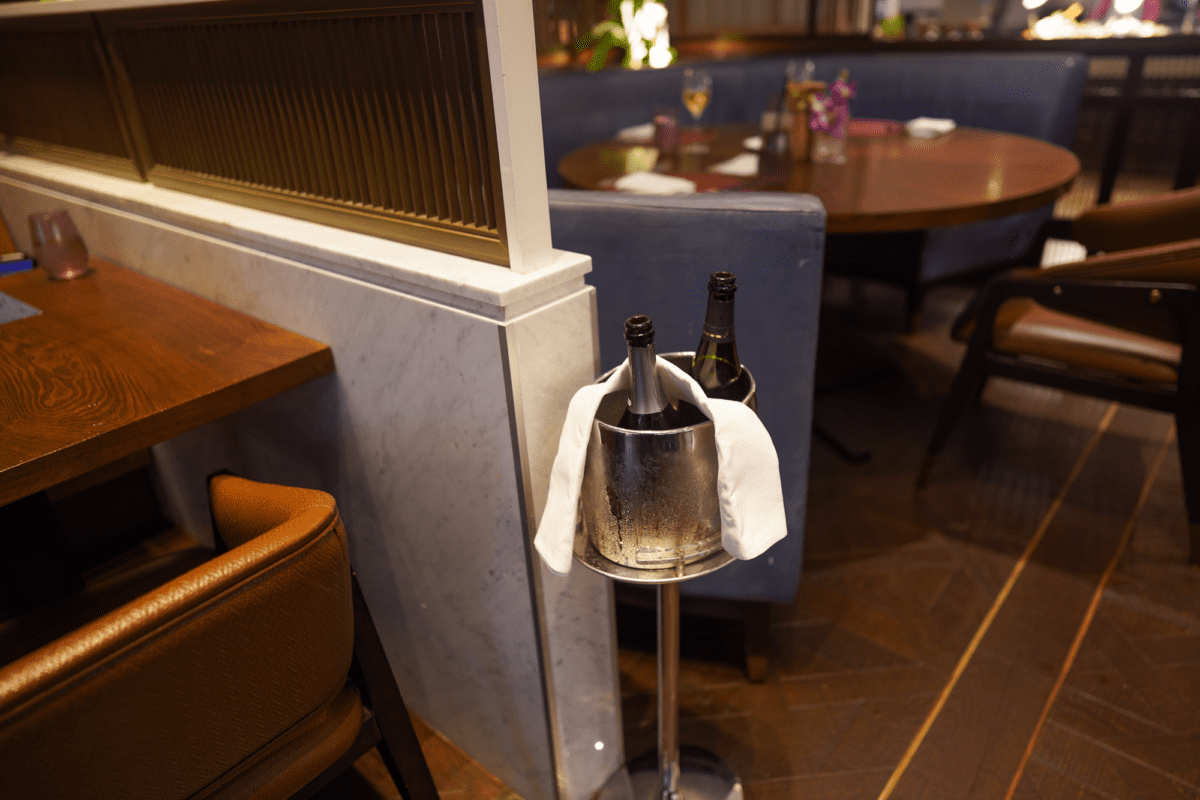 Food
Like most buffet menus, the menu you find on their website should be considered more of a references. What is actually available might differ and based on what is in season. For example, when I visited, they had crayfish instead of baby lobster.
Fresh seafood
Prawns, crabs, lobsters, sashimi, and the like are probably what a typical Singaporean would imagine when they go to a high-end buffet. This would usually be the first stop.
15 Stamford by Alvin Leung has a seafood corner tucked away at a seating area. There was seasonal premium oysters, crayfishs, snow crabs, tiger prawns, blue mussels, clams, sliced norwegian salmon, hiramasa kingfish, complete with an ornament of the fish head.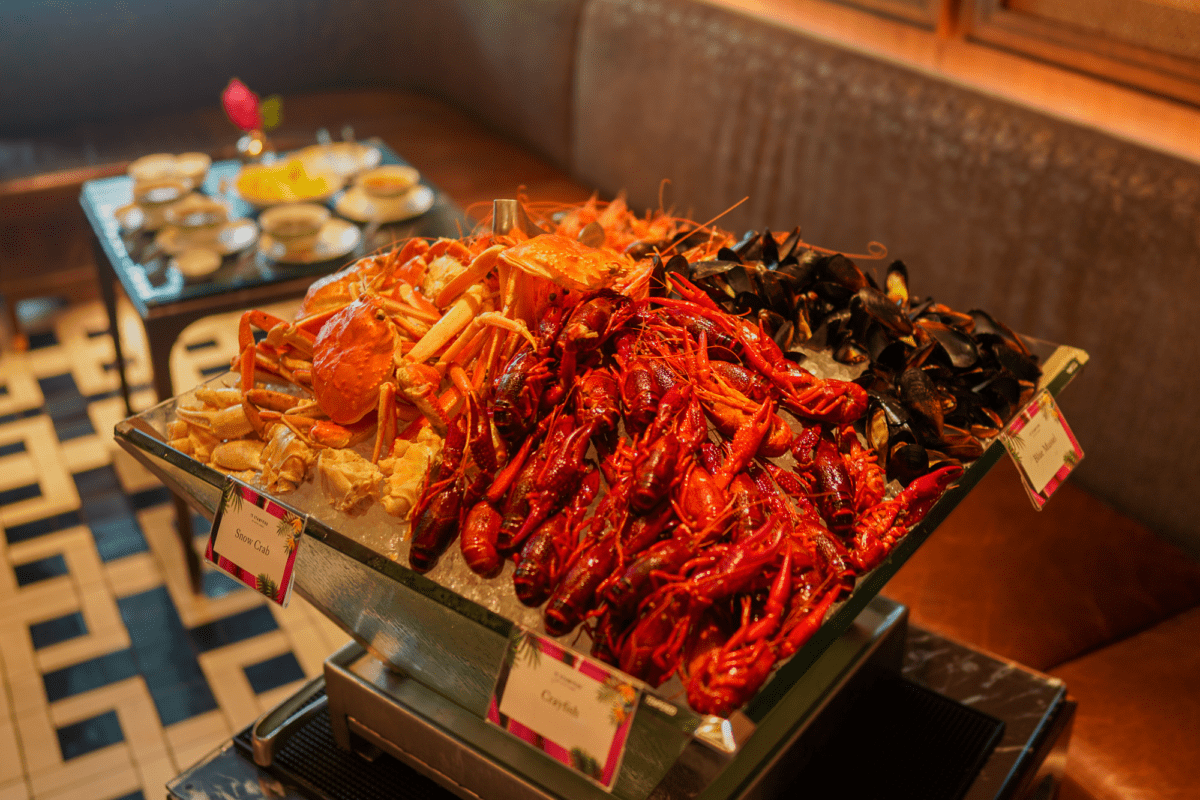 While I was expecting baby lobster, I was not disappointed by the crayfish. They were much easier to deshell than the snow crab.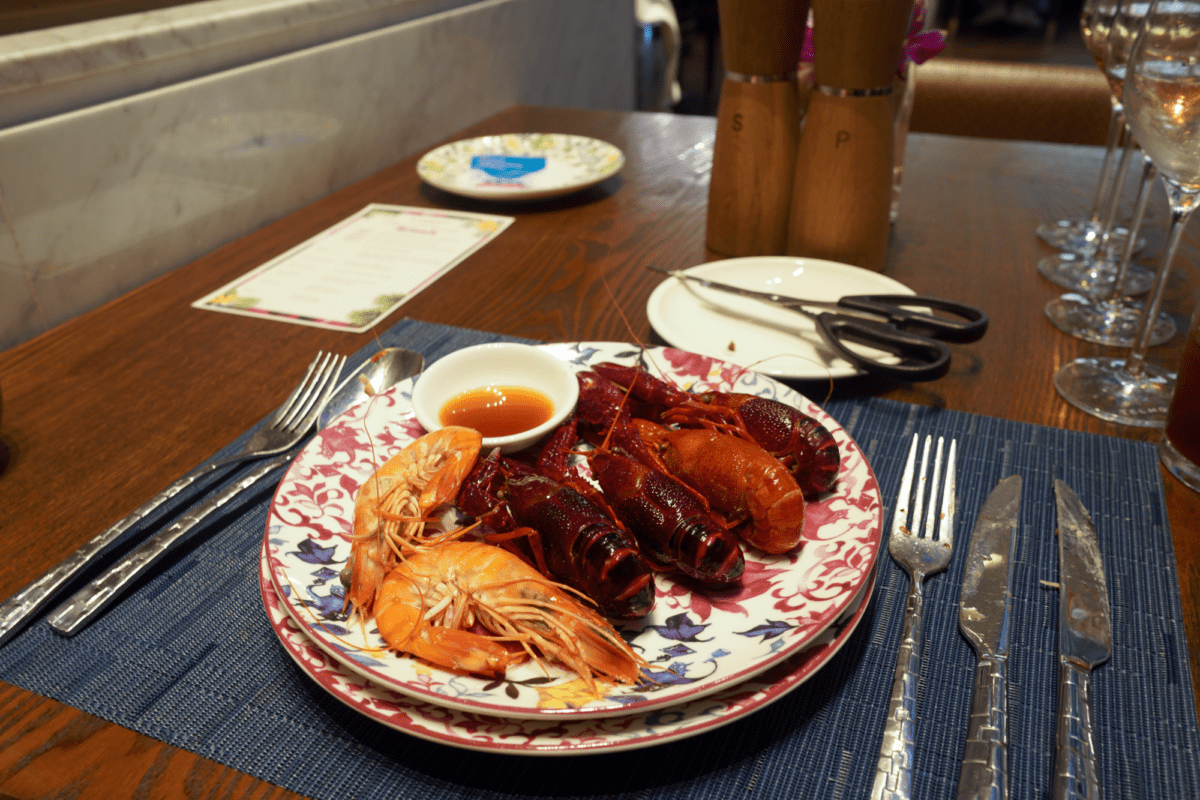 To deshell a crayfish, start by gently removing the head and applying gentle pressure to the sides of the body to loosen the shell. Once loosened, carefully pull the shell apart. It's worth noting that the shell may not come off in one whole piece, so it's best to remove it bit by bit, pulling off smaller sections at a time.
Even if you get the hang of it, some might find it not worth the trouble for just a small chunk of meat since it can get pretty messy.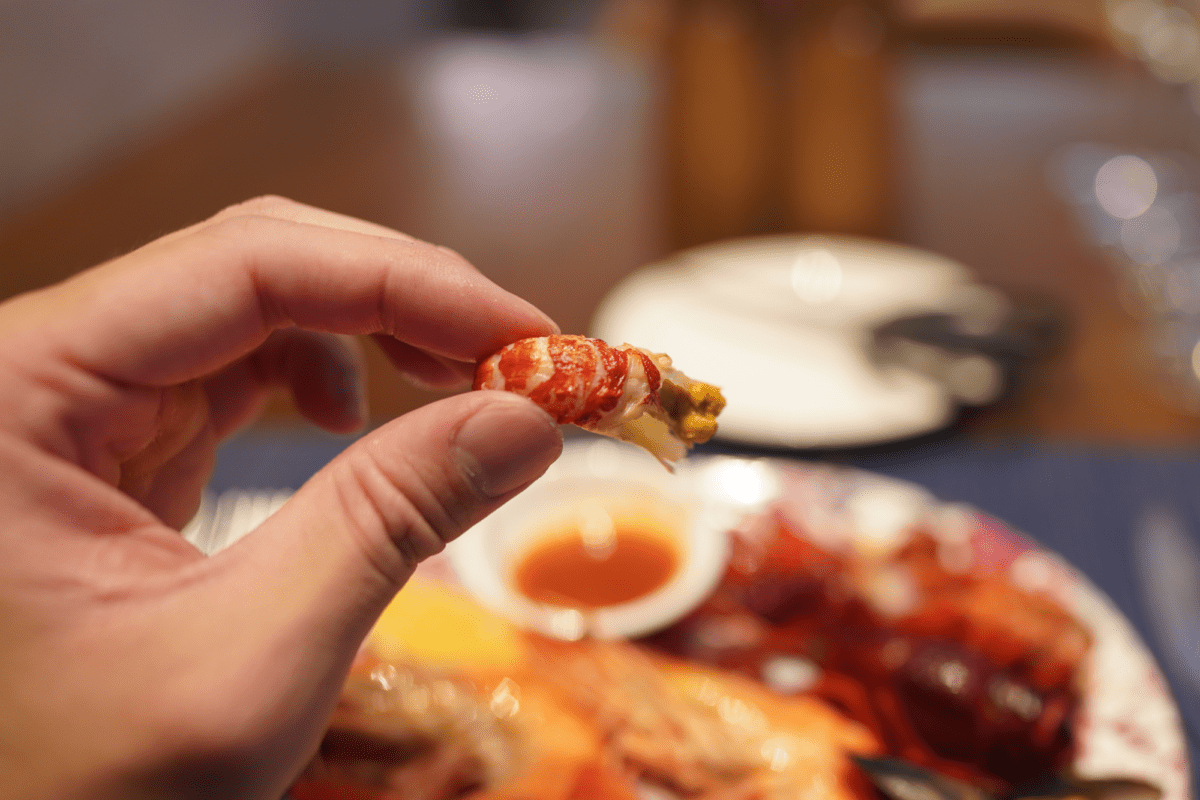 There was an assortment of sauces, such as yuzu ponzu, thai assam vinaigrette, chinese celery and chili, and cilantro and lime emulsion, that you could eat the seafood with, although I felt the seafood was fresh and delicious enough to eat even without any extra flavoring.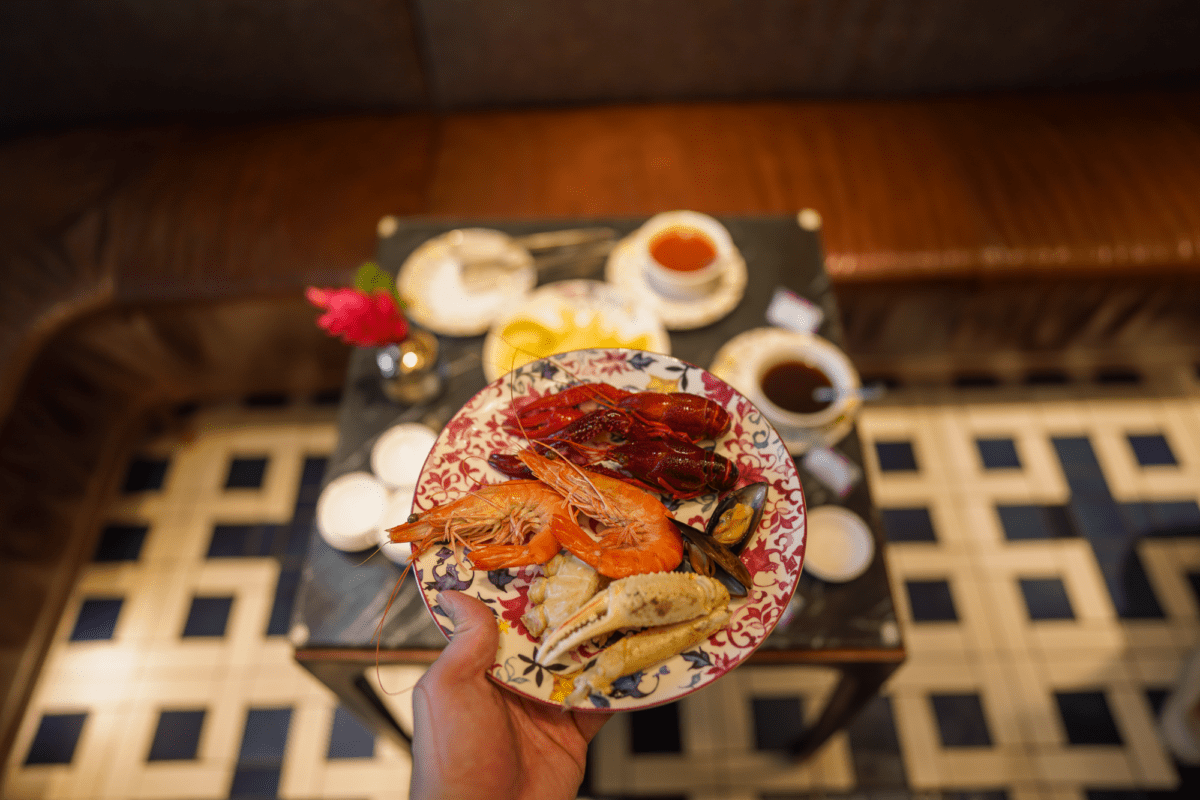 The oyster was obviously one of the biggest draws. They were very fresh and great with just some lemon that you can squeeze onto it. It was pretty fun to try it with different sauces to see how they will change.
The oysters are not the chunky kind that you would get some wholesale seafood markets in Japan, but since it is a buffet, this shouldn't be a big issue.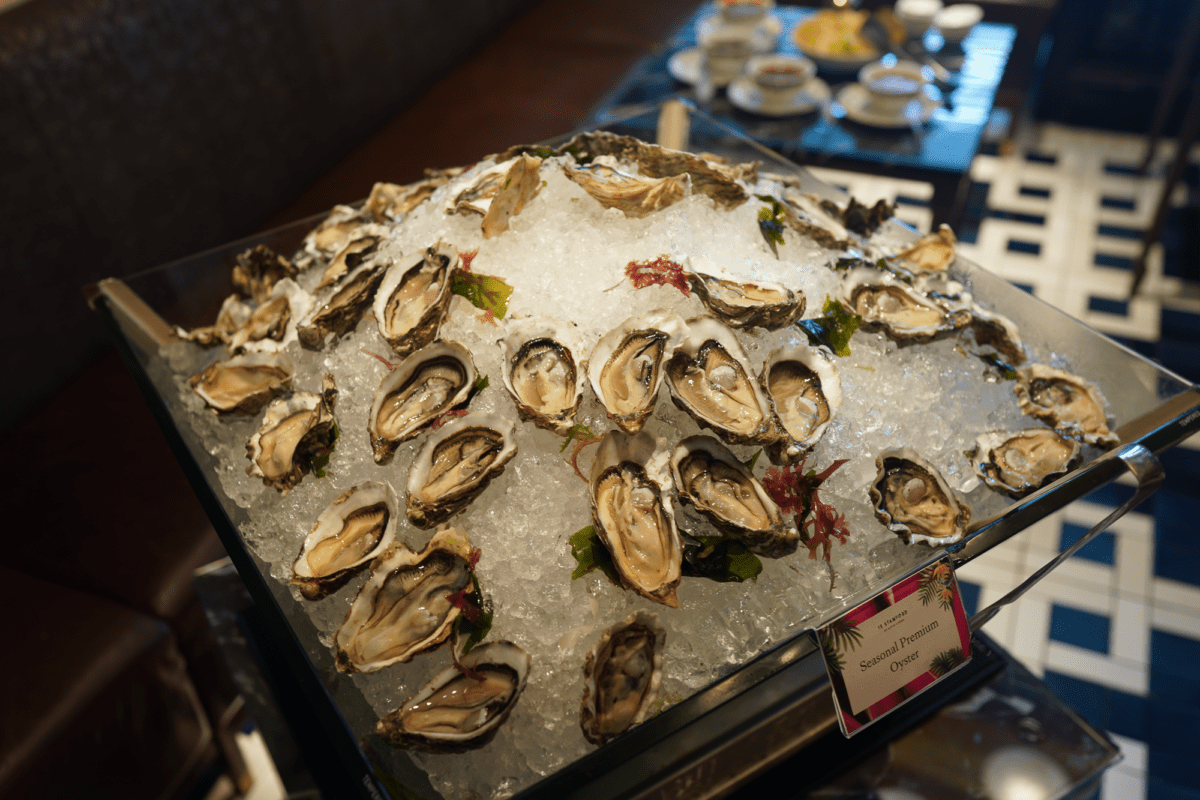 The other seafood such as the sashimi was fresh and tasty but it won't be the top tier kind you get at omakase or even some chain sushi shops in Japan. But, it is on par with other buffets in Singapore such as The Edge or Colony.
Ultimately, what I went back for was the crayfish and tiger prawns. My pro tip here is to take an empty place along before heading back to your seat so you have a place to dump the shells.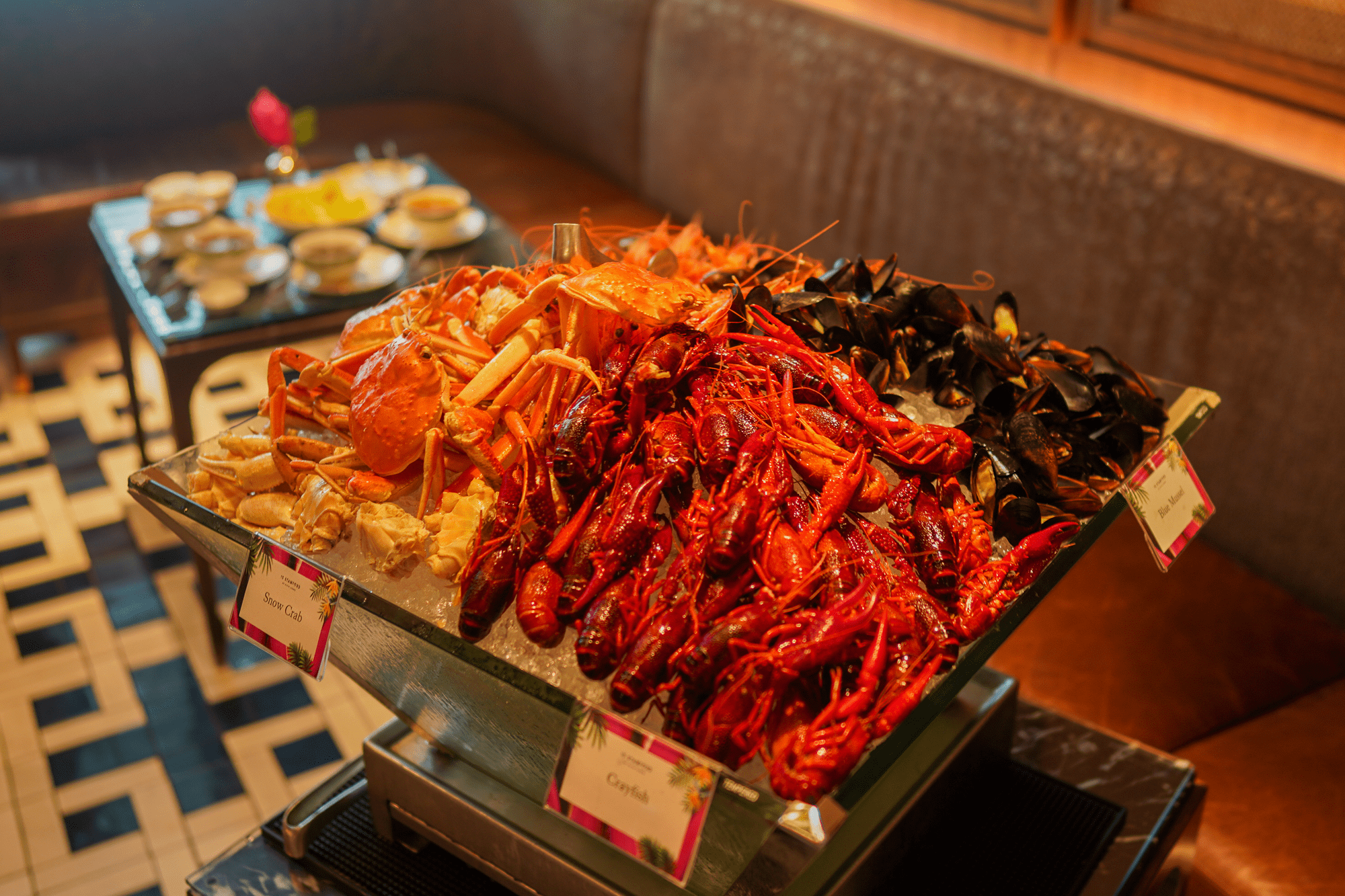 While I found no faults with the taste, I did encounter a few minor inconveniences in terms of the overall user experience. The sauces were positioned on a low table, requiring guests to stoop down and use a teaspoon to scoop them up. This setup seemed prone to spills when attempting to transfer the sauce onto a saucer.
Furthermore, there was no designated place for the tongs, leading to a bit of a challenge in finding a suitable spot on the ice to rest them. Balancing them precariously in available spaces proved to be a bit tricky. I noticed that some guests resorted to placing the tongs on the table next to the food, which I initially overlooked. It struck me as peculiar that there was only one tong provided for such a popular station.
Those minor annoyances were soon overshadowed by disgust to find a moth floating in the yuzu ponzu sauce towards the end of the buffet. It would have been disastrous if I was just a little less vigilant. I informed the nearest staff; the bartender, who promptly replaced it but offered no words in response.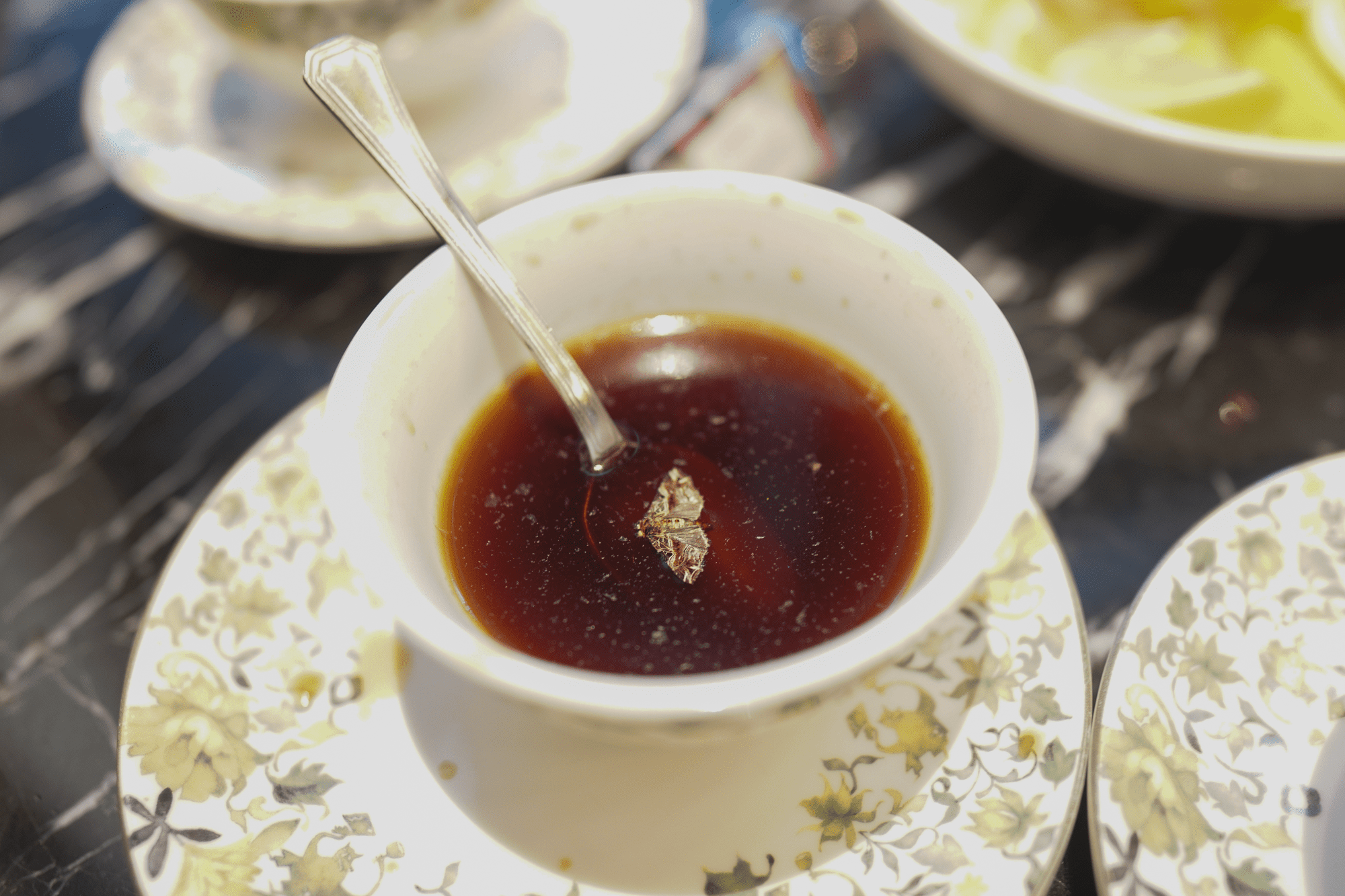 At a lesser buffet, I would not be too bothered. But at such a beautiful place with a famous name behind it, it was disappointing. Mistakes happen, but the staff's lackluster and unapologetic response marred an otherwise amazing experience.
Each table was equipped with a set of crab scissors, and wet tissues were available upon request. However, the provided tissues were thin and contained strong alcohol, resulting in a burning sensation when wiping my lips.
It would have been a simple opportunity for improvement if they had included thicker, water-based tissues on the table by default, similar to the oshibori commonly found in Japanese restaurants.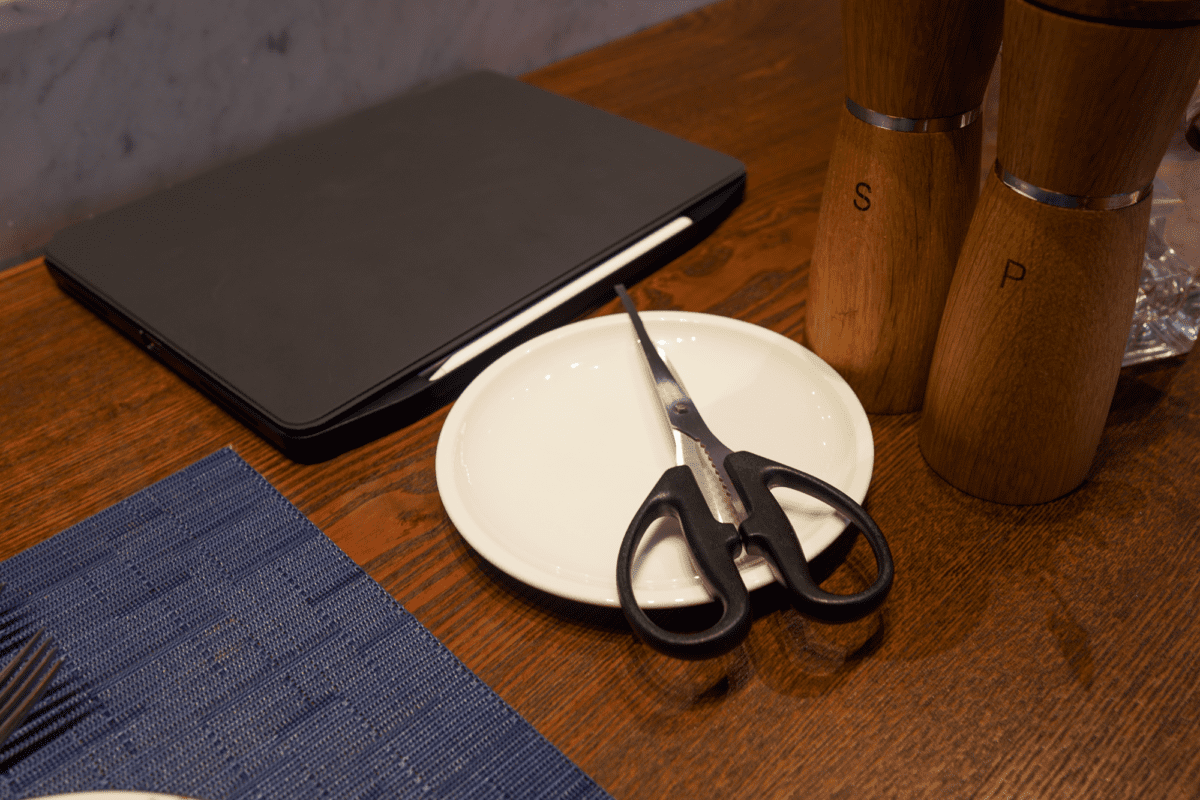 Meats
I mentioned that most Singaporean's first stop would be the seafood section, but I stopped by the meat station first.
There was impressive display of meat, with beef and lamb from Australia, that would be carved upon order;
Pasture-fed lamb leg
Angus beef oyster blade
Bone-in angus beef ribeye
Angus beef flank
Red snapper
Hokkaido pork loin
Rotisserie chicken
Veal sausage
Pork salciccia sausage
Honey glazed ham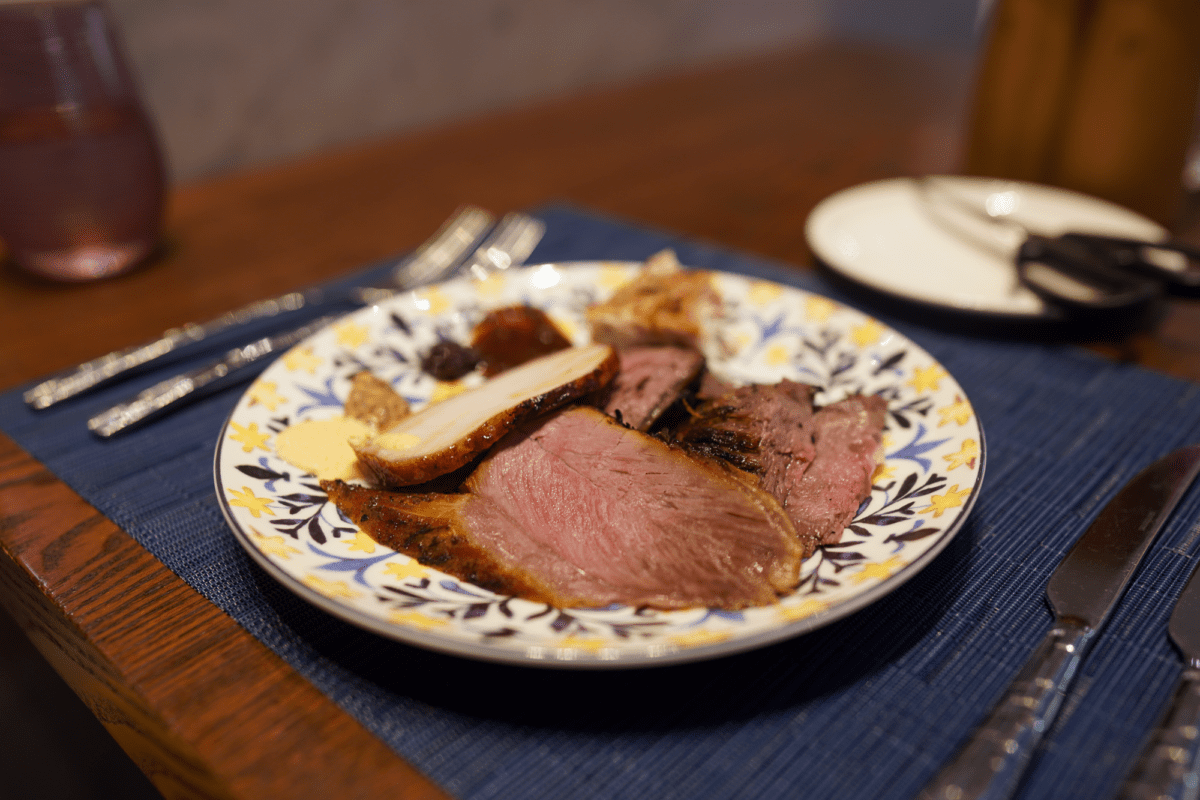 I ate every single one of these, but the one that compelled me for seconds was undoubtedly the angus beef ribeye. While I was not a fan of the visible fats, it boated a soft and tender with a beautifully seared crust.
The red snapper showcased a delicate flakiness and moist exterior, but regrettably, its inner core turned out to be slightly dry and powdery.
The angus beef oyster blade was tough and chewy. While not entirely disappointing, it paled in comparison to the superior qualities of the ribeye, rendering it somewhat redundant.
I was also pleasantly surprised by the unassuming rotisserie chicken which was savory and juicy and provided a refreshing contrast to the richer meats, serving as a delightful palate cleanser.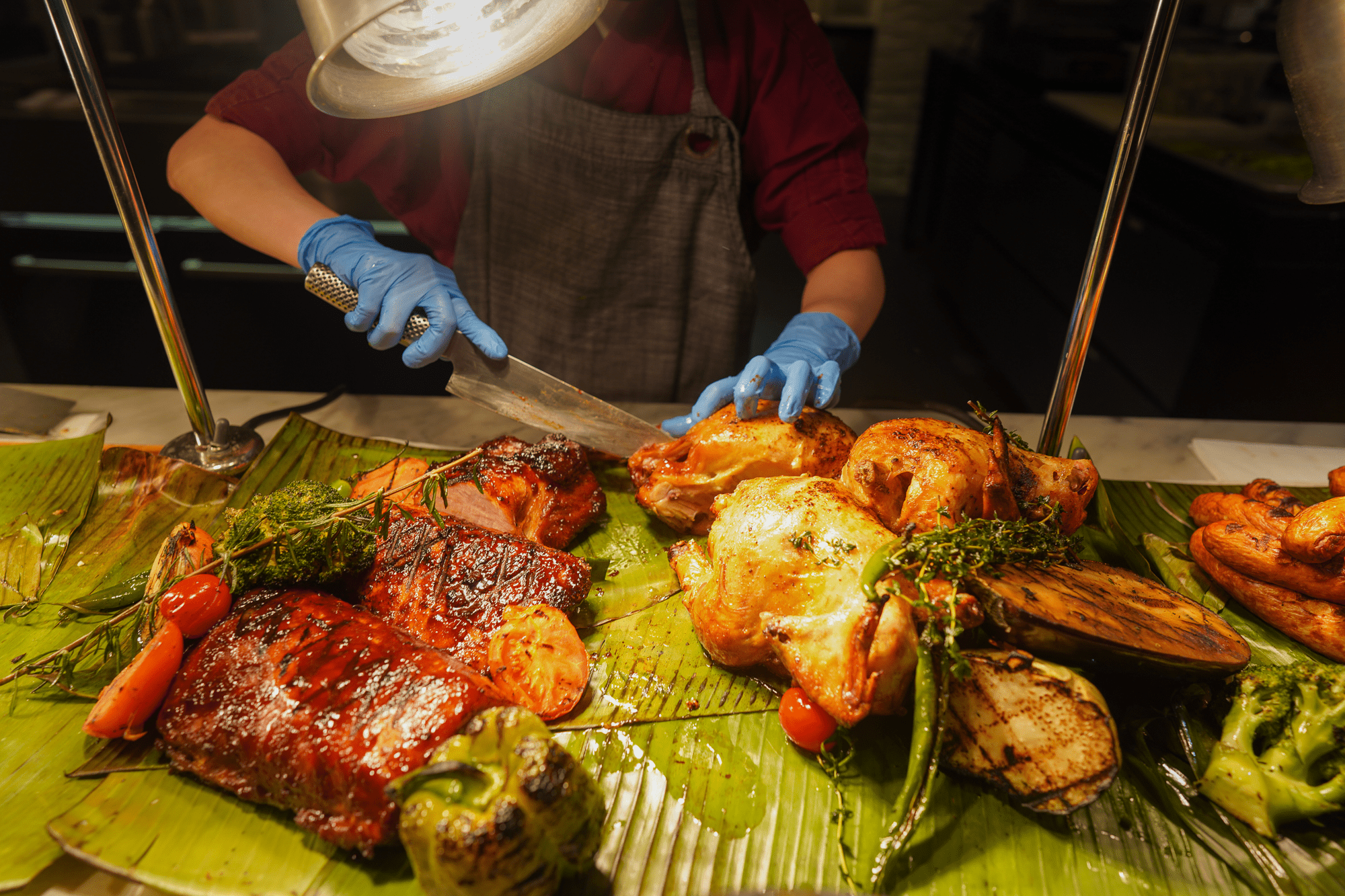 The meats can be a heavy part of the buffet and you want to make sure you pace yourself well by going for the best pieces. My tip would be to go for the angus ribeye and just have a small piece of each just to taste.
I tried asking for smaller pieces but was either not heard or ignored by the server. Either way, you might want to emphasize or pull your plate away when you see her cutting more than one piece.
There was an array of sauces for your meats and it is pretty fun tasting the same meat with different sauces just to see how the flavor will be augmented.
Cooked Food
I was expectant of the cooked food section seeing as this is where x-treme Chinese food perhaps had a chance to shine.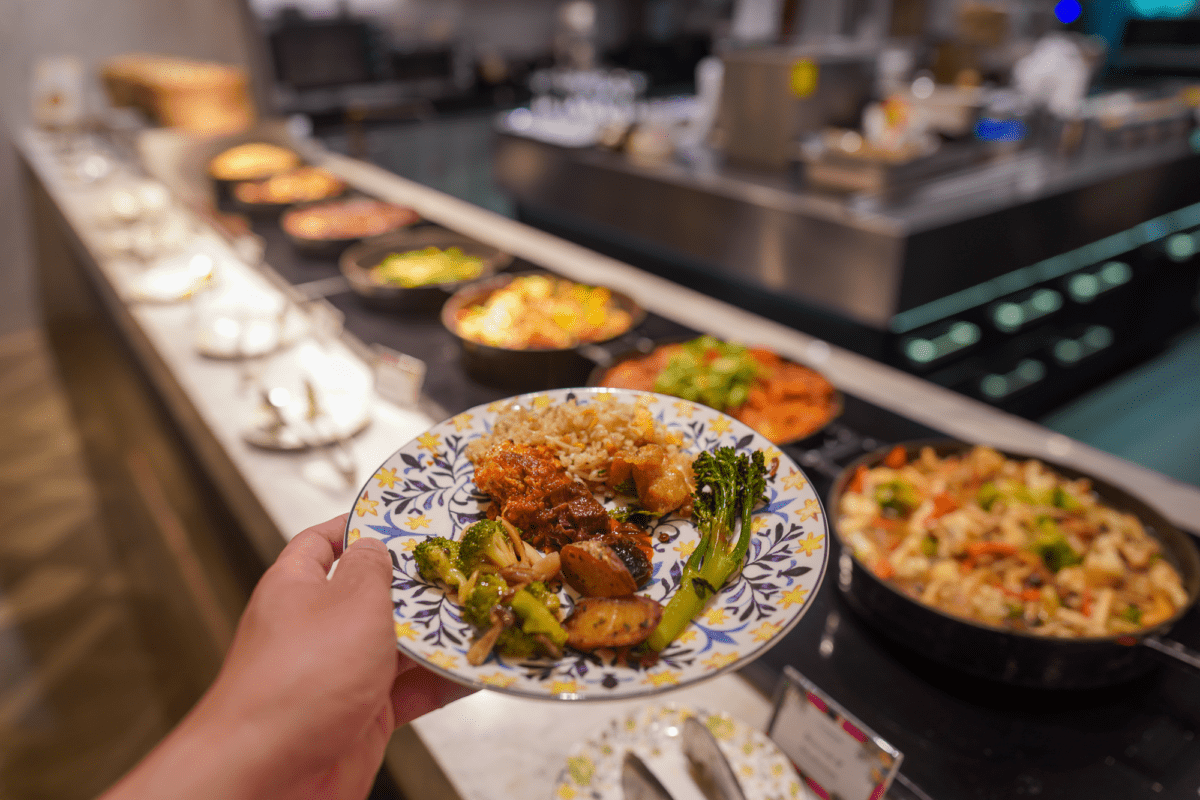 There was
Broccoli and mushroom
Lemon sole with chili sauce
Buttermilk chicken
Grilled broccolini
Braised beef shank
Herbs potato
Salted fish fried rice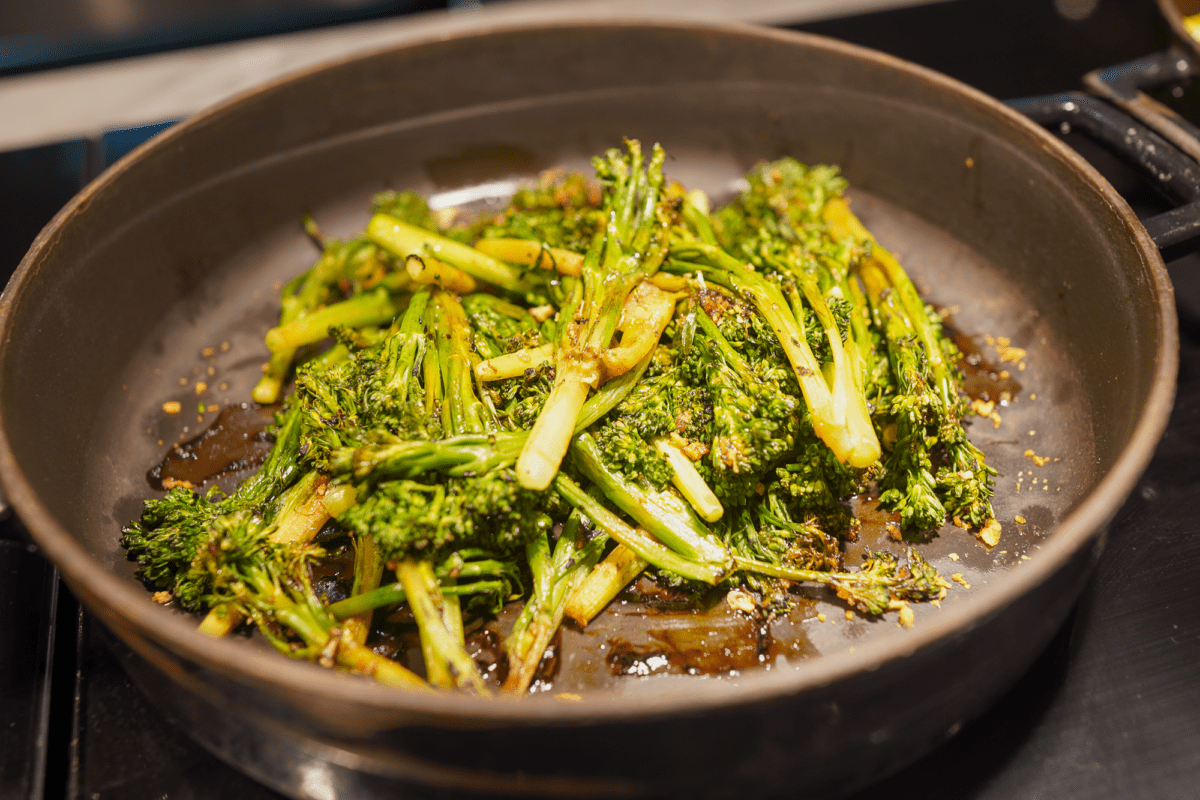 The sauce of the broccoli and mushroom reminded me of home cooked food and stole the show despite being such a humble and seemingly simple dish.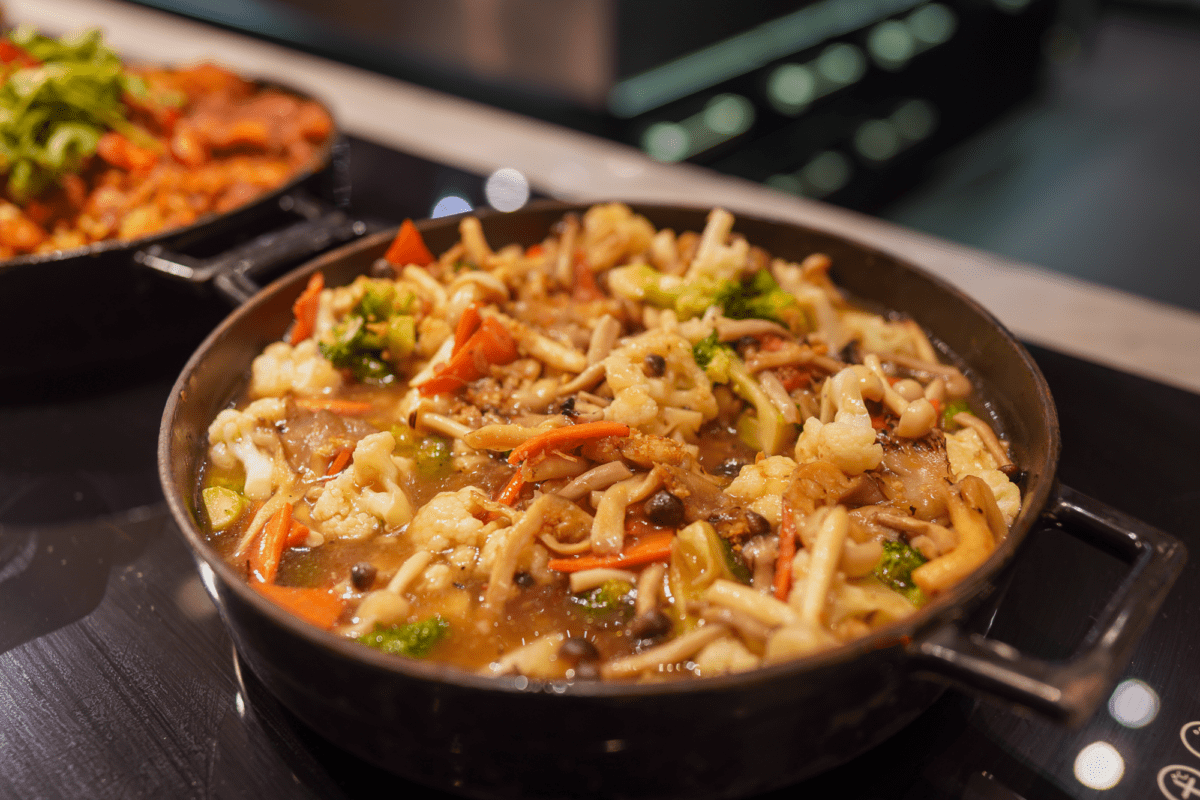 The buttermilk chicken was a little underwhelming. While the buttermilk does add creaminess and richness to the chicken, the moist texture was finished by a powdery after taste that I couldn't enjoy.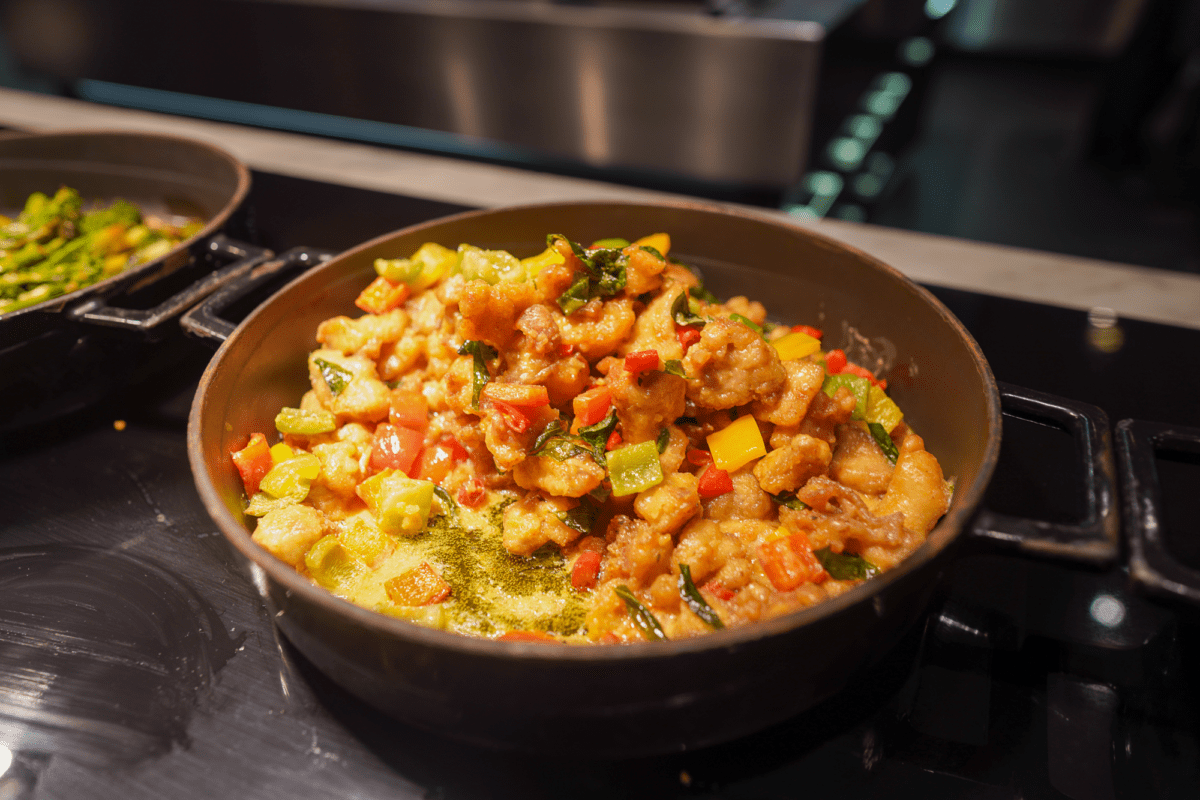 The salted fish fried rice was flavorful but possessed the same issue as any other salted fish fried rice where if you scoop a spoonful with too many salted fish, you gonna get a salt bomb in your mouth.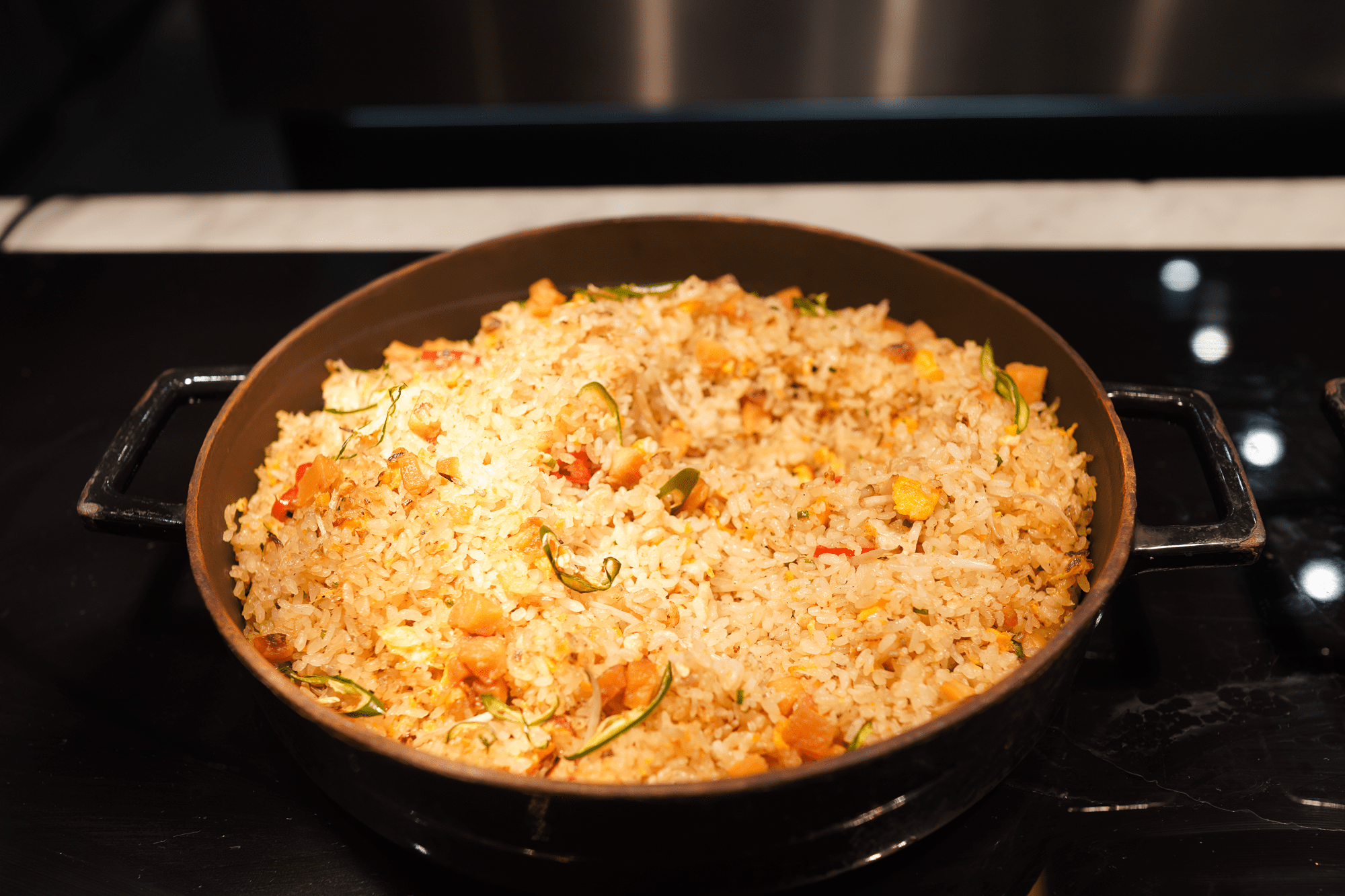 The lemon sole has a flaky and tender texture, which works beautifully with the extravagant chili sauce; the same kind you find with chili crab. While I savored each bite, the sauce can be pretty heavy for some.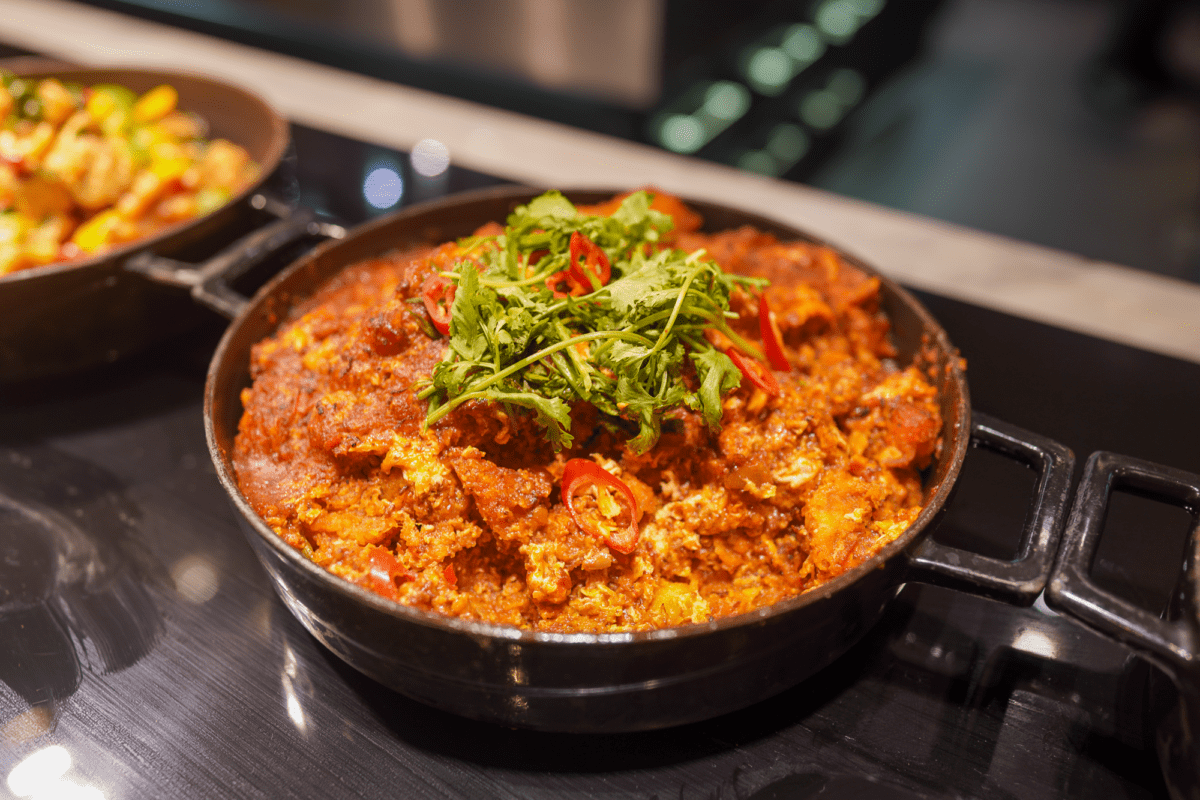 The herb potato, while not the most stomach-effective item to go for in a buffet, was another item I really enjoyed although I definitely held back to save space.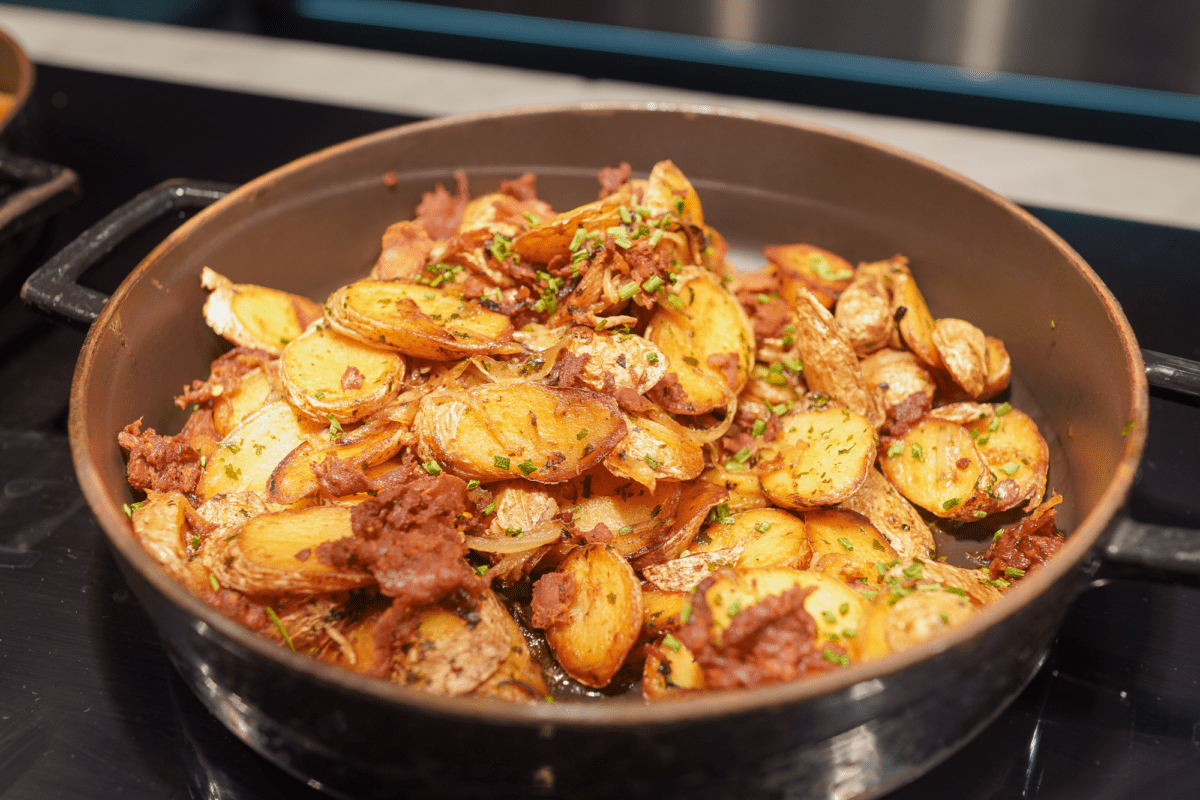 Last but not least, the rich flavor of the beef shank is well infused with the braising liquid. The long cooking time allows the tenderness to shine through, where you can effortlessly pull the meat apart. The is a depth of flavor and comforting allure that I thought pairs well with a hearty side of the herb potato.
I was overall very impressed by the cooked food station although it is underrated compared to the usual attractions like premium seafood, freshly-cooked pasta, and meat carved in front of your eyes.
Pasta
The pasta station was a fun one where you get to choose your pasta, sauce and toppings.
You can choose from fettuccine, macaroni and capellini. While these weren't handmade, they tasted very artisan.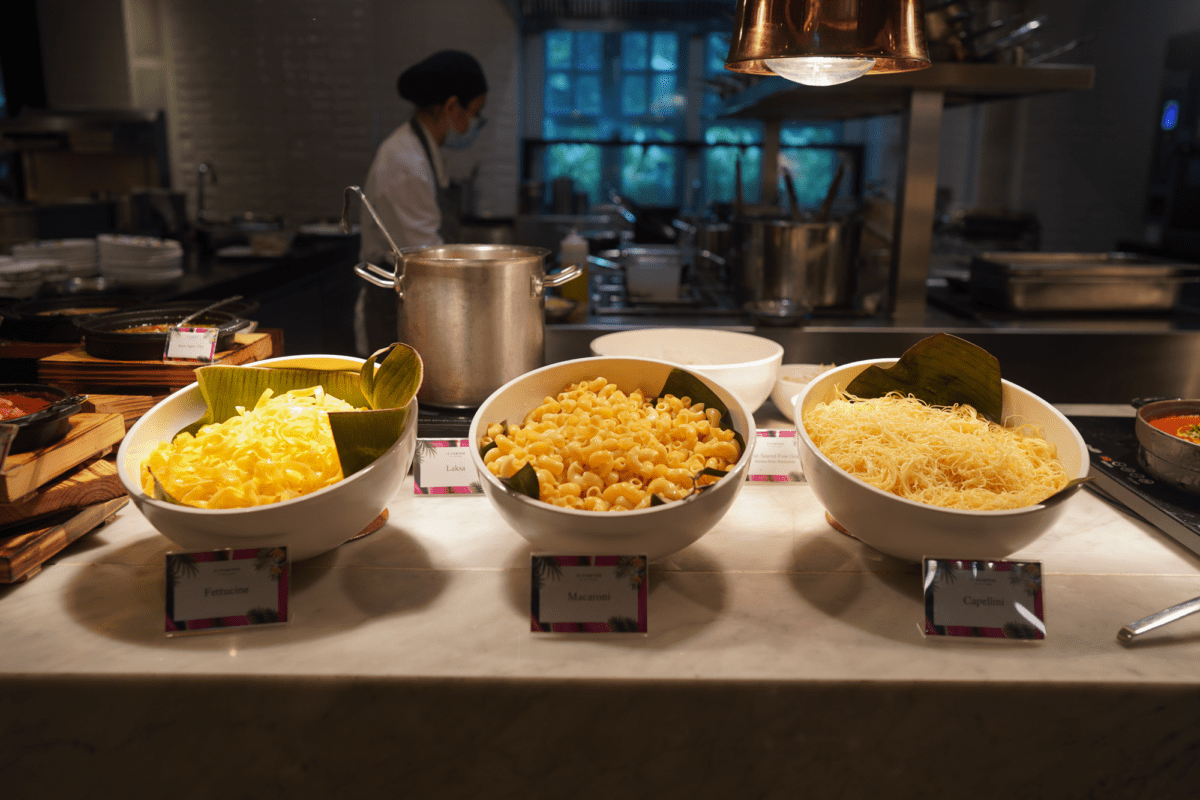 For sauces, you have basil pesto, aged cheddar cheese sauce, asian aglio olio, tomato coulis, black truffle cream, sambal and calamansi, and yellow curry cream.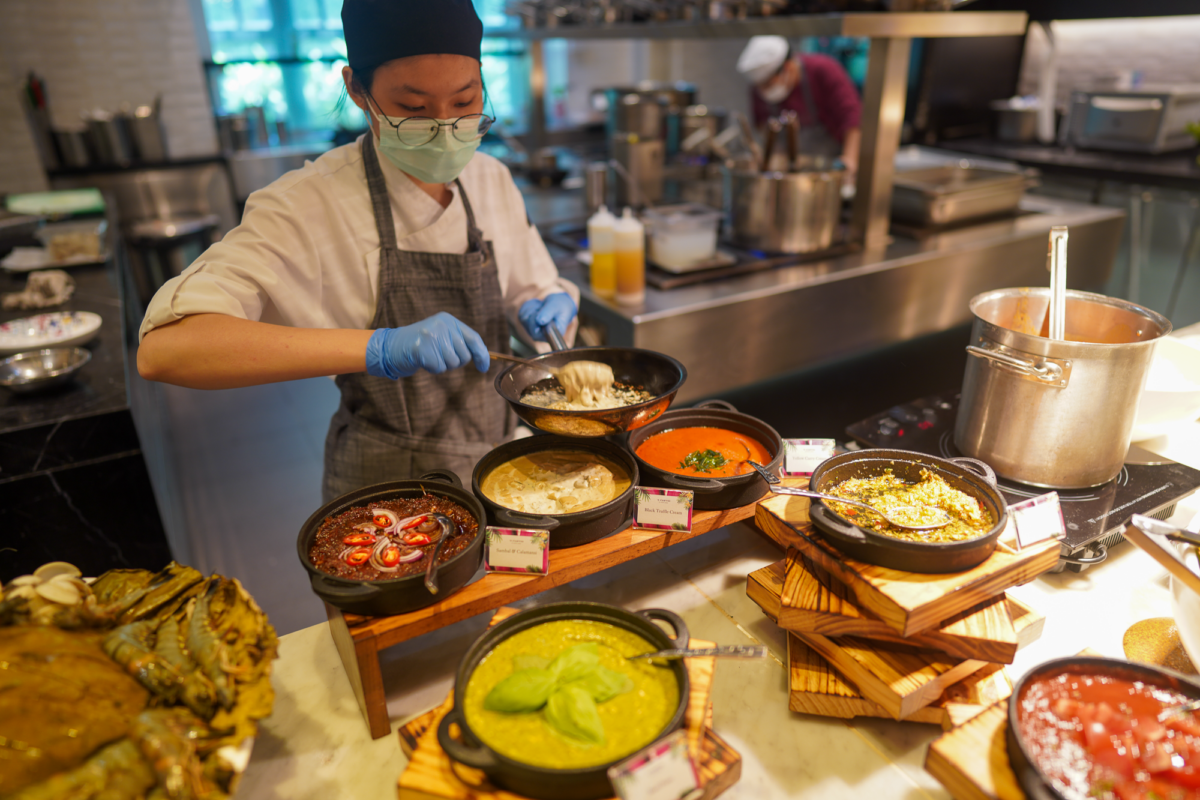 For toppings, there were mussels, prawns, and clams for you to choose from.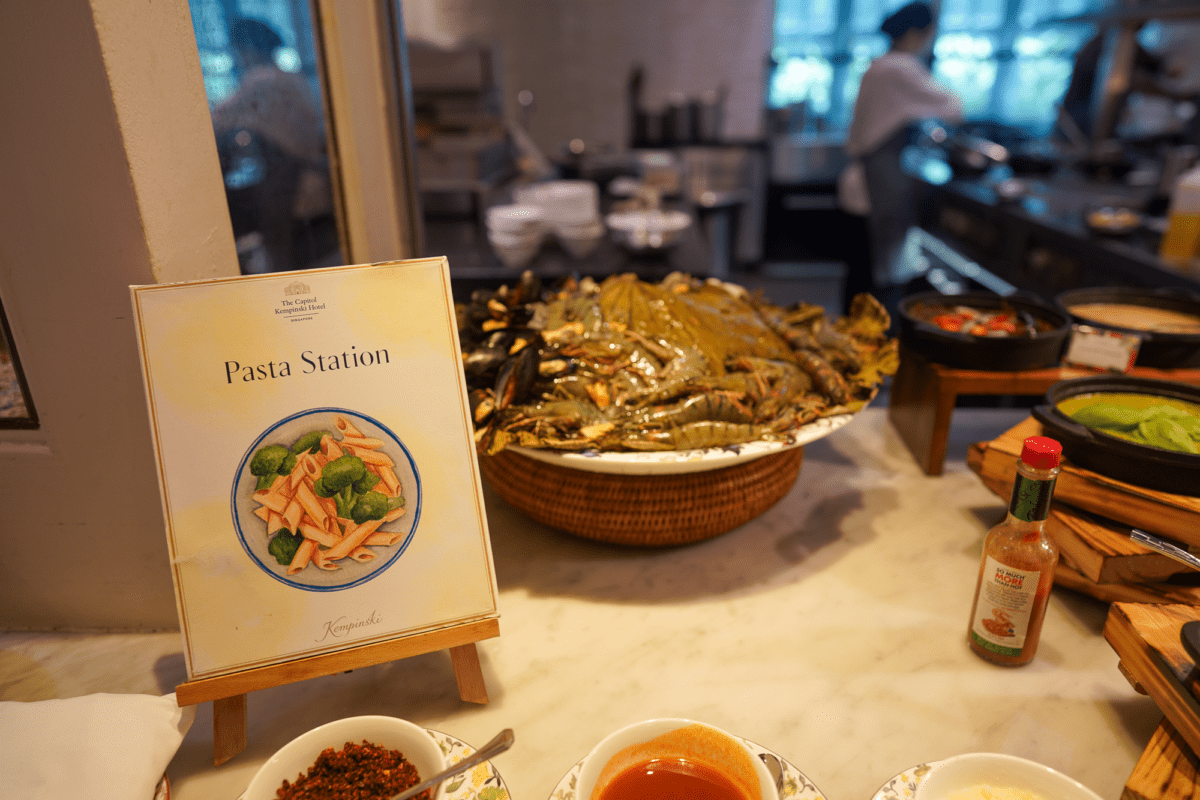 If you ever had pasta at a buffet, you'd know you only have one shot. The carbs will fill you right up. I went with my gut and got the fettuccine in black truffle cream sauce with prawns and mussels.
The chef went to work deep frying the prawn and boiling the pasta before sauteing them with the rest of the ingredients.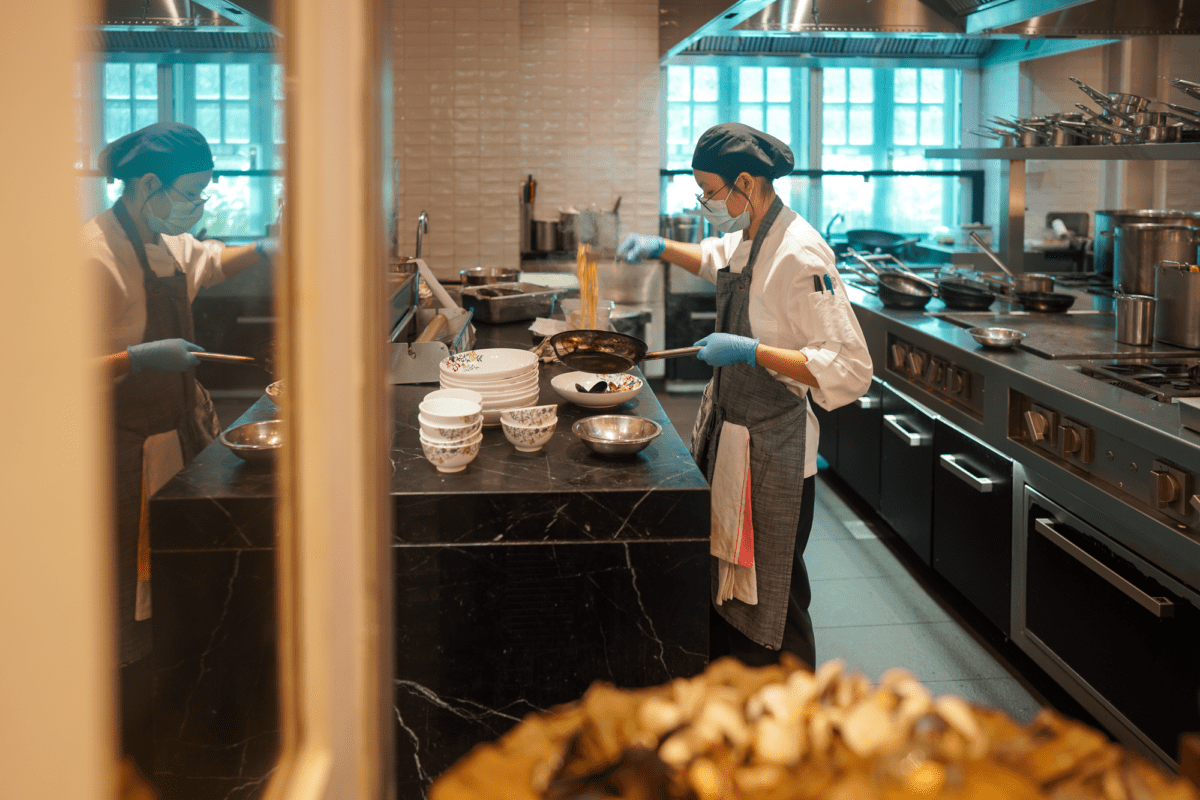 It takes about five minutes to complete the order so if you see the chef already serving a customer, you might want to come back instead. It wasn't an issue since the restaurant was about half full the day I was there, but I wondered if the wait would be too long if too many went for the pasta at once.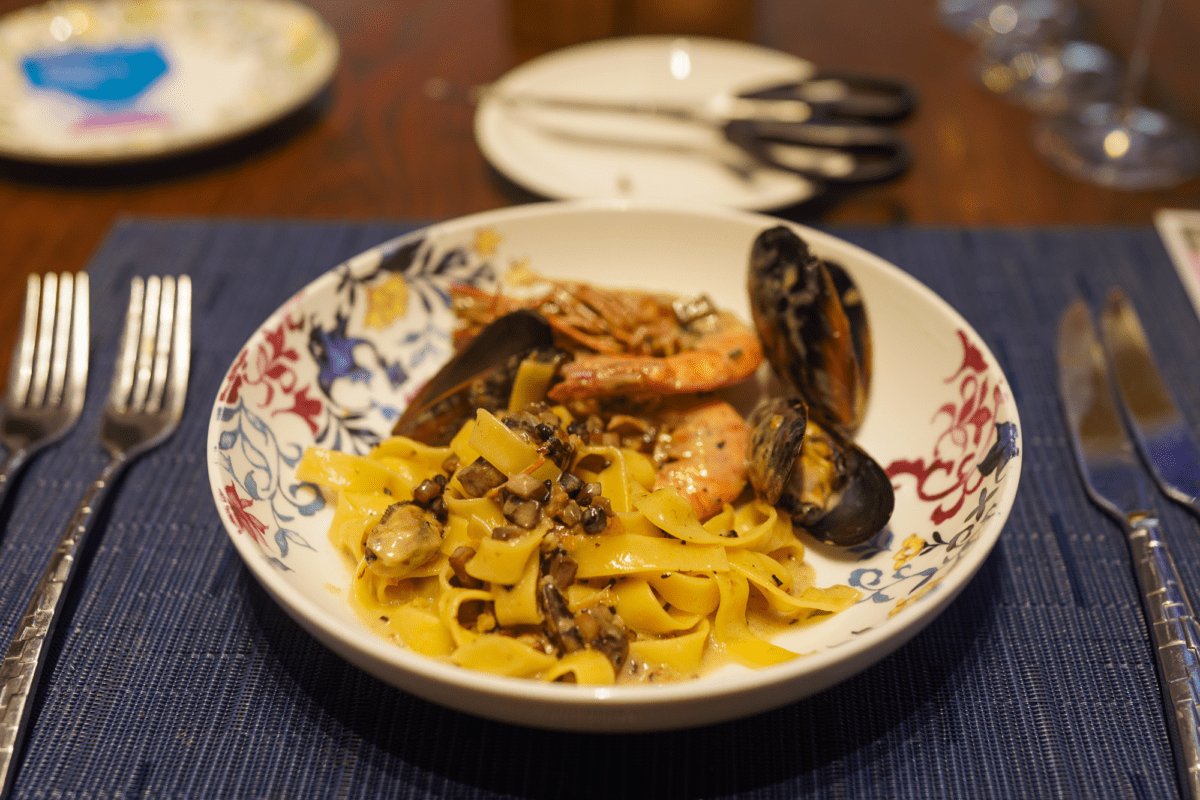 The initial deep fry of the prawn was definitely the right move although I struggled trying to deshell with utensils. The black truffle sauce was rich and went amazingly with the pasta, but the pasta didn't taste well-coated and you had to mix it up. The pasta didn't look hand made but tasted amazing and if you scope the right amount of sauce with it, the bite was heavenly.
The laksa was also part of the same station. It was served with bean sprouts, fish cake, taupok, and half a hard boiled egg, in a small bowl. I thought it was a little underwhelming compared to the pasta and wondered if they just wanted to have a Singaporean dish on there to appeal to foreigners.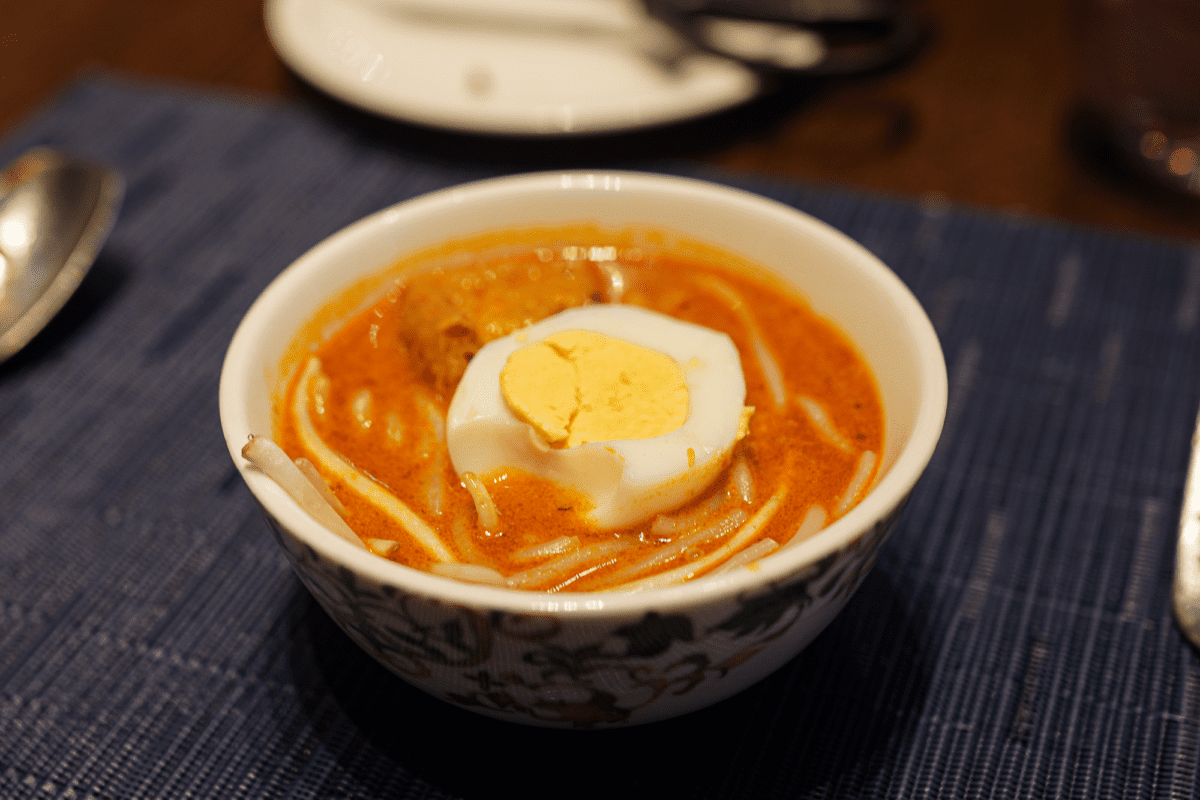 The taste didn't stand out, which is often the case with buffet laksas. The sauce was a bit heavier than my preference, but what made it forgettable was the lack of presentation or any notable flair.
Dim Sum
There was a mostly-ignored dim sum section. I wasn't able to commit any stomach space to tasting it, but they looked pretty standard and full of carbs. It's probably a safe bet to skip this section altogether to optimize the more premium dishes and champagne.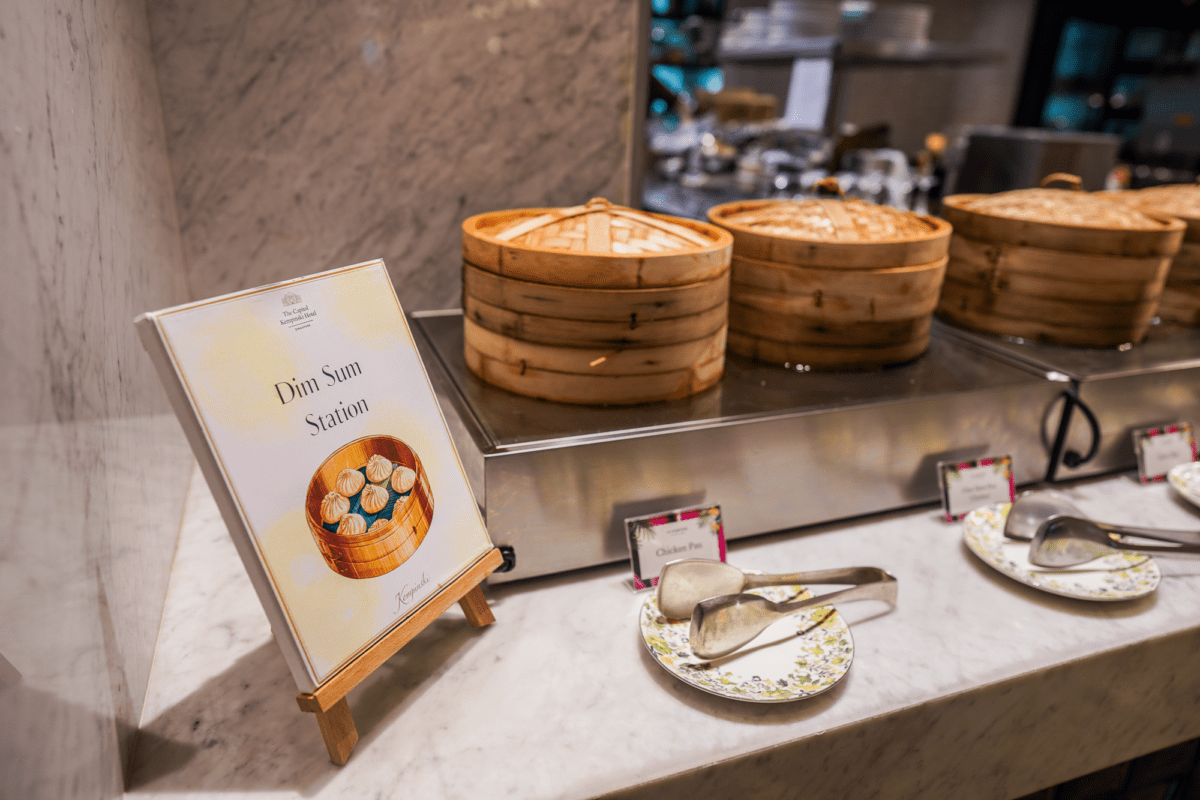 The station comes with chicken pau, chicken char siew pau, siew mai, and glutinous rice.
Indian
It wouldn't be an international selection without and indian section but I unfortunately had to sacrifice to taste the other dishes. It offers vegetable curry, rajma masala, murgh malai chicken, mutton masala, biryani rice, and papadum.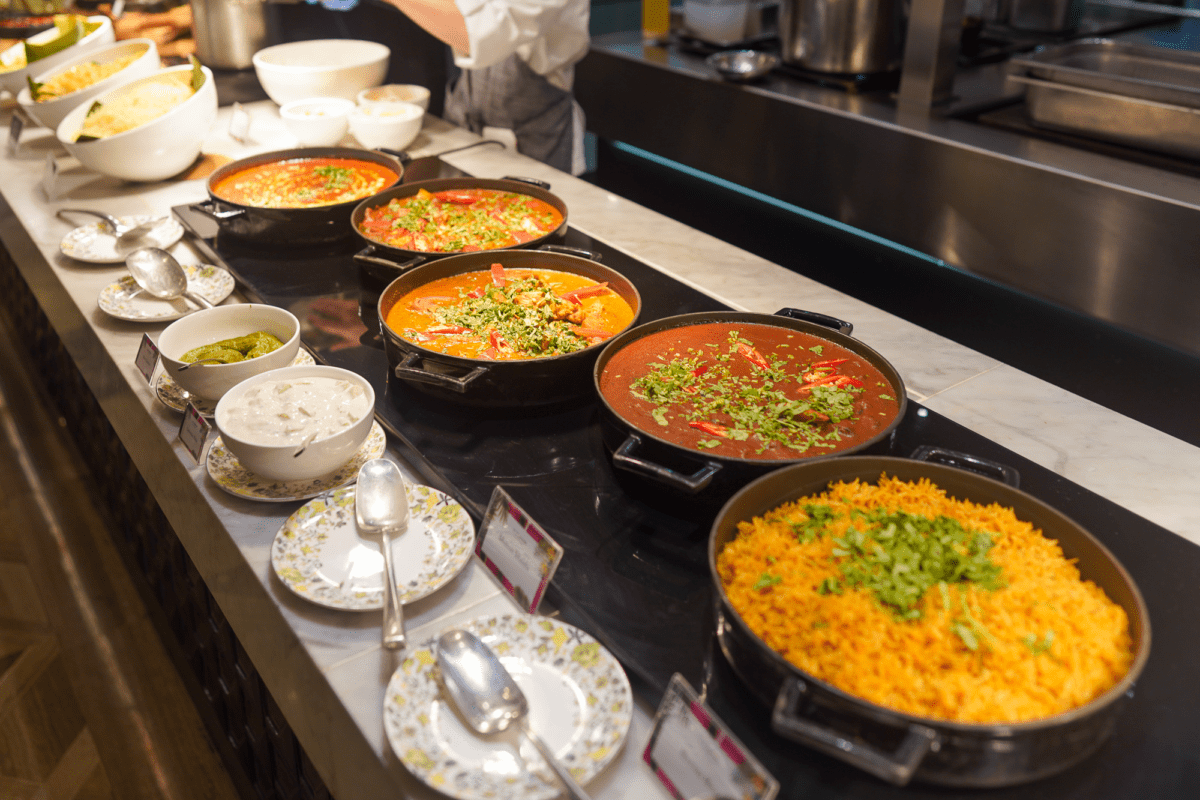 All the curries looked amazing but you definitely would not fare well trying all the dishes at the buffet and drinking champagne. I would consider this station an easy one to pass on.
Foie Gras with Banana Marmalade—secret menu
The online menu featured a dedicated section for foie gras, but upon exploring the options in person, there were no signs or mention of this dish. It led me to believe that it might not be available that day, similar to some other menu items. However, I decided to inquire with the live station staff.
To my relief, the staff informed me that I could indeed order the foie gras from her. Phew, I almost suffered a loss I couldn't recover from.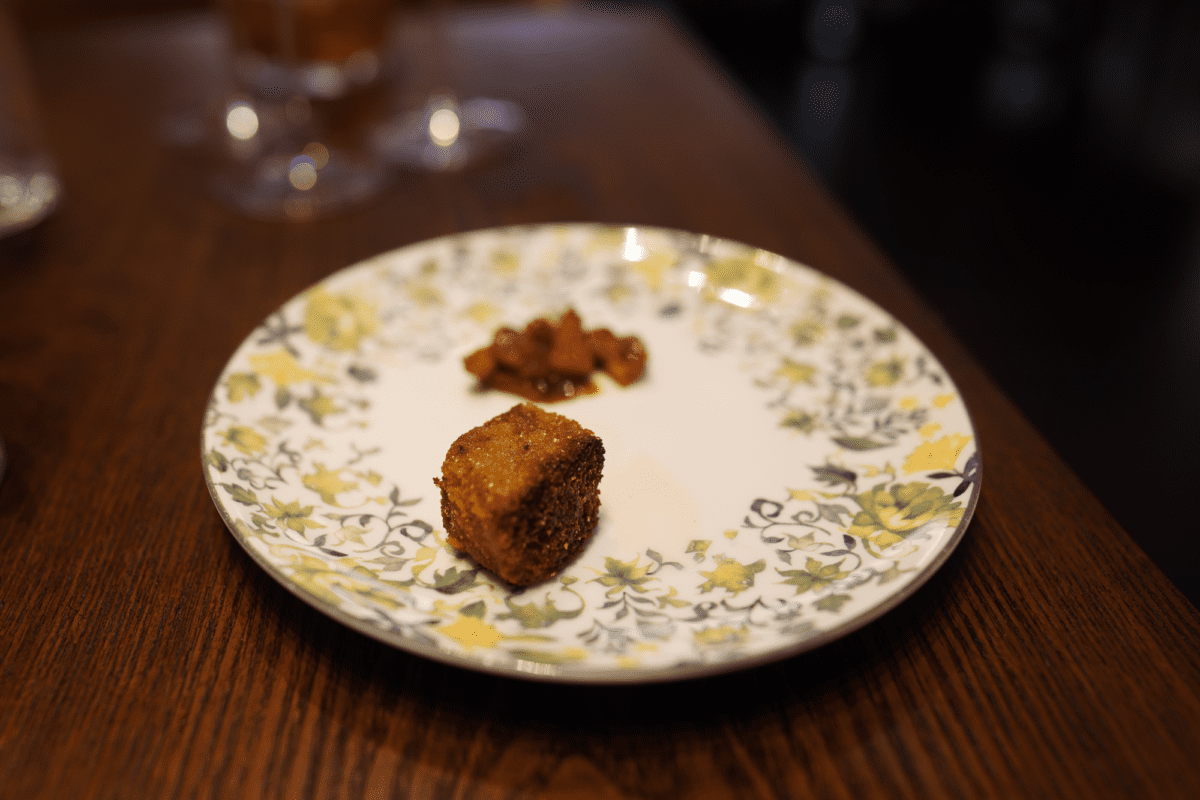 The foie gras proved to be the highlight of the day and it was a pity that I only discovered in the final hour of the buffet.
The savory and buttery foie gras showcased a delightful contrast between its rich crust and delicate interior. Accompanied by the sweet banana marmalade sauce, it formed a harmonious combination that remained enjoyable throughout with its lingering richness.
If not for my pants button begging me to stop, I would have gladly indulged in seconds and even thirds. I highly recommend everyone to go for this first as you won't know when you would run out of space.
Cheese, sushi, bread, and charcuterie
The sushi might seem like an extra awkward component, but they were actually placed next to the cheeses. The charcuterie and bread was also in the same section, which at the bar right in front of the lounge area.
The sushi was nothing noteworthy. I might be biased having lived in Japan for eight years, but the quality of sushi would be equivalent of those packed sushi you can find at a supermarket here. Among the assorted sushi and maki was ebi, egg mayonaise, inari, salmon, ika, and eel with tamago.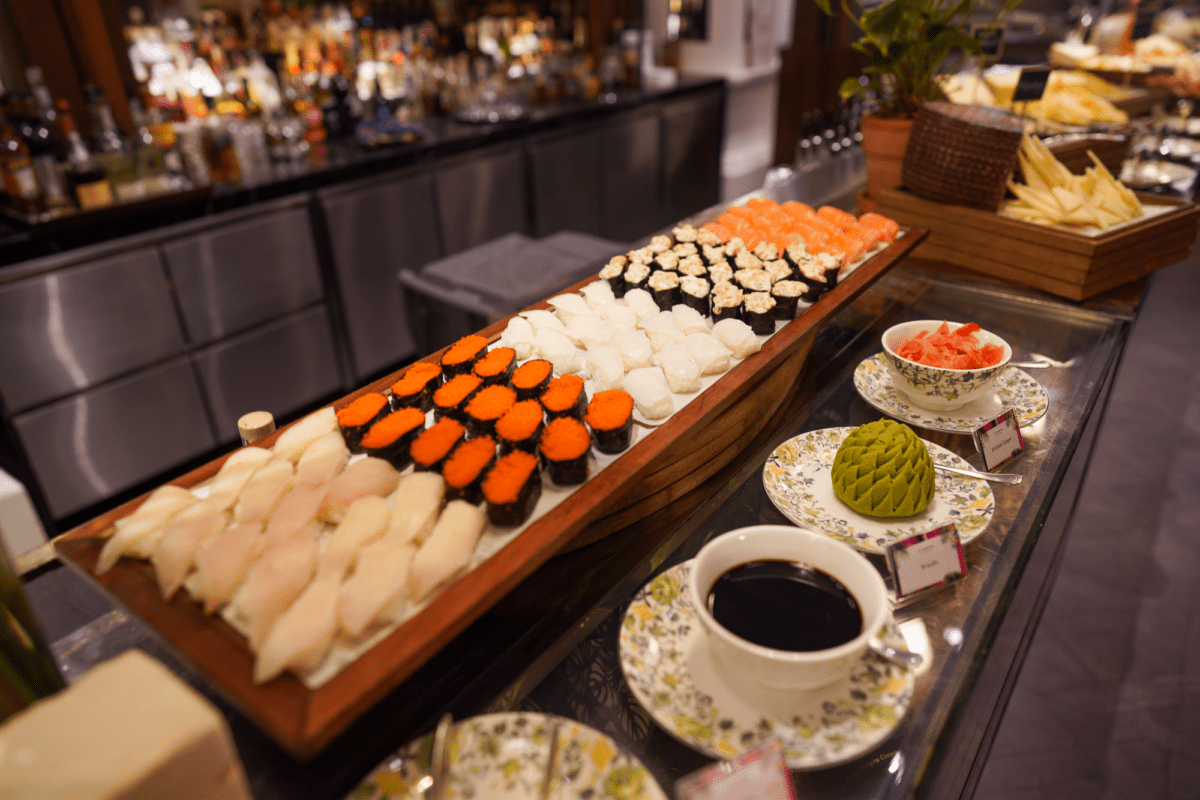 The selection of cheese is simply impressive. They consist of manchego, foorme d' ambert, Grand cru de la Bathie, cheddar, emmental, Cantal jeune, mimolette, gruyere, roguefort, goat cheese, scamorza, Brie de Normandie, brie de meaun, Tomme de Tarentaise, and grana padano. If you are like me and only know cheddar and goat cheese, it might be fun learning about these cheeses prior to your visit and trying the ones that intrigue you.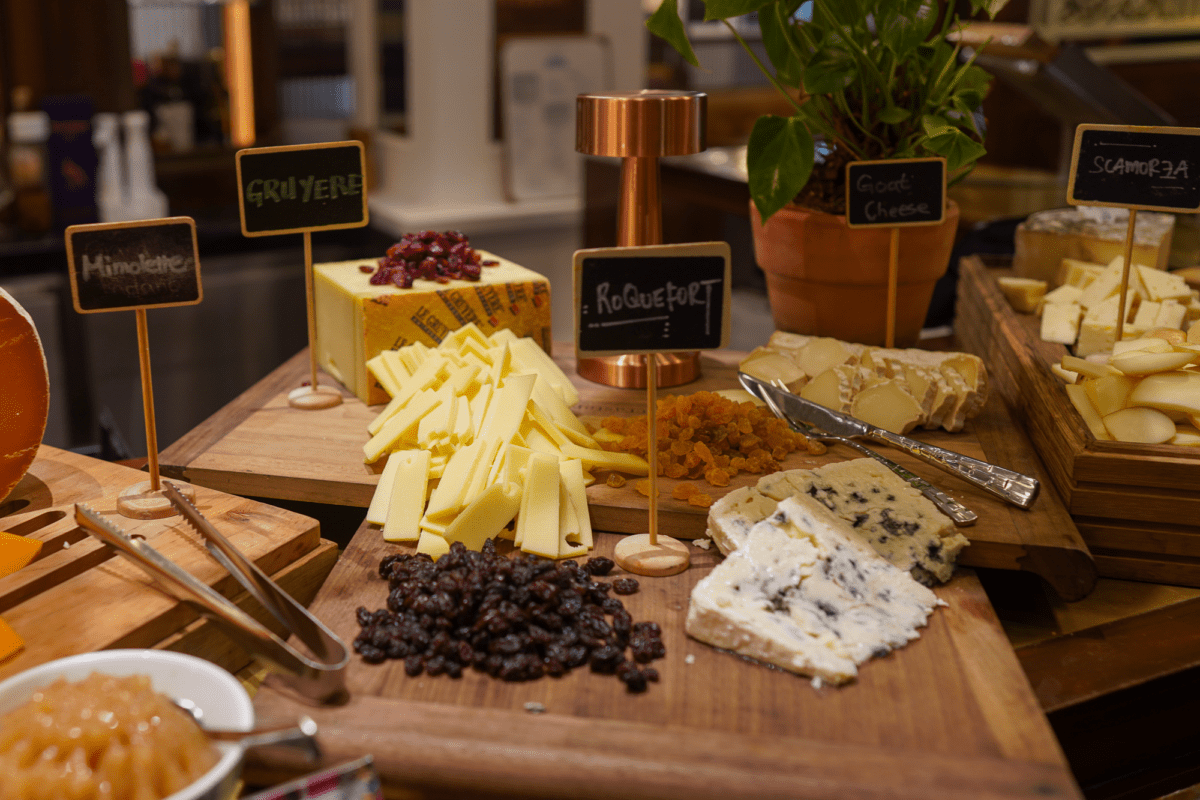 As if the selection wasn't impressive enough, there is a full dripping honey comb next to the cheese which I thought was smart for some showmanship with relatively low effort.
The selection at the charcuterie section was equally impressive with iberico chorizo, smoked black forest ham, smoked haddock, beef bresaola, hot smoked salmon, breadstick, and dark rye crisp, among others.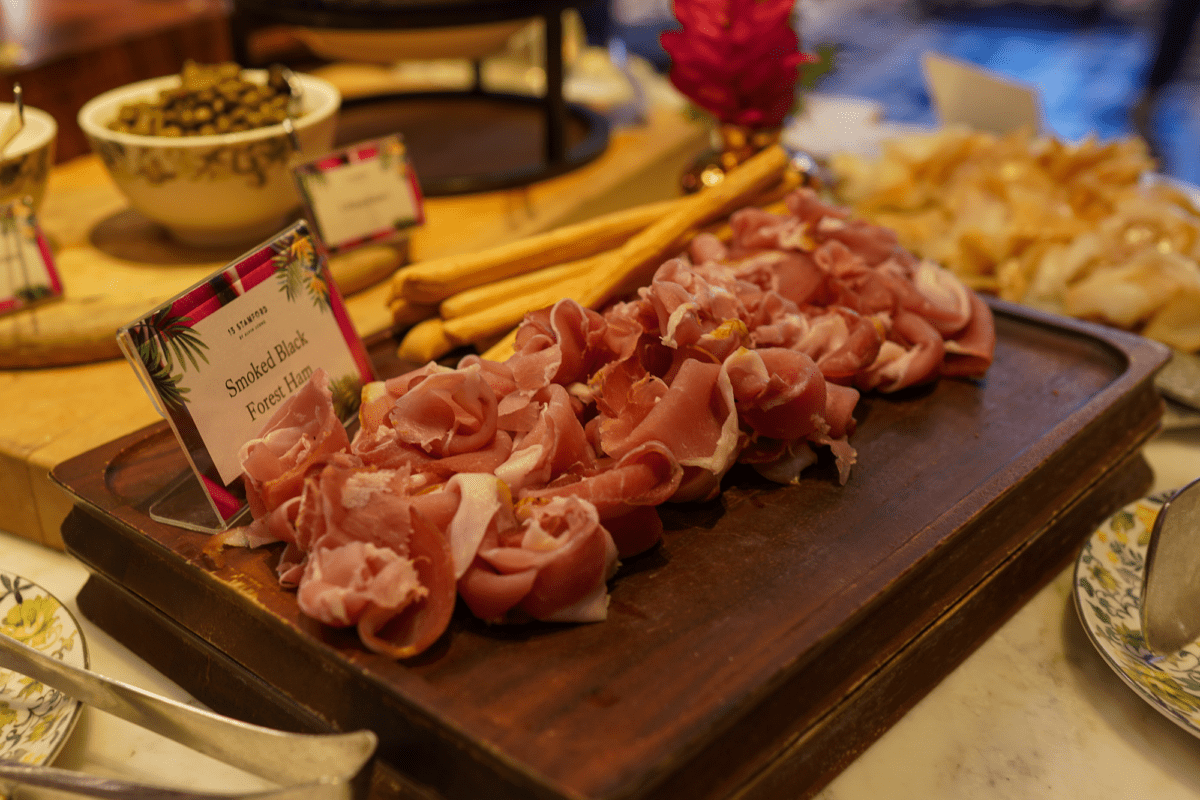 While I largely nibbled through these section, dismissing the bread and soup section completely like the other diners, I was impressed by the selection.
The only issue I faced was a swarm of gnats gathering around the foorme d'ambert which I only noticed when they dispersed when I picked up the tong. I promptly put it back down.
I wouldn't normally bat an eyelid at a food court but was a little disappointed given the location and price.
Dessert
By this station, I was already struggling. Glasses of amazing champagne have muddled my senses, but I know that it would not be a meal without dessert. I fearlessly engaged by "second stomach" where desserts always have a spot.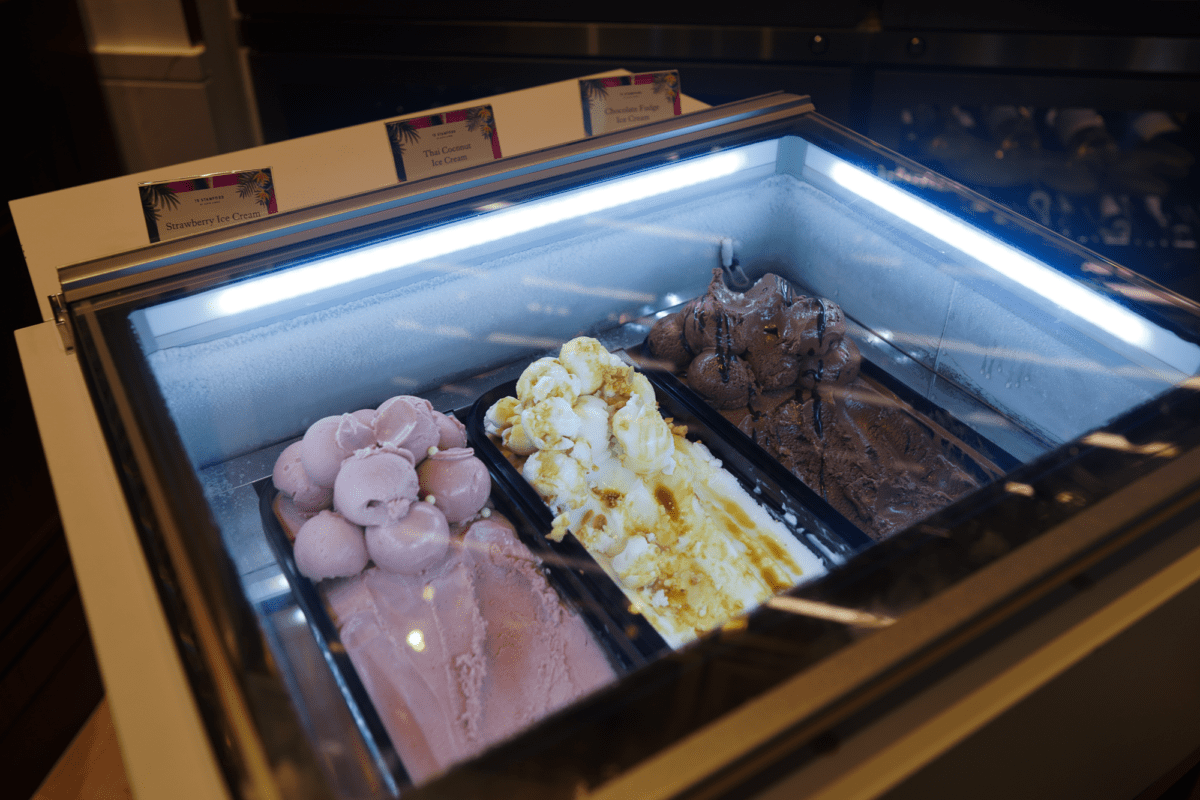 There was a chocolate fondue, ice cream, traditional nonya kuehs, cakes, and even donuts. I noticed that no one touched the donuts during the buffet. There was also two jars of homemade cookies that I normally wouldn't resist, but just could not bring myself to that day.
The highlight were definitely the ondeh ondeh, which is the green ball coated with grated coconut. The molten gula melaka in the center was quite literally a culinary explosion. I indulged in another despite being almost at my limit.
Service
The service in the dining area was impeccable. The servers topped up the champagne frequently, even without being signaled. Dirty plates were promptly cleared each time. Although utensils were not automatically replaced, when I approached a table with utensils, a server quickly rushed over to ask if I needed anything.
The wait staff's attentiveness was outstanding. The only minor issue I noticed was that at times, the main dining area didn't have a single wait staff present. While it wasn't problematic, it might have been inconvenient for some patrons having to search for a staff member, especially considering the relatively low number of diners.
The live station staff, on the other hand, were slightly less impressive. They were not rude or anything, but they didn't say anything when taking orders. I understand that they are primarily chefs who usually work behind closed doors, but the contrast with the exceptional service of the wait staff felt unfortunate.
15 minutes before the end of the buffet at three, you would get the bill. While the food will start to be kept and the champagne will stop flowing, I thought it's nice that they didn't ask me to leave even past three and I could slowly enjoy my last glass of champagne. But I wouldn't count on it as the buffet officially ends at three and you would be ushered to the bar if you stay too long past the time.
Conclusion
For a champagne-lover, the Sunday brunch at 15 Stamford by Alvin Leung is a no brainer.
While there were some hiccups here and there, the ambience, service, and some standout dishes made the trip worthwhile.
This is certainly a place you want to go to impress a date. While I wasn't impressed by every single dish, all of them tasted good, which makes this place certainly worth a try.
Make a reservation here.
Additional Images