This website is made possible by readers. I may earn a small commission when you buy through the links in this article at no extra cost to you. Learn more.
Details
Price $35 on stanley1913.com
Weight 2.5 lb (1.13 kg)
Dimensions 14.6″ (h) x 5.5″ (w) x 4.5″ (d) / 37.08 (h) x 13.97 (w) x 11.43 (d) cm
Overview
I've long been obsessed with heritage brands. While these brands cannot beat the design innovation of newer brands, what intrigues me about these brands is the story. This is the reason why, apart from sleek backpacks and clothing, I review products with a deep history, like the Alpha Industries M-65 Jacket.
Stanley is one such brand, having been around since 1913.
At that time, inventor William Stanley Jr. fused vacuum insulation and the strength of steel in one portable bottle, inventing the all-steel vacuum bottle, which is the product I am reviewing today.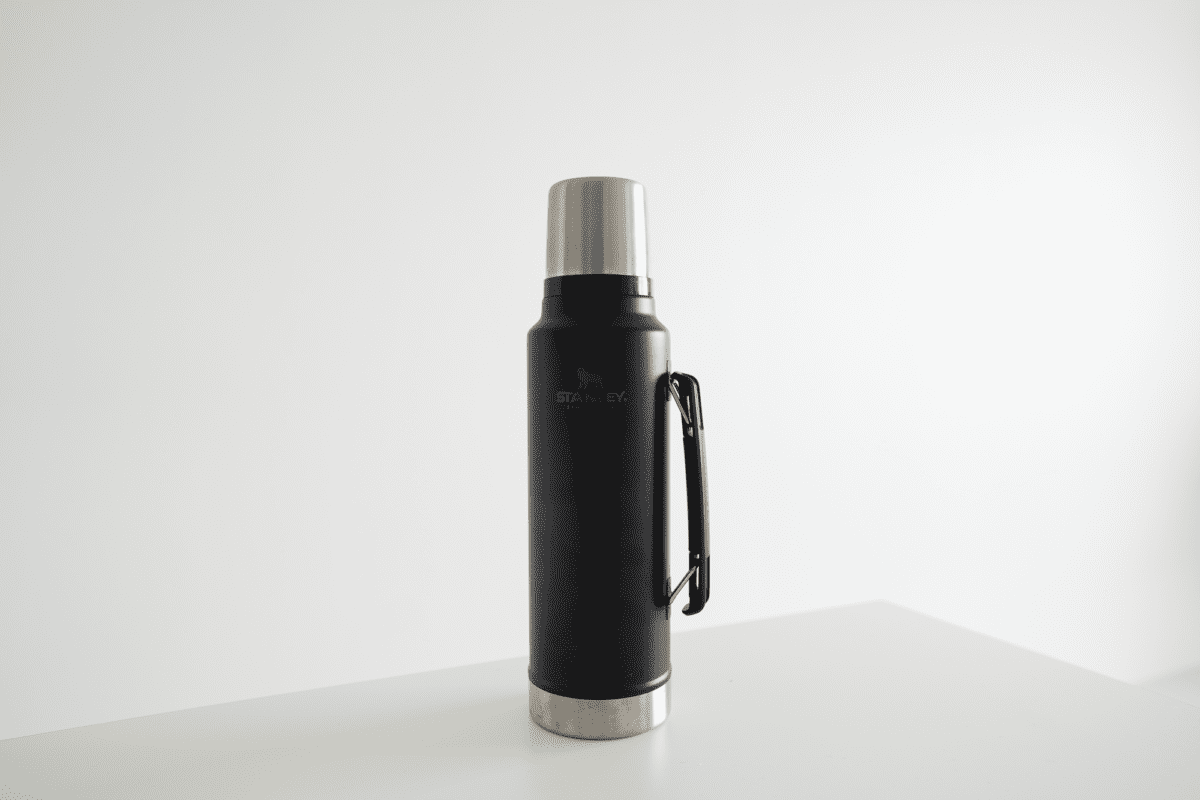 While Stanley has a wide range of products, this bottle is the one that started it all.
Style
Stanley's range of products carries a similar aesthetics across the line. While the designs have modernized over the 100 years of innovation, the old-school look is not lost, even with the updated logo.
Many of you might be familiar with the classic Stanley logo, but in 2019, Stanley updated it to a "winged bear" logo for a more modern identity.
Even with a renewed identity, the style of the Stanley Classic Legendary Bottle remains true to the original design. Like the vintage models, the cap and the base of the bottle are in stainless steel.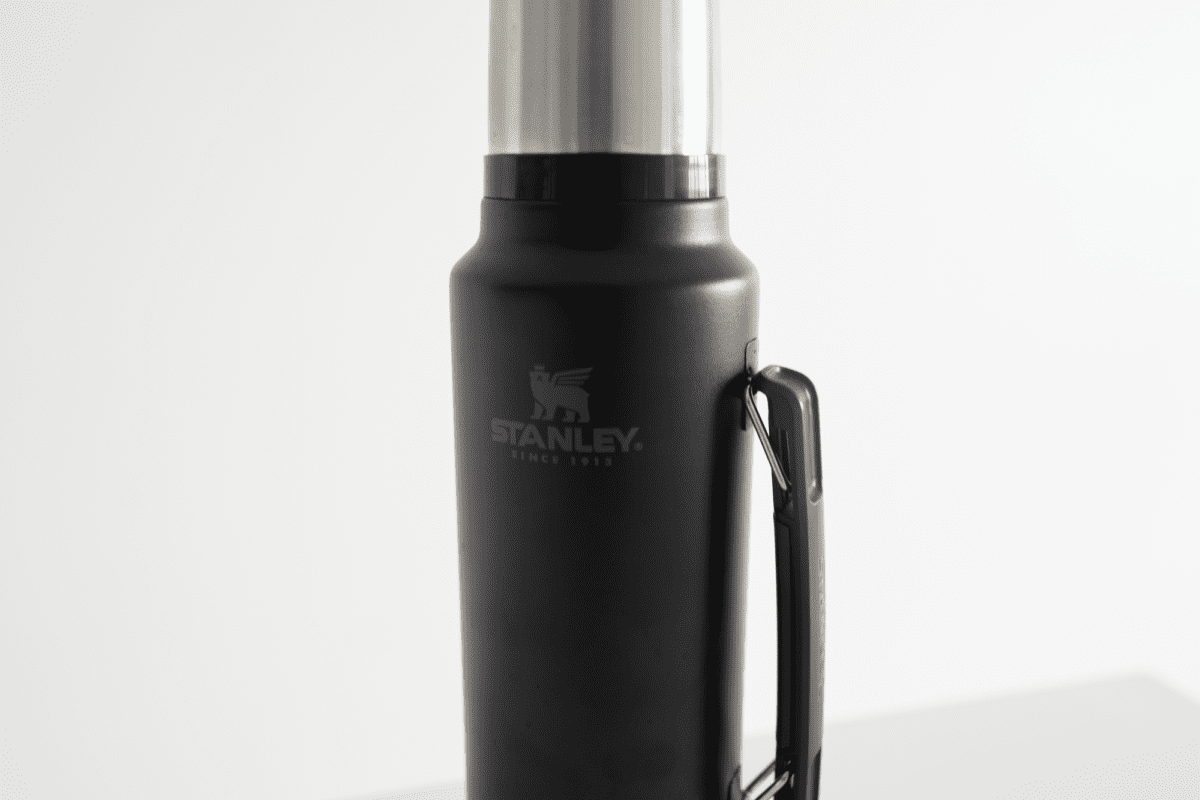 The interior of the stainless cap is a black plastic that extends to the exterior, such that about half an inch of the base of the cap is in black plastic.
Unlike the vintage model, a handle has been added over the years. The handle is in black plastic with metal hinges.
The bottle comes in four sizes, 1.1, 1.5, 2, and 1.5 quarts. There is also a handleless version that comes in 0.5 and 1.0 quarts. Each comes in three colors; blue (nightfall), (hammertone) green, and matte black. The one I got is the black version, in 1.5 quarts.
But no one likes ads, so I got rid of them. If my articles helped you, I ask for your support so I can continue to provide unbiased reviews and recommendations. Every cent donated through Patreon will go into improving the quality of this site.
At 1.5 quarts, the size is too big for everyday carry. Something like the Stanley Travel Mug would be much more appropriate in size.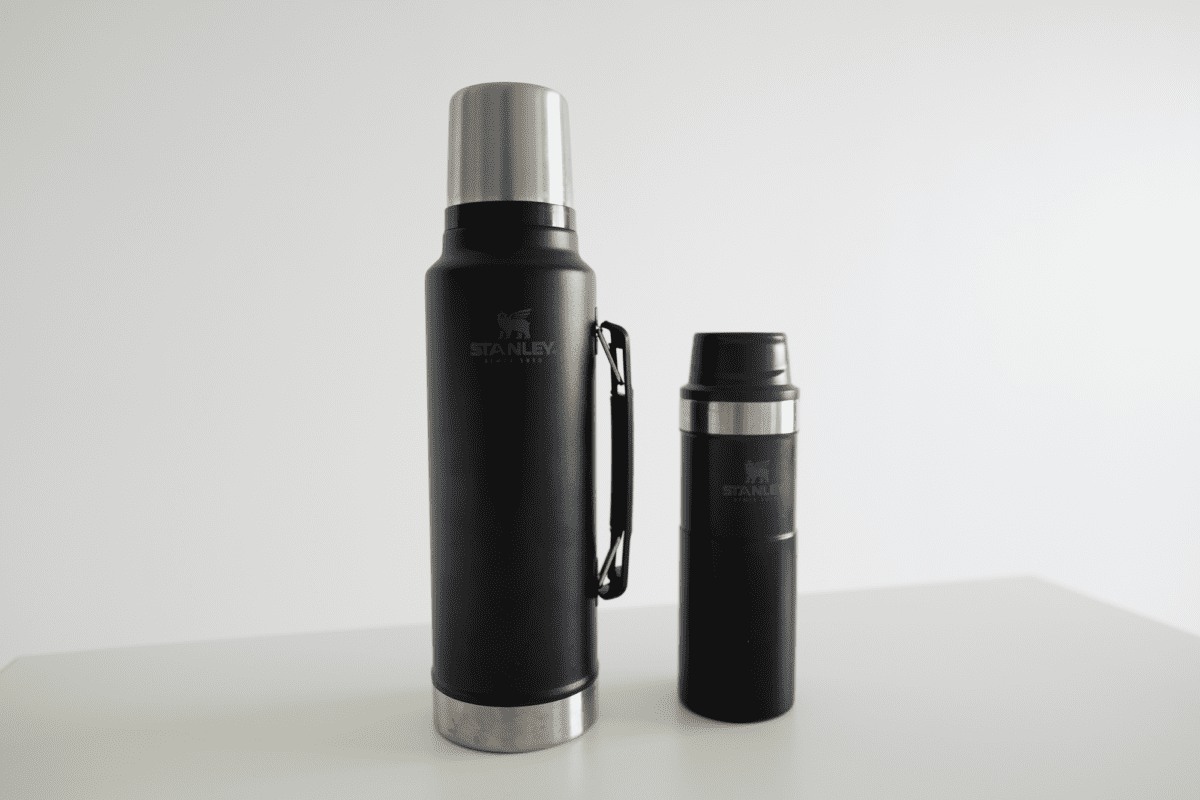 Material
The bottle uses 18/8 stainless steel that's BPA-free. BPA refers to a chemical agent called bisphenol A, which is sometimes used in plastics.
BPA is a concern because of the possible health effects of BPA on the brain, behavior, and prostate gland of fetuses, infants, and children. While the research is not conclusive, brands are quick to jump on it as a marketing message. Well, it's better safe than sorry.
It's a double-walled vacuum insulation construction, which creates a vacuum between the interior wall and exterior material. The vacuum, which is an empty space, in between prevents any loss of heat or cold as it contains no molecules for collision and heat transfer to take place.
Usage
Stanley could have very well pioneered the vacuum insulation technology, but over the ears, vacuum bottles and mugs are common. Where I live in Japan, brands like Zojirushi or Thermos are the market leaders for thermos flasks. Vacuum insulation keeping your drinks warm or cold isn't any breakthrough in this age.
Stanley claims that it will keep hot liquids hot for 40 hours and cold liquids cold for up to 35 hours. I've used the Stanley Travel Mug extensively and exclusively with cold drinks and can say that 24 hours of insulation is a good expectation to have. After which, while it won't get warm, it will start becoming less cold.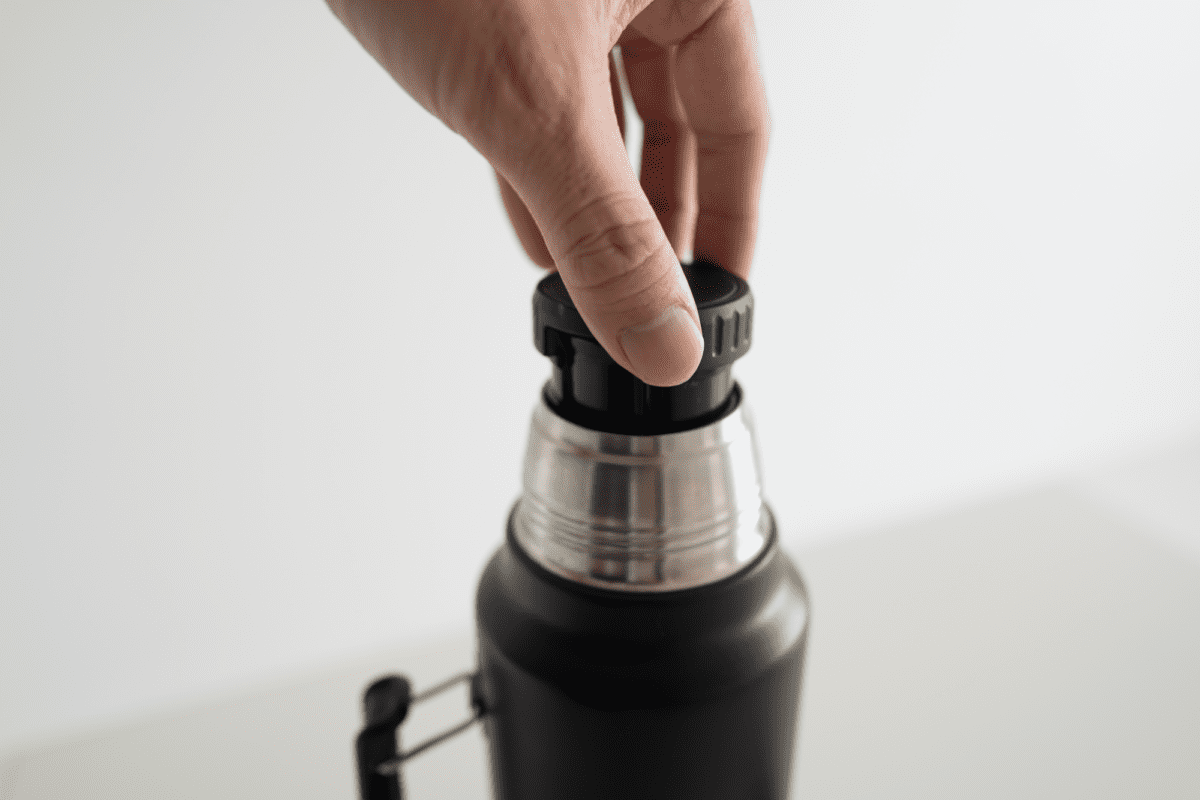 With such hardy materials, the biggest consideration is the weight. At 2.5 lbs without any liquids, this is not a bottle to carry all day. It feels like something you have when going camping in your car, where weight isn't a consideration. However, for this case, perhaps the 2 or 2.5 quarts version might be better.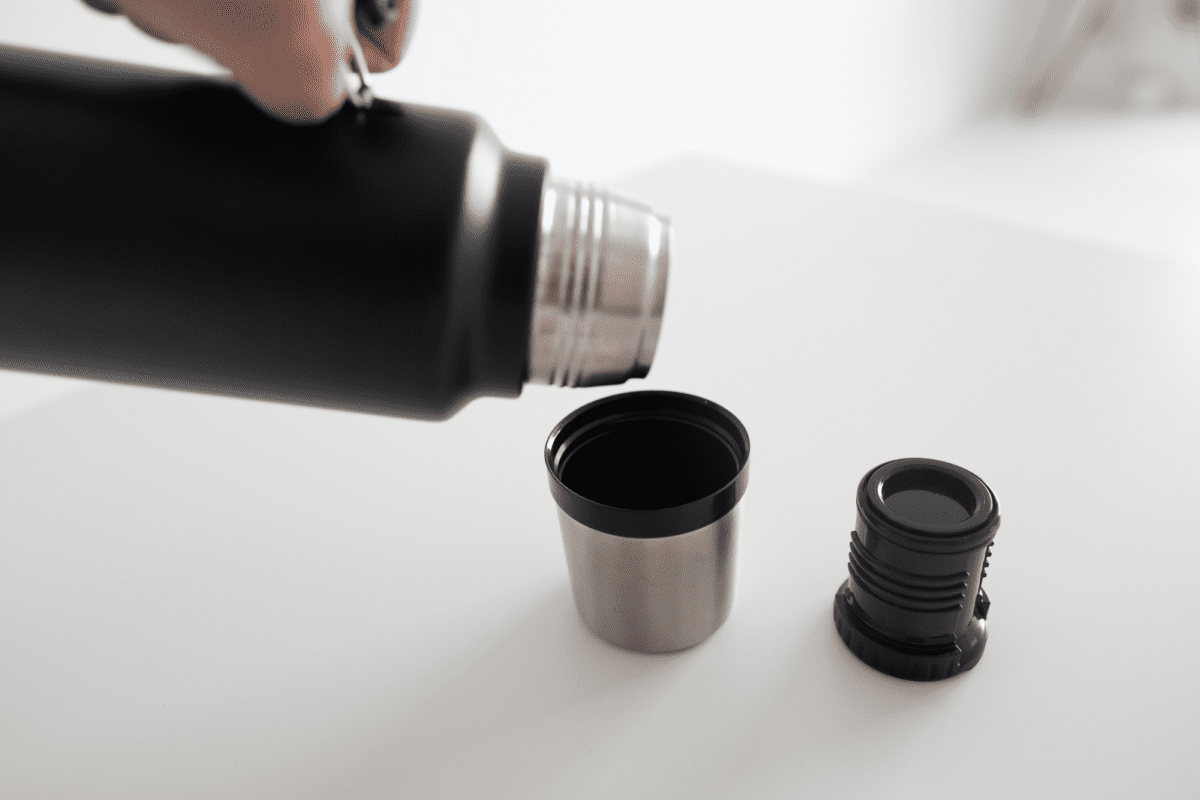 The weight and the capacity of the one I got make it a little hard to use often, and for me, it's limited to taking coffee or tea out to a two-person picnic.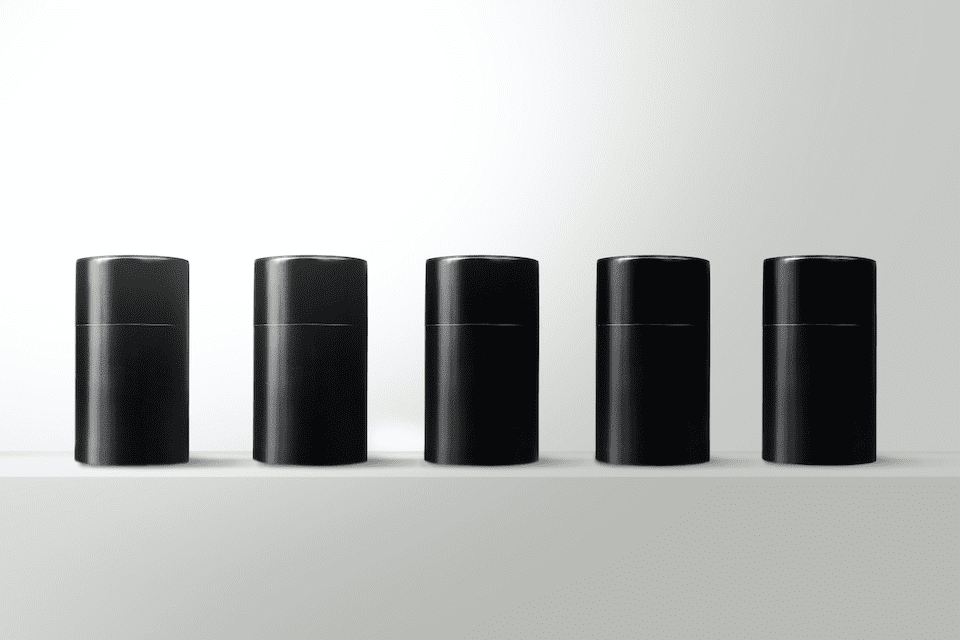 I found a 100 year old company that would create these heirloom quality canisters for me. They are handmade and will keep your tea leaves, coffee beans or anything that you need dry for years to come.
or read review
Durability
The durability of Stanley's goods is undisputed. These are sturdy as hell. I have no doubt that, in times of desperation, these flasks can be used as a weapon against bears. I'm not sure what situations you will be putting your flasks into, I am pretty sure they will last.
Handle
The handle attached is quite unconventional. It collapses for a flatter but not totally flat profile.
When you lift it up, it expands with space for your fingers. Simply picking it up from a collapsed state, the space is quite tight for my large hands. If you push the top hinge upwards, you'll be able to create more space for a more comfortable hold. The top hinge also prevents the handle from collapsing with your fingers in it when holding on to it.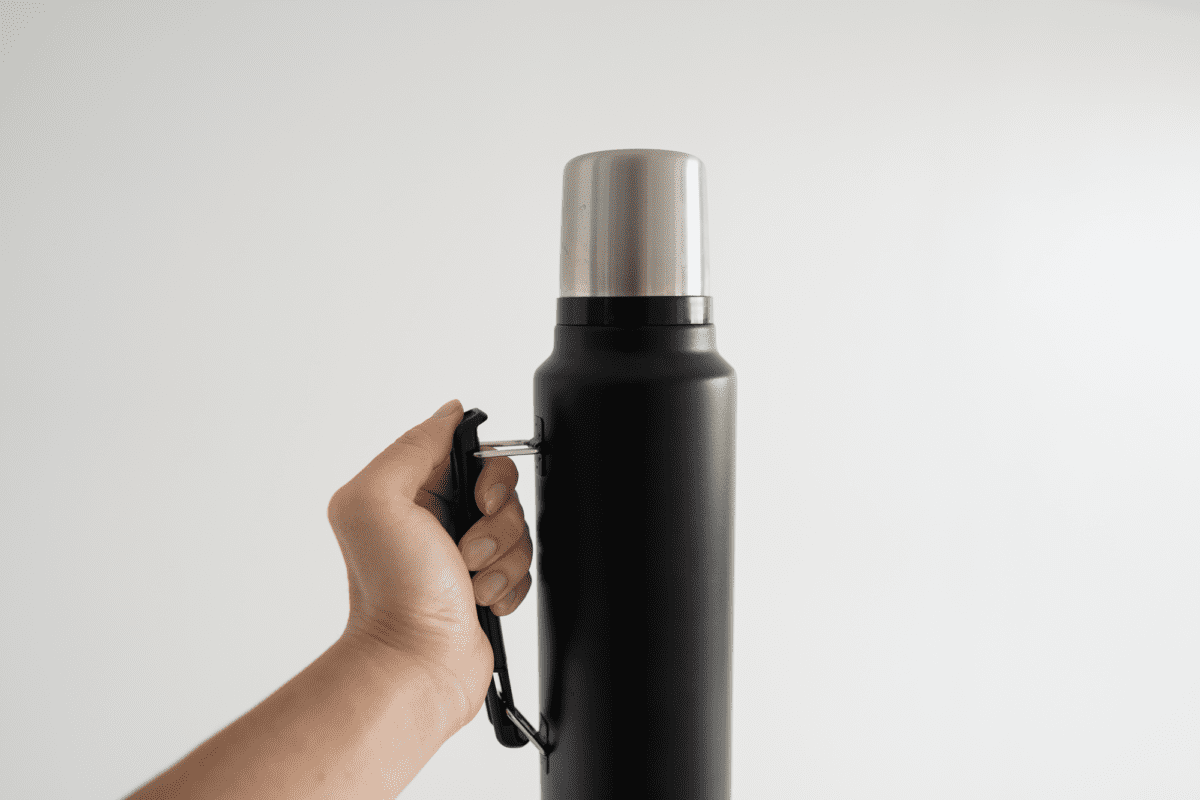 Conclusion
The Stanley Classic Legendary Bottle carries all the qualities that brought the brand through the last century. The quality is top-notch, and the design is timeless.
Additional Images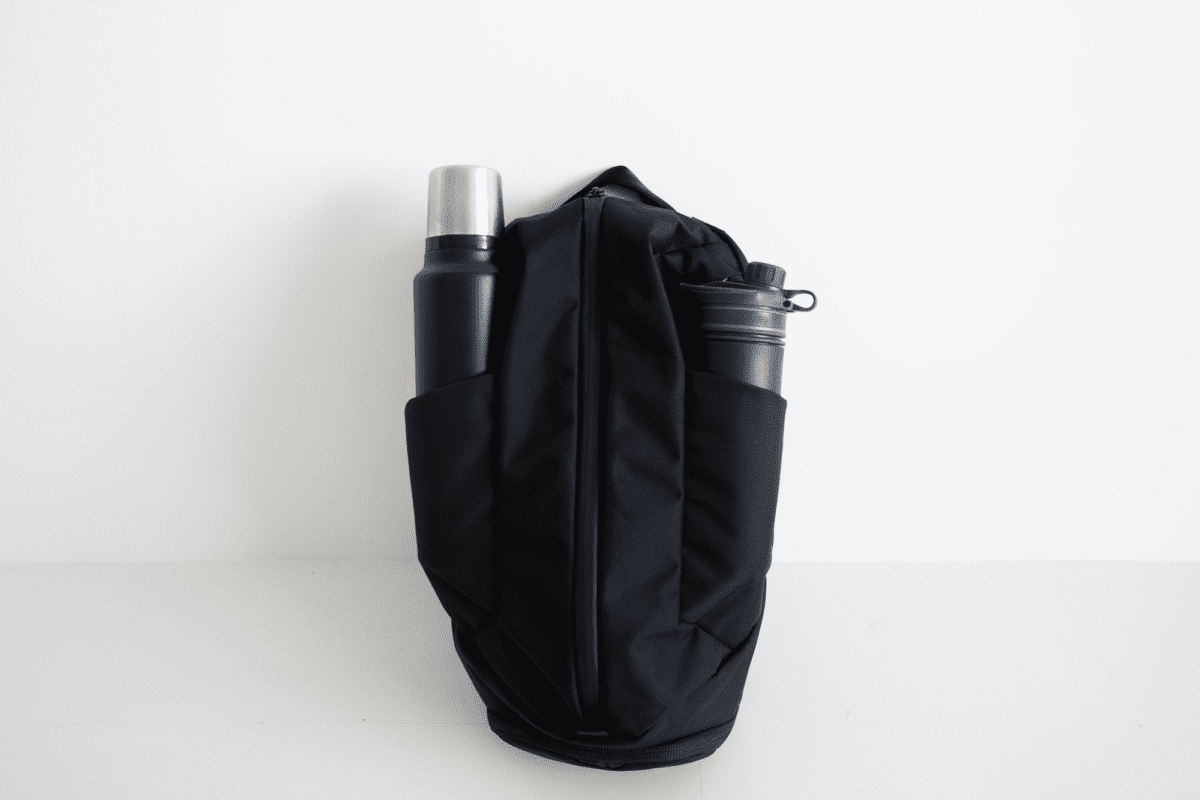 Like this review? See all of my in-depth reviews.
Also, consider supporting me by being a Patreon. Every cent given will go back into improving the content of this website.