This website is made possible by readers. I may earn a small commission when you buy through the links in this article at no extra cost to you. Learn more.
Note The Outlier Futurecargoshorts is no longer available in-store, so all product links redirect to the Outlier website.
Details
Price $198 on outlier.nyc
Material 97% nylon, 3% elastane (F. Cloth)
Overview
It doesn't matter how many Outlier reviews I write; each piece always lets me learn more about the company and its evolution.
Outlier was founded by Abe Burmeister and Tyler Clemens in 2008 and based in New York City, and they started out trying to design a pair of bike pants that they don't have to change out of, heading into the office. While they started with travel-savvy pieces like the Outlier Slim Dungarees, now they design whatever they are interested in. This is especially apparent in their "experiments" line, which is small-scale, limited runs, probably as an excuse to test progressive weaving technology or experimental fabrics on their rabid guinea pigs fanboys (guilty as charged!).
In some ways, the chosen silhouette for the Futurecargoshorts isn't too surprising. While some might associate Outlier with slim lines and chic cuts, they have gradually shown their interest in workwear over the years. From the Outlier Duckworks to Outlier Bombpaints, they have proved that workwear classics have room for innovation.
Cargo shorts were first worn by the British Infantry in 1938 before making their way into the American military in the early 1940s. They used the iconic large pockets for storing maps, rations, and extra ammunition. The pockets grew in size as gear requirements increased. As with military jackets like the Alpha Industries M-65, veterans adopted them in their civilian wardrobe, eventually circulating them into the streets.
In modern times, cargo shorts are a highly divisive article of clothing, one that's are widely loathed as a key component of the lazy dad-style. Even Netflix has something to say about cargo shorts. While the utilitarian advantages of the cargo shorts are not to be dismissed, modern men are moving to sleeker pieces like chino shorts, the Outlier New Way Shorts being an excellent example.
Now, why did Outlier choose a piece with such a contentious history? It's almost as if they enjoyed the challenge. Do they have what it takes to transform the negative stereotypes surrounding them?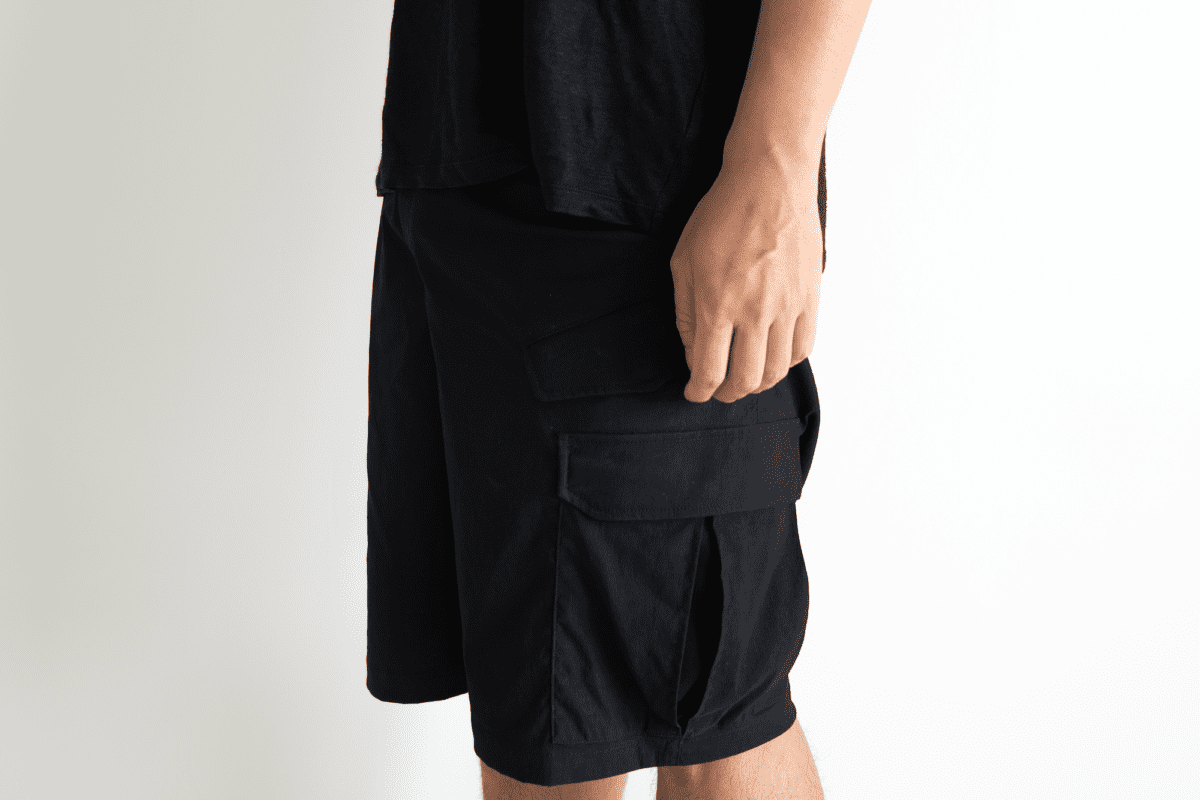 Style
At first impressions, Outlier has kept close to the original style, which might disappoint those expecting a radical twist. I assume they wanted to release a pair of true, blue cargo shorts, and changing the ubiquitous style might defeat the purpose.
The shorts are baggy, a contrast to the usual slim cuts of Outlier's shorts. The traditional side cargo pockets, the element that makes cargo shorts cargo shorts, are accented by a complimentary pocket above the one on the wearer's left. The pocket snaps are hidden from the outside, while the pleat that goes down the middle of each pocket are impressionable.
The shorts come in four colors, but only one right one. I've adopted an all-black wardrobe for a few years now, and there is a reason why Outlier is one of my favorite brands. Almost all their products come in black. Without any hesitation, I went with the black colorway.
But no one likes ads, so I got rid of them. If my articles helped you, I ask for your support so I can continue to provide unbiased reviews and recommendations. Every cent donated through Patreon will go into improving the quality of this site.
The black colorway has been diligently applied throughout the piece, down to the hardware and threading, further accentuated by the lack of any branding, a look that I've come to expect from Outlier.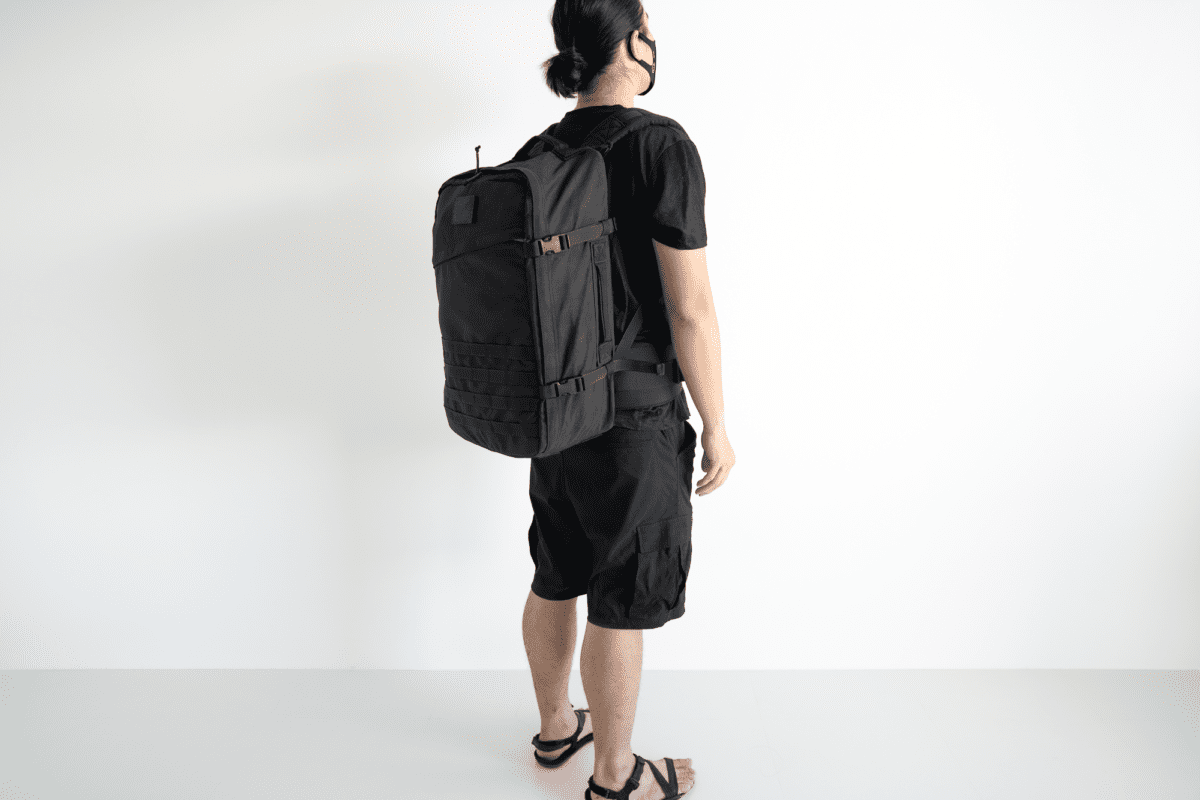 While the faded, distressed look of khaki cargo shorts contributed to the world view of it being a fashion travesty, the F.Cloth keeps the Futurecargoshorts clean and prim.
I fit a size 34 perfectly on the Outlier New Way Shorts, but there were times after a heavy meal that I wished I had just another inch of space. I went for the size 35 on the Futurecargoshorts—a mistake in hindsight.
You see, a larger size not only increases the waist size but the size of the entire piece. Given that cargo shorts are baggy by design, a size up makes it look even baggier. Coming from slimmer shorts like the New Way Shorts, this needed some getting used to. While the adjustable waistbands give you some leeway when the size is too big, I recommend not relying on it and going true to size.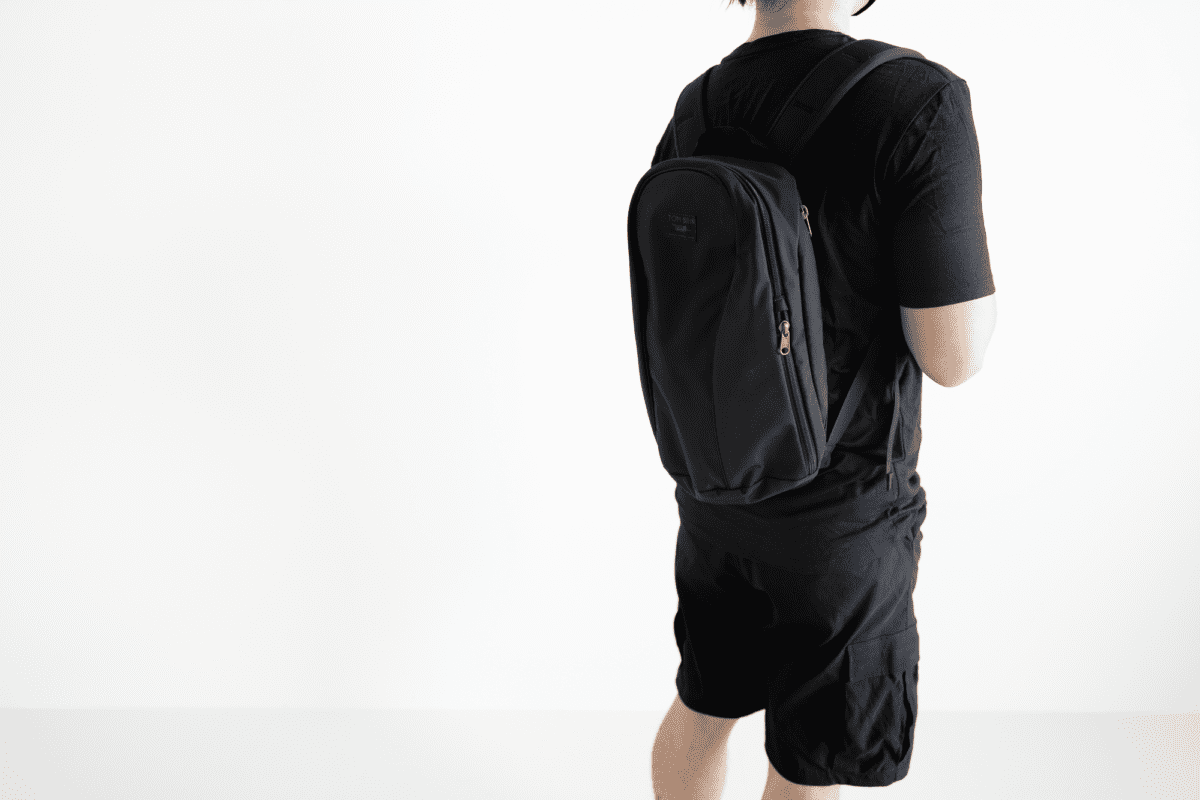 Despite the perfect craft and premium materials, the Futurecargoshorts is still a pair of cargo shorts. If you are brainwashed by men's fashion commentary by exasperated women on the travesty of owning a pair of cargo shorts, then you will find no refuge in the Futurecargoshorts. It is unapologetically a pair of cargo shorts, although arguably the smartest-looking one.
Material
The F. Cloth fabric used is a 200gsm, 97% Nylon, 3% Elastane canvas, with a substantial 35% two-way stretch. This is a legendary material that Outlier has utilized repeatedly on their most popular pieces, like the Outlier Futureworks.
The fabric is from a vertically integrated mill in Sweden, so that you can expect a level of quality just from its origin. Its air-texturized CORDURA grade nylon yarns are engineered to be strong yet soft enough to wear for year-round comfort. They also look more matte in appearance than your average polyamide for the signature understated Outlier look.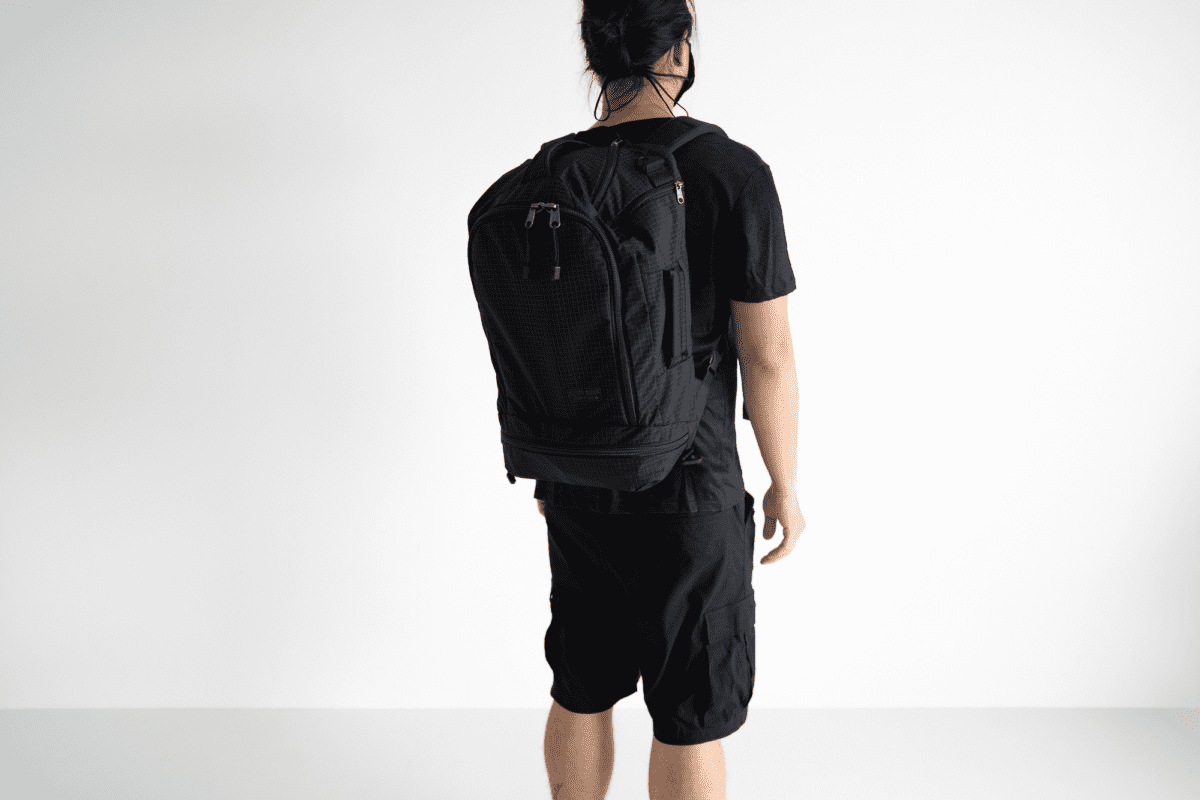 The two side cargo pockets are box pleated for expandability, which means they expand out if you put more stuff in. The pockets' flap is half tacked on the inner side, which means the inner side of the flap is sewn down. There are two low-profile snaps, one in the middle and one on the outer side of the flap, that give easy access.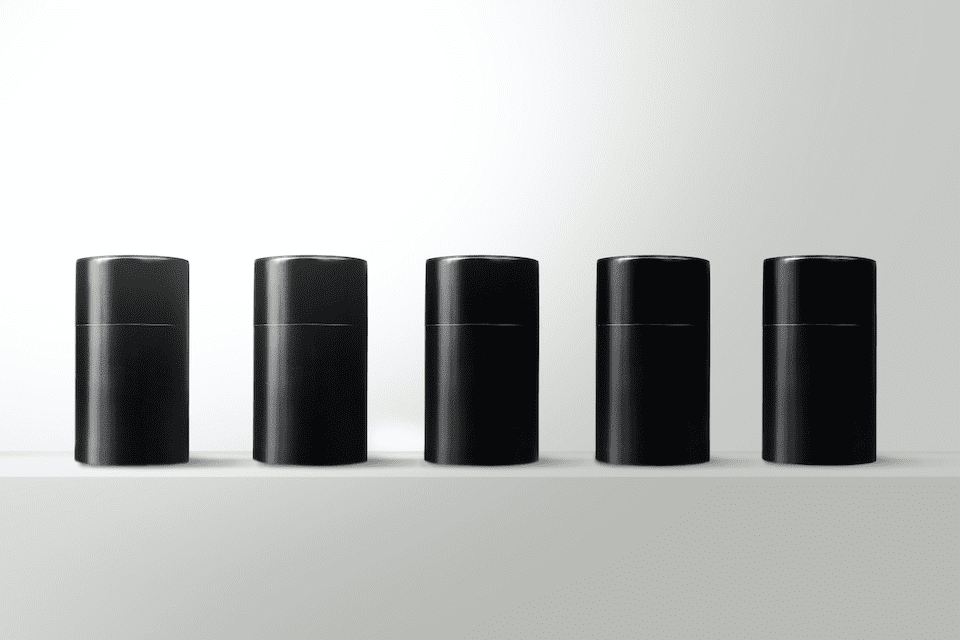 I found a 100 year old company that would create these heirloom quality canisters for me. They are handmade and will keep your tea leaves, coffee beans or anything that you need dry for years to come.
or read review
The snaps also come with finger garages. I don't think I can do a better job than Abe's explanation of what these are:
It's a particular construction of snaps where the bottom snap is mounted onto a separate piece of fabric which is then attached to the body fabric creating a small pocket or cave type space in-between the snap and the body of the fabric. This lets you slide your finger behind the snap so that snap closes by pressing two fingers together.

This is in opposition to when the bottom of the snap is applied directly to the body fabric, which forces you to either press the snap directly into your own body to close it, or alternatively sometime people life up and fold the fabric so that they can get a finger behind the snap.

We didn't invent this snap construction but we've never seen it named (although I'm sure there is one somewhere) so we just took to calling them thumb garages or finger garages.

—Abe Burmeister
A light DWR has been applied to the pant to keep dry during light showers, but don't rely on it keeping you dry during monsoon season. I poured some liquid on the shorts, and while most of the liquid would bead off, the liquid would slowly permeate the fabric, and you would feel it through the shorts.
One thing about DWR-treated products is that the treatment would wear off in time, and you would need to use a product like Nikwax to bring back the water resistance.
Usage
Especially for a pair of cargo shorts, the usability comes down to the pockets. There are a total of seven pockets on the Futurecargoshorts.
The two side pockets are low-angle slash pockets that you can access from the top. Like most of Outlier's pants, these pockets are deep and secure. However, for those who like to have their hands in their pockets, the pocket's opening is not at the optimum angle for putting your hands in, but it's no less comfortable. These pockets are deep enough that I thought a little more of an angle for easy hand access wouldn't hurt.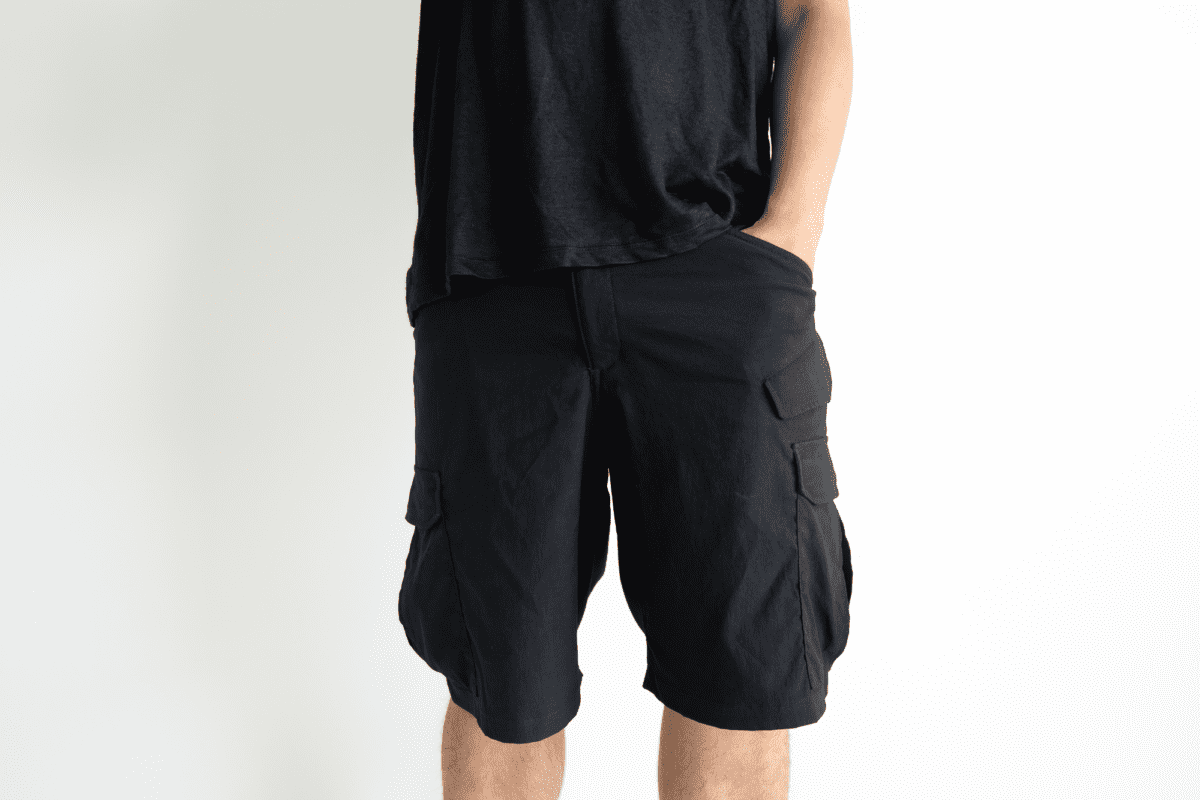 Rather than the side pockets, the large cargo pockets are the go-to pockets for me. They are just much easier to use, which is the allure of cargo shorts for me. In fact, I would go as far as to say that these pockets are so spacious and usable that the other five pockets are severely underused.
I have only the outer snap fastened and slip stuff through the middle of the opening. If I have valuables in them, I will fasten the middle button.
I love the finger garages, but sometimes when I try to lift the flap, my finger would go into the garage unintentionally. However, the benefits far outweigh that small issue, and I would love to see this in more of Outlier's future releases.
You can find the finger garage on the pocket above the large one on the wearer's left as well. However, unlike the large pockets, it isn't half tacked and has no snap on the outer side. I put things I can't afford to lose and don't often access here, like my keys. This pocket is deceivingly deep and can fit almost my entire hand.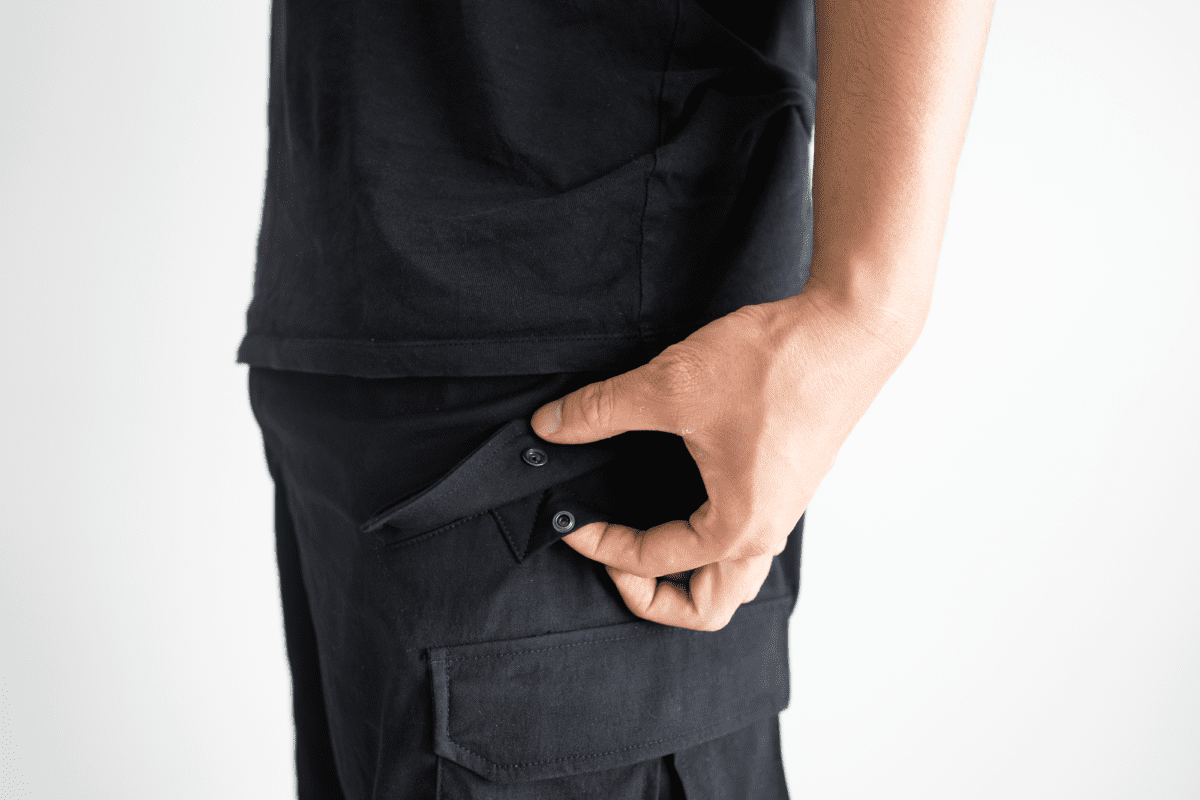 However, even these ultra-usable cargo pockets cannot outshine what Outlier calls "one of the most beautifully rendered waistbands we've done." These two sides adjust tabs can be tightened and loosened with one hand, even with your pants on.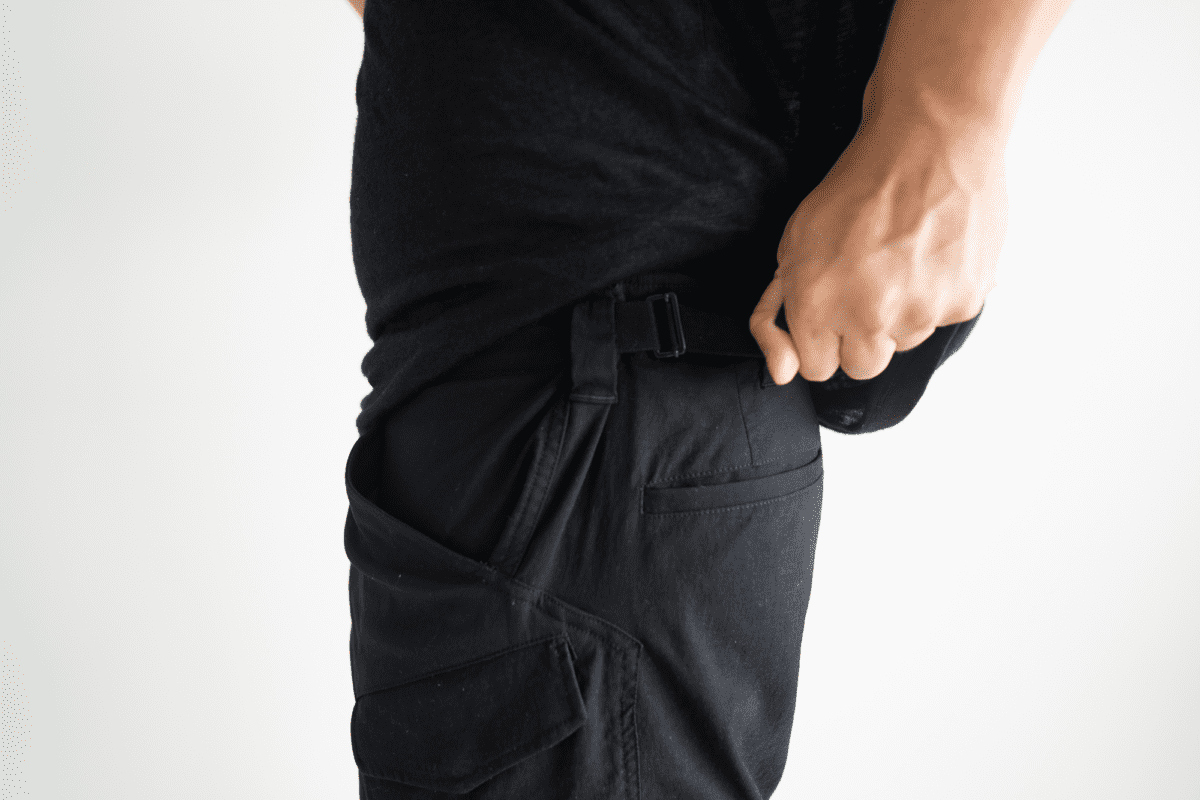 To tighten, pull the excess strap towards your back. Sometimes, you have to tug it towards your front first to loosen the buckle, but it's still a fairly quick operation. To loosen, lift the back side of the buckle towards your front.
I'm not exaggerating when I say I hope. Outlier can include this feature in all their pants, tailored or not.
Conclusion
The Futurecargoshorts stay true to the traditional cargo shorts but introduces two killer features: finger garages and adjustable waistbands. For those who defy traditional menswear advice and rock cargo shorts, this one by Outlier is sure to elevate your lazy weekend outfit.
Additional Images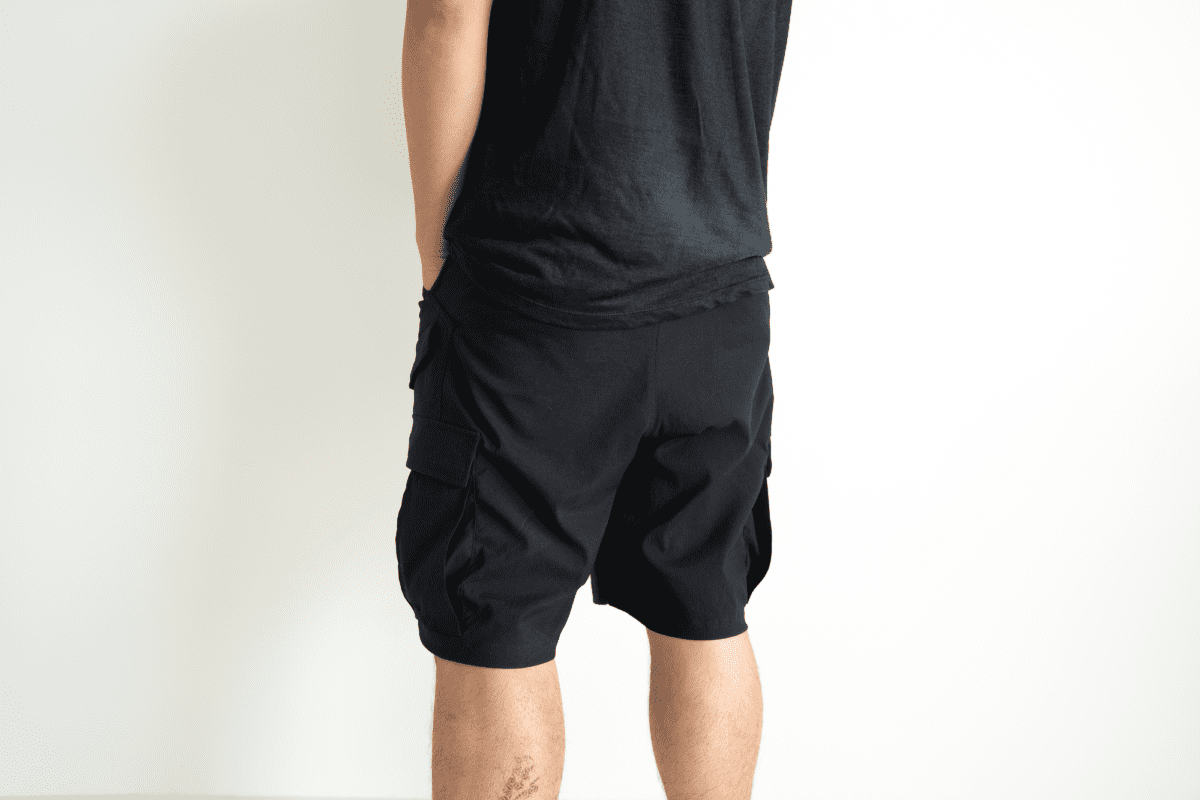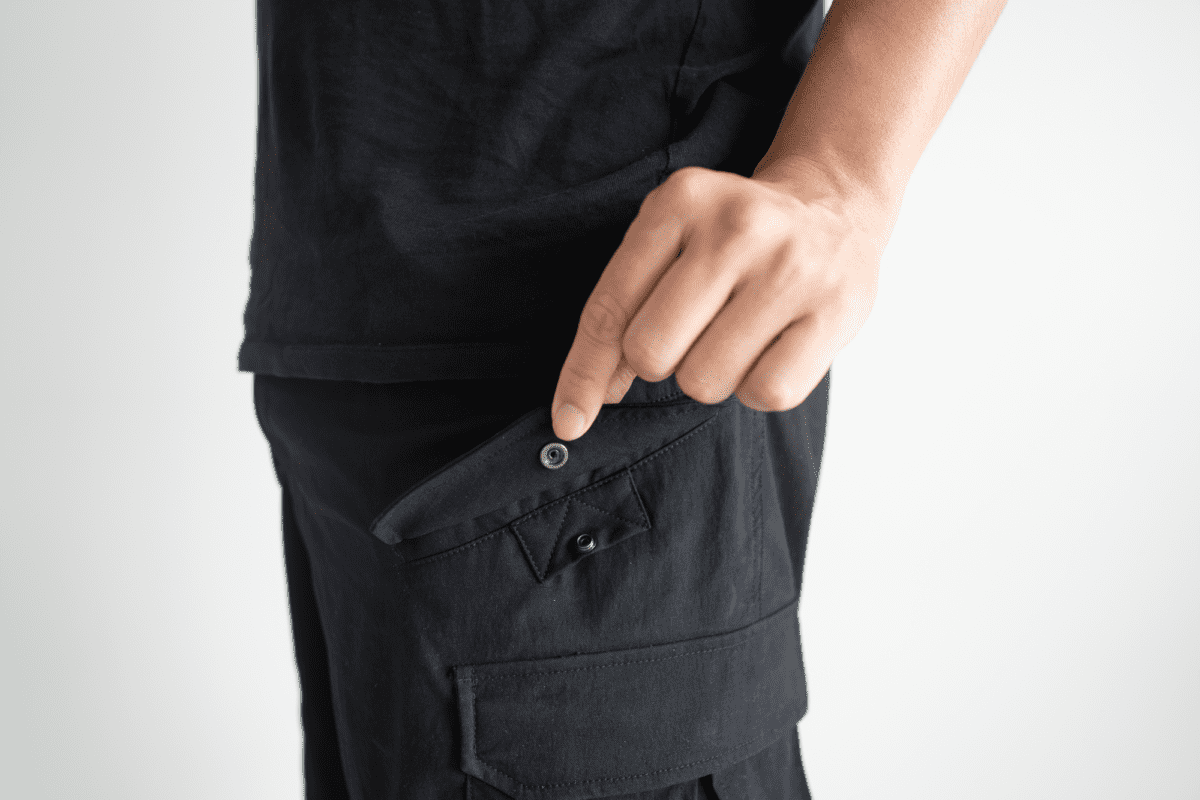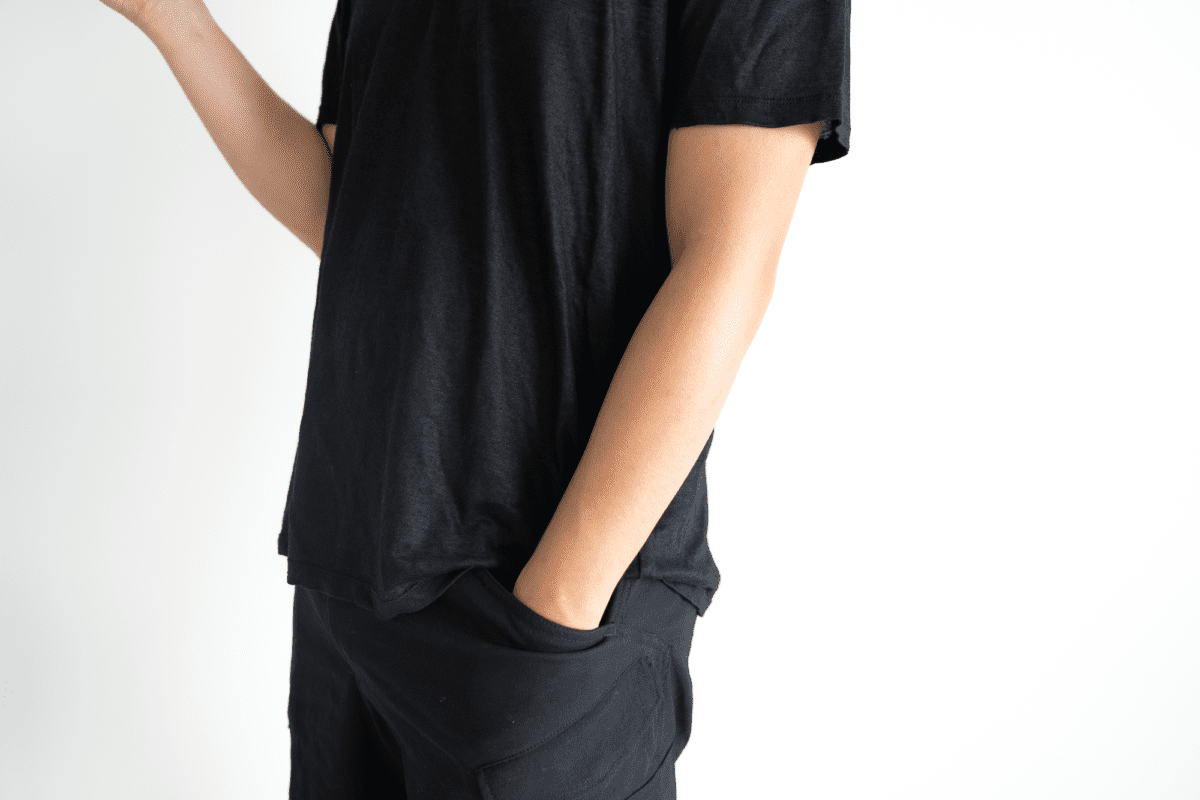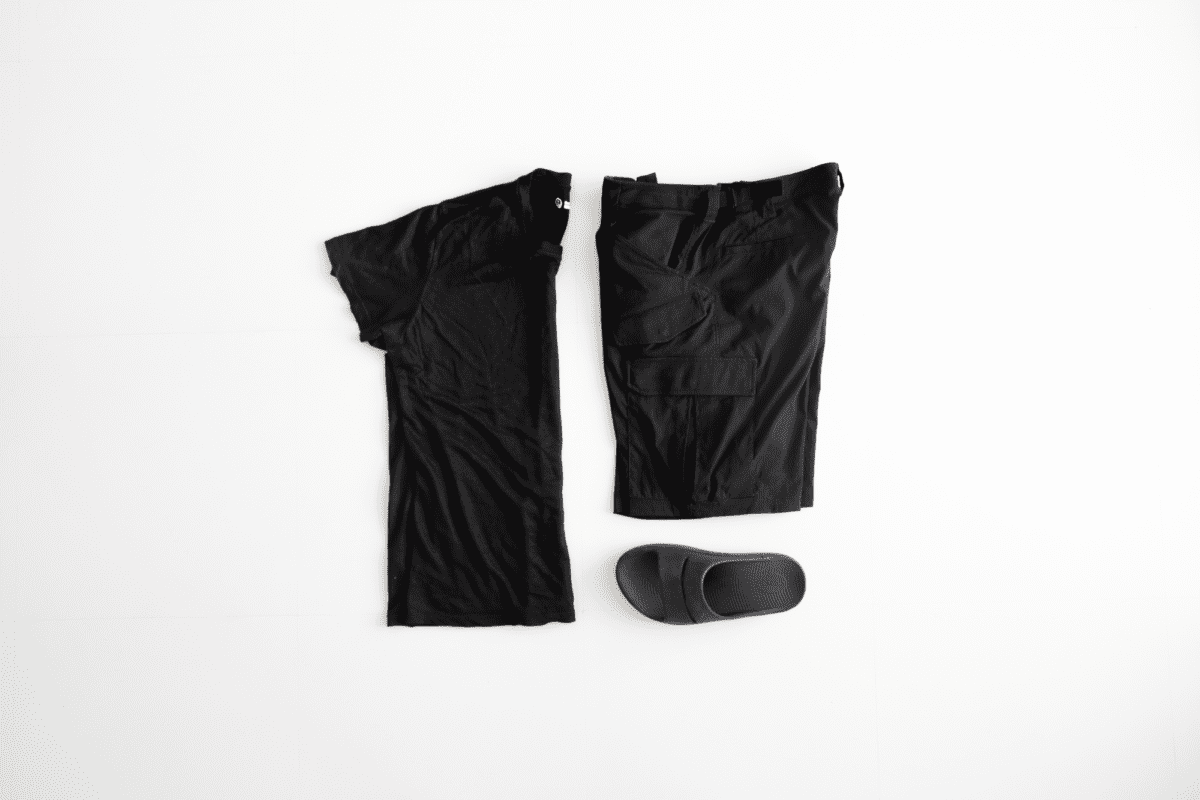 Like this review? See all of my in-depth reviews.
Also, consider supporting me by being a Patreon. Every cent given will go back into improving the content of this website.
Tagged outlier review short water-resistant