This website is made possible by readers. I may earn a small commission when you buy through the links in this article at no extra cost to you. Learn more.
After reviewing the GORUCK GR1 and GORUCK GR2, I feel like the GORUCK GR3 is the final boss to review. This beast of a backpack is big and bad and is for serious travelers only. The price tag will probably tell you the same.
Details
Price on $395 on goruck.com
Dimensions 22″ (h) x 14″ (w) x 9″ (d) / 55.9 (h) x 35.5 (w) x 38.1 (d) cm
Weight 5.15 lbs / 2.33 kg
Made in USA
Overview
GORUCK has long been one of my favorite brands for backpacks, even before I started reviewing them. Their signature backpacks, the GORUCK GR1 and GORUCK GR2, have been with me on countless trips in the roughest of conditions.
GORUCK is not just military-inspired. Their very roots are from the upper echelons of the military; the special forces and commando units. Founded by an ex-Green Beret, GORUCK products are made for well above anything the average one bagger could throw at it. It's not an exaggeration to say that you could take some of their bags to war and have it hold up in the harshest of conditions. Having used their backpacks extensively, I can personally attest to this.
However, as a completionist who tries to get every achievement in the Yakuza games, it's always on the back of my mind that I have not reviewed the GR3.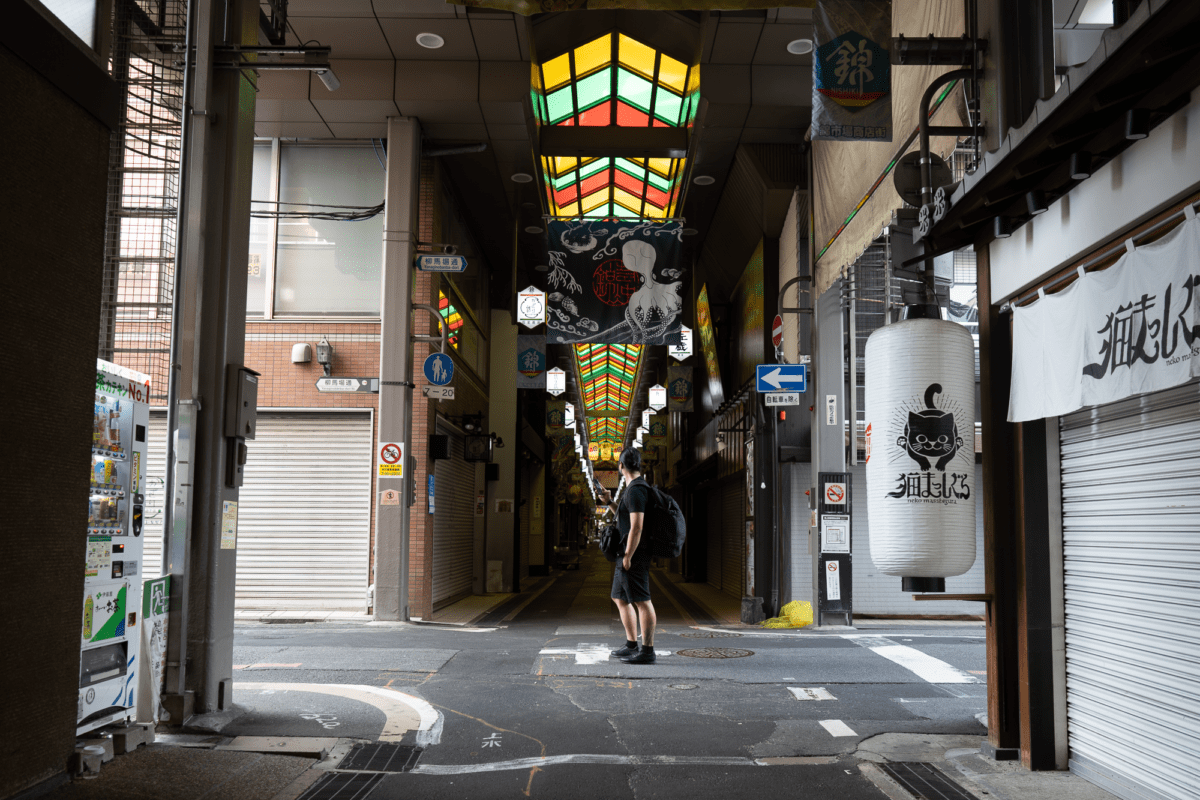 The truth is I've had this bag for a while but haven't found the chance to use it. No matter where I go, I never seem to need more than 35L worth of stuff. The GORUCK GR3 is so large that it'll make minimalist packers turn tail and run; this monster is for maximalist carry. You can literally carry your entire life on your back with the GR3.
But, at last, the time has come for me to review this big daddy of a bag. It was on a recent trip around Japan that I decided to do a maximum carry.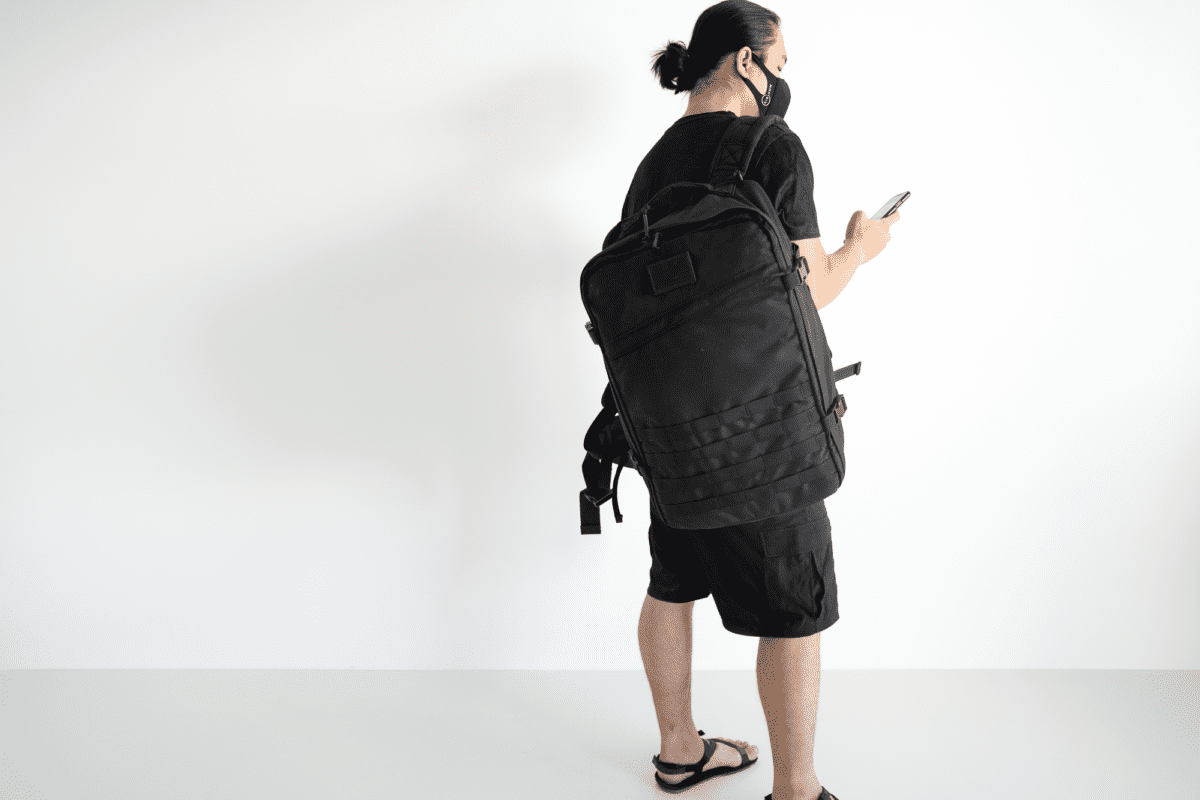 I was going to move around cities and work nomadically. I would stay put in each location for up to a week and experience the city as if I were living there. As such, I wanted to be as comfortable as I can, bringing everything I need to feel like I am living there. I didn't hold back and packed in everything I could think of.
This was how it went.
Style
The aesthetic of GORUCK is very consistent across its product line. Using the same material across their product line, the GR3 is stealthy. GORUCK is very proud that their material is "Special Forces Grade," and naturally, the all-black stealthy nature of the bag does lend to the impression. There isn't even a logo on it. The unique feature is the velcro patch that has threading to resemble the parts of the US flag, and even that is hard to miss.
The GR3 comes in three colorways, black multicam, black, and steel. No prizes for guessing which color I went for. This might come across as biased coming from me, but I think black is synonymous with the brand and the color to get for the "true" GORUCK experience. As expected, the black is consistently applied down to the very last detail like threading and plastic hardware. Even the materials' texture blends effortlessly with each other, preventing any one feature from standing out.
But no one likes ads, so I got rid of them. If my articles helped you, I ask for your support so I can continue to provide unbiased reviews and recommendations. Every cent donated through Patreon will go into improving the quality of this site.
The exterior of the bag is similar to the other sizes. There is a velcro patch on the top of the front. If you participate in rucking challenges, you can earn patches to display on it.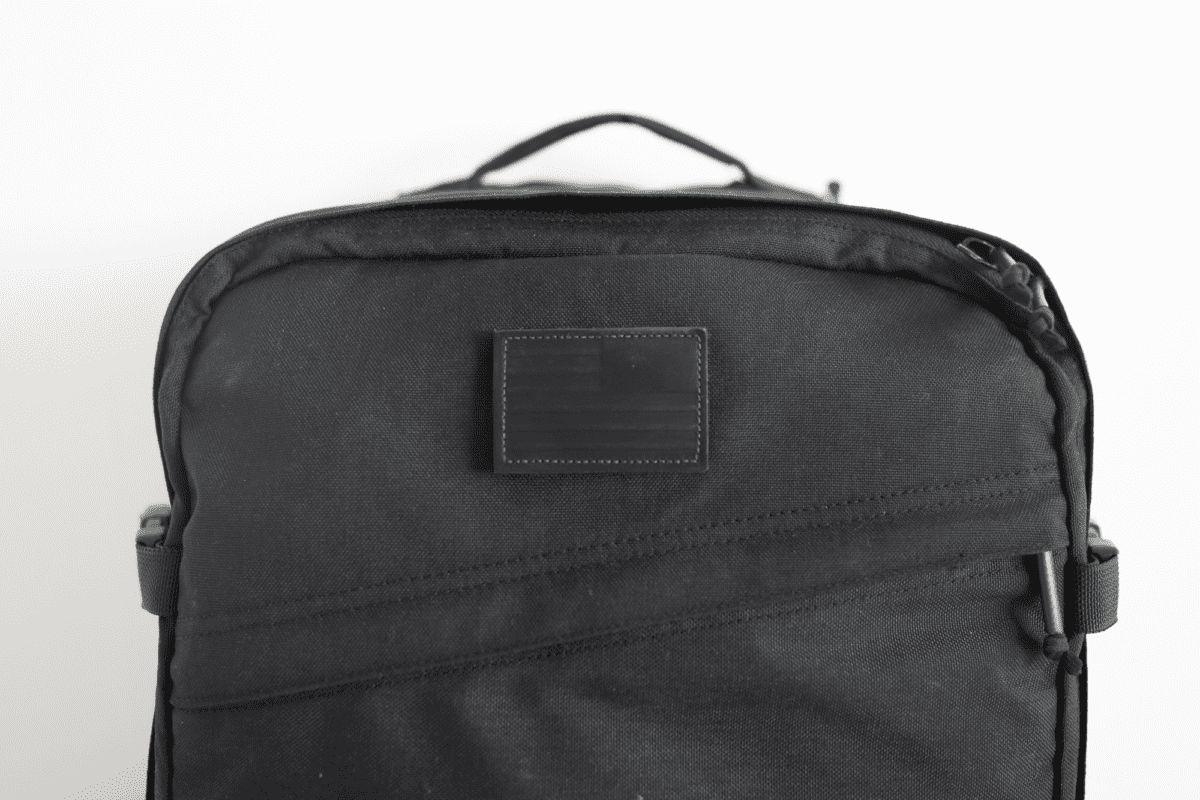 Below it, there is a slanted hidden pocket. This pocket is on all of GORUCK's backpacks and can certainly be considered part of their signature look. While the zipper is hidden, the zipper pull can be seen peeking out from the flap.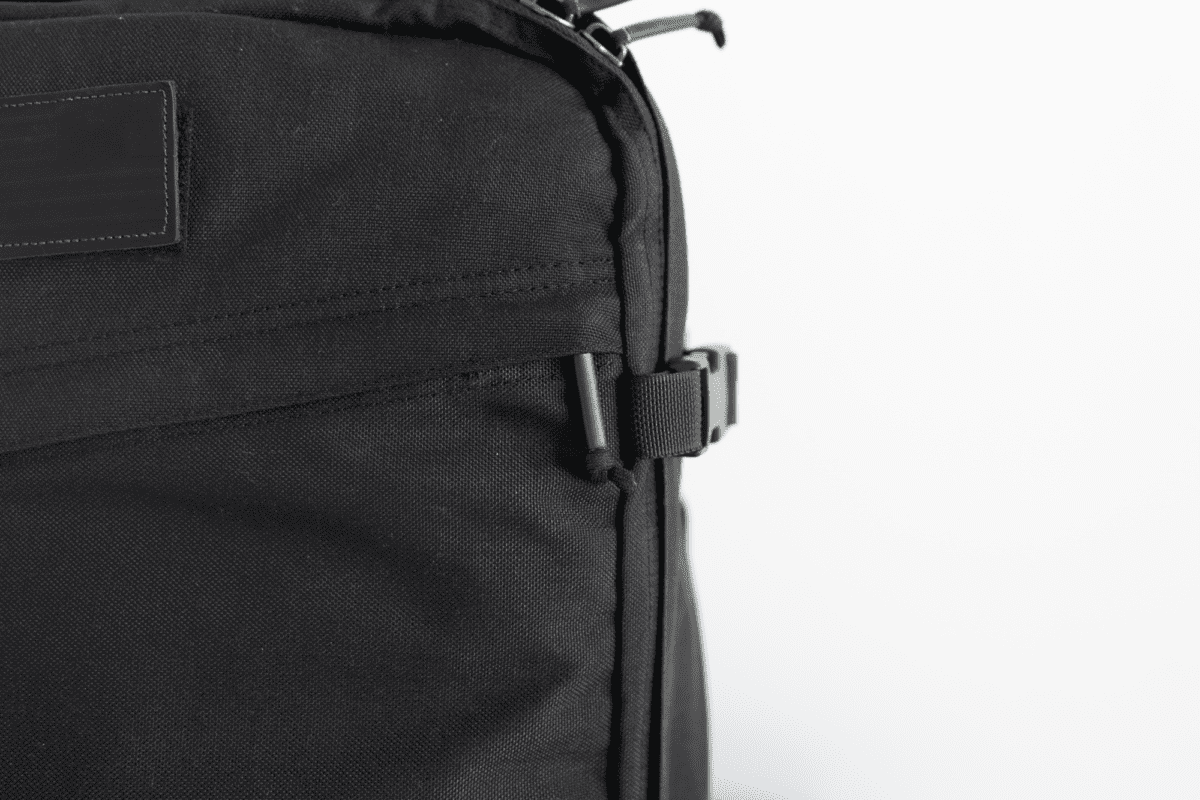 At the bottom, there are four rows of PALS, which stands for "Pouch Attachment Ladder System." It's the horizontal grid of repeating webbing strips. According to the PALS standard, these strips are spaced 1 inch apart and sewn to the backing at 1.5-inch intervals.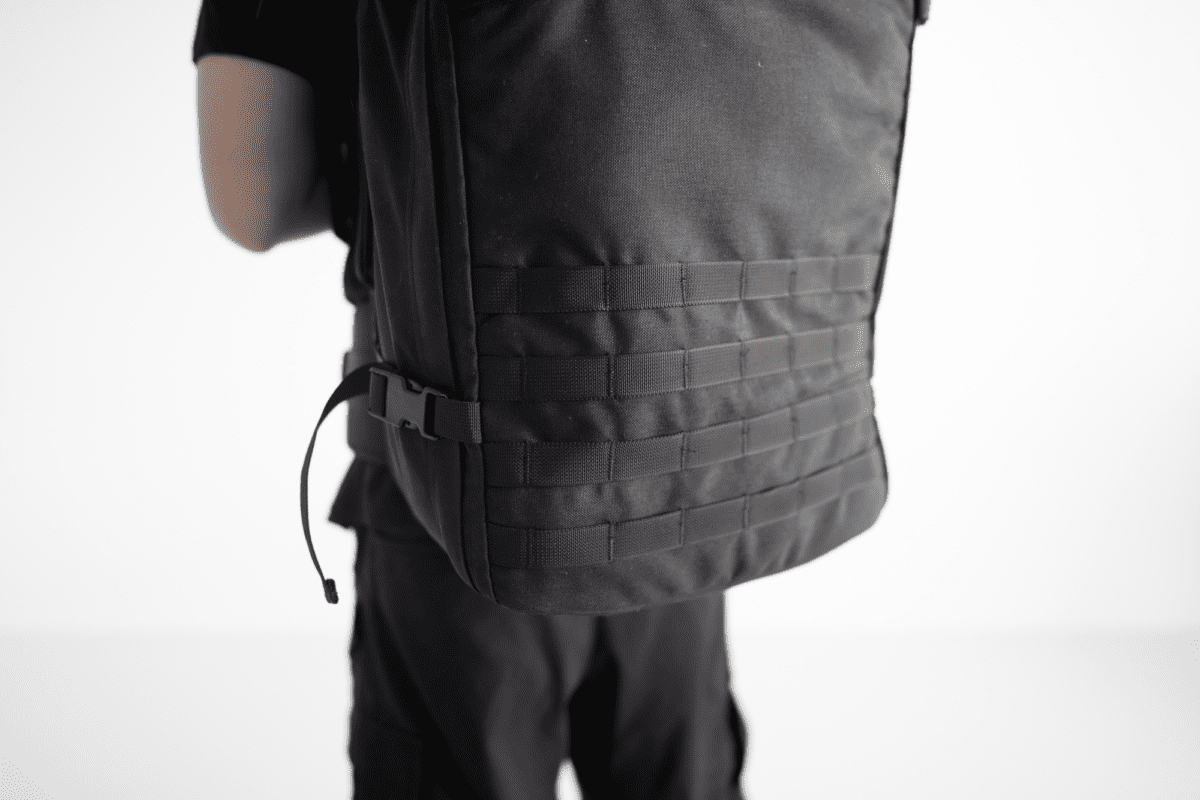 You'll see on the product description that GORUCK refers to these as "MOLLE." Technically speaking, MOLLE stands for "modular, lightweight load-carrying equipment," a system of which the PALS is part. However, these two terms are often used interchangeably.
Now, there is no question this is a big bag. I'm 6ft and about 205lbs and would consider the GR3 the biggest bag I would carry.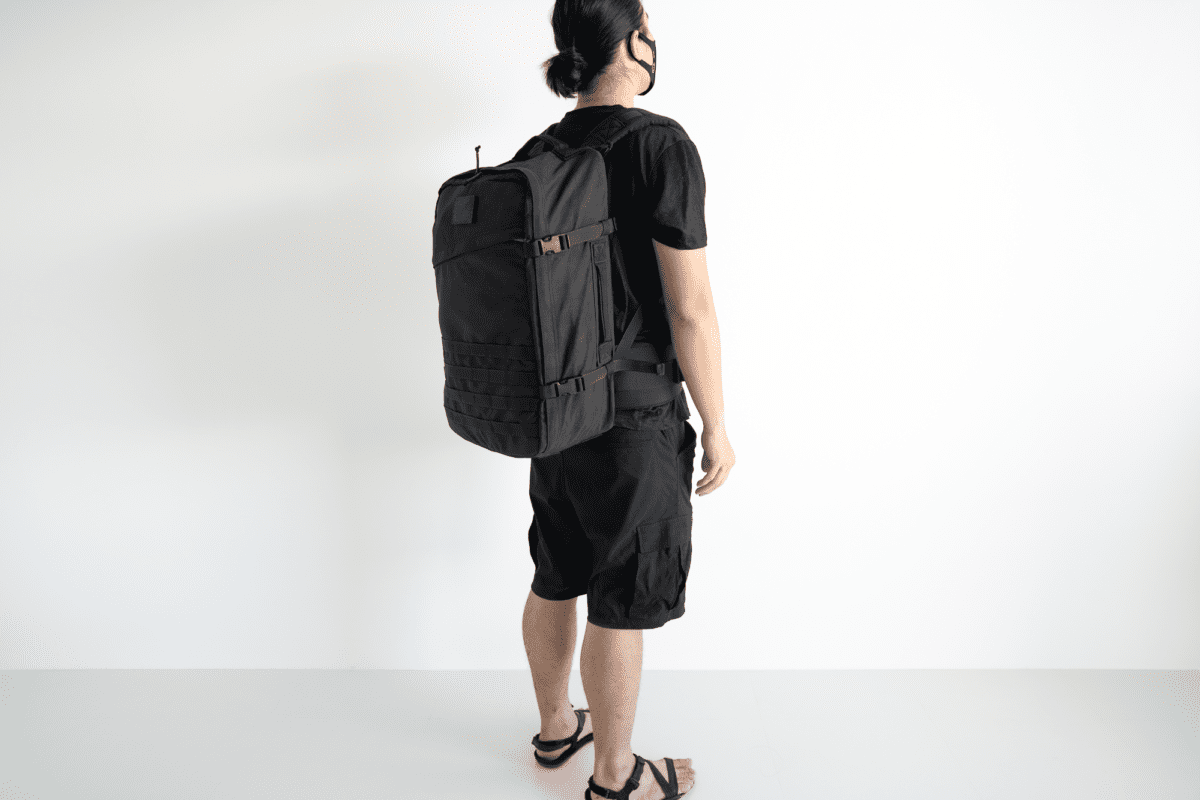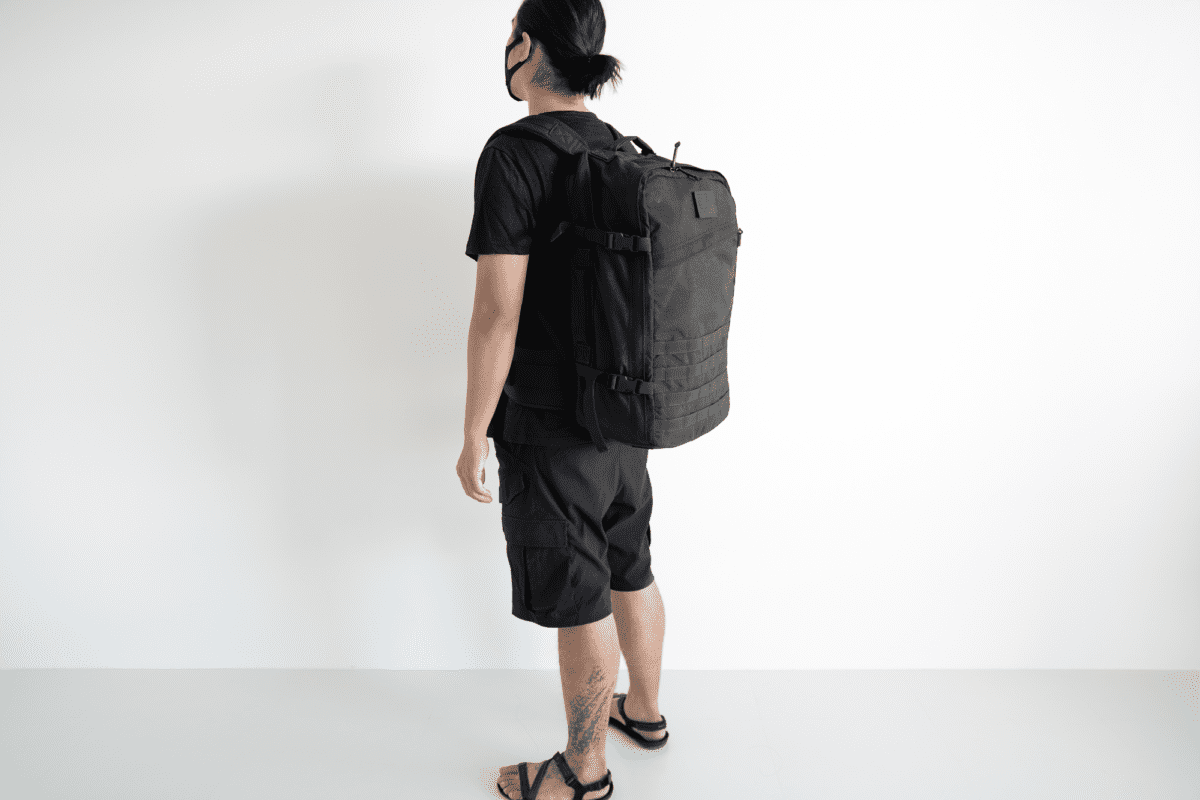 The bag can look deflated and deformed when it's not packed to an adequate amount. This is also because the pack's main compartment does not have any internal organization, which can sometimes help keep the shape. Even when packed full, the top of the bag will slope down under the weight, making it look a little unstructured.
This is why the GR3 comes with two compression straps on each side to cinch down the bag into a tighter package. The compression straps come with a little loop to keep the strap looking neat. However, in most cases, some strap will probably stick out like the below image.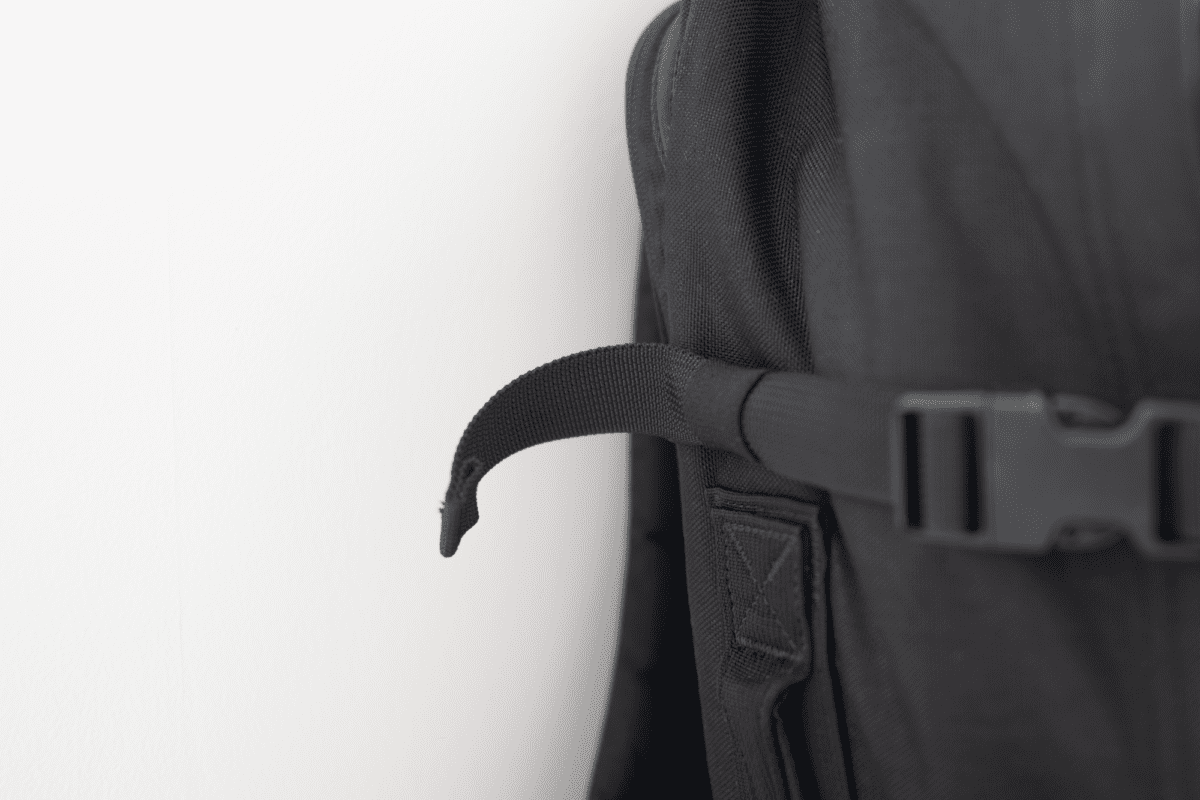 I would not recommend the GR3 as an everyday carry. It is simply too wide even if you have the height for it. It doesn't get better even if you cinch it down all the way. It looks very awkward, and you shouldn't even consider it.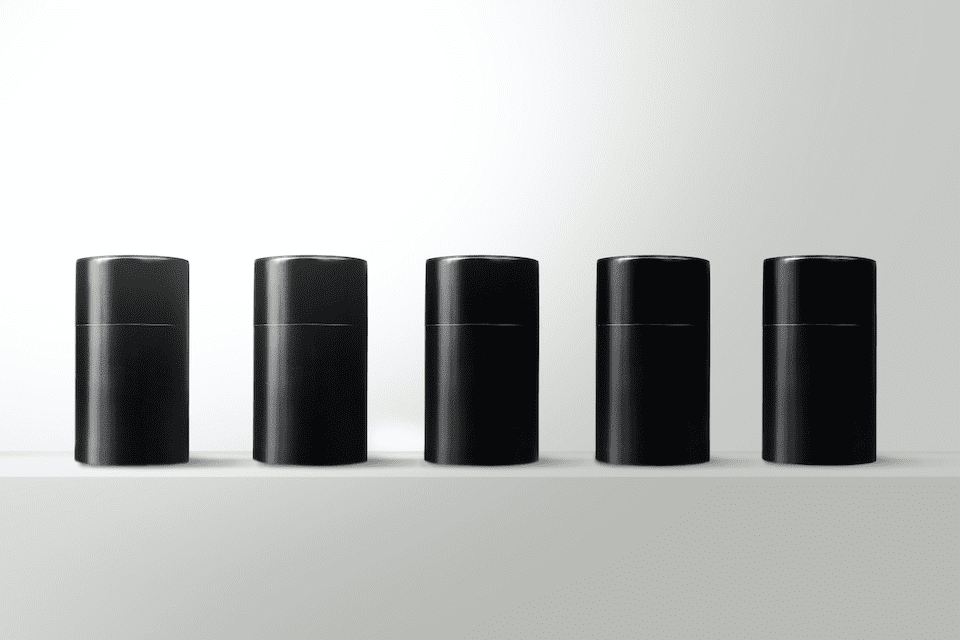 I found a 100 year old company that would create these heirloom quality canisters for me. They are handmade and will keep your tea leaves, coffee beans or anything that you need dry for years to come.
or read review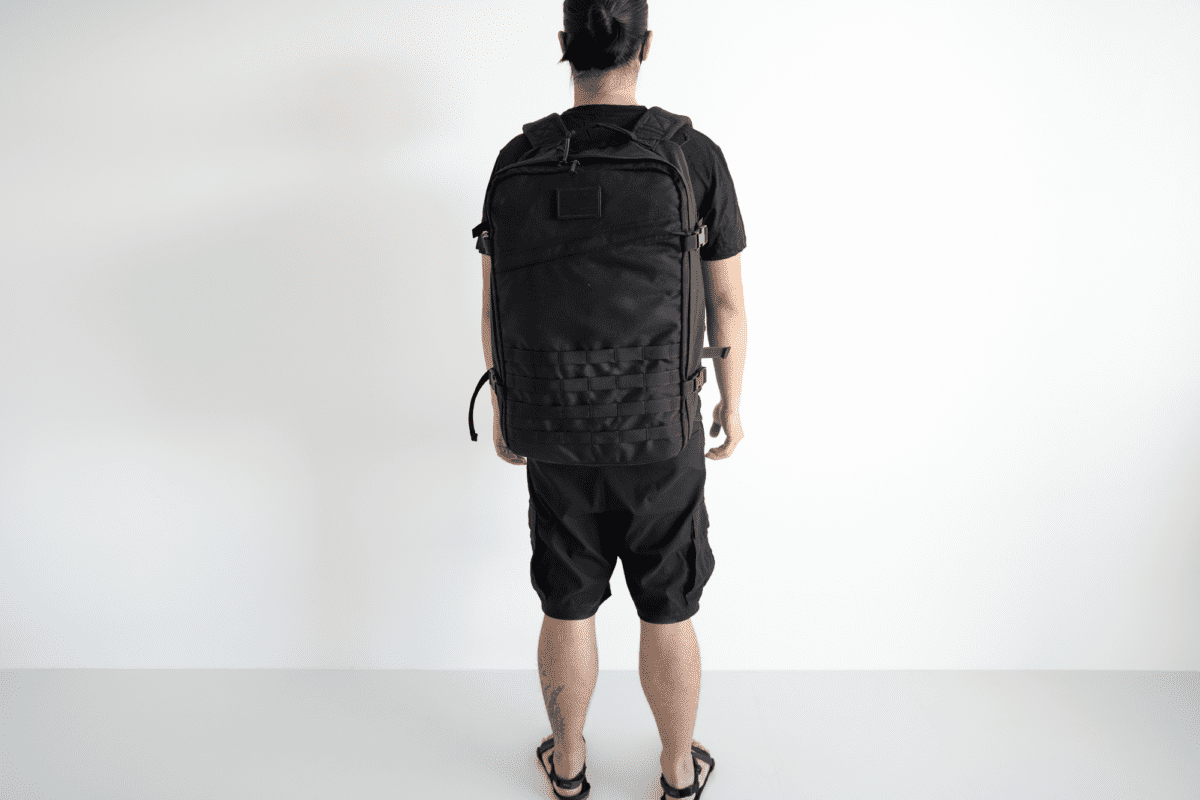 Thankfully but not surprisingly, there is more than enough space in the GR3 for you to bring along a whole other daily carry. For my trip, I brought along the TOM BIHN Paragon Backpack.
When fully packed, the size of the GR3, no matter how stealthy it is, makes you look like an all-out traveler. While it's still much better than those ultra bulky hiking bags, there is no blending into the crowd like Jason Bourne. You packing, and everyone knows it; no use trying to remove that hip belt.
Material
For bags, there are a few materials that will excite any one bagger. Putting aside premium options like Dyneema or X-Pac, the go-to fabrics for travel backpacks have been ballistic nylon and CORDURA. You'll see that many reputable brands use these fabrics, and for a good reason.
All of GORUCK's products use 1000D CORDURA® nylon. CORDURA is a name of a company that produces technical fabrics. They have various product offerings, even their own ballistic nylon. The CORDURA used here is their propriety fabric which shares the same name as the company.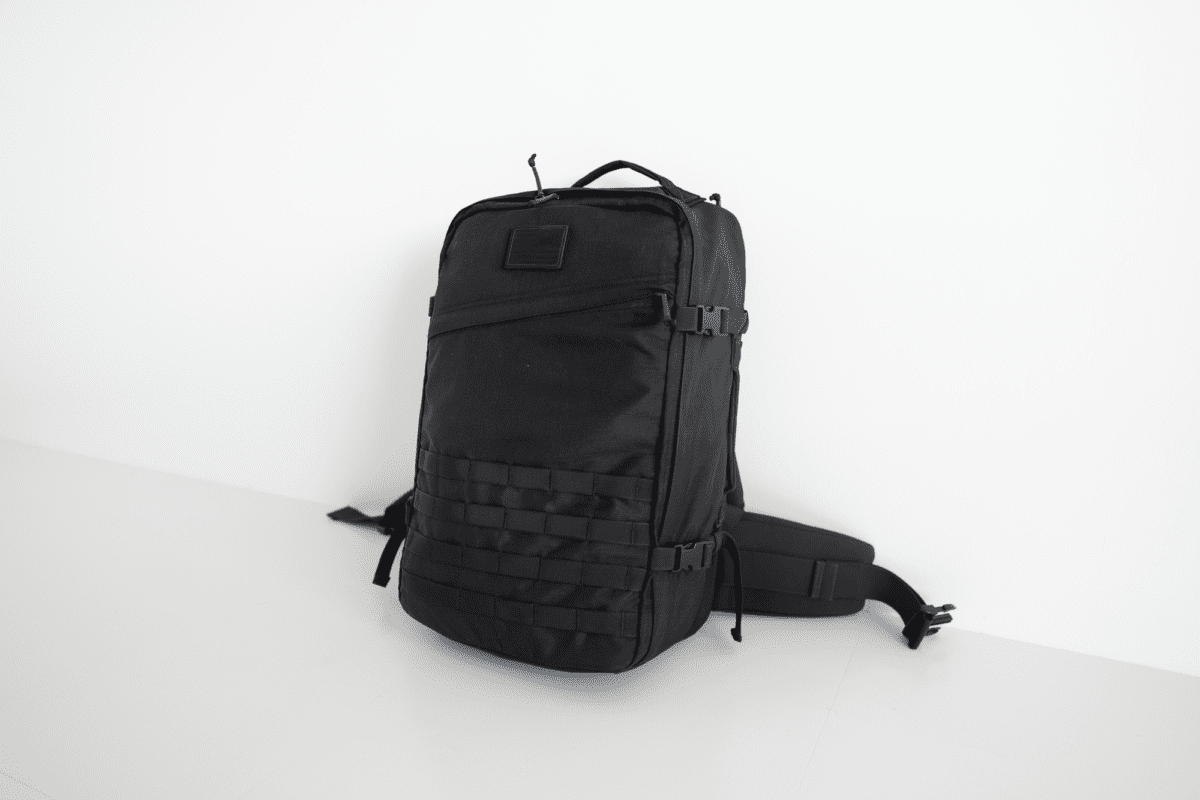 Compared to the Ballistic Nylon, 1000D CORDURA® has higher abrasion resistance, although this is negligible for most people since both materials can take anything you throw at it. While the material is tear and abrasion-resistant, this does not mean it is slash-proof. If you are worried about thieves trying to get access to your bag contents by cutting through it, all I can say is that they'll probably have a hard time trying.
I can imagine that it would take a lot to slash through this material, given they have to slash through two layers to get to the main compartment. Or, they have to go through thick padding if they try it on the bottom of the bag.
The biggest differentiating factor for us, non-military folks, is probably the look. They state that the material is chosen because it is the preferred material for Special Forces rucks due to its strength to weight ratio and durability. Seeing as most of us are not from Special Forces, I believe 1000D CORDURA® is also chosen for its natural/cotton look so that we don't look too out of place when traveling.
The most famous zippers in the world, the YKK zippers, are used on this bag. While the AquaGuard or any more weather-resistant models are not used, this isn't much of a problem as only two zippers allow access to the inside. The zippers are also covered by a flap of water-resistant CORDURA and would be hard for water to seep through.
I've been through some light showers, and the insides have stayed bone dry. However, I don't think it will do well in a heavy downfall over long periods or a dip in a lake.
The hardware for the fastener on the straps is by Duraflex, a brand commonly found on outdoor bags. Like YKK and Cordura, they are well regarded in this community, and I have never had one fail.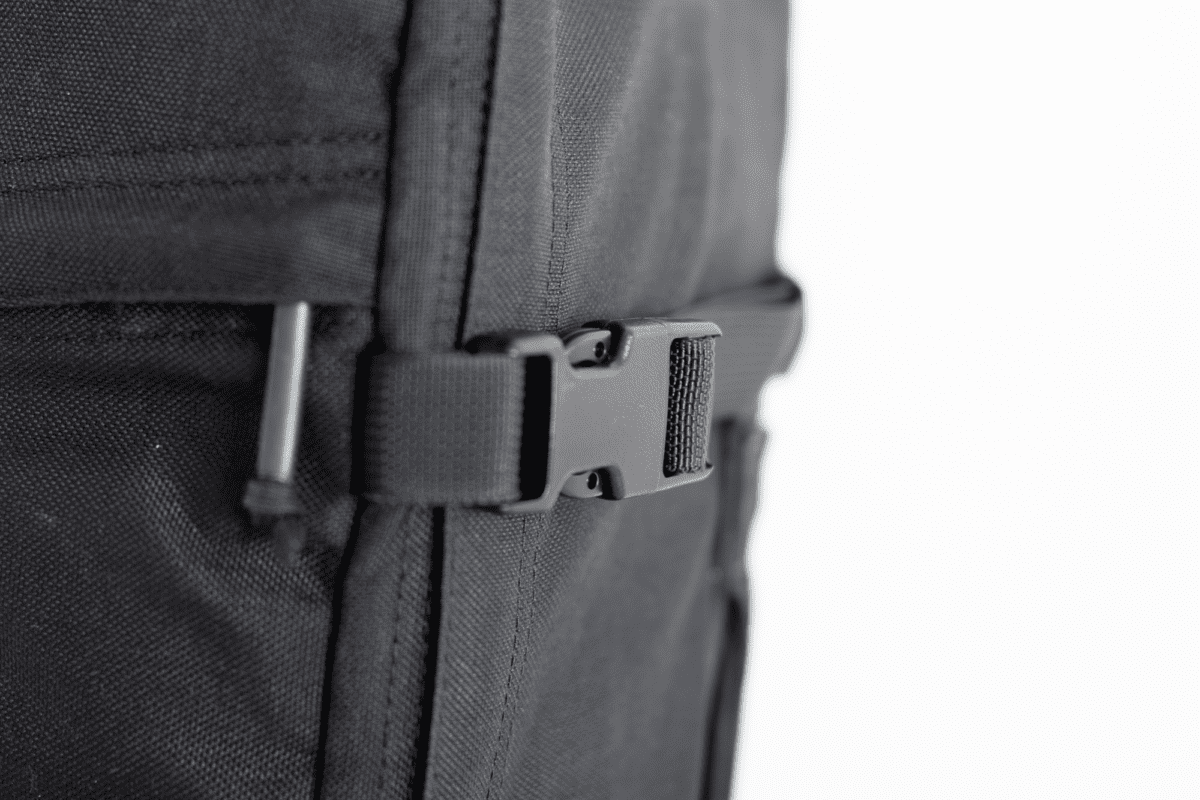 All in all, the materials on this bag are above and beyond what any person or even hardcore traveler needs. These are more or less the best materials that one can use on a bag like this. At the price point, coupled with GORUCK's infatuation with "special forces grade," I wouldn't expect anything less.
Usage
Packing
Packing the GR3 seemed very straightforward as it was basically one large compartment. Just dump everything in, right? There are some small things to note packing into such a ginormous compartment with minimal internal organization.
Even with packing cubes, it can get pretty messy. This is because you cannot rely on any internal system to stack your cubes. You have to stack them in a way that optimizes the space.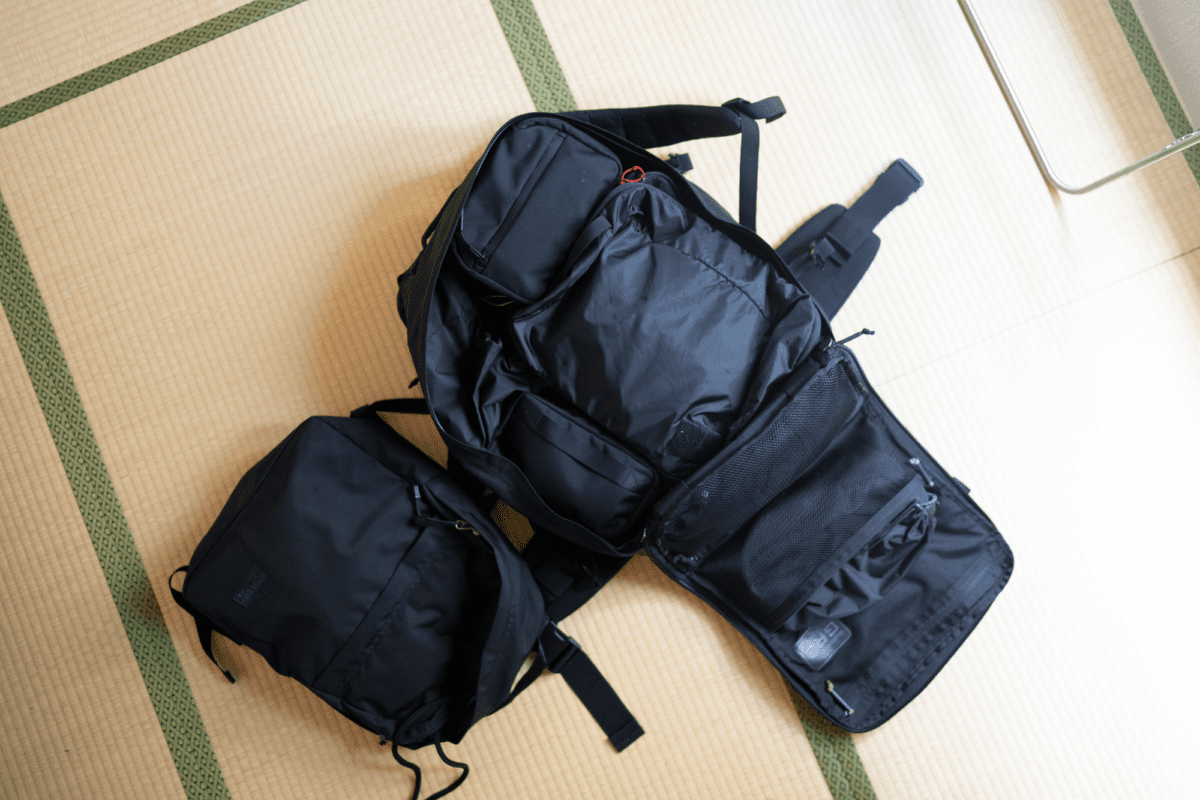 The width of the compartment is also wider than an average packing cube, like the Aer Travel Kit. I often have to put two cubes sideways to maximize the width.
The clamshell-style zippers are great, but if you unzip them fully and it goes beyond the handle. It can take some effort to pull the zipper around the corner. Even when past the corner, your work is not over. Often, to zip up the sides, you would have to pull the sides of the bag upright as they are often spread to the sides due to the weight of your stuff.
Carrying
Being the largest backpack I own, I was naturally worried if it would be too big. As a traveler who strives to go anywhere in a 26L pack like the TOM BIHN Synik, carrying a bag like the GR3 was certainly a new experience for me.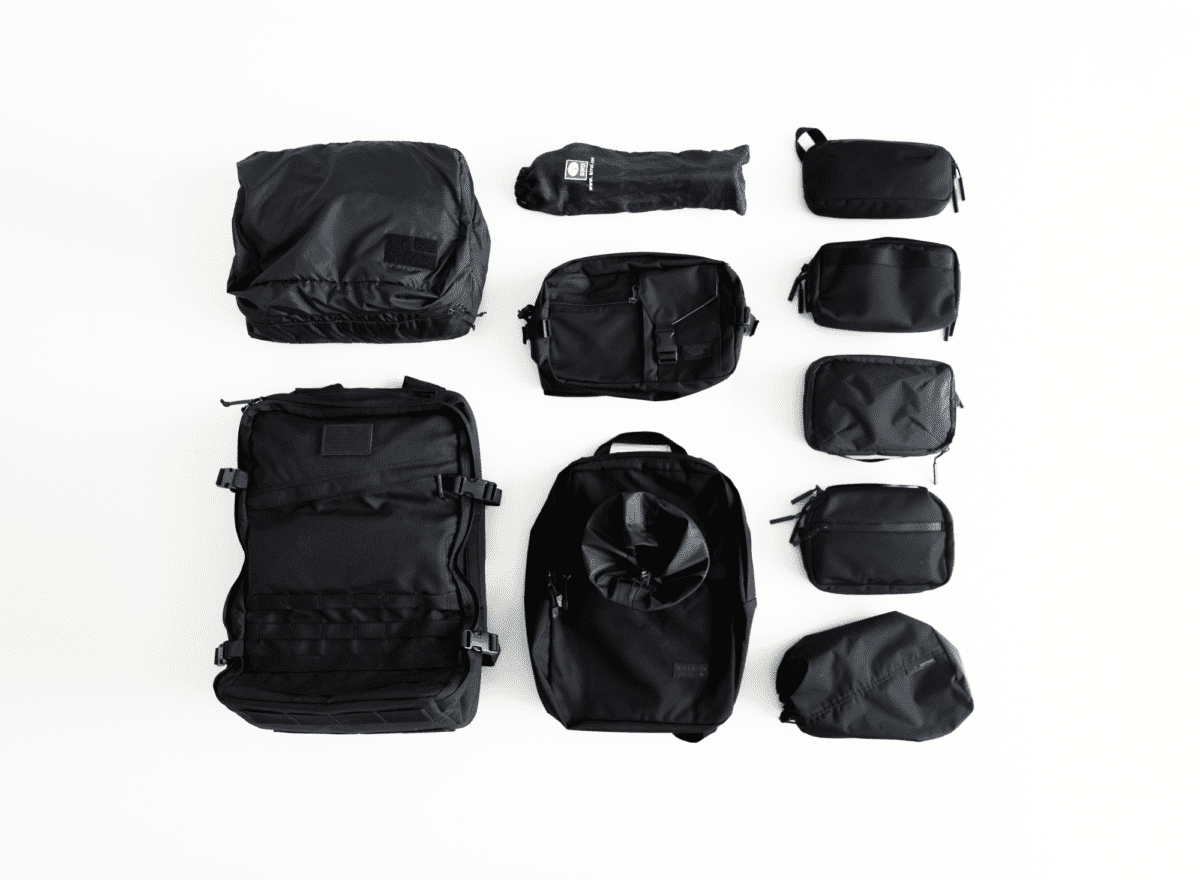 I consider myself fairly well-built, having trained a few years in the military as an infantry officer. You know, the unit the carries a shitload on their back and walk a long way, basically rucking every day.
Still, at full load, the pack is heavy. I felt the bag pulling my shoulders back. At first, I thought the shoulder straps were just too tight, but it felt the same no matter how much I loosened it.
That was when I realized how important that hip strap was. It does wonders in distributing the weight. It certainly felt as if half of the weight is gone from my shoulders. With the weight on my hips, it brought much more stability to my carry as I navigate past the horrendous crowds in Shinsaibaishi Station to my hostel in Osaka. That is probably why GORUCK included it with the bag.
Since the hip strap is not height-adjustable, it can sit higher or lower than your hip line. It can be a little uncomfortable, especially when it's over your stomach, but the weight distribution still kicks in fine.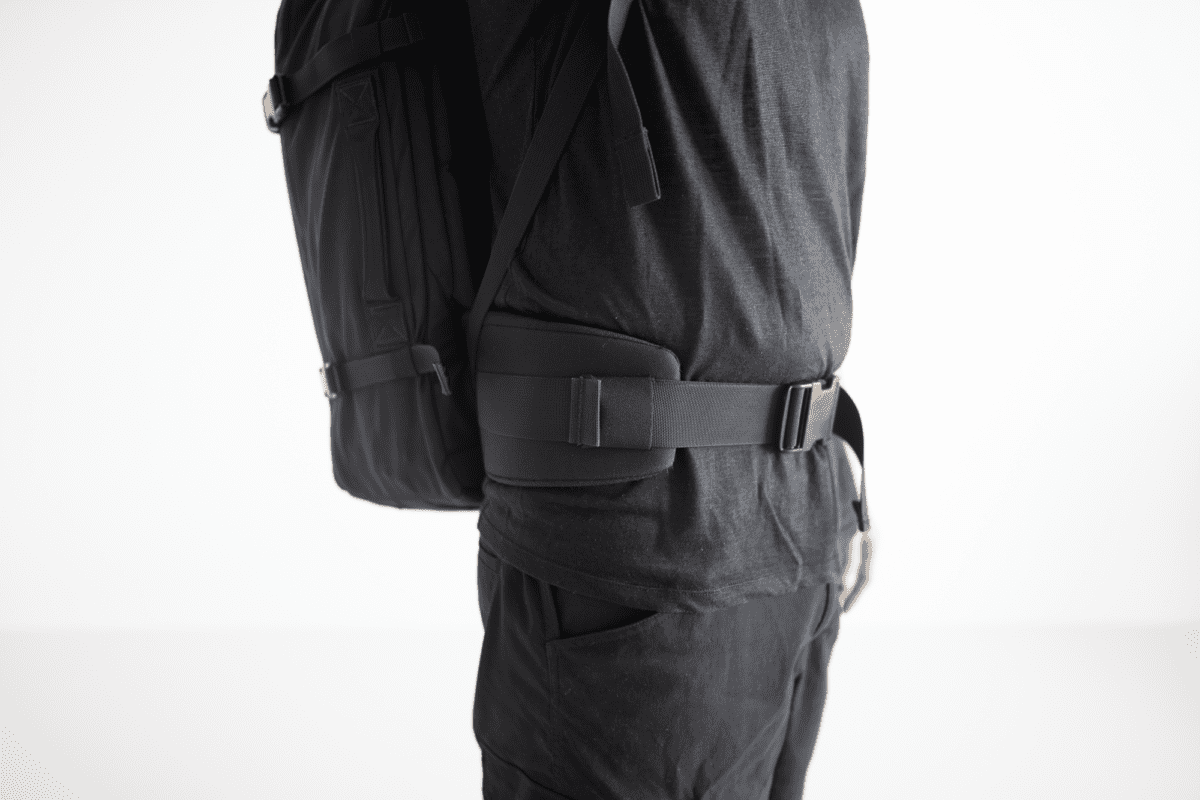 Cordura is a rough material compared to something smooth like ballistic nylon. Even then, I often brush off any concerns that it will cause abrasion to my $100 Outlier merino t-shirts. But at that size and weight, I couldn't simply brush it off. I mean, I could feel the bag rubbing against my back when I walk. It is only natural to expect piling if you are carrying it for extended periods of time.
Storing
How about when you aren't using it and just putting it down or storing it away? Surely a pack that size will pose some problems.
As you can expect, the GR3 will not qualify as a personal item. I know that GORUCK touts it as the "largest possible carry-on," but I would say that it really depends on the airline. At the very least, this would definitely not work for budget airlines or under the seat in front of you in economy class.
I would recommend the GR3 for inland travel or times when size doesn't matter, like when you're taking a road trip.
I brought it on a trip around Japan and took the bus and train throughout the journey. On a night bus, you would be unable to store the bag on the top storage and would have to hope that no one is sitting next to you. Otherwise, you would have to put it in the common storage under the bus and risk some big-ass roller suitcase stacked on top of your bag.
There are signs on the train in Japan requesting commuters to hold their backpacks to the front or put it on the overhead shelf. This is to prevent accidentally bumping into other commuters. I would just put it down on the floor in front of me because carrying it to the front or lifting it to put it on the overhead shelf is no walk in the park.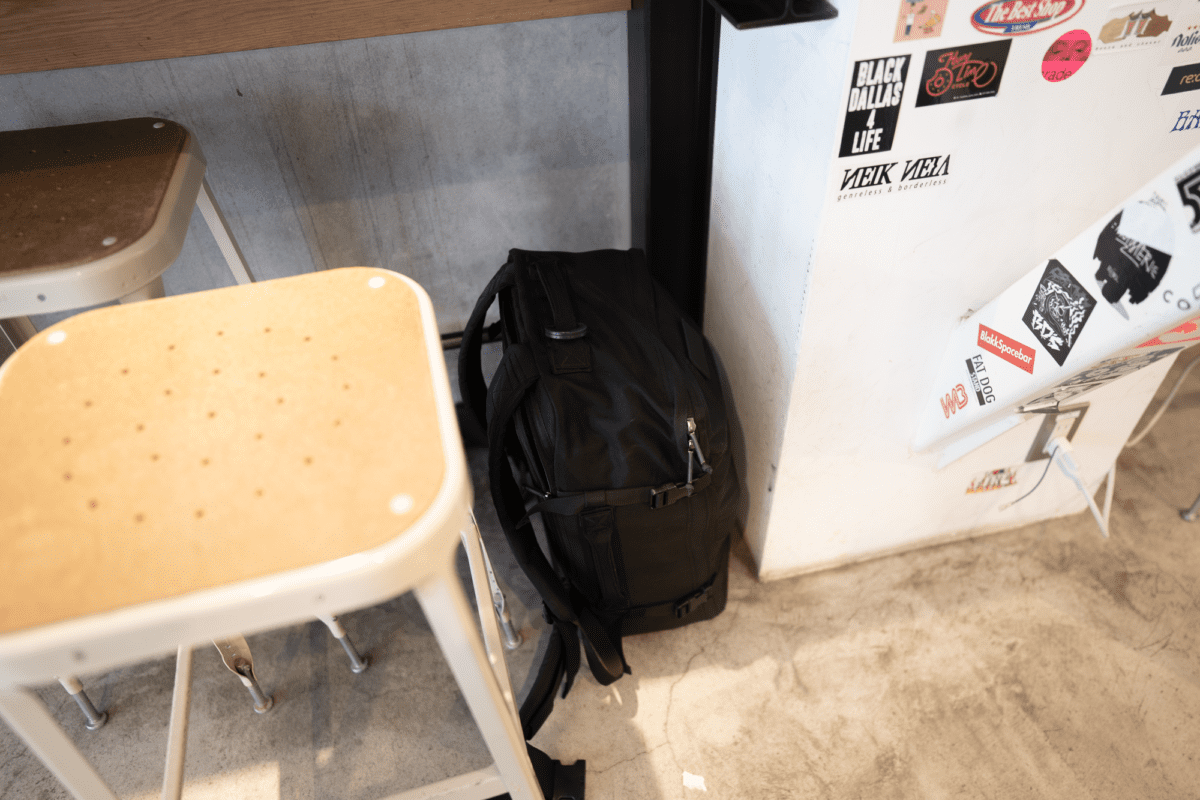 In the ultra-compact hotel rooms of Japan, the large compartment serves as a dresser of sorts. I would leave it open, clamshell-style. It acts as a storage compartment to keep the rest of my room neat.
Accessing
The front compartment is not a 3D pocket. If the main compartment is stuffed full, this compartment can be pretty useless. It gets so tight that you can't even reach deep into the pocket. Your hands won't fit.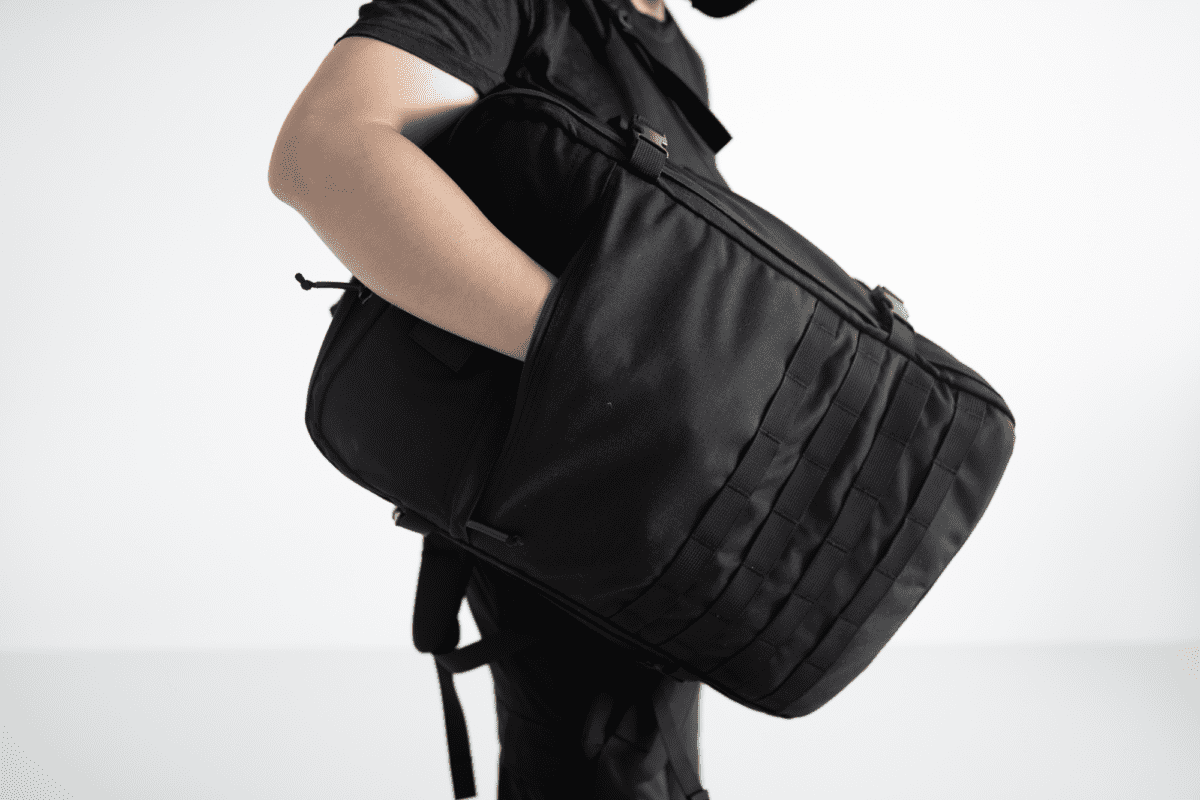 Rather than the front compartment, I put items I want to quickly access into my Aer Slim Pouch and have it at the top of the main compartment for easy access. With the generous dimensions of the bag, you can have up to two pouches at the top.
You can only access the laptop compartment by moving the shoulder straps out of the way. You can sort of flip the shoulder strap so that it stays clear while you access your laptop.
The laptop compartment feels bombproof, but if your laptop is small and is deep inside, you would have to unzip further down to access it. That's no big deal, but reaching into the compartment can be a pain, literally. The interior texture of the compartment is pretty rough. Given that it's quite a tight space, your hands will grind against the texture. It can be painful if you aren't mindful and do it too quickly.
Conclusion
With so many offerings from GORUCK that look the same, I will make this easy for you. This backpack is for those who need maximum capacity and prefers organizing with cubes. Those who prefer internal organizations might want to take a look at the 45L TOM BIHN Techonaut.
For those who want to know if this bag is worth the hefty price tag, I can only tell you that these are the highest quality build and materials you can get on the market. If that isn't enough, the lifetime warranty should put your mind at ease. Provided that you are not an obsessive collector of backpacks, this can be a buy-it-for-life piece that you can hand down generations.
Additional Images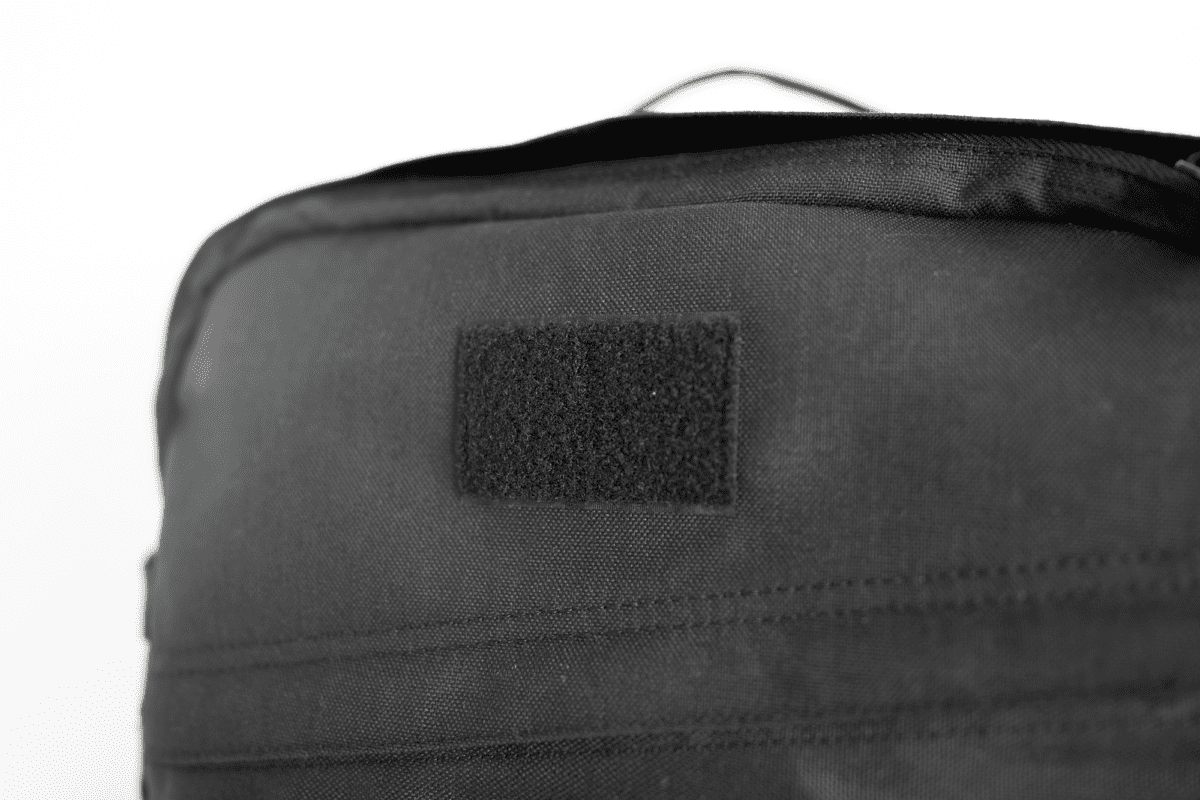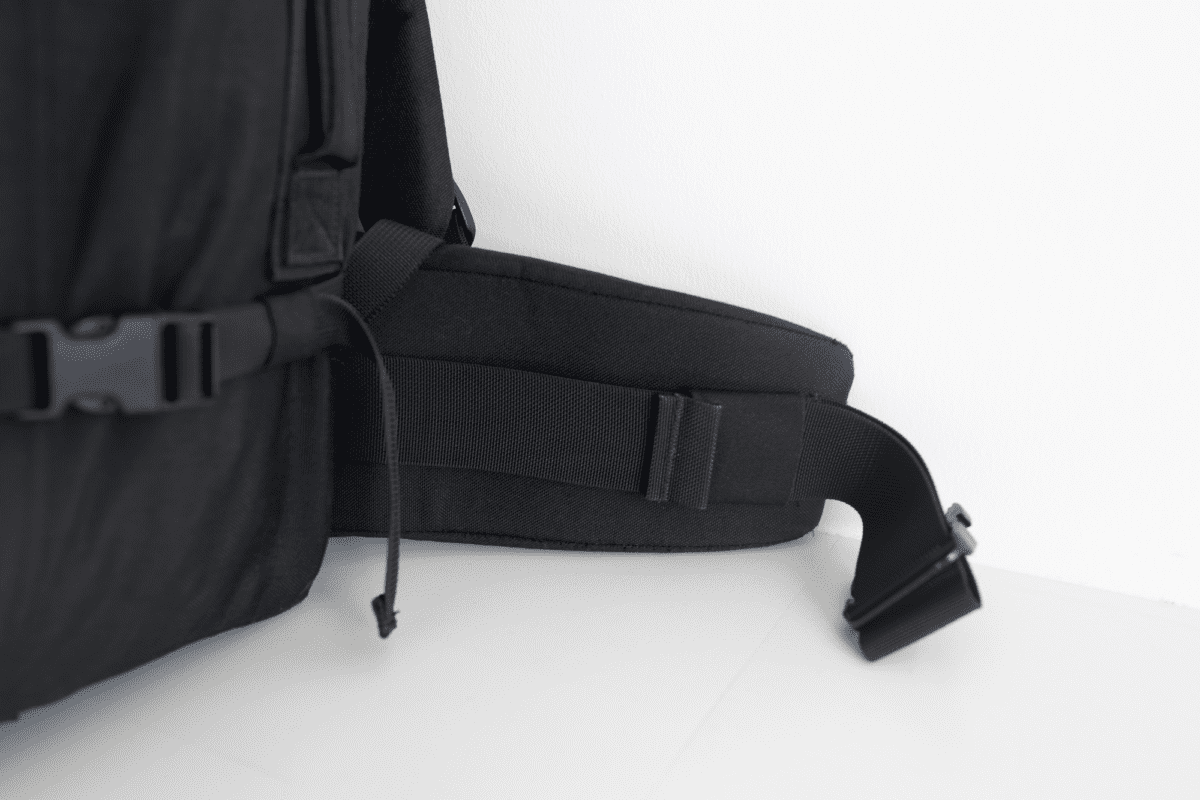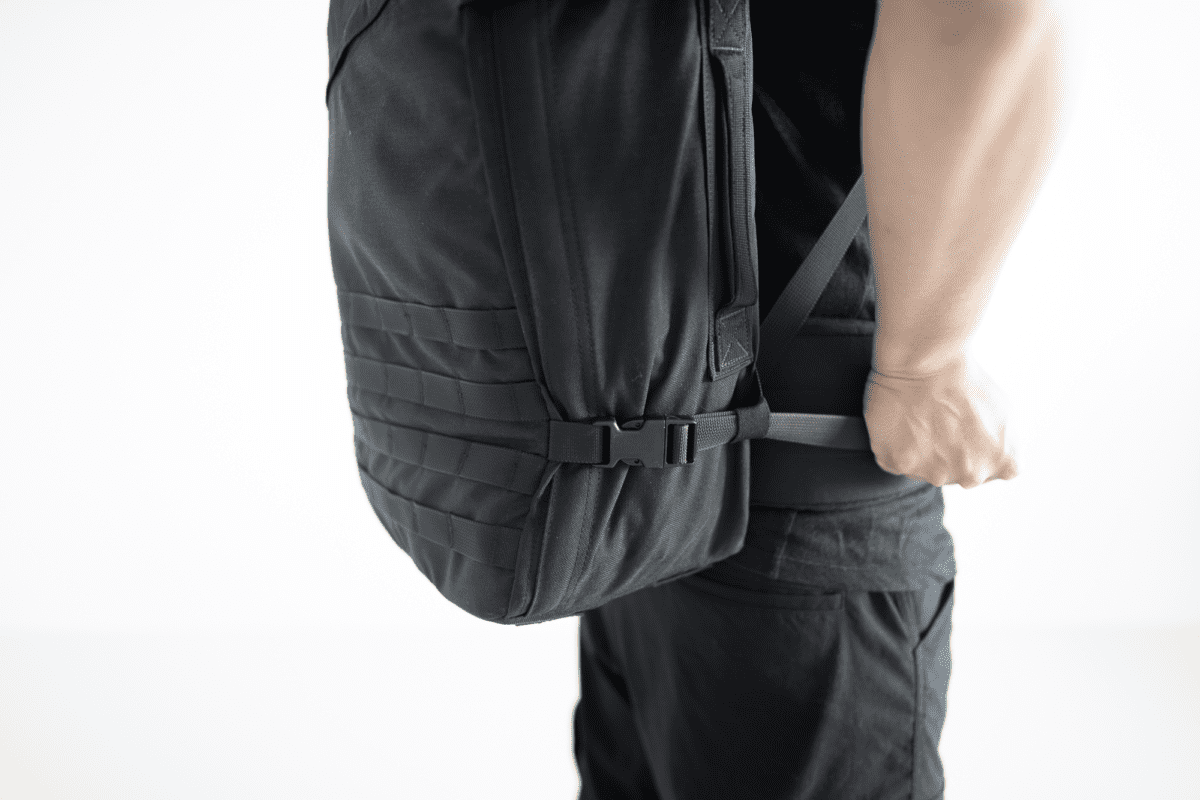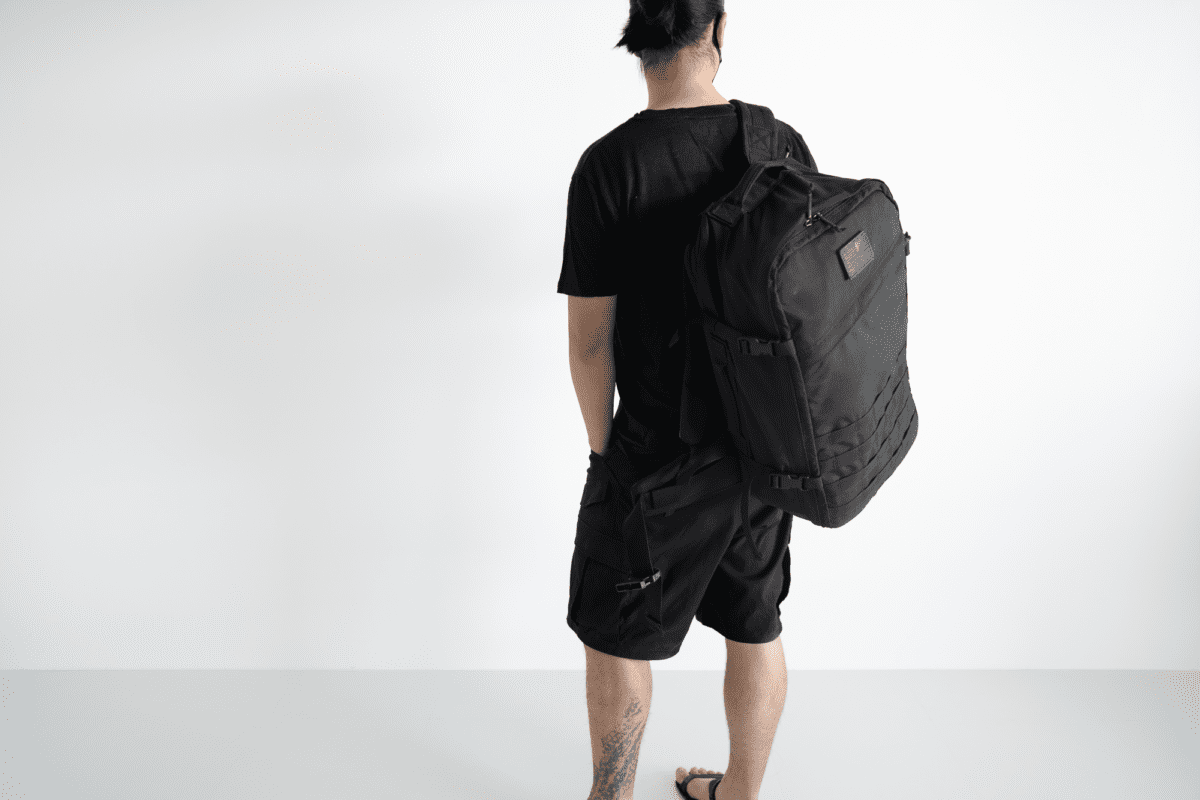 Like this review? See all of my in-depth reviews.
Also, consider supporting me by being a Patreon. Every cent given will go back into improving the content of this website.