This website is made possible by readers. I may earn a small commission when you buy through the links in this article at no extra cost to you. Learn more.
As a traveler, I'm always on the lookout for mini flashlights with the highest lumens and with a battery that lasts the longest. Is the Nitecore TINI SS the perfect flashlight for travelers? I'll find out.
Details
Price $29.95 on nitecorestore.com
Max Output 380 Lumens
Max Beam Distance 64 m
Max Beam Intensity 1020 cd
Max Runtime 60 h 0 m / 2.5 dLED CREE XP-G2 S3 LED
Battery Rechargeable Li-ion
Beam Color White
Size 43.3 mm / 1.7 in (length) 11.5 mm
Weight 21.5 g / 0.75 oz
Overview
How many times do you need lights on your travels? The few times I could think of is when I was trying to get something from my backpack in a shared hostel room after lights out or perhaps, when I dropped something at night and have to search for it in the dark.
Since most of my stuff brought on trips are black, stuffed in black backpacks, finding what I want can sometimes be a challenge without extra help.
As an aspiring minimalist, most of those cases I would default to my iPhone XS Max flashlight. But with the power of today's mini flashlights, I'm considering. So, is the Nitecore TINI SS better than that? I'll be finding out.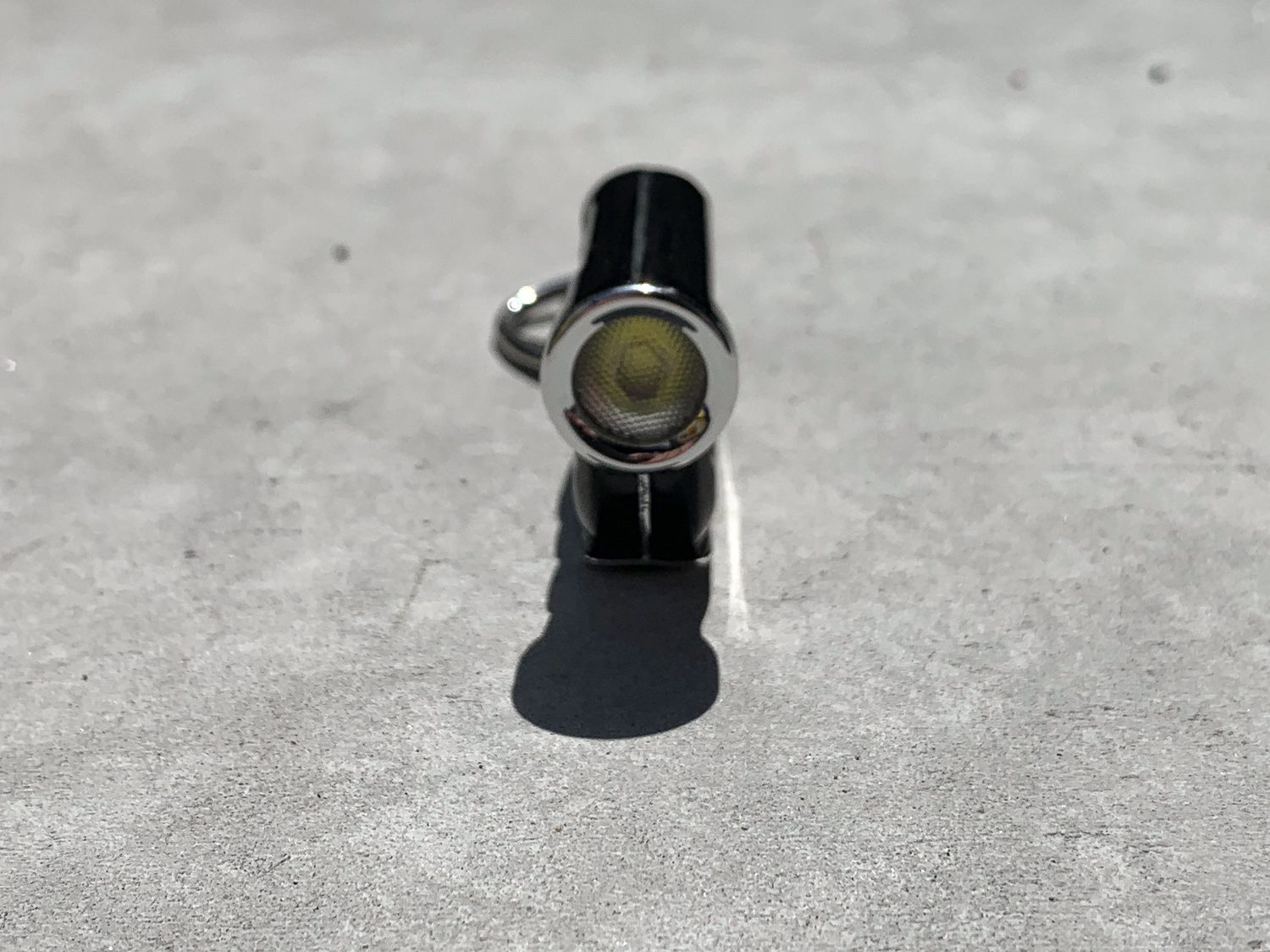 Style
The TINI SS comes in three stainless steel colors finish, jet black, glacier (white) and tropical (multi-color). In case you don't already know, this blog exclusively reviews products that are in black, the jet black version is the one reviewed in this article.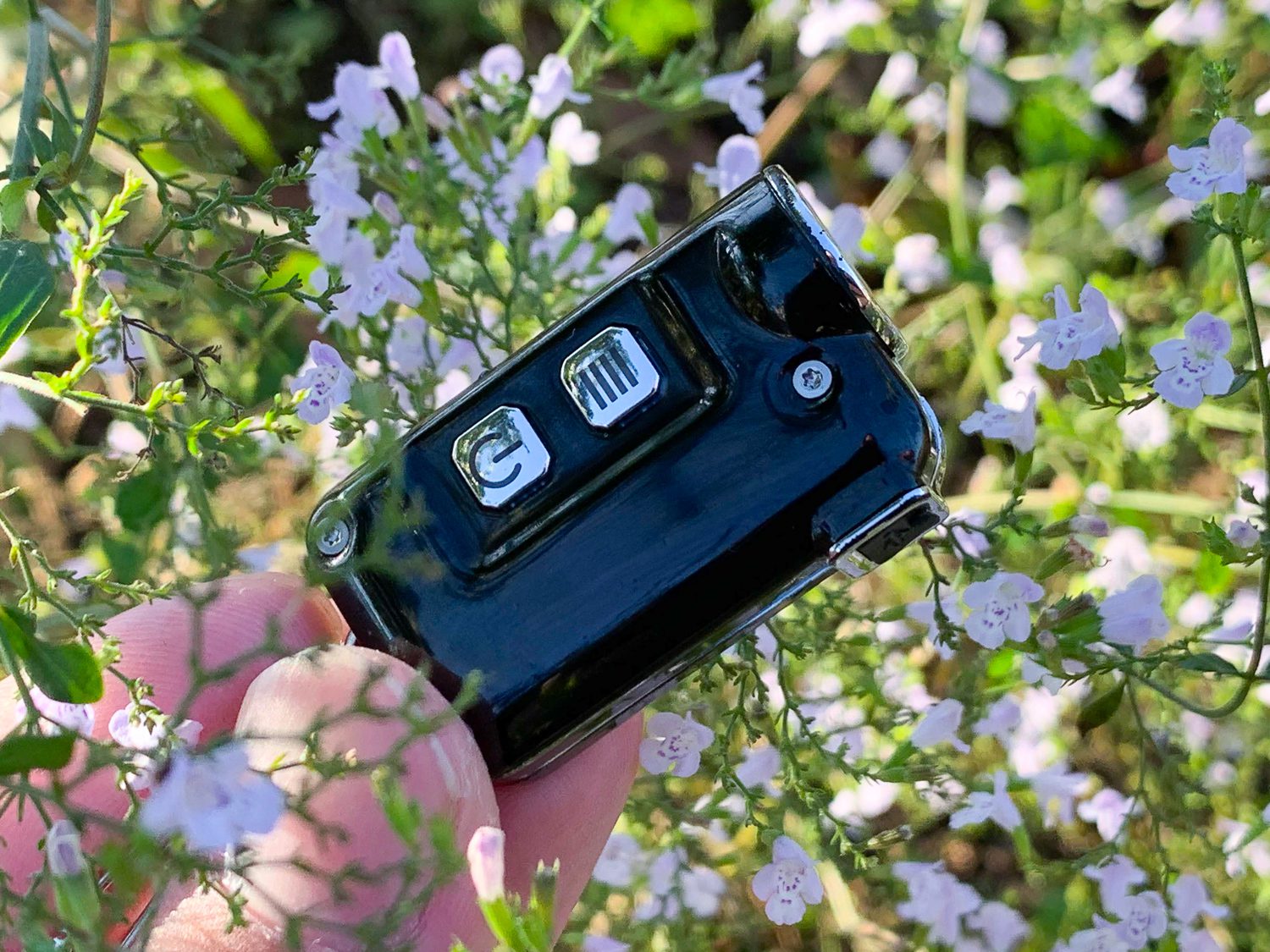 The SS is the stainless steel successor to the original TINI, which is made from copper which will oxidize with use. Although the body is a high-quality stainless steel, at a glance, it might come across as a high gloss plastic which might put some off.
In contrast to the black body, there are parts with silver stainless steel on places like the buttons and screws, and in addition to the high gloss plasticky look, makes it look a little cheaper than it is. The material also makes it easy for fingerprints to stay on it.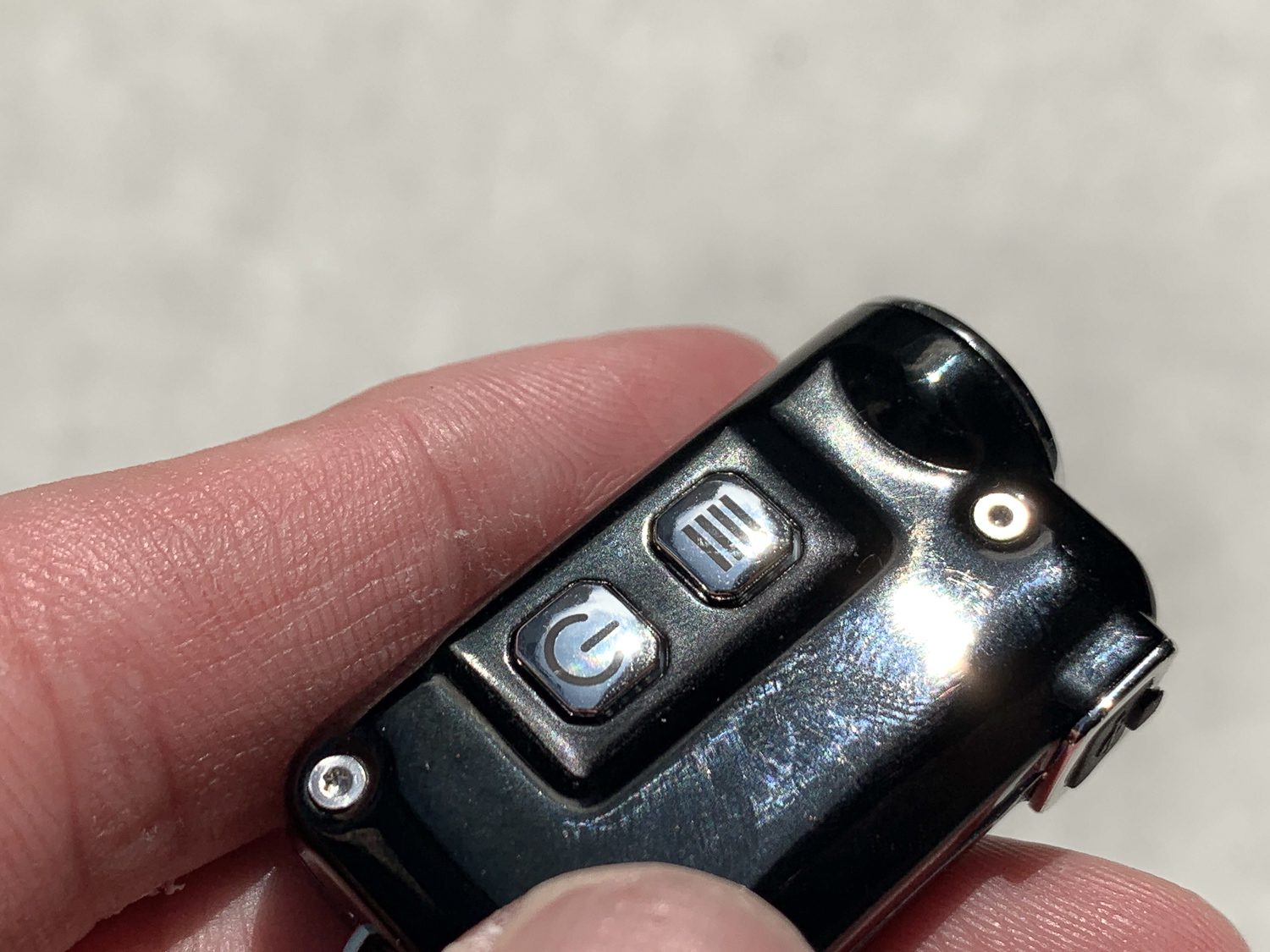 There is a silver printed Nitecore and "TINI" logo along with CE and RoHS compliance mark and a crossed-out "wheelie-bin" symbol, which means that the product should not be disposed of with your other household waste.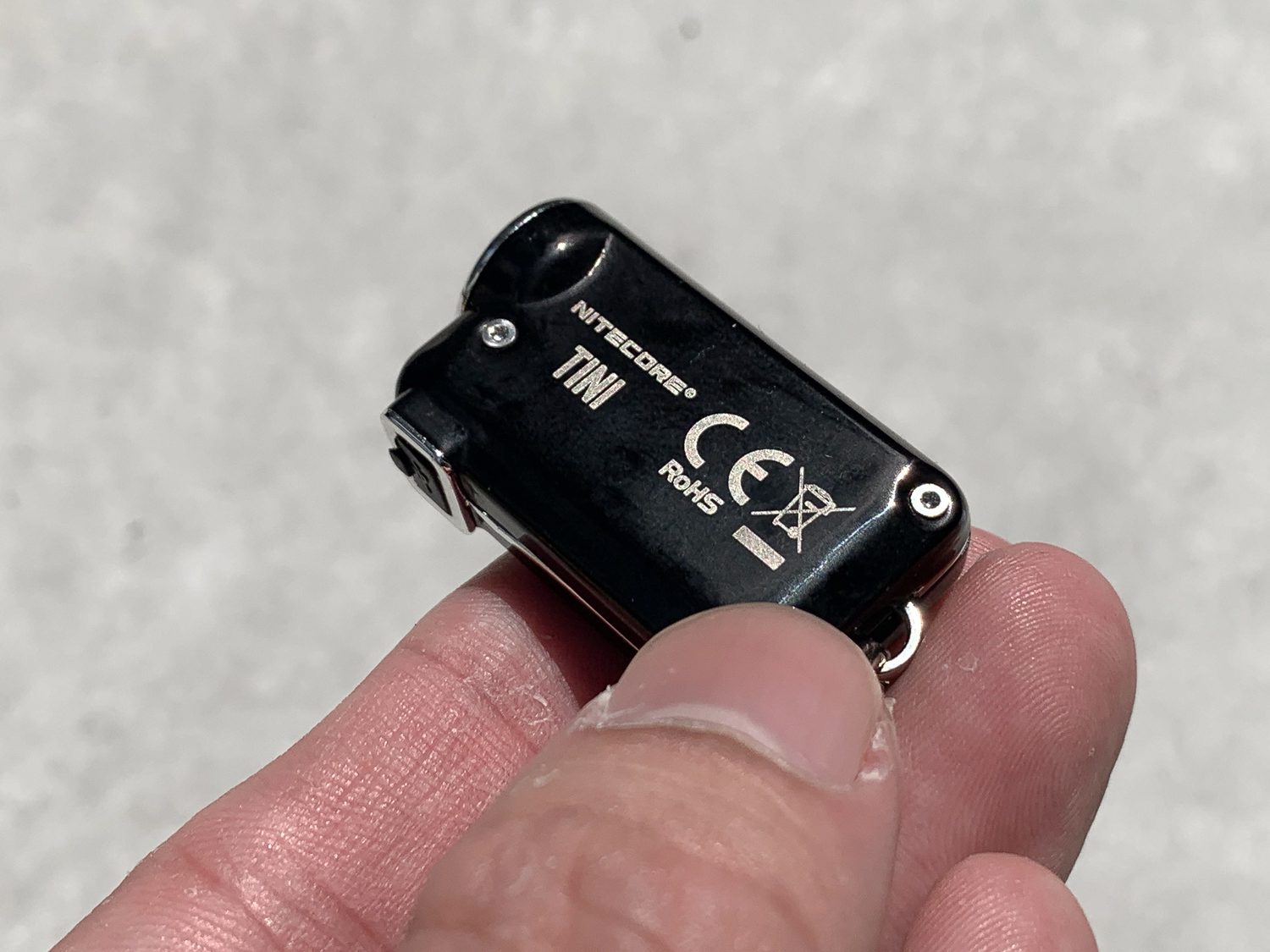 Aesthetically, I kinda wish they could make it a matte black all over, with flushed screws, fewer curves and of course, no logos or marks. I haven't seen many mini flashlights, but having a small surface area also means that any mark looks pretty obvious. I thought they could at least make the buttons black like they have on the Nitecore TIP.
As the name suggests, the TINI SS is tiny. It's one of the smallest mini flashlights I've ever seen and makes your car's key fob look ginormous. It'll easily fit into the coin pocket of my Outlier Slim Dungarees.
But no one likes ads, so I got rid of them. If my articles helped you, I ask for your support so I can continue to provide unbiased reviews and recommendations. Every cent donated through Patreon will go into improving the quality of this site.
Materials
Despite the small package, the TINI SS packs a punch at 380 lumens max output with 70 yards throw. It uses Cree's XLamp XP-G2 S3 LED. Compared to the iPhone flashlight of approximately 50 lumens (I couldn't find any official documentation on it), the TINI SS gives a serious beam in a much small package.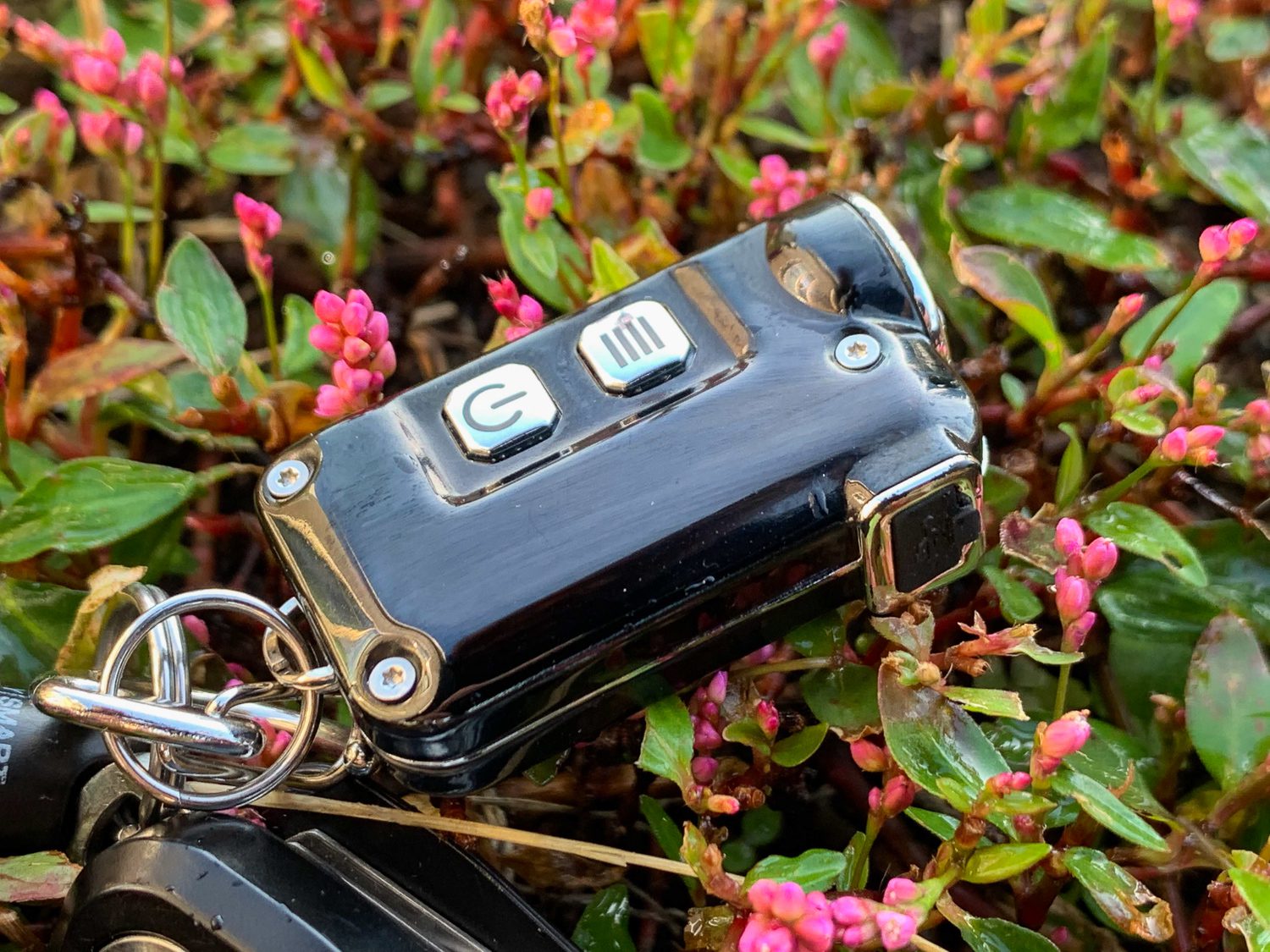 The TINI SS comes with a built-in 280mAh battery that gives you up to 60 hours runtime (at low mode), and can be recharged with a micro-USB cable. Note that the cable is not included but most of us should have one lying around. The battery is not replaceable.
Usage
Do mini flashlights work in real-world situations?
Even from my first impressions, I could tell that the best thing of the TINI SS for me was going to be the size and weight. I'm amazed they could pack that amount of lumens into such a small flashlight (even compared to other mini flashlights).
The TINI SS comes with two buttons, a power button and a mode button.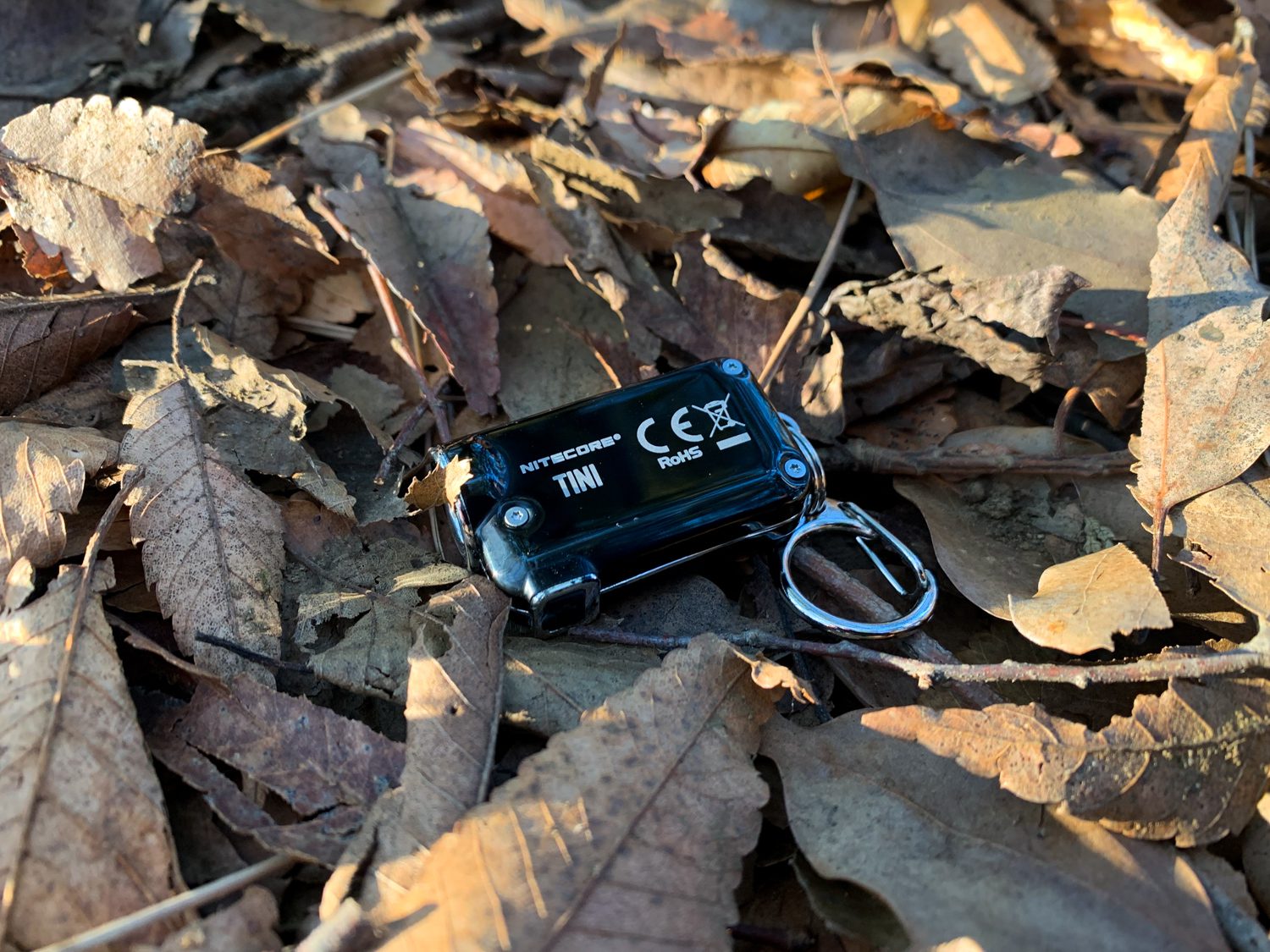 The TINI SS comes in two modes, a demo mode, and a daily mode. Pressing the power and mode button simultaneously will activate either mode. It'll flash once for demo mode and twice for daily mode.
Demo mode turns off automatically after 30 seconds without operation while daily mode needs to be turned off manually. There are a few ways of activating the TINI SS.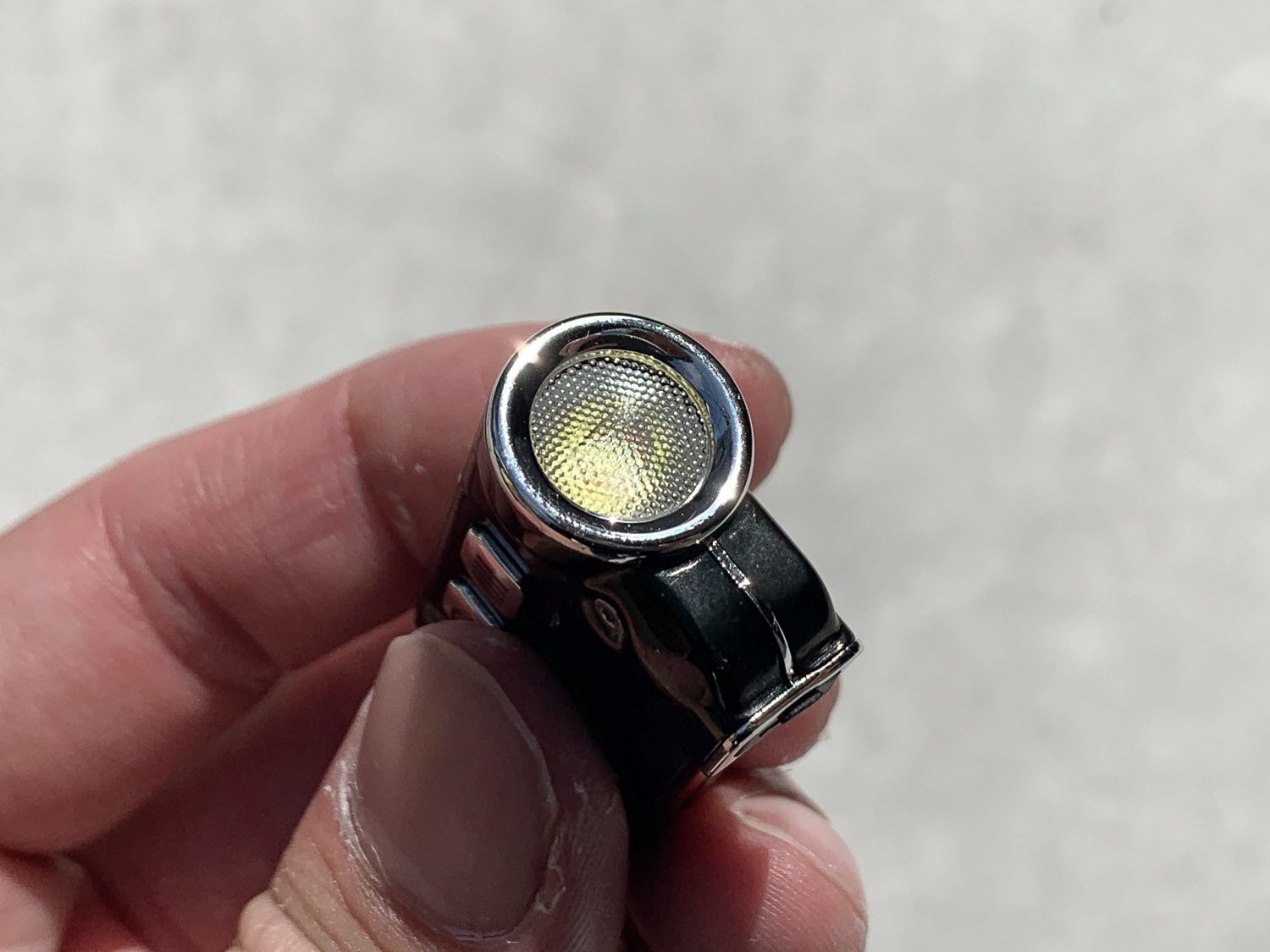 When off
Press and hold the power button for 2 seconds to turn it on.
Press and hold the mode button for 2 seconds to access Turbo as long as held.
Press and hold both buttons to switch between daily and demo modes.
Short press the mode button to check battery status. The buttons would flash blue.

More than 50% – 3 flashes
More than 10% – 2 flashes
Less than 10% – 1 flash
When on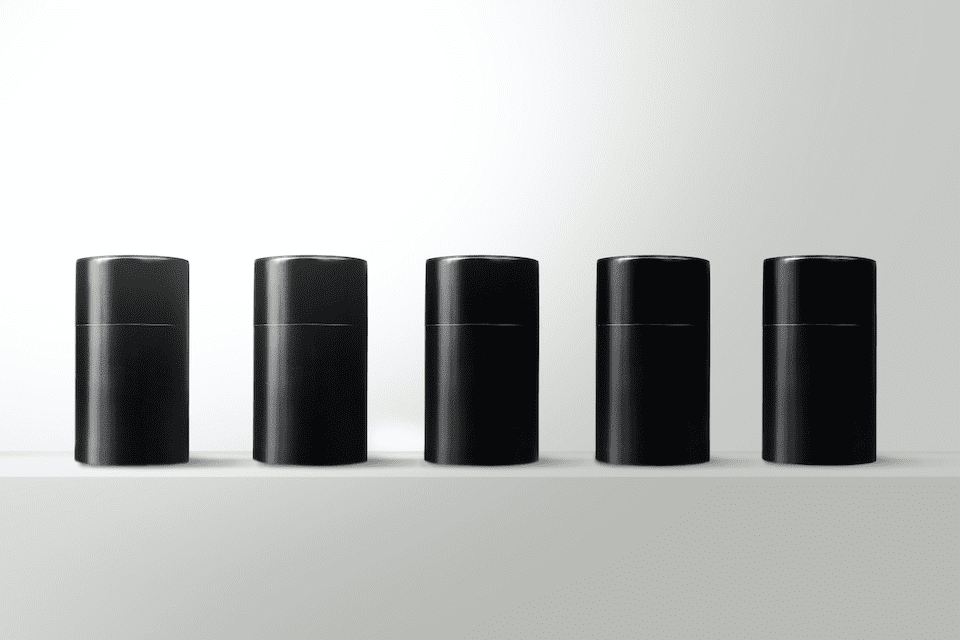 I found a 100 year old company that would create these heirloom quality canisters for me. They are handmade and will keep your tea leaves, coffee beans or anything that you need dry for years to come.
or read review
Press the mode button to cycle between 3 light intensities, low to medium to high.
Press and hold the mode button to access Turbo as long as held. The last used light intensity will be restored after releasing.
Press and hold both buttons to switch between daily and demo modes.
Short press power button to turn off.
The difference between the modes is basically the light intensity and the resulting battery drain.
Turbo 380 lumens at 15m runtime
High 145 lumens at 1hr runtime
Mid 38 lumens at 4hr runtime
Low 1 lumens at 60hr runtime
Unfortunately, there is no way you can leave the light on in Turbo without holding on to the button. There also isn't a strobe function or SOS mode to this flashlight that some might like to have.
The beam produces a wide beam and wide hotspot to give maximum visibility.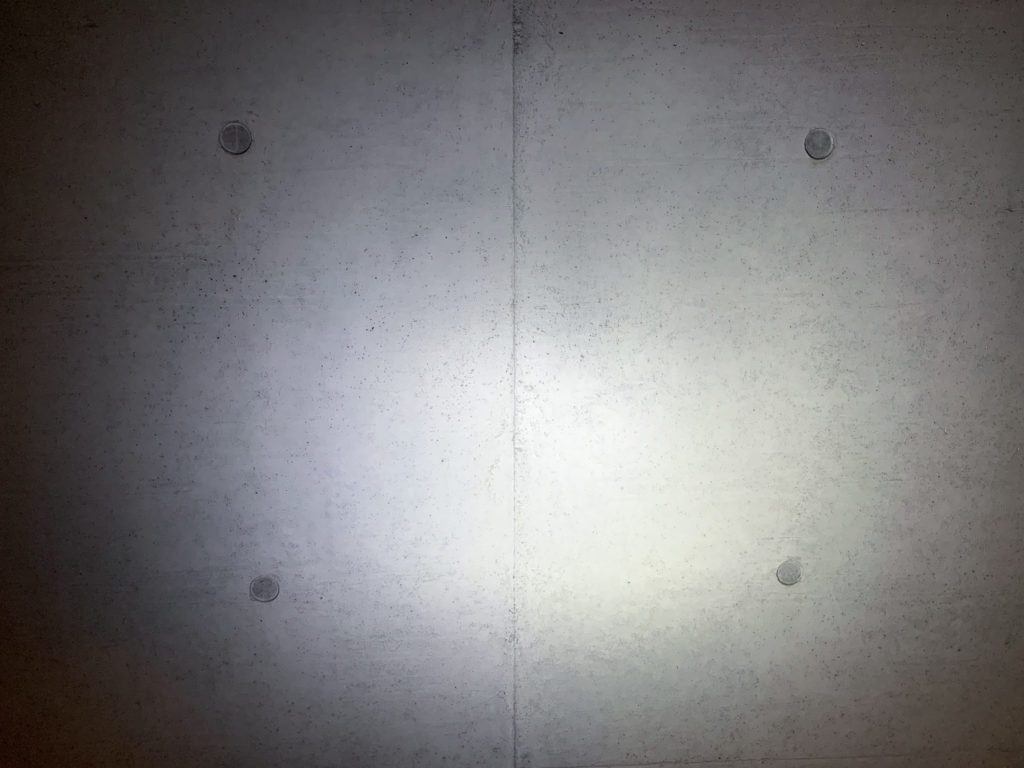 Maybe the 2 seconds it needs to turn on might be the part with the poorest user experience for me. Sometimes I just want quick access to light and while I don't think 2 seconds would be the difference between life and death, I didn't think it was necessary.
Conclusion
Is this the best of mini flashlights?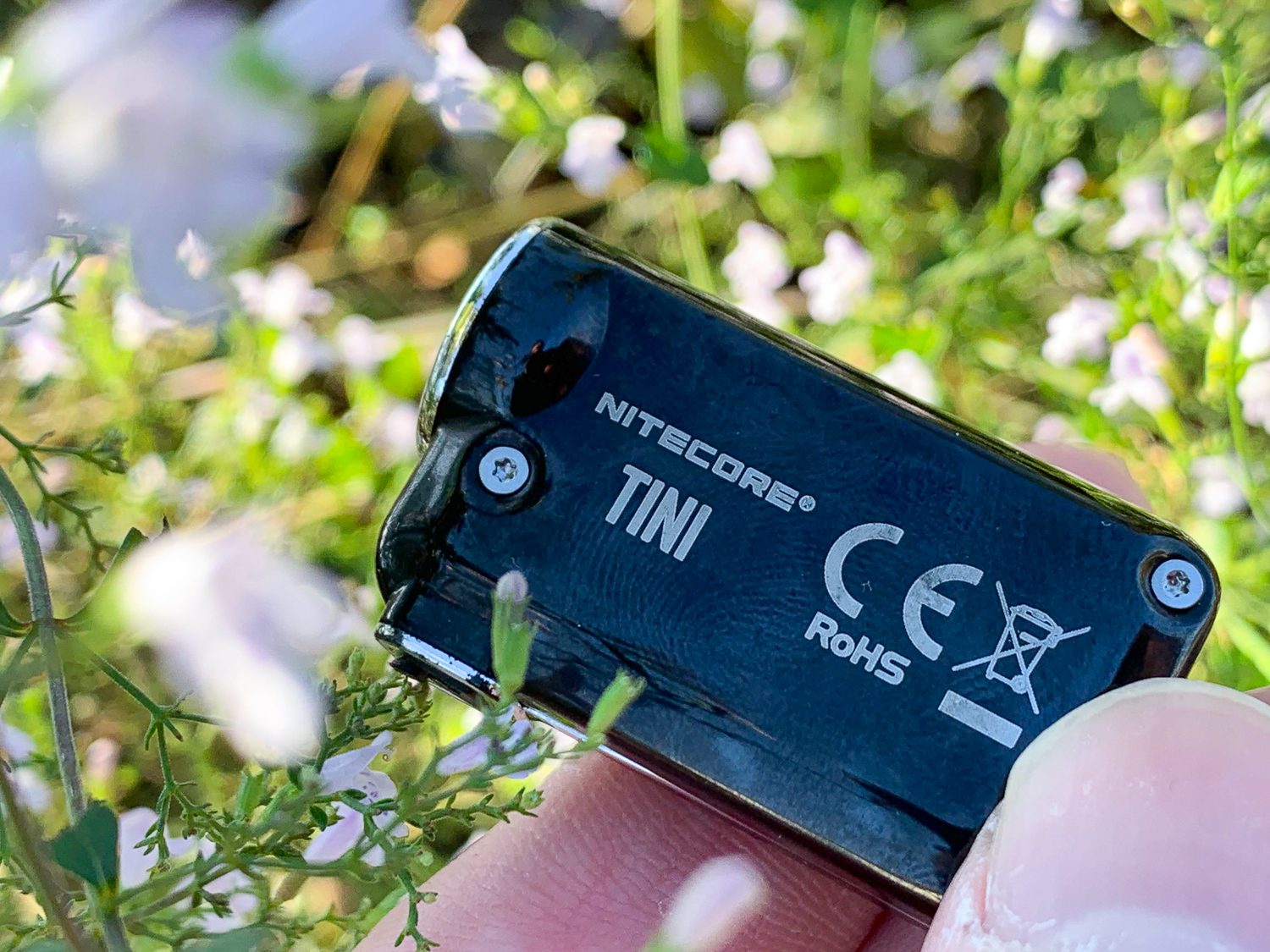 Probably. This is a dream for travelers who need that extra power. At that size and weight, the power it provides is just unheard of. If you need a keychain flashlight for your travels, then this is one you should seriously consider.
Like this review? See all of my in-depth reviews.
Also, consider supporting me by being a Patreon. Every cent given will go back into improving the content of this website.
Tagged flashlight nitecore review tech