This website is made possible by readers. I may earn a small commission when you buy through the links in this article at no extra cost to you. Learn more.
Details
Price $30.29 on amazon.com
Dimensions 8.66″ x 6.3″ x 1.57″ (22 x 16 x 4 cm)
Weight 10.98 oz (311.5 g)
Overview
Even though Nitecore sent me this pouch a couple of months ago, I procrastinated, and sadly it seems to be no longer available for sale. Nevertheless, it is worth looking at each product to understand the brand better.
Nitecore is best known for their flashlights. I've reviewed ones like the Nitecore TINI SS and Nitecore MH12GT. While I am not an enthusiast like the guys at Candle Power Forums, they received top marks for what I wanted to use them for.
Nitecore is also the designer of the NB Series of ultralight power banks which are the ones I currently use.
It is common for a brand to want to expand when they've got a few things right. However, expanding cautiously and intentionally is also key.
Bags are arguably a little trickier to expand into. With stellar brands like Able Carry, TOM BIHN, and Aer, it is a tough market. While Nitecore has produced some pouches made specifically for some of their products, this is probably the first full-on EDC pouch I've seen from them. With it taken off the store, perhaps they might have decided to end their venture into pouches and bags altogether. I'll see.
Style
Nitecore has all along been very tactical in style, with many of its products catered to law enforcement professionals. As such, most of their products are only offered in black. No complaints there.
The same goes for the NUP10. Black is the only option, and the right one, if I might add.
Even with the all-black colorway muting the details, the NUP10 still looks extremely tactical, edging on the "military bro" look. You risk looking like a poseur if you haven't actually been in the military.
The front is laid with three columns of seven slots for any kind of attachment configuration you can think of. Some might want to strap flashlights or pens on the outside, but I personally like to keep it empty.
The pouch also comes with a detachable strap. The strap is a run-of-the-mill strap, so don't expect any fancy like the TOM BIHN Shoulder Straps. You can sling it like a sling bag although I don't think the look is ideal compared to actual sling bags like the TOM BIHN Le Grand Derriere.
But no one likes ads, so I got rid of them. If my articles helped you, I ask for your support so I can continue to provide unbiased reviews and recommendations. Every cent donated through Patreon will go into improving the quality of this site.
Since the straps are folded up and packed, the creases will stay for a while unless you bother to iron them out. Rolling them would have been a better option.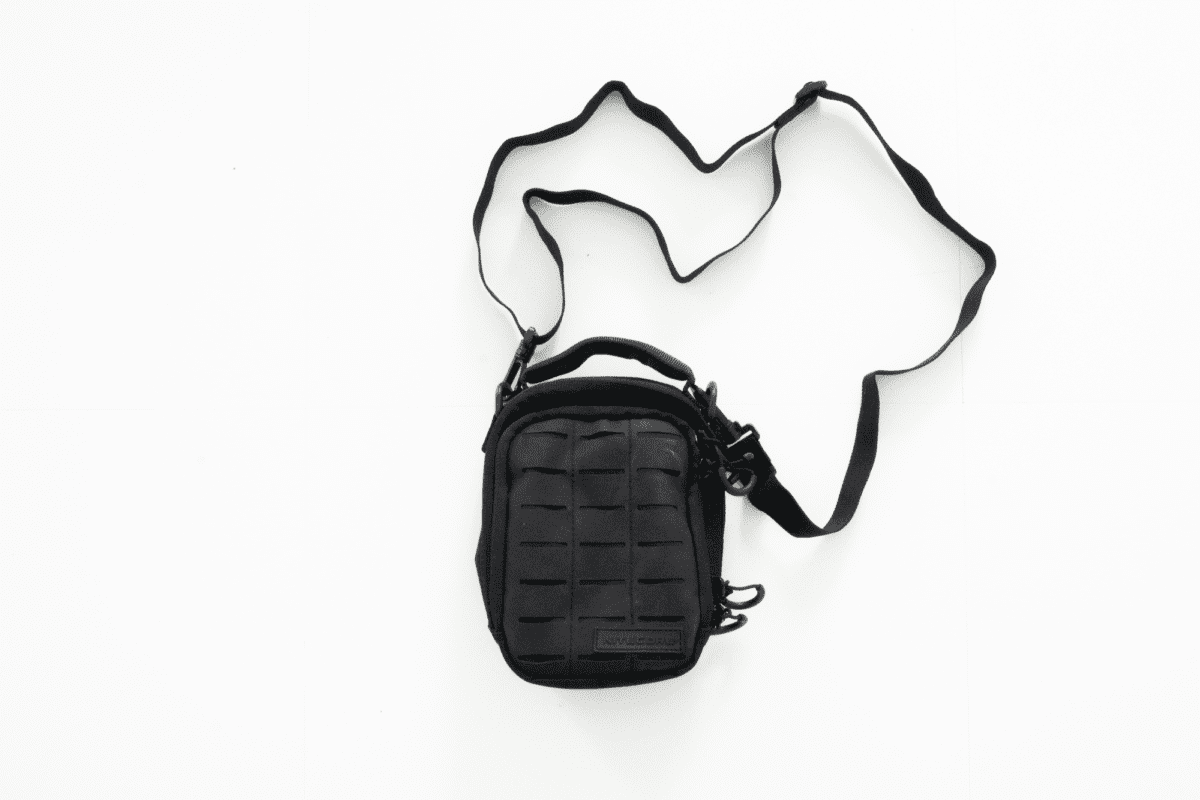 The handle on the top looks substantial, but the padding makes the underside look bumpy and somewhat low-quality.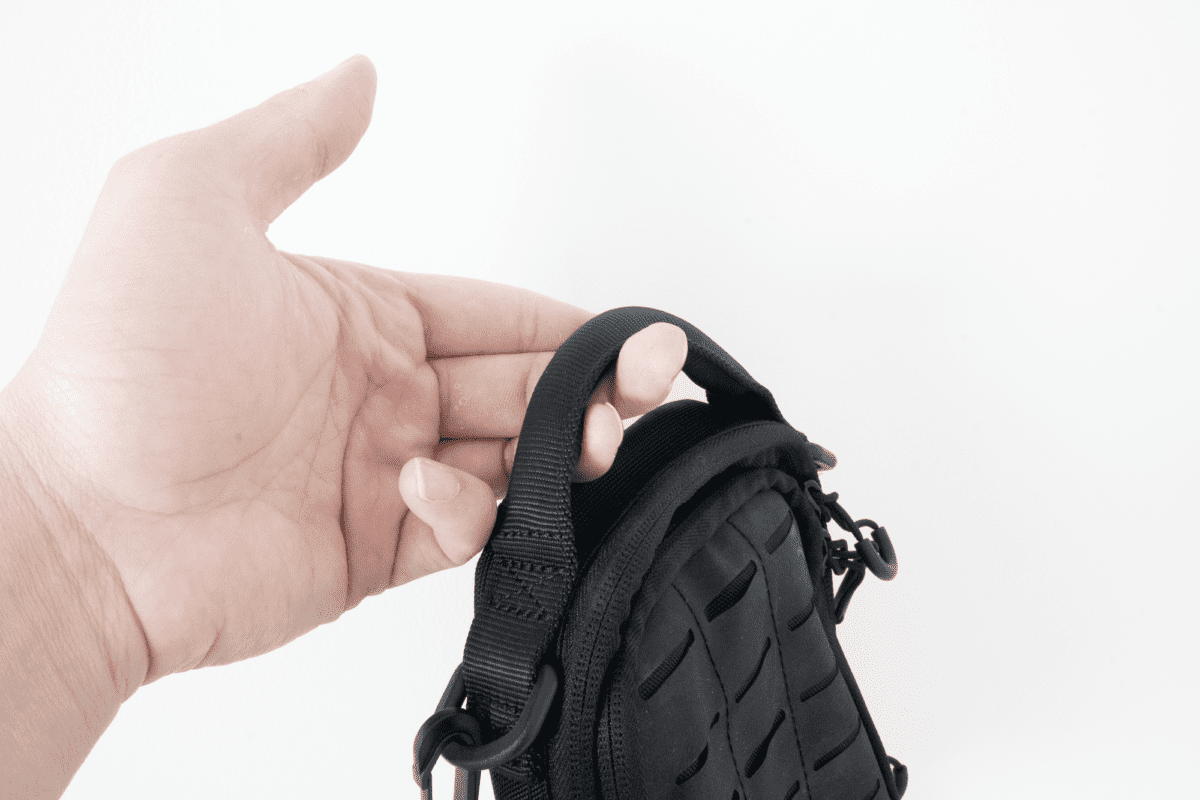 Materials
There are two key materials in play: 1000D Cordura and Hyperlon synthetic rubber.
The main material is 1000D Cordura, which needs no introduction if you are into backpacks, even a little bit. It's most famously and consistently used in GORUCK backpacks like the GORUCK GR1 or GORUCK GR2; 1000D is military-spec and build to last.
Cordura is also the name of the company that produces the material Cordura. It can get confusing but this isn't really something a layman needs to know. All you need to know is that their reputation is up there with GORETEX and you can be sure that the quality will follow suit.
The Hyperlon synthetic rubber is the material on the front. It offers exceptionally good weather resistance, which makes it a great choice for the material on the front and for extended outdoor use.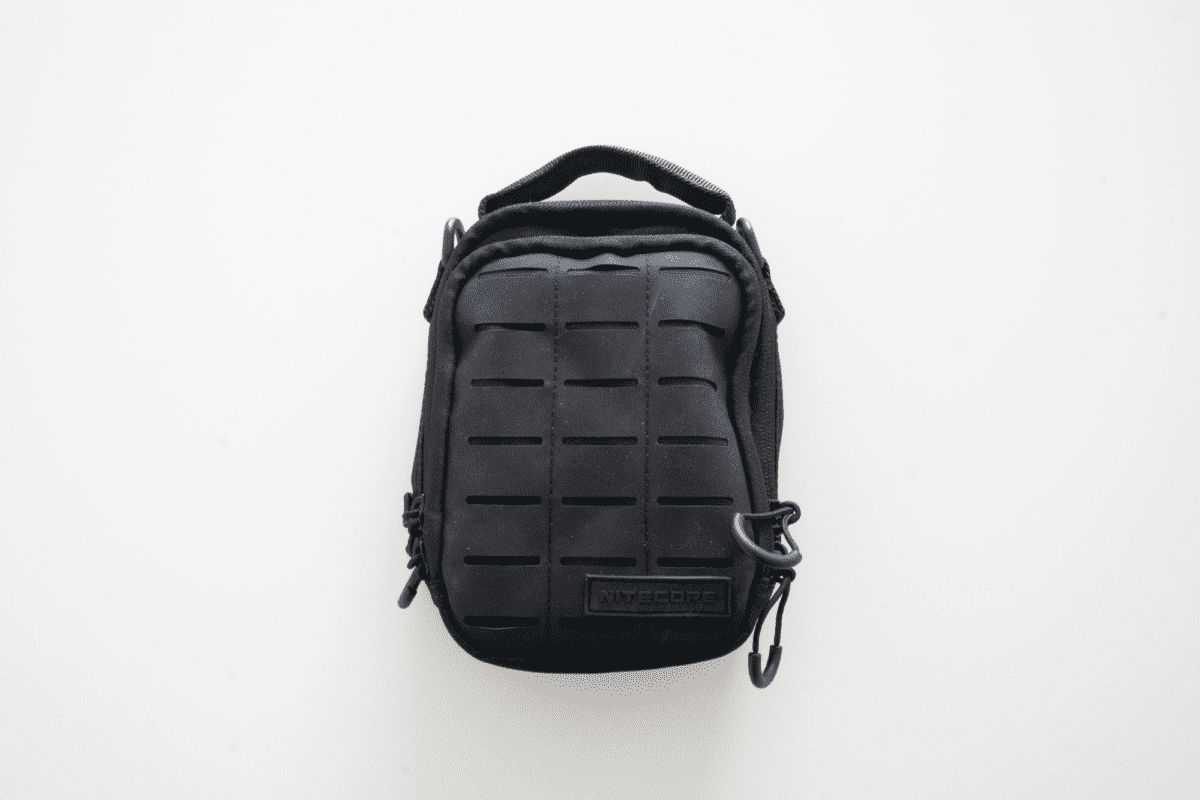 Usage
The NUP10 Utility Pouch is designed to be configured to your exact specification. You are not even limited by the capacity since the slots on the outside lets you attach all kinds of bells and whistles.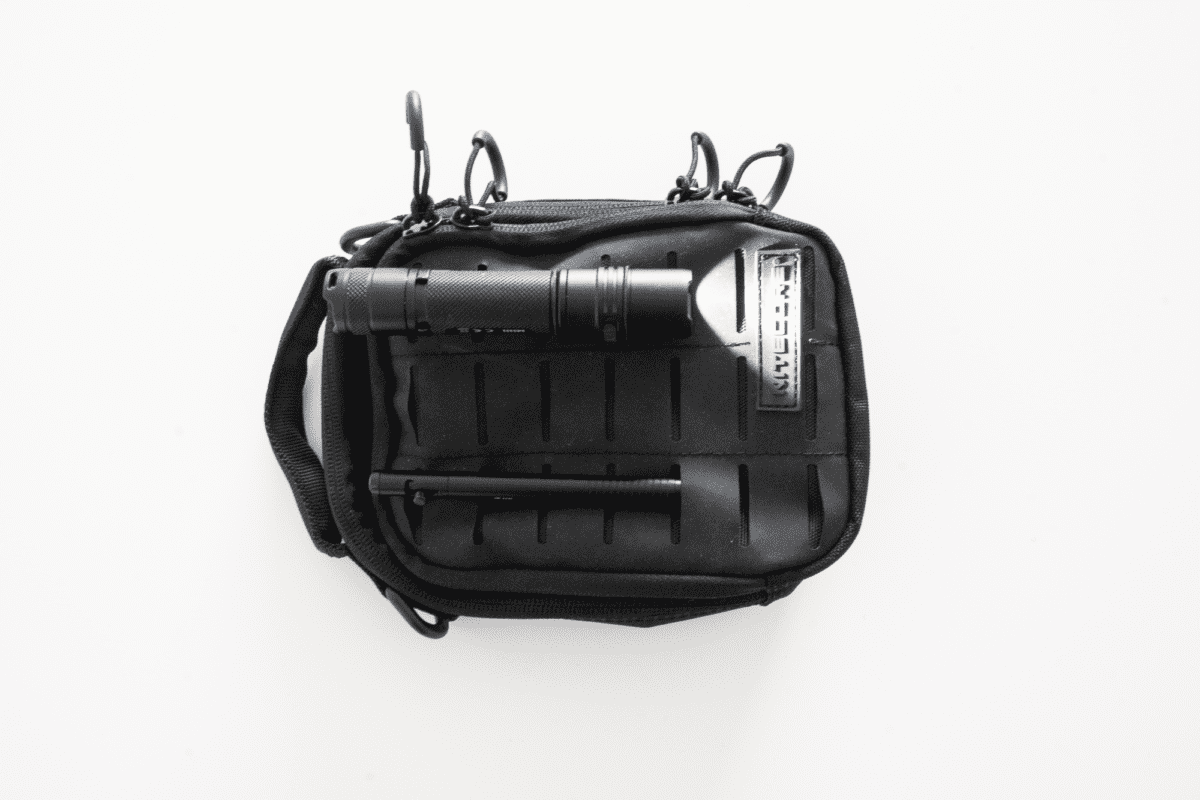 While it is a pouch, it is too large to fit into your pocket, thus ruling it out as an EDC organizer.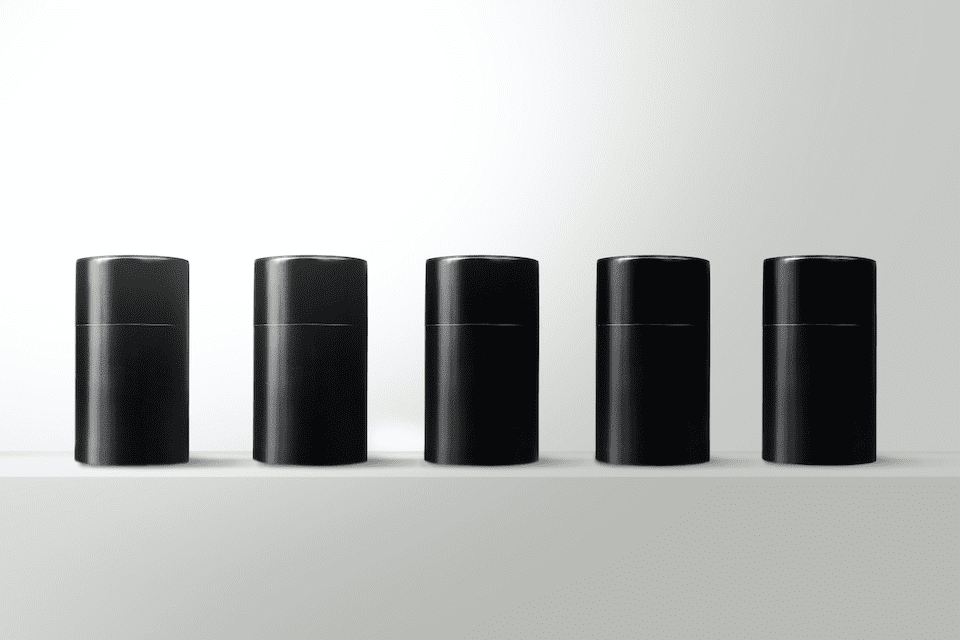 I found a 100 year old company that would create these heirloom quality canisters for me. They are handmade and will keep your tea leaves, coffee beans or anything that you need dry for years to come.
or read review
Front Compartment
The front compartment (yep, there are two compartments in this little monster) exposes two loops to secure accessories onto. While this space might look tight, I was able to fit the Canniloq Transcend XD into one of it and still zip it up.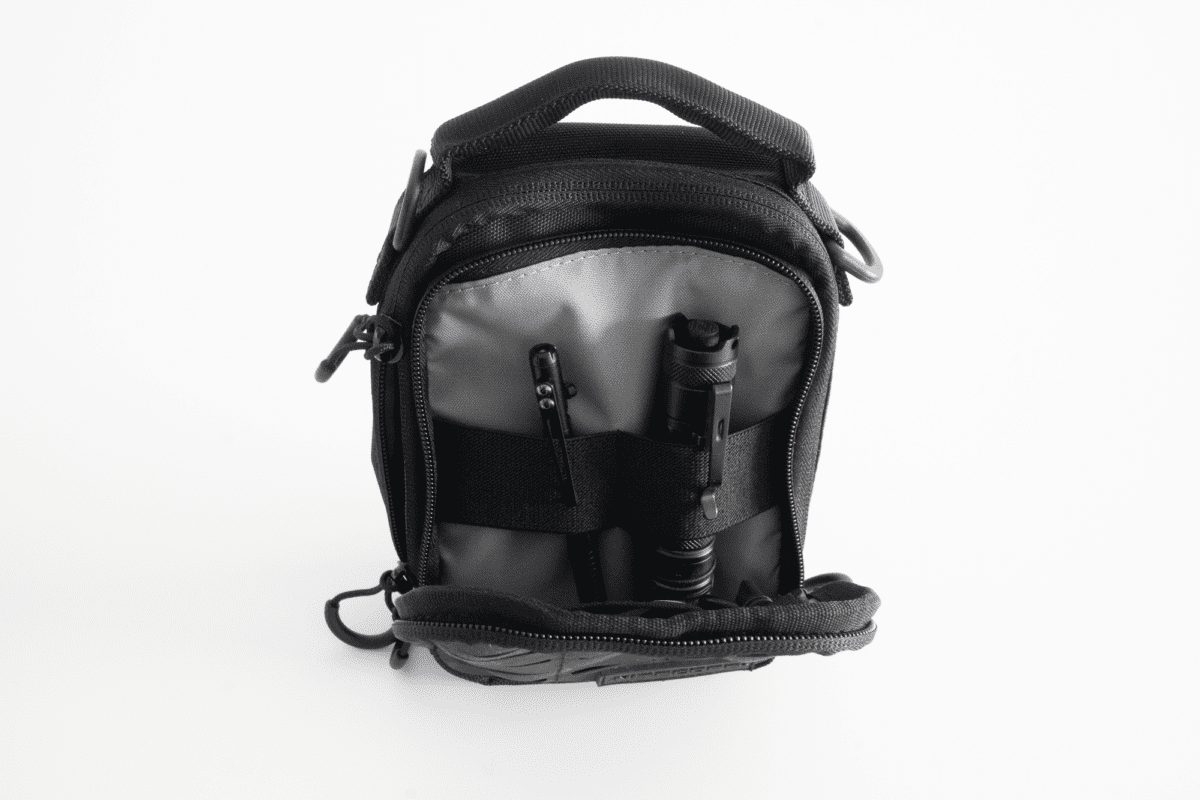 On the flap-side, there are three loops with the middle one larger than the two on the sides. The one on the side comes attached to a D-ring. There is a key loop in here that you can attach to the D-ring when not in use. The loops are actually on a slot that looks to be the perfect size for my Airpods Pro.
Main Compartment
Things are more mirrored on the inside of the main compartment. There are two loops on both sides. On the flap side, the loops are also on top of a slot; a much deeper one compared to the one on the front compartment.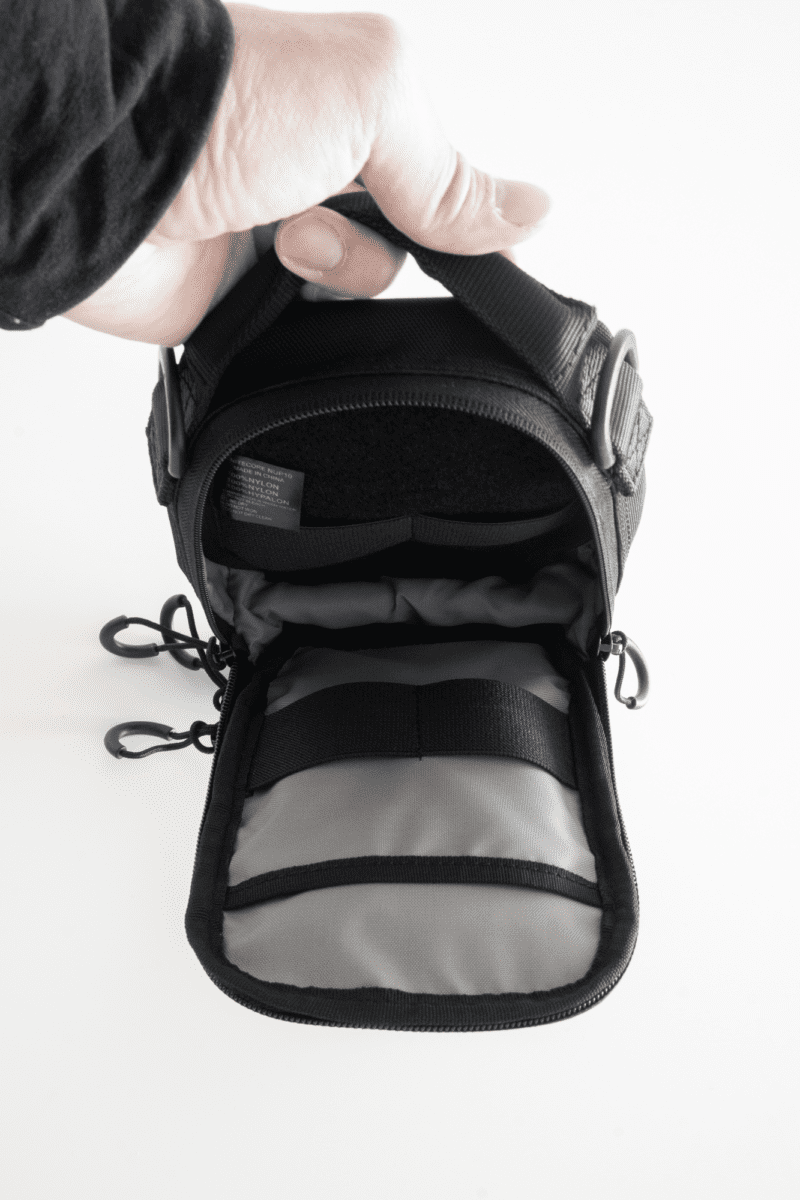 The backing of this compartment is laid with female-side velcro for you to secure stuff to prevent them from moving around in the pouch, not that there is much space to move around in. It seems unnecessary but doesn't hurt since it doesn't take up much extra space or weight.
Handles & Straps
The handle is padded and can be considered overly so for a pouch this size.
On the back of the pouch are rows of molle and two detachable straps.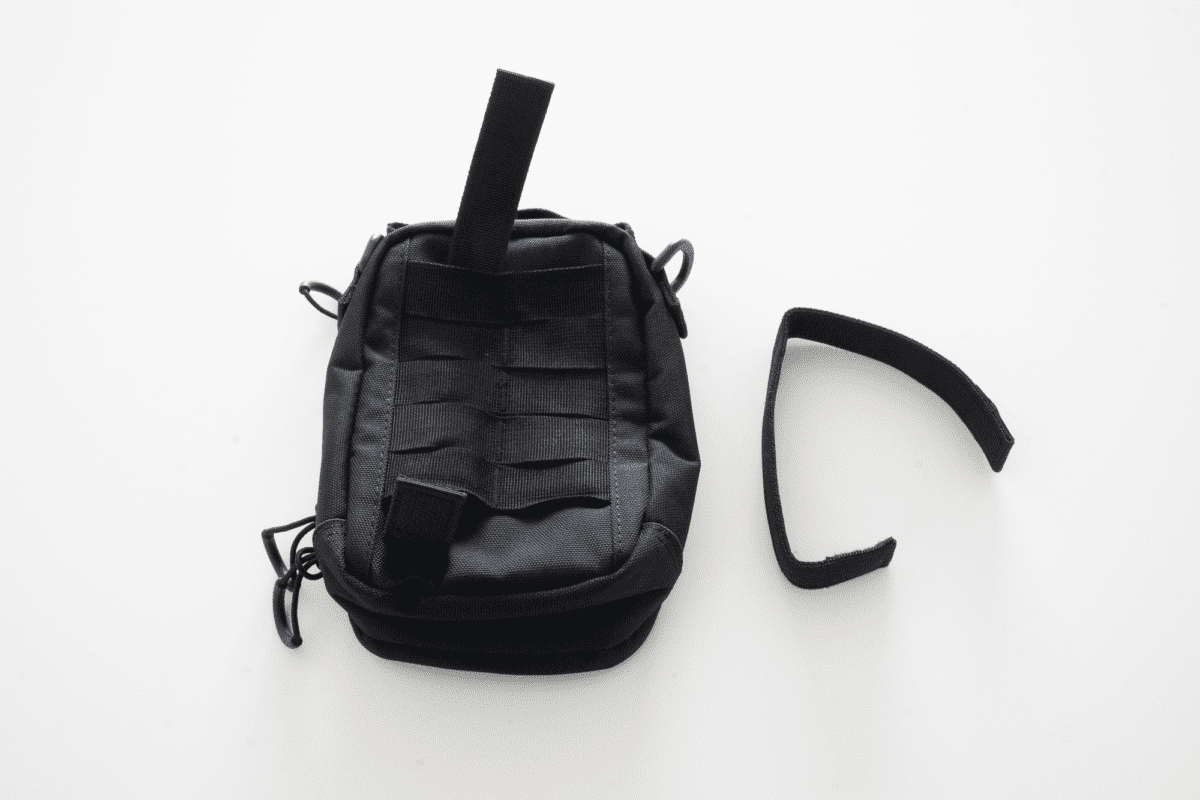 You can strap it to any molle system like those on the GR series of backpacks from GORUCK.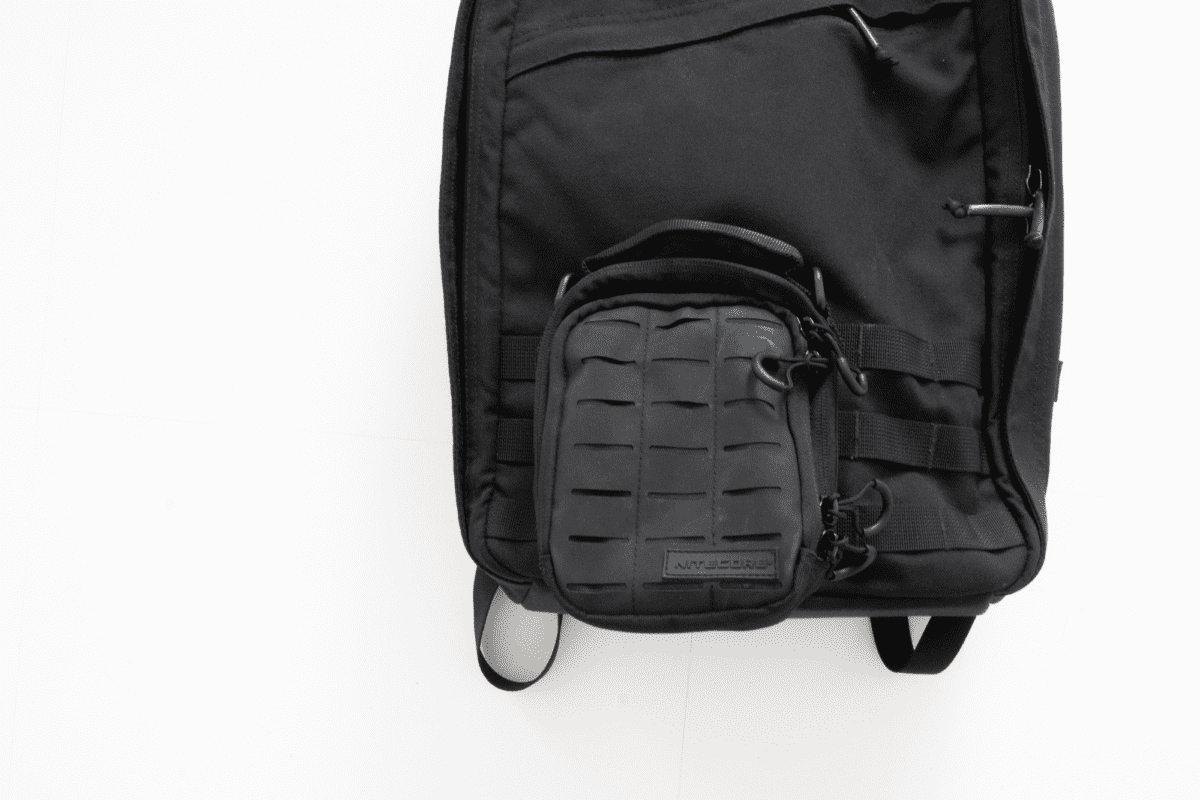 You can also attach them to your belt or the strap of a sling bag. The possibilities are endless.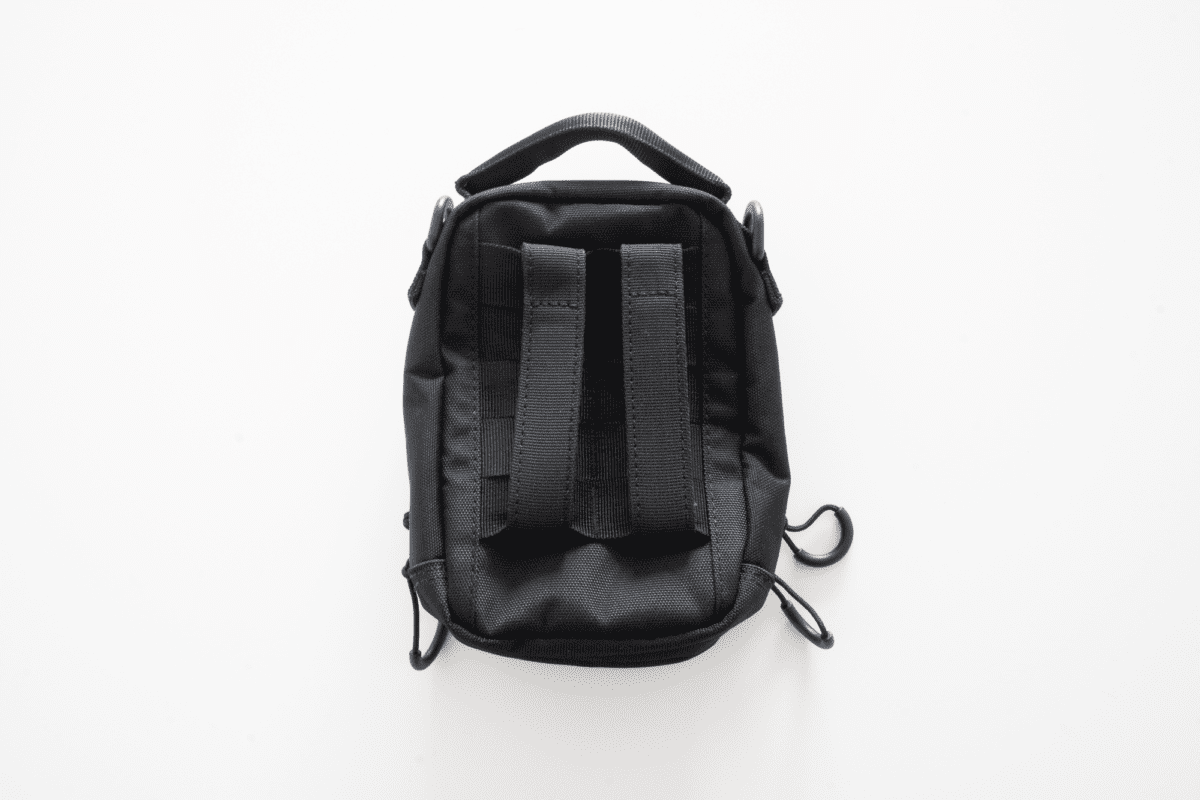 Zippers
The zippers come with pull tabs that are C-shaped plastic which makes them more comfortable to pull. This is the first time I encounter such a design and am indeed intrigued.
While it certainly feels more comfortable to pull on, it will be unlikely that you will pull right at the center of the tab each time. You'll have that awkward feeling where the side of your finger is touching the paracord. It is still, however, an overall plus to the zipping experience.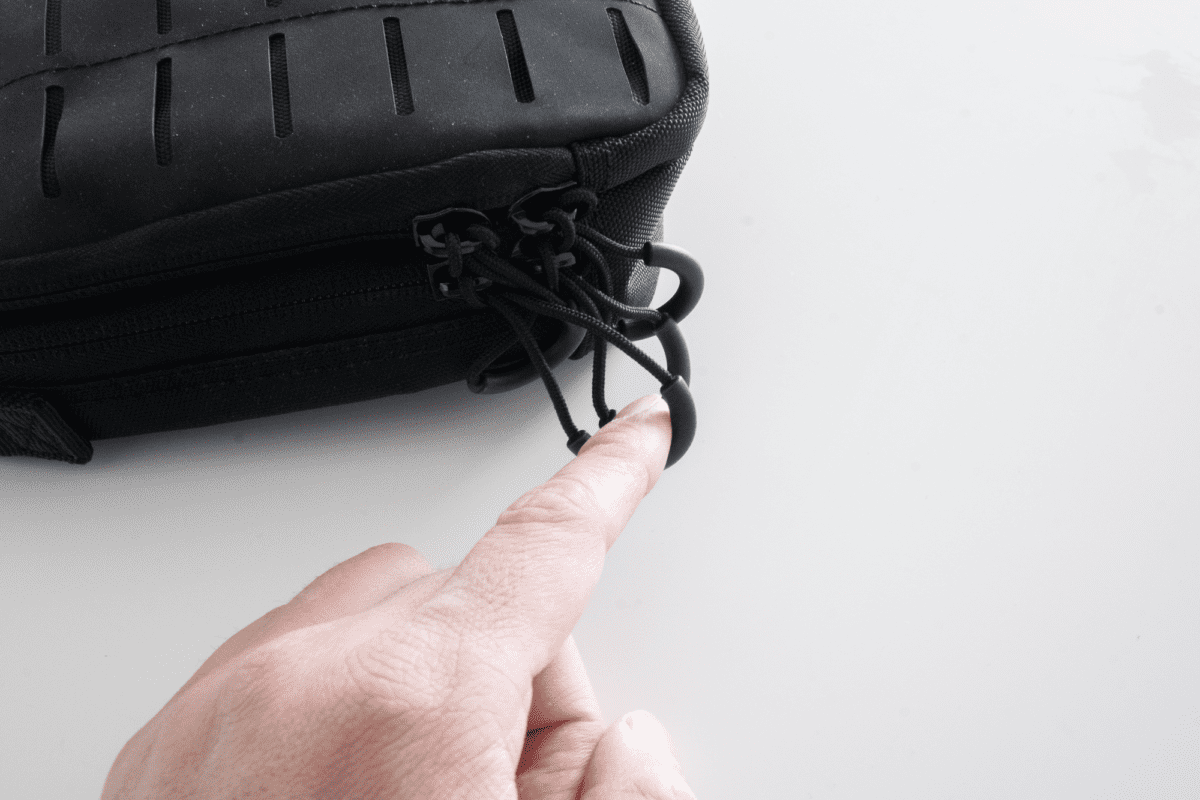 Conclusion
Having endless configuration options may be one man's meat but another's poison. As a designer and minimalist, I like to work within a certain set of rules; I do live in Japan. Having too many ways to configure a pouch this small can feel like a chore at times.
Nitecore attempts to fit a multitude of features into a pouch this small but somehow doesn't feel intention, like the well-tuned Aer pouches for example.
Nevertheless, it is still a solid pouch with solid materials by a solid brand at a solid price.
Additional Images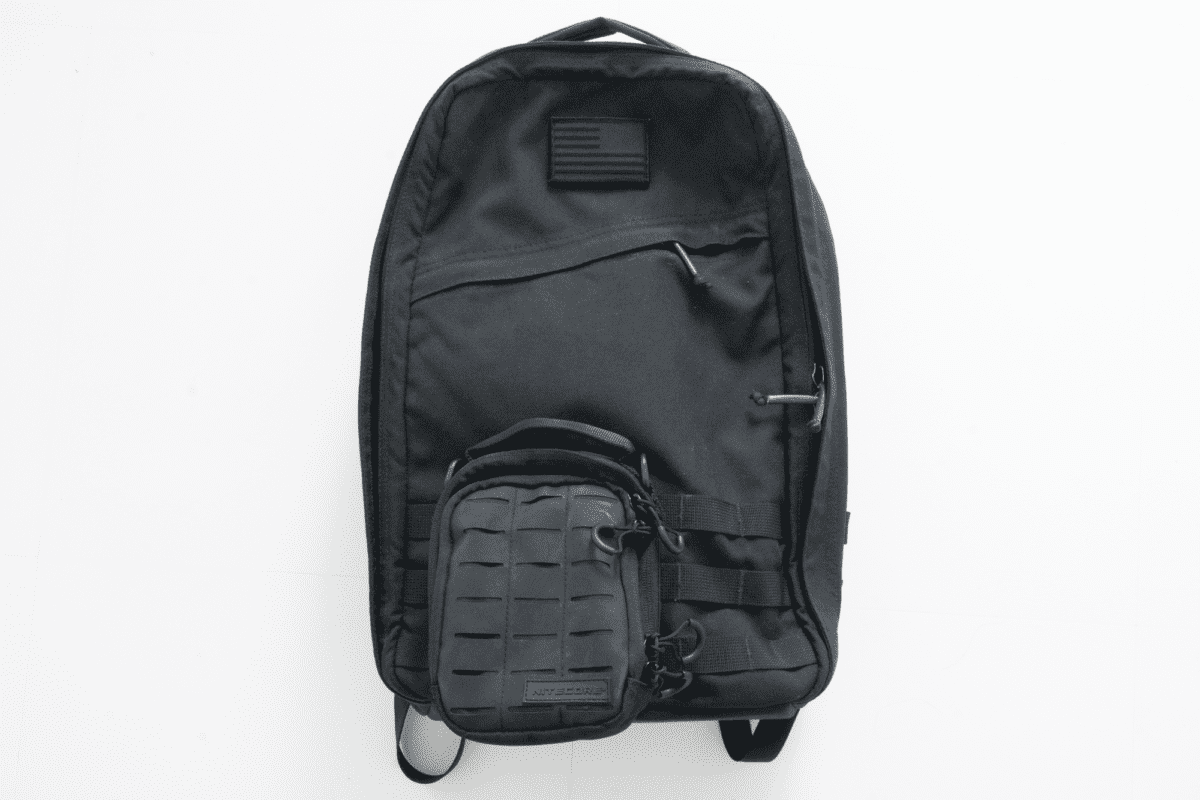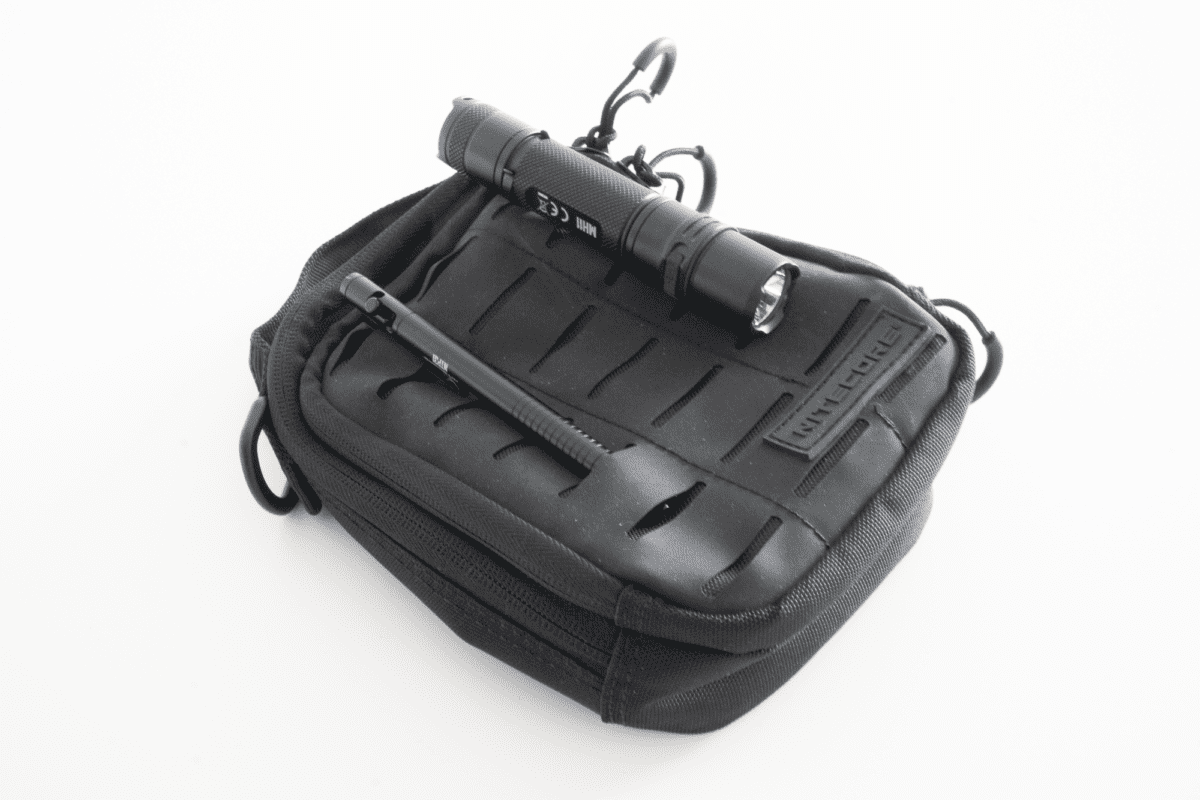 Like this review? See all of my in-depth reviews.
Also, consider supporting me by being a Patreon. Every cent given will go back into improving the content of this website.