This website is made possible by readers. I may earn a small commission when you buy through the links in this article at no extra cost to you. Learn more.
Details
Price (min 2 pax) based on April 2022 visit

Weekends or P.H. 45,000 yen per pax per night
Weekdays 34,000 yen per pax per night

Address Hashirimizu 2, Yokosuka-shi, Kanagawa-ken 239-0811
Tel 046-841-2200
Overview
I've always wanted to leverage my experience as a reviewer and location as a long-term Japan resident to do an experience review that only I was capable of. And now is my chance.
This review is not sponsored nor requested in any way.
It was my SO's birthday and our anniversary, and to celebrate, I wanted to take her to someplace nice.
We quickly decided on the Snow Peak Glamping. Both of us love the outdoors but definitely won't be joining the next season of Naked & Afraid. So glamping seemed like a good, although unfortunately pricey, alternative.
Snow Peak is a well-known outdoor gear brand in Japan. They are known for their stylish designs which can make them pricier than other local brands, such as the equally beloved Montbell. Apart from producing some of my favorite travel products, like the Snow Peak Travel Chopsticks, they are known for their experiences.
Besides regular outdoor events for members, the Snow Peak Glamping is another experience crafted by the company. While I won't deny that the marketing of Snow Peak has suckered me into paying an exorbitant amount for a night's stay, I internally justified the price since it was a special occasion.
Getting there
I borrowed my in-laws' car and headed down. It was a relatively short one-hour drive down from my in-laws' place at Kanagawa. It should just be slightly longer if you're coming from Tokyo.
The earliest time you could check-in was 2 pm. You'll get a call confirming your reservation and arrival time a few days before.
Since we didn't want to waste the earlier part of the day, we decided to grab a nice lunch along the way.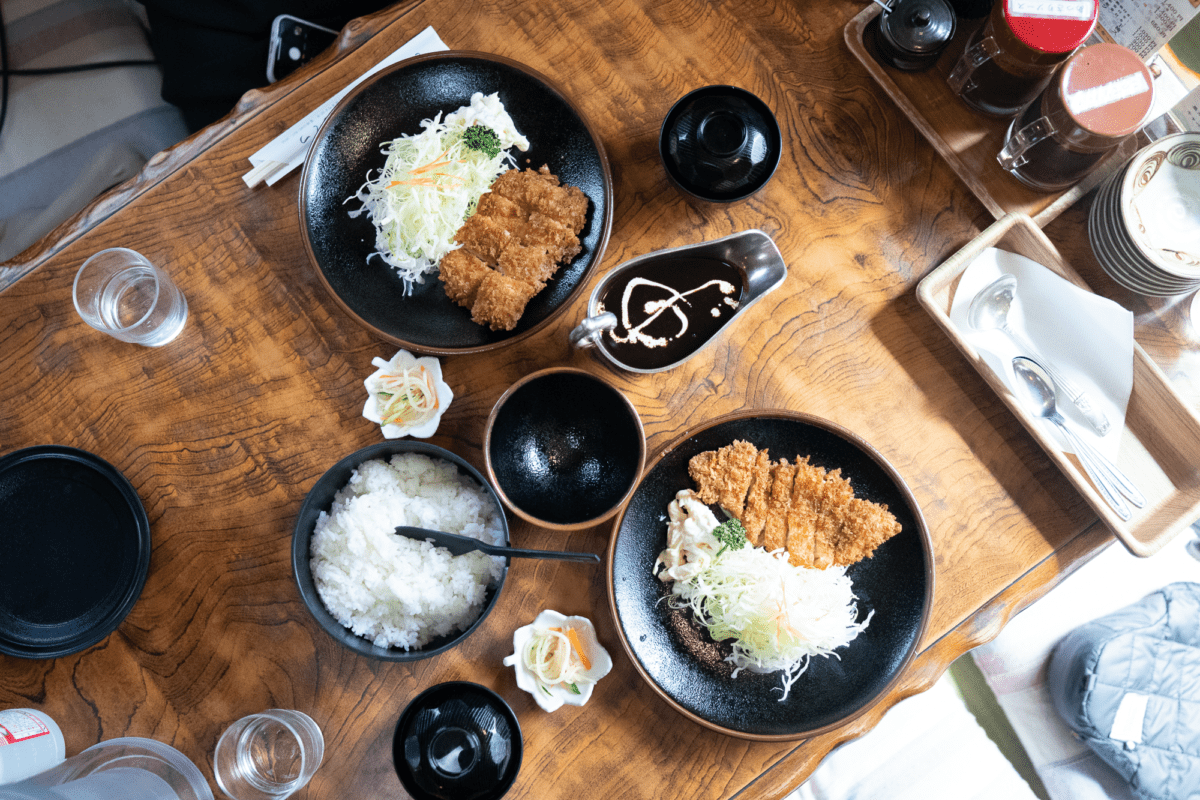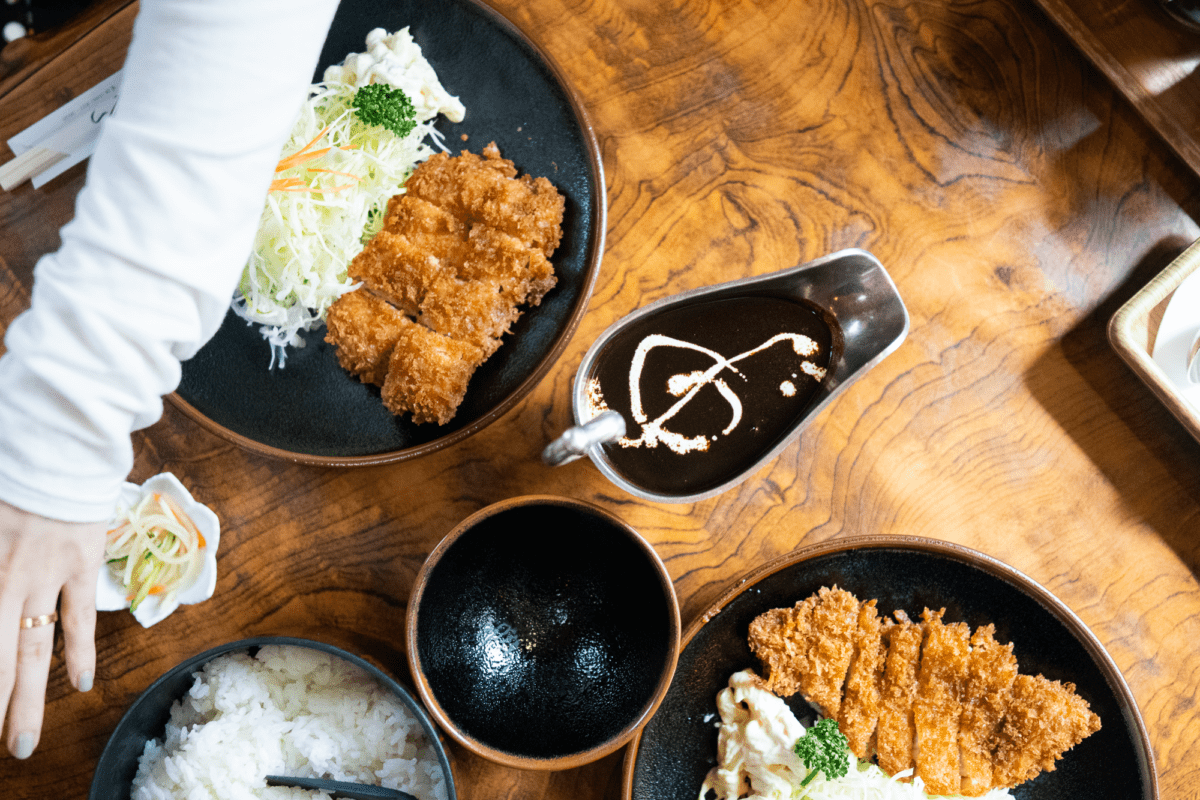 We found this amazing local Tonkatsu place called Tontetsu (とんてつ) a short drive from the glamping spot. It has a few free parking spots as well.
But no one likes ads, so I got rid of them. If my articles helped you, I ask for your support so I can continue to provide unbiased reviews and recommendations. Every cent donated through Patreon will go into improving the quality of this site.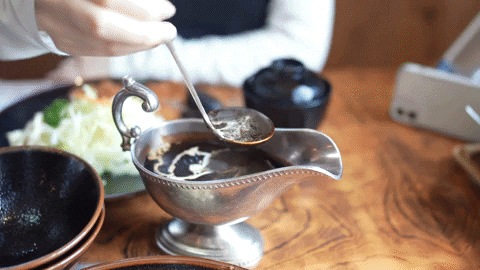 We knew that dinner would be heavy and tried not to overeat, but the food was just too good.
Checking in
You'll find the reception right next to an entrance to a restaurant.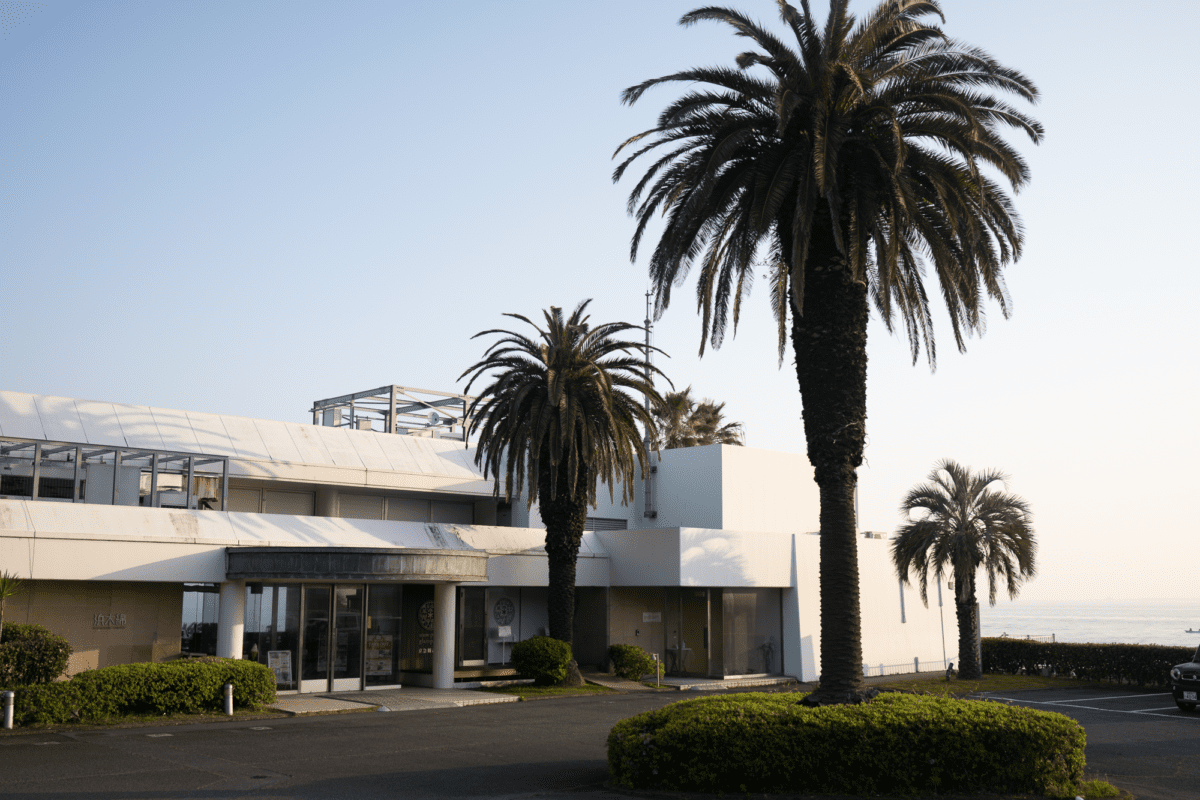 We arrived at 1 pm, an hour ahead of the check-in time. The staff told us that they'll be able to check us in at 130 pm and suggested that we go for a walk by sea since there was no seating area there to wait.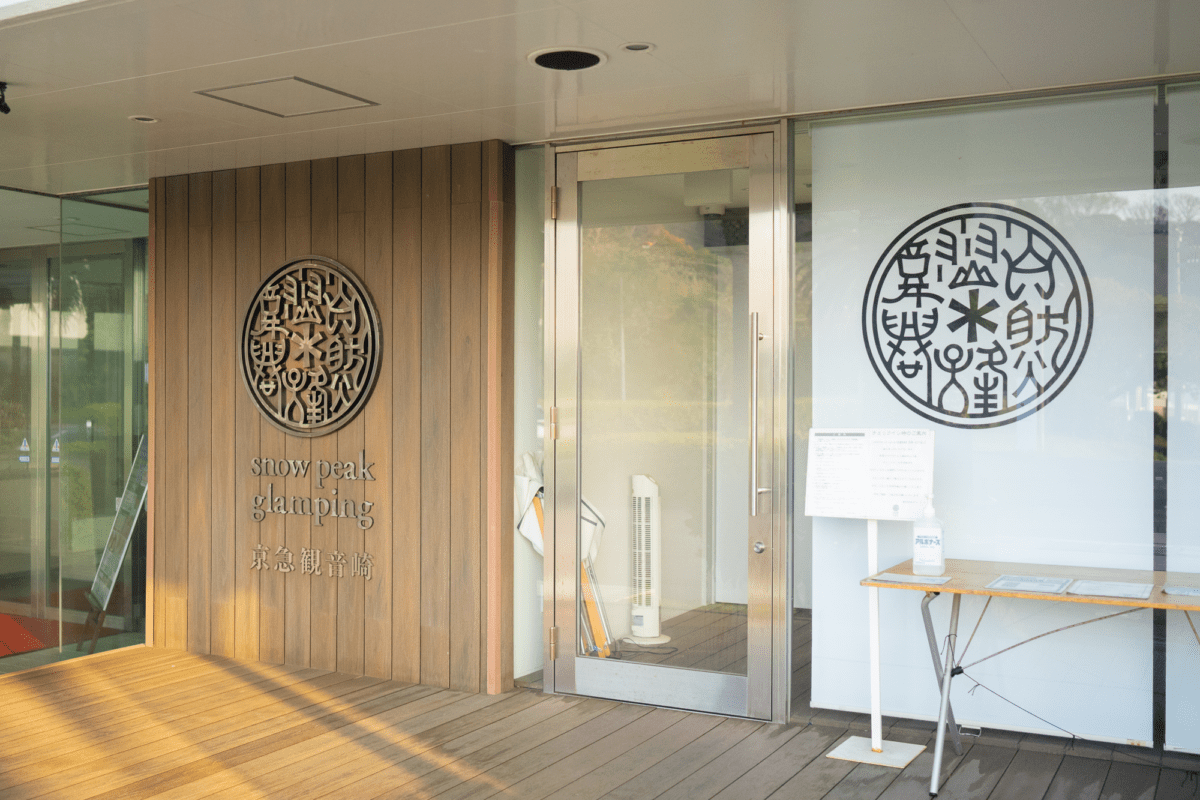 We took a nice slow walk along the harbor right next to the glamping spot. 30 minutes passed in no time as you take in the beauty of the sea.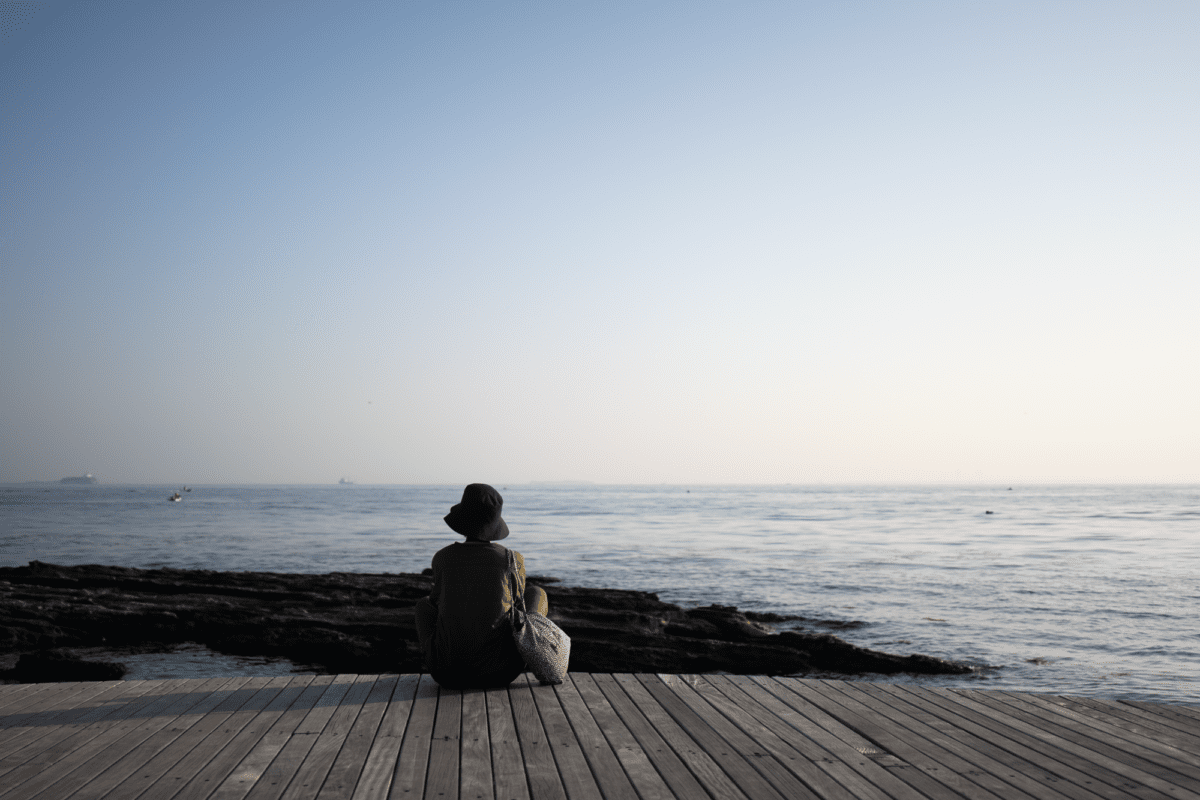 We came back at 1:30 sharp and the staff checked us in. She asked about our preference for dinner and breakfast times.
As the onsen next door was the only place to take a bath, she advised us to have dinner early if we were going to take a bath after as the onsen accepts guests up till 830 pm. We heeded her advice and opted for a 5 pm dinner.
The onsen is also the nearest bathroom. You will also be given a key to the reception area where you can use the washroom inside after the onsen closes.
Yokosuka is a well-known military zone and has seen its fair share of casualties during the war. The area is known for its strong spiritual presence so you can be sure I will be waking my wife up if I need to go pee in the middle of the night.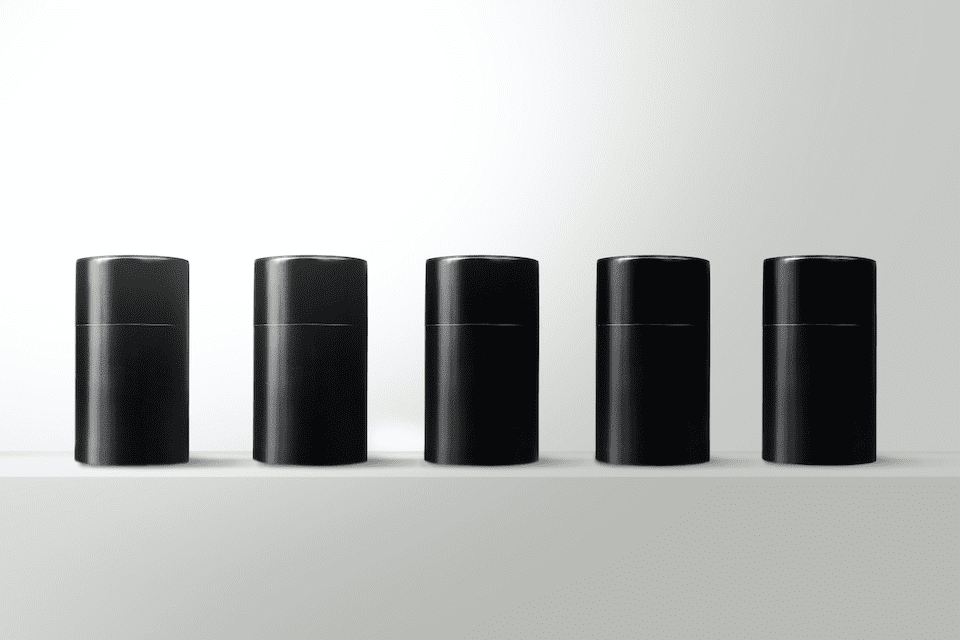 I found a 100 year old company that would create these heirloom quality canisters for me. They are handmade and will keep your tea leaves, coffee beans or anything that you need dry for years to come.
or read review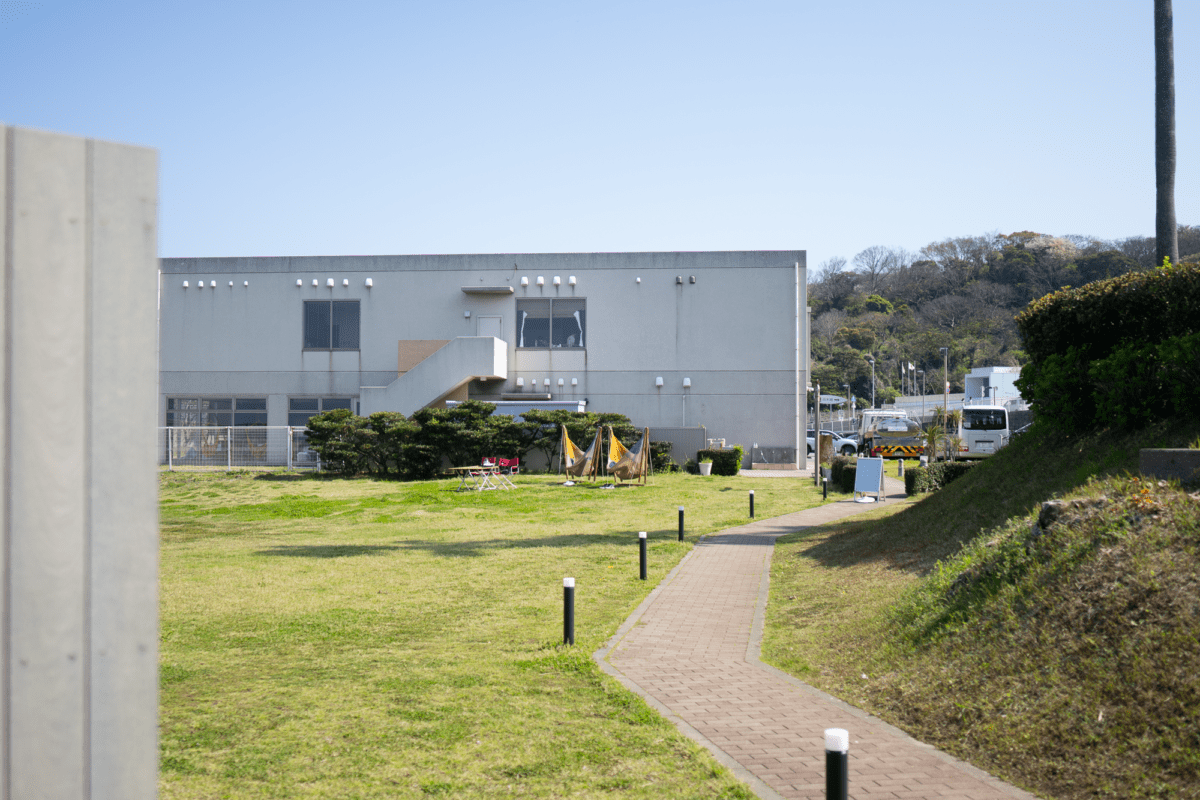 If you are a Snow Peak member (membership is free), you should also circle the option on the form you have to fill up.
Doing so will get you a free bottle of sparkling wine during dinner, but unfortunately, you won't be issued any Snow Peak Life Value points which are the points needed to up your membership rank.
Jyubako
We were led to the glamping spot. There were three tiny cabins side by side; the glamping experience is only limited to three groups a night.
The cabins are called Jyubako, and are designed by the famous architect, Kuma Kengo. You can read more about them here.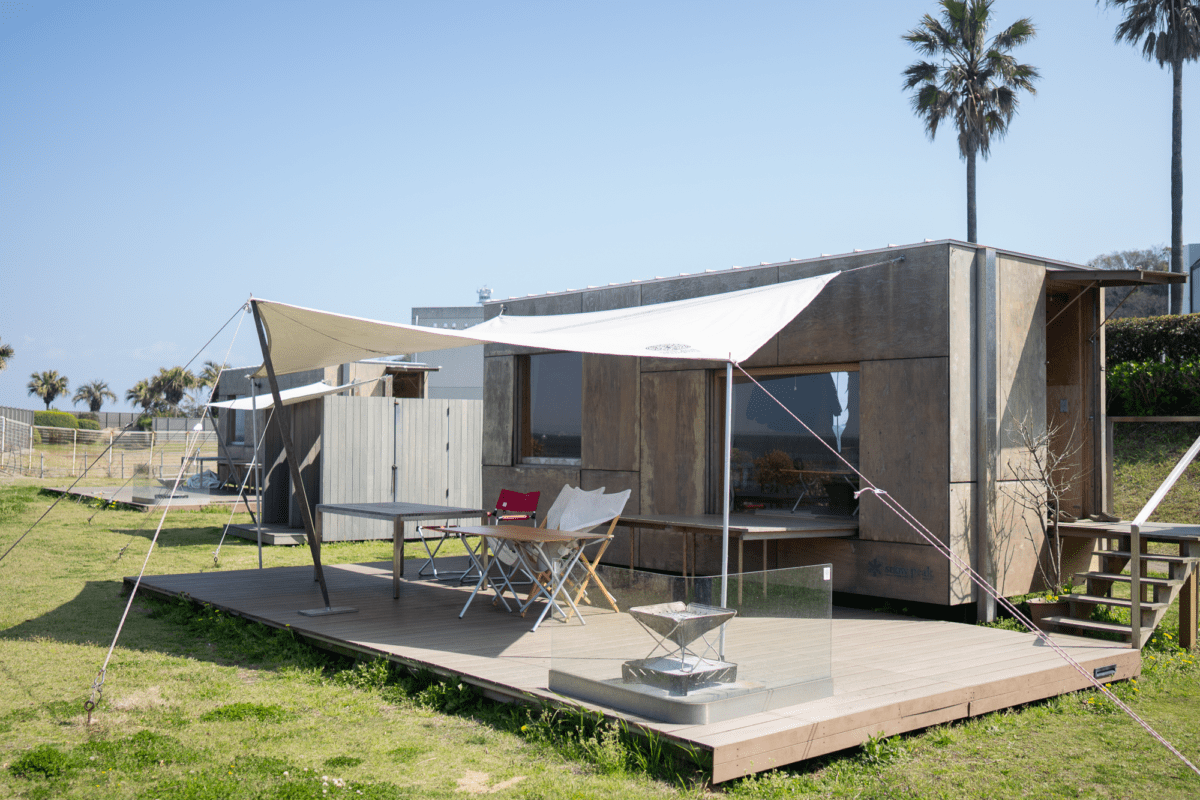 It is essentially a wooden box the size of a shipping container. You enter from the right up a small flight of stairs.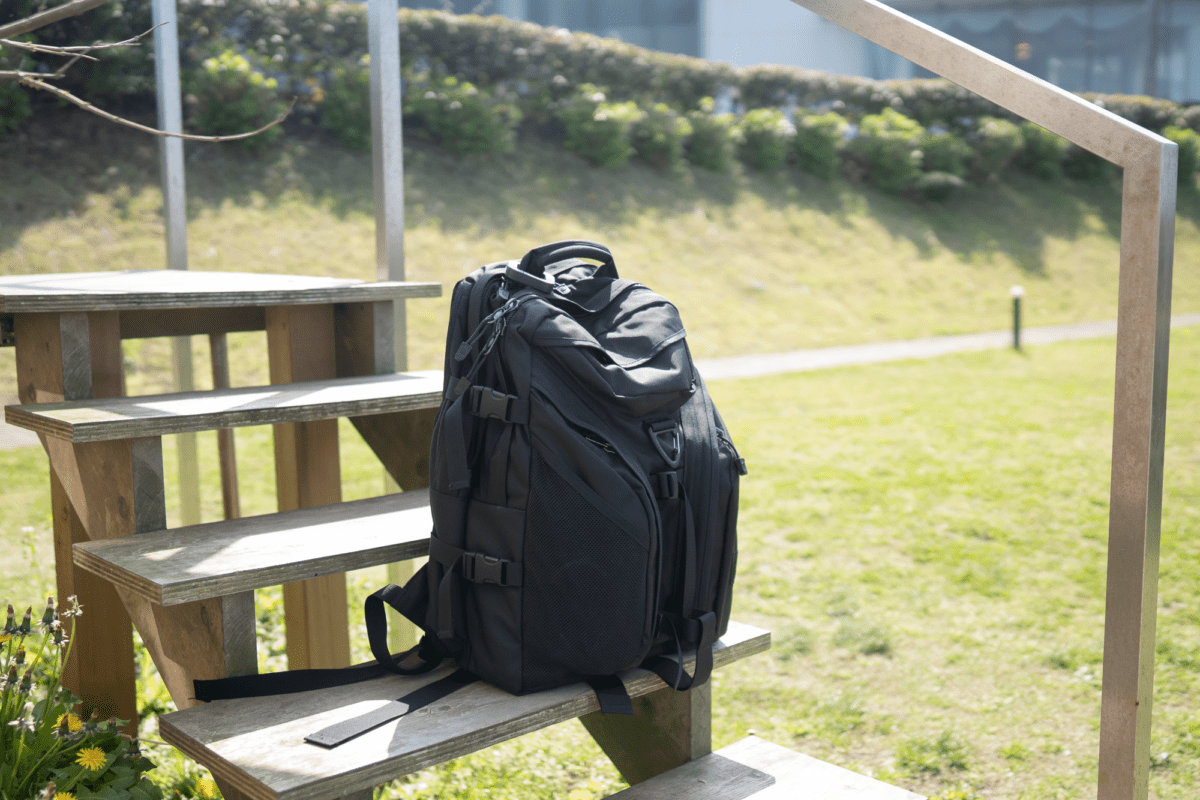 The glass window on the front opens up so you can go onto the platform directly.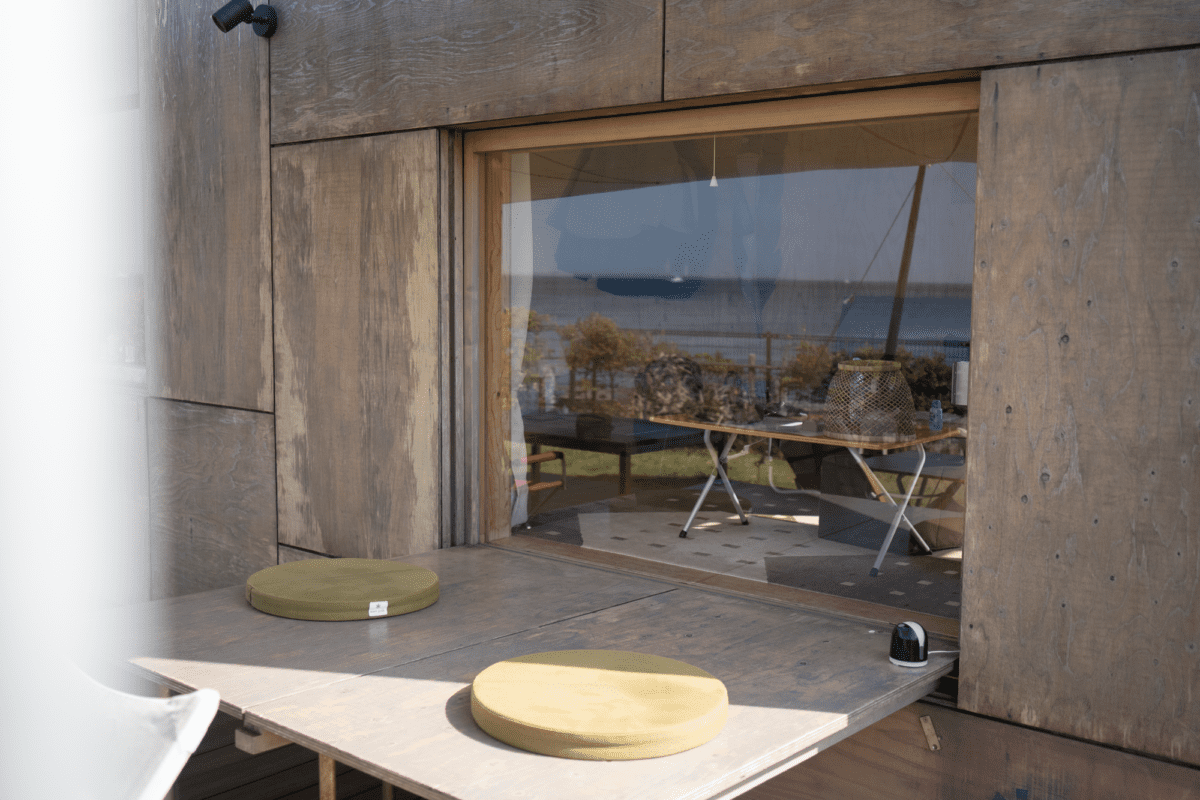 There is a deck out front with two sets of tables and chairs. While there is some form of shelter, it certainly won't shield you from heavy downpours with strong winds. My wife and I were saying that bookings would probably have to cancel if it rains.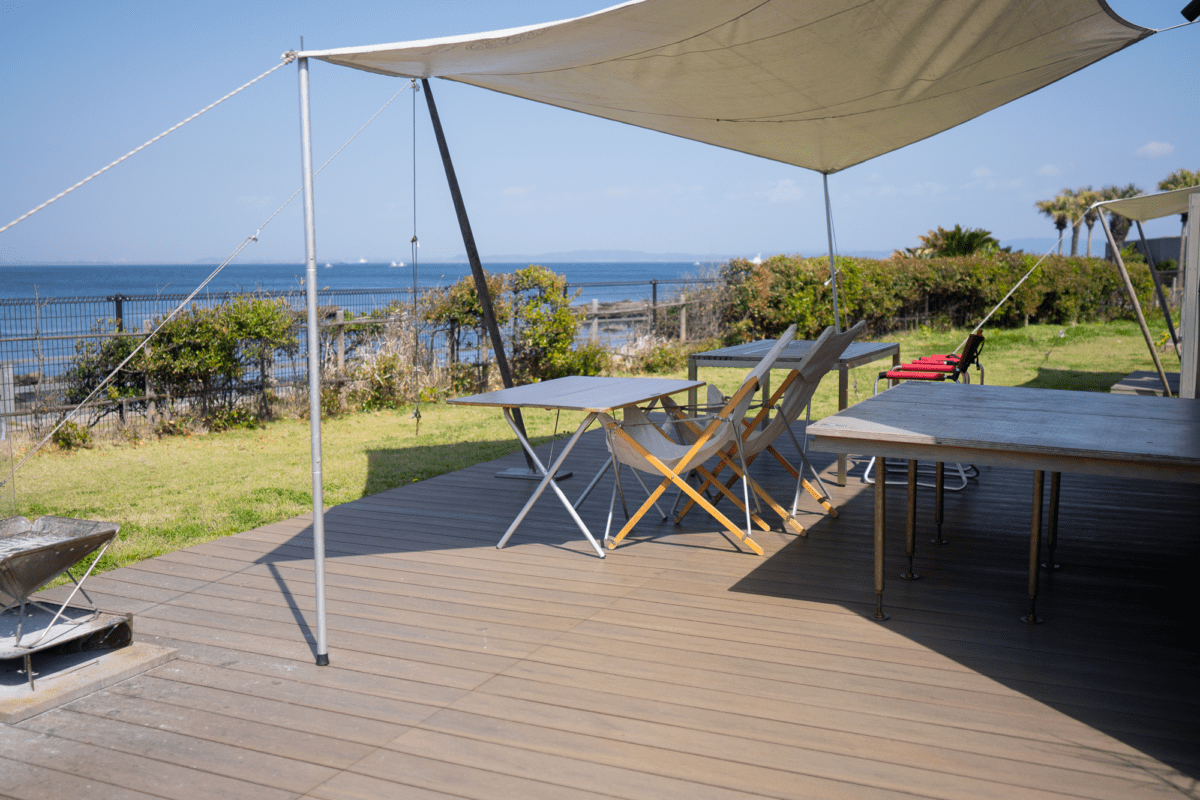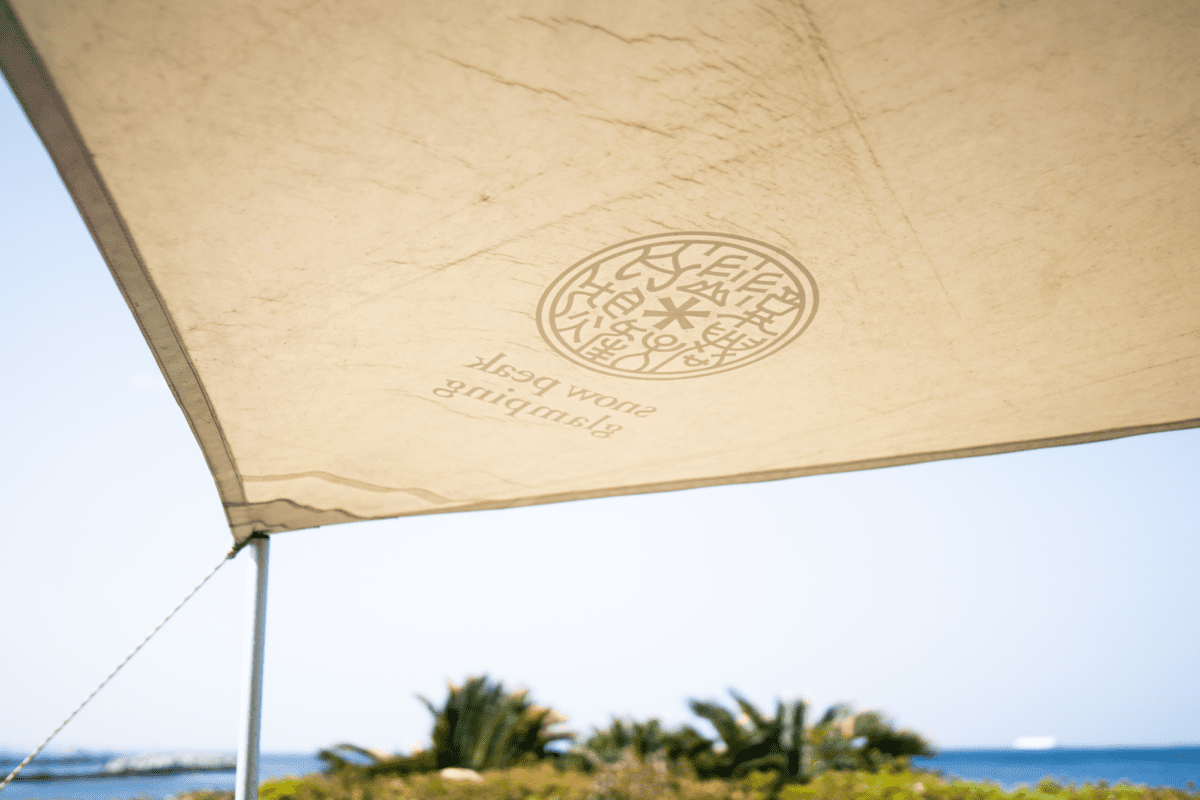 The inside is cozy and well thought out. It is littered with Snow Peak products, such as the Snow Peak Campfield Futon Starter Set.
I brought my own slippers but they provided Crocs, something I would wear for the remainder of the stay.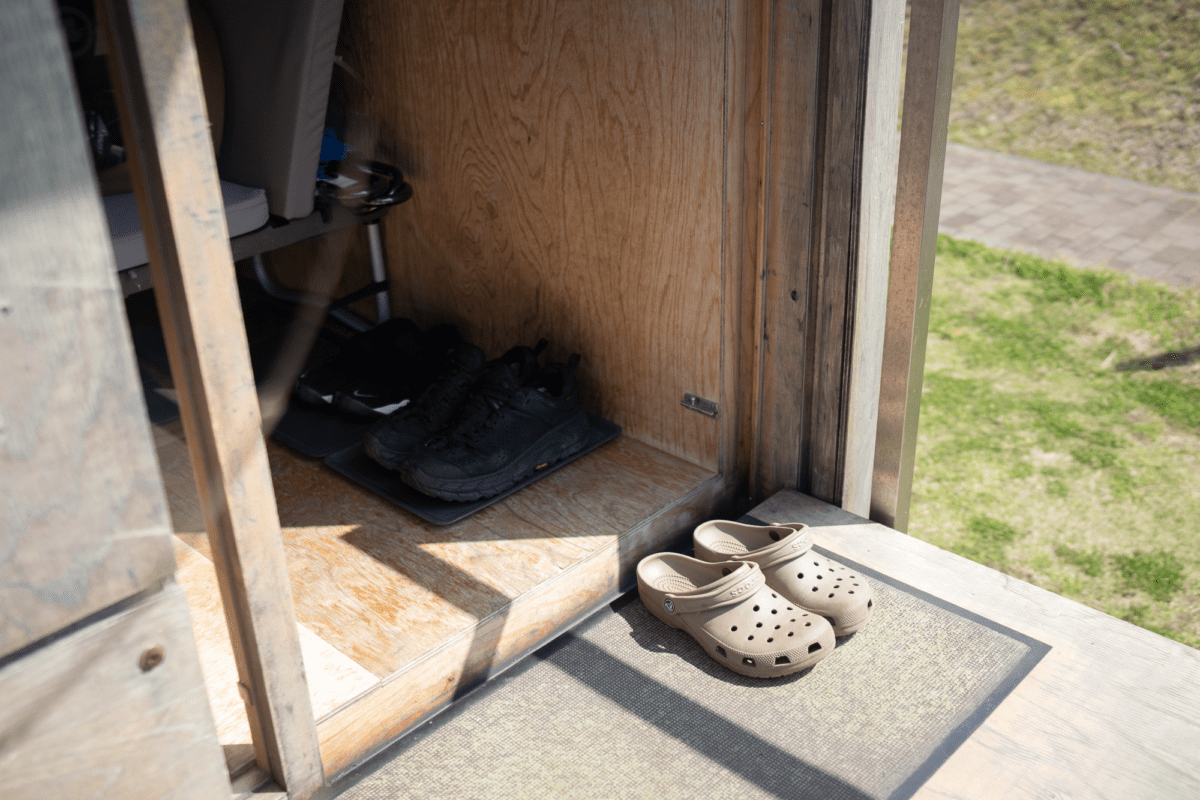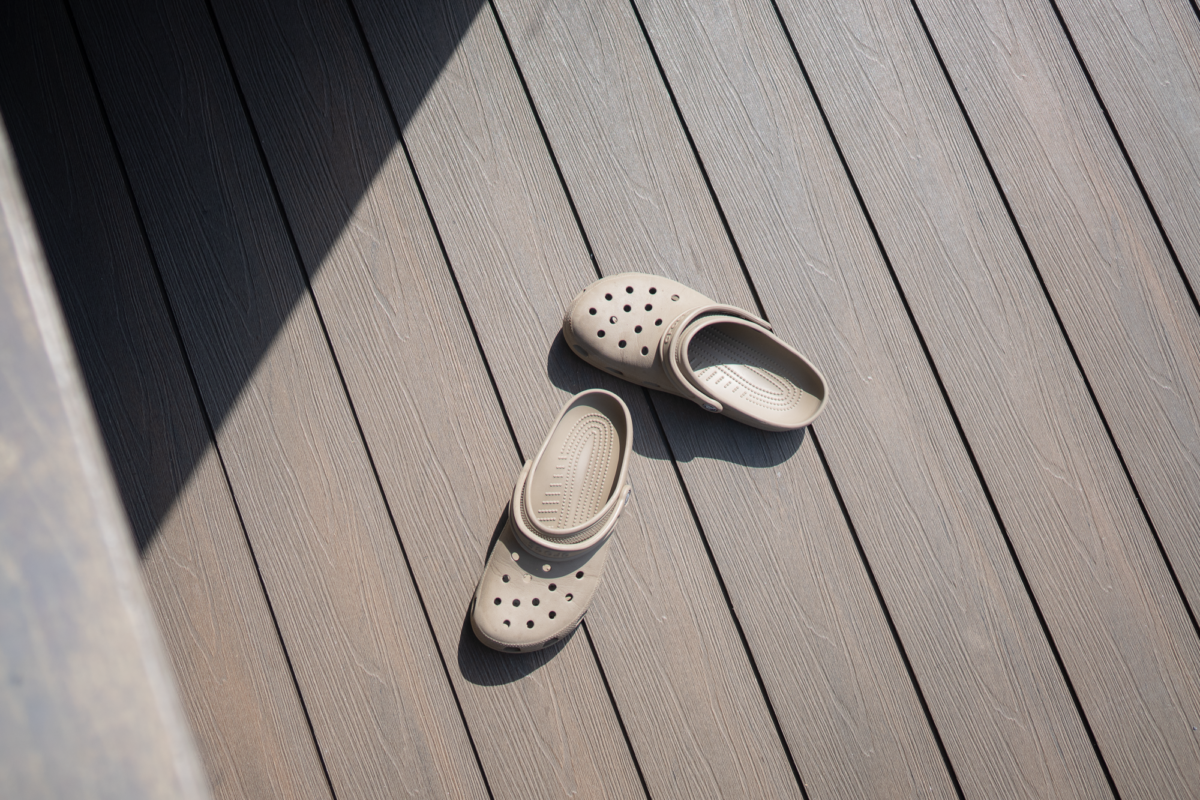 You'll get two keys; a larger key to the reception area to use the washroom when the onsens close, and a smaller key to the room. The lock is a bitch to use. It is the wonkiest lock I've ever encountered.
In the "living room" area, you'll find a comfortable area where you can chill. There is a pair of binoculars for you to look out at passing ships. It isn't powerful enough to see exactly what the fishermen are doing, but good enough to kill some time.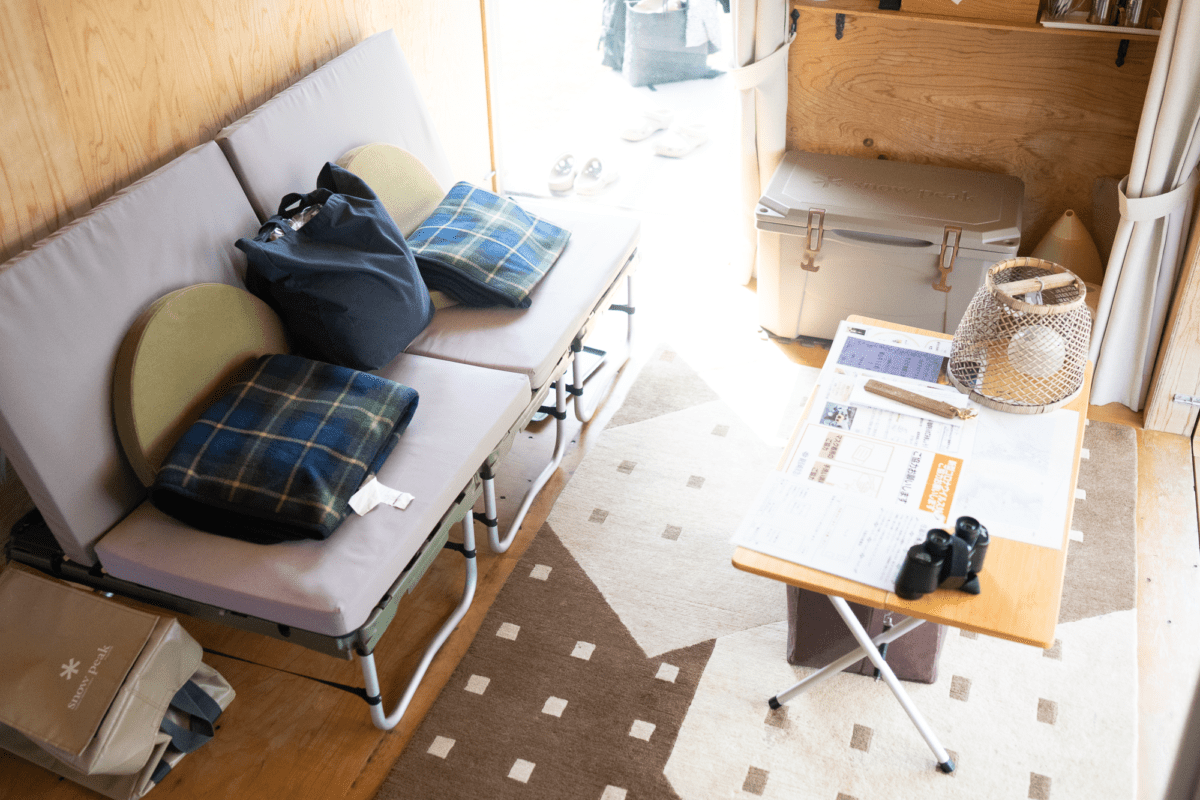 There is also a tote bag with some clothes for sleeping. There are also a set of down jackets hung on the wall in case you want to feed the insects on the patio at night.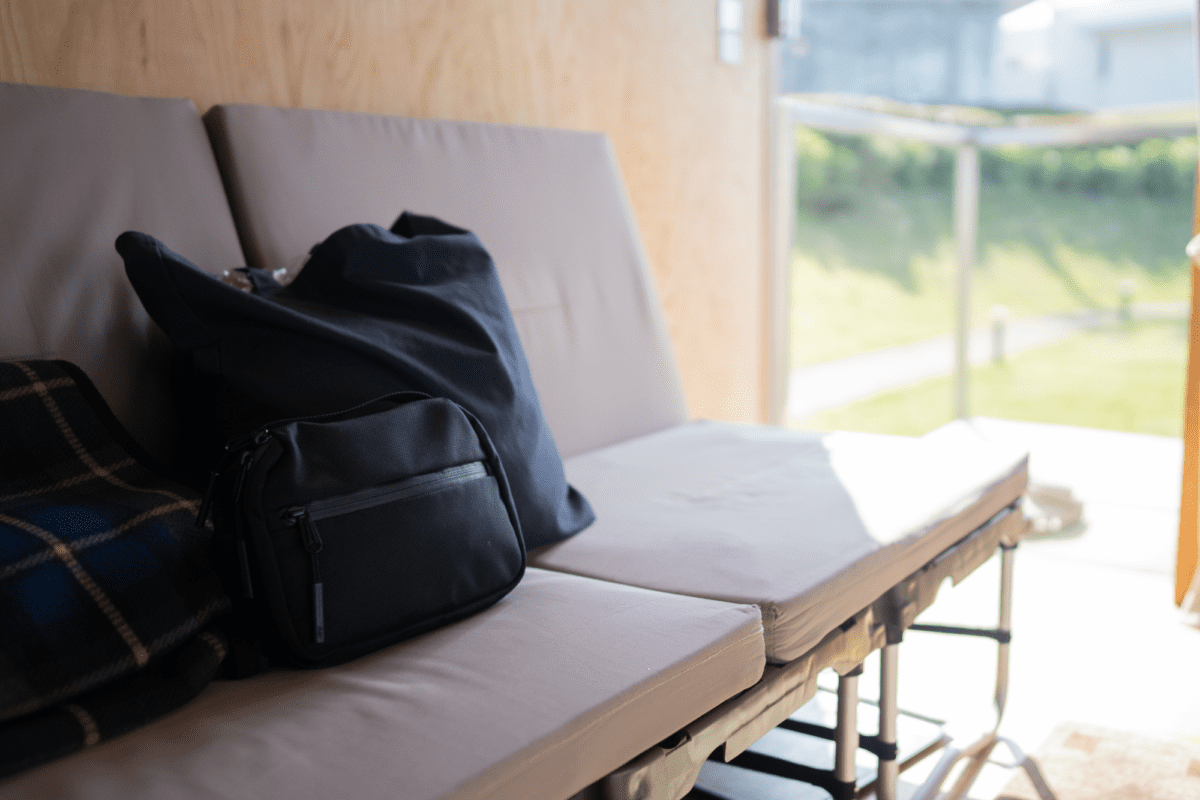 In the Snow Peak Hard Rock Cooler 40QT, you'll find two cans of Orion Beer, two cans of Shochu, two bottles of drinking water, and a small bottle of wine.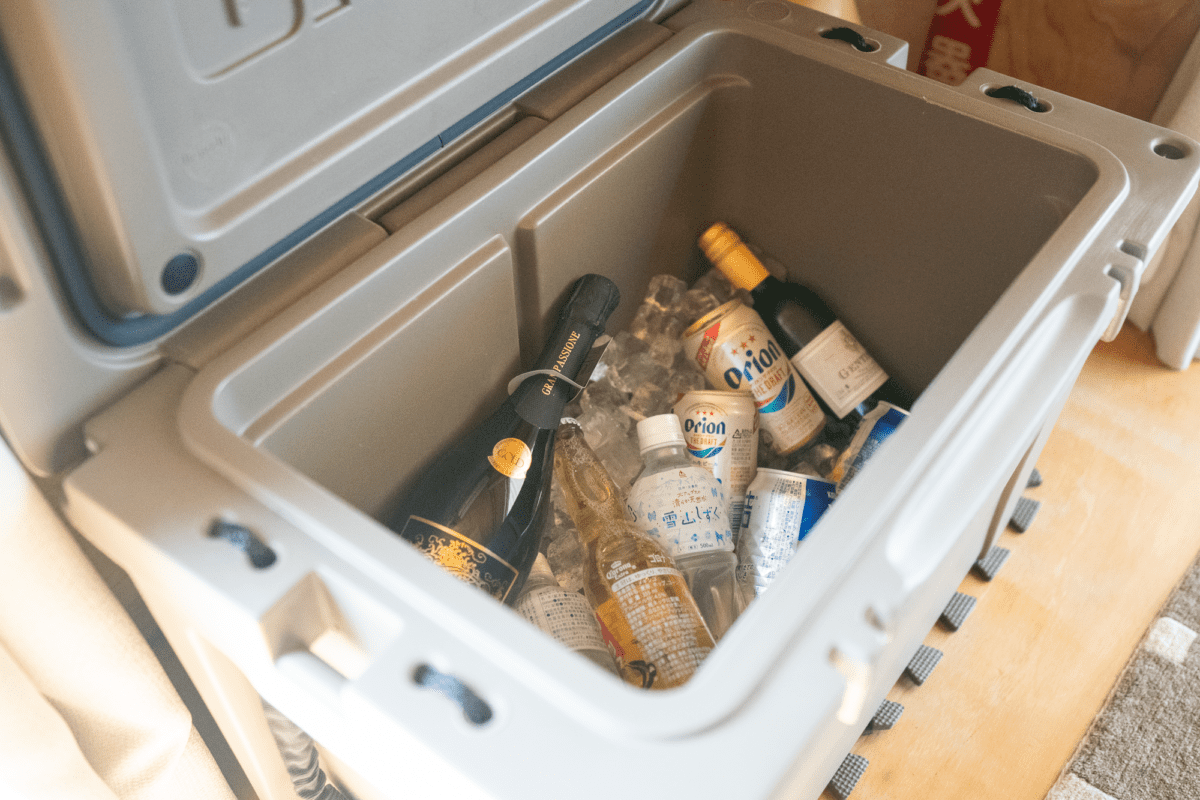 The other side is a double bed with a window that sees out to the sea. Note that there is a path by the sea, so people walking by will be able to see into your cabin if you don't draw the curtains.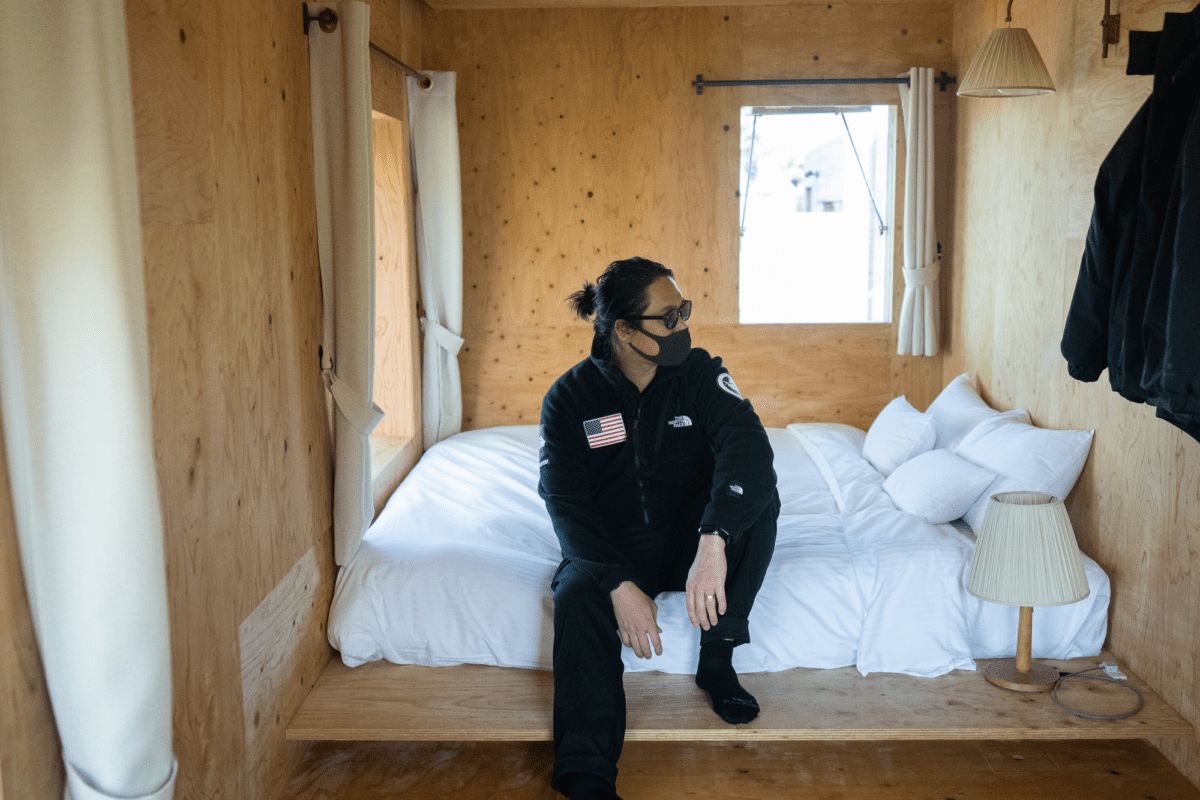 There are two light switches; one operates the lights inside the cabin, and one operates the patio lights. We usually just leave them off and turn on the bedside lamp and the Snow Peak Hozuki Lantern.
There are two points for power sockets. One by the bedside (taken up by the lamp), one to the right of the cooler box.
There is also a spray bottle of Febreeze, two insect repellants (one to spray on skin and one to spray on stuff), and another insect repellent that plugs into the power socket. Suffice to say, you want to keep the doors and windows closed at all times. The insects here are huge and you'll probably want to avoid coming in the summer if you hate creepy crawlies like I do.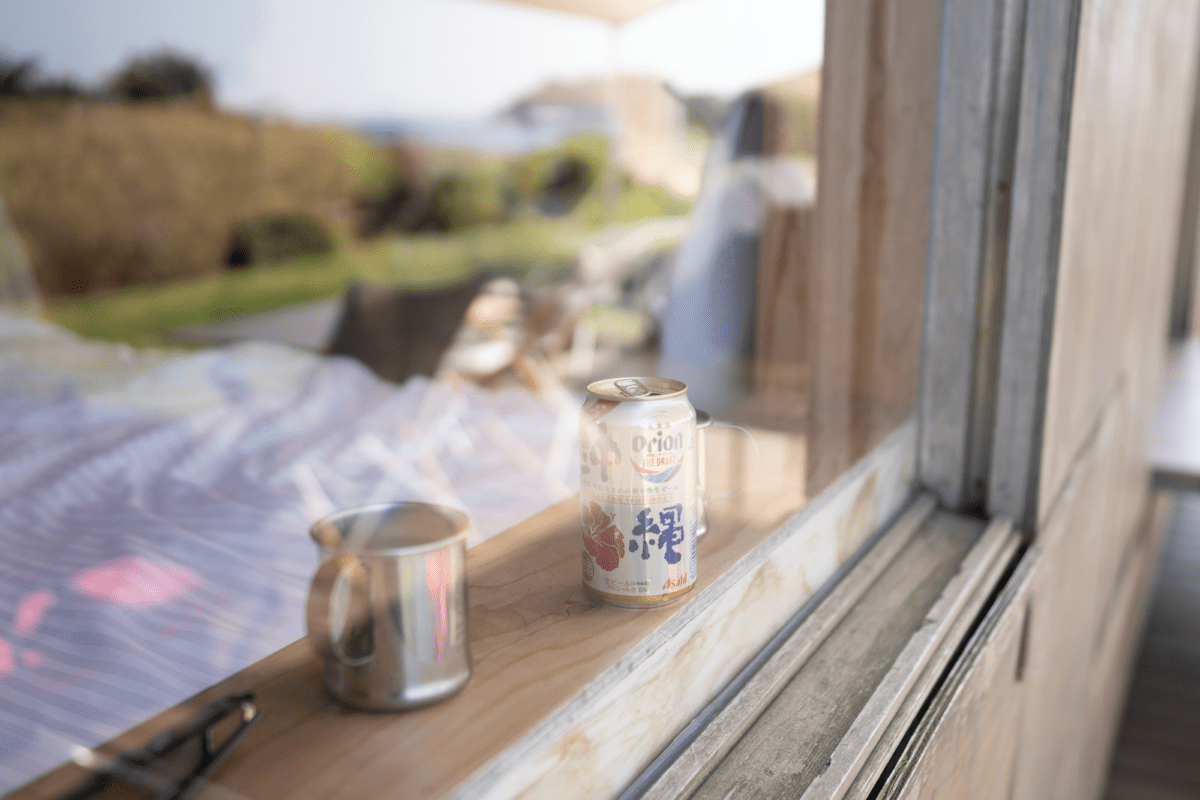 As mentioned, there are three cabins side by side. We were in cabin two and can see cabin three from where we were. It was less than 5 meters apart. If both groups are on the patio, you can completely hear what each other's saying.
Cabin one is separated from the other two by a washing area and might be a better option for privacy.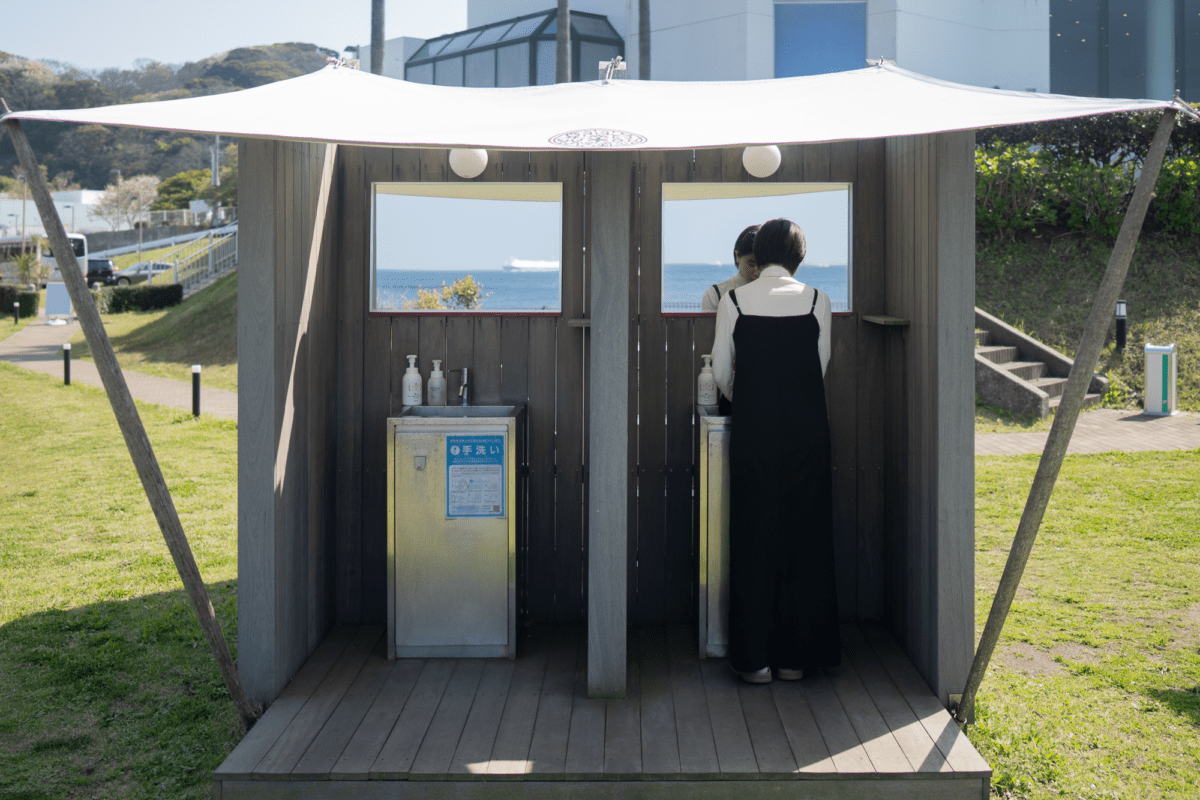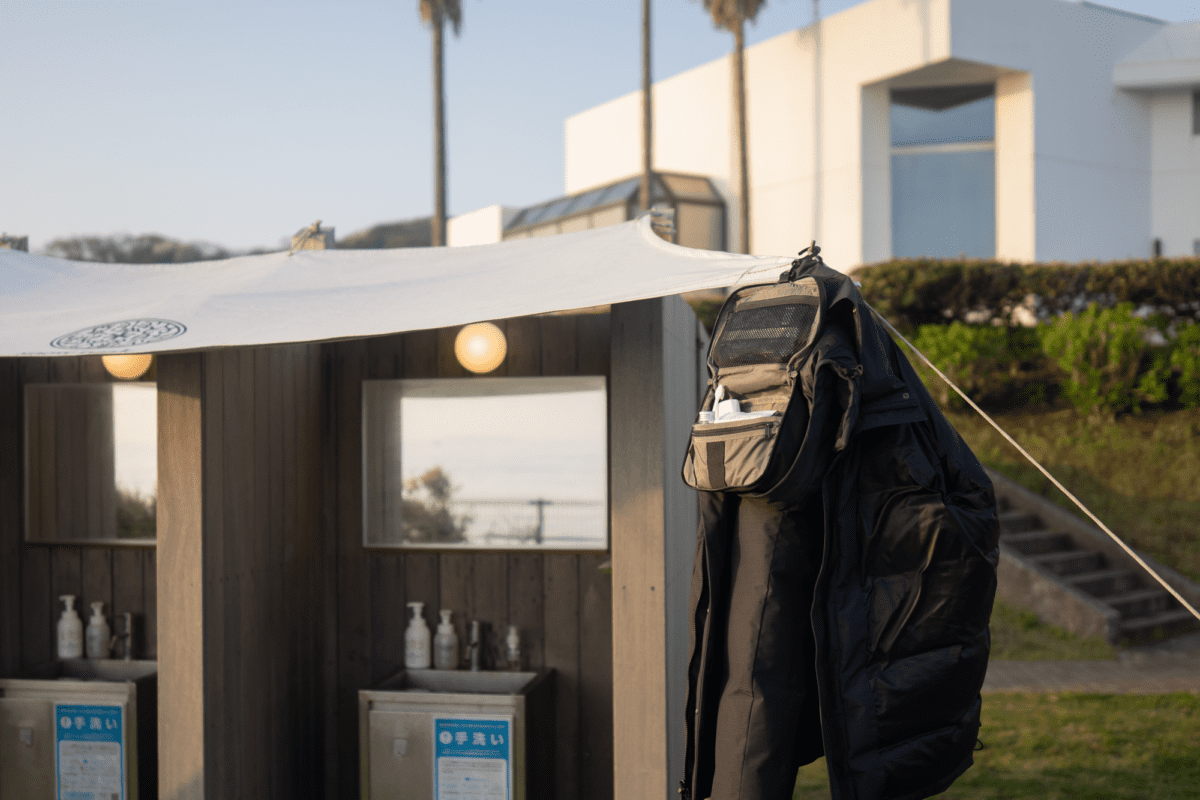 Cabin two probably offers the best view out of the three, since the fence right in front of it is not filled completely with greenery like the other two.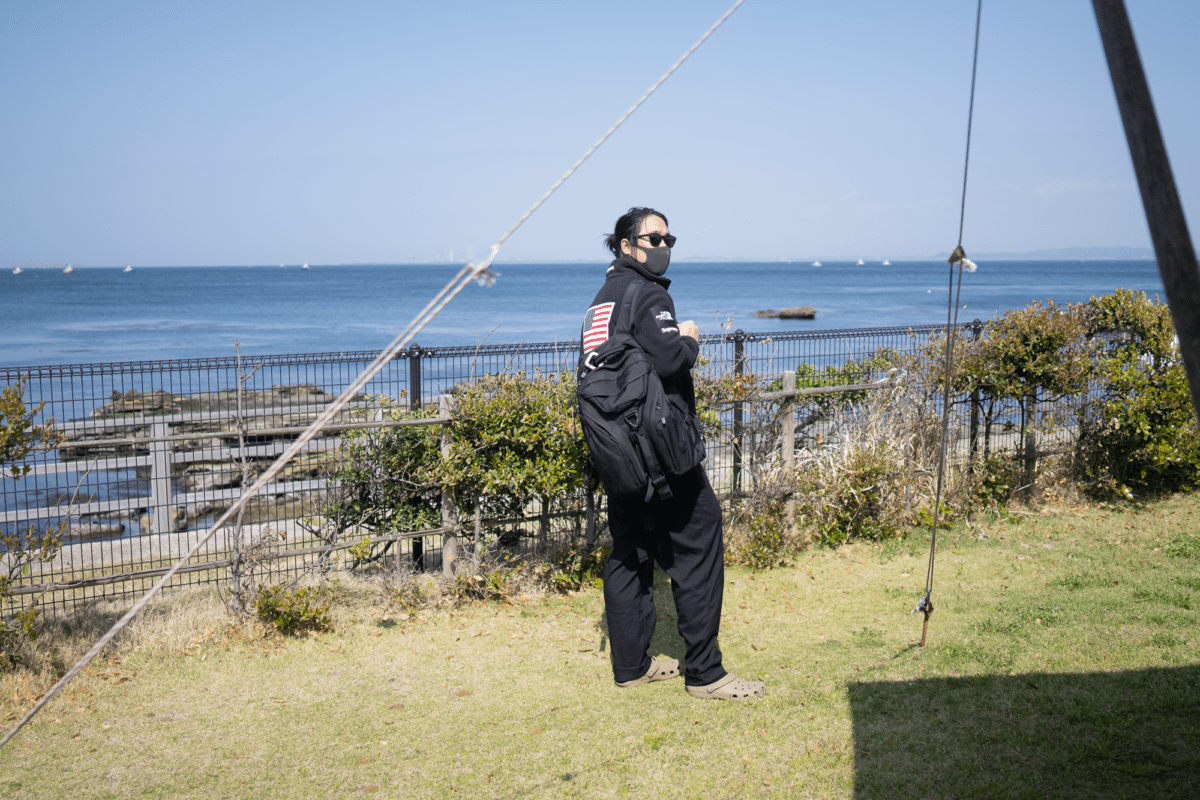 Finally, a word of warning for those addicted to their smart devices. There is no wifi. You won't find a wifi spot even at the onsen.
This is a place for you to be one with nature and it forces you to do so. Hell, even the mobile reception is spotty at best. You best enjoy your partner's company, because, after dinner, that and alcohol are all you've got.
Dinner
Since we reserved our dinner for 5 pm, the staff started coming just after 4 pm to set the table and prepare. She brought the complimentary sparkling wine for members. We actually didn't expect it so we were pleasantly surprised.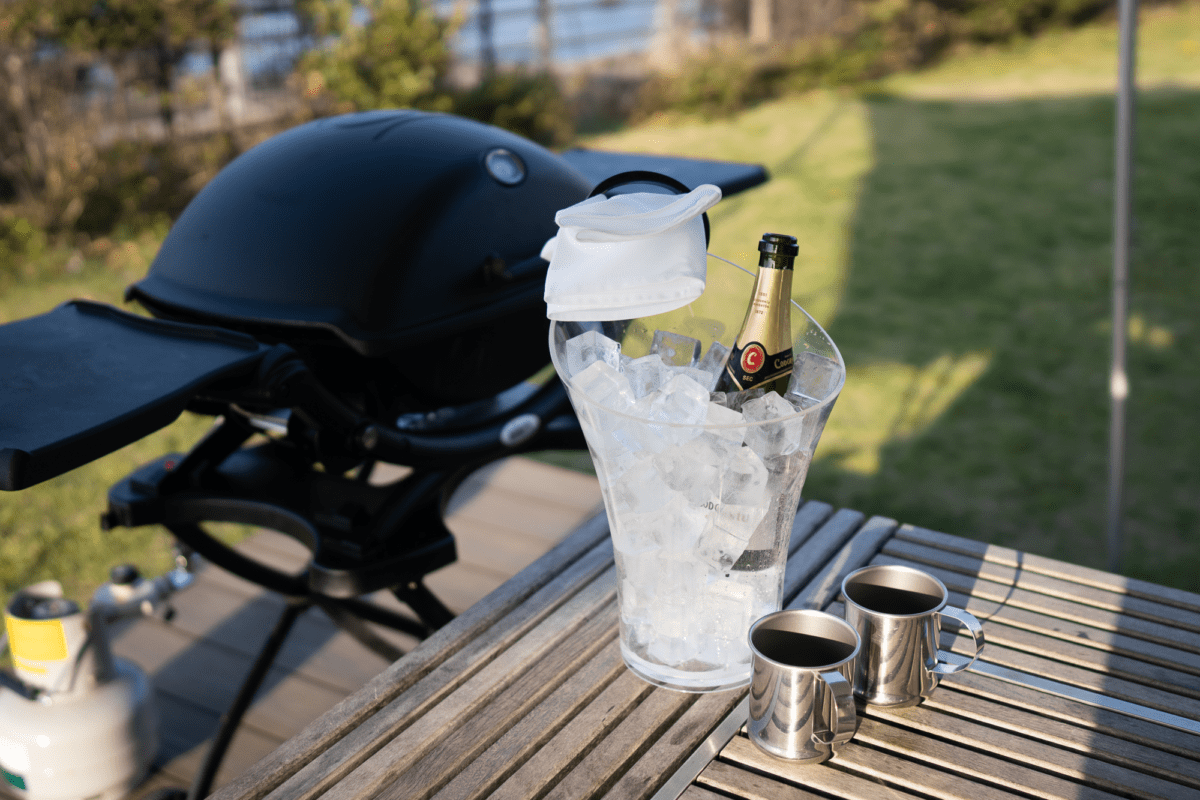 She explained how to work the barbeque and provided tips for cooking each dish.
Like any well-balanced Japanese meal, we started with a salad which included sides of chicken, scallops, and prawns.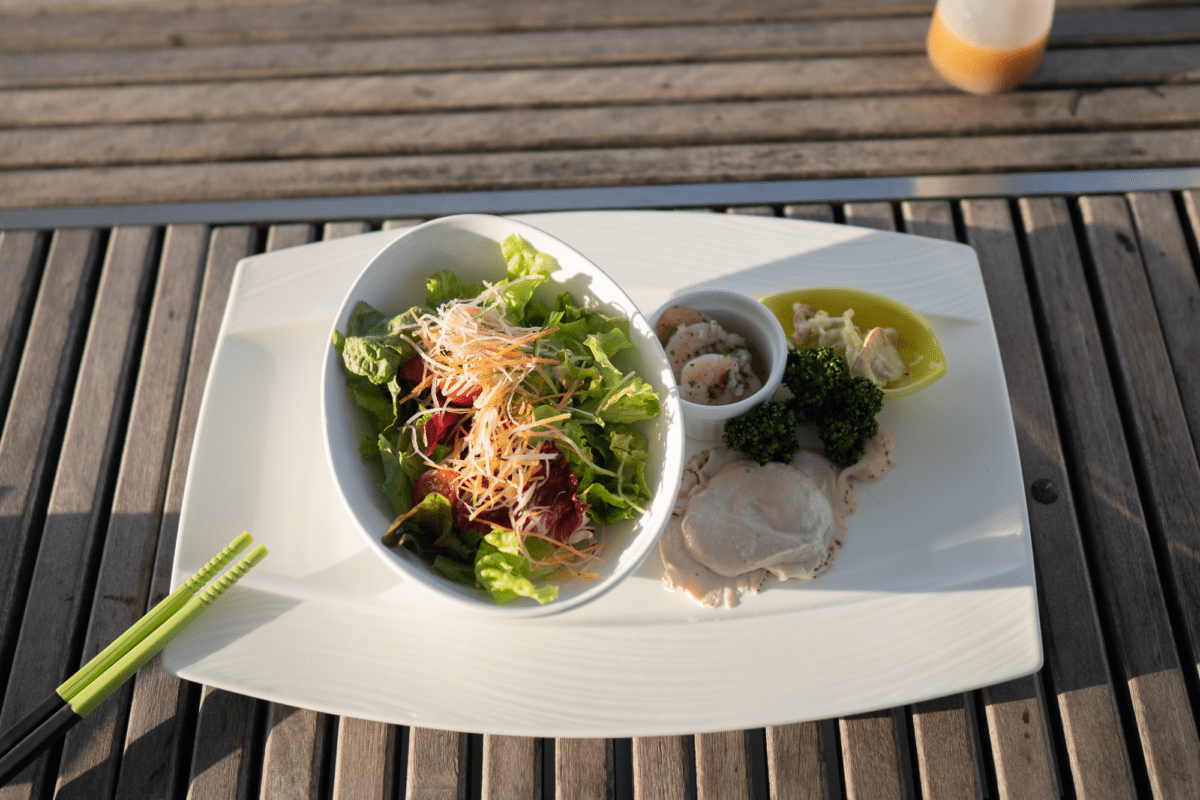 The next course was a tomato-based seafood soup with fish and shellfish. Bread is served on the side and you can also ask for rice. You can refill the bread and rice at no additional charge throughout your meal.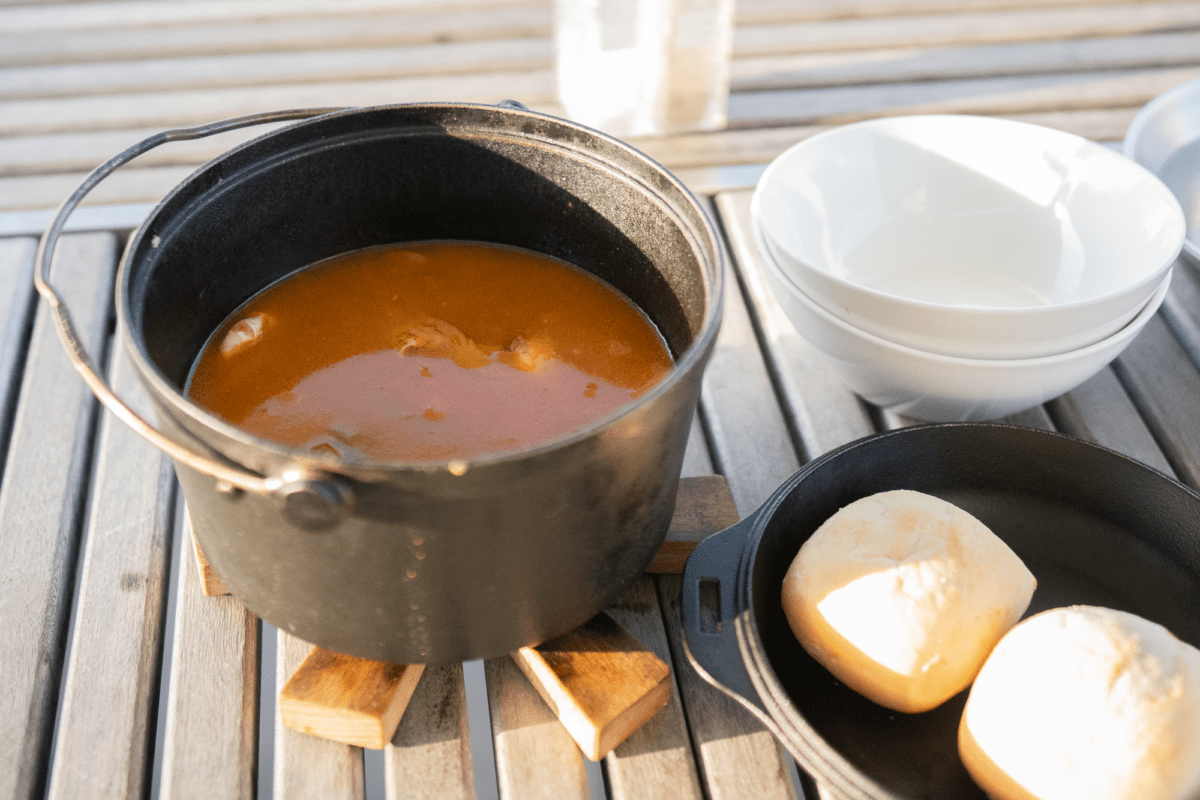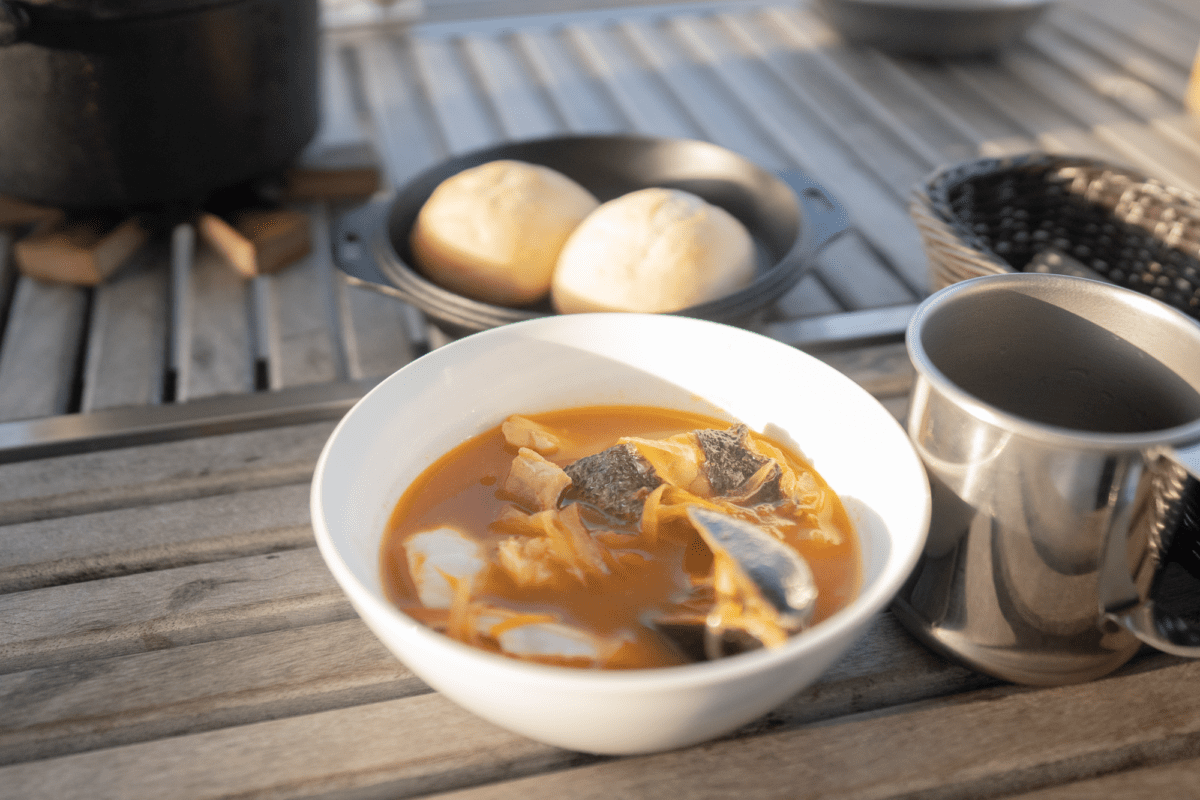 From this point was where we had to put in some work. We were given a tray full of assorted vegetables, pork, sausages, and tuna.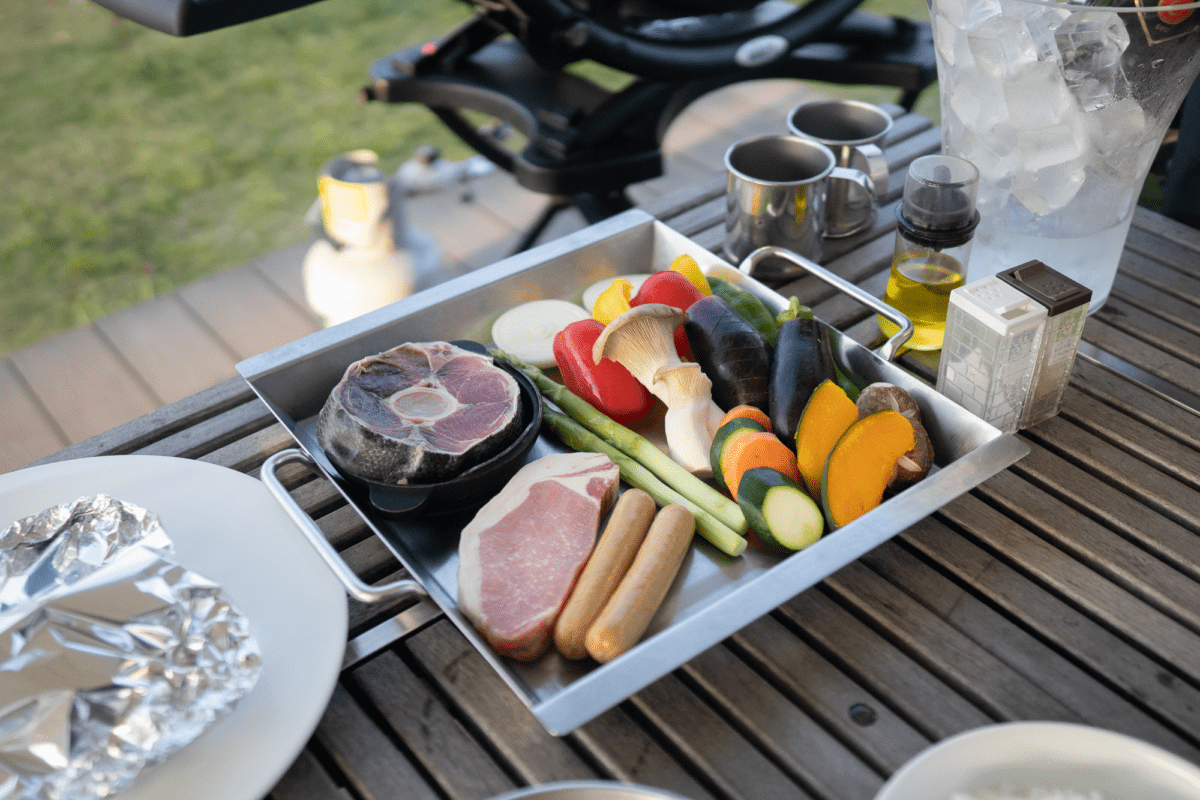 We started off with grilling the vegetables.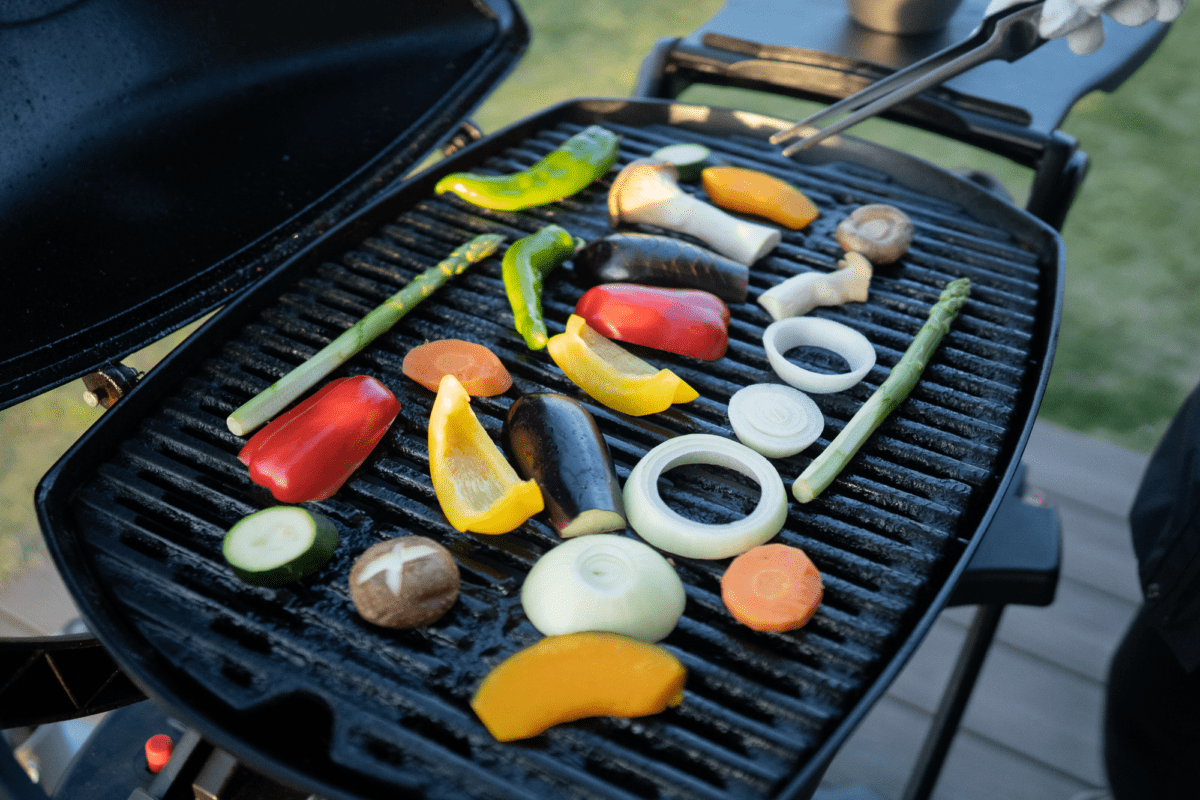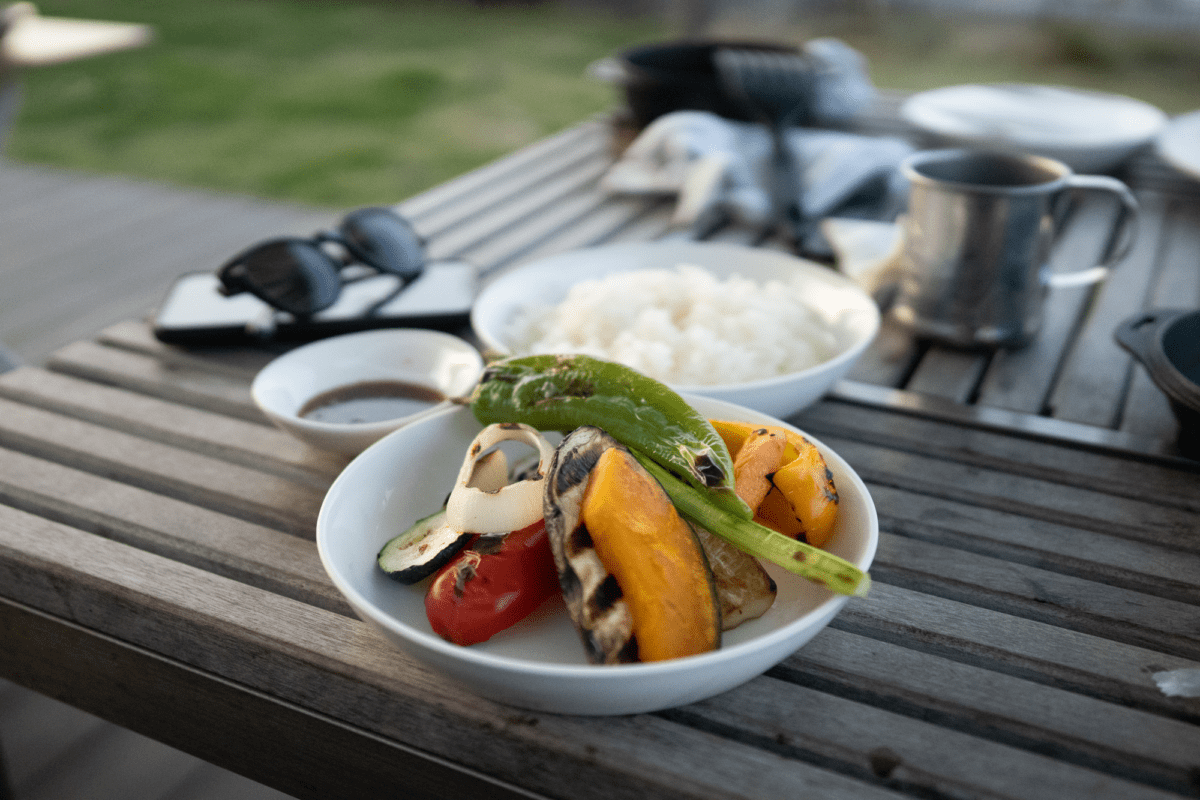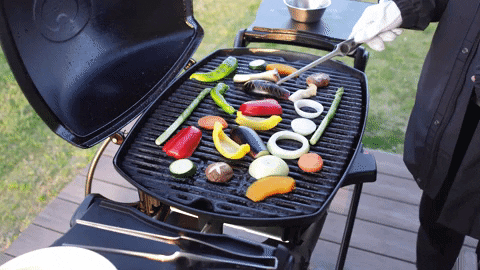 The meats was next.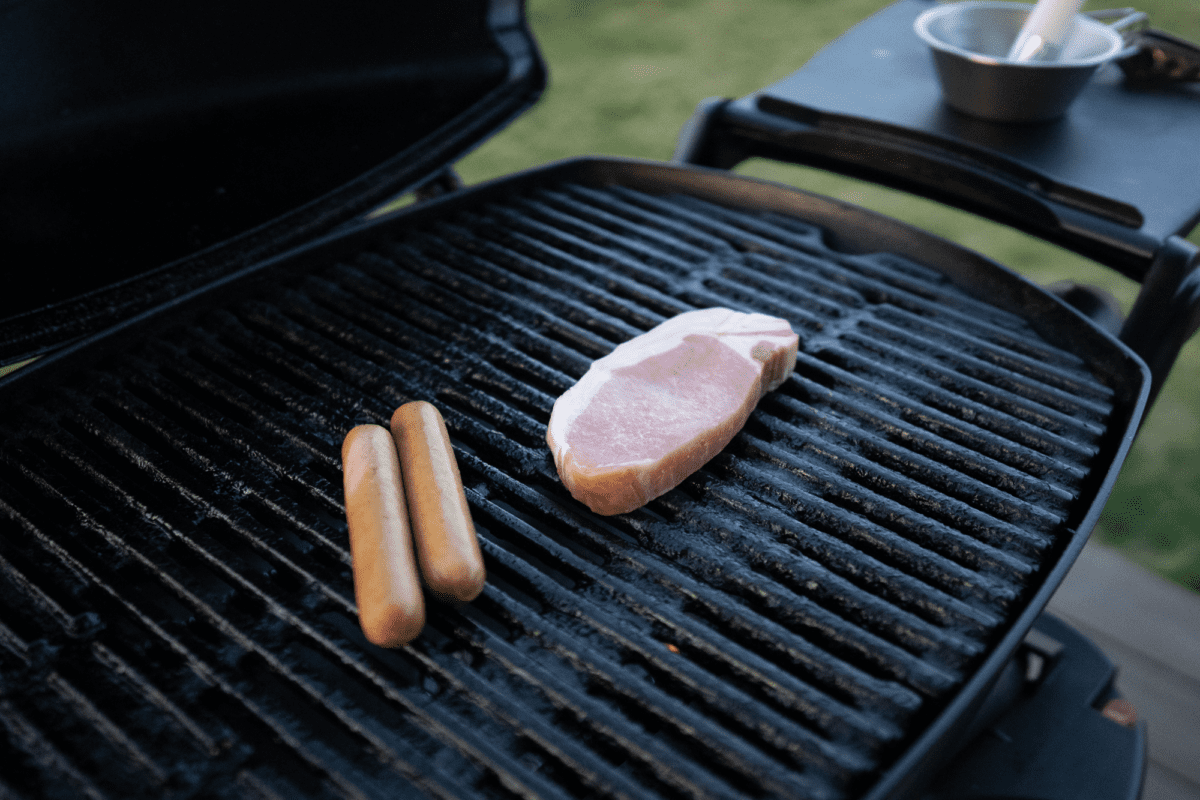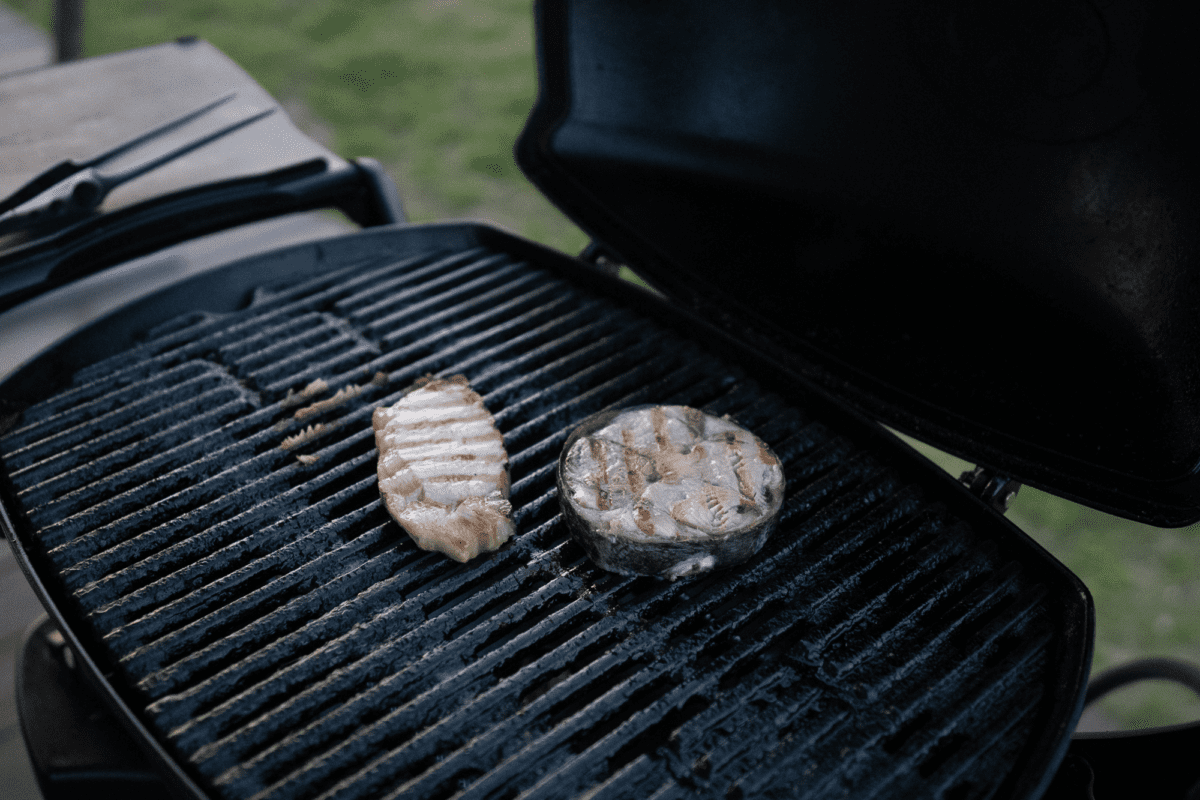 Followed by a plate of shellfish and salmon.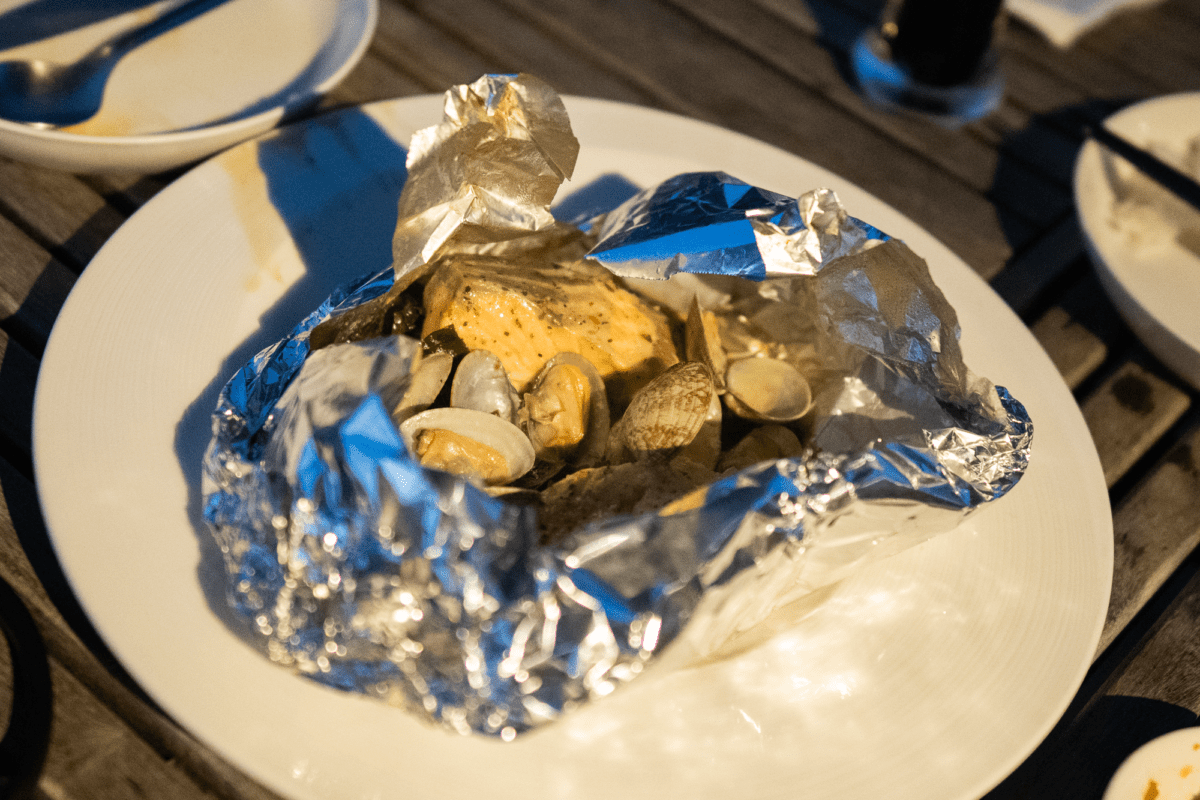 At this point, we were really, really full and so stuffed that I didn't take a picture of the hamburg (meat loaf). The hamburg was good but we couldn't finish all of it due to how stuffed we were. I would strongly advise you to skip lunch if you can.
We finished up with some strawberry pudding, coffee/tea, and marshmallows to roast by the fire.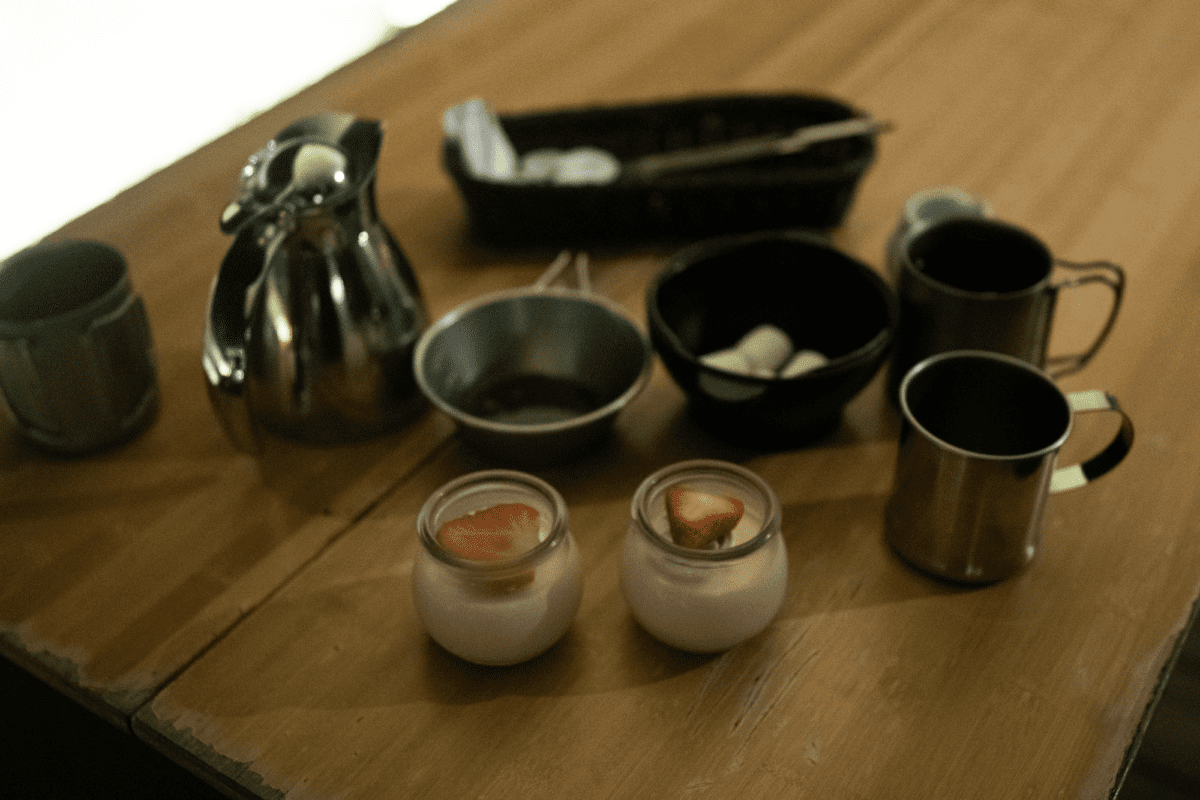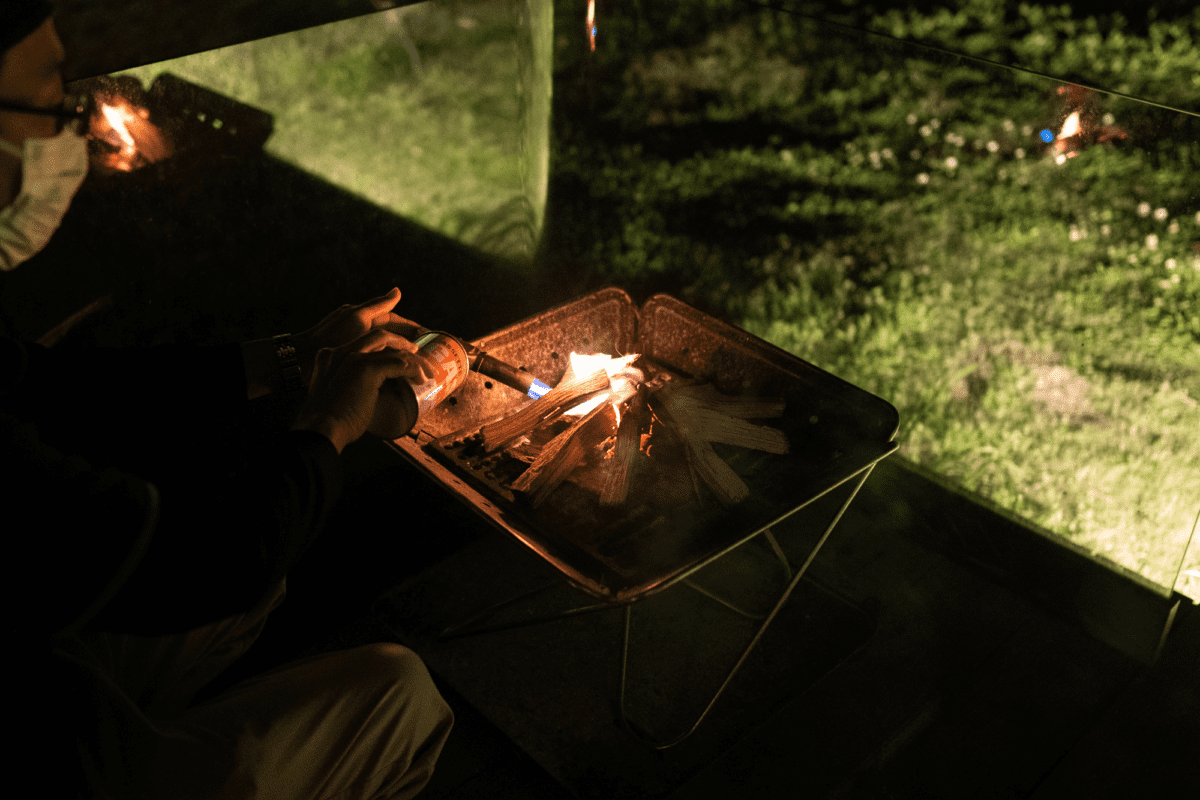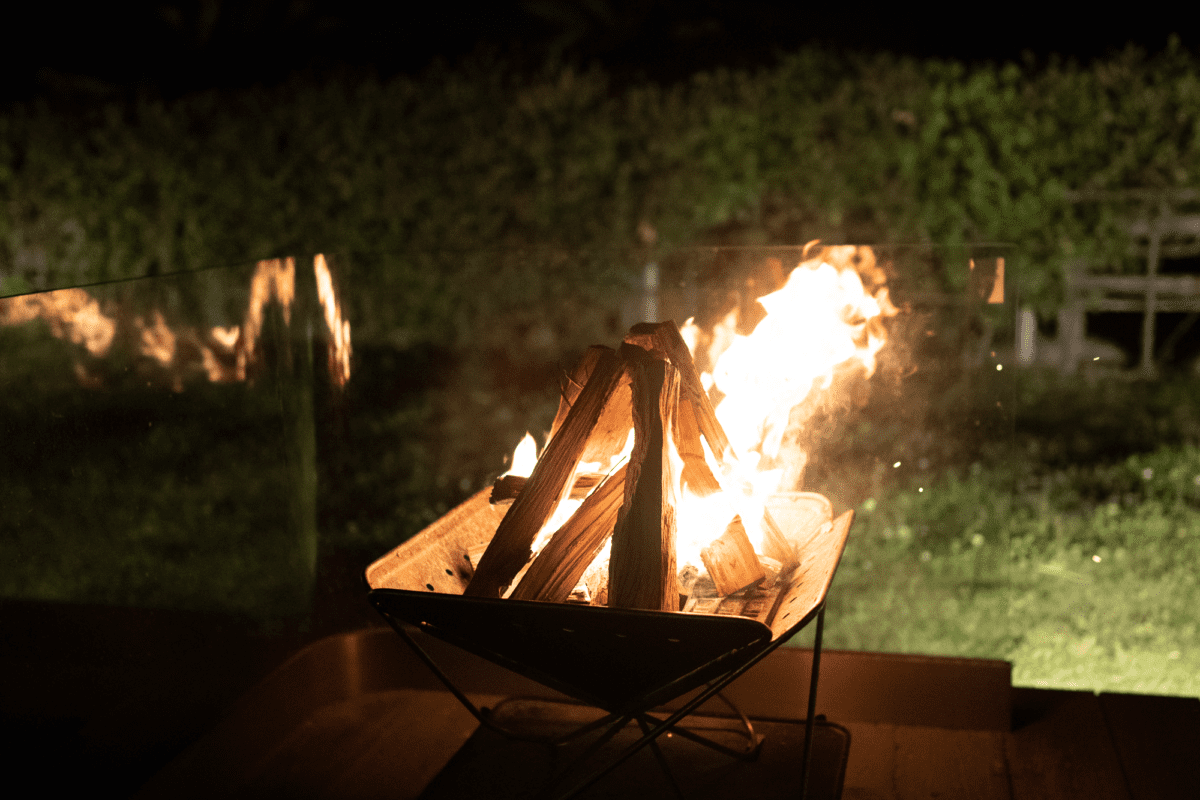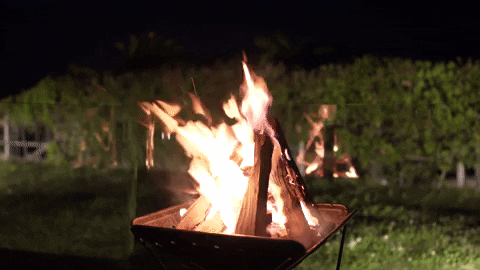 Breakfast
We woke up pretty early and went for a walk by the sea before breakfast. Even at 630 am, there were families fishing and joggers working out.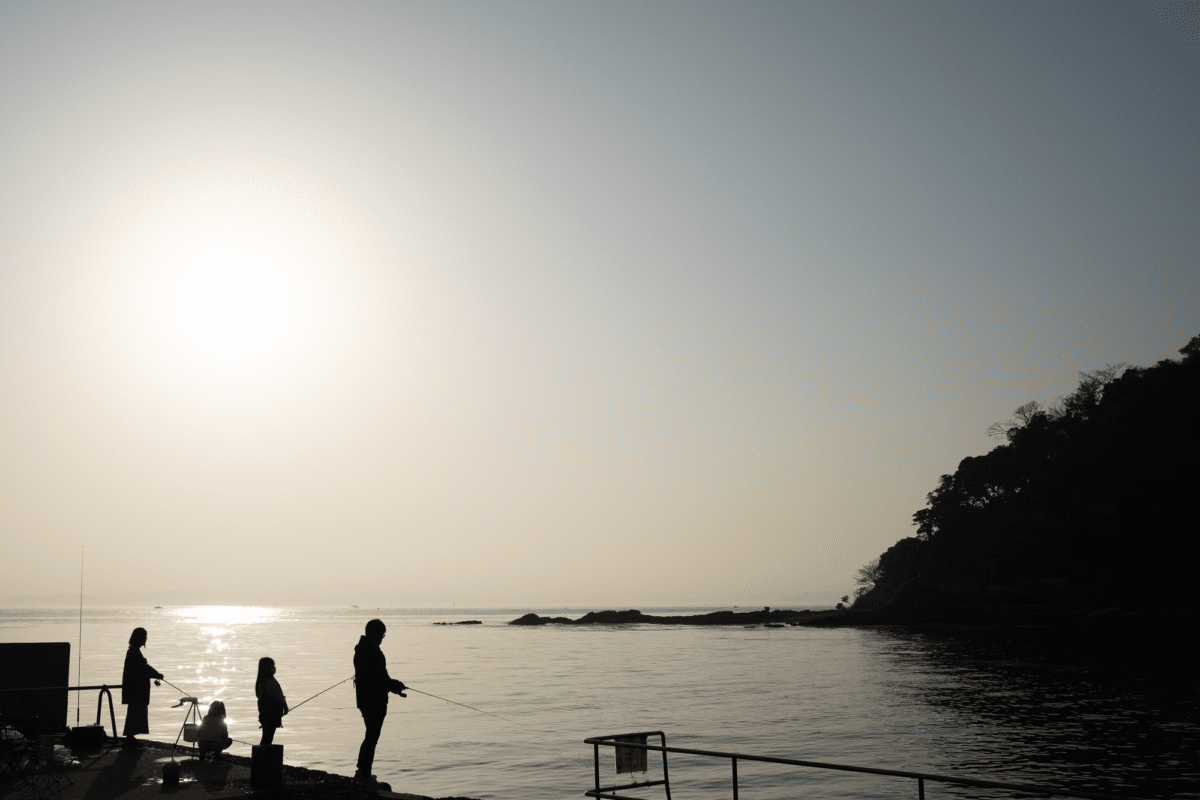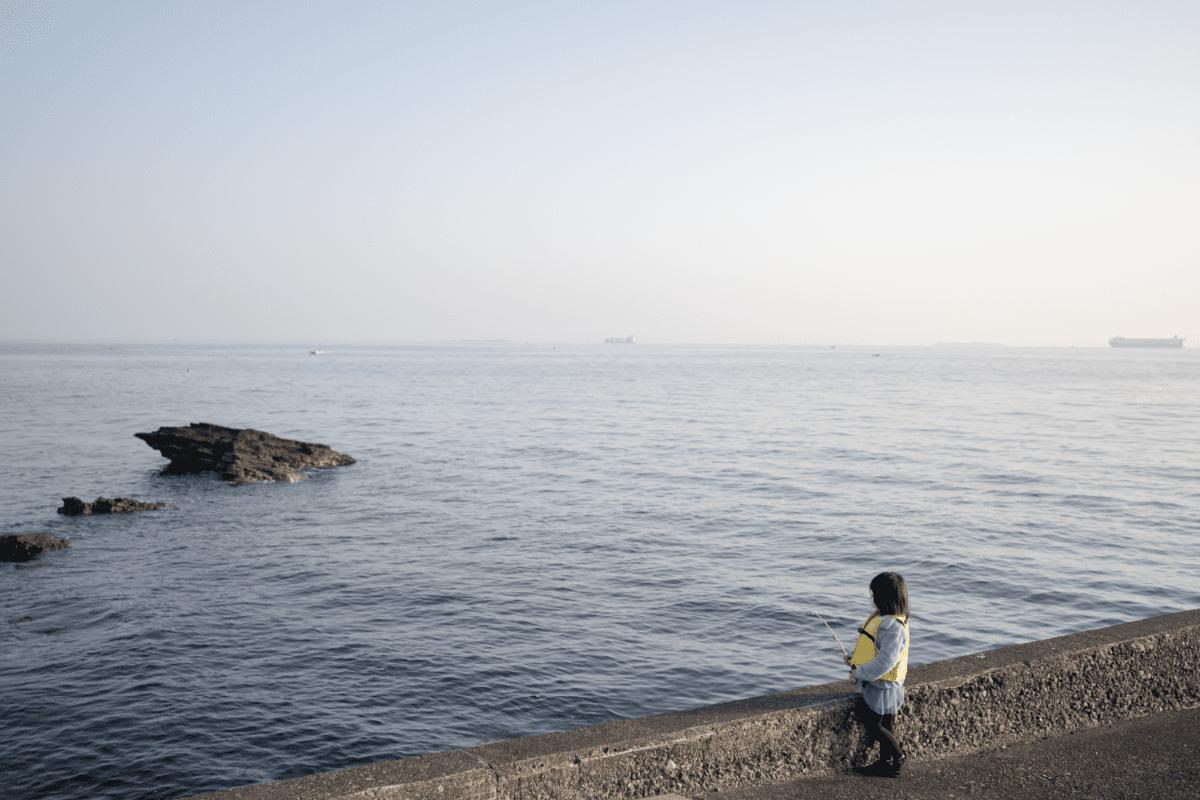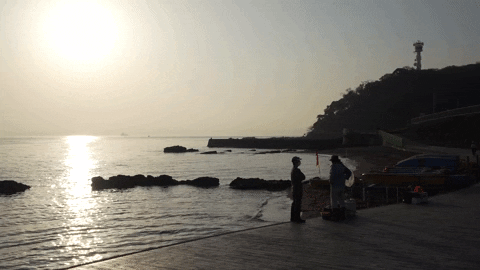 Back at the cabin, the staff started preparing our tables for breakfast about 30 minutes before our scheduled time.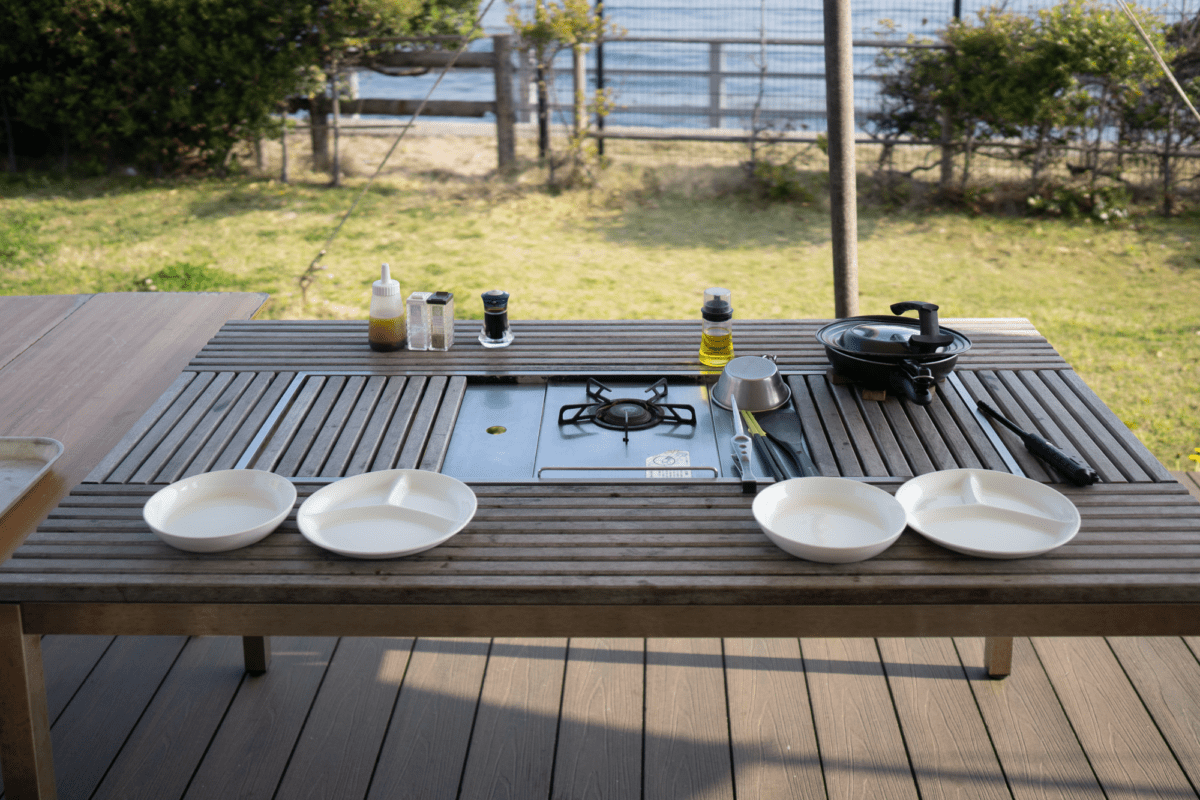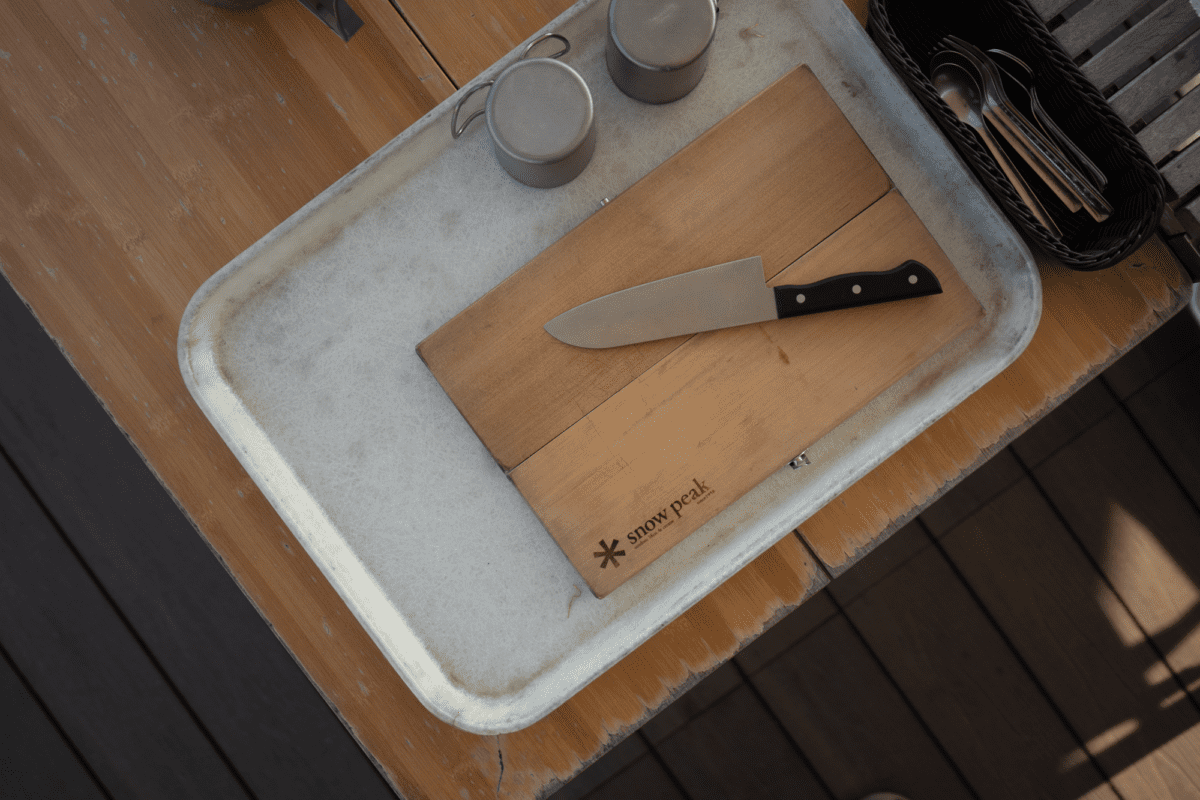 They brought us a jug of water, a jug of coffee, and each a cup of orange juice.
You can ask for a bucket of ice if you prefer iced coffee.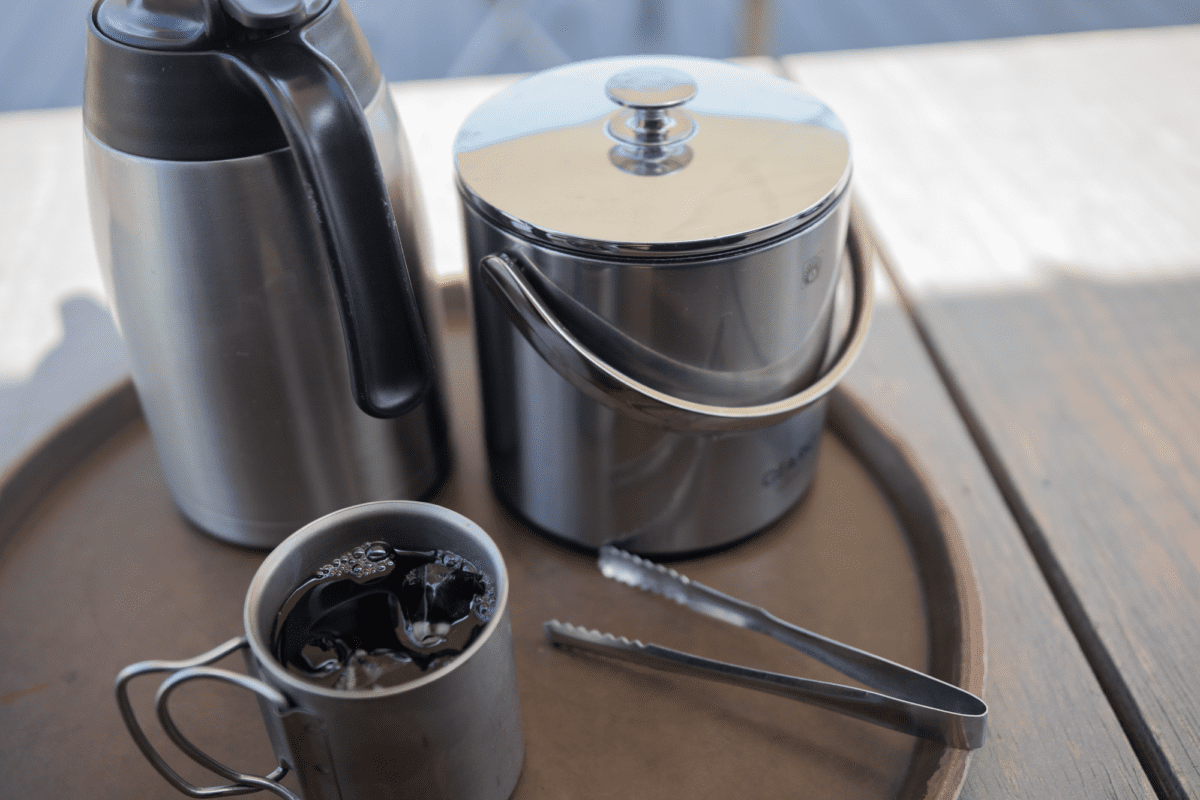 Like dinner, the greens came first as well.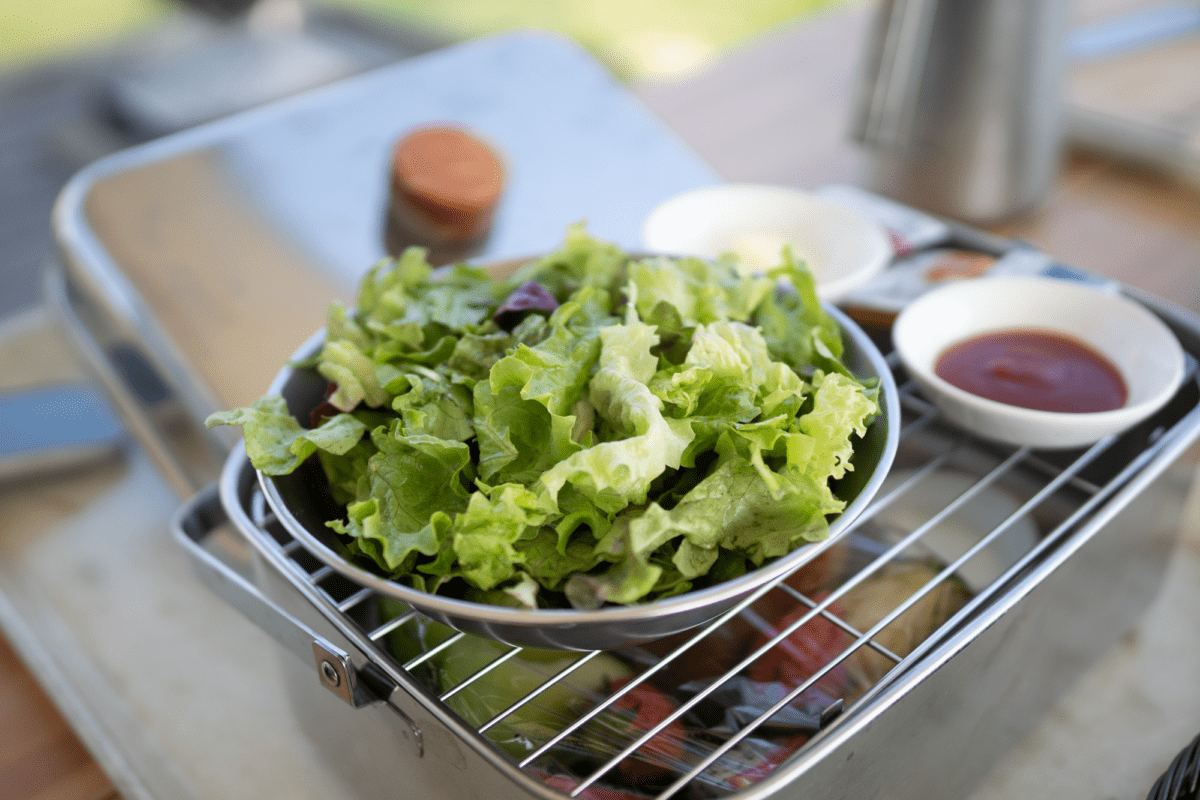 The mains are ham and cheese, meant as ingredients to make a hot sandwich, and sausages, bacon, and two eggs. It also comes with, for each person, two slices of bread, a croissant, and a round-loaf white bread. You can also ask for a place of rice which will come with a few pieces of seaweed.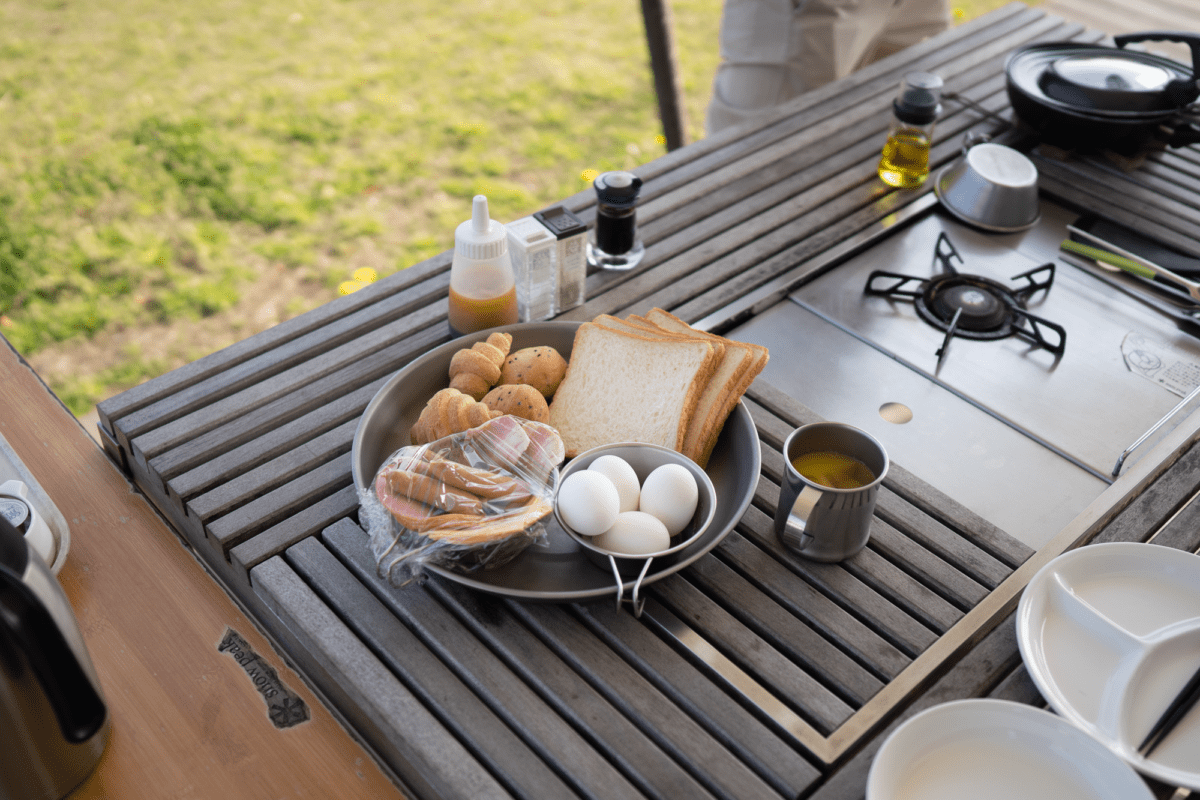 We later found out that you can ask for free refills on the bread, ham, sausage, cheese, and bacon. For some reason, they won't give you refills for the eggs.
You are given a sandwich press and a frying pan. We started off with the sandwich press. You are advised to check on it every minute as it burns easily. I would advise you to keep the heat on low.
The flame of the stove, which is the Snow Peak Baja Burner, can be hard to spot. You really need to look closely to see if the fire is on or not.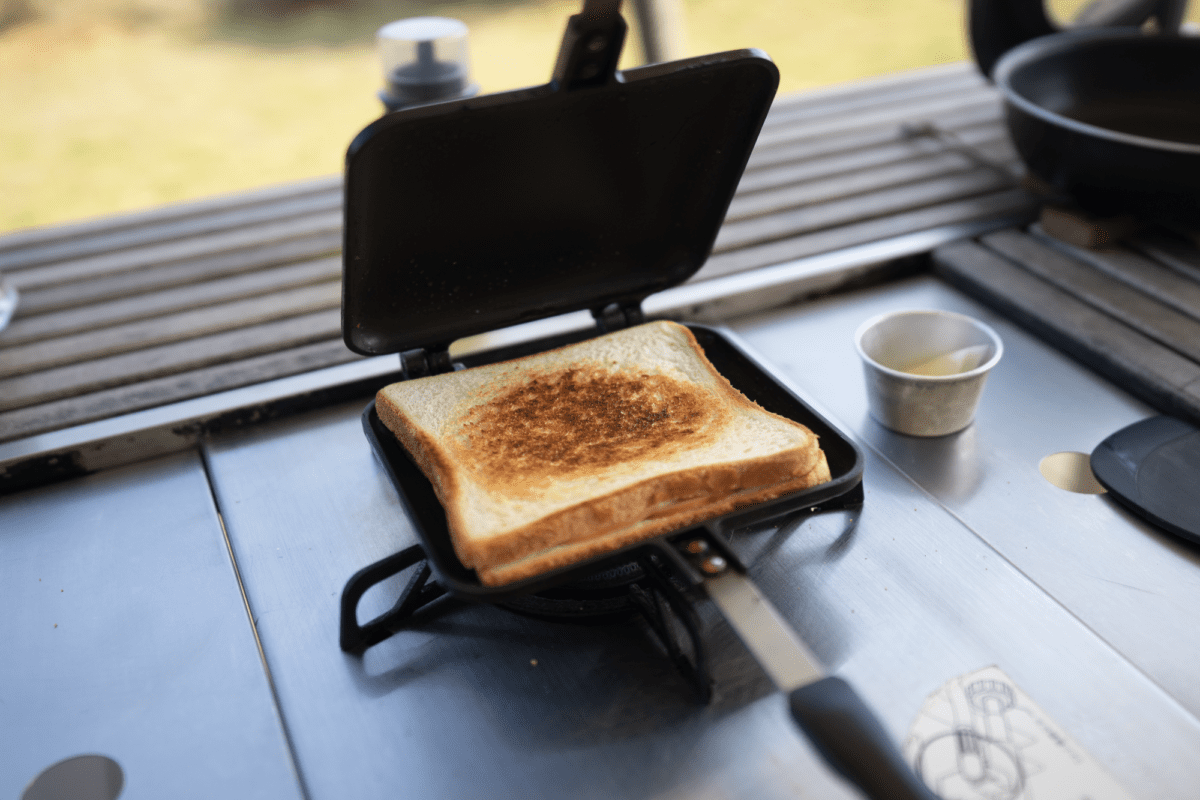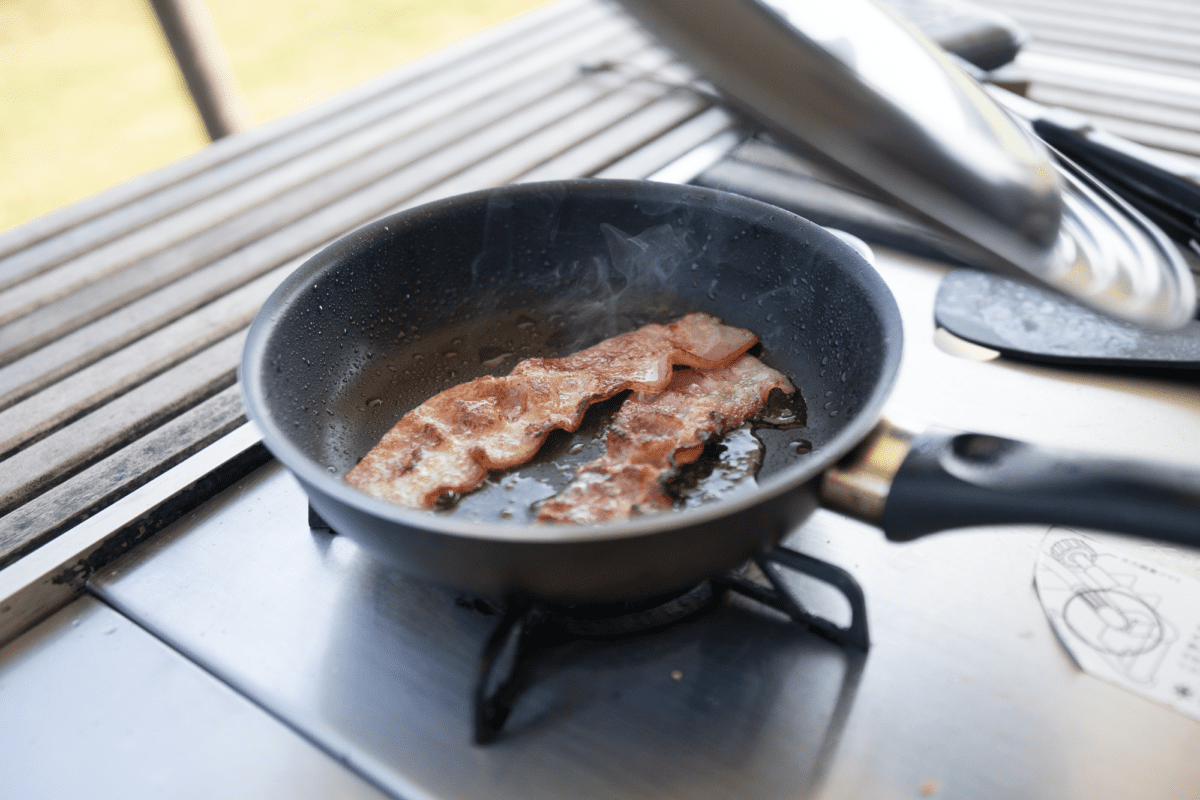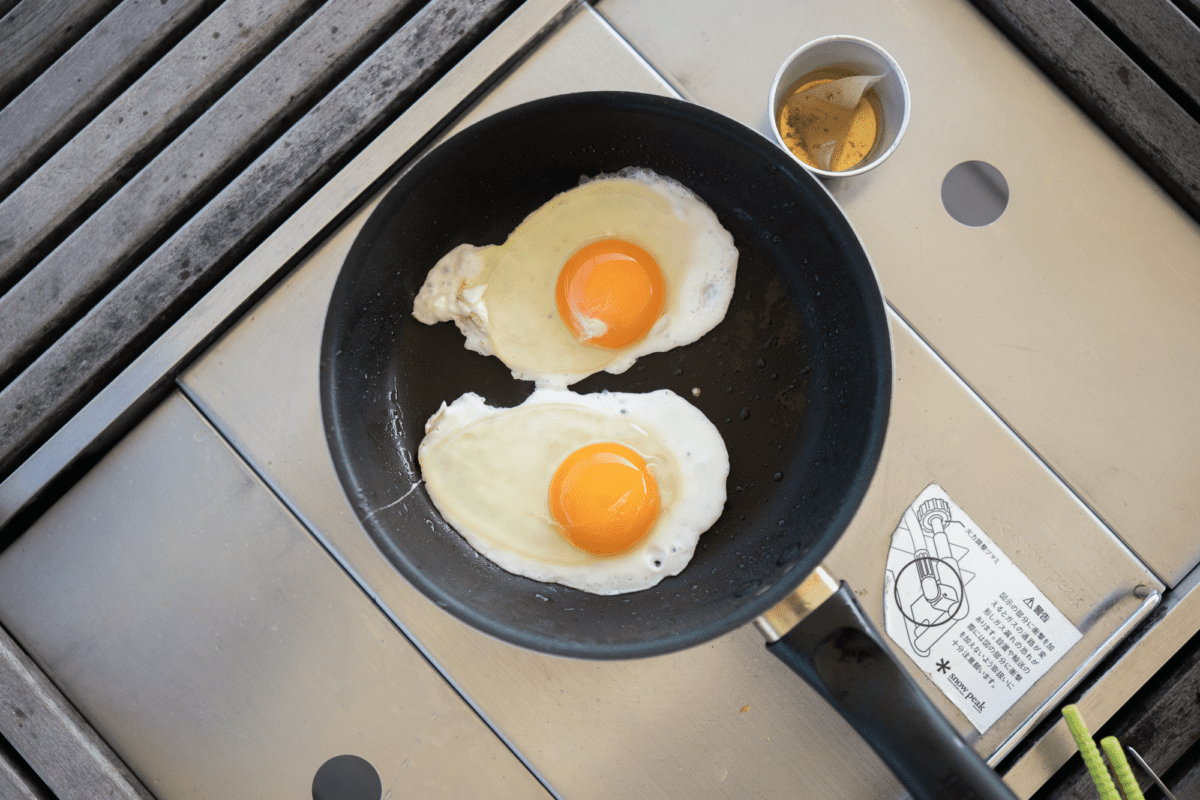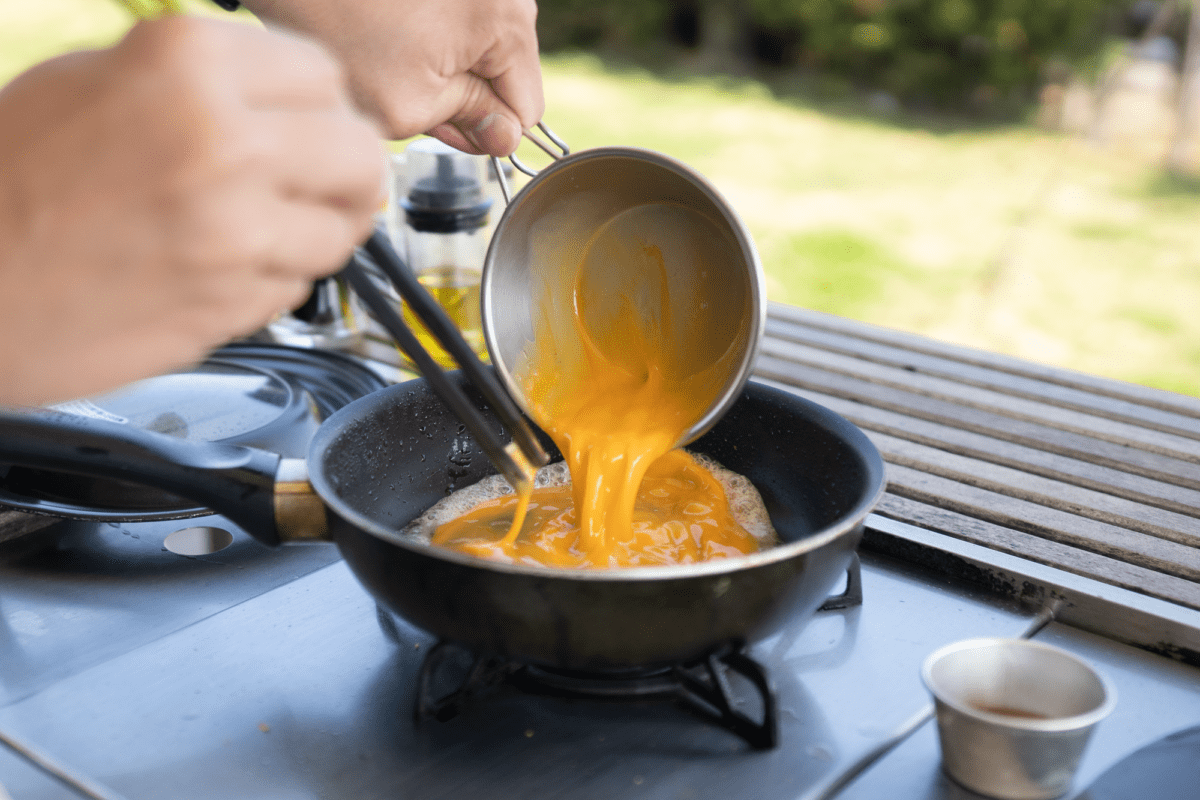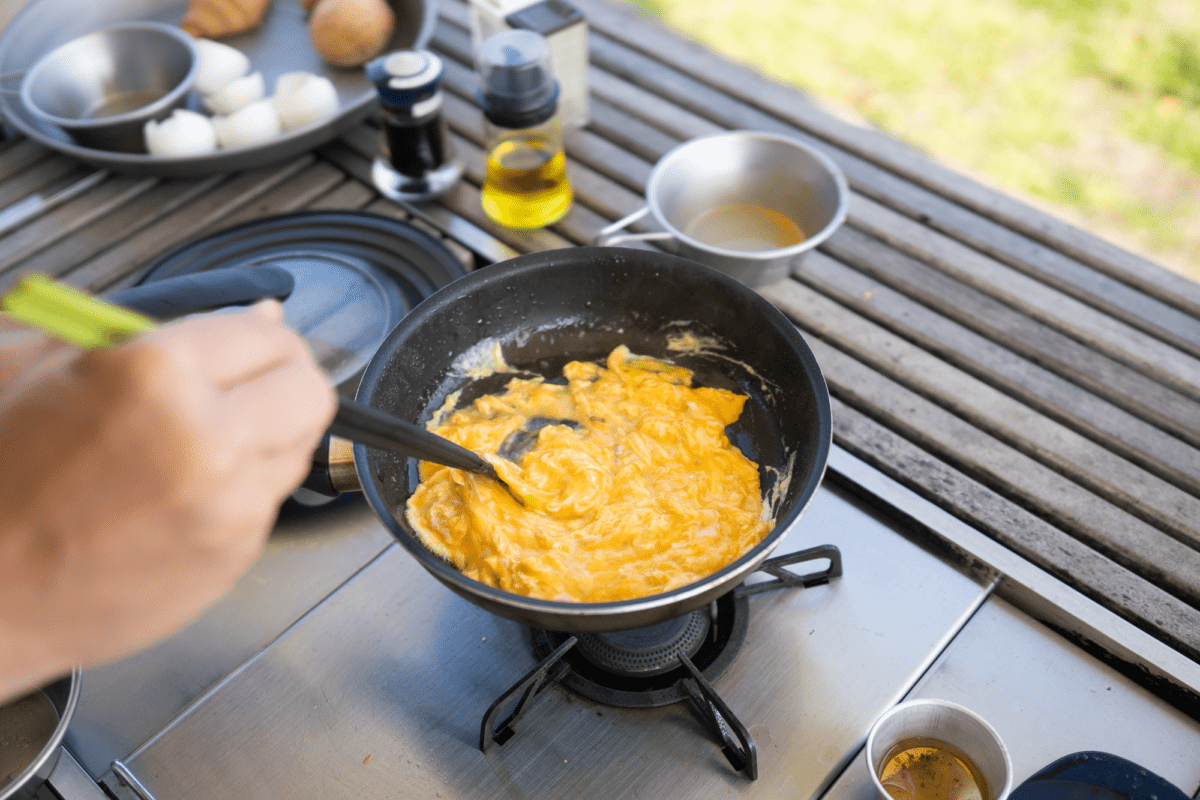 The food was so good that we got seconds.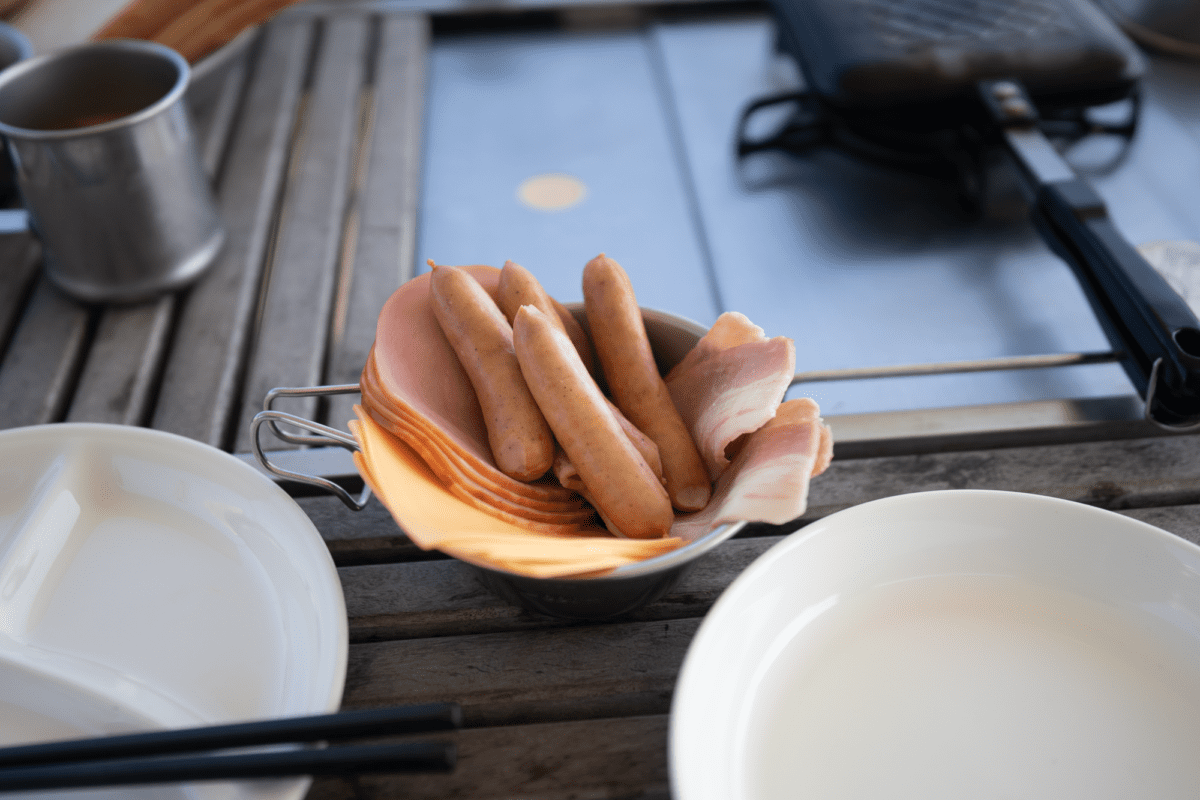 And we finished it off with fruits and yogurt.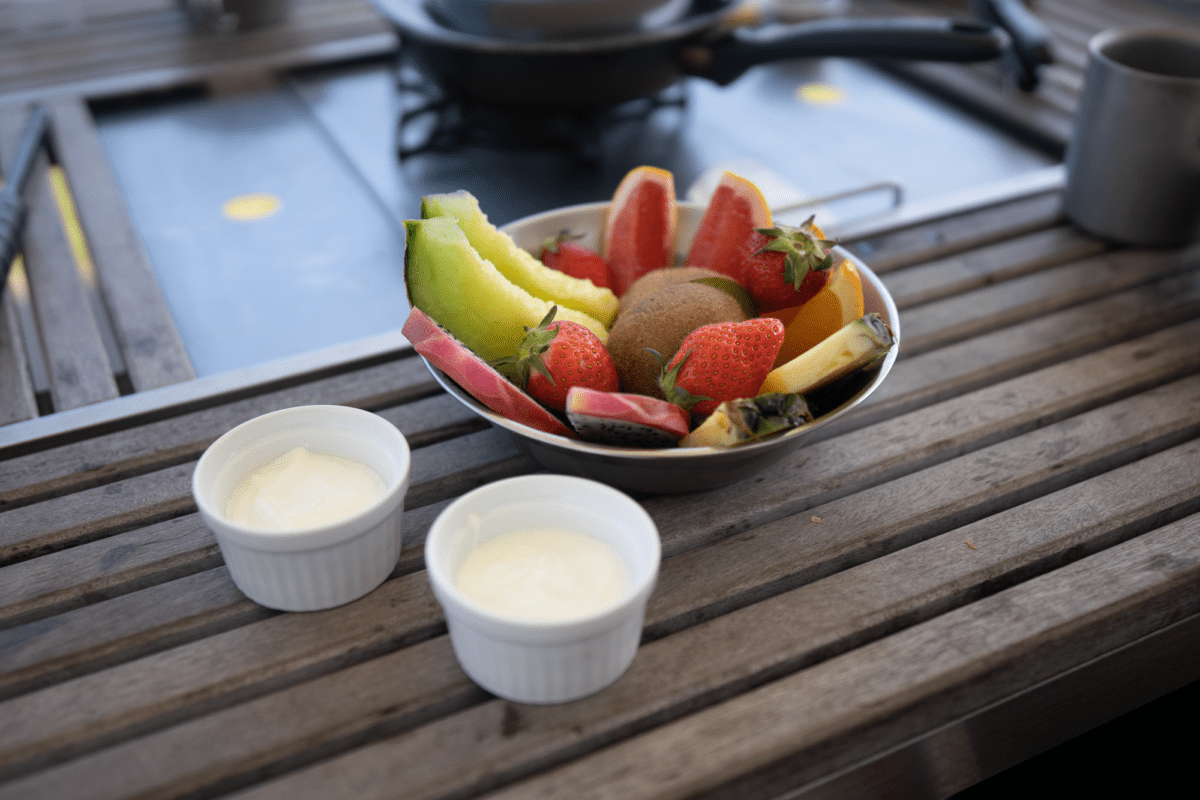 I told myself to go easy for breakfast after that food coma-inducing dinner, but I could not resist.
We spent the last few hours chilling on the platform with a refill of coffee and playing with the binoculars.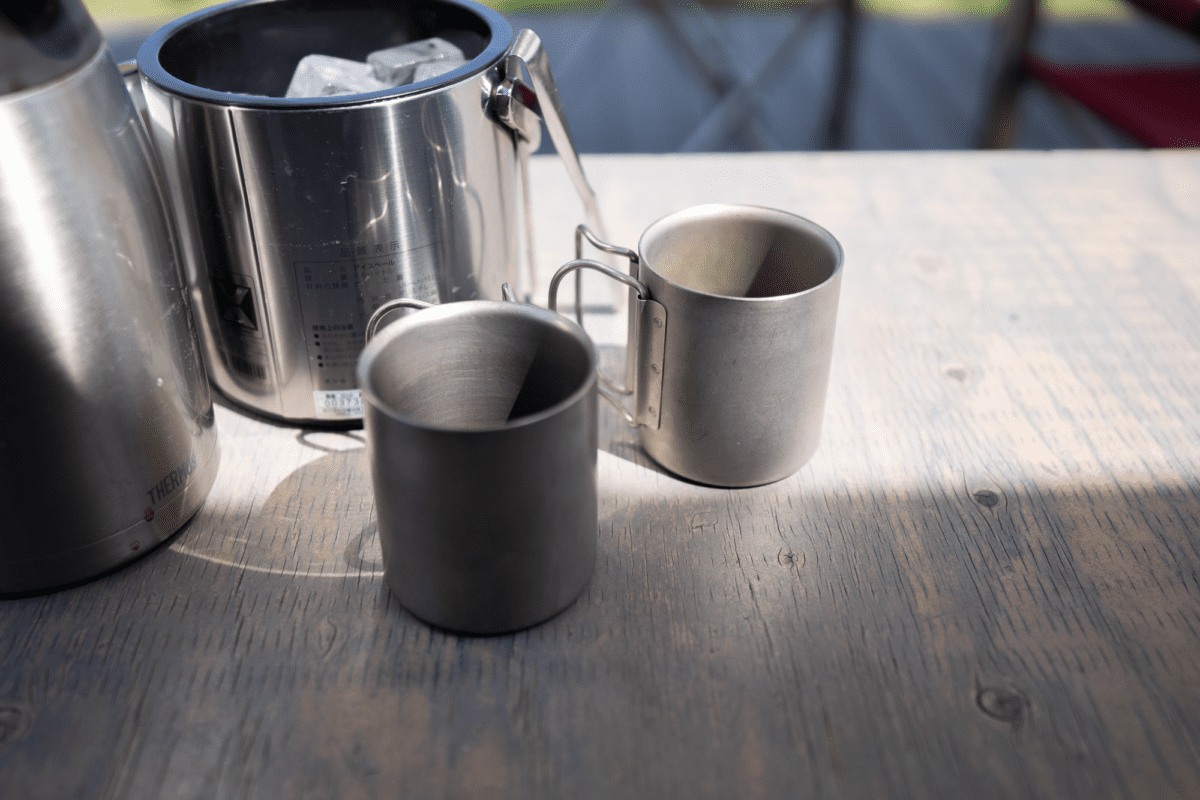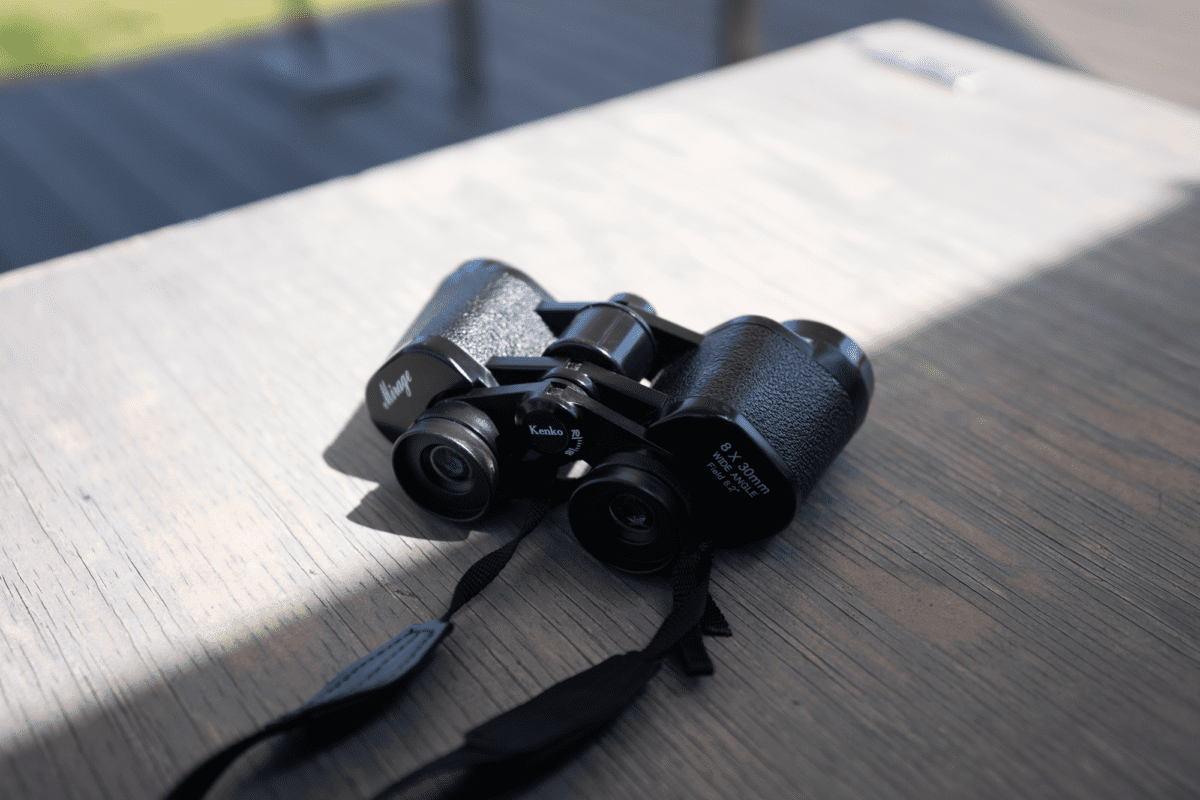 We checked out at 11 am. This time we had to do so at the front desk of Kannonzaki Keikyu Hotel. As we stayed on the weekend, it was 45,000 yen, including tax, per person.
Conclusion
For glamping in Japan, Snow Peak probably offers the most luxurious experience, and the price reflects that. Lucky for us, the service matched up as well. While I don't think I can drop that kind of yen all the time, I would not hesitate to come back for special occasions.
Bonus: Yokosuka Museum of Art
The Yokosuka Museum of Art is worth a visit since it is 5 minutes walk away. We left our car at the hotel's lot and visited it after checking out. While you can take pictures at the entrance and exit of the museum, you can't take photos inside the galleries.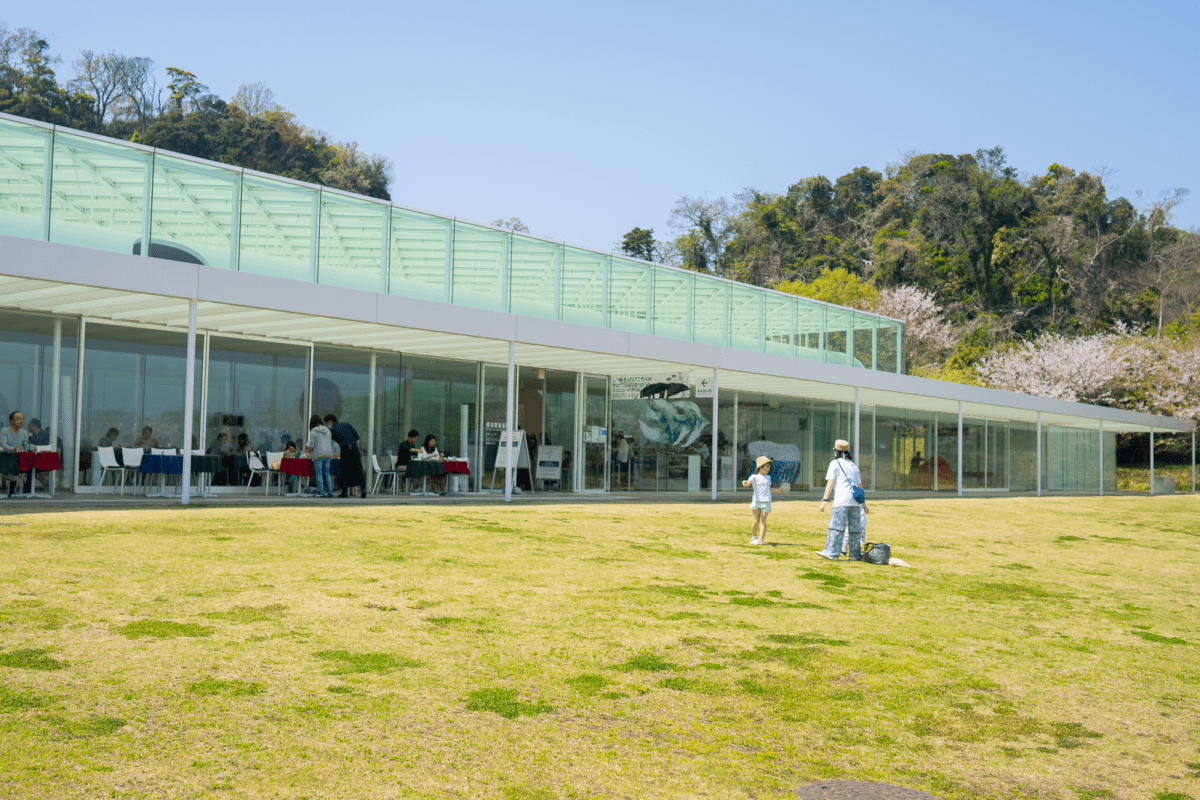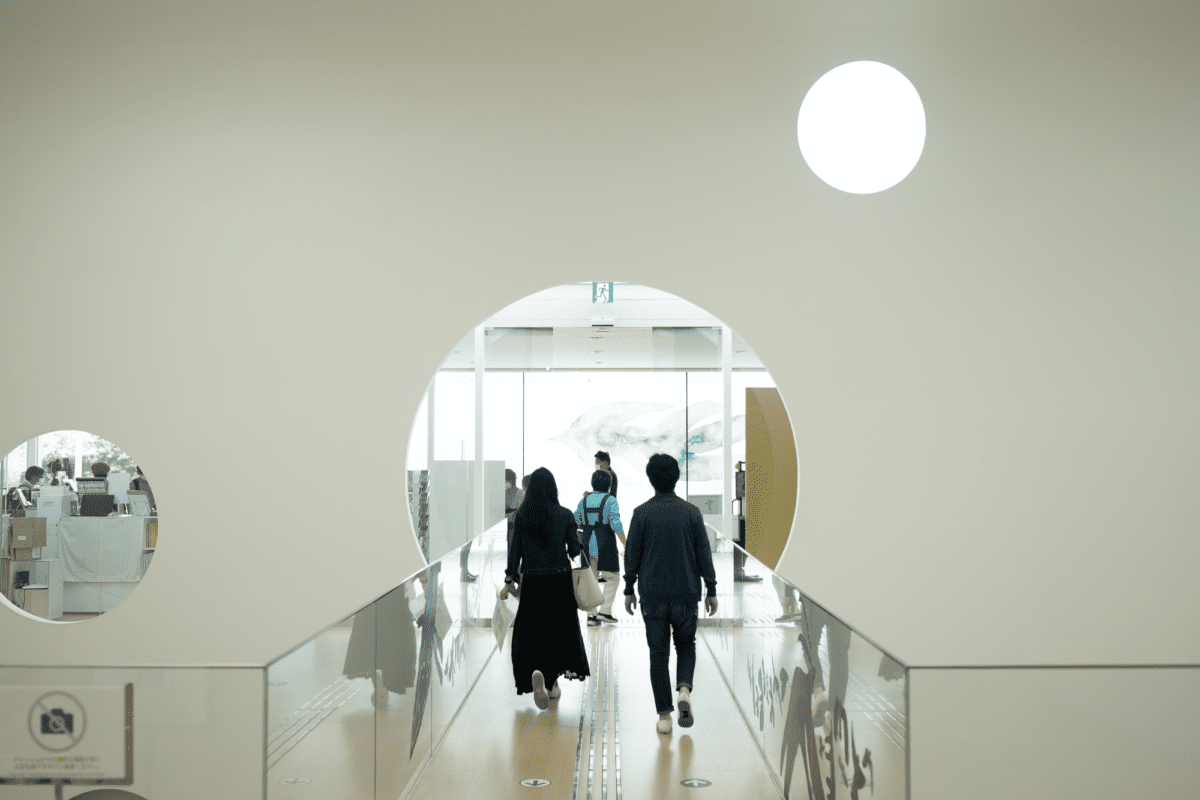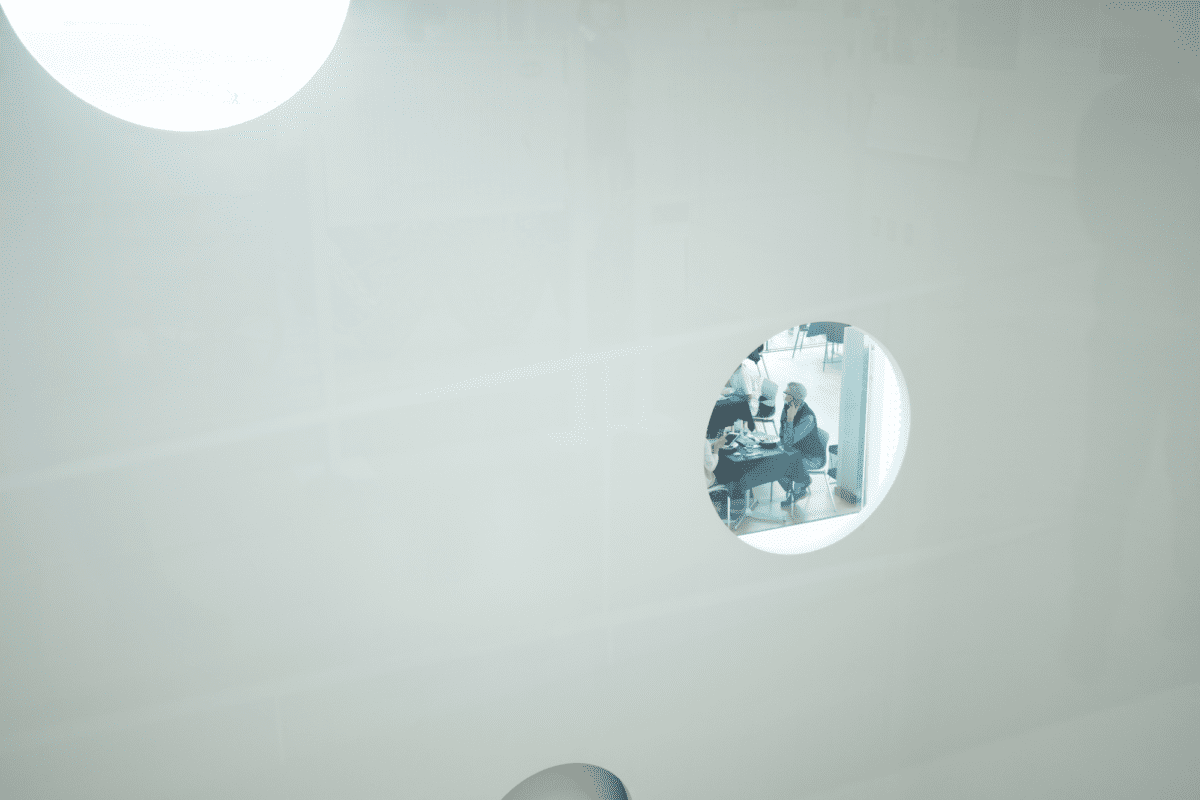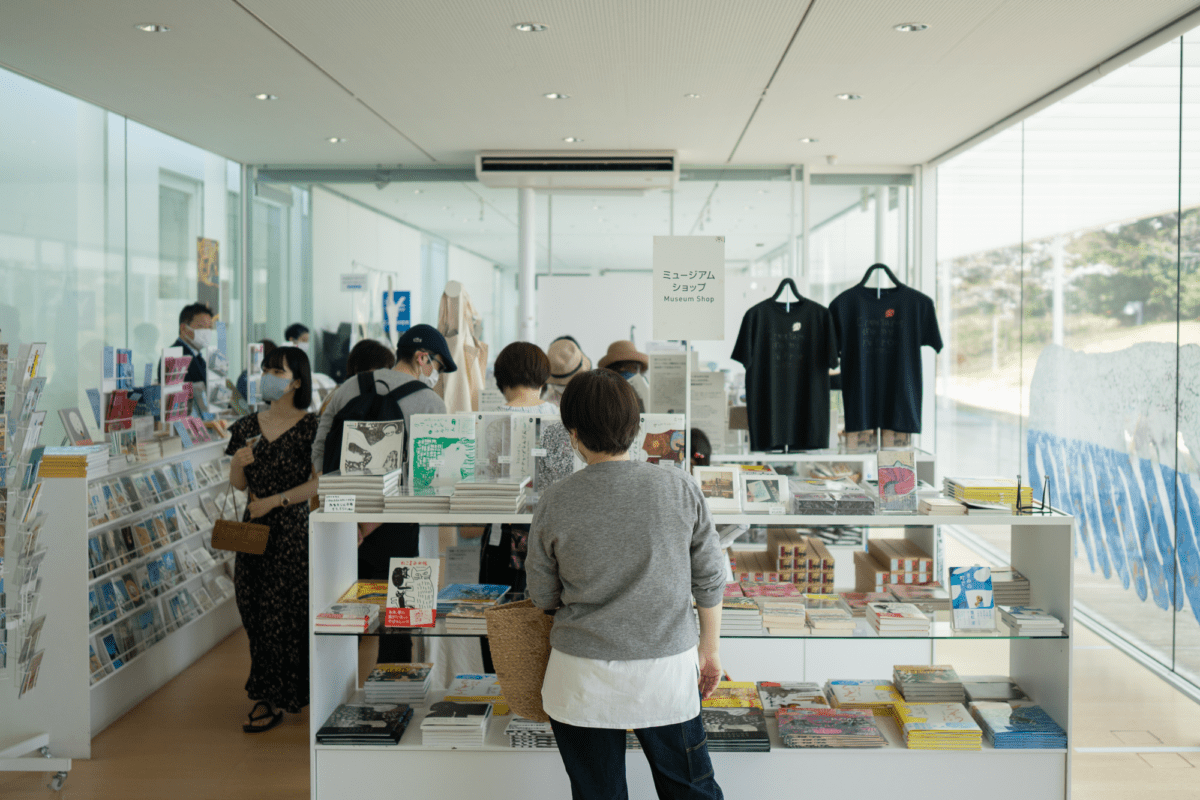 Additional Images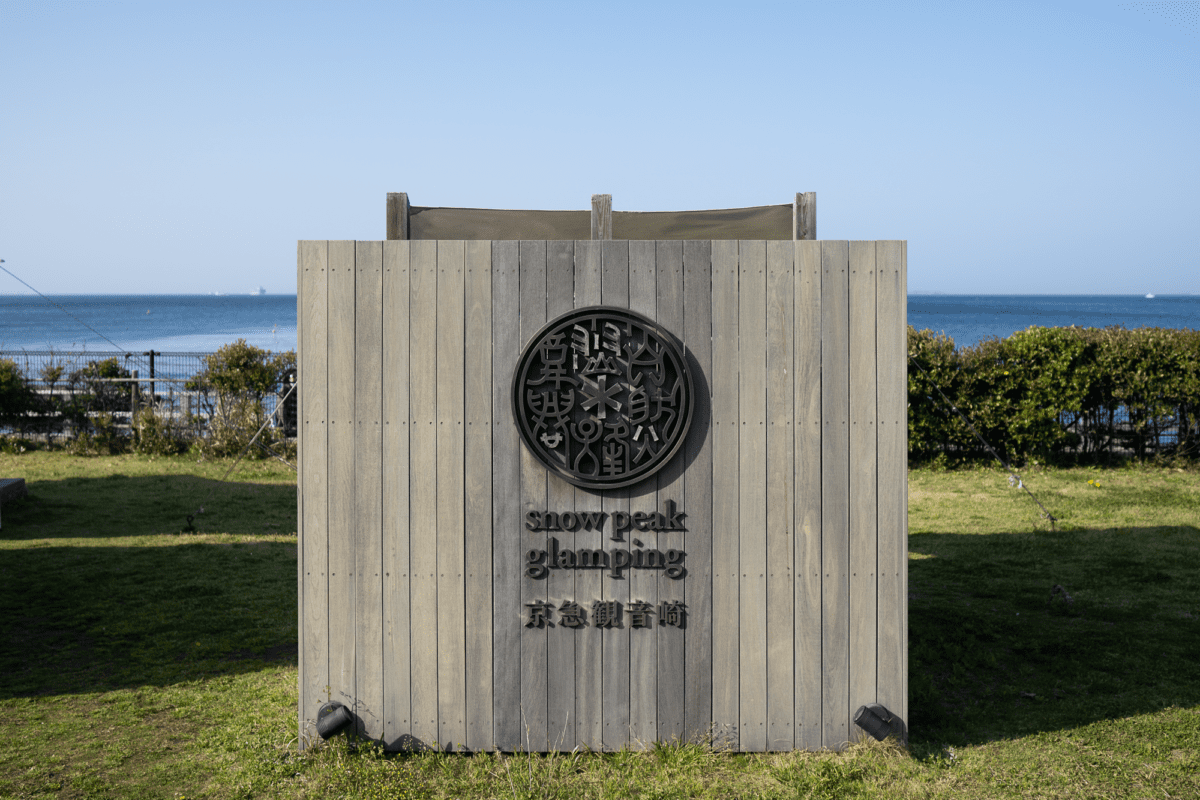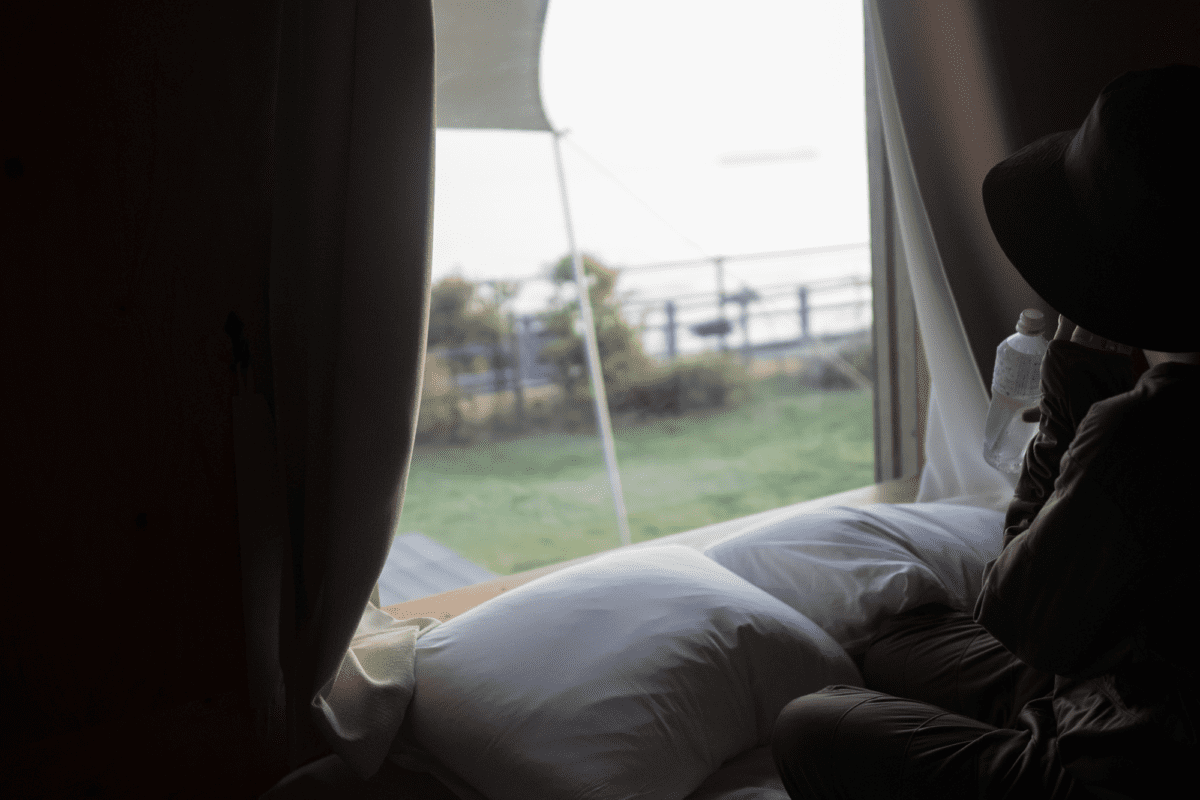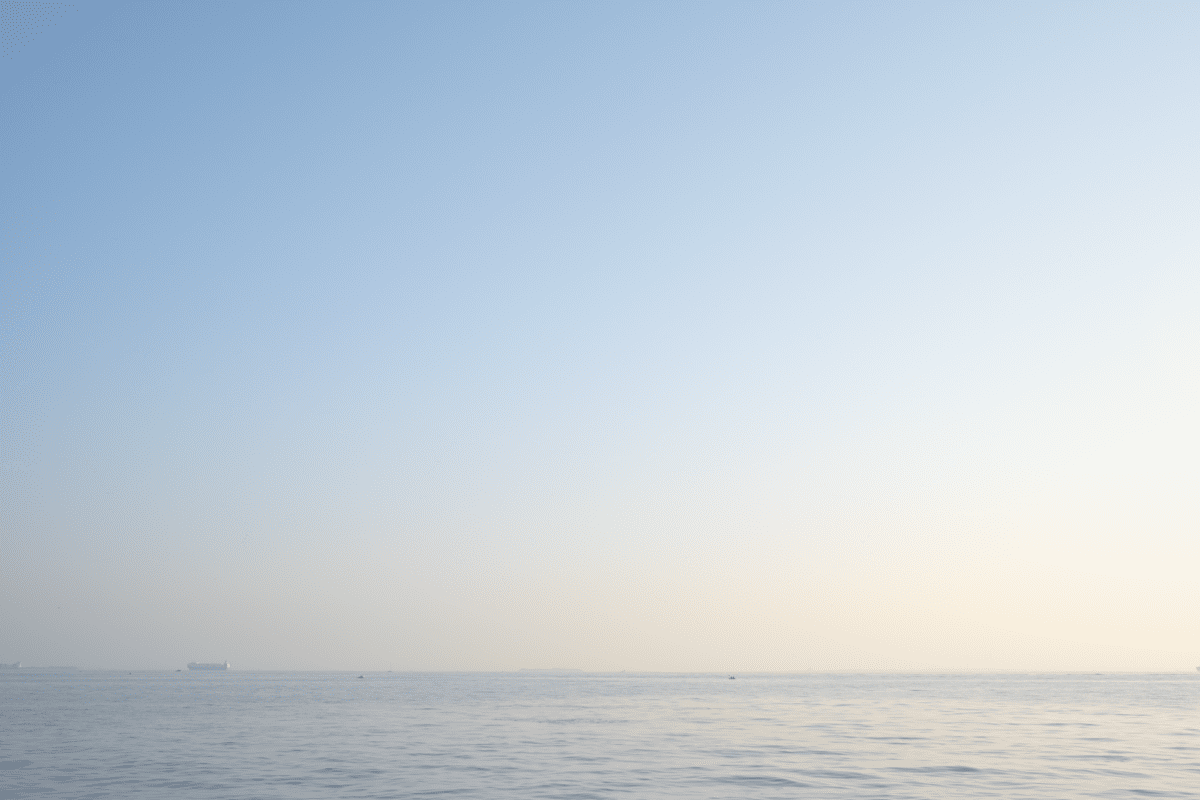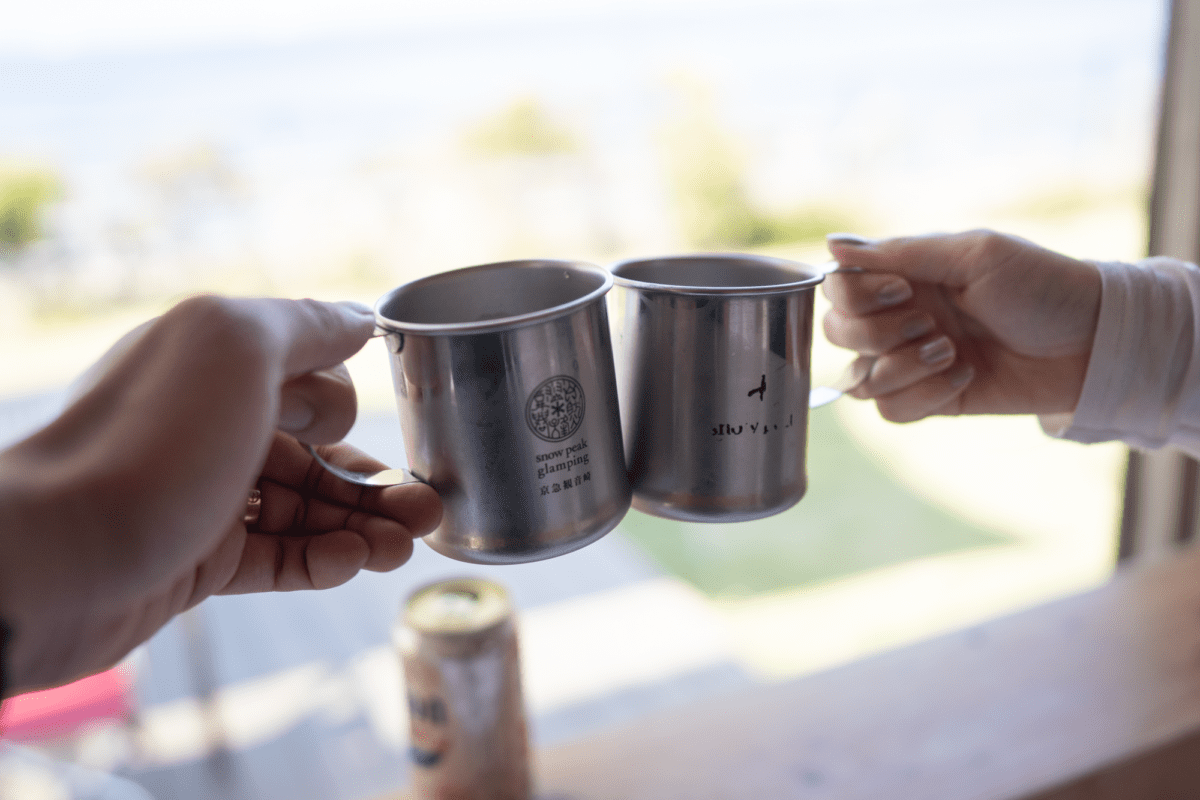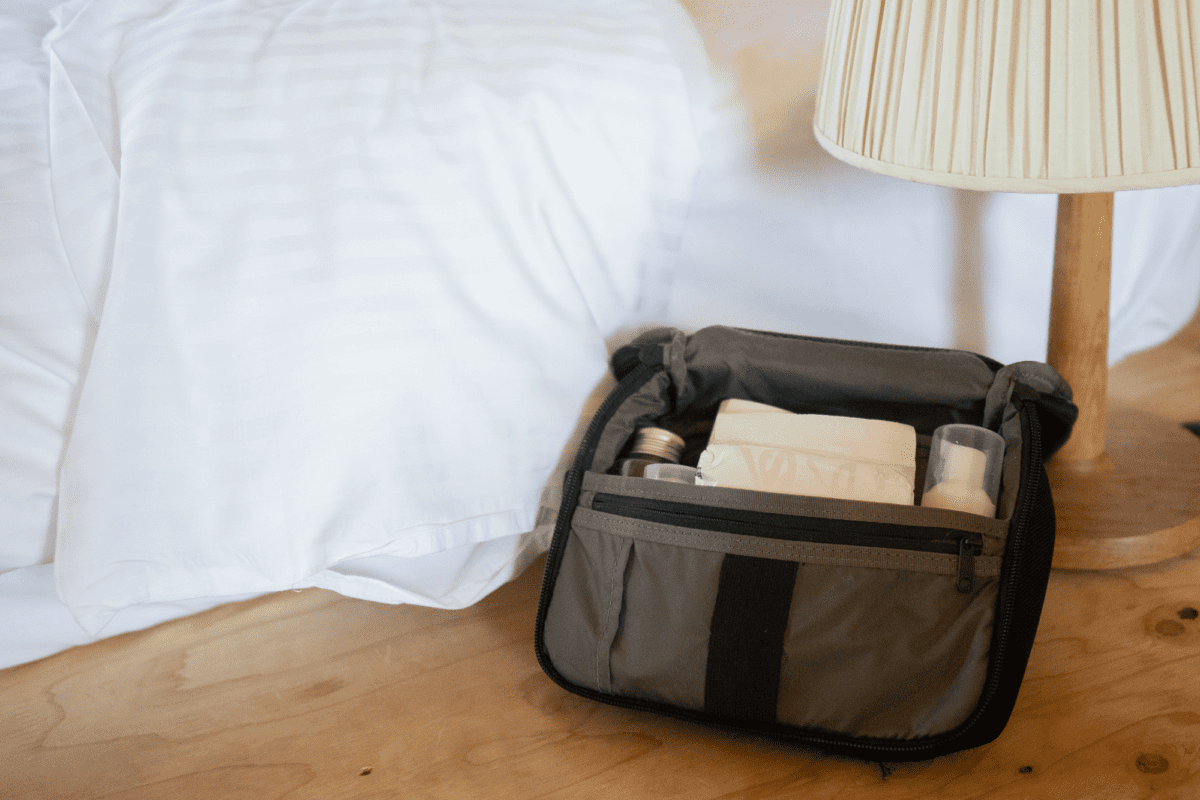 Tagged experience glamping snow peak yokosuka
---
I would love to hear from you!