This website is made possible by readers. I may earn a small commission when you buy through the links in this article at no extra cost to you. Learn more.
Details
Price $99.99 on amazon.com
Max Power Output 120W (100W per port)
Overview
I've never really considered desktop chargers or non-travel chargers till this review. After all, why would one need a desktop charger if a wall charger, like the Satechi Wall Chargers, could be used whether you are traveling or not?
However, seeing that this Kovol Sprint Laptop Charger offers a whopping 120W of output, compared to the max of 108W on the Satechi 108W 3-Port Wall Charger, I had to see if this might be something that I'm missing out on.
Style
Most chargers in the market these days follow the same aesthetics. I'm not surprised since they are probably made from the same few Chinese factories. While some brands like Satechi with more stringent design standards result in an aesthetic that stands out, the Kovol Sprint Laptop Charger is a standard as they come.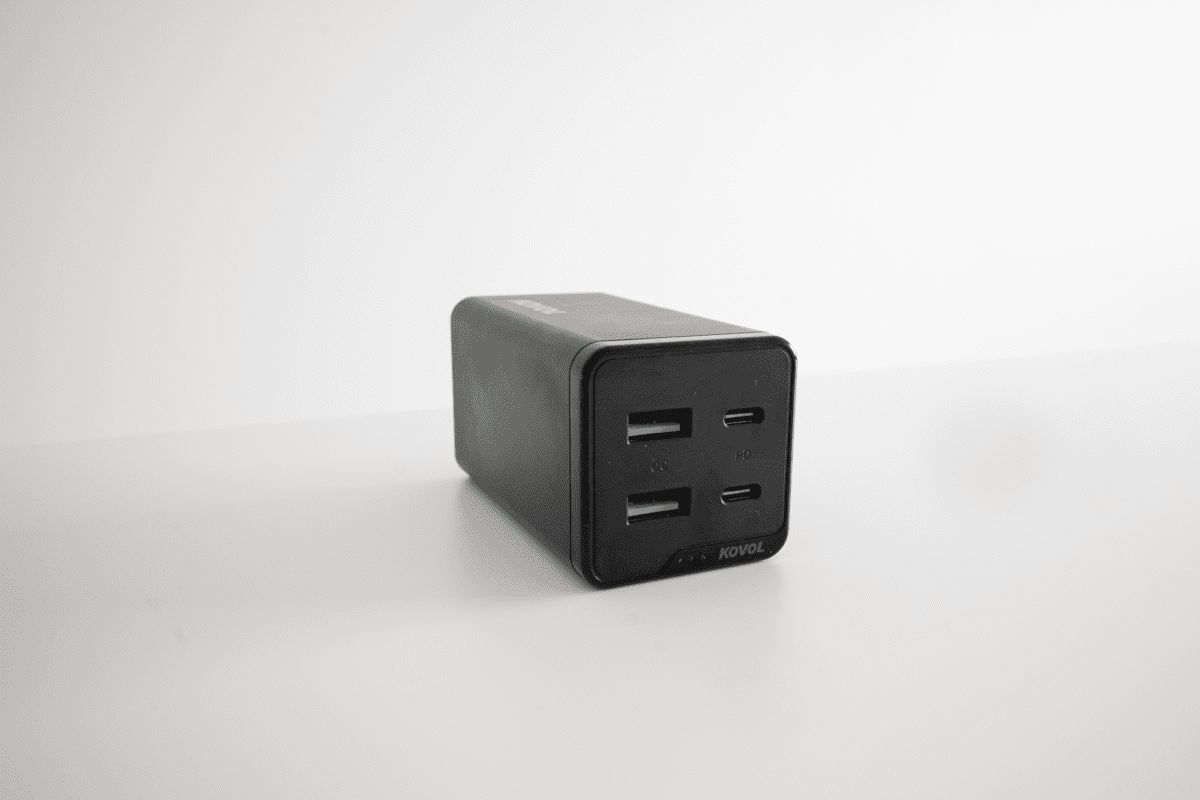 For better or worse, there isn't any identity that can be derived from the charger's design. You can replace the logo with another brand's, and you won't be able to tell that it's a Kovol design.
That aside, there isn't anything wrong with the design. It's simple, soothing with rounded corners. A plastic trim on the port side also houses the light indicators on the bottom.
On that side, there are four equally-spaced ports, two USB-A on the left and two USB-C on the right. In between the same ports, there is a black-on-black indicator, "PD" in between the two USB-C ports, and "QC" in between the USB-A ports.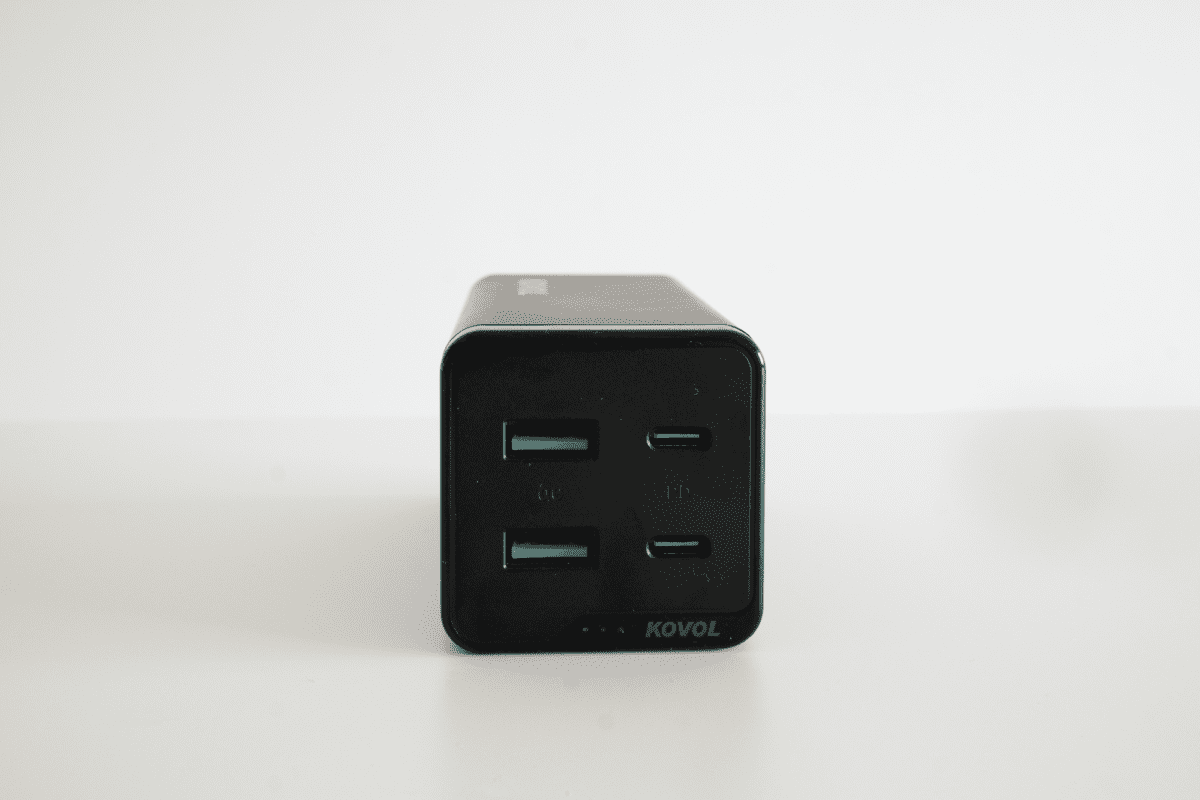 With four ports, you can expect it to be quite the medusa of wires to tame when fully utilized.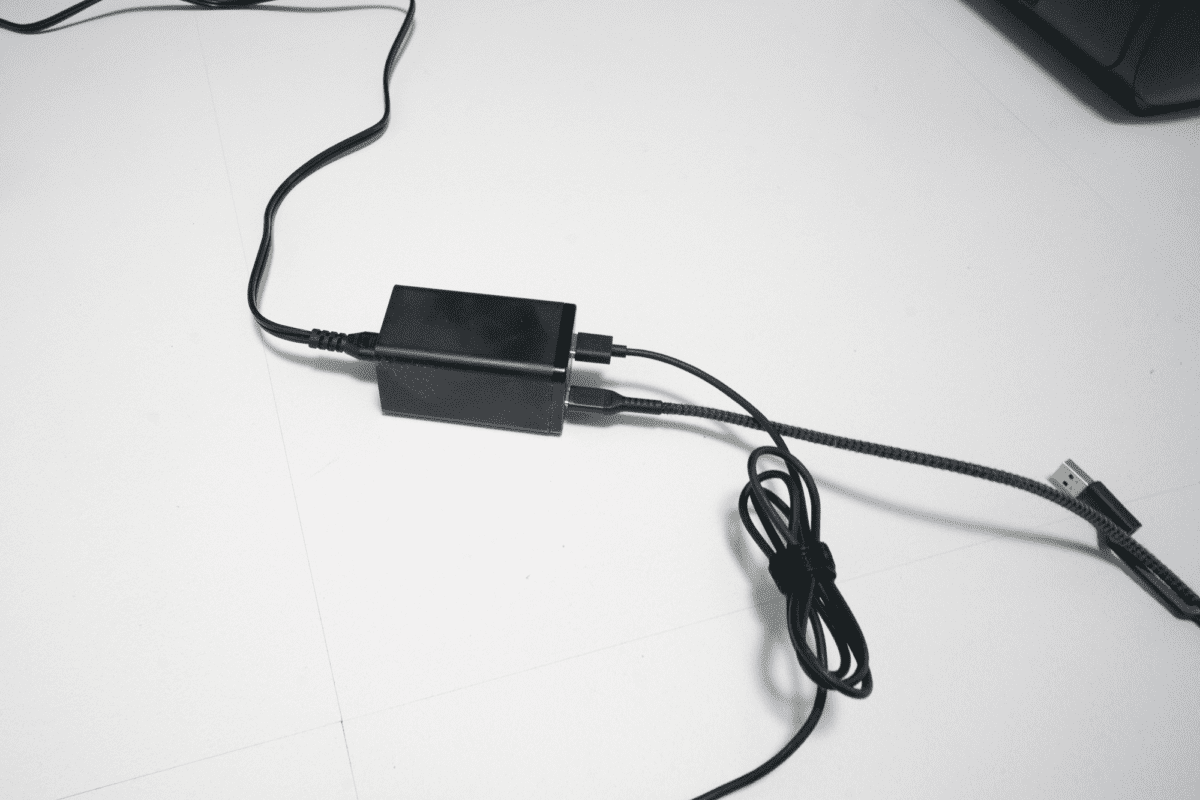 The components within the USB-A are a turquoise color and are the only color you can find on the charger besides the green charging indicator.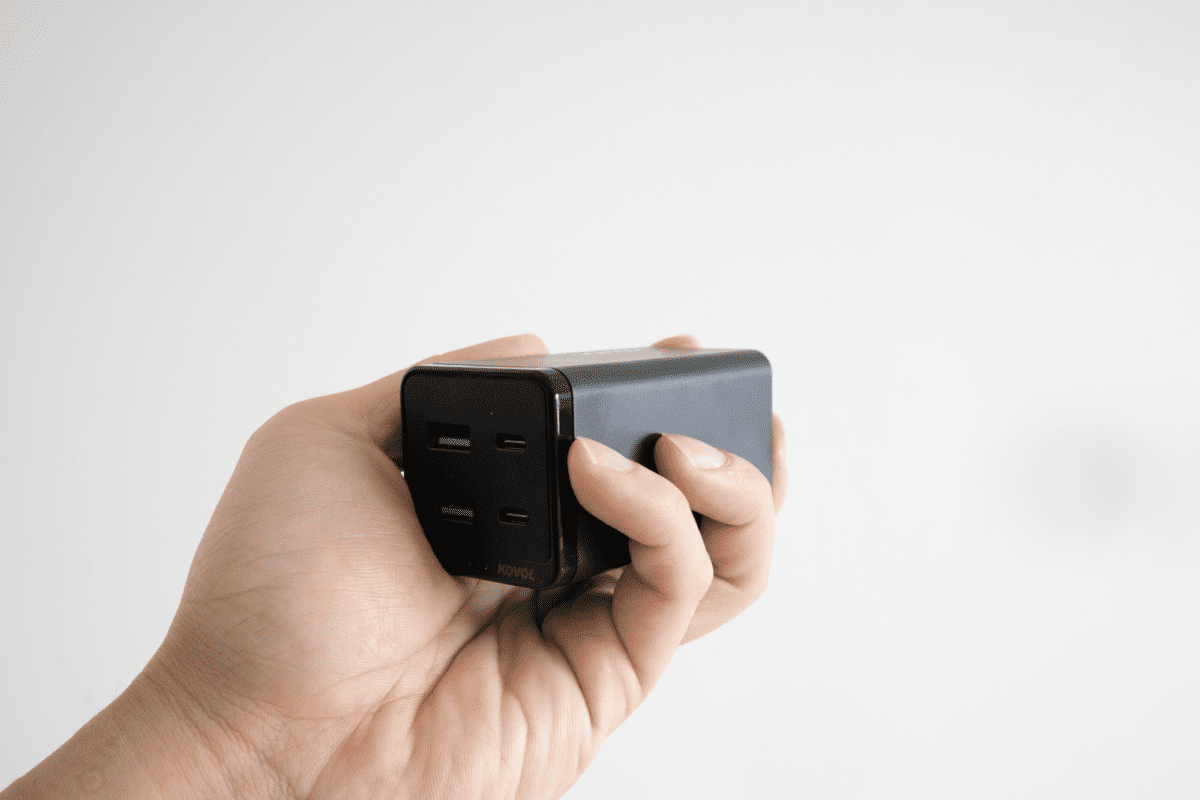 Tech
The Kovol Laptop Charger supports both QC and PD. These are both quick charging standards. QC is short for Quick Charge and was developed by Qualcomm, where PD is short for Power Delivery.
Both are faster than regular USB charging, but generally speaking, QC is faster. This is because QC can output the maximum power of your device, which PD will drop to the next lower output if the power exceeds what the device can take in.
But no one likes ads, so I got rid of them. If my articles helped you, I ask for your support so I can continue to provide unbiased reviews and recommendations. Every cent donated through Patreon will go into improving the quality of this site.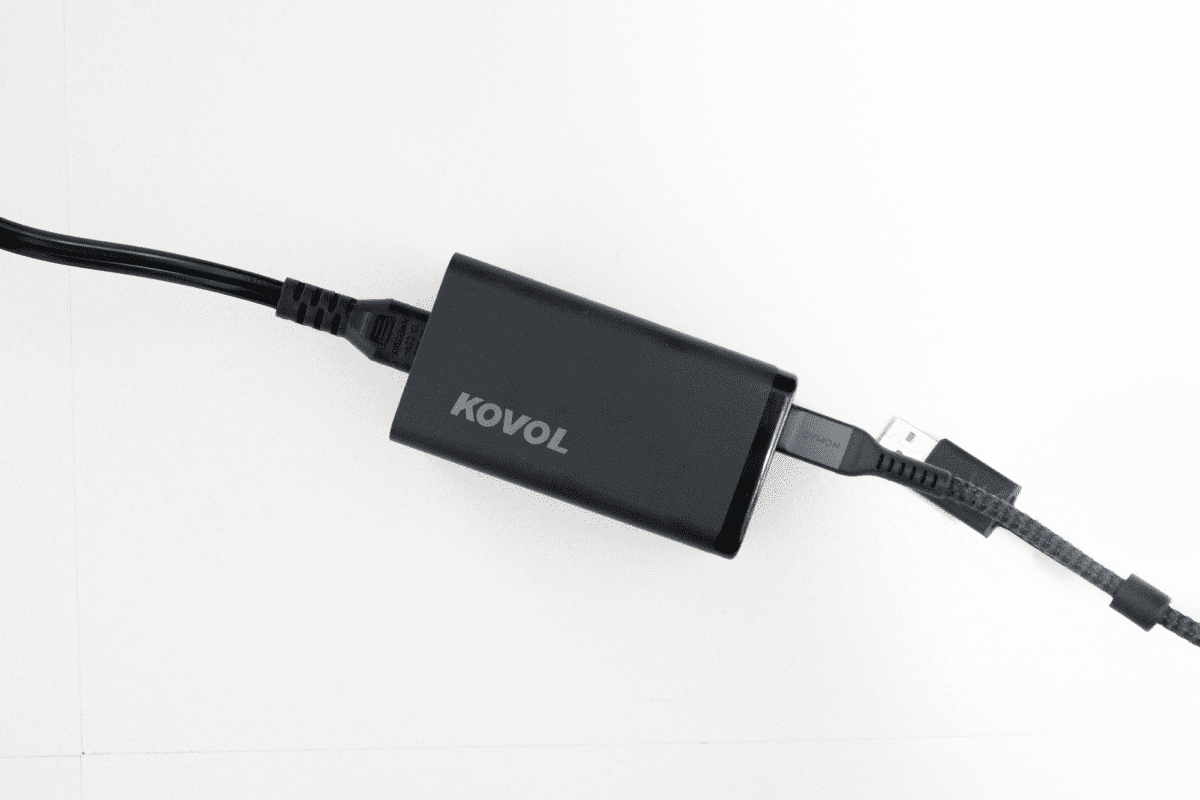 For example, if an 88W charger is charging a device capable of taking in 56W of power. Through a QC port, a device will receive the maximum power input of 56W. However, it will receive 45W of power through a PD port since it does not qualify for the next higher power of 60W.
While the Kovol Laptop Charger comes with both standards, they are tied to specific ports—QC for USB-A ports and PD for USB-C ports. For laptops, you are probably limited to the PD port, which is capable of up to 100W power output. However, you have to give credit to Kovol for including both standards, as you'll find that most chargers with PD rarely include QC since they have to pay licensing fees to Qualcomm to do so.
120W Power Output
The power output of the Kovol Laptop Charger is 120W. At this time, the maximum power a USB-C port can output and the maximum power a USB-C port on a device can take in is 100W.
So why would anyone need 120W? This amount of power comes into play when multiple ports are used simultaneously, which the Kovol Laptop Charger is designed for.
If you wonder how power distribution works among the four ports, I wondered the same and tested it out. Charging my 13-inch MacBook Pro, I was able to get 100W worth of power through the USB-C PD port.
Charging an iPhone through the other USB-C port, the charge on the 13-inch MacBook Pro falls to 60W. Charging a 13-inch MacBook Pro and a 16-inch MacBook Pro simultaneously, I confirmed that both devices get 60Ws, utilizing the maximum power output.
On top of the two laptops, I decided to add an iPhone charging from the USB-A port. With three devices (two laptops and a mobile phone), each laptop gets 45W, and I assume that the iPhone is getting 30W.
Finally, adding a fourth device to charge, each laptop still gets 45W, so I can assume that each USB-A port outputs 15W. While this isn't an exact test, it's fair to assume that your laptop would, at the minimum, get 45W of power.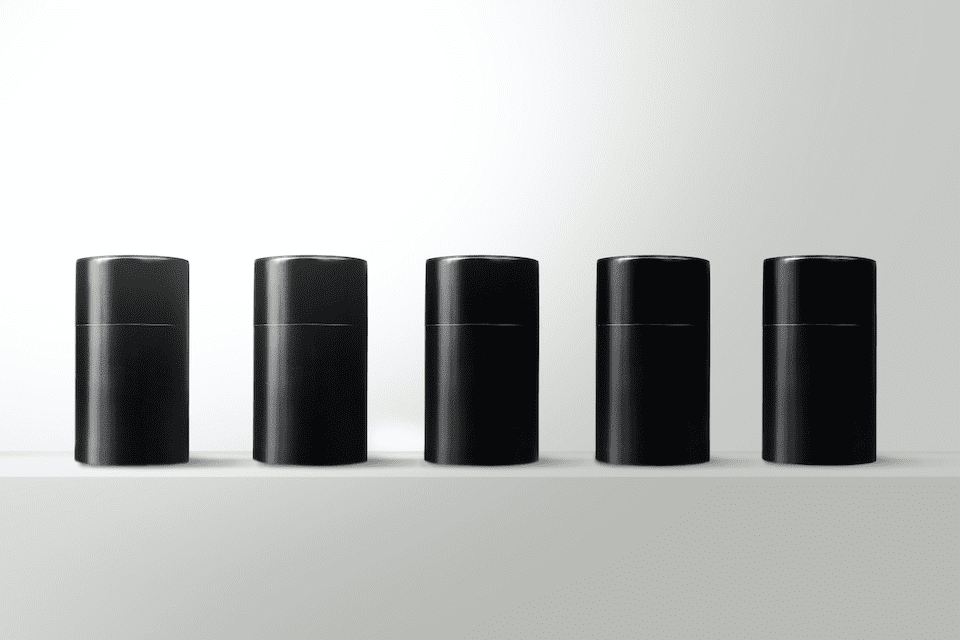 I found a 100 year old company that would create these heirloom quality canisters for me. They are handmade and will keep your tea leaves, coffee beans or anything that you need dry for years to come.
or read review
For reference, I normally charge my 16-inch laptop through a Satechi Multi-port Adapter, which gives me 45W of power. This power is fine for almost any task I encounter, even video editing. However, if I run triple-A games through Boot Camp, it depletes within a few hours.
So even with all four ports of the Kovol charger in use, your laptop would probably run most tasks without issues.
This is only made possible with the 120W power output, and you would be severely impaired with the 60W range of chargers if you are the kind that charges many devices at once.
Kovol has also specified the exact power distribution:
1 USB-C Port:
100W
2 USB-C Ports:
USB-C – PD 60W / USB-C – PD 60W
2 USB-A Ports:
USB-A – QC 18W / USB-A – QC 18W
1 USB-C Port + 1 USB-A Port:
USB-C – PD 100W / USB-A – QC 18W
1 USB-C Port + 2 USB-A Ports:
USB-C – PD 65W / USB-A – QC 18W / USB-A – QC 18W
2 USB-C Ports + 1 USB-A Port:
USB-C – PD45W / USB-C – PD 45W / USB-A – QC 18W
All 4 Ports in use:
USB-C-PD 65W / USB-C-PD 20W / USB-A-QC 18W / USB-A-QC 18W
Or USB-C-PD 45W /USB-C-PD 45W / USB-A-QC 18W / USB-A-QC 18W
Usage
The main unit of the Kovol Laptop Charger is pretty much in the size range of most travel chargers at the same capacity. The Achilles heel is no doubt the cord that comes with it. The cord is a 1.5m long AC power cord. Unlike a USB-C cable which you might have a few of, losing the AC cord would render this charger useless.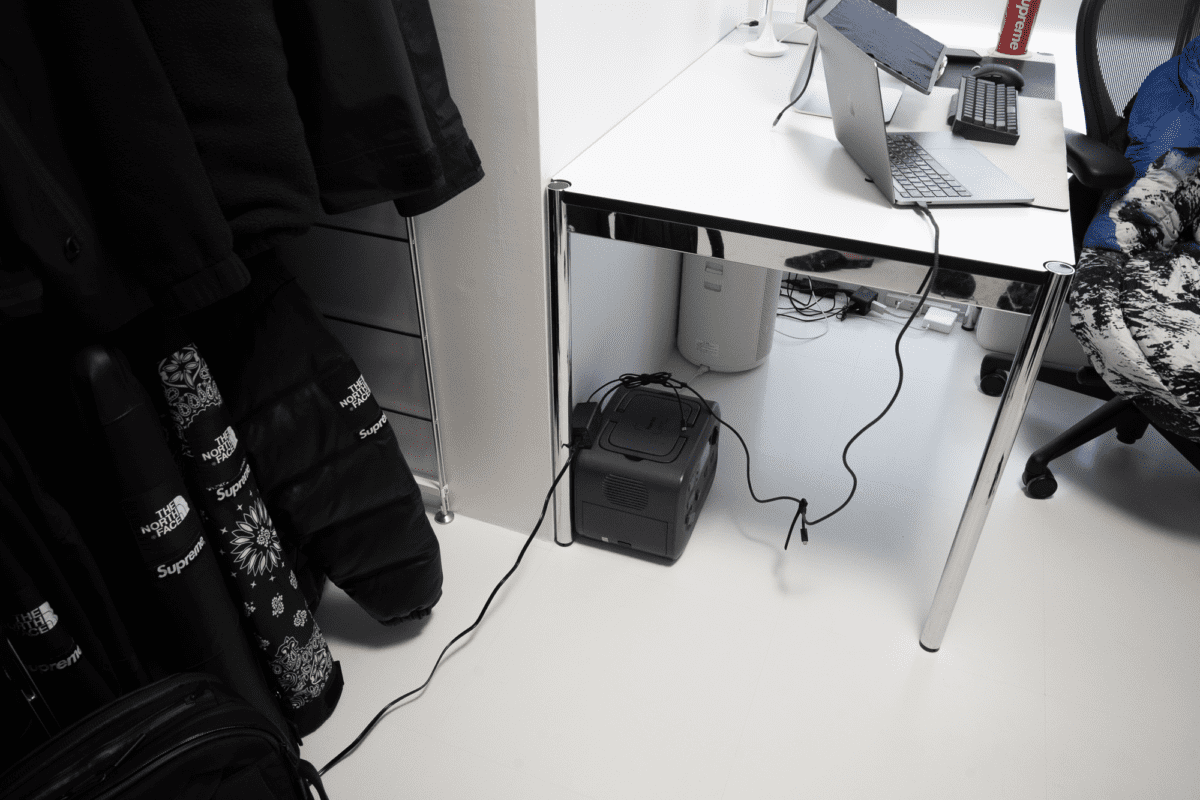 This AC cord is as standard as it comes. If you've some experience with AC cords, they tangle up easily and don't stay straight like a wrapped USB-C cord. The cord is also rigid enough that it will pull the charger off your table rather than stretch out as a cable should.
The Kovol Laptop Charger is a desktop charger and does not try to be a travel charger. While it's light and compact enough to bring on your travel, the AC cord will become a tough snake to charm in your wire dopp.
When the charger is in use, three lights on the bottom right become green. I am not sure why three lights are needed since there aren't different levels of indicators.
Functionality-wise, the Kovol Charger gets top marks. Most would find that the number of ports and power output is more than enough for their needs.
Update: 6 months later
Power Delivery will control power output and stop it if no longer necessary. Unfortunately, it doesn't work quite well with my 2019 16-inch MacBook Pro.
When my Mac fully charges, the Kovol Charger stops the charge, which disconnects the power. When the battery depletes a little in a couple of seconds, it starts to charge again.
You'll hear the sound that Mac makes when it starts charging repeatedly, and your screen brightness will change each time. I had to disconnect and reconnect when the battery becomes low again.
I don't think this is a PD issue since I don't have the same problems with any of the other PD chargers, like the NOMAD Power Adapter, that I have.
Conclusion
The Kovol Laptop Charger scores high reliability and power but nothing special in aesthetics or innovation. For most, travel chargers like the Satechi Wall Chargers might be sufficient. The Kovol Laptop Charger is for those who need a desktop charger and won't settle for just the average.
Additional Images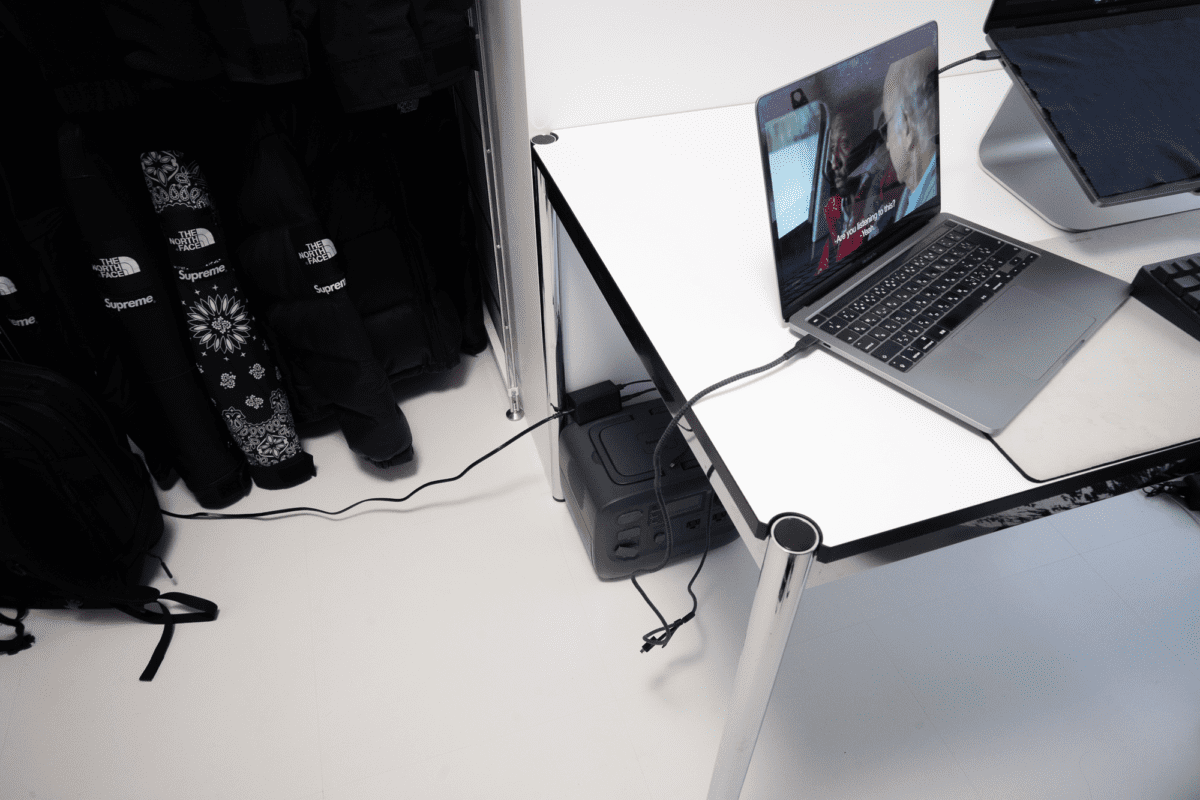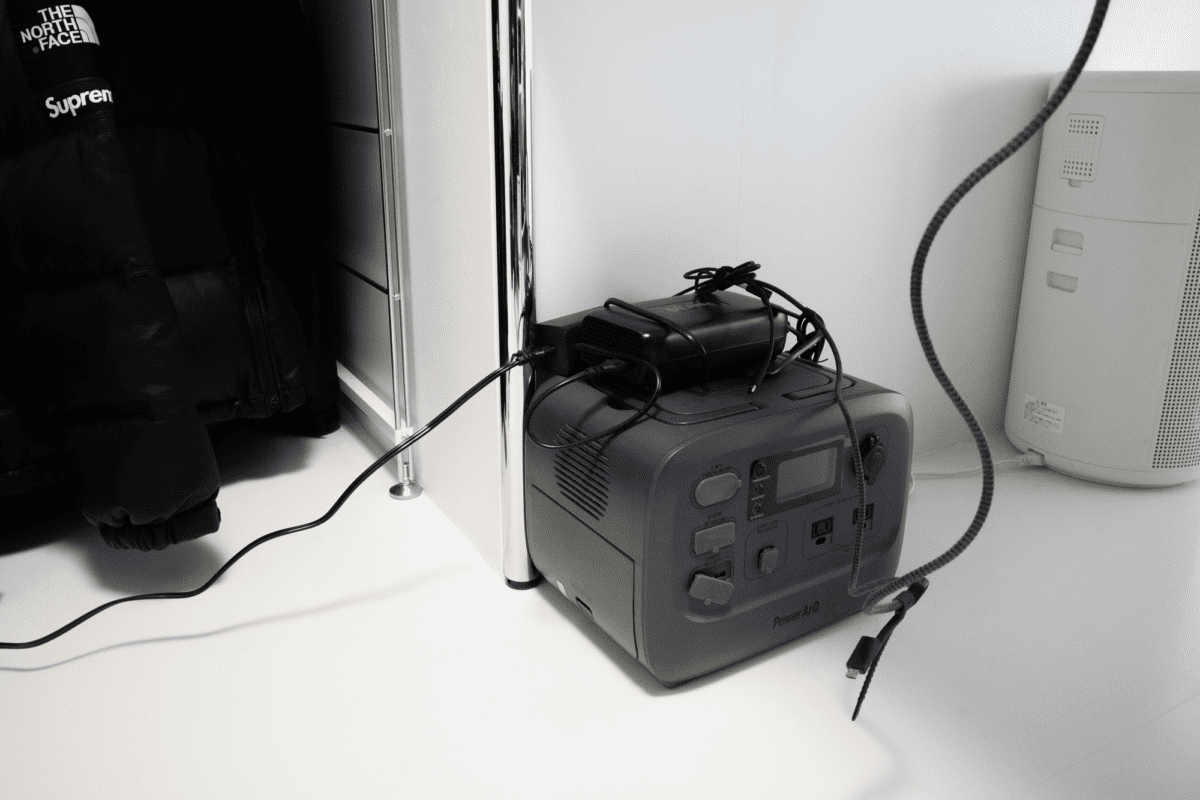 Like this review? See all of my in-depth reviews.
Also, consider supporting me by being a Patreon. Every cent given will go back into improving the content of this website.