This website is made possible by readers. I may earn a small commission when you buy through the links in this article at no extra cost to you. Learn more.
A true packable backpack that packs down to almost nothing, but yet has a 24-liter carry capacity. The Matador Freerain24 is a high-quality backpack for travel.
Details
Price $64.99 on matadorup.com
Dimensions 19.5 x 11 x 9.5 inches (Unpacked) | 5 x 3 x 3 inches (packed) (Packed)
Weight 6.6 oz / 187 g
Capacity 24 liters
Material Waterproof 30D Cordura® ripstop nylon
Overview
Here's another one of the Matador's products that I'm excited to try out. I've had a great experience with their packable water bottle and am expecting the same quality this time around.
All this while, I've been pretty contented with my TOM BIHN Daylight Backpack as a packable daily carry. The only problem is that it's not actually packable. While you can probably fold it up and technically pack it, it gets a little bulky since it has the girth of a regular bag.
The Freerain24 is a true packable bag. In fact, it comes packed into a small pack. So, can a bag that packs down so small, let you travel big? I'll find out.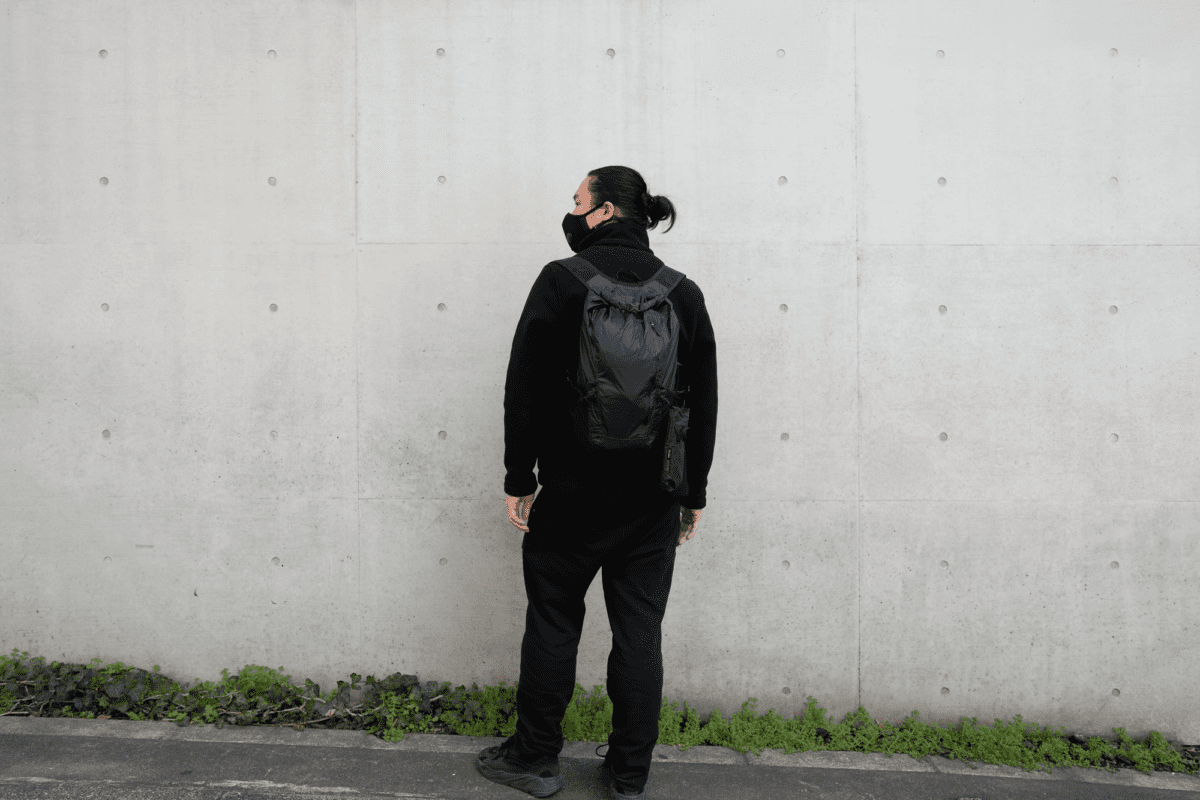 Style
So, when you look for a "packable" bag, I hope you are not expecting much when it comes to style. Sure, there are more stylish ones among packable packs, but they really can't compare to regular backpacks.
Since packable bags, by design, have thinner materials, the lack of structure and that you probably just unpacked it from a small package, usually results in it looking like a crumply blob on your back. This also depends a lot on how you stuff the backpack.
In general, you want to stuff it as full as possible to achieve a fuller, more regular bag-like shape. But, you don't want to overstuff it to the point you can tell the shapes protruding from your bag.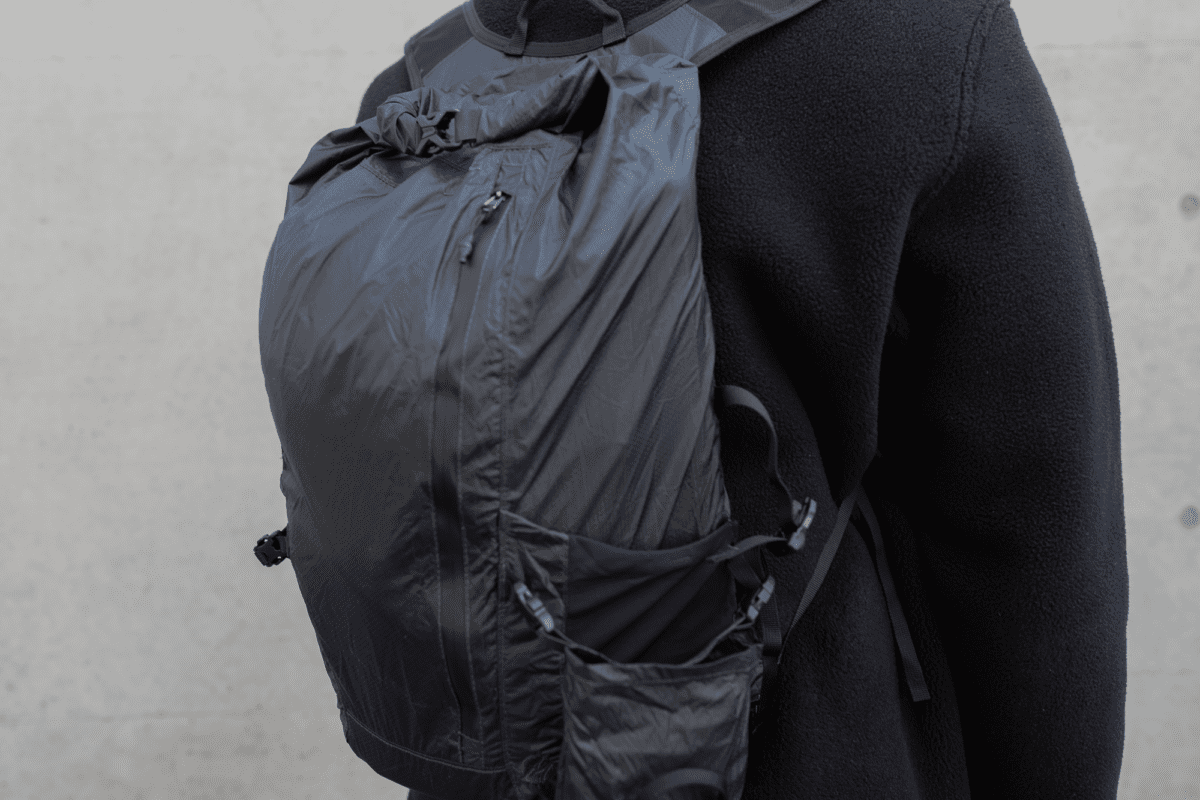 When I first removed the backpack from the pack, it is, as expected, crumply, much like my packable Zpacks Vertice Rain Jacket. It also looks thinner than expected, compared to the product image.
Another thing that stood out to me was the mesh shoulder strap. While it looked to be very high quality, it looked to be a little hard to pull off in terms of style. It just looks outdoorsy no matter what you style it with.
The bag comes in two colors, a charcoal and a coyote. I got the charcoal version, but honestly, you wouldn't be far off if you simply call it black.
But no one likes ads, so I got rid of them. If my articles helped you, I ask for your support so I can continue to provide unbiased reviews and recommendations. Every cent donated through Patreon will go into improving the quality of this site.
One thing I love is that the color is kept consistent throughout, from the zippers to the plastic hardware, and even the Matador logos are in just a slightly lighter-than-black tone.
There are technically four pieces of branding on the bag. One that spells out the brand name on the front, and an icon below that and the same icon on the strap. There is also a Cordura brand tag.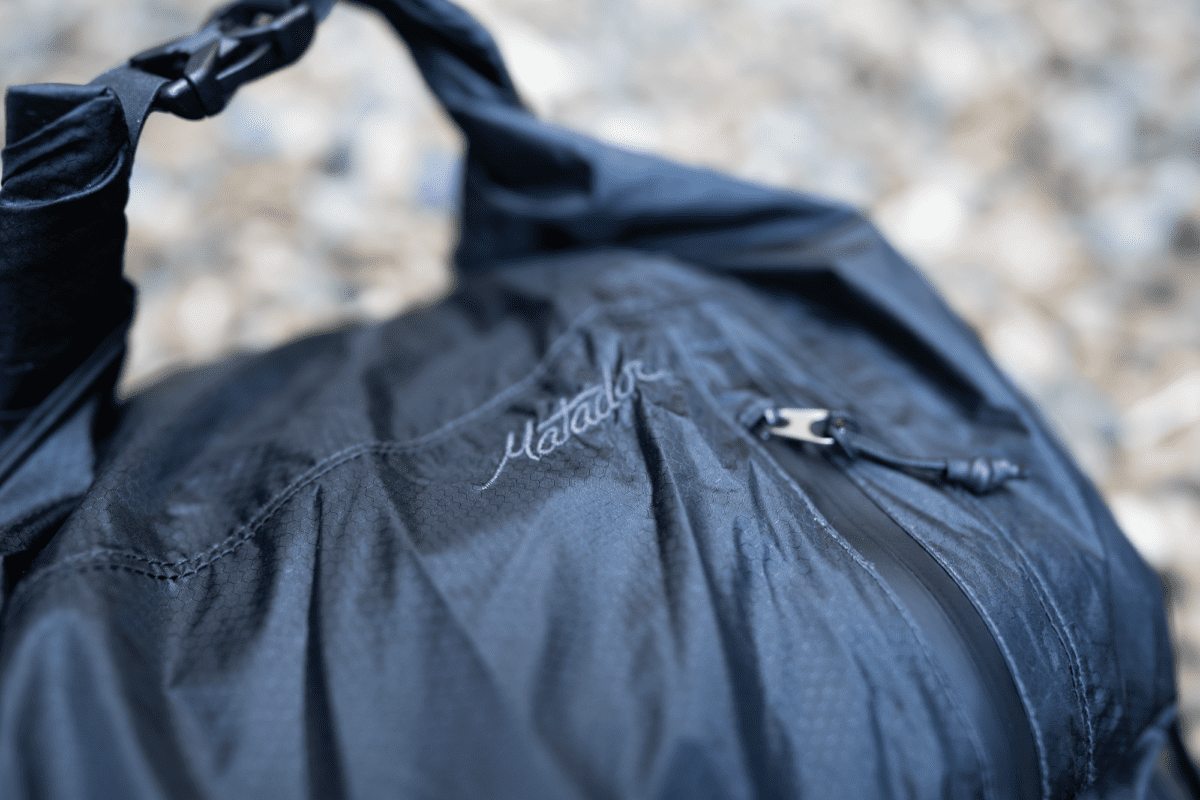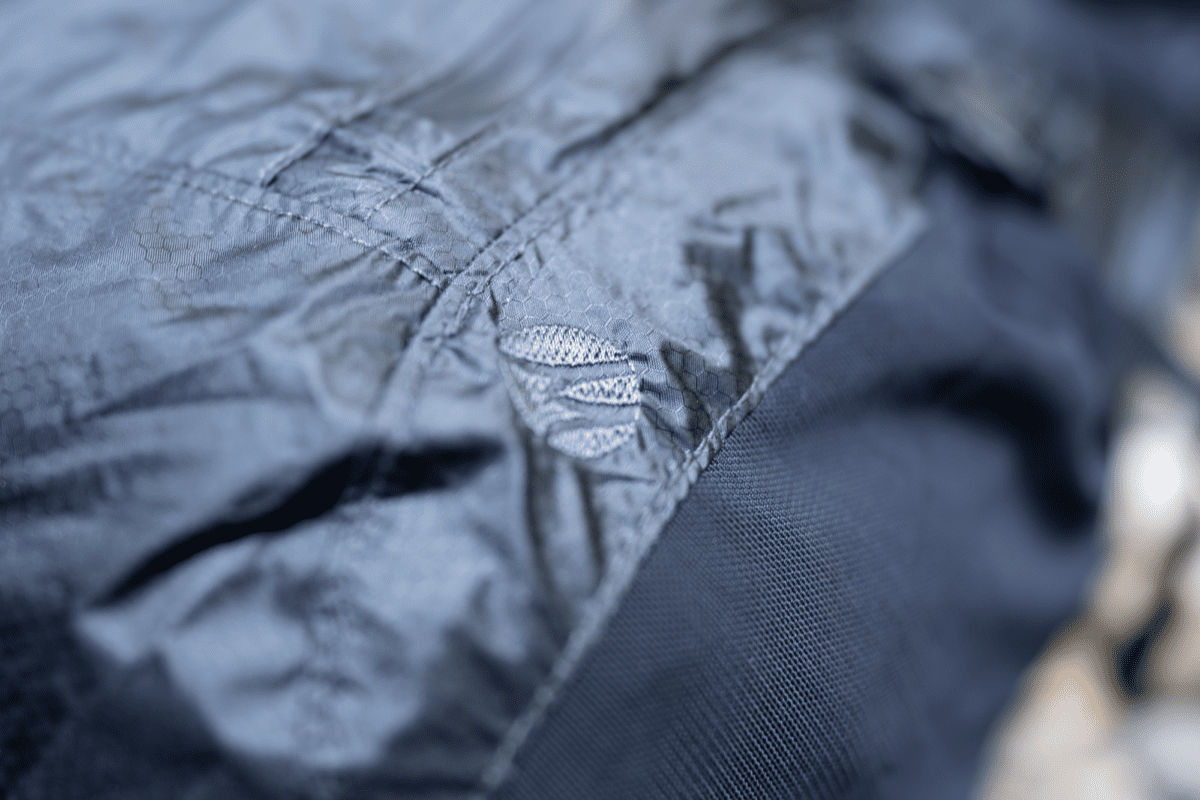 In conclusion, the style is a little hard to pull off, mainly due to the lack of structure and mesh straps. It might also be because I'm used to the TOM BIHN Daylight Backpack. However, for a traveler who just want utility, this is not at all an ugly bag.
Material
The main material of the bag is a waterproof 30D Cordura ripstop nylon. I've had quite a bit of experience with Cordura, but not at this denier count. I'm used to 1000D Cordura, like those on a GORUCK GR1. The 30D looks almost thin enough to make a jacket with.
The waterproofness of the Matador Freerain24 comes from a siliconized coating. The internal seams are taped for additional waterproofness. I don't expect any rain to get through, even during thunderstorms. Although, one should regularly refresh the waterproof coating with something like Nikwax.
On the top of the main compartment, Hypalon (or chlorosulfonated polyethylene (CSPE) synthetic rubber), is a type of rubber produced by DuPont. Some of the advantages that Hypalon has over commonly used polymers such as PVC are surviving thermally stressful environments as well as its UV stability.
However, I think the key advantage that was chosen for in this case, is its ruggedness. The combination of the flexibility of rubber with extreme ruggedness seems like a clear winner to me.
The shoulder straps are made with a kind of mesh in order to not absorb any moisture from perspiration. Of course, this is compromising the rigidity and structure you get from regular straps.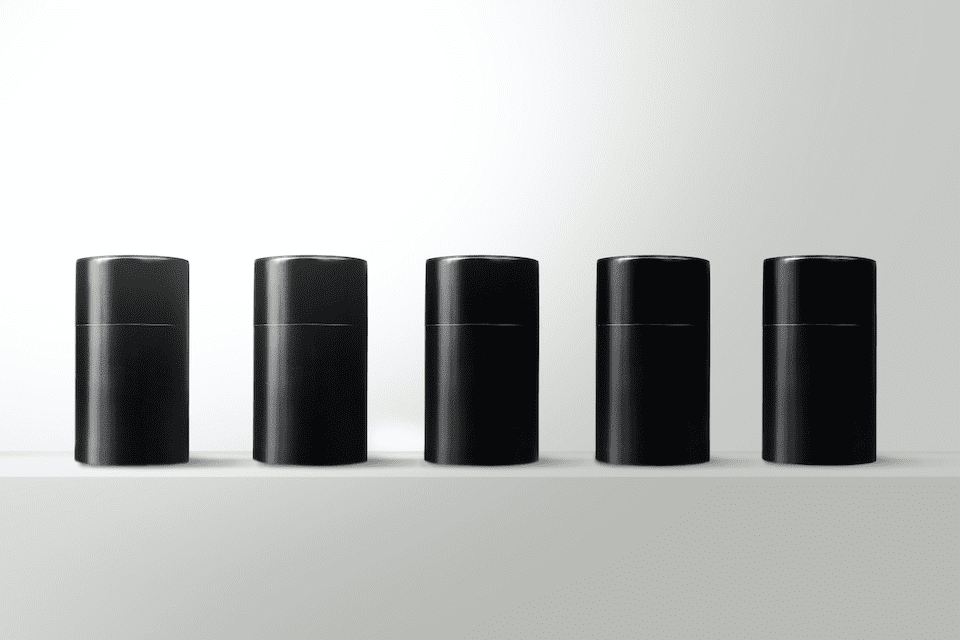 I found a 100 year old company that would create these heirloom quality canisters for me. They are handmade and will keep your tea leaves, coffee beans or anything that you need dry for years to come.
or read review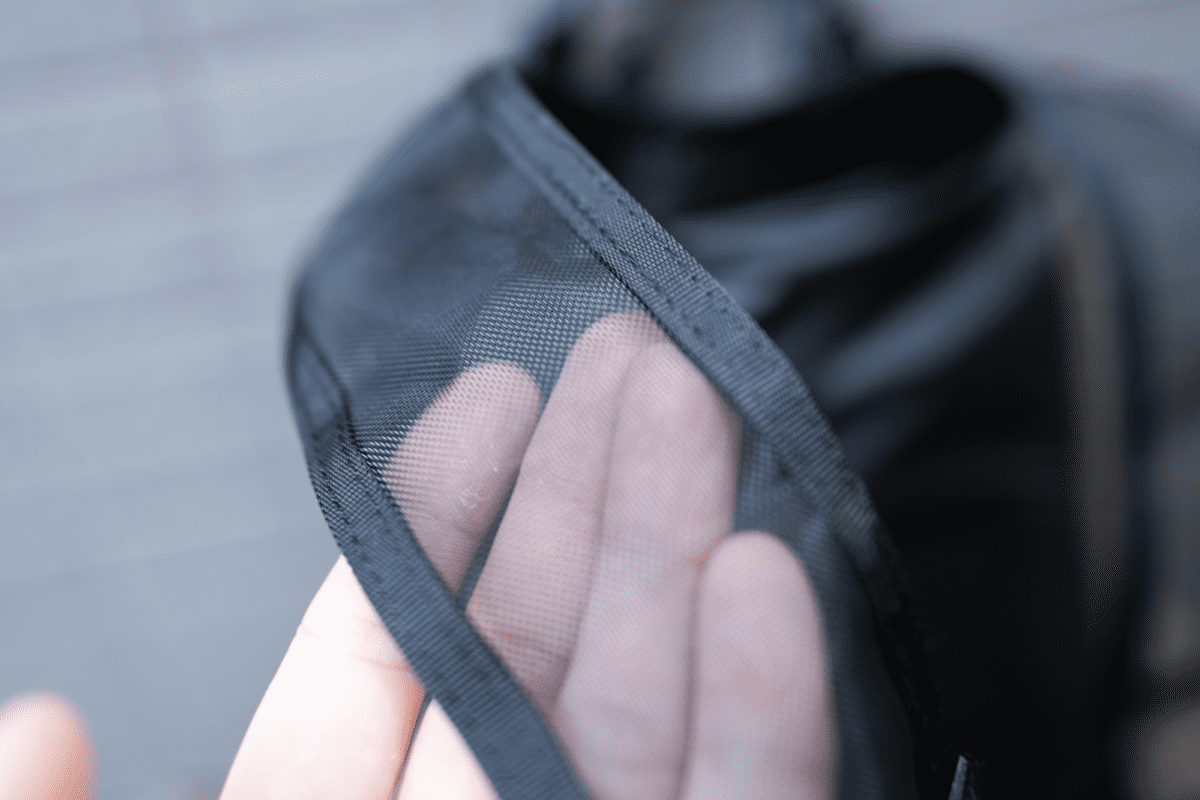 Usage
Organization
As with most packable backpacks, weight and packability are often prioritized. Therefore, there are minimal pockets on the Matador Freerain24 to reduce unnecessary fabrics and hardware that will add to the weight.
The main compartment has more capacity than meets the eye. I was able to fit the following comfortably.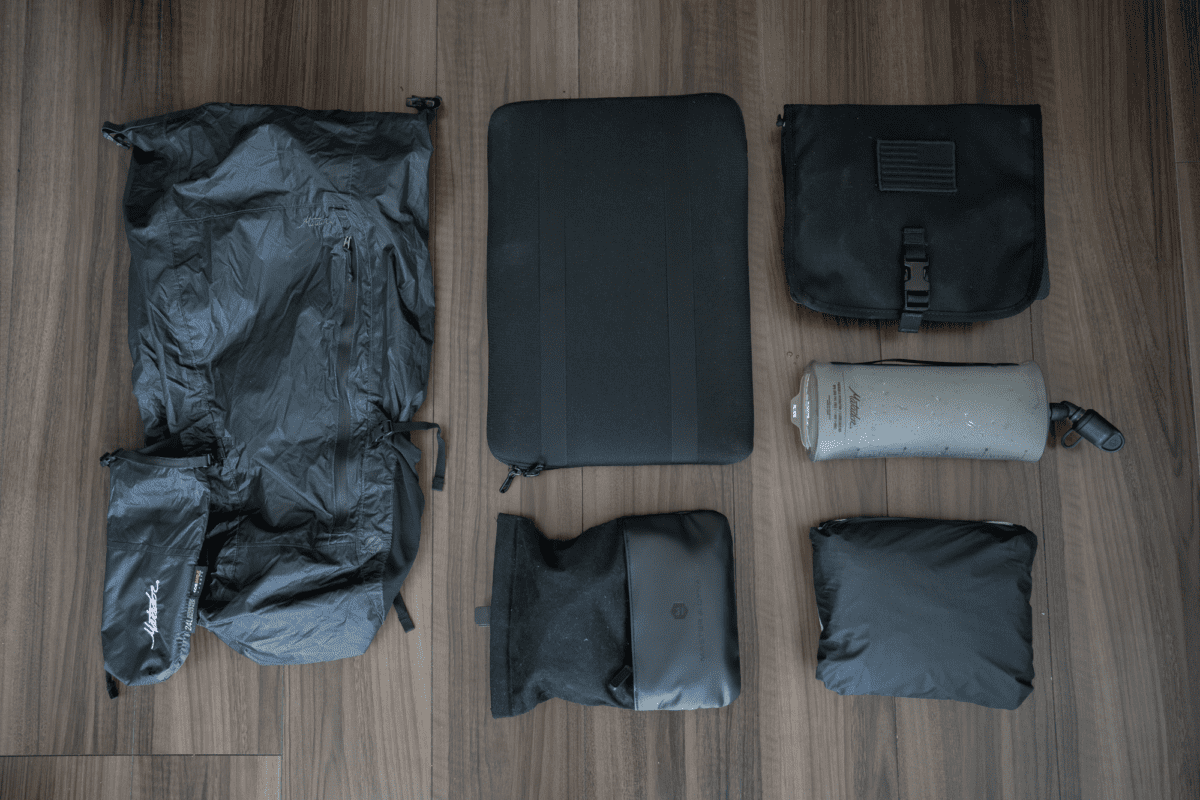 Apart from the main compartment, there is a slot on each side, as well as a quick access slot on the front of the Matador Freerain24. The side slot would fit a foldable umbrella or a small water bottle just fine. Even though the mesh is stretchable, you would not be able to securely fit something like a one-liter Nalgene water bottle. You might be able to squeeze it through, but it won't go all the way through.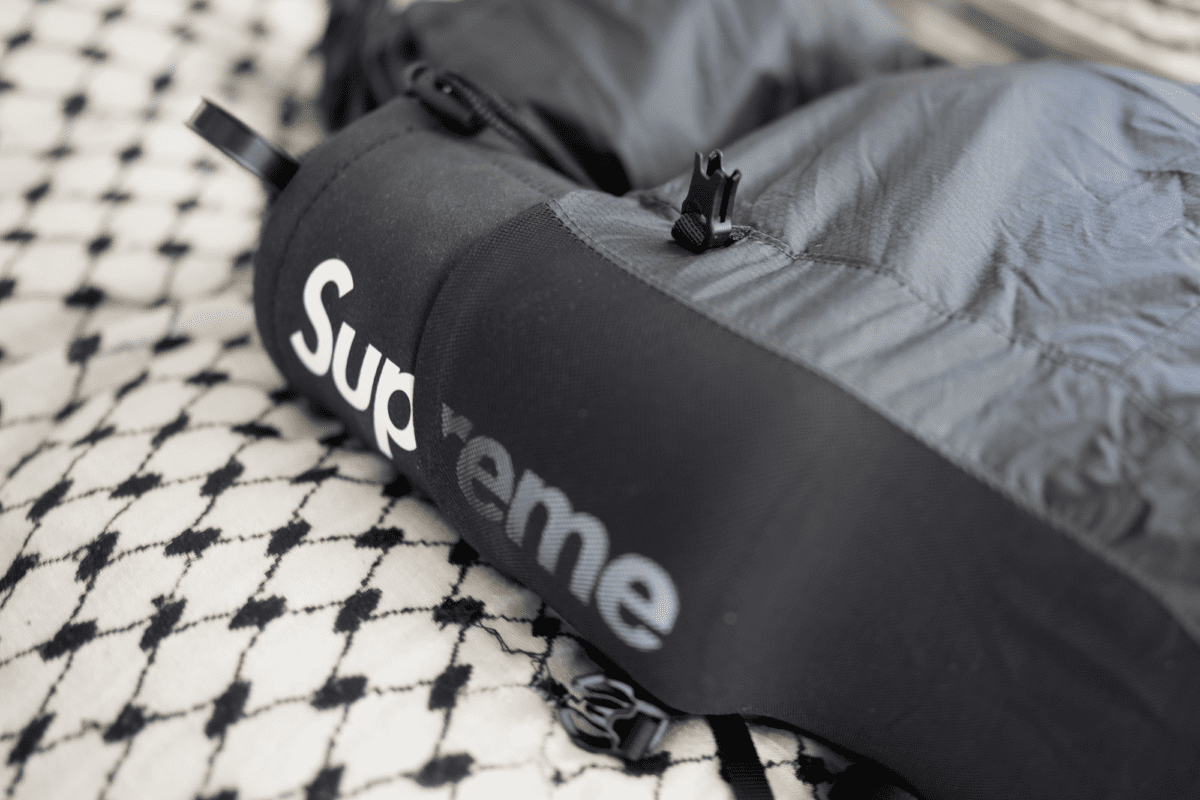 A packable water bottle like Matador's own would be perfect.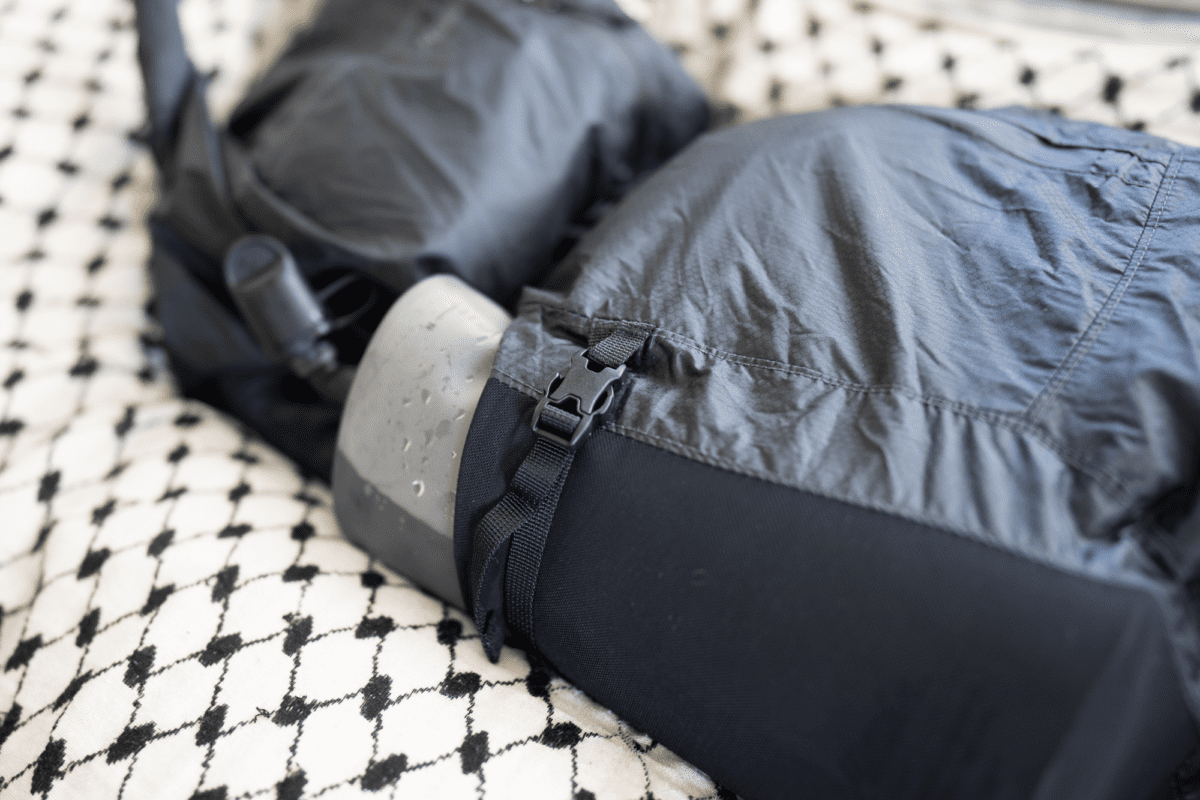 Storage Bag
Because of how thin the material is, I thought it would be easy to pack in and out of the storage bag it comes in. Taking it out is easy enough, but putting it back in requires quite a bit of effort. You need to get the right combination of folding it down just nicely and pushing it through the opening just right.
While the specifications claim that it can be packed down to 5 inches height x 3 inches diameter, which I believe to be true if you are the world champion of packing down a backpack. I usually use the entire storage bag, including the rolltop, to be able to get the backpack in easier. In that state, the storage bag is usually about 8 inches height by 9.5 inches diameter.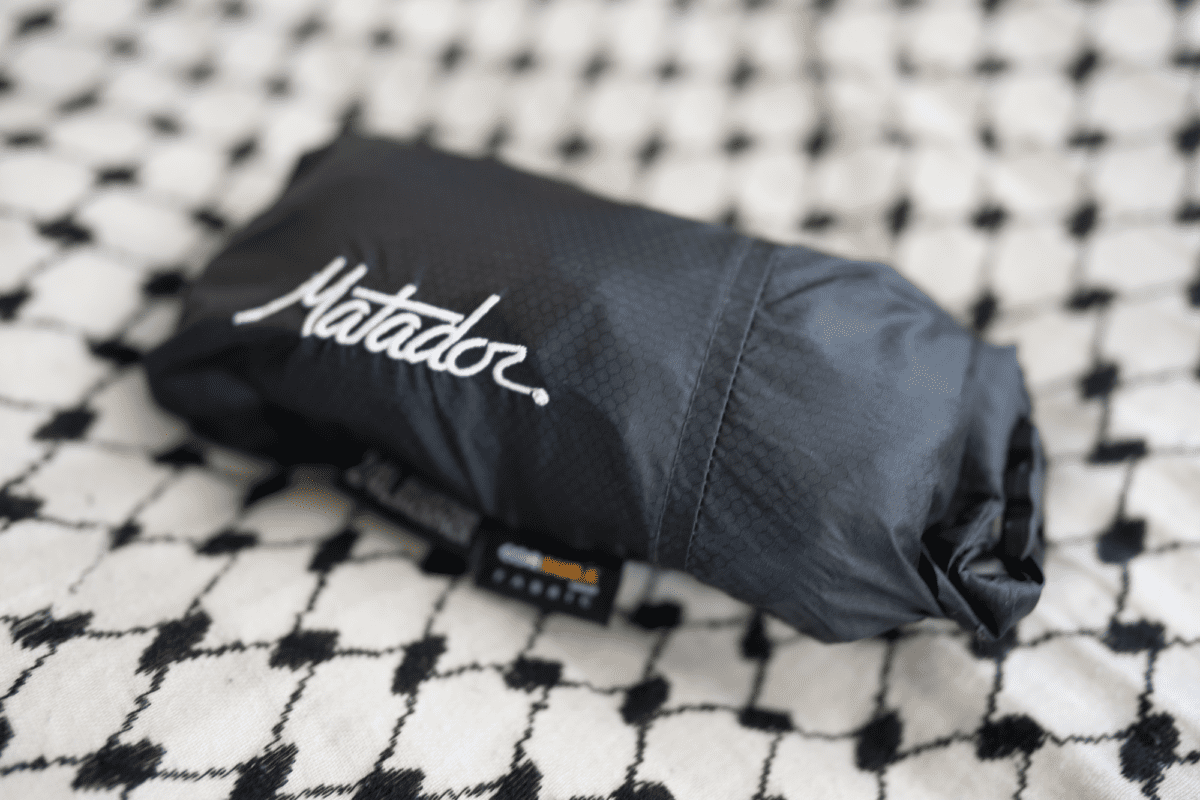 When removed from the storage bag, the storage bag can be attached to the clips on the top of the bag or the clips on either side where the water bottle slots are. There is a compression strap that goes across the middle which uses a larger clip so you cannot attach the storage bag to it.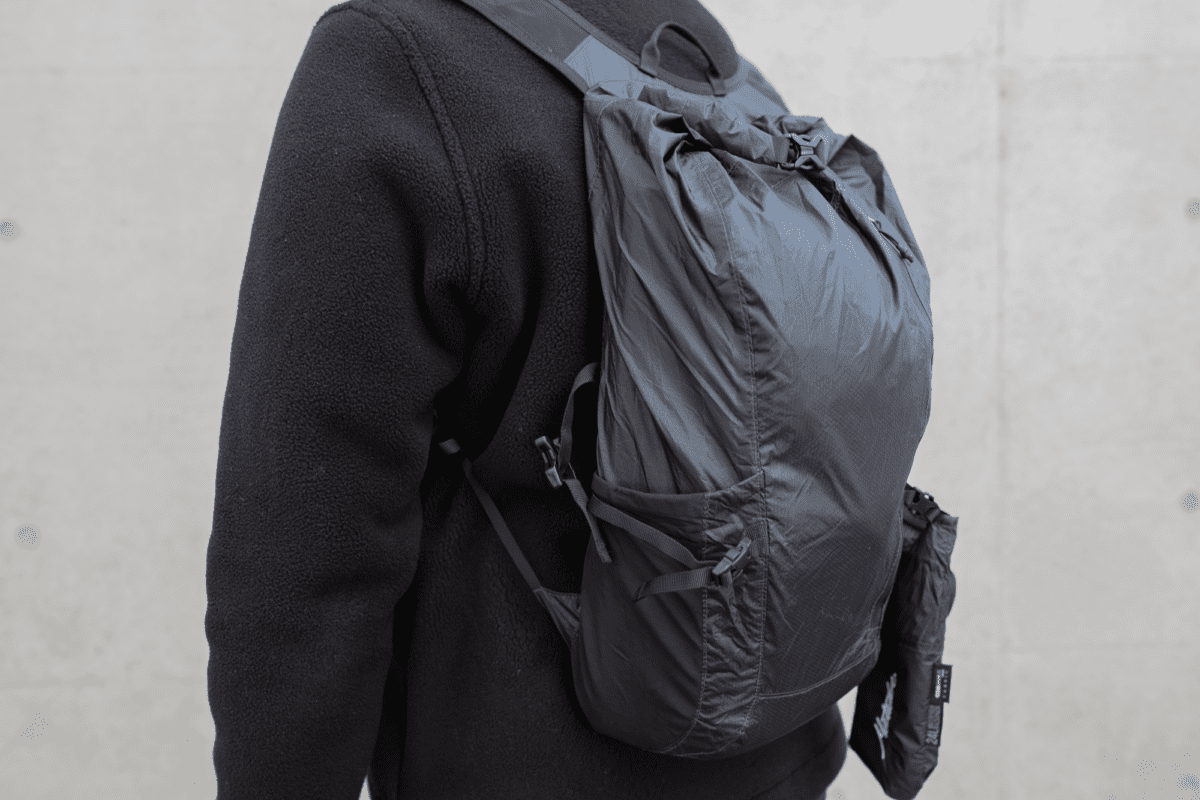 I also noted that the storage bag itself has a handle, which I thought was unnecessary given the weight of the bag.
Straps
There are a total of 5 straps on this bag. One for the rolltop opening, one on each side where the water bottle strap is, one compression strap that goes across the middle of the bag and a removable sternum strap.
The rolltop opening straps use the Hypalon material, so it's pretty tough which makes it easy roll it down. But given that I seldom stuff the bag to its full capacity, the straps are often loose without the tension of a full pack.
In that state, it's much easier to grab onto these straps, instead of the actual handles for that purpose.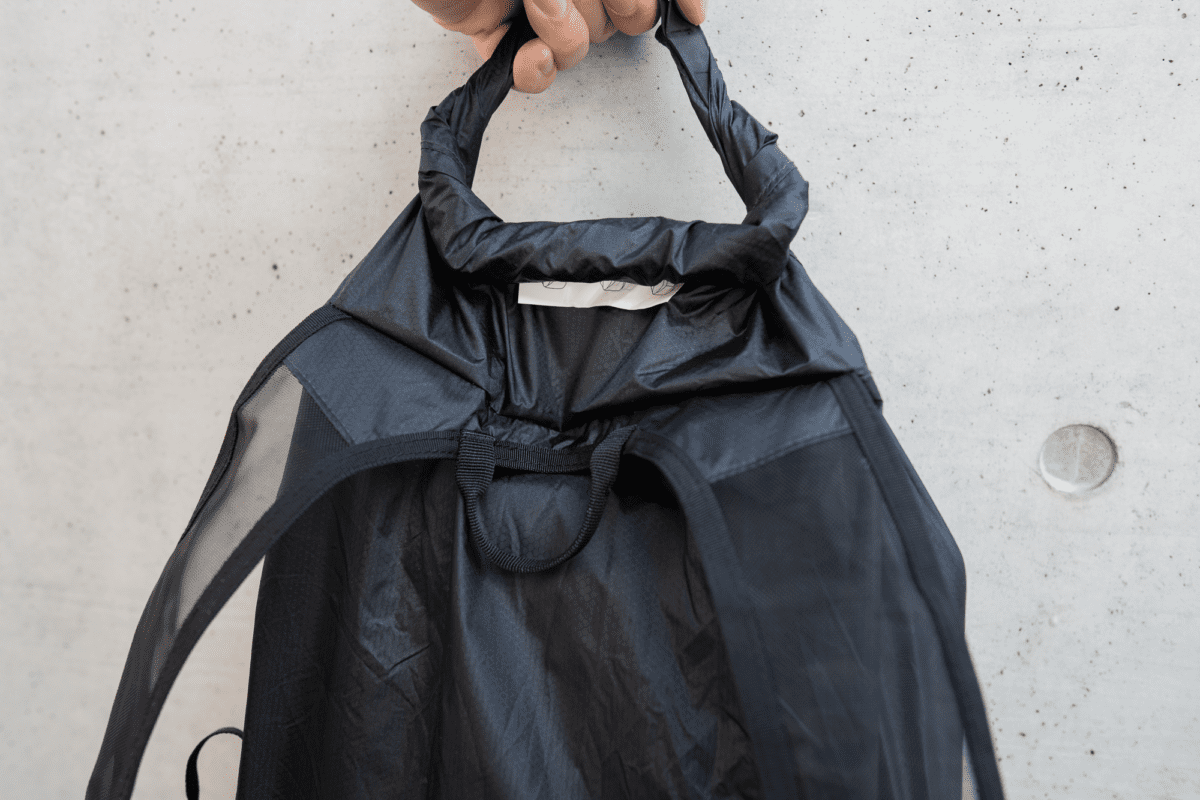 The bag also comes with a sternum strap. At this size of a bag, I don't expect you to be carrying heavy loads, so you don't really need a sternum strap to displace the weight. Luckily, the ones included on this backpack are removable.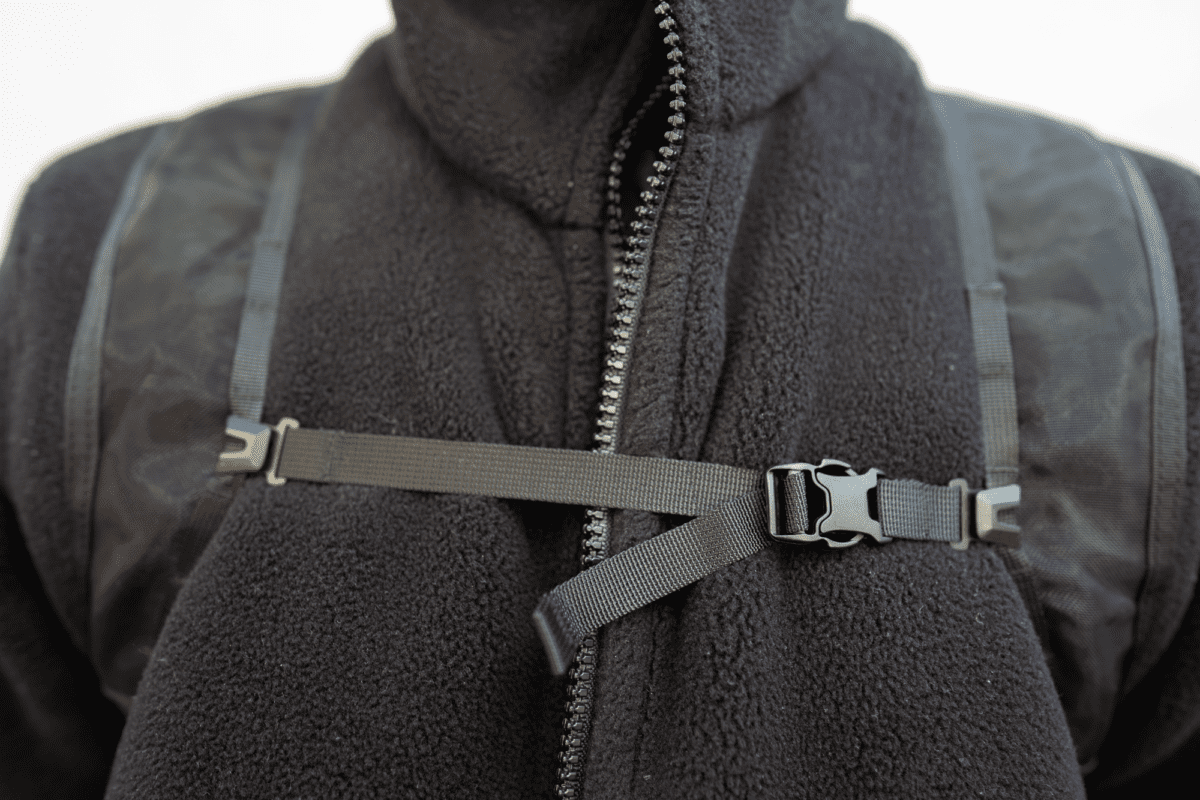 The two straps on the side let you secure the contents of the side slots by compressing it down. It's nice to be able to secure the neck of a water bottle, provided you have just the perfect size of a water bottle.
There is also a compression strap that goes right across the middle of the bag. I found them a little too short. If you wish to compress a full pack, they'll likely press it down in the middle as shown in the image below.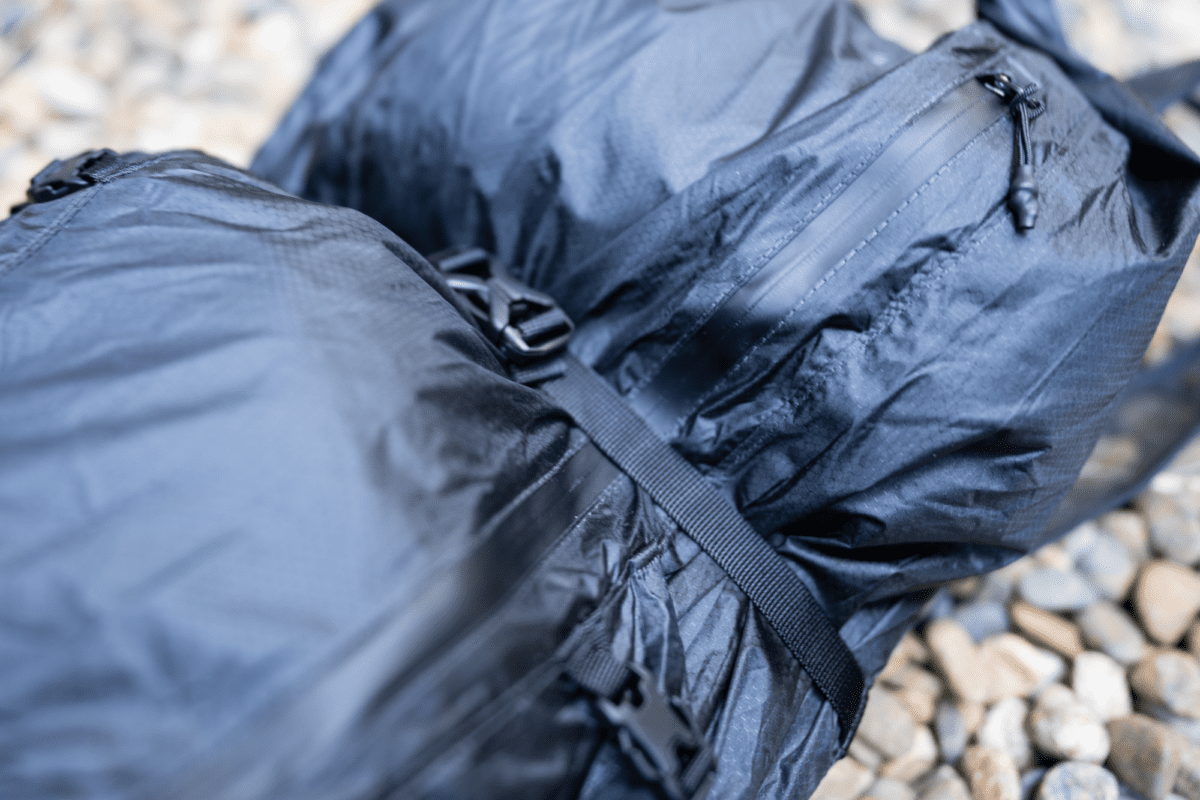 Conclusion
This is a great packable backpack and one that truly packs down to a small size without sacrificing much in terms of quality.
For packable backpack, you often have to choose between style or quality and this bag is leaning towards the quality side. This is perhaps more suitable for travelers who are exposed to less urban situations.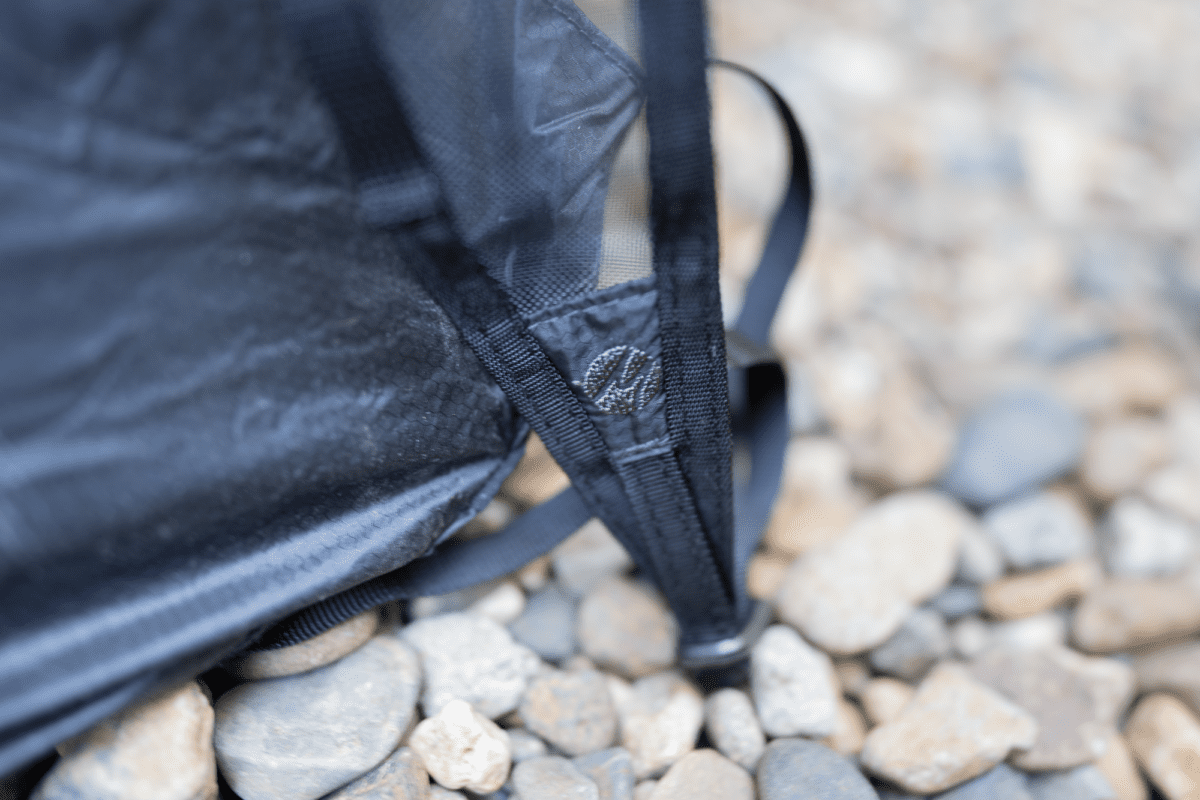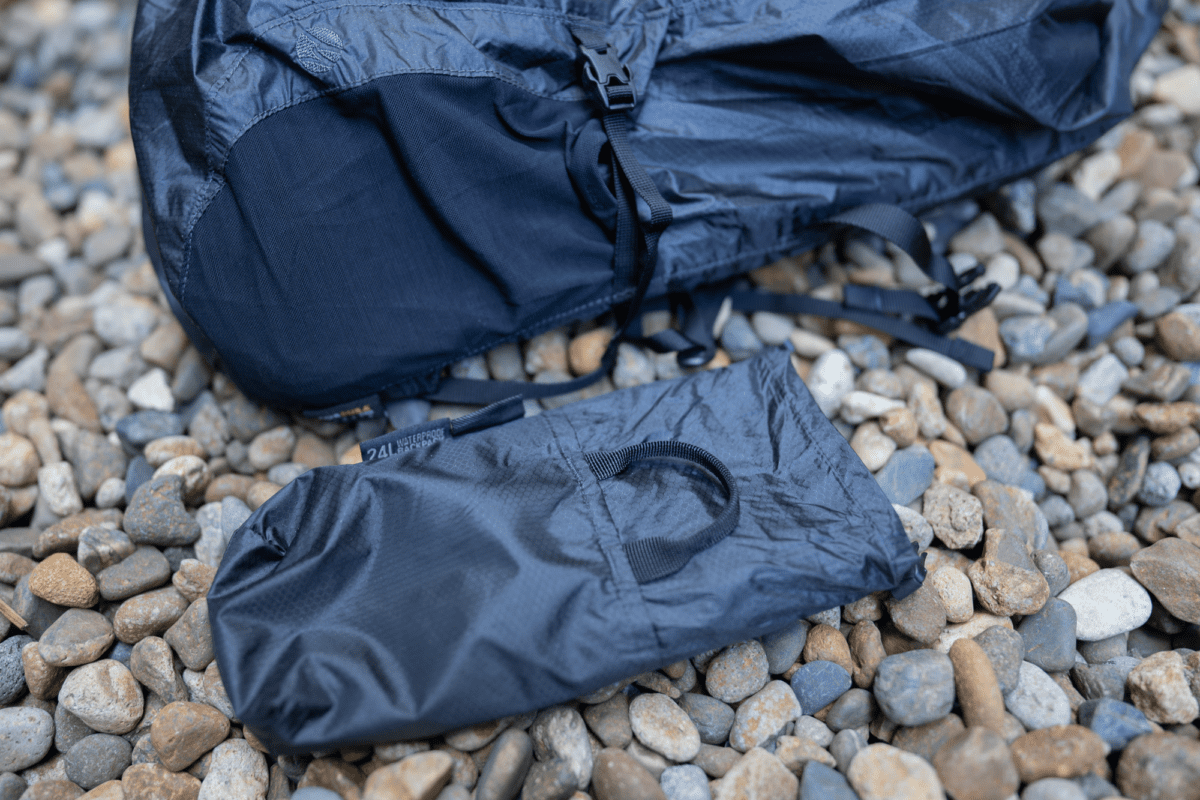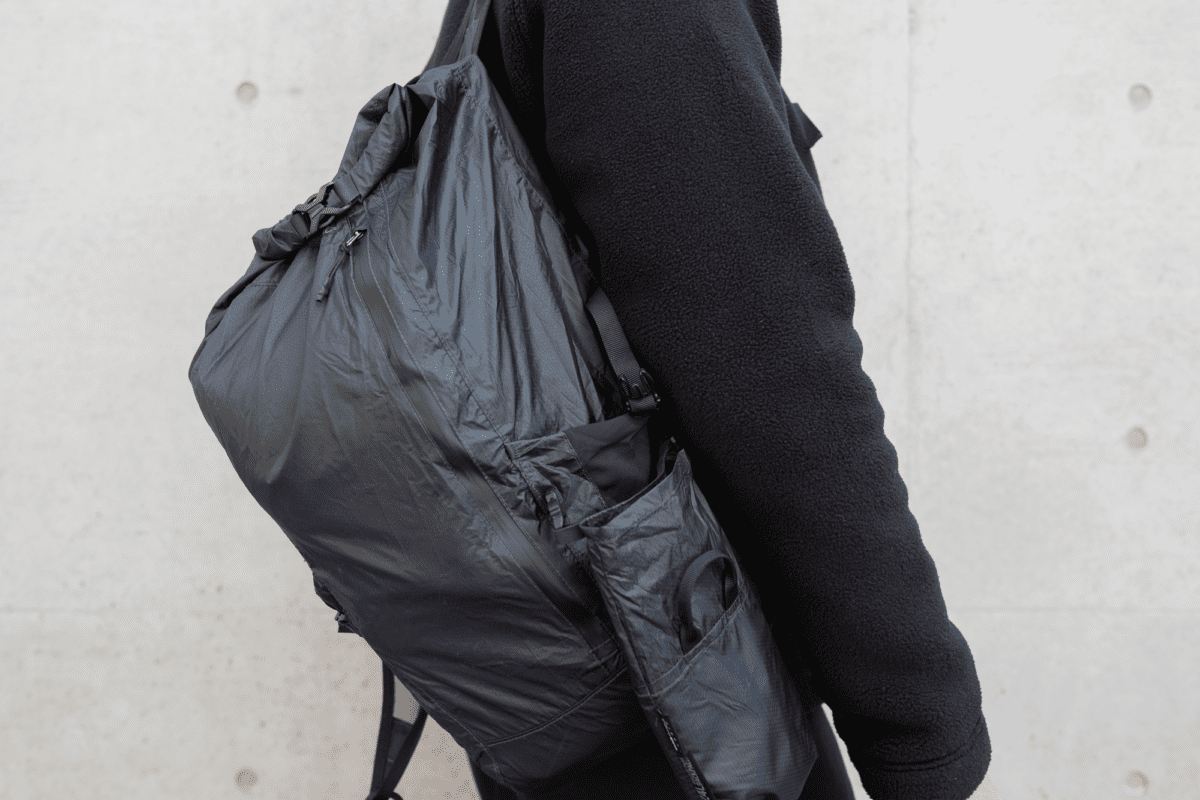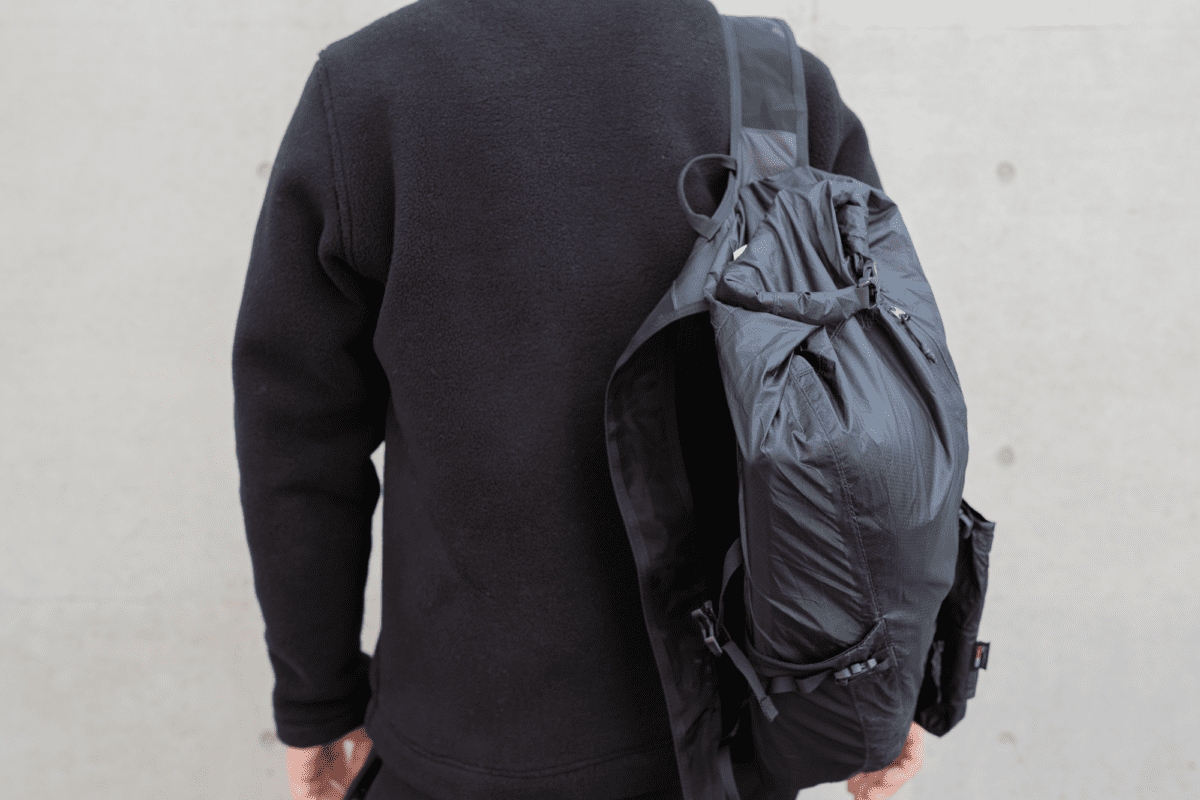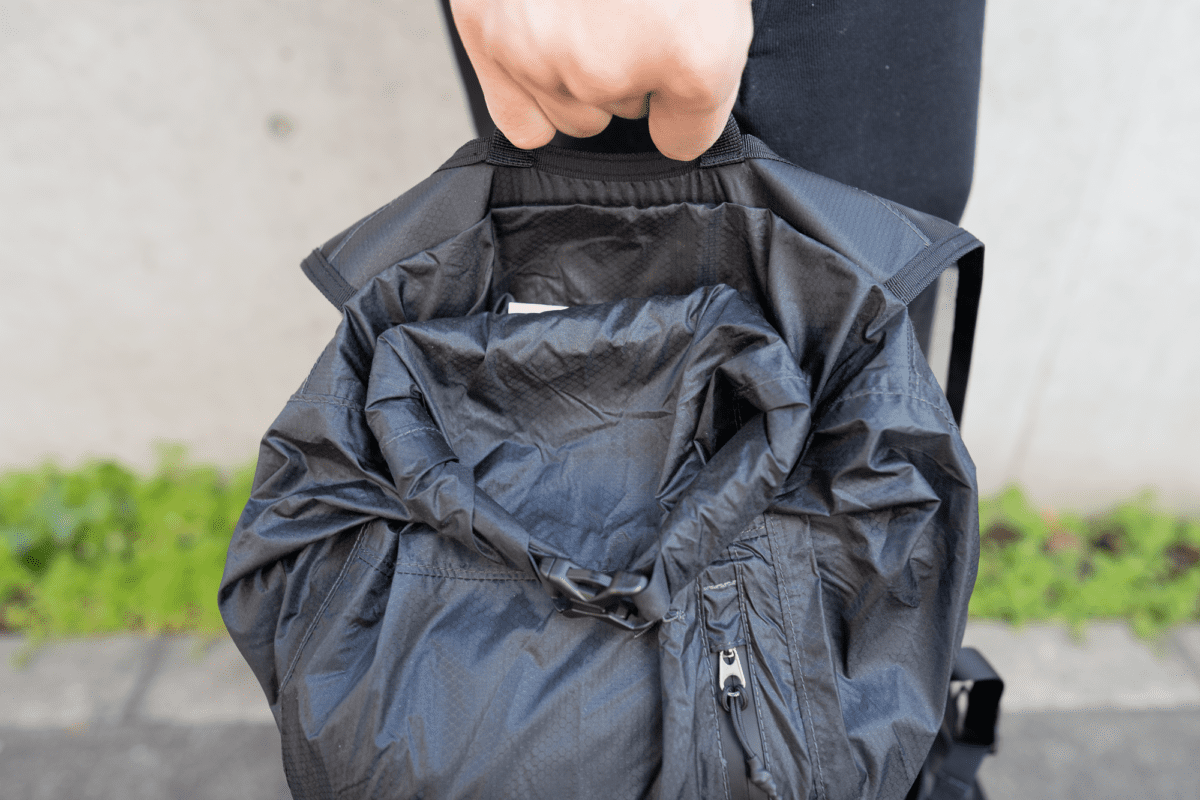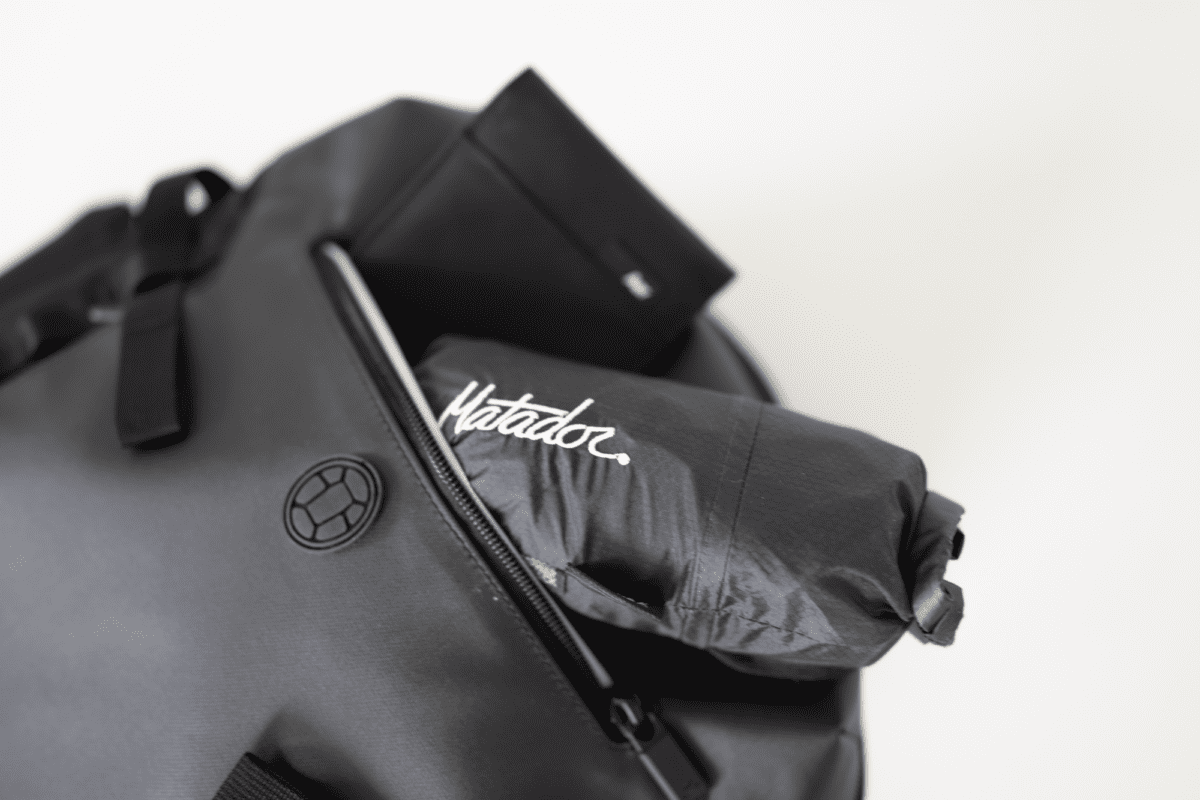 Like this review? See all of my in-depth reviews.
Also, consider supporting me by being a Patreon. Every cent given will go back into improving the content of this website.