This website is made possible by readers. I may earn a small commission when you buy through the links in this article at no extra cost to you. Learn more.
3 years after I moved to Japan, I decided that I was becoming complacent with learning Japanese. While I was better than I ever was, I was comfortable in my language ability that I didn't put in effort to study any more than I should. So, I decided to take the Japanese Language Proficiency Test (JLPT) this year. It was more than 4 years since I obtained the N3 level for JLPT. I took my last 3 tests (N5-3) in Singapore but it was the first time taking it in Japan.
For those who are trying to get certified for the first time in Japan, here is how you sign up and what you can expect.
First of all, one must know that there are only two tests a year, one in July and one in December. For 2017, the test date was 2nd July and 3rd December, of which I participated in the latter. For the latest dates, please refer to this link. Note that it might only show the next dates closer to the date itself.
Sign up
There are two ways to sign up. Online or by mail.
I would recommend anyone to sign up online. It is the most hassle free way.
First of all, create an account at MyJLPT here.
After you have an account and is logged in, you will be access more detailed test information.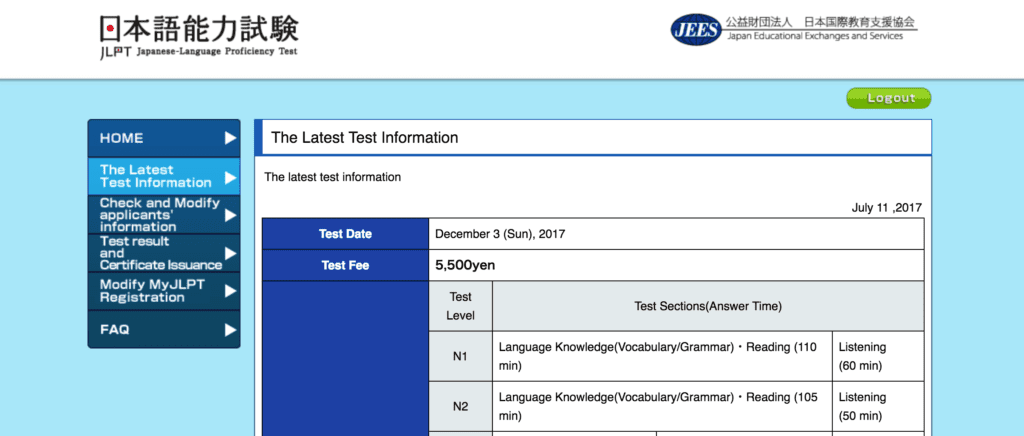 Based on 2017, here are the pickup of some the important information you should know
Cost 5500 yen
Application Period August 31 (Thu) ~ September 29 (Fri) , 2017. Only during this period will you be able to sign up for it after logging in.
After signing up, you basically have to do nothing except study. About 2 weeks before the actual test date, November 17 (Fri) , 2017 in my case, you will receive a mail with the test voucher.
But no one likes ads, so I got rid of them. If my articles helped you, I ask for your support so I can continue to provide unbiased reviews and recommendations. Every cent donated through Patreon will go into improving the quality of this site.
It will look something like this.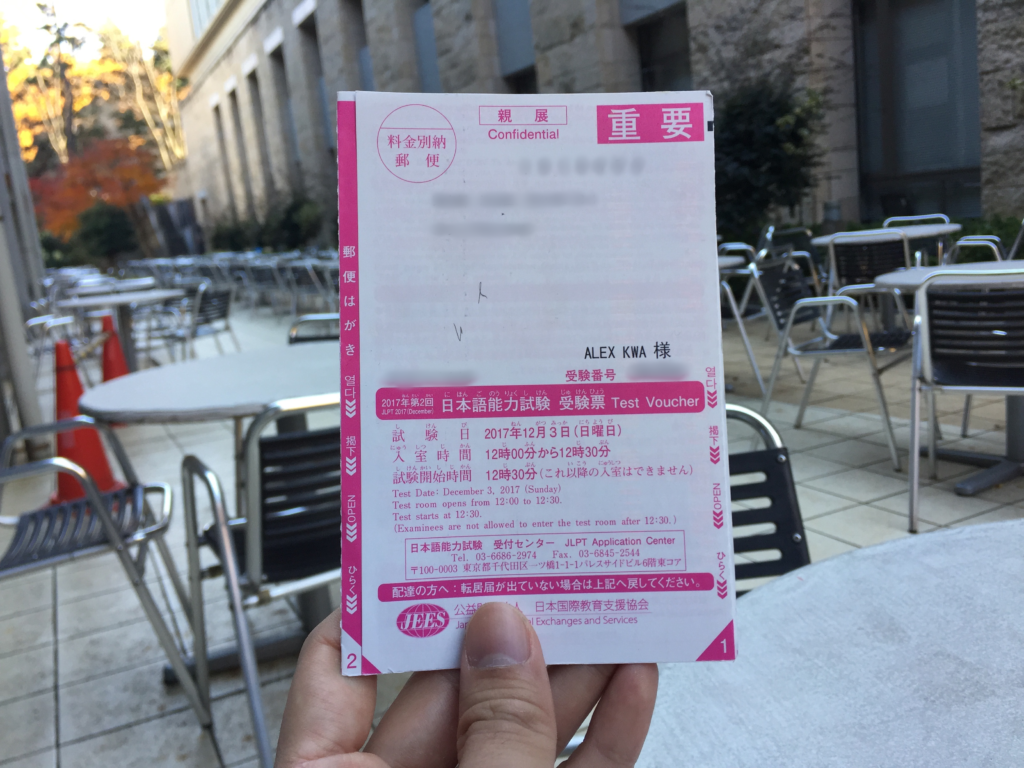 The exact time and location will be posted within the leaflet. Be sure to bring it along for your test as it will be used to validate that you have applied to take it.
If there are any mistakes in the data on the voucher, you are able to change the details between Dec 4 – 15. You can do so by photocopying the original, making the corrections on the copy and sending it to the below address.
〒100-0003 東京都千代田区一ツ橋1-1-1 パレスサイドビル6階東コア
日本語能力試験受付センター 行
or faxing the JLPT Application Center at 03-6845-2544.
If you change it after this period Dec 4-15, you would have to pay ¥1,000. You should call the application center to should this be your case.
Getting to the test
My test was held at Keio University Hiyoshi Campus. It was lovely weather and I took the Fukutoshin line from Shinjuku Sanchome which continued as the Tokyu Toyoko line after Shibuya Station. I fondly reminisce the 2015 Japanese movie, "Flying Colors" about a bad girl who turned over and finally got into Keio University as I walked past the beautiful autumn leaves towards the test building. There were plenty of signs a long the way pointing you towards the right building. If that isn't enough, follow the flow of foreigners although it might be hard to differentiate as most of them were asian looked like they attended the university.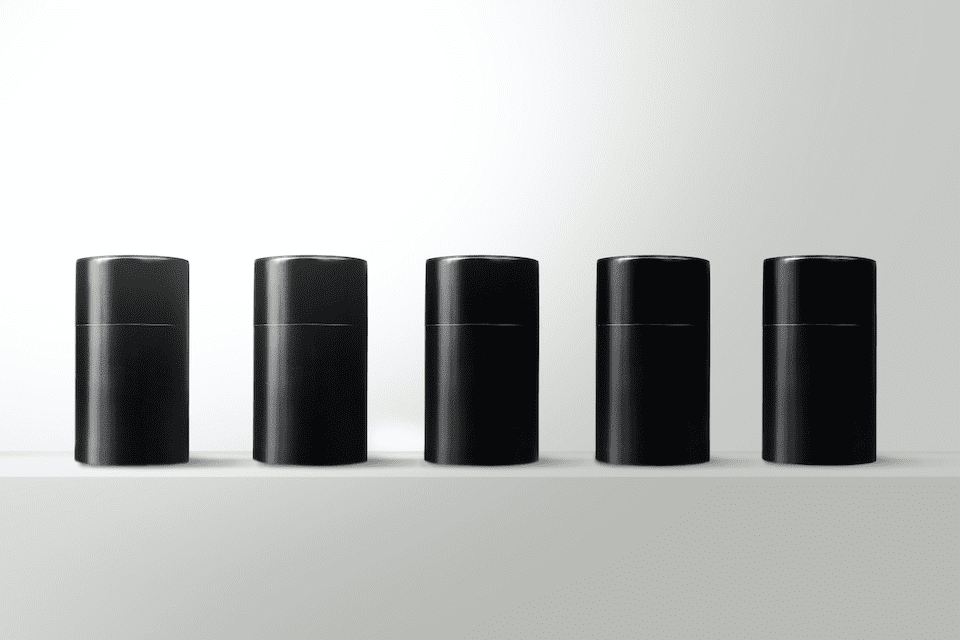 I found a 100 year old company that would create these heirloom quality canisters for me. They are handmade and will keep your tea leaves, coffee beans or anything that you need dry for years to come.
or read review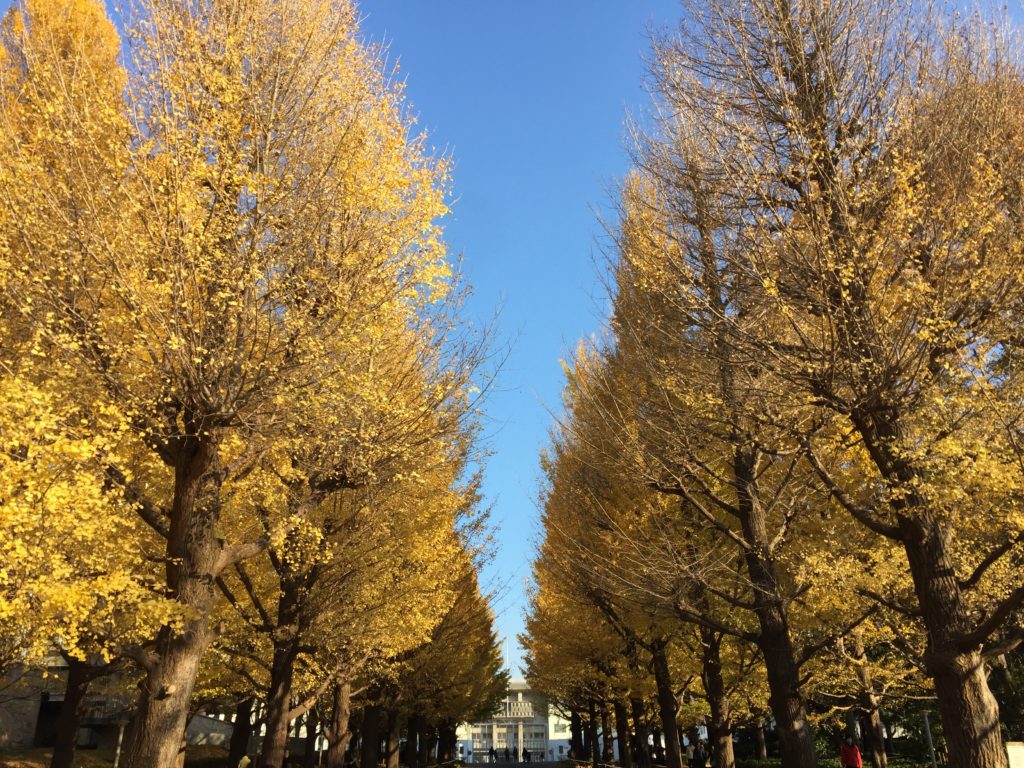 Posted on the door were the classrooms that you need to go to based your registration number. We were only allowed entry into the building at 12 but I was a little early, so I went to the nearby seating area to look through my notes.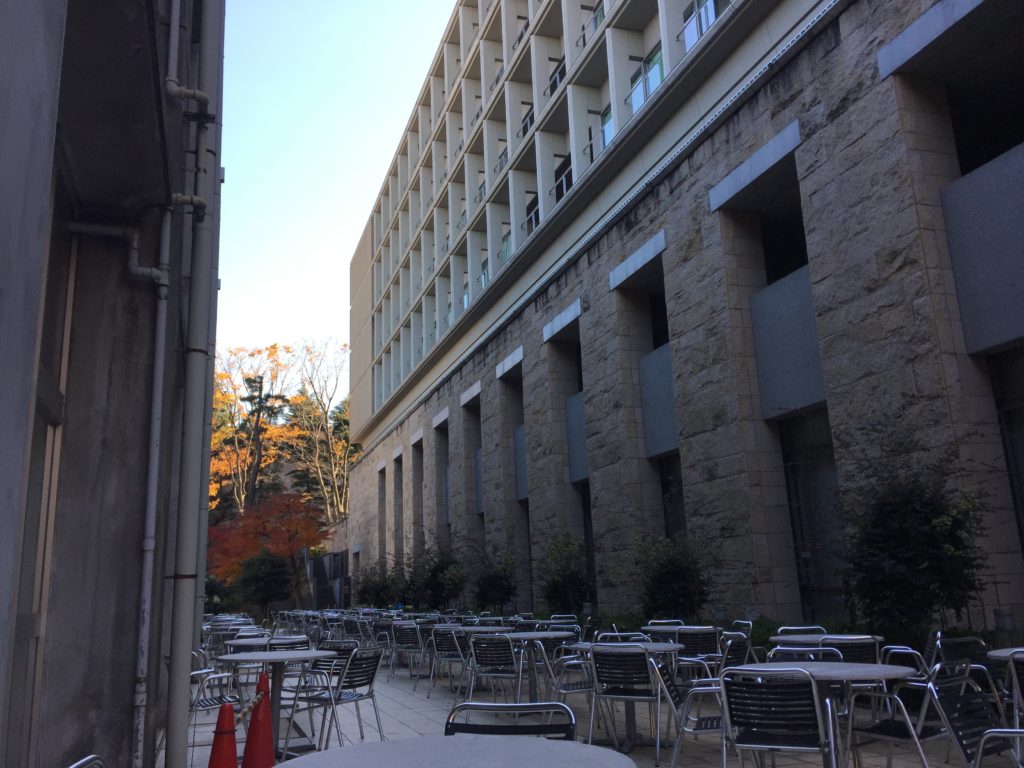 When it was 12, I entered the building and my classroom on the second floor. There will be numbers on each table and you should sit on the one that corresponds to your registration number. If you are unclear, you can ask the invigilator who will direct you to your seat.
The Test
For obvious reasons, the following rules and practices are adhered to
No hand phones. There will be a clear plastic bag on your table. You will be asked to turn off the power of your phone and keep it into your bag when the test is about to start.
No food and drinks. Not even water.
The only things allowed on your table are pencils, erasers and wristwatch. Should you use a mechanical pencil, lead refills have to be taken out of their case, and the case should be kept.
You cannot write on your eraser.
You have to use a pencil to mark the answers. Using a pen will cause the answer to be not counted. Should you forget your pencils or erasers, the invigilator should have a few spares on hand to lend out.
You cannot talk to other participants during the test.
If you drop something, you should raise your hand and ask the invigilator to pick it up for you.
You cannot leave or enter the classroom during the test. Not even for the washroom.
You will NOT be informed when the test is about to end. The tests also starts and stops according to each invigilator's timing except for the listening section, where the CD will be placed over the shared PA system.
If you break any of the above rules or do something suspicious, you might be issue a yellow card, which will serve as a warning. If you receive two yellow cards, that equates to a red card, which means you are to leave the classroom at once and void your test. Of course, you might receive a red card directly as well should you break any serious rule.
There is is also a break of about 40 minutes before the listening.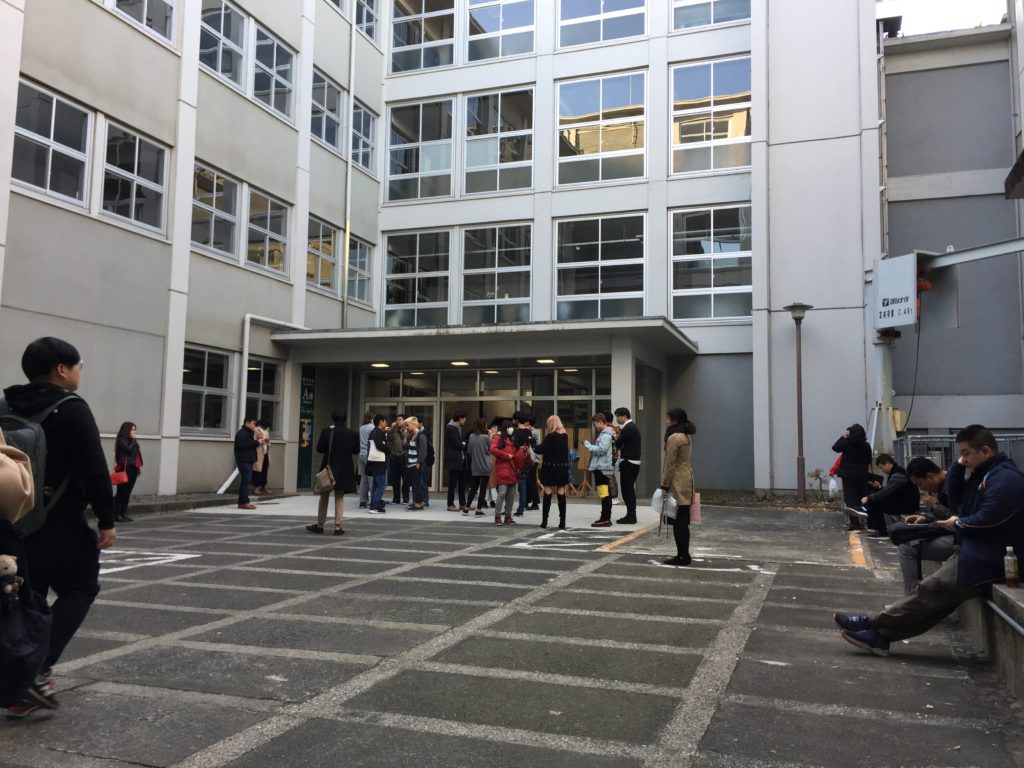 When will I get my JLPT results?
For those who took the December exam, the test results will be sent to you by mail in February the next year. If you followed my recommendations to sign up online, you will be able to see your results late January by logging in into MyJLPT. The exact dates are not made public in order to manage expectations in case they can't grade the papers in time.
Are you in town to take the test? Consider staying in an Airbnb since it is the cheapest accommodation you can find in Tokyo. Sign up with this link and get up to $40 off your first stay. Looks complicated? Here's a step-by-step guide to follow.