This website is made possible by readers. I may earn a small commission when you buy through the links in this article at no extra cost to you. Learn more.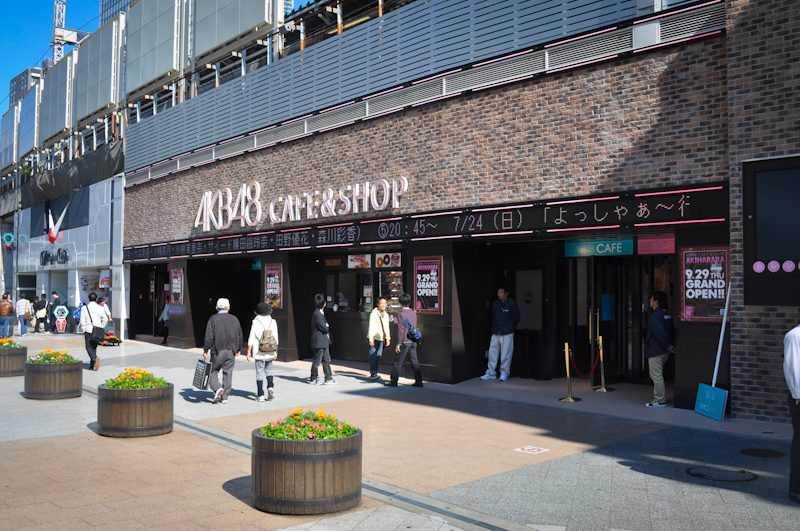 The AKB48 fever is still running high in Japan as I stumbled onto the newest branch of the AKB48 Shop and Cafe, just outside the Electric Town exit of the JR Akihabra Station. You wait by the door as a cute girl in the AKB48 uniform of a vest and checked skirt will usher you to your seat. I was sat down on one of the two facing counter down the middle of the cafe. I'm pretty sure they meant to tease me with this position when they bend slightly to clean the opposite counter.
As she beams ear to ear while rambling in Japanese, making my heart flutter as I looked through the menu. I usually ask what's the most popular item on the menu and in this case, she pointed out the Curry Rice with Egg set meal. I'm stuffed from my lunch at Sukiya but I couldn't resist her effort to speak in English. With her witch hat (it was close to Halloween) and killer smile, there wasn't much I could do.
The meal comes with a AKB48 coaster which you pull out of a pile, earning you one with a random member as the picture. I got Haruka Ishida, whoever that was. The Curry rice with egg came complete with a heart shape drawn with ketchup, similar to some of the maid cafes around. Watching a loop of AKB48 music videos and observing the surroundings, the patrons doesn't seem limited to just males. There was a fair amount of females, some even come alone. They must really like AKB48.
The food was surprising decent, which I wasn't expecting from a novelty cafe as such. I have to say the real draw are the extremely cute girls, which are better than most of the maid cafes I've seen. After about thirty minutes, I was slowly overwhelmed by all this AKB48 cuteness and had to reluctantly go back to the real world.