This website is made possible by readers. I may earn a small commission when you buy through the links in this article at no extra cost to you. Learn more.
If you are looking for the best tonkatsu in Shinjuku, and possibly Tokyo, you've come to the right place.
I've been living in Tokyo for the past five years and all these while I've been living in the same place, near Shinjuku. It's not exactly a usual area that people would choose to stay, but I've managed to get a small but nice apartment by paring down the amount of my belongings.
Even before I started living in Japan, tonkatsu has been one of my favorite food. There's something about the huge chunks of deep-fried breaded pork cutlet with shredded cabbage and miso soup that makes me regard it as a true soul food. Naturally, I started trying to find the best tonkatsu in Shinjuku, so I can have a usual spot to ease my morning hangovers.
It was only after a few months moving here that I discovered this gem, which I now frequent. And it was not a moment too soon. This tonkatsu place, just five minutes from where I stay, is popular for great tonkatsu at affordable prices.
I've probably tried almost every other tonkatsu in the Shinjuku. Including:
Ouroji (王ろじ)
Tontake (とん竹)
Sanze Shokudo Katsu Dokoro (三是食堂 かつどころ)
Even on Tabelog (like Yelp of Japan) they are at the top of the list. So, it wouldn't be an understatement to call this the best tonkatsu in Shinjuku.
Where is the best tonkatsu in Shinjuku?
The best tonkatsu in Shinjuku is located on the second floor in an alley on the south side of Shinjuku. It's called Tonchinkan (豚珍館). So low profile, that you would probably not have seen this before restaurant on any travel guidebook so far.
Come early or late
Long, but fast-moving queues form during meal times regardless of which day of the week. To beat the lunchtime crowds, I would suggest coming very early at 11 am or very late, at about 2 pm.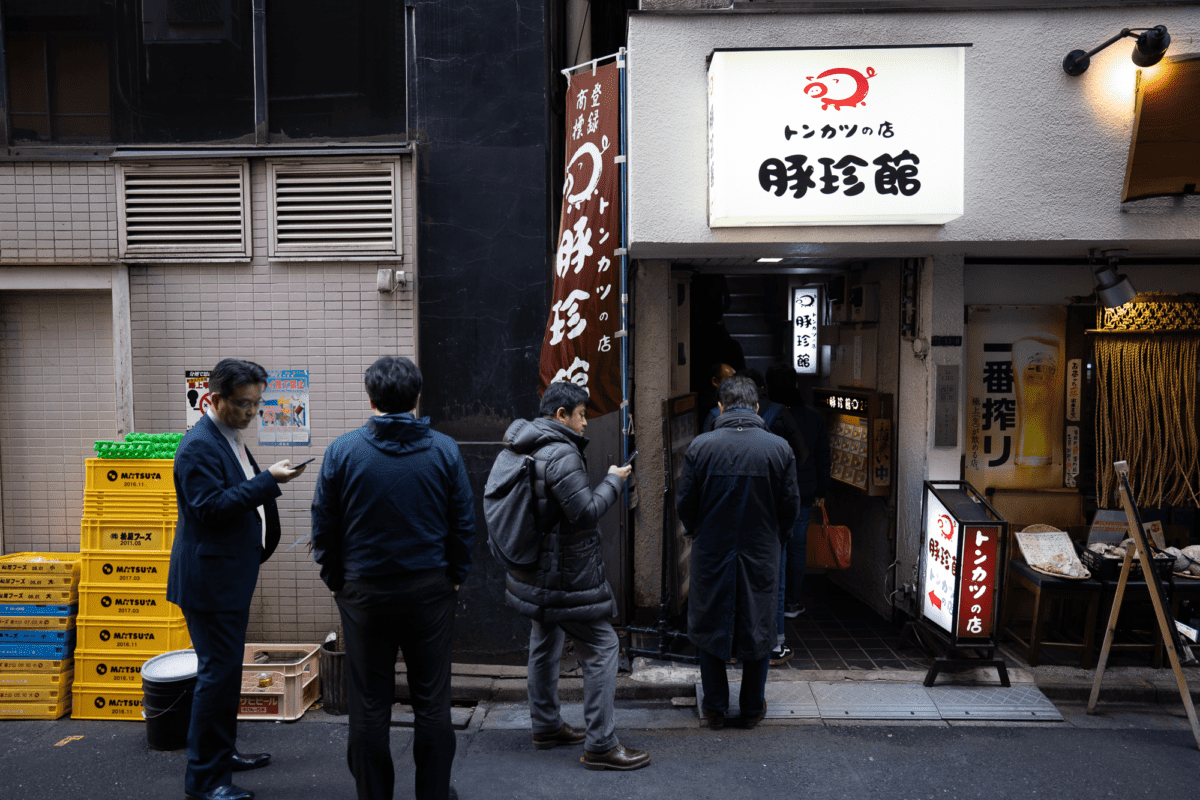 Even on weekends, you will see a vibrant mix of salarymen, Korean tourists and solo foodies coming here. You queue on the stairs, where the menu will be available on the side of the wall. The staff will ask for your order while you are still in the queue, so the food comes almost as soon as you take a seat. Don't panic. If you are undecided just order the "tonkatsu", which is their most popular dish. After five years of eating here, I order this almost every time.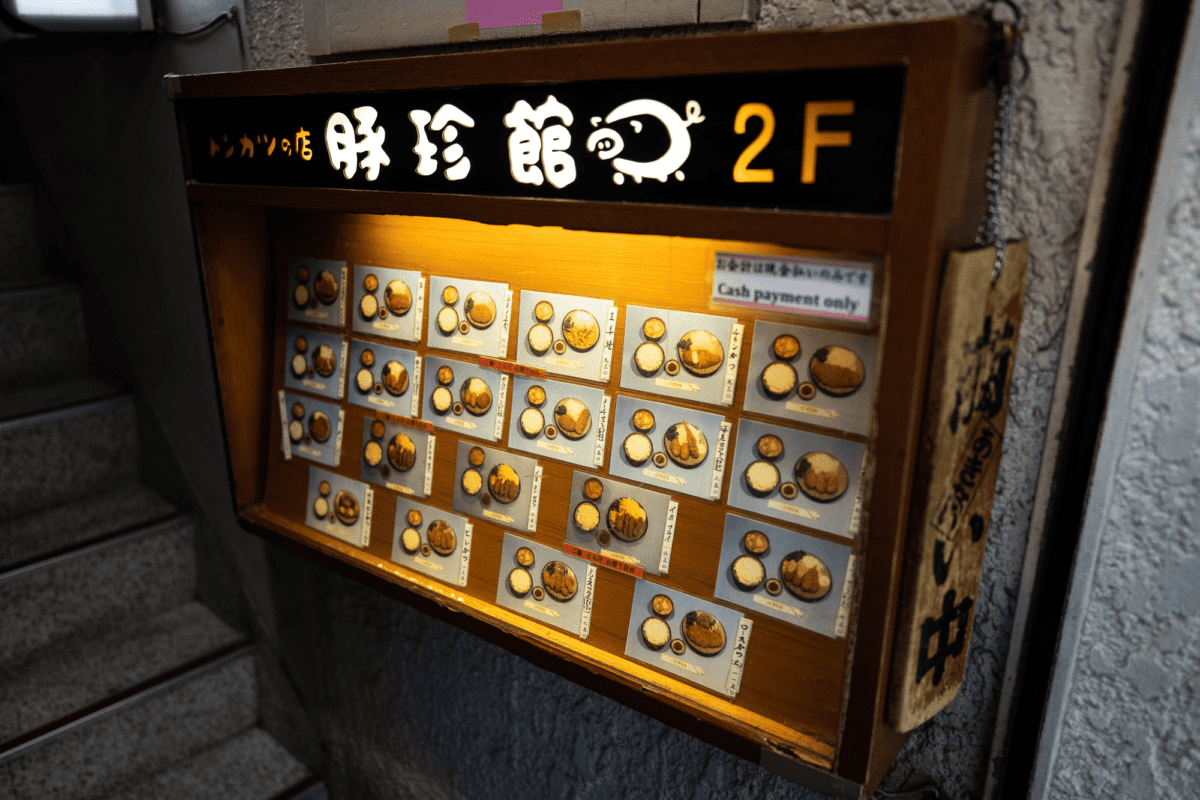 Don't be put off by the long queue as they go really fast. There is a chance that they might sit you opposite another customer on the same table in order to accommodate more customers, so be prepared for some awkwardness if you are seated opposite a couple staring at you wolf down your tonkatsu.
But no one likes ads, so I got rid of them. If my articles helped you, I ask for your support so I can continue to provide unbiased reviews and recommendations. Every cent donated through Patreon will go into improving the quality of this site.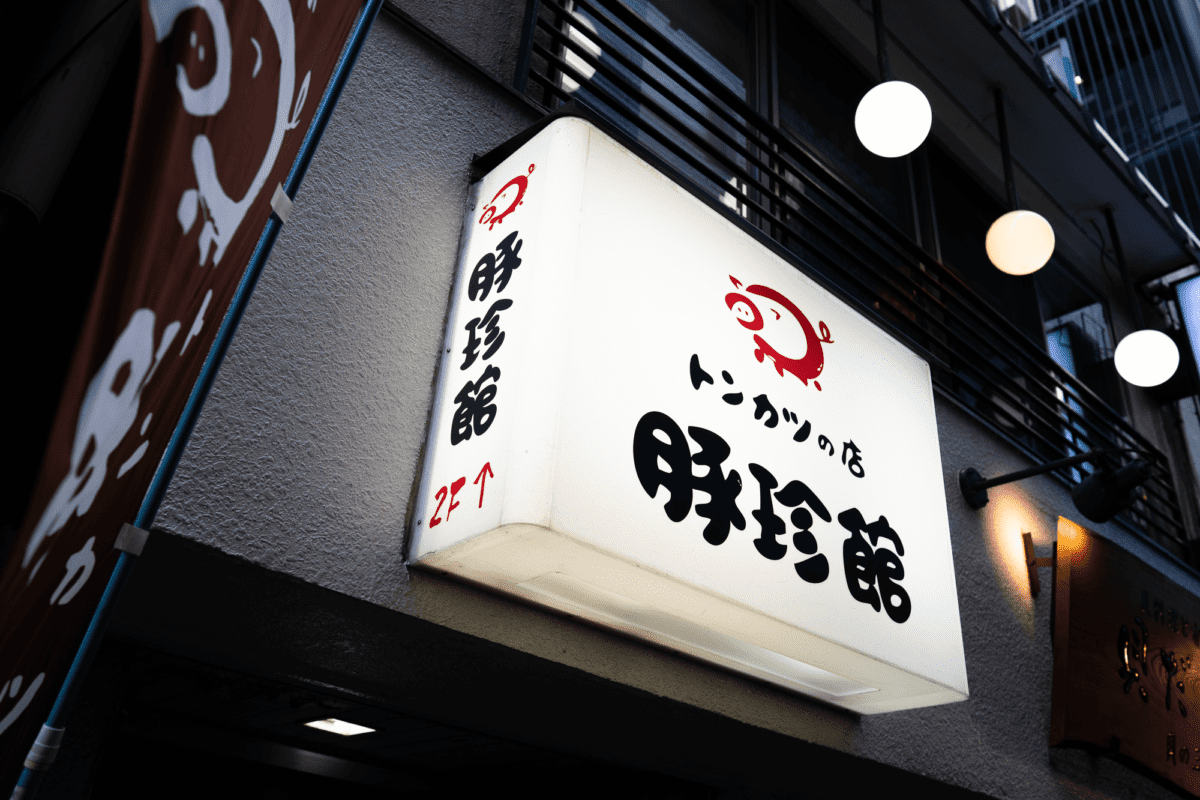 When choosing a dish, you can't go wrong with chicken katsu or tonkatsu (¥950). On days I just wanna get full without spending too much, I would go for the ika katsu or squid cutlet (¥620).
All of the meals come with free refills of rice and tonjiru (pork) soup, so you are bound to be full no matter what you order. In fact, the staff will frequently ask if you like to refill the moment they spot your rice or soup almost finishing.
This time, I ordered tonkatsu, which came promptly. The tonkatsu meal comes with a large serving of shredded cabbage, tonjiru soup, a bowl of rice, pickles, and tea.
If you are female, your rice bowl will default to a lesser portion, but of course, you can ask for seconds.
How I eat my tonkatsu at the best tonkatsu in Shinjuku.
I've been coming here for close to five years now and I've gotten eating tonkatsu here down to an art.
First of all, I always go for the standard "tonkatsu". It's the best tasting and best bang-for-buck item. They have more expensive variations like "hire katsu", but I've never felt the need to pay more for those.
In front of you, there are a few sauces you can put on to enjoy the tonkatsu more. This is how I do it on each item.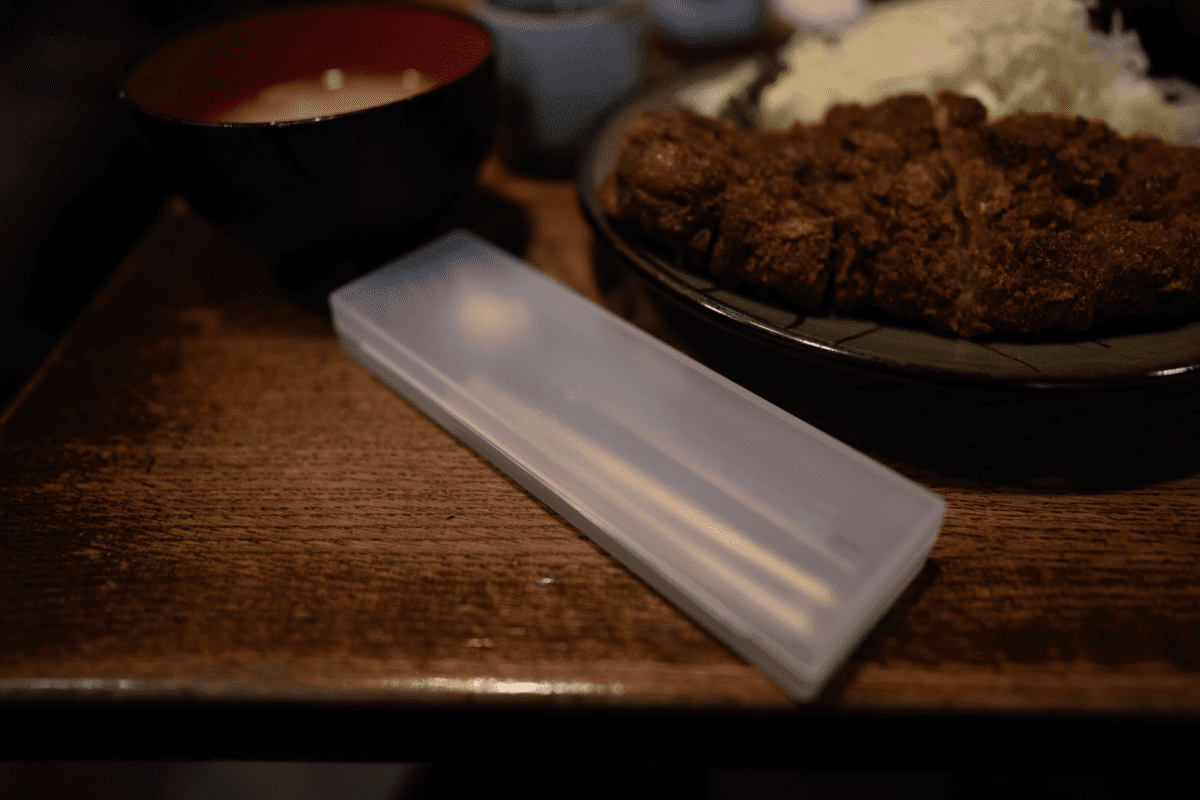 Cabbage
I put on a copious amount of sweet chill sauce on my shredded cabbage.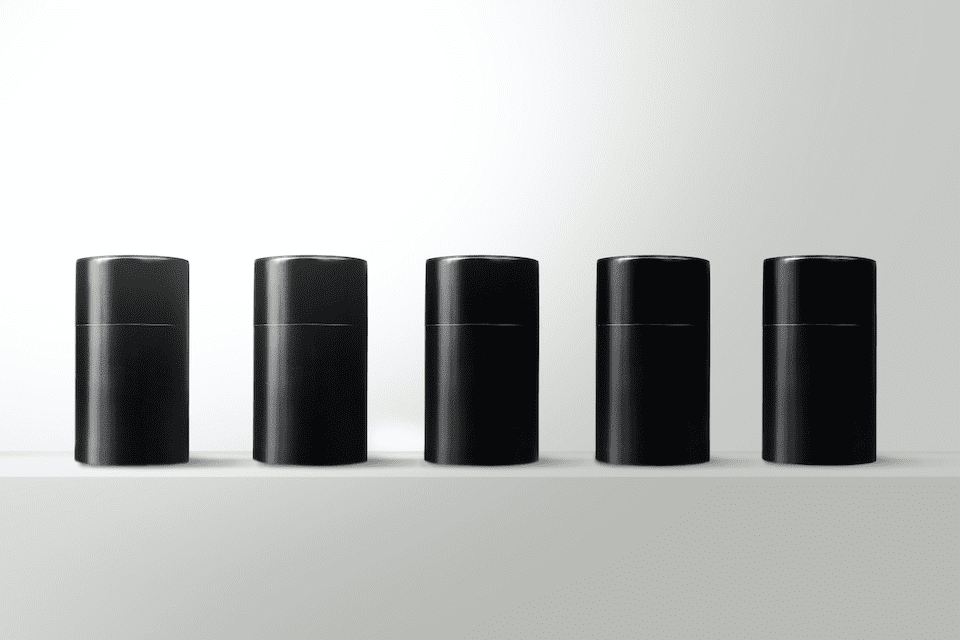 I found a 100 year old company that would create these heirloom quality canisters for me. They are handmade and will keep your tea leaves, coffee beans or anything that you need dry for years to come.
or read review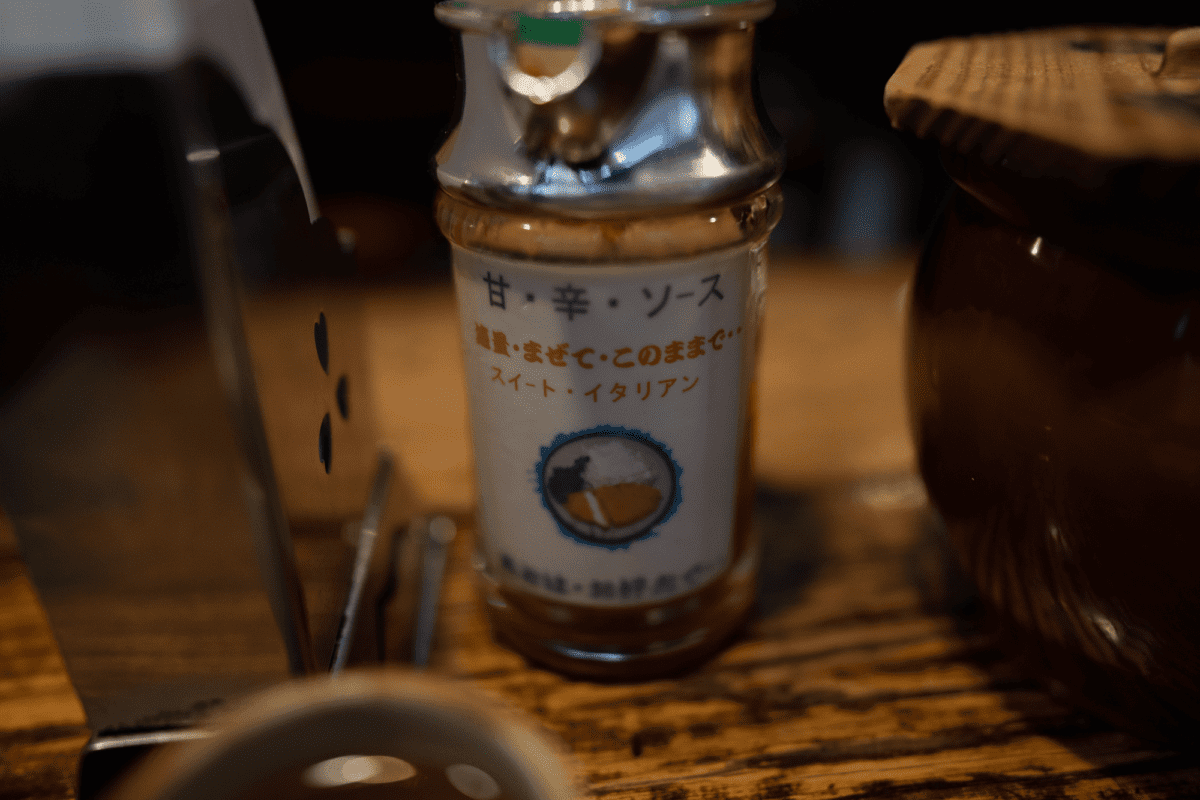 I found that because the cabbage so bunched up, I would have to put on more sauce after I get through the top layer.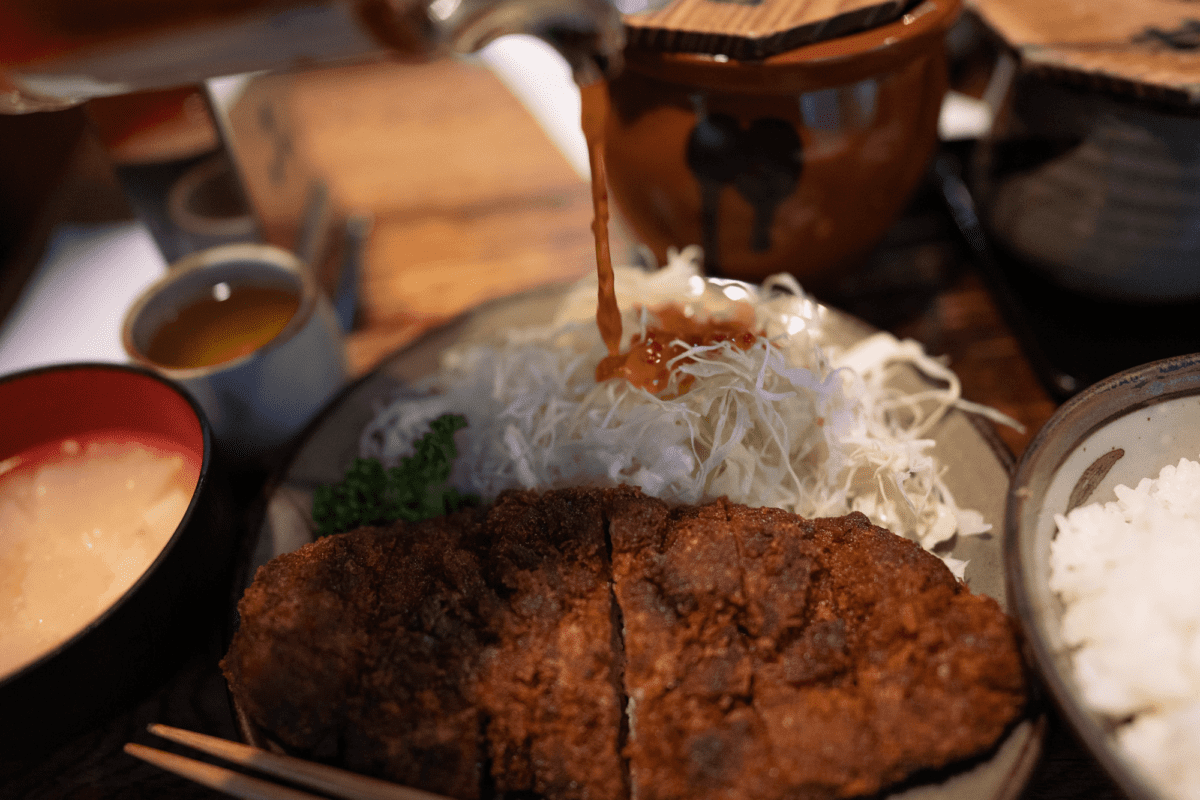 The sweet chili sauce on cabbage, paired with the rice tastes awesome enough. We haven't even gotten to the good part yet.
Pork Cutlet
There's soy sauce, salt, mustard, sweet sauce and spicy sauce for your choosing. What I normally do is put mustard on the plate at the side and put the sweet or spicy sauce on half of my cutlet. I try not to drip it all on all the cutlets since it will make it soggy if you soak it for too long. After I'm halfway through, I'll add either sauce on the remaining depending on what I feel like.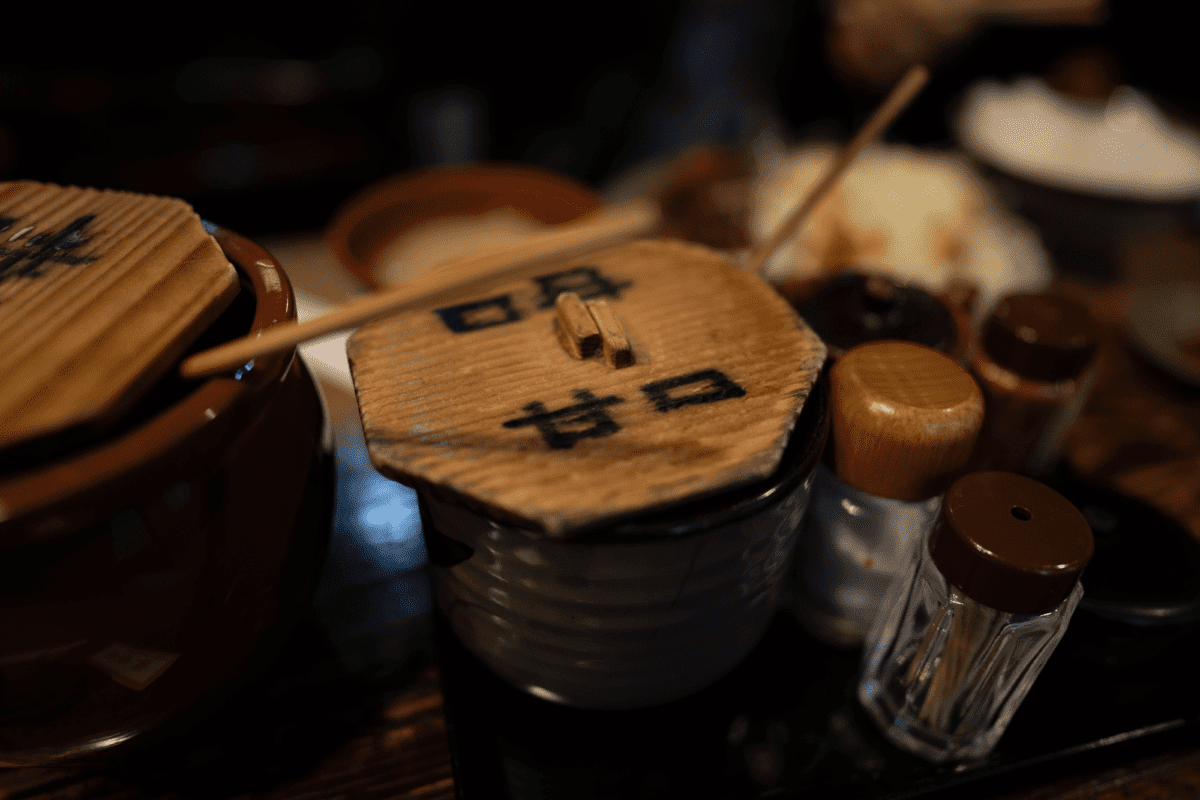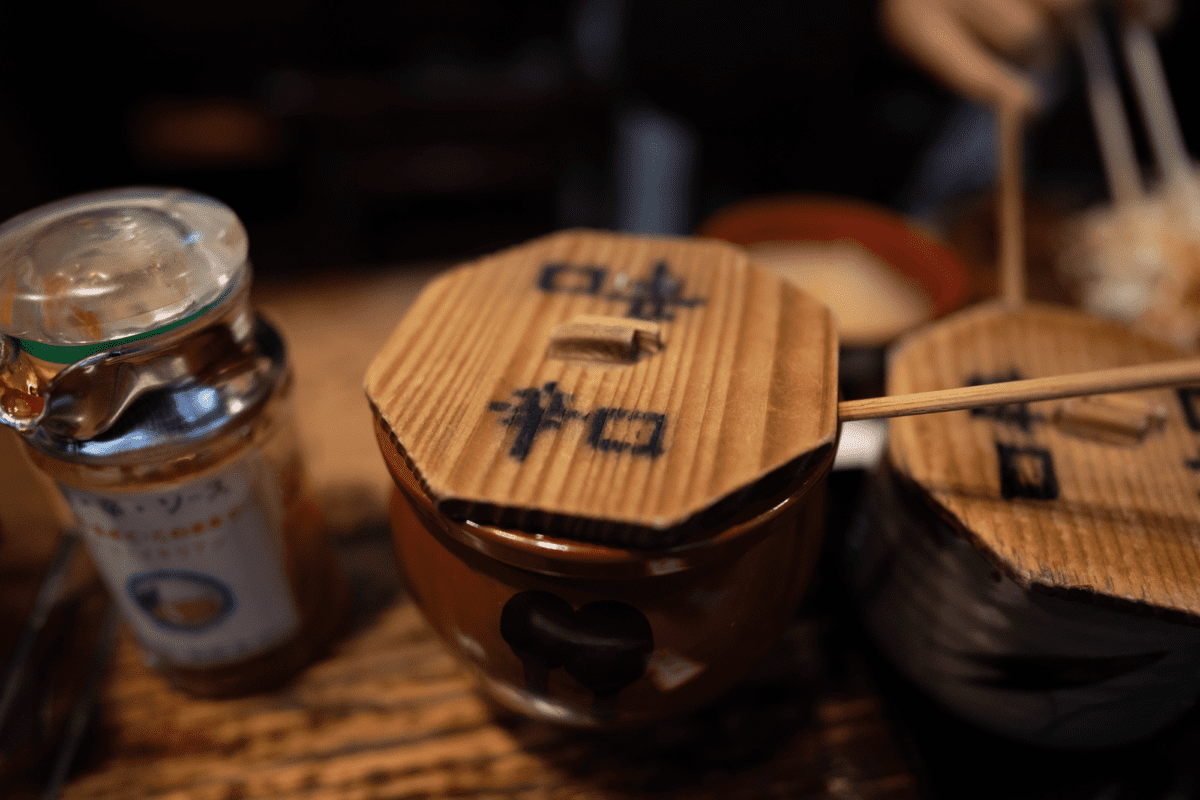 Before each bite, I dip the cutlet in the mustard for the extra kick. I don't bother with soy sauce or salt, because it's a waste not to enjoy Tonchinkan's homemade sauces.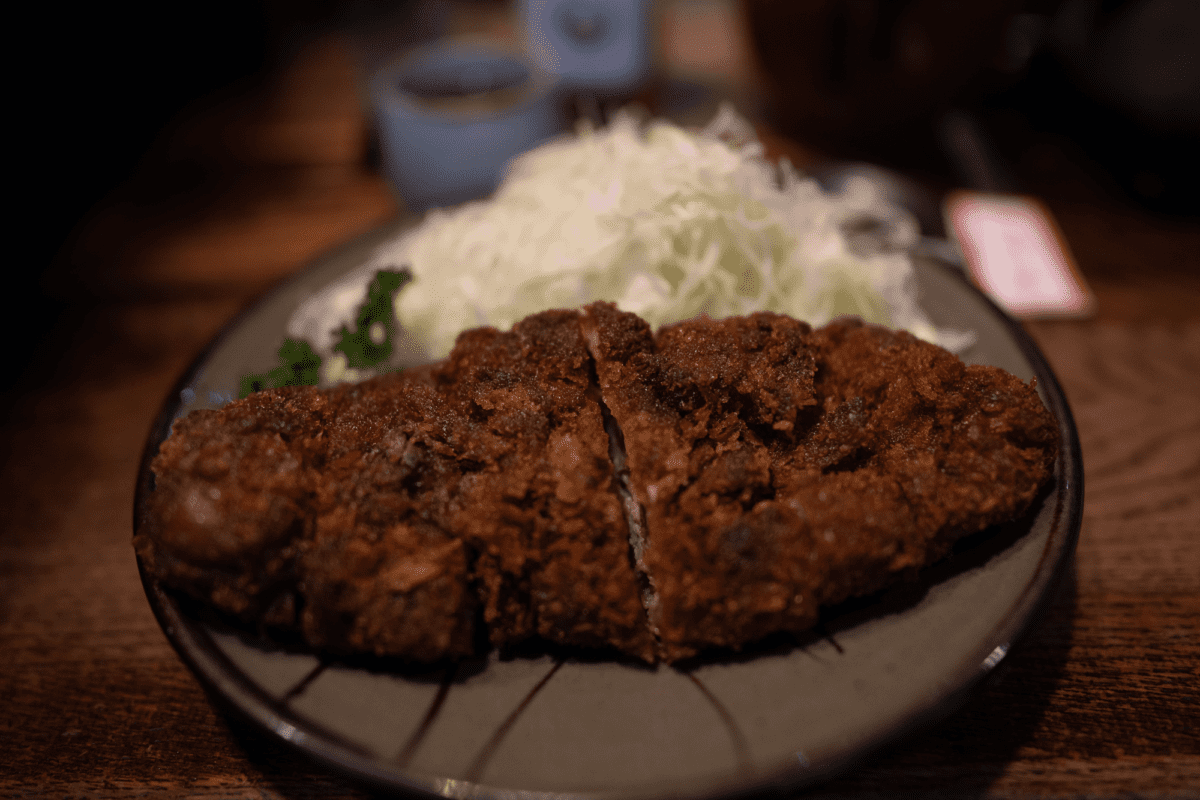 Rice
I usually try to get through two bowls of rice in one meal, so I can skip dinner. So, I usually ration the cutlet during the first bowl and eat most of the rice with the cabbage.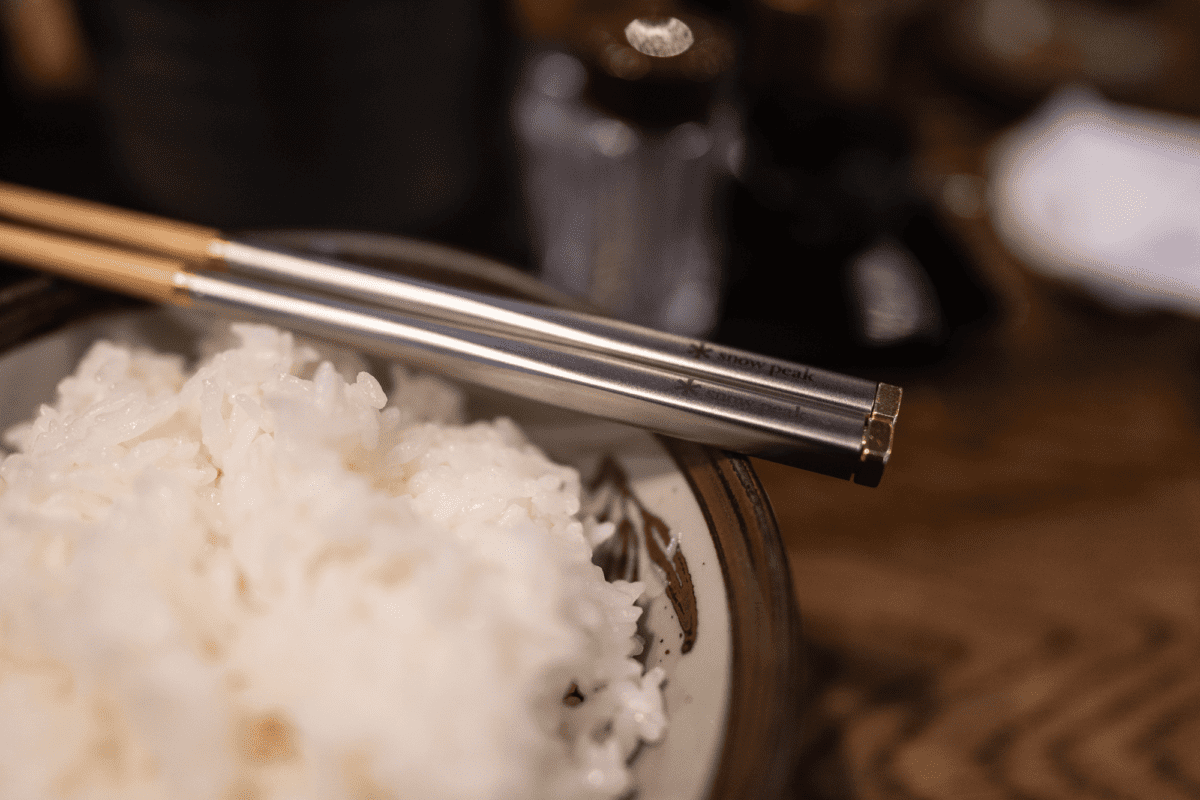 There are some pickles given to you, so I like to put these on top of the rice.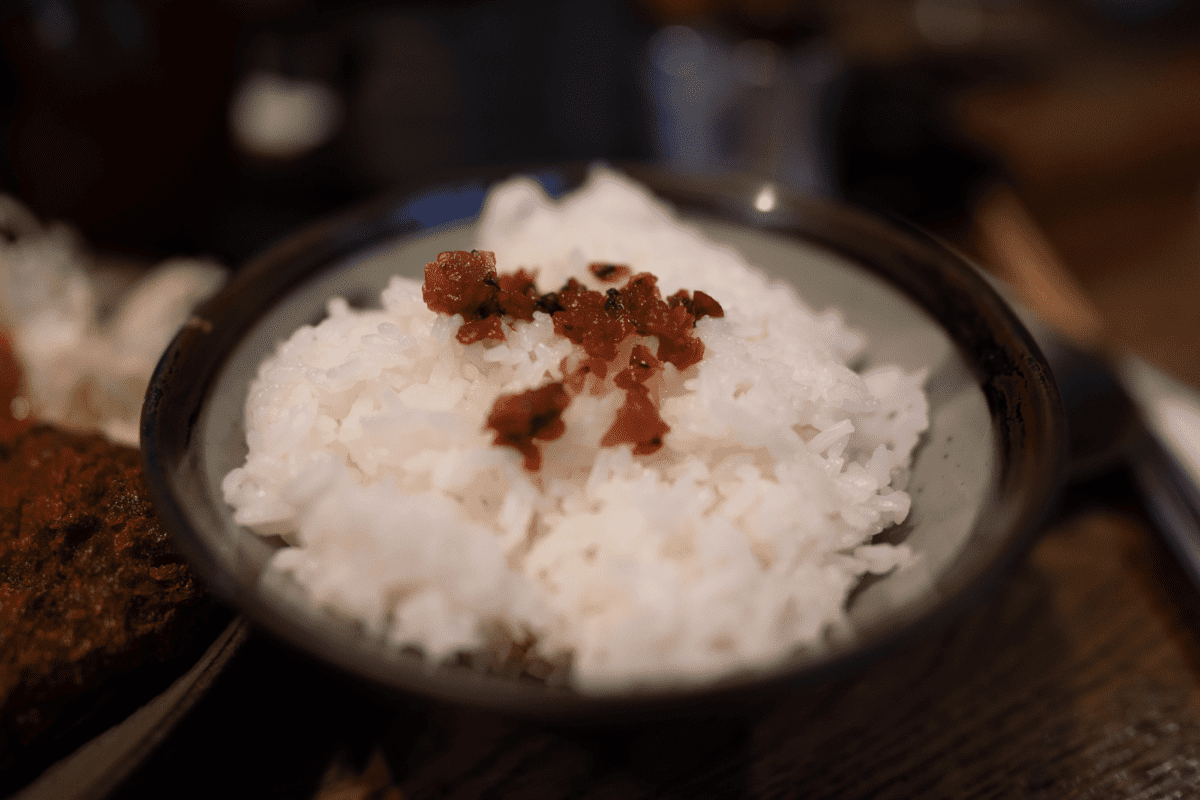 When you ask for refills, you have to indicate the amount of rice you want. Here are a few terms you can use to indicate the amount you one
oo-mori 大盛り (large portion)
futsu-mori 普通もり (normal portion)
sukuname 少なめ (lesser portion)
han raisu 半ライス (half rice)
I usually just go for futsu-mori or the normal portion.
Soup
Like the rice, I also try to go through two bowls of the flavorful broth per sitting. The soup is arguably one of the best parts of the meal at Tonchikan, and is a big reason many regulars go back for more.
I usually add a little of shichimi powder (or seven-spice chili powder) in the soup for the extra kick.
I'm usually full when I reach the second bowl, so I avoid eating the generous amount of daikon (radish) that is in the soup.
How does it taste?
The meat is soft, but not as crispy as some other restaurants like Tonkatsu Wako. It has more of the homely flavor that you won't get bored of.
More than anything, the pork cutlet is so chunky that it has a great bite.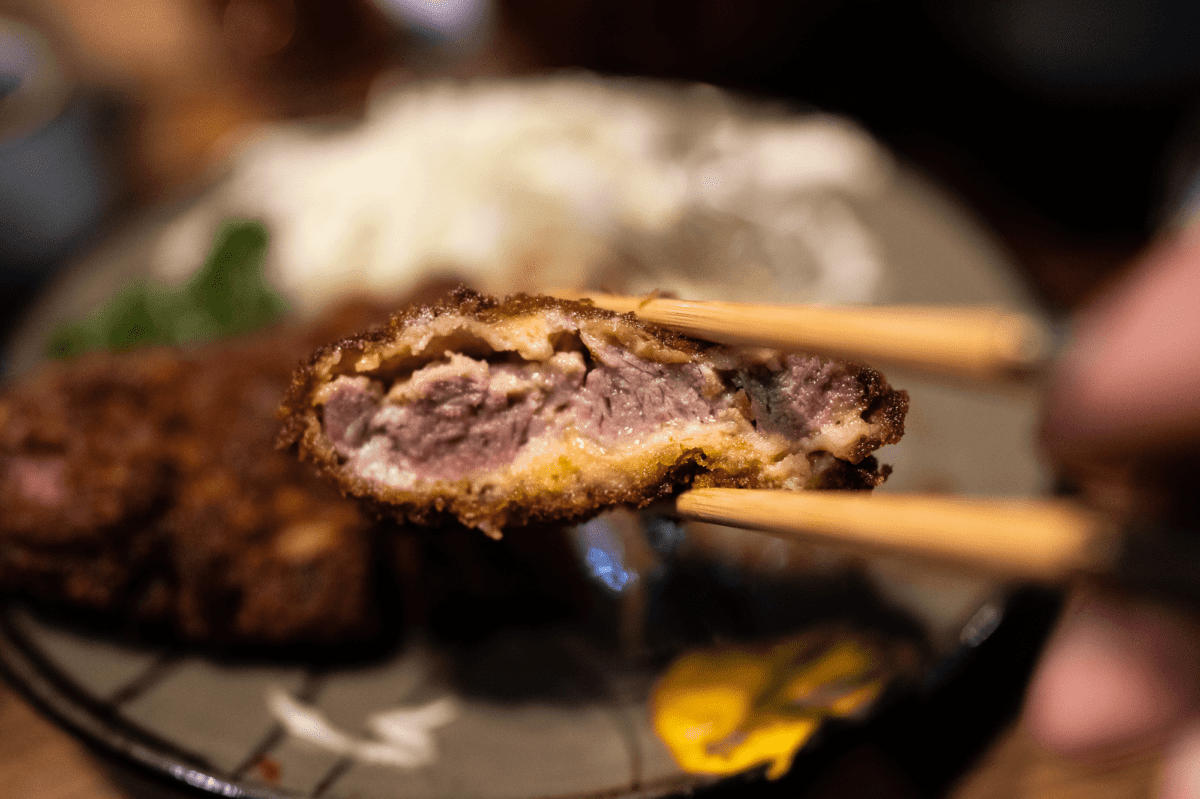 The tonjiru, the soul food of Japan and cure for the worst of all hangovers, is flavorful and is something you get grateful for after meal after meal of miso soup. Arguably, the soup might be one of the main reasons why Tonchinkan has so many loyal fans and is the best tonkatsu in Shinjuku in my book.
Service
The service here is very attentive and quick, they often ask if you like a refill when they spot your empty bowl of rice or soup. But because they rely on efficiency to stay in business all these years, they can be a little curt at times (which is still very polite by western standards).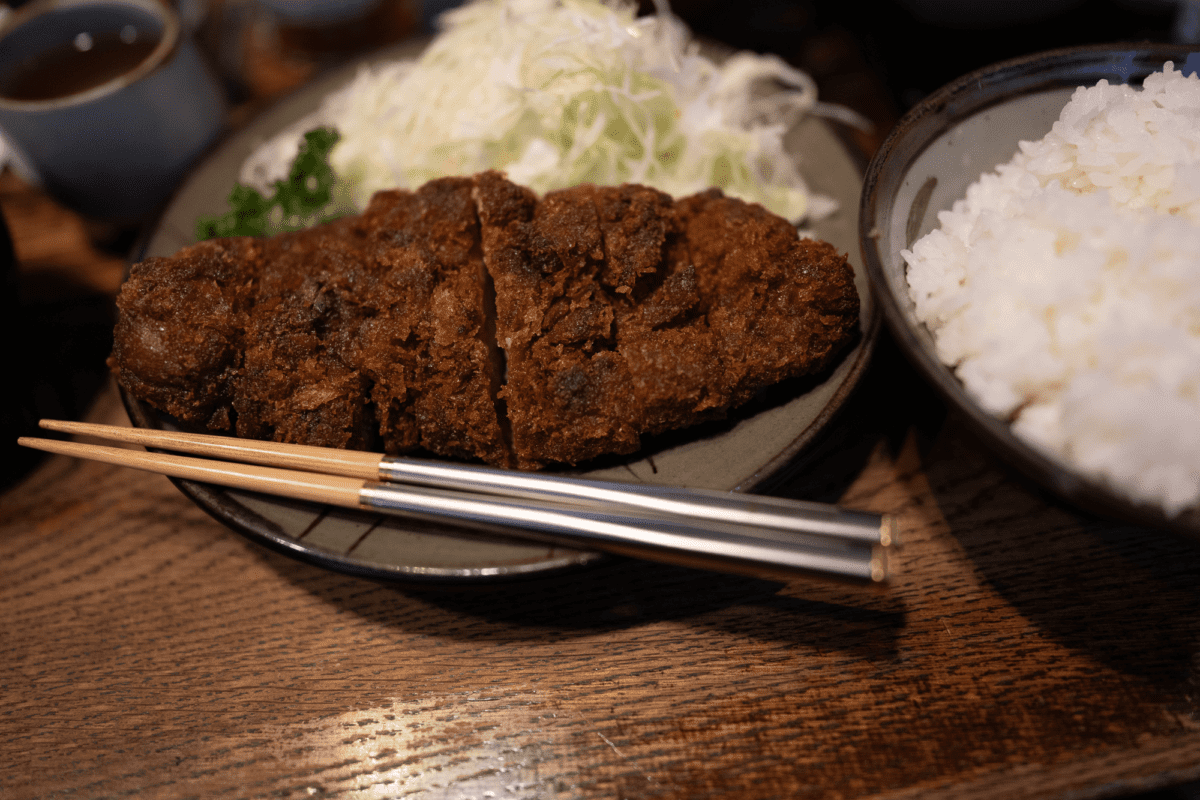 You can sometimes hear the staff shouting at the kitchen staff if they didn't communicate loud enough or make a mistake.
Tonchinkan is not a place for you to hang out in. It's one for you to go in, get your fill of good food and get out. Once you finish your food, you'll be expected to leave immediately and will probably be chased out if you try to linger while fiddling with your phone.
Conclusion
The place bangs on its fast turnover to stay in business all these years. It opens till late (2300) but closes on Sundays. I have brought many friends here and they only have good things to say. This place is one of the reasons I'm thankful to be here.
Like all local food places that's good, Tonchinkan doesn't have a website but you can see more information on the restaurant Tabelog or Trip Advisor.
Tonchinkan
Address 1 Chome-13-8 Nishishinjuku, Shinjuku City, Tokyo 160-0023, Japan | Google Maps Link
Opening Hours (Last order is usually 30mins before closing)
Mon-Fri 1100-1500, 1700-2300
Sat 1100-1500, 1700-2200
Sun, P.H. Closed