This website is made possible by readers. I may earn a small commission when you buy through the links in this article at no extra cost to you. Learn more.
Ever since evil Korean television station KBS decided to put their popular variety shows on YouTube with English subtitles for the world to watch for free, I have fallen victim to their entertaining shows, sacrificing weekends and what youth I have left along with it.
Binge-watching Season 3 of additive 2 Days 1 Night can be a dangerous thing. The show basically shows a bunch of guys going around Korea playing silly games to compete for the right to eat their meals or sleep indoors during their "2 days 1 night". With every decent Korean food show, jajangmyeon, the Korean black bean sauce noodle is sure to make an appearance, like in this episode which had a segment where they compete to see whose delivery will arrive the fastest. Or episode 4 of this couple's We Got Married where 2 Days 1 Night cast member, Joon Young and his "wife" paint their lips black with hunger-inducing jajangmyeon.
Staying close to Shin-Okubo, Tokyo's little Koreatown, gives me a good chance that I would be able to satisfy my craving without going too far and with strong motivation, I found Jajang House. Riding past endless shops selling Korean idol memorabilia and Korean brands of cosmetics, I arrived at Jajang House around 1130. Entering the shop, the staff spoke to me in Korean and quickly switched to Japanese after I gave the "what the fuck you on" look. While they stated their opening time was 1100, he told me that they were still preparing and needed another 15 minutes or so.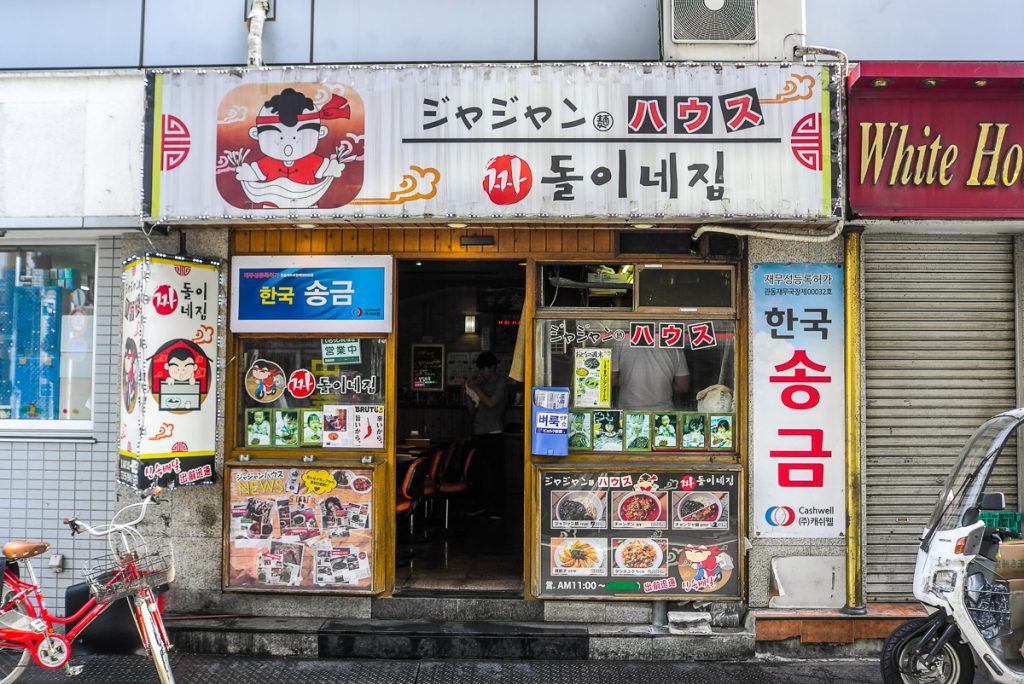 After a brief window-shopping-turned-wallet-burning trip to the Don Quixote nearby, I returned to the shop. With two other group of customers, a group of four talkative Japanese girls and a Chinese couple in the restaurant, I sat down and looked at the menu. Pretty straight-forward Korean and Japanese menu with pictures showing mostly jajangmyeon, variations of the dish and other side dishes. I ordered jajangmyeon (¥700) and deep-fried dumplings (¥600).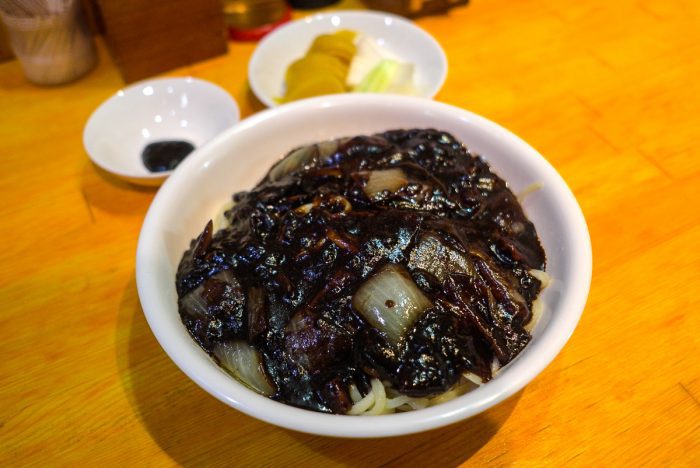 The jajangmyeon came first, its black sauce glistening in the shop's cheap lighting, anticipating me stirring it into the delicious messy mixture that have been with many Koreans in their time of late night gluttony. I won't pretend to sound like I know my jajanmyeon, since this is my first ever. But it was good. Not mind-blowingly good. But good. The sauce, littered with onions, was thick, but mixes well with the hand-made noodles. The different thickness of each noodle adds depth to an otherwise simple dish. The portion was huge. I consider myself a big eater, but I could not finish the noodles. The monotony of the sauce was just too much for me, though I would imagine myself being able to wolf the entire dish down after a night of Shinjuku-style debauchery. Paired with the crunchy deep-fried dumplings, this meal is entitled to the label of "Shiok", a Singlish word often used to convey a feeling of sheer pleasure.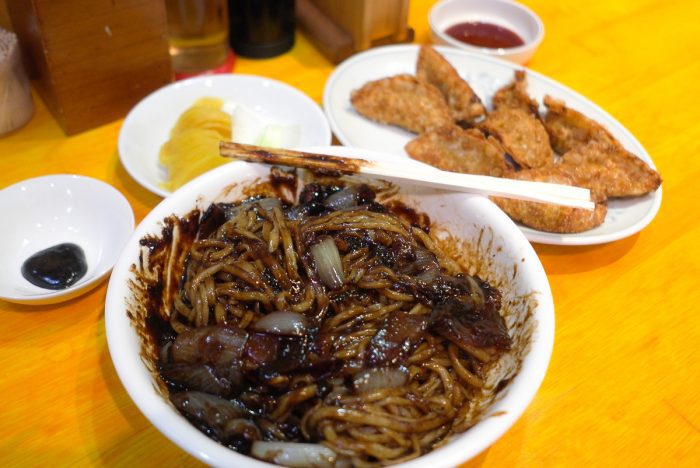 There aren't many options for jajangmyeon in Tokyo, especially not like a restaurant like Jajang House that's so specialised. Though probably not often, I would definitely come back again. So, if you are feeling like indulging in one of Korea's favorite late night snack, you know where to find it in Tokyo.
But no one likes ads, so I got rid of them. If my articles helped you, I ask for your support so I can continue to provide unbiased reviews and recommendations. Every cent donated through Patreon will go into improving the quality of this site.
Tagged jajangmyeon korean shin-okubo tokyo