This website is made possible by readers. I may earn a small commission when you buy through the links in this article at no extra cost to you. Learn more.
Details
Price $79 AUD (approx $62.28) on shopausair.com
Use code ALEXKWA for 10% off.
Material 50% Foam, 40% Nylon, 10% Spandex (outer layer)
Overview
Since I moved to Japan about six years ago, masks have been part of my everyday essentials. Whether it is to keep virus in or out, or just to stay stealthy like a ninja, it has become a habit of mine to put on a mask every time I head out.
While the pandemic made it a necessity now, there were much less mask options just a few years ago. With the virus situation dramatically increasing the demand for masks, many fashion brands started releasing their own takes on face coverings, like the Outlier Mask 004.
With a number of mask reviews under my belt, the difference between the masks from fashion companies and pure mask companies, like Airinum, is noticeable with the latter offering a more superior mask.
AusAir is one such brand.
AusAir is an Australian-born mask company started by three born-and-bred Australians who loved outdoor, nature and the pristine Australian air.
You can tell how much this brand champions the Down Under. I mean the brand name is AusAir, a name that can almost pass off as a national airline.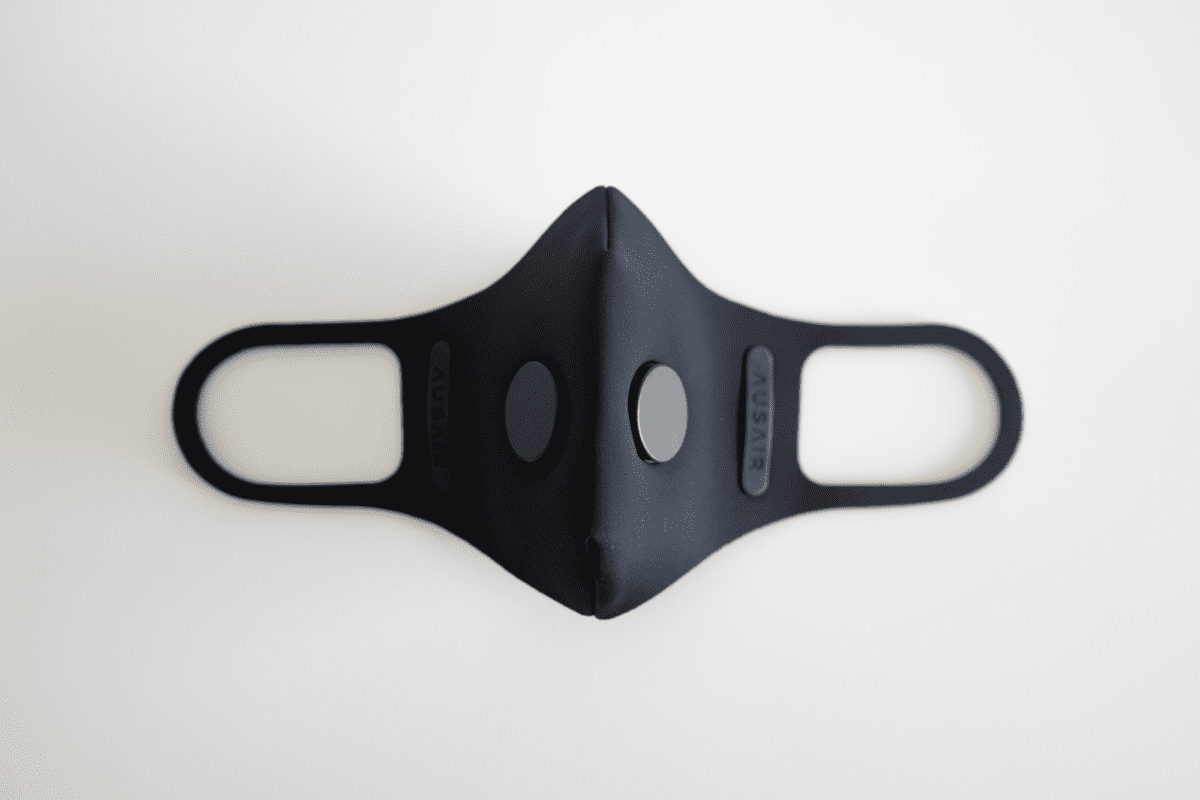 As most of the products reviewed on this site are from American brands, I am always intrigued when I get a product from another part of the world. Sometimes, I get pleasantly surprised, like with Able Carry backpacks from Hong Kong.
As a brand that specializes in masks, it is to be expected that the mask is much better than cloth masks. But, how much better? And can it stand up to other mask brands like RPUR or Airinum? I'll find out.
Style
The mask consists of two main parts, the AirFlex Mask Skin and the interchangeable filter.
Mask Skin
The AirFlex Mask Skin is minimal in design. It's basically a neoprene-like cutout with cinches at the center to form the shape. The cutout is a single piece, extending to the ear loops, without any parts sewn together.
But no one likes ads, so I got rid of them. If my articles helped you, I ask for your support so I can continue to provide unbiased reviews and recommendations. Every cent donated through Patreon will go into improving the quality of this site.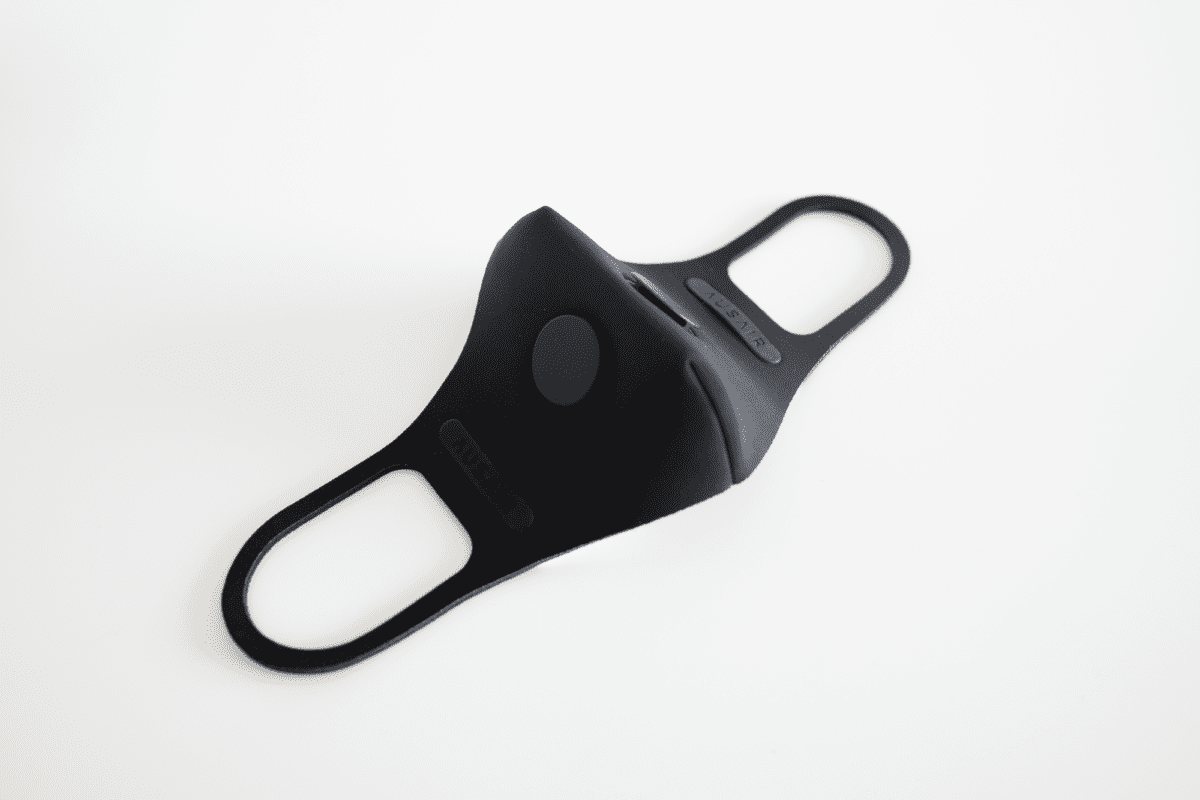 A small detail that I noticed was how the cinch isn't evenly matched, causing spare fabric to come up just slightly from the top on one side, making it look a little unclean. I'm sure this is within the manufacturing tolerance but it might bother some.
There are two holes meant for the filter valves. The valves are two plastic circular tabs that sits on the outside of your mask. They connect through the holes of the skin and attaches to the filter behind the skin.
The valves, apart from giving you an outlet to breathe, makes your mask infinitely cooler, giving it a techwear vibe. For those who don't like your mask looking too tech, can opt for one of the other two non-black colors available, light grey and soft blush. Those colors will soften the look of the mask for you normies.
On both sides of the skin, there is a rubber AusAir tag. These tags are actually the fasteners for the filters. Since the rubber tags are only attached on each side, it sometimes doesn't lie flat which makes it less clean.
The mask has a beak-like shape, protruding towards the center. This is an intentional design aesthetic to achieve a bold and sleek aesthetics. For those who prefer a softer silhouette that cloth masks have, won't get it as the AusAir Mask will mask the shape of your nose.
From the side profile, the mask looks like it's lifted off your nose as the cushioning of the nose bridge is quite thick.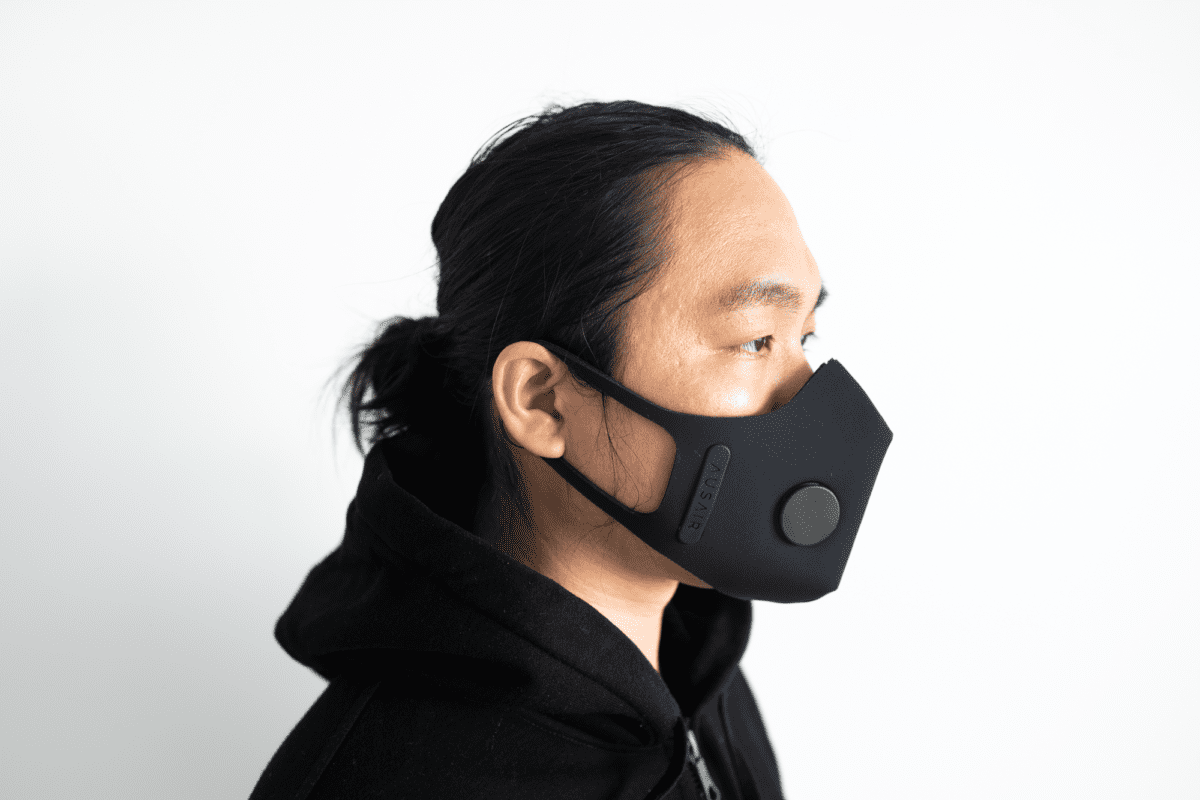 That said, the silhouhette is still relatively subtle and it's not something that will be noticed unless someone really looks.
The mask comes with a nice looking case that has a magnetic closure. I like how compact and clean it looks.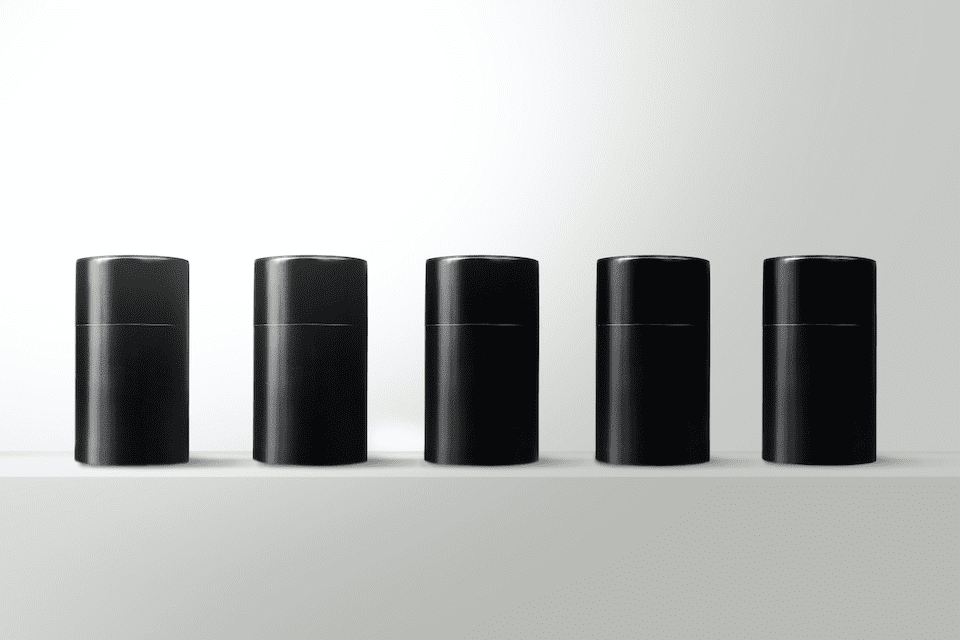 I found a 100 year old company that would create these heirloom quality canisters for me. They are handmade and will keep your tea leaves, coffee beans or anything that you need dry for years to come.
or read review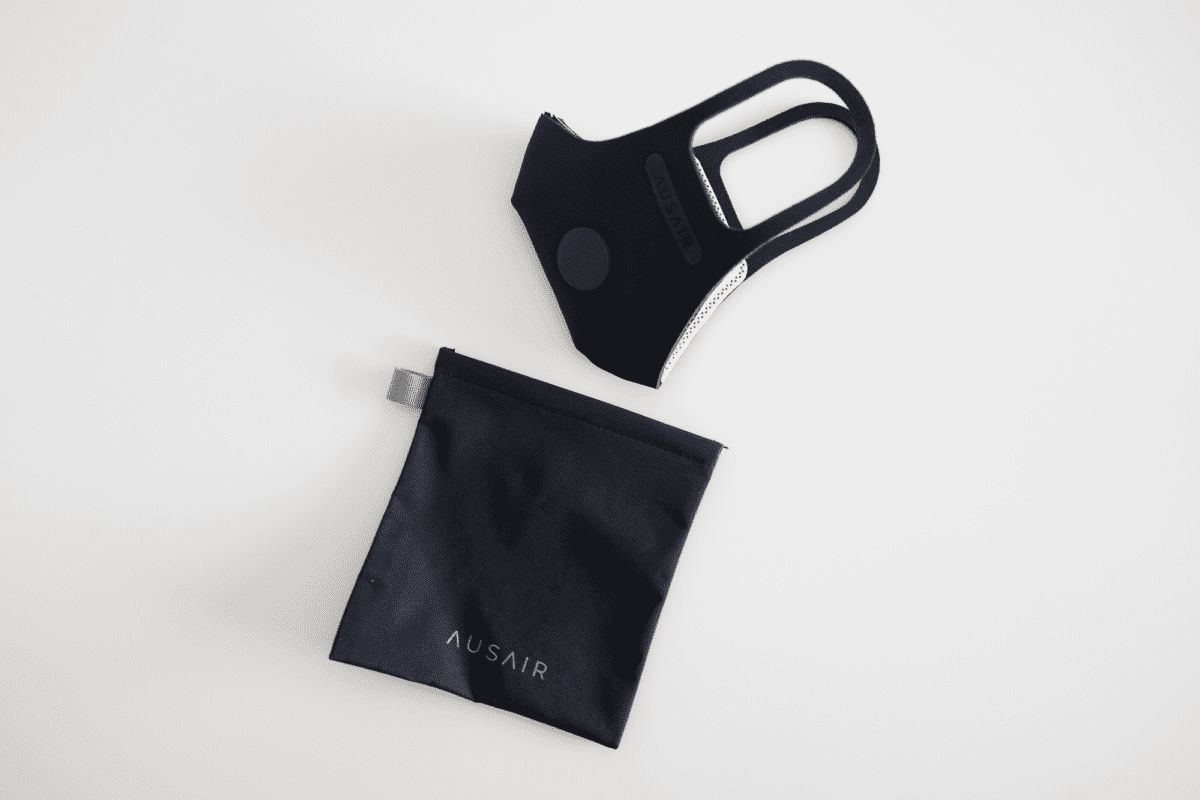 Sizing
The AirAus AirFlex Mask comes in three sizes, large, medium and a kids size. Sizing option is one of the main reason why I prefer going to mask brands instead of fashion brands which mostly offers their masks in just one size. Drawing from previous mask sizing experiences, I went for size large.
The size large is a good fit, but I am to nitpick, I preferred if there was a little more chin coverage. For my face, the mask ends at where the jawbone is. The mask will sometimes move lower that it shows too much of my nose, or move higher that it sits on my chin, both feeling pretty awkward.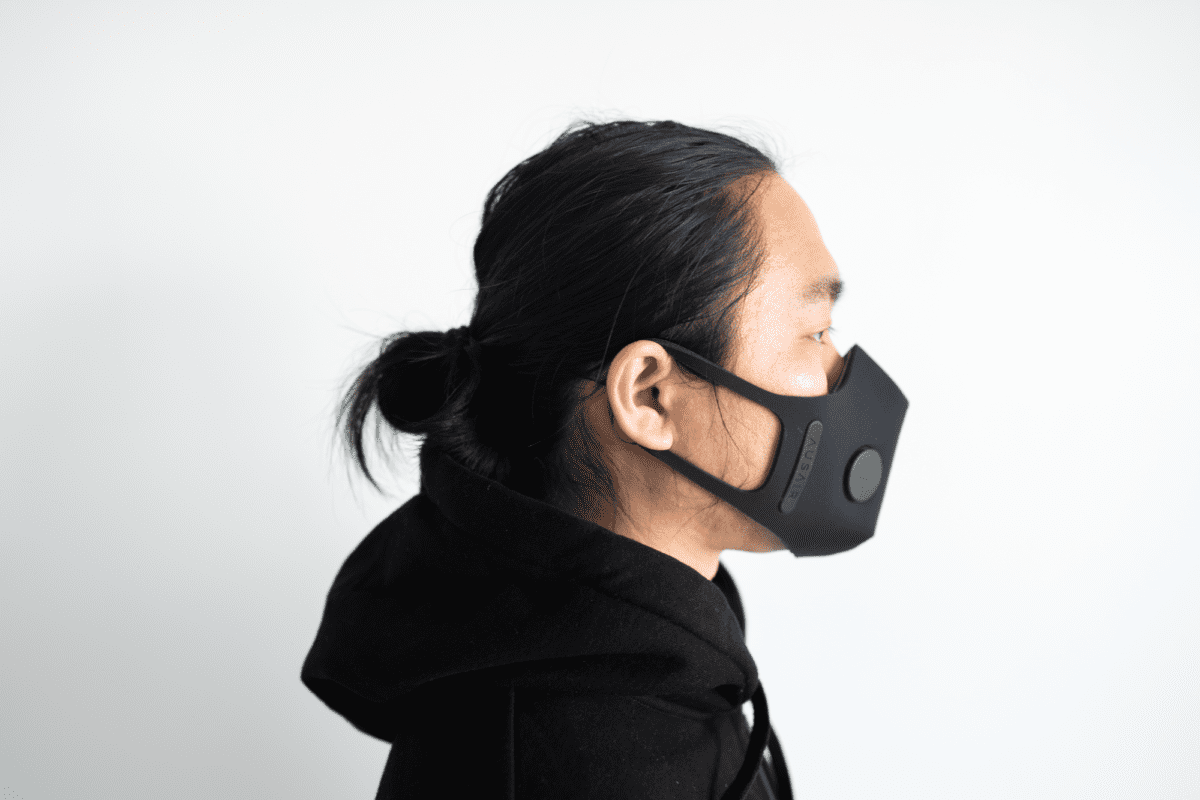 According to AusAir, there might be a XL version coming soon to accommodate those with larger faces.
Filter
The filter fits under the mask and is precision-cut to match the shape. With the filter attached, the edge of the filter goes beyond the mask skin. While this is not noticeable from the front, it does make it look less clean.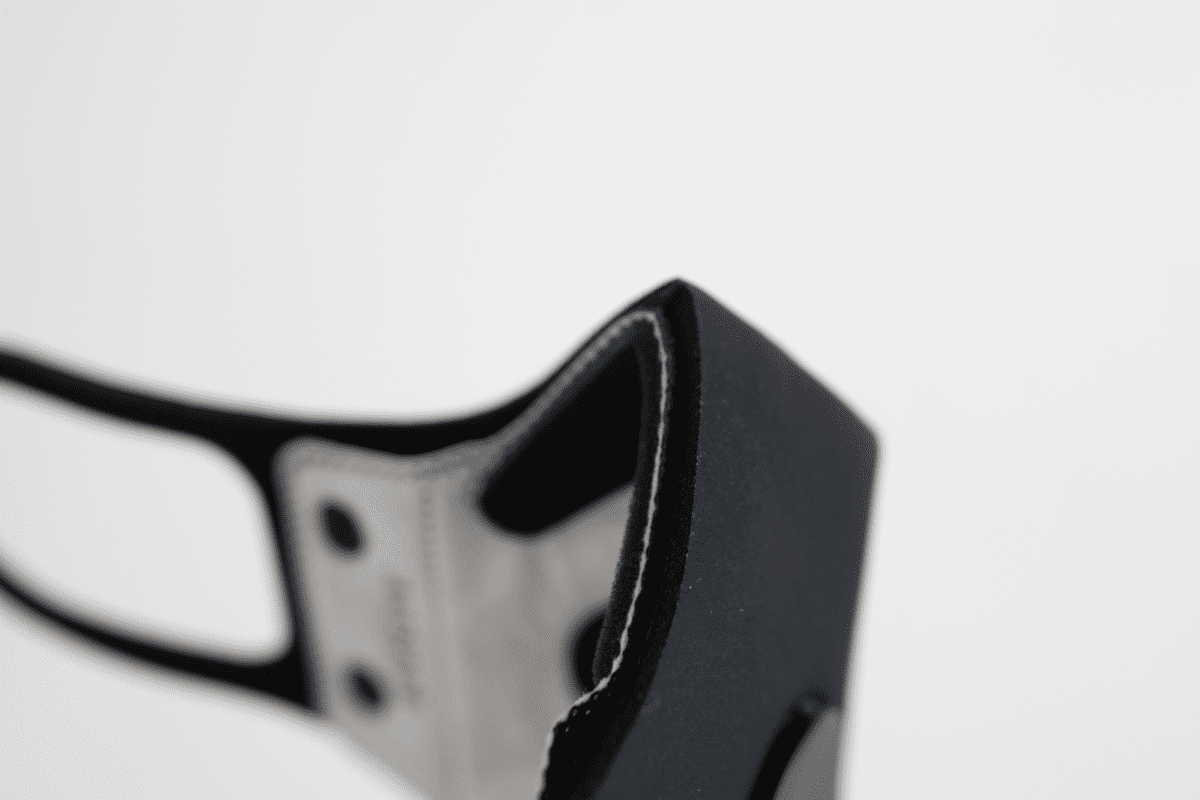 Overall, the AusAir is a premium product that looks its part. It's sleek and clean-looking. There are some small details that could be improved, but it'll probably be an upgrade to any mask you own right now.
Technology & Material
For masks, the technology really lies in the mask filter.
AusAir filters have been independently certified by Nelson Labs which is one of the most well-known labs in this space. The filter will filter out more than 99% of the following:
Bacteria and Viruses
Air Pollution including PM0.1
Pollen and Fine Dust
Bushfire Smoke
Organic Odours and Vapours
Simply put, when it comes to filtration, this is the best you can get and more than you'll ever need as a consumer.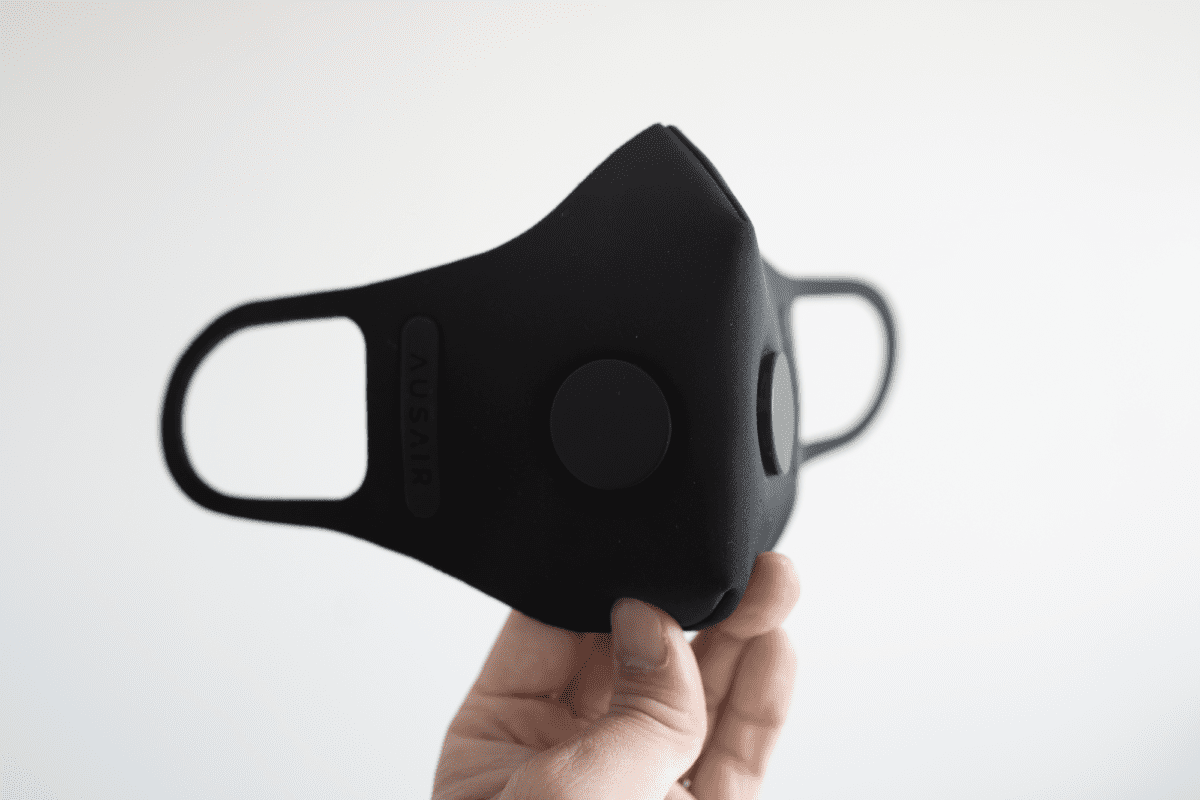 The mask skin is made of 50% Foam, 40% Nylon, 10% Spandex, which is the mix of comfort (foam), durability (nylon) and elasticity (spandex). The valves are stainless steel for that extra premium touch.
Usage
As something you have to put on on a daily basis, how comfortable and easy is it to use the AusAir AirFlex Mask?
Can't use the mask without a filter
This isn't an issue specific to AusAir, but one thing to note about these kind of masks is that you are reliant on filters to use it. You cannot use the mask without the filters since there would be two holes on the mask without it, defeating the purpose of the mask.
You can leave your old filter on or even wash your old filter, but neither of these methods are recommended. When I was using my Airinum Mask, I actually ran out of filters just as the COVID-19 demand spike for masks came and I wasn't able to get any replacements.
According to AusAir, smaller filters do fit into the larger mask skins in case you are desperate and your size is not available, but it is, of course, not ideal.
Ear loops gets loose with the relatively heavy mask
The fit of the mask feels tight when you first put it on. With the filter on, the mask is relatively heavy. It's heavy enough to pull on the ear loops with the weight, slowly stretching it. This causes it to slowly slide down your nose throughout the day.
According the AusAir, they prioritized the quality of the filters and opted for those models even with the added weight. This isn't a deal breaker to me since most of my masks start to droop down in the course of a day, but this might be an issue for those who prefer an air-tight fit.
If and when it becomes too loose, the mask comes with rubber ear loop adjusters for you to adjust the length of the ear loops.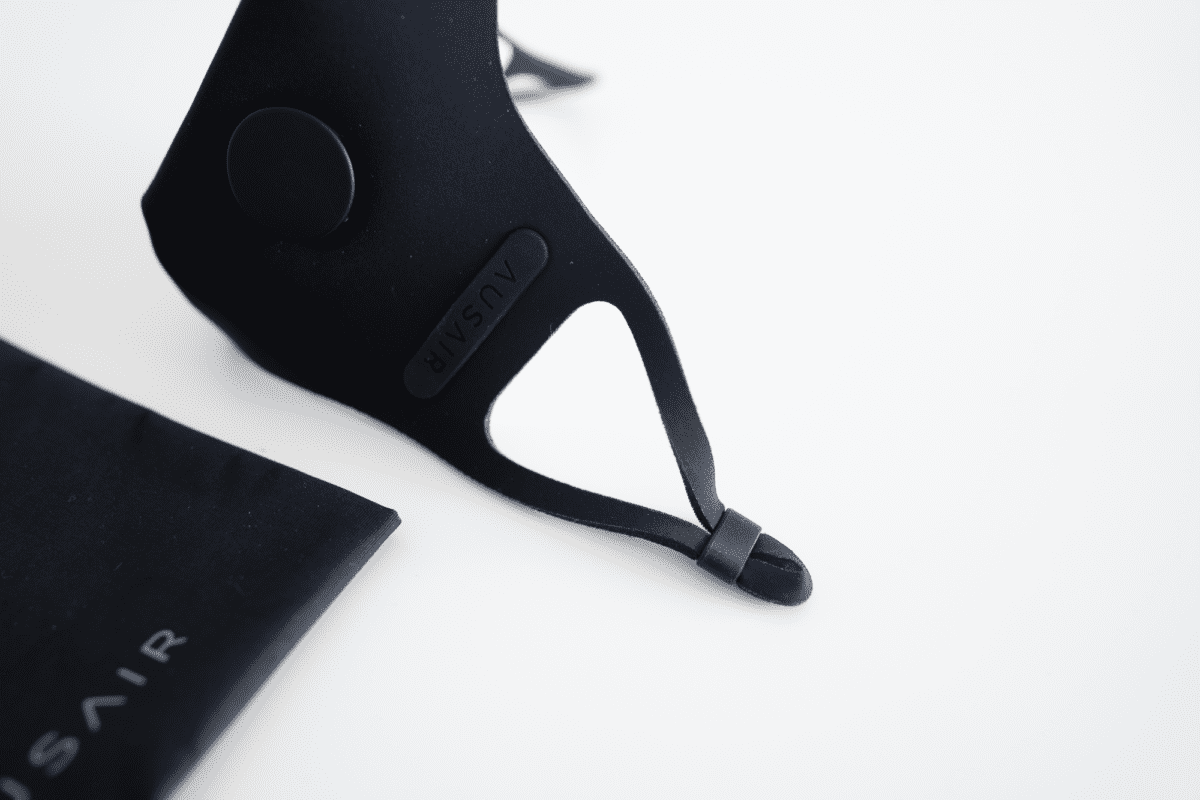 The clip to tighten the mask, while not ideal, is as good as it gets. It's as comfortable as not using the clip and it doesn't change position or slip off easily.
Nose bridge is malleable but stiff
The nose bridge is malleable to the shape of your nose so that you can get a snug fit. However, it can be quite stiff, making it hard to get it exactly air tight. As such, the hot air from your mouth might seep through the top of the mask and fog up your glasses if you wear them.
This is, however, entirely avoidable if you put in the time and tries to get it airtight at the top.
Valve block-outs included
Most of the intake and output of air is through the two valves at the front. For those who want to experience complete filtration, can choose to block out the two valves with included valve block-outs.
The block-outs are simply a thicker version of the default thinner piece of rubber covering the valves.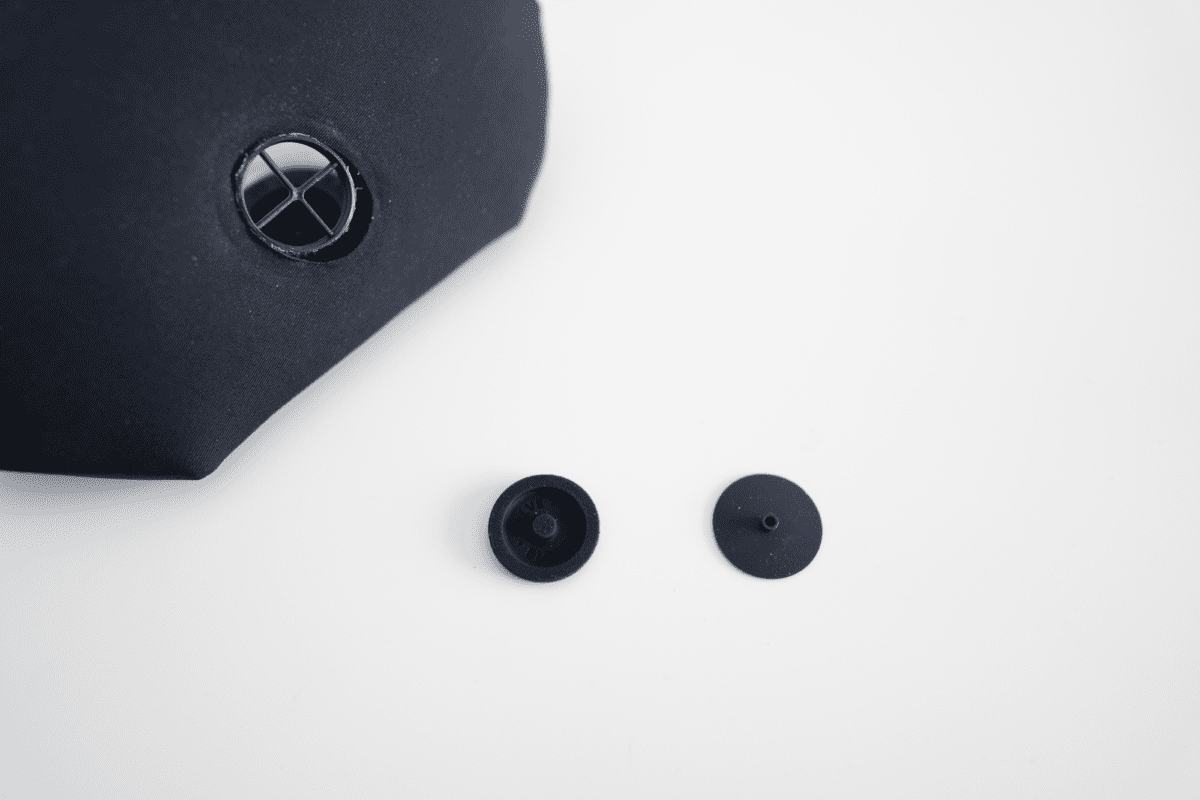 I have a very hard time breathing with the valves blocked and never use them. I have a hard time imagining anyone would be using the mask with the valves blocked for a sustained period of time.
The valve is hard to remove
While it's easy to put the valve onto the filter, I found it a little tricky to remove. While it's suppose to be a twist and pull removal process, often times it wouldn't come off and I had to keep turning and pulling till I eventually hit the sweet spot to get it off.
By turning the valve, it grinds up against the Mask Skin causing the edge of the hole to be in shambles after you are done.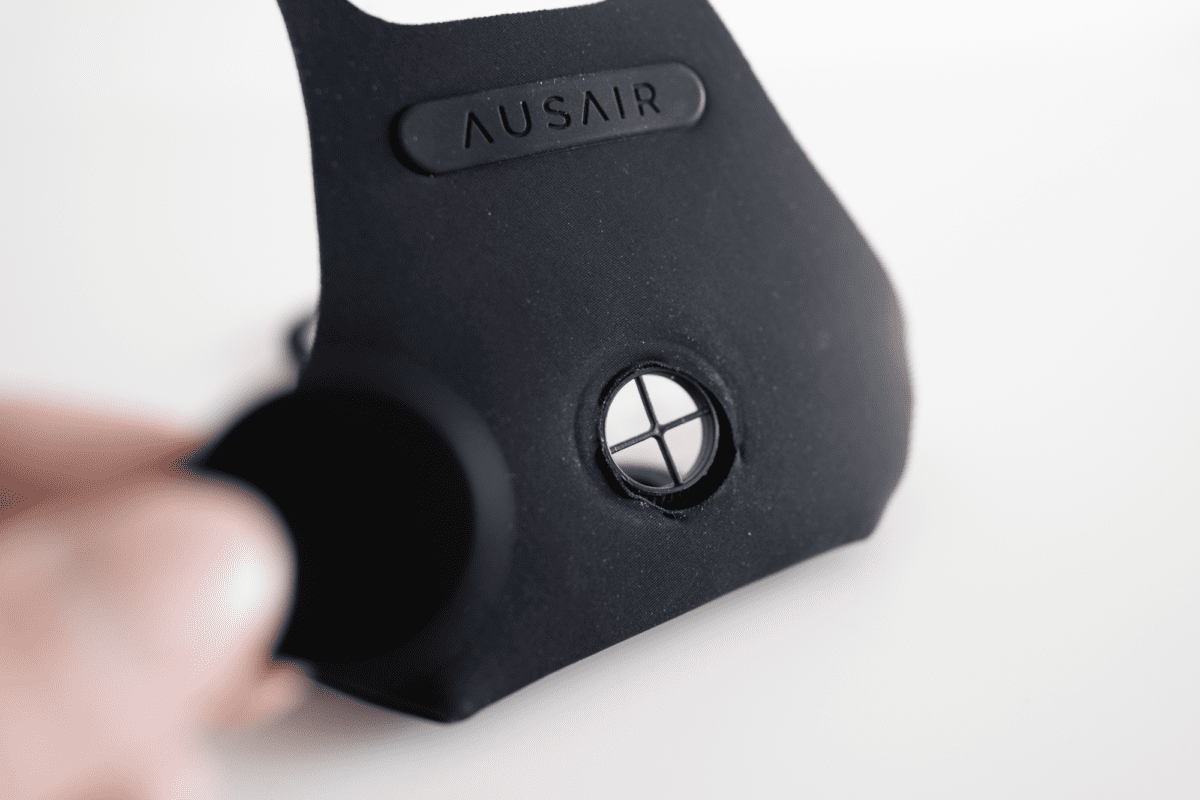 Conclusion
The AusAir AirFlex Mask is a clear upgrade from a cloth mask. There are details that could be improved but are negligible given how sleek and premium-looking it is.
Additional Images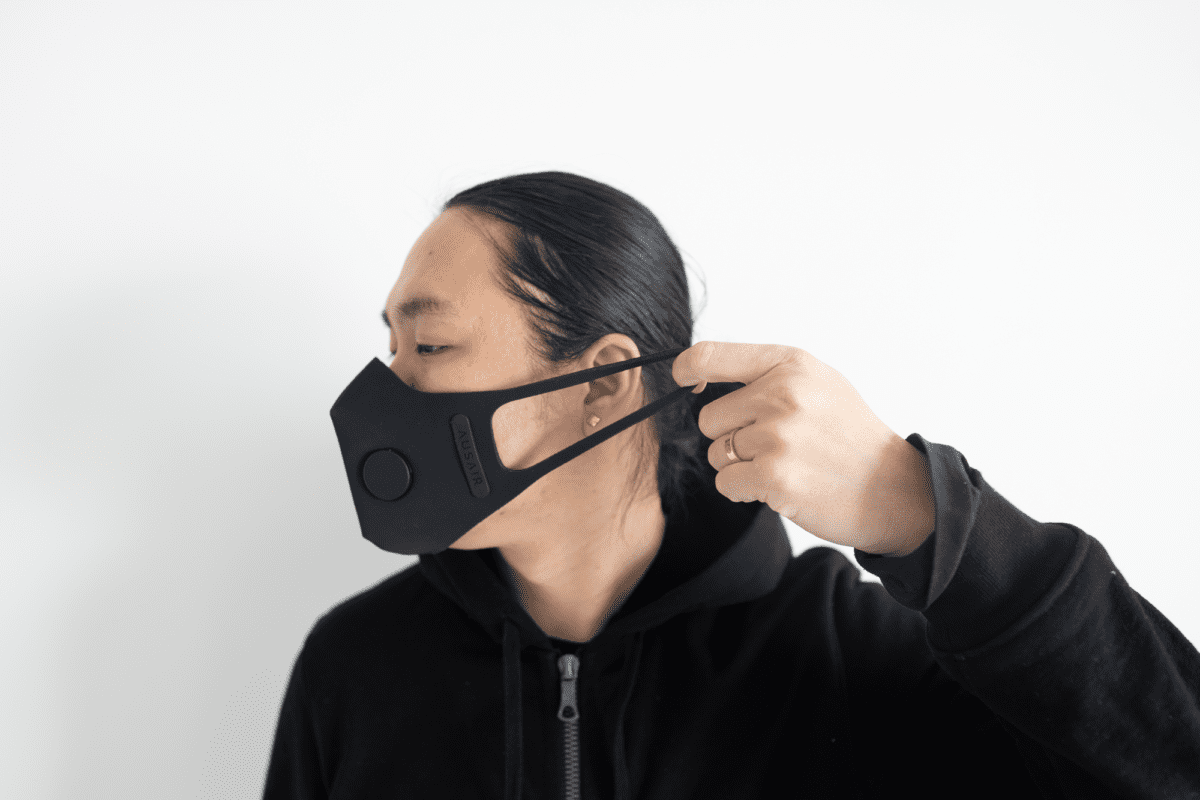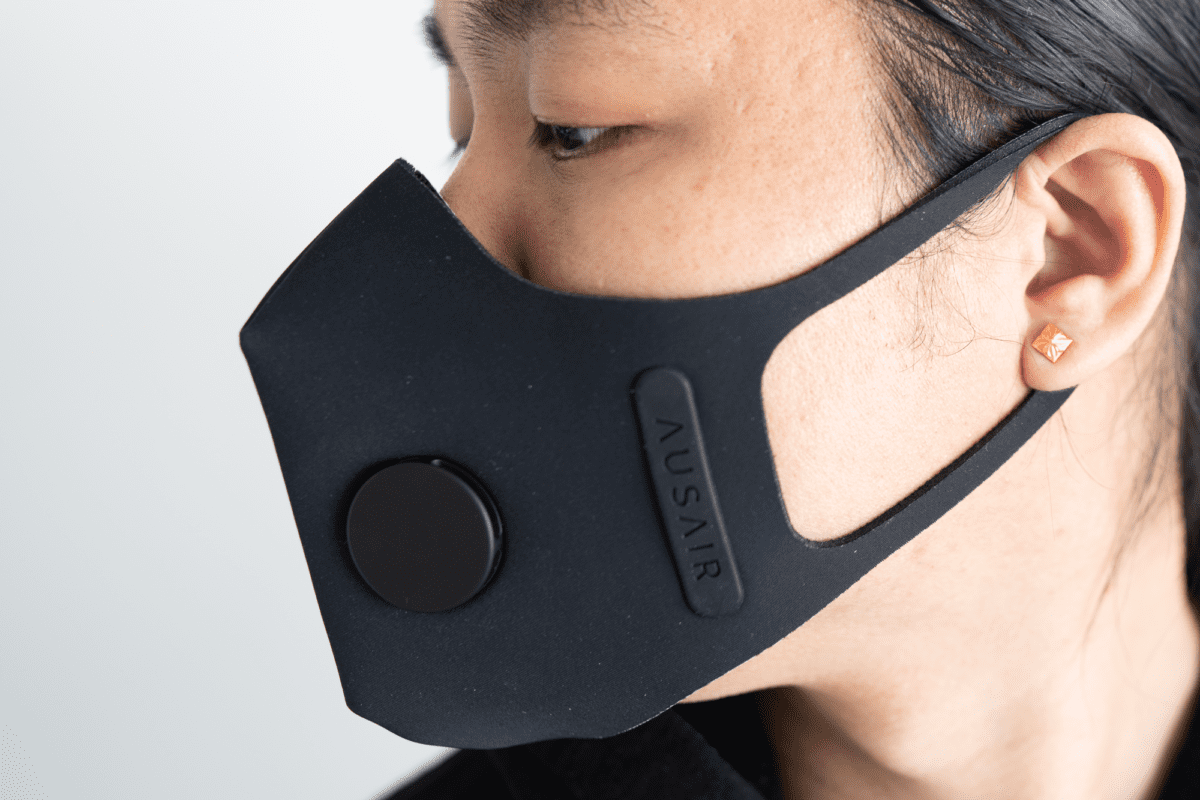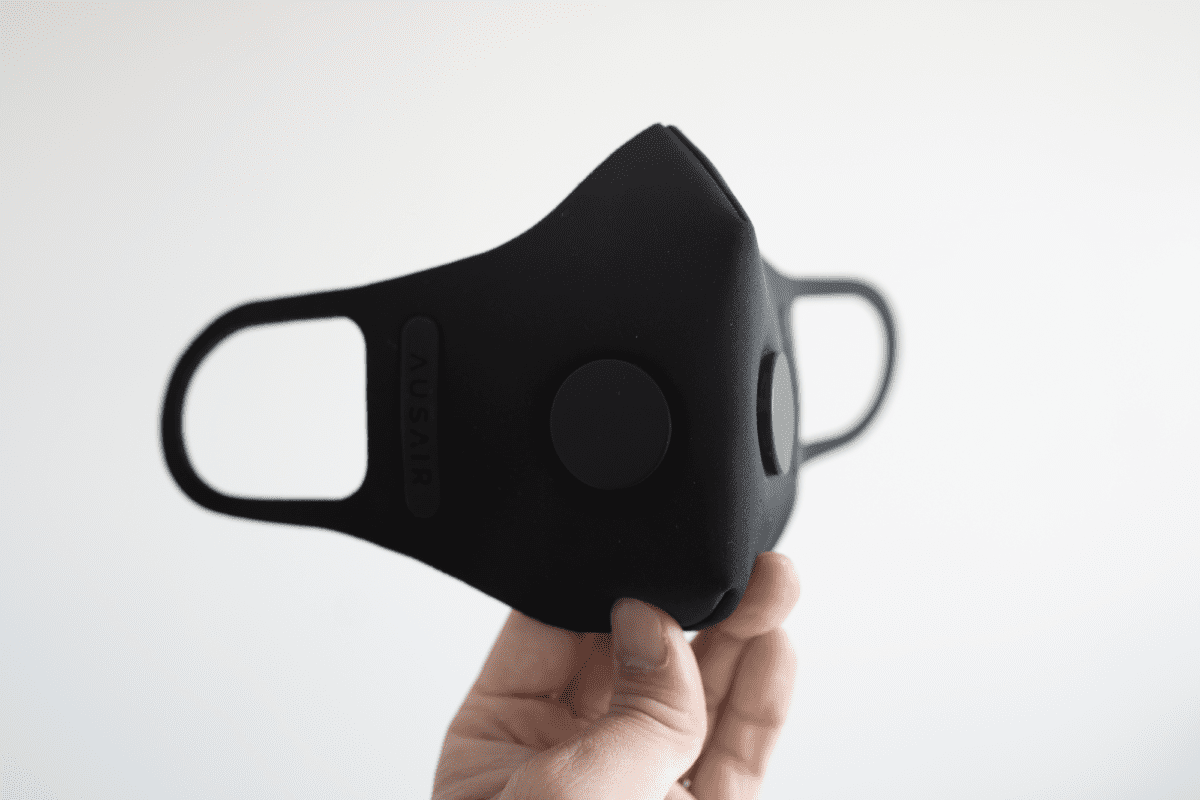 Like this review? See all of my in-depth reviews.
Also, consider supporting me by being a Patreon. Every cent given will go back into improving the content of this website.