This website is made possible by readers. I may earn a small commission when you buy through the links in this article at no extra cost to you. Learn more.
Details
Price $39 on aersf.com
Volume 1.5 L
Weight 0.3 lbs
Dimensions 9 x 5 x 2 inches (23 x 13 x 5cm)
Overview
If I had to choose a backpack brand as my soulmate, it could very well be Aer (with Outlier contending for the spot). There's so much about Aer's stuff that is in line with my personal values. Their excessive material selection, relentless pursuit of quality, and minimalistic effortless style are benchmarks for products I review.
So much so that the Aer Wallet has been part of my daily carry for the past year now. After extensive experience with quite a few of their products, like the Aer Travel Pack 2 and the Aer Tech Pack 2, I know what they excel at and the little quirks they have.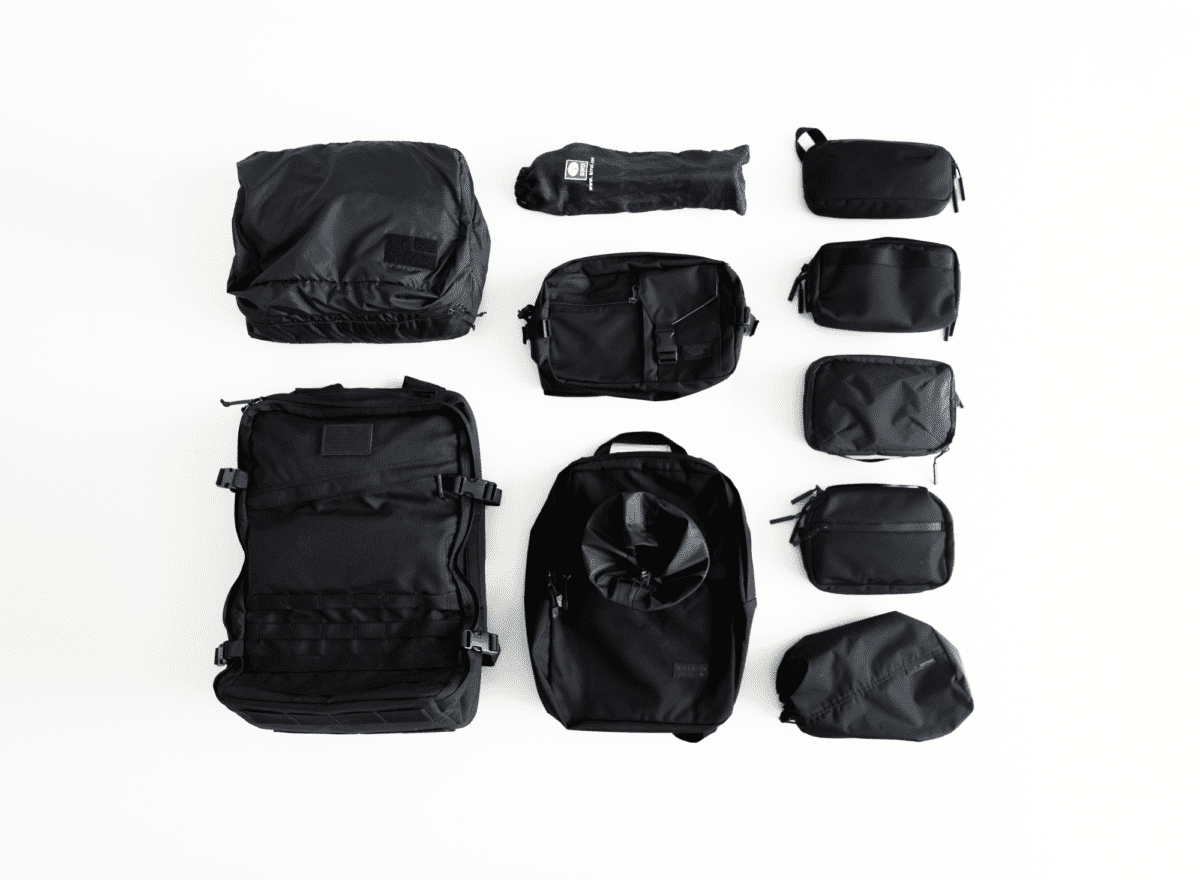 I managed to get my hands on the Slim Pouch before its release and used it for about two weeks prior to this review. Even before I started my review, I knew that the product's styling, quality, and materials would blow me away, just as they did before.
The formula works, and Aer knows it. They are not going to change something that works, and I don't want them to.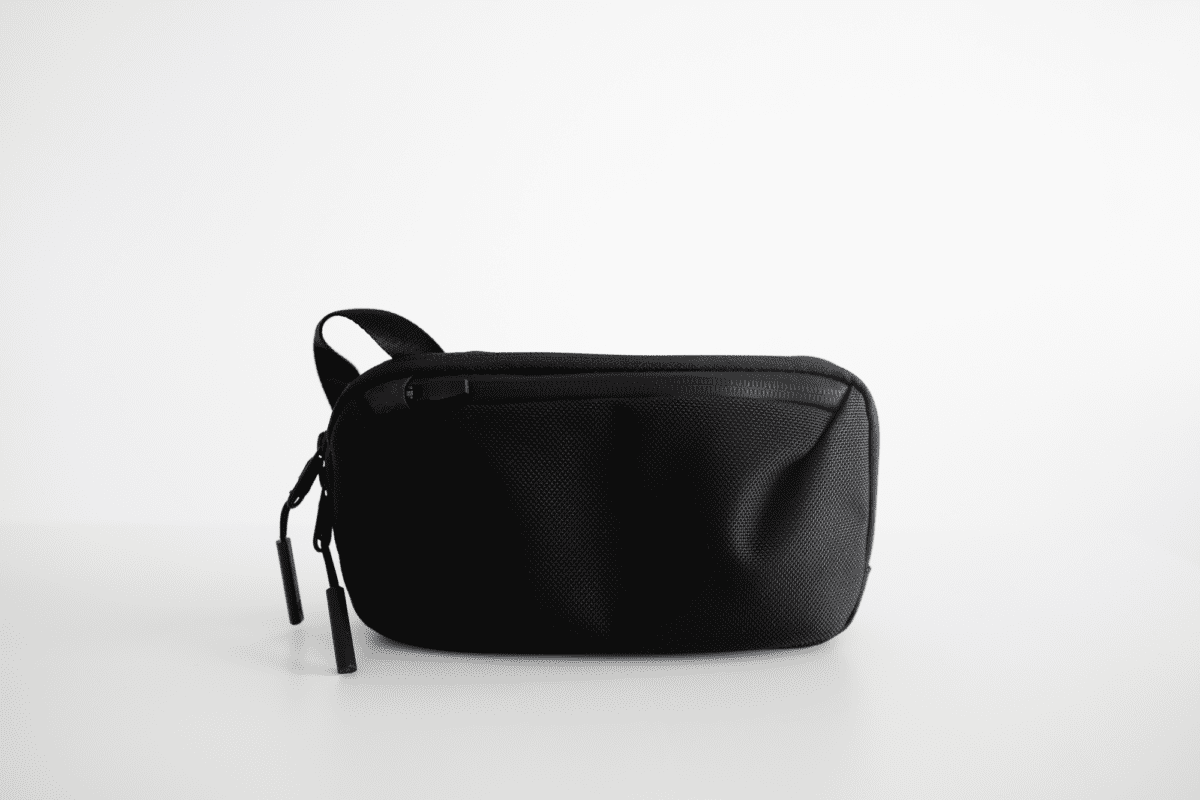 While the materials, build quality, and styling aren't going to be anything new, the use case changes with each product. Depending on the specific way you use it, it could be a hit or miss.
Style
If you have had the fortune of coming across Aer, you should remember them for how beautifully designed their products are. I have reviewed many products in the lifetime of this site, but Aer definitely leads the pack when it comes to the consistency of good design.
Their designs aren't just sleek; it has class evident in a certain amount of restraint. Each detail, down to the zipper pulls, and the material combination has been carefully considered to produce something that's "Aer."
The Aer Slim Pouch is no different. It's been designed with the same sensibilities that got Aer where they are today.
The pouch comes in black, heathered gray, and an olive colorway. No prizes for guessing which color I went for.
As with most of Aer's products, the black colorway is carried thoroughly throughout the pouch, with the only hint of color being a bronze component of the quick-access zipper and the Bauhaus Aer logo in Helvetica bold font.
But no one likes ads, so I got rid of them. If my articles helped you, I ask for your support so I can continue to provide unbiased reviews and recommendations. Every cent donated through Patreon will go into improving the quality of this site.
The Slim Pouch is, well, slim. There is some visual trickery involved. Since you will be mostly looking at the pouch from the top, it looks especially slim; it has a wider base that tapers down towards the top.
The only "noisy" part of the otherwise clean package is the two relatively long zipper pulls. These are standard zipper pulls used in most Aer's products, but they are comically long for a pouch this small and are, frankly, unnecessary. Thankfully, Aer probably isn't bothered because these are removable pulls. So, to each his own.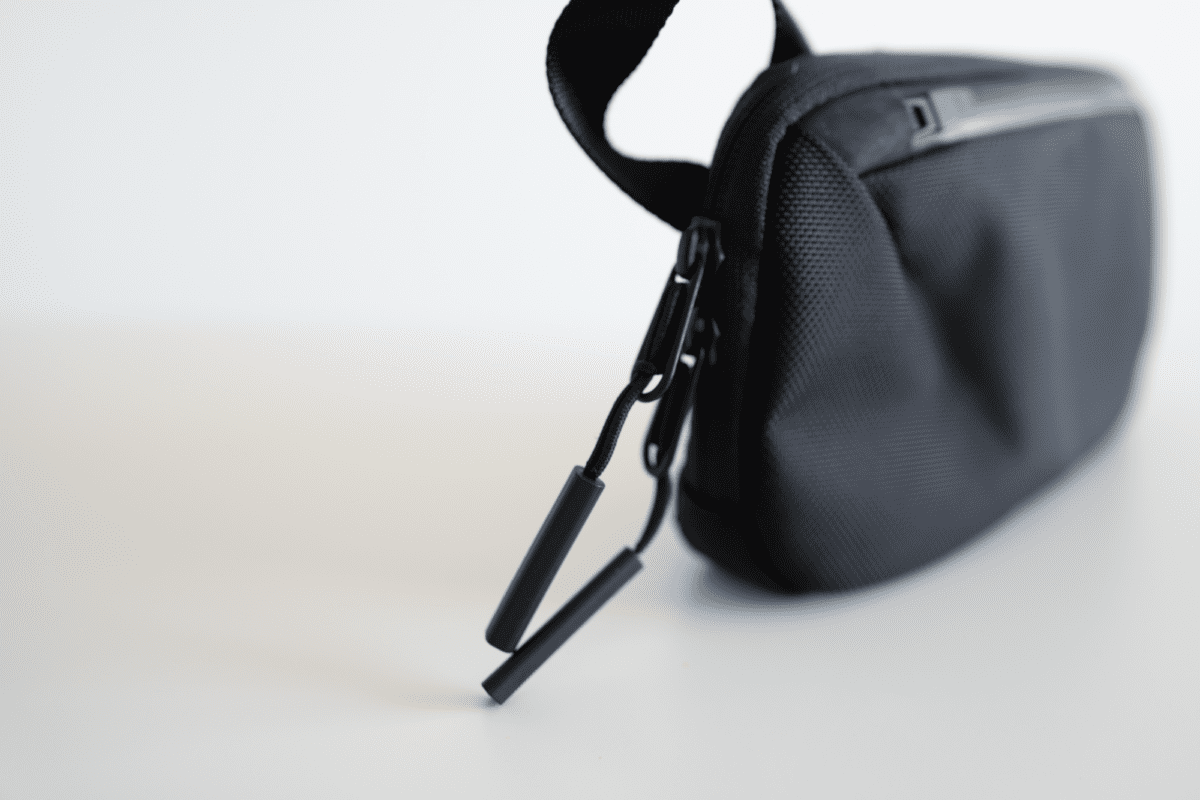 I love how clean this pouch is. Even the AquaGuard zippers (YKK #5) and the zipper tab are selected to allow them to blend effortlessly into the surrounding fabric.
On the front of the pouch, there are two visible lines of cinching, which allows the volume of the pack. The back of the pouch is completely bare, except for a loop sticking out of the corner and an Aer logo tag.
Design and attention to detail make me come back to Aer for more, and the Slim Pouch is a great example of what we can expect from Aer.
Organization
When you buy a pouch like this, the organization is really the deciding factor. There are tons of similar-sized pouches, but having an internal organization that fits the things you need will make or break the experience.
There are two compartments on the Slim Pouch, the main compartment and a quick-access pocket.
The quick access is relatively straightforward and fits items that are up to the size of a card. It won't fit something like the Aer Wallet, for example, but it has enough length to fit a regular-sized pen.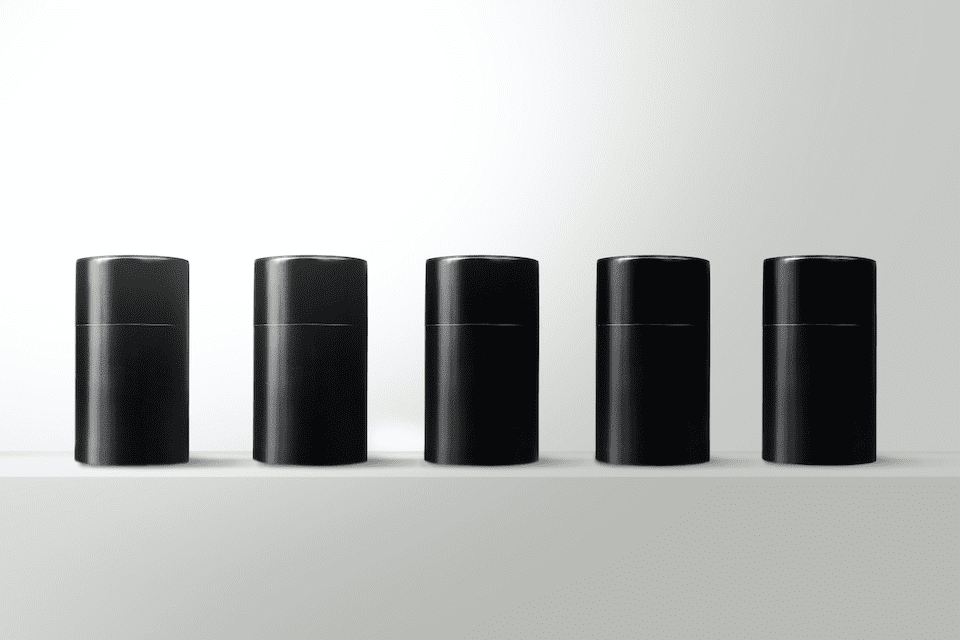 I found a 100 year old company that would create these heirloom quality canisters for me. They are handmade and will keep your tea leaves, coffee beans or anything that you need dry for years to come.
or read review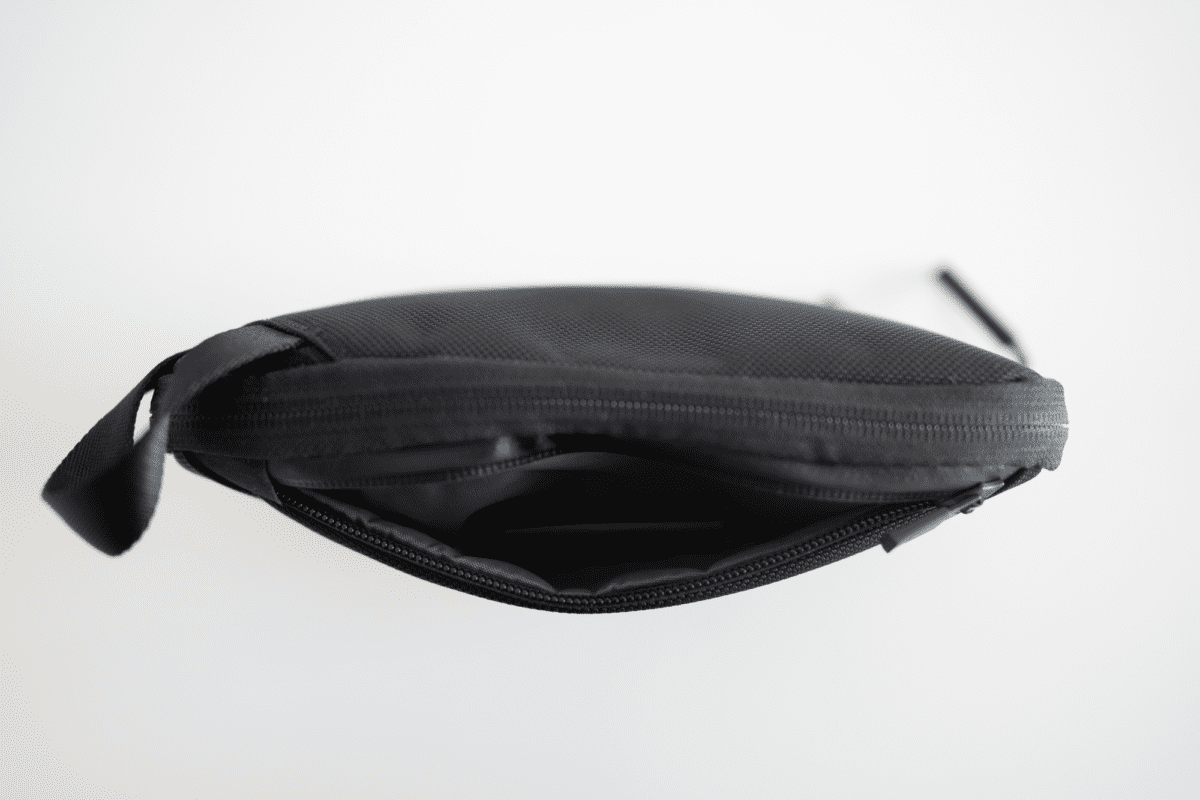 The main compartment is where all the actions happen. Along the back of the compartment is a slot that goes across the entire compartment. The divider that forms the slot has a zippered pocket on it. There are two equally-sized slots on that divider.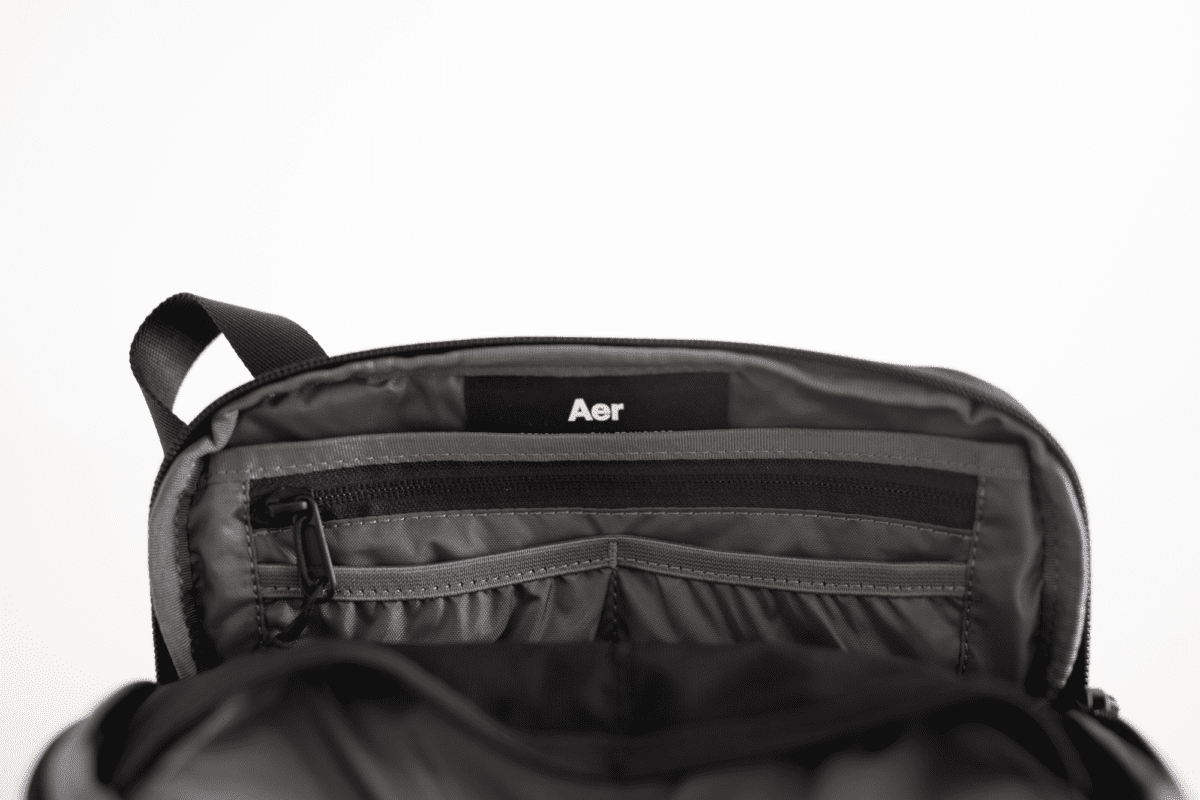 On the other side, there are two equally-sized mesh slots, a little taller than the slots across, that go across the face.
I think the four slots are the right choice by Aer, given that it can appropriately hold small items like my Nanobag or Nivea hand cream in a MUJI compact case. It can also hold slightly larger stuff, like the NOMAD Powerpack or a small bottle of hand sanitizer.
I feel like it has the right amount of organization for a pack this size. The best thing is that the organization doesn't "eat" into the main compartment's space. This allows you to forgo the organization altogether. Dump your stuff into one big lump in the pouch if you like and revel in chaotic disarray like the neckbeard you are.
Material
Aer is no stranger to top-of-the-line materials, and no punches were pulled for the Slim Pouch.
The exterior uses 1680D Cordura ballistic nylon. You may have heard of Cordura before, but this is not to be confused with the Cordura fabric that you see on a GORUCK GR1.
Cordura is a company that manufactures different types of technical fabrics, and ballistic nylon is just one of them. Also, it's good to know that ballistic nylon is not exclusive to Cordura and has been used all the way back in the days of the Vietnam War. To learn more, check out this unnecessarily detailed guide on ballistic nylon I wrote because I don't have a social life.
Even on backpacks, ballistic nylon is overkill, and an average user will be unlikely to wear through them in their lifetime. I have extensive experience with ballistic nylon, especially with backpacks like the TOM BIHN Synik 30, and I can say that unless you bring these bags into warzones, ballistic nylon is more than enough for even the harshest of conditions.
While Cordura is a well-respected brand, in reality, there would be close to no tangible difference between Cordura-made ballistic nylon and an off-brand one. For example, TOM BIHN doesn't use branded ballistic nylon but is well known for producing backpacks that last forever.
That said, being branded certainly doesn't hurt. It gives you peace of mind, even if just a little.
The zippers on the Slim Pouch, and almost every bag worth reviewing in the market, use YKK. The main zipper uses the #8 model, while the quick-access is the #5 AquaGuard model. These made-in-Japan are widely considered as the crème de la crème of zippers.
Usage
I've recently started a routine of minimalistic bodyweight training, so I head to a fitness area at a nearby park every other day. Part of that routine is dumping the Slim Pouch into the nearest tote bag I can reach for, usually the TOM BIHN The Truck, before heading out.
I have three levels of everyday carry that I decide mainly based on the distance I'll be going. The basic idea is that the further I am from home, the more uncertainty I'll have to deal with. This means that I need to be better prepared.
The first level is the bare minimum, consisting of my Aer Wallet, keys in KeySmart Pro, and iPhone.
Skipping to the third level is when I bring along a backpack with all the stuff I need for the occasion.
In between those two levels, and often the default, is where I bring along essentials in addition to the bare minimums. At the time of this review, that setup consists of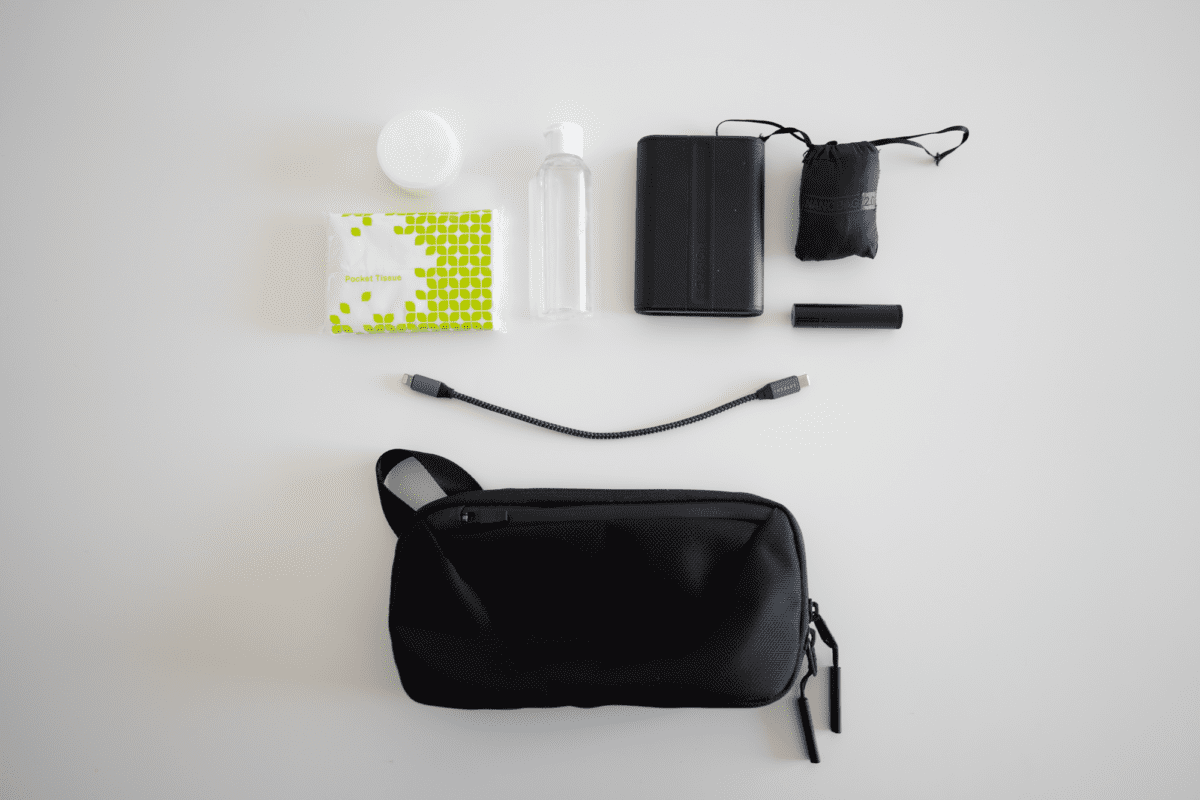 This group of essentials solves 90% of my day-to-day needs like dry hands, chapped lips, low battery, and having to pay 5 yen for a plastic bag at the grocery store.
It goes without saying all of these fit into the Slim Pouch with ample room to spare in the following configurations.
Mesh slots
Taller non-mesh slots
Full-width slot along the back of the pouch
Quick-access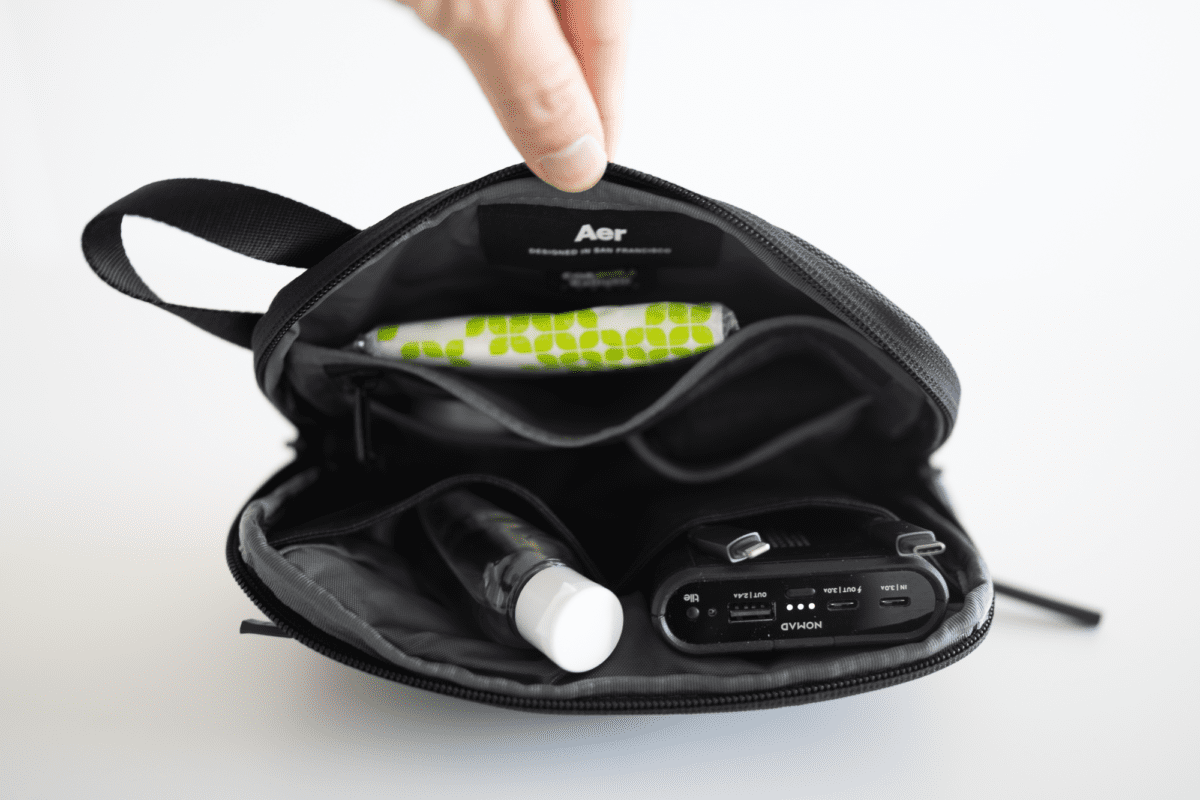 As you might have noticed, I do not use the zippered pocket within the main compartment. This is mainly because it is relatively hard to access, especially when you have something taller than the slots in front of it, and it blocks the smooth operation of the zipper.
If you are thinking of carrying a bottle of hand sanitizer as I do, you might note that depending on the height of your bottle; it might be too tall for the pouch. For me, I had to rest it diagonally in the mesh slot to get it to fit.
This would be a pocket for you to place things that you would access occasionally.
Despite the almost right angle at the pouch corners, you can open and close the main compartment zipper in one fell swoop.
The pouch also comes with a quick-grab webbing loop for carrying or hanging. To be honest, it's much easier to grab the entire pouch rather than trying to grab the webbing loop.
But it's great for hanging. It hangs at an angle that prevents the contents from falling out while allowing for easy access. Because of the angle at which it hangs, it's better to position the zipper pulls near the webbing loop so that you can pull downwards naturally when it's hanging.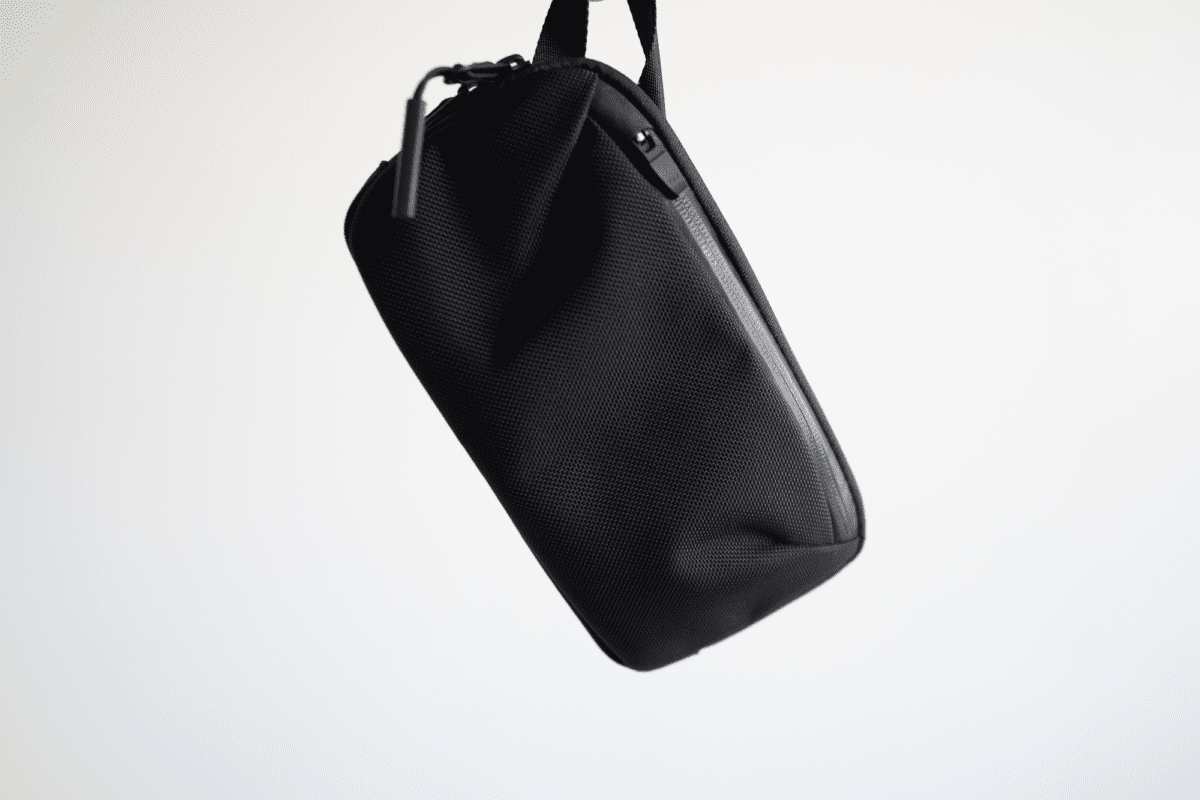 Conclusion
I've reviewed enough of Aer's products to know that they are one of the most consistent brands when it comes to design and build quality. If you are an existing customer of Aer, the Slim Pouch won't disappoint.
Additional Images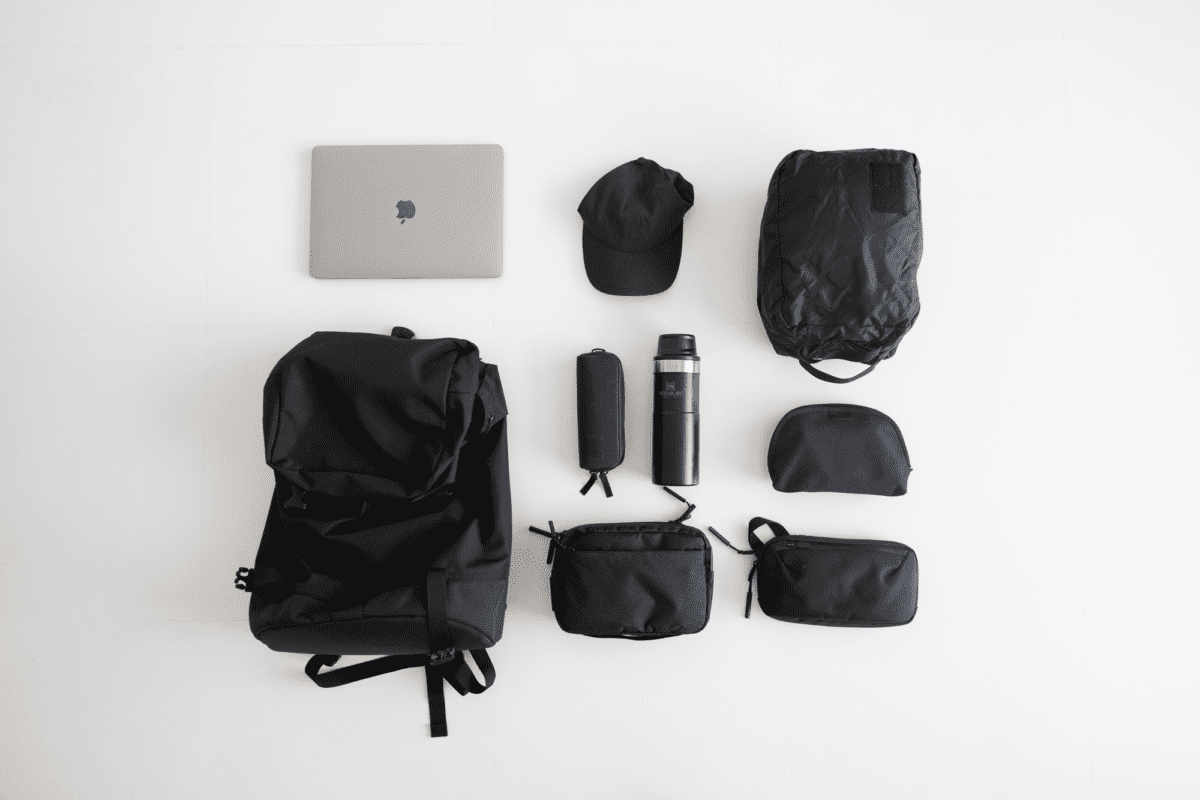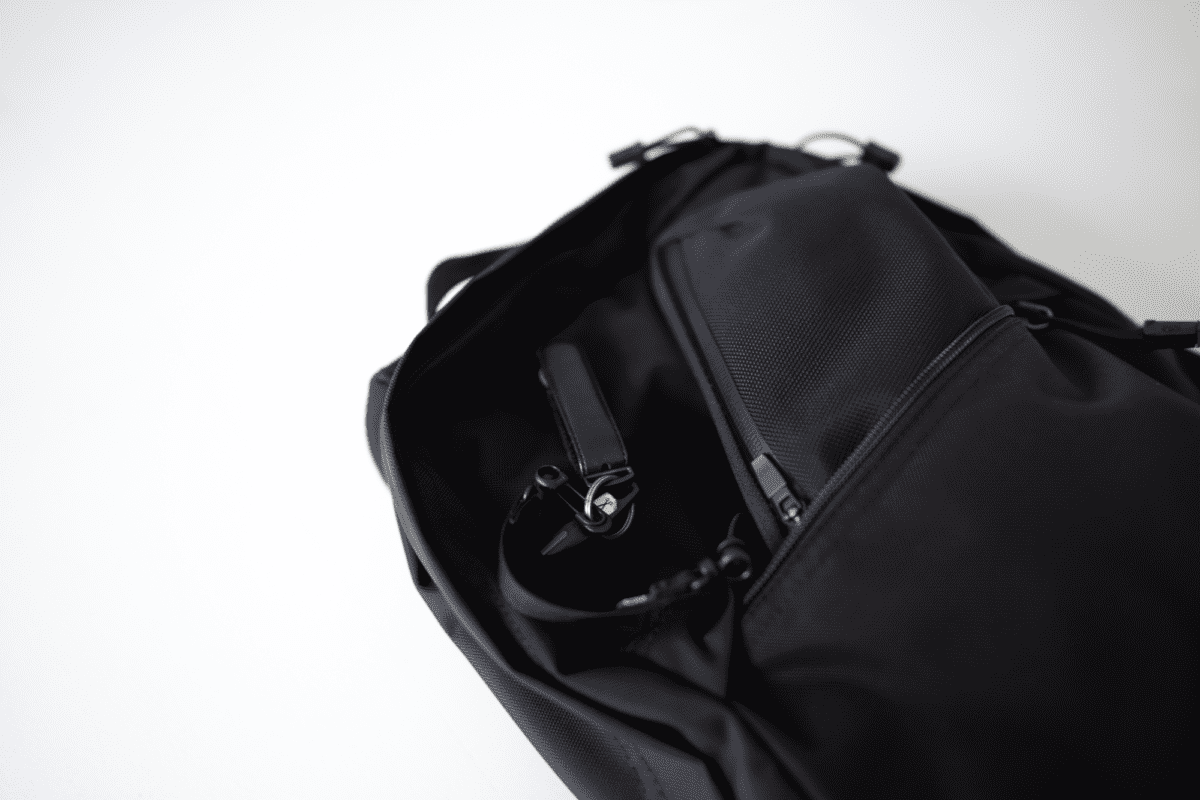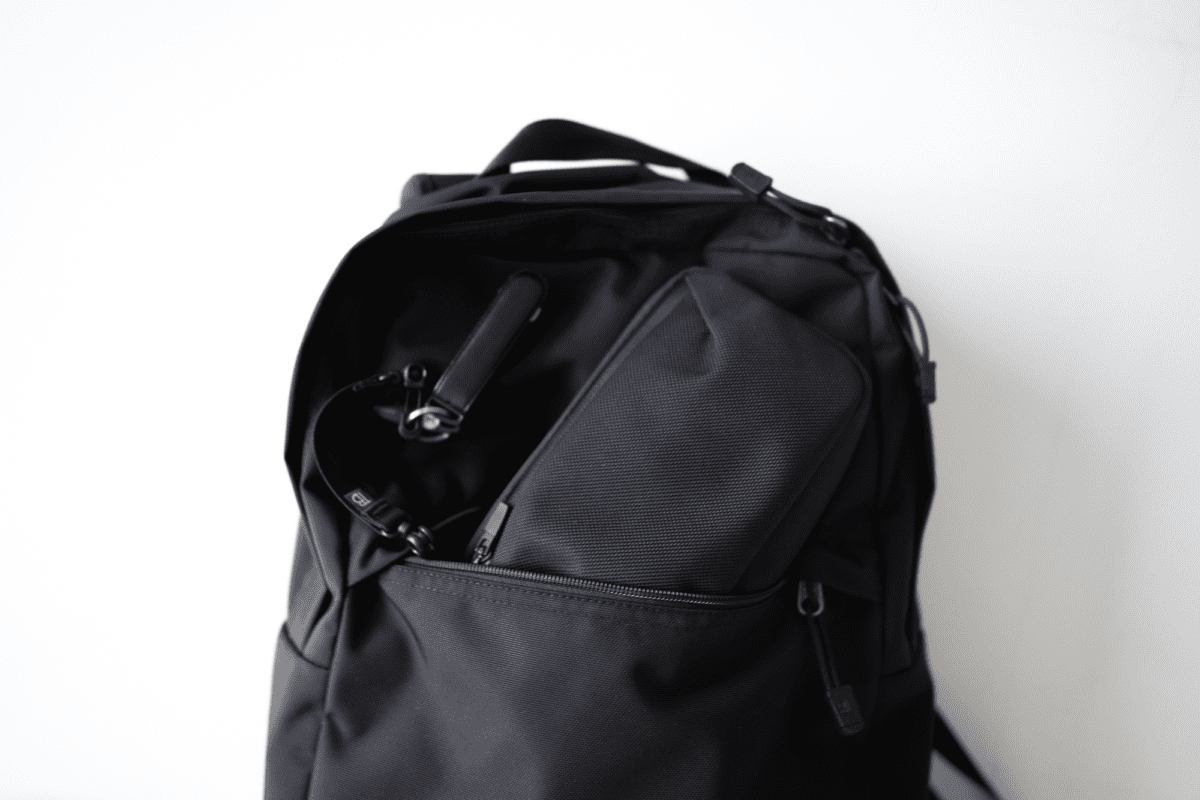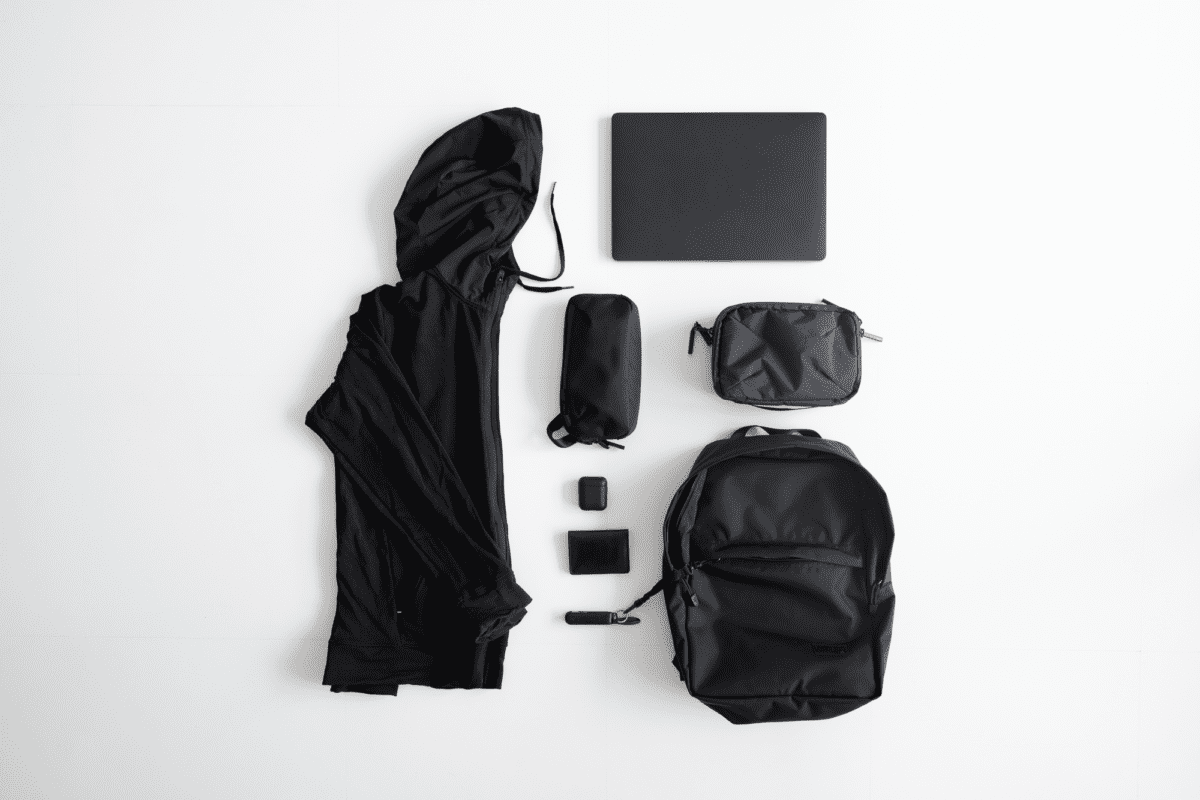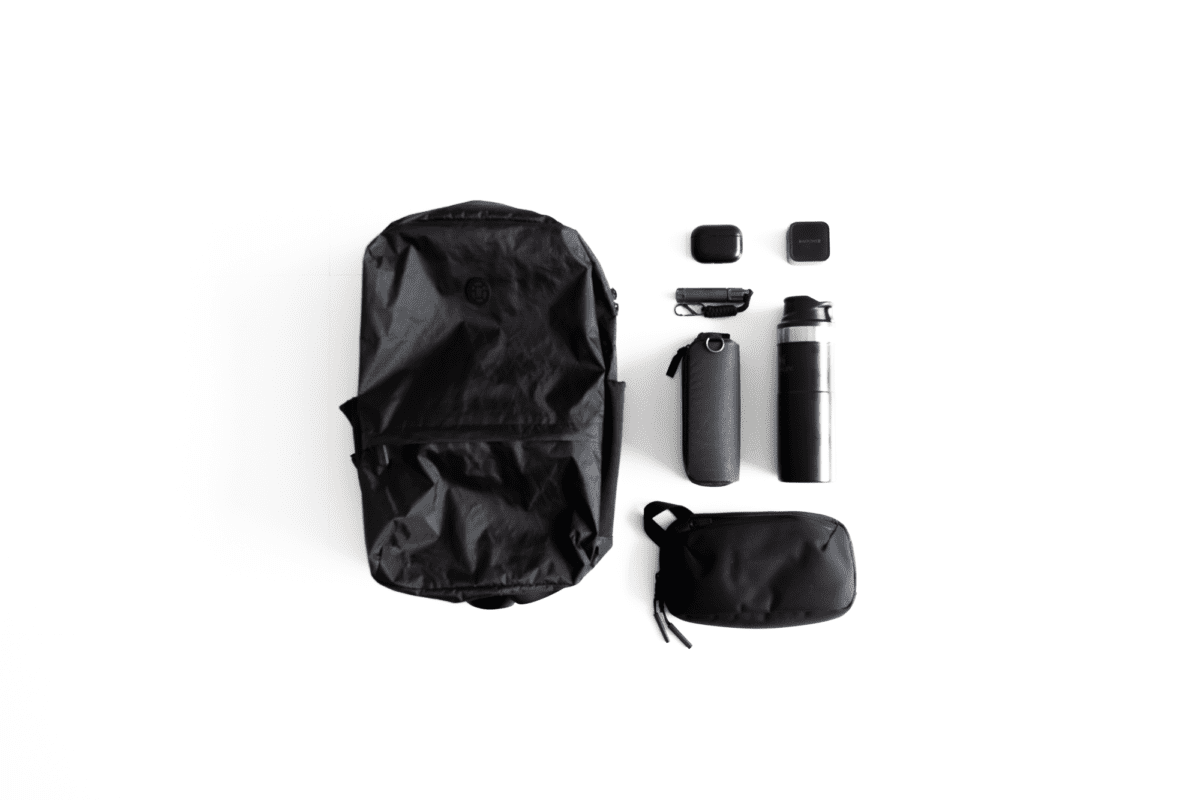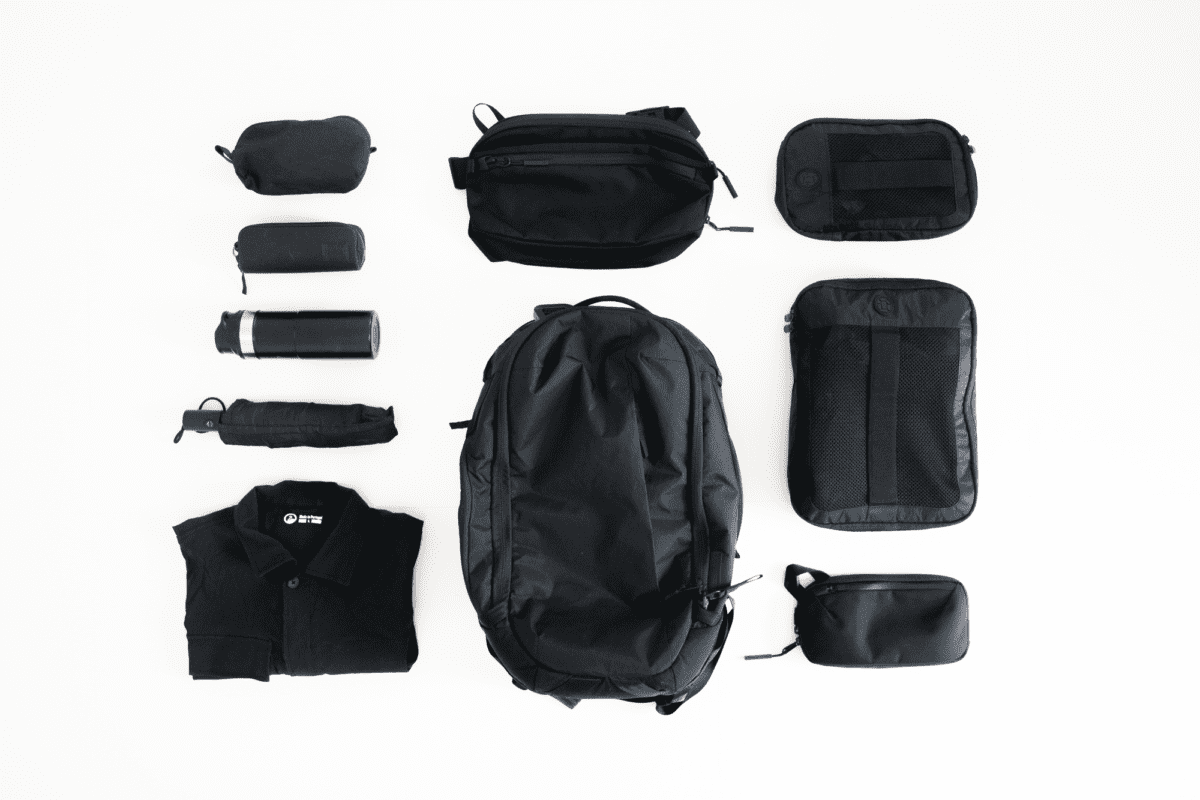 Tagged accessory aer ballistic nylon cordura pouch