This website is made possible by readers. I may earn a small commission when you buy through the links in this article at no extra cost to you. Learn more.
This Aer Gym Tote review will show you how it changed a backpack-obsessive into a tote user. This tote has, almost instantaneously, become one of my favorite bags.
Details
Price $110 on aersf.com
Capacity 19.4 L
Weight 1.9 lbs
Dimensions 14.2″ (w) x 15.4″ (h) x 6″ (d) / 36 (w) x 39 (h) x 15 (d) cm
Material 1680D Cordura® ballistic nylon exterior
Overview
As you might tell from my other Aer reviews, I've got quite the hard-on for Aer. Their bags are super sleek with the highest-quality material and craft, but more importantly, they always have an all-black option. As someone with a fetish for all-black products, I always feel like if a backpack company could be a soulmate, mine would be Aer.
Even as a bag reviewer, it's been a while since I've come across a bag that excites me as much as the Aer Gym Tote. It's surprising for me, seeing as it's not a backpack but a blasphemous tote. While backpacks are my go-to for digital-nomad-ing, I've been mainly working from home for a while now, given the state of the world.
The place I visit the most is the nearby mall, whether it's for an udon lunch, working from the Starbucks, or to the park next to it to work out. I opt for backpacks with less organization for those trips, like the TOM BIHN Paragon Backpack. I want something that looks simple and fuss-free.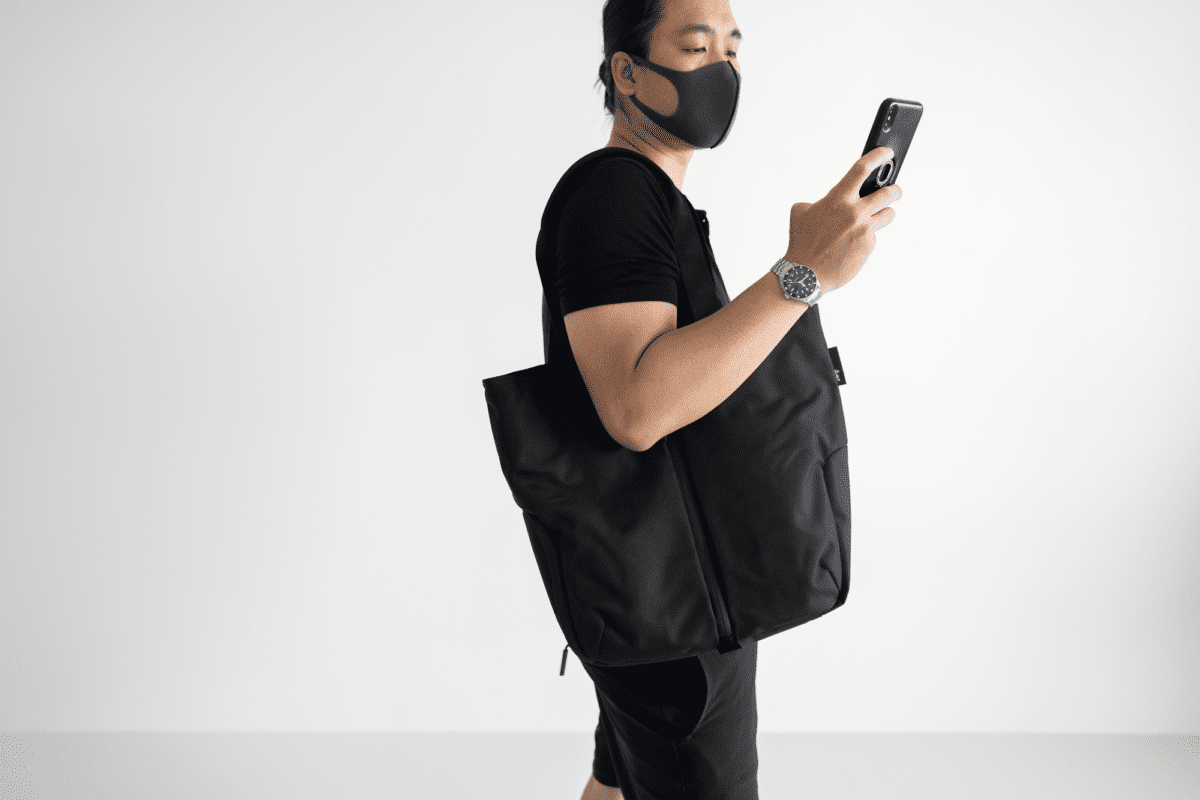 For that reason, rather than a backpack, I tend to lean towards a tote. I wouldn't consider a tote for travel because carrying all that weight on one shoulder for long periods of time isn't fun. But for short distances and short periods, a tote is preferred for ease of use. You dump whatever you need in and go.
However, a tote is often designed differently from a backpack. Most totes are often one giant compartment with nominal organization, like a pocket on the front. One example is the TOM BIHN The Truck. The Aer Gym Tote is different.
The organization of the Gym Tote is what truly sets this apart. I am not exaggerating when I say this is one of the best bags (I own a hoard of bags).
Style
If you've shopped for bags, you might have come across Aer. What catches your eye would probably be the product images showing off their ultra-sleek designs. As someone who has used many Aer's bags, I can tell that the product in hand does not disappoint.
Their designs are often minimal and organization, thoughtful. Strong material choices punctuate their chic San Fransisco aesthetic. Some people might dislike the military-bro look of GORUCK bags, like the GORUCK GR1, or OG 80's look of TOM BIHN bags, like the TOM BIHN Synapse, but I've yet to find someone who has a problem with Aer's style.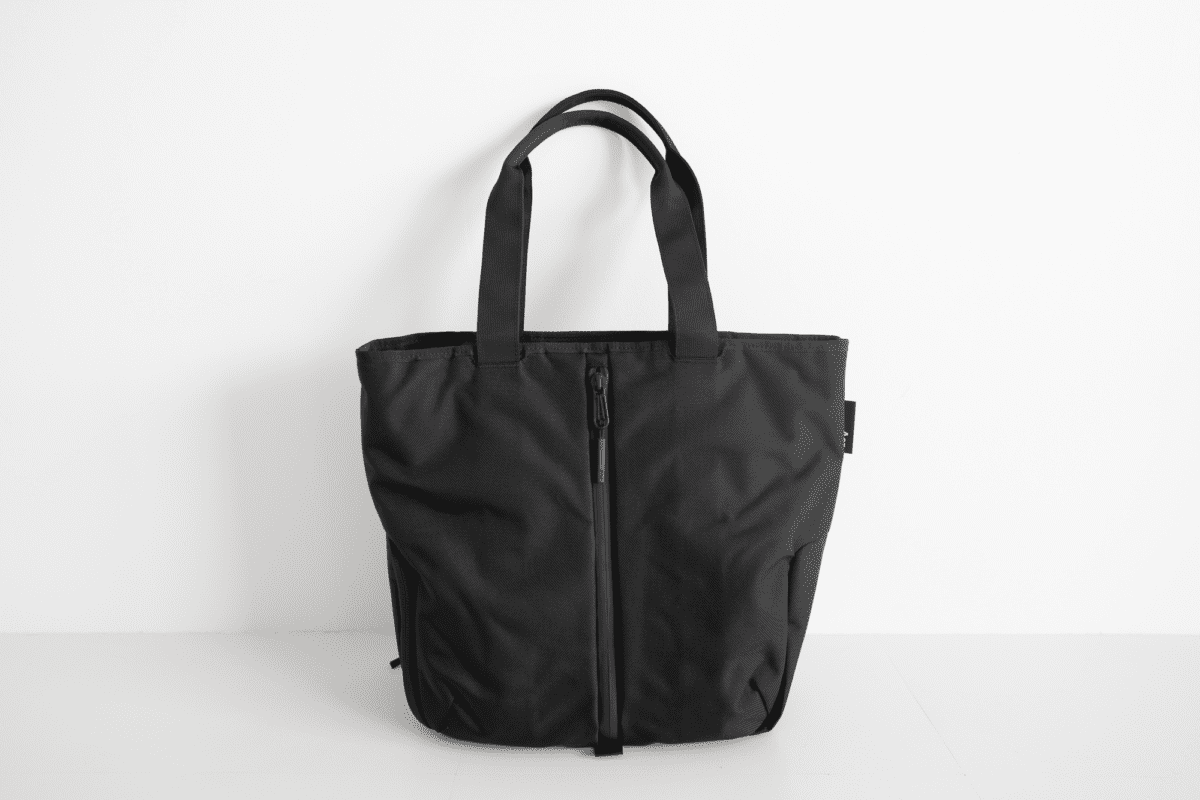 Their designs are universal but yet have a distinct personality. My favorite aspect of Aer, however, is the consistency.
But no one likes ads, so I got rid of them. If my articles helped you, I ask for your support so I can continue to provide unbiased reviews and recommendations. Every cent donated through Patreon will go into improving the quality of this site.
Whether it's a sling like the Aer City Sling or a full-on travel backpack like the Aer Travel Pack 2, you can expect the same look and quality.
The Gym Tote is no different. It's stealthy, and the material selection screams quality.
Compared to the other Aer products, there are more external details going on, namely the zip that goes vertically across the middle of the bag's front and the strap that goes horizontally across the back. These details add a bit of futuristic techwear flair, where hints of military influence show.
The details add character to the otherwise minimalist exterior. Everything is black, except for the Bauhaus-style Aer brand tag. The Helvetica logotype is offset by negative space and is one of the few examples of branding that I don't mind.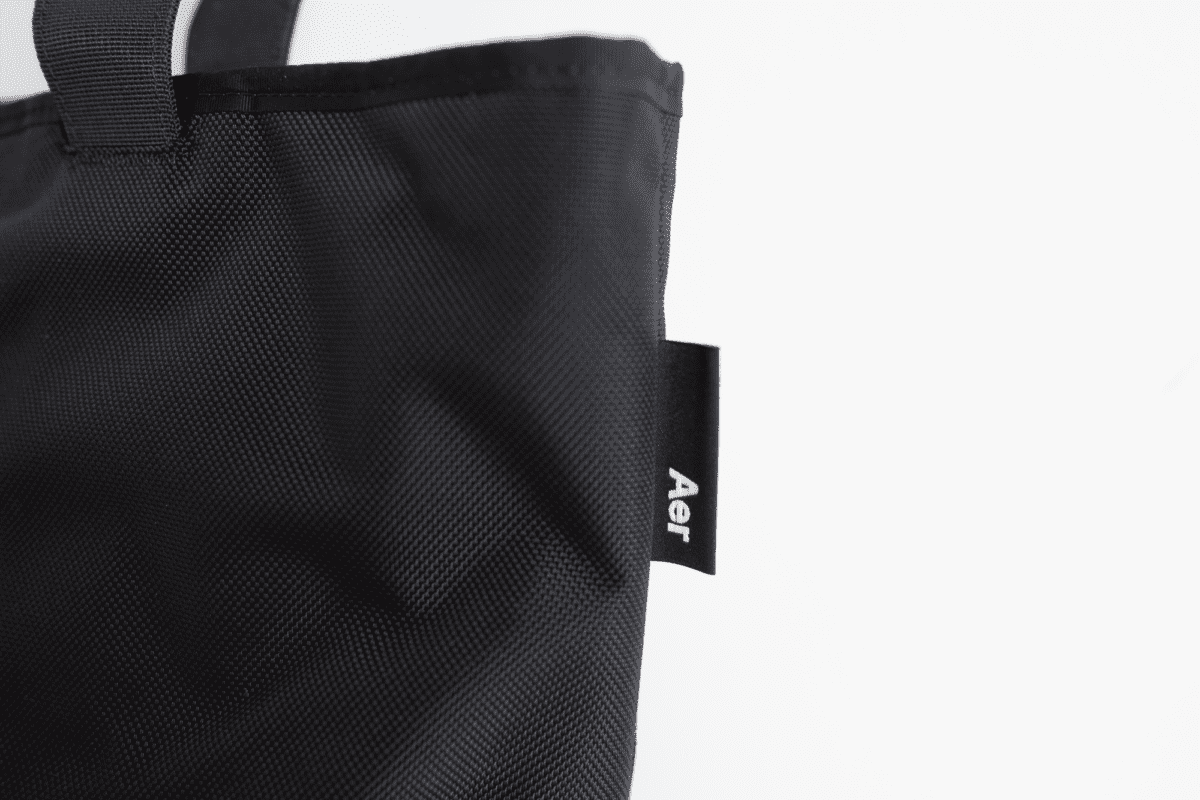 What's puzzling is Aer's decision to design it for the gym. It looks nothing like something you would bring to the gym. The "Gym" Tote is more suitable for the office or a fancy event than a gym. But maybe that's the point.
The Gym Tote is not large. On my 6 ft 205 lbs frame, I consider the Gym Tote to be a perfect size, if not a little small. But, definitely not too small. Since I am on the larger side, I suspect Aer chose the size of the tote to fit the widest range of body sizes. Unless you are Shaq or Weeman, you'll probably be fine.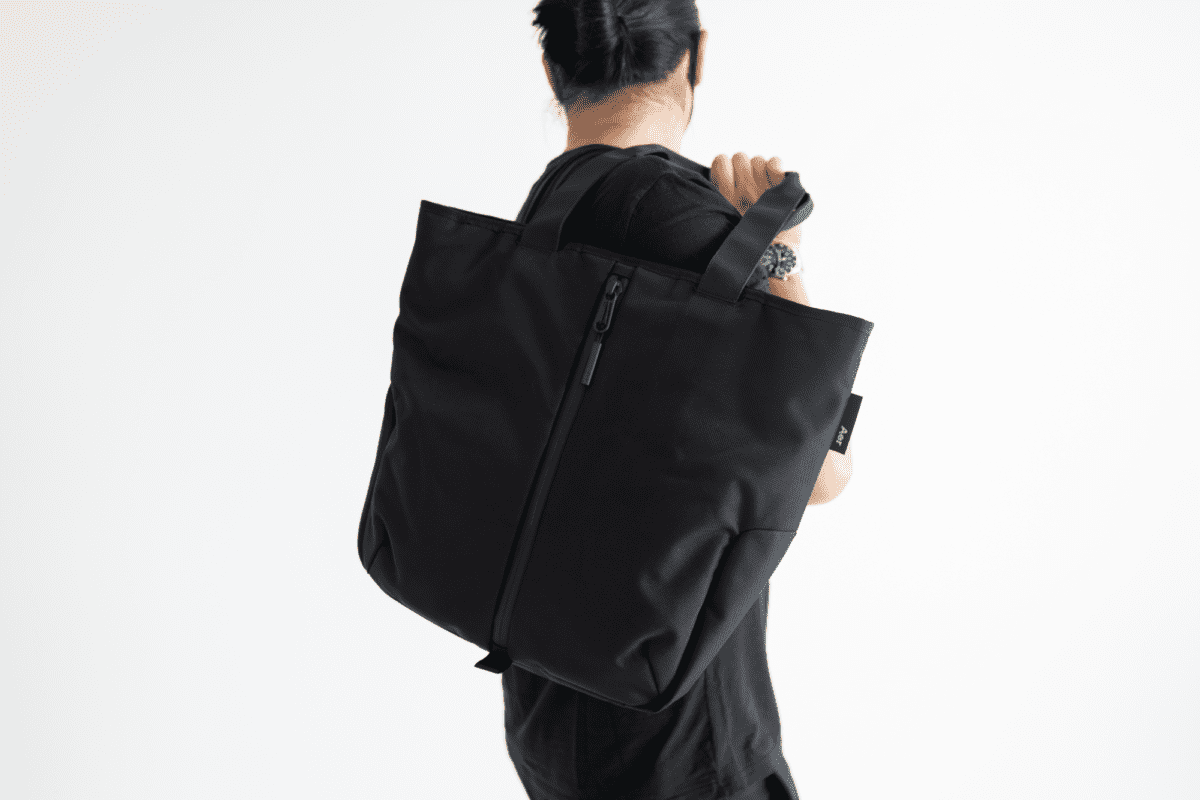 Material
The exterior material of the Aer Gym Tote is the 1680D Cordura® ballistic nylon exterior. Unlike some of Aer's other offerings, they don't have different material options like X-Pac.
You might have heard of Cordura material, like the 1000D Cordura used on the GORUCK GR1. Cordura is the company's name, and they produce many technical fabrics, one of which is also called Cordura.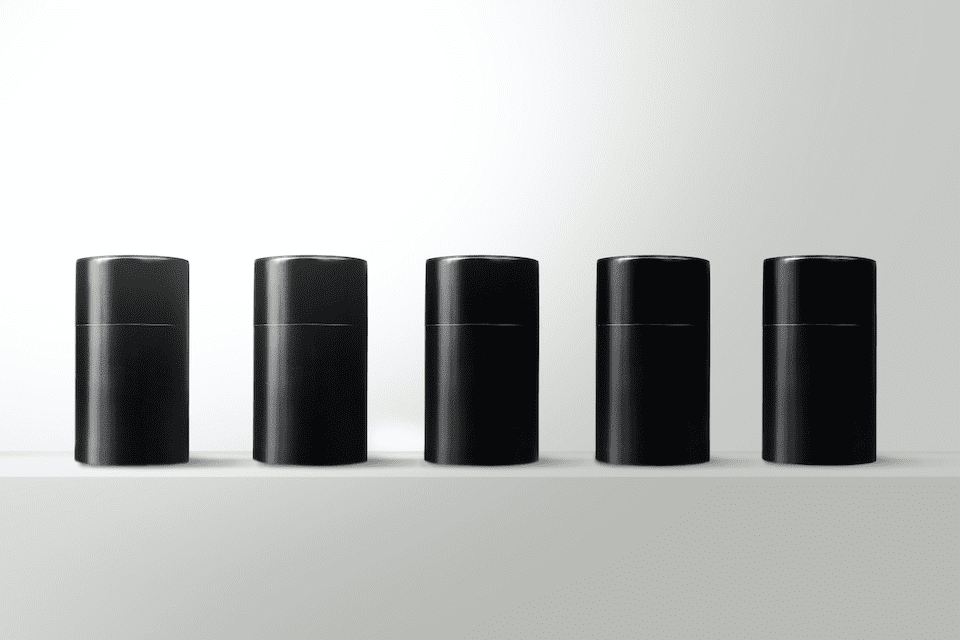 I found a 100 year old company that would create these heirloom quality canisters for me. They are handmade and will keep your tea leaves, coffee beans or anything that you need dry for years to come.
or read review
The 1680D Cordura ballistic nylon is different from Cordura the material. It is a ballistic nylon material created by the company Cordura. Ballistic nylon isn't a proprietary fabric of Cordura. They have been around since the Vietnam war. I've got bag loads of experience with ballistic nylon, especially the 1050D ballistic nylon used on TOM BIHN bags, and I can tell you that it'll stand up to just about anything you throw at it. You might want to read this article to know everything about ballistic nylon.
There are plenty of no-name ballistic nylons out there, but the fact that these are by Cordura, one of the most respected fabric companies now, doesn't hurt.
It's no surprise that YKK zippers and Duraflex hardware has been utilized. These are the best of the best, and I've never had hardware from these brands fail on me.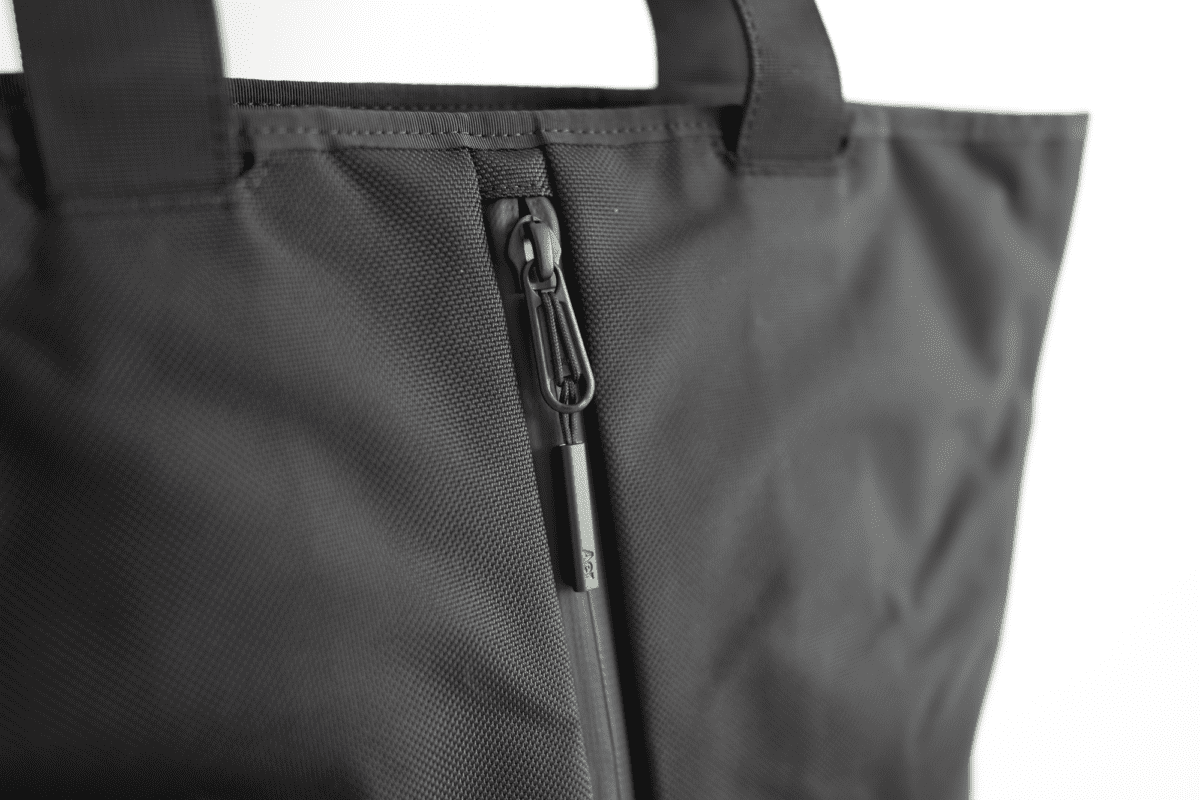 Usage
The name "Gym Tote" can be misleading because it's not just for the gym. It's really a tote for work essentials that you can double as a gym bag.
Handle
The handle is a great length. Not too short to go over your shoulder, and not too long that it drags along the floor when you hold it with your hands.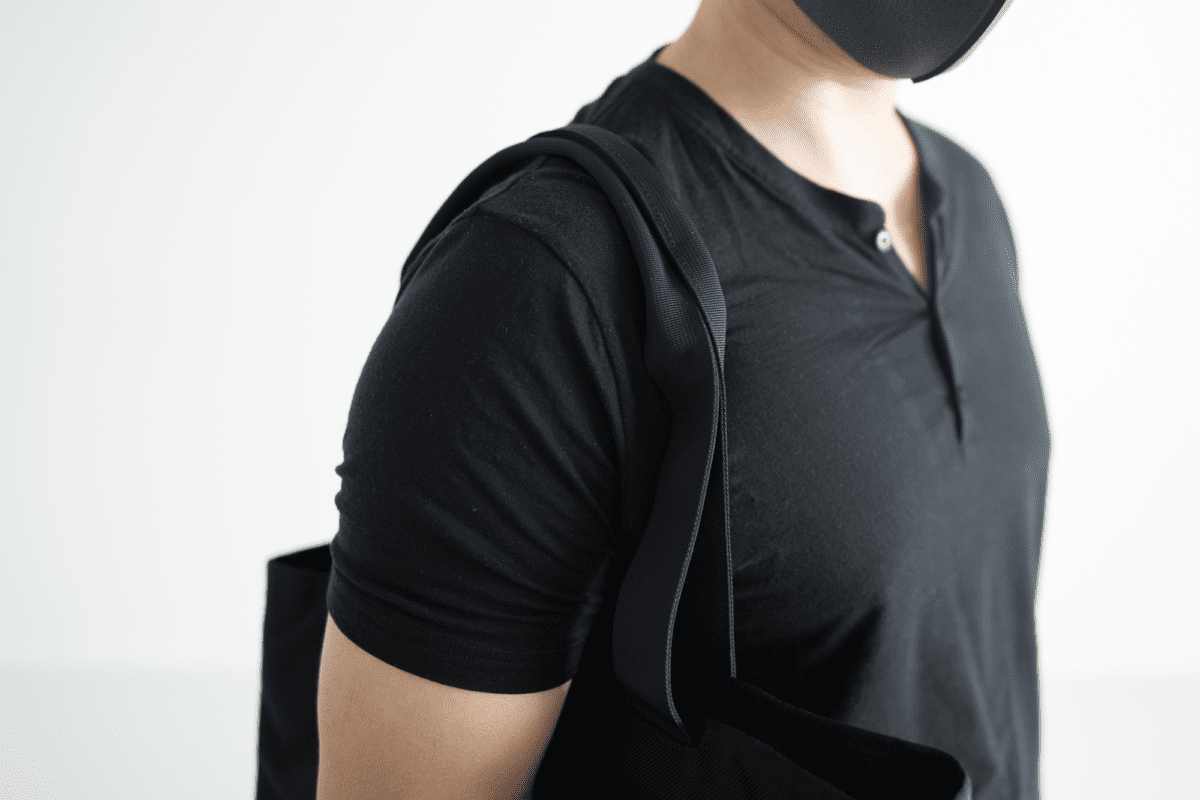 There isn't any closure that can keep the handles together when it's over your shoulder. Sometimes, one of the handles does slide off my shoulder. I mitigate this by putting the other handle over the inner one when it's on my shoulder to "lock it in."
Front Compartment
On the front of the bag, there is a zipper pocket with zippers that go down the middle of the bag. The pocket takes up the entire front of the bag and is rather flat.
Even though it's easy to access the contents of this pocket, I would not recommend this for your valuables due to the zipper. The zipper's position makes it easy for stuff, especially small ones, to fall out of the pocket. I put a portable fan that I got from Muji here.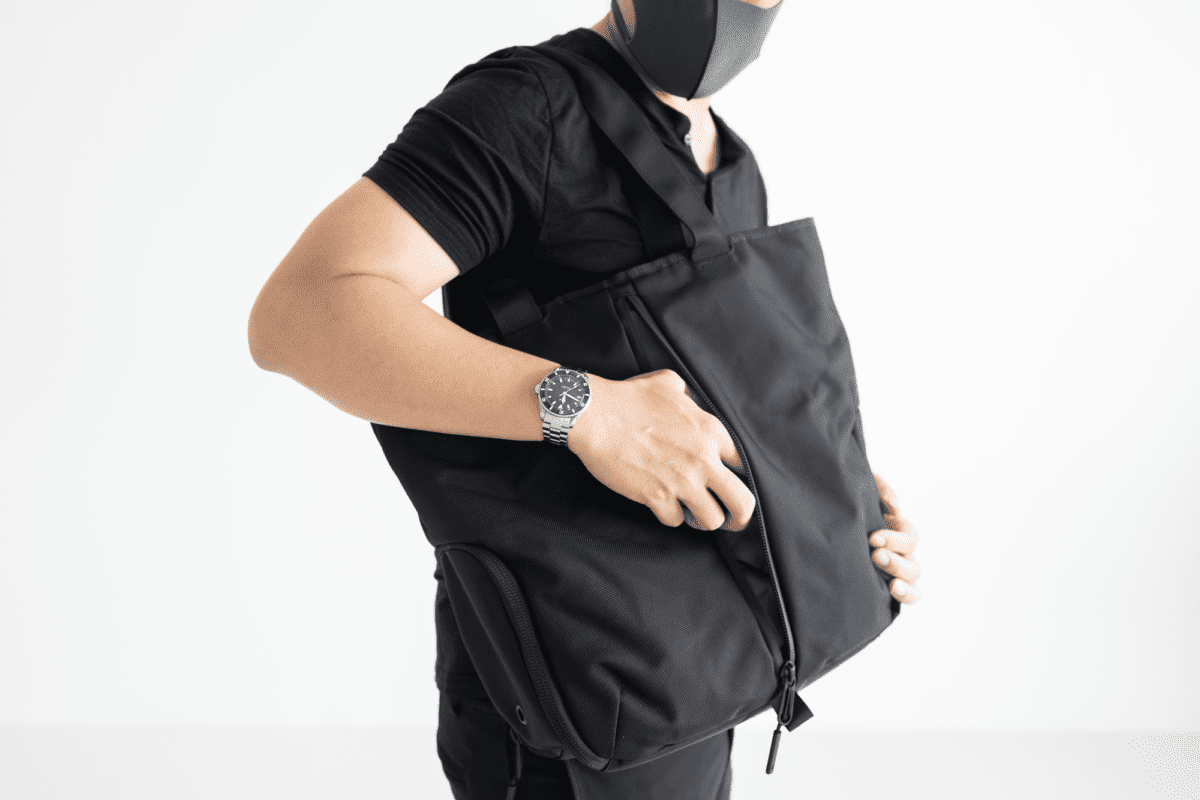 Main Compartment
The main compartment has a surprising amount of organization. To the back, there is a full-width slot for your laptop. I can comfortably fit my 13-inch MacBook Pro, long-side in. Your laptop will fit well short-side in as well, giving you the flexibility that makes life easier.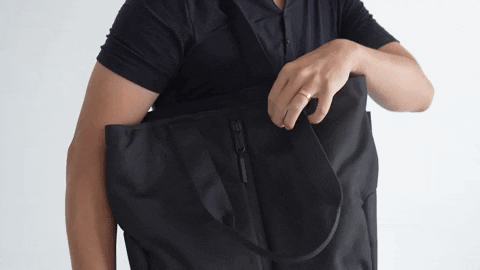 While Aer specified support of up to 13-inch laptops, the laptop compartment will hold a 16-inch MacBook Pro if you put it short-side in. This does not obstruct the main compartment's zippers, and you can close it comfortably.
There is another full-width slot in front of the laptop slot, albeit a little shorter. Opposite the slot are two shorter slots that take up the entire width.
The cherry on top is that the main compartment has a zipper that closes it, something you don't often see in tote bags.
Tote bags that do have zippers have those that allow you to open the zipper all the way such that both sides separate, but when you do, the zippers can be tricky to latch back together.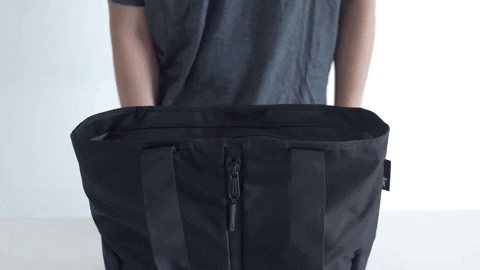 The zipper on the Gym Tote is such that one side will always stay latched on so that you don't have to try to get the ends of the zippers to connect again. At the same time, because they made the end extra long, it doesn't obstruct the opening. I thought this was a pretty nifty solution to an often-overlooked issue.
Even with such a well-designed zipper system, I tend to leave the zippers open unless it's raining.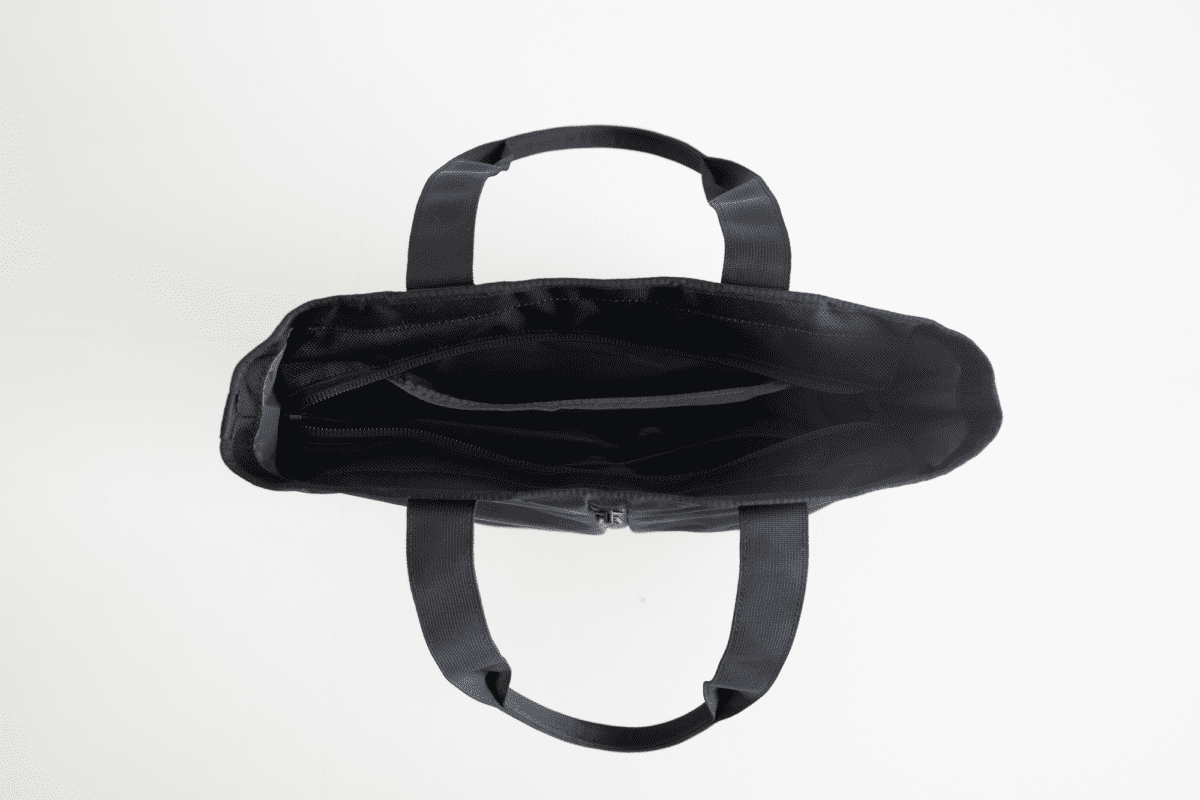 On one side, there is a small slot for your water bottle. It fits my Stanley Travel Mug perfectly. However, I wish it was a little deeper. It covers about half of the bottle. While the vacuum body of the Travel Mug minimizes the amount of condensation, some droplets still form, and I would rather the slot would prevent it from coming in contact with the rest of my bag's contents.
Shoe Compartment
You can access this compartment from the left bottom corner of the tote. It has a small hole to keep it ventilated, but it's honestly not much. I wouldn't put muddy shoes in here.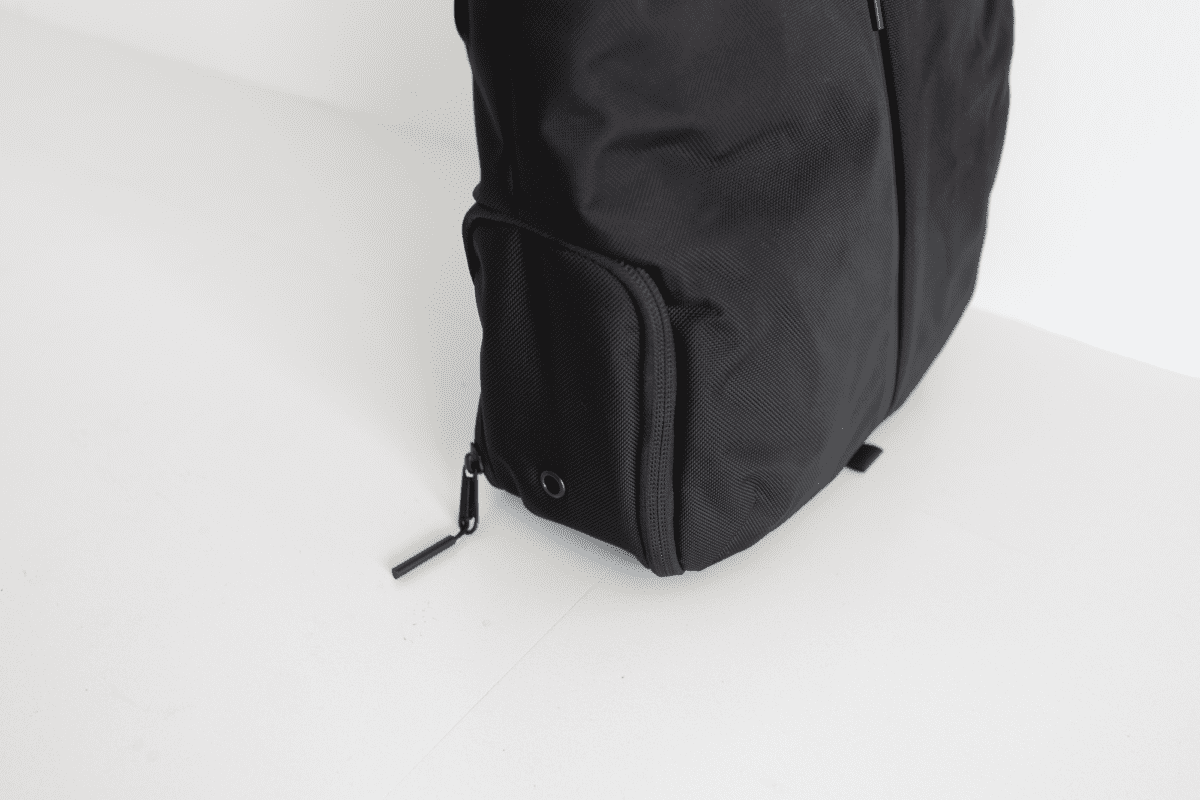 It fits up to a pair of US size 12 shoes. The shoes in this compartment will take up the space of the main compartment. While it takes up space at the bottom of the main compartment, it's not fixed in place so you can actually lift it up within the main compartment.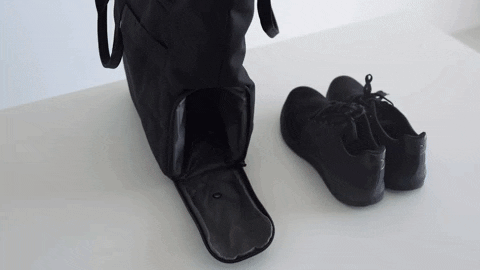 Back Quick-Access Compartment
There is a smaller zippered pocket on the back of the bag. This pocket is ideal for everyday carry items like my NOMAD Slim Wallet, JIBBON Key Organizer, and RUGGED & DAPPER Organic Lip Balm. Since the zipper is between your body and the bag, it's a challenge for pickpockets to get to. At the same time, you can easily reach the opening without taking the bag off your shoulder.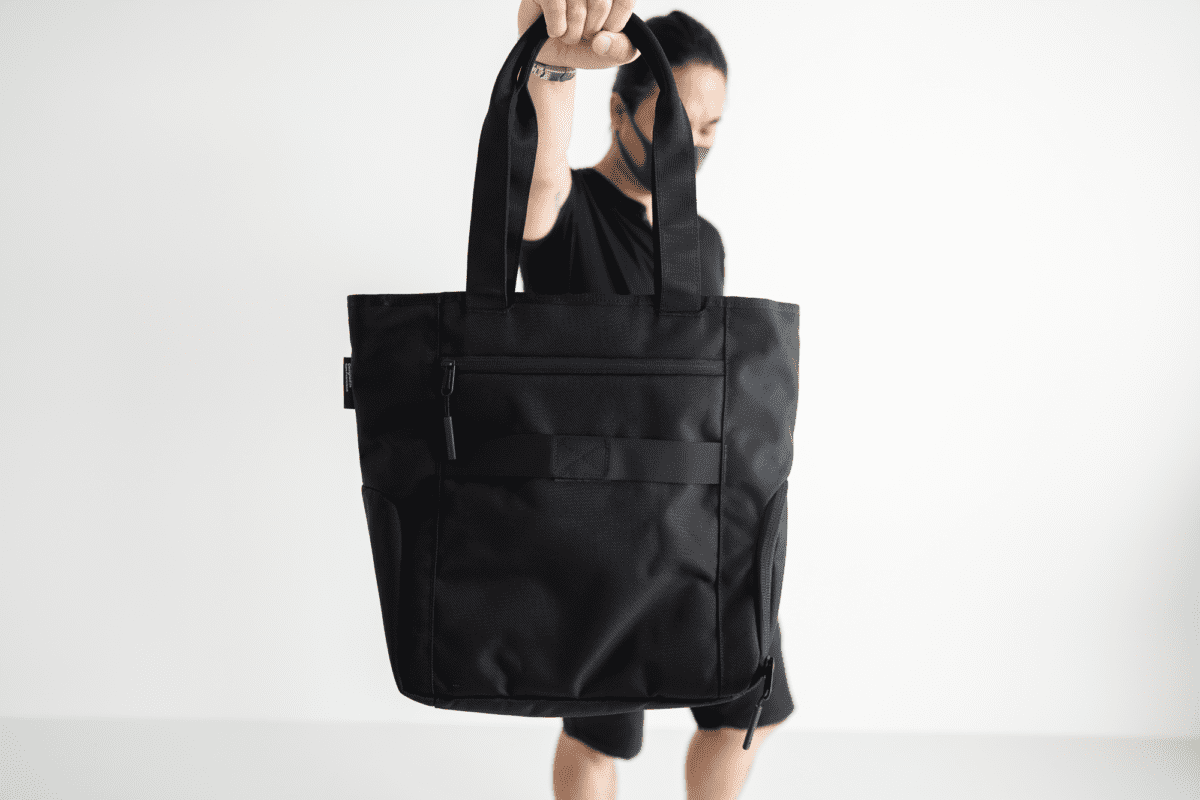 Luggage Passthrough
There is a strap below the quick-access pocket with a velcro fastener in the middle. I had thought that this was for you to attach trinkets, but it turns out it is a luggage pass-through. You can put the handle of your roller luggage through here. While the only times I use a roller suitcase is when I visit my home country and have stuff I want to store there, the strap costs minimal weight and actually makes the bag look less basic. So, it doesn't hurt to have it.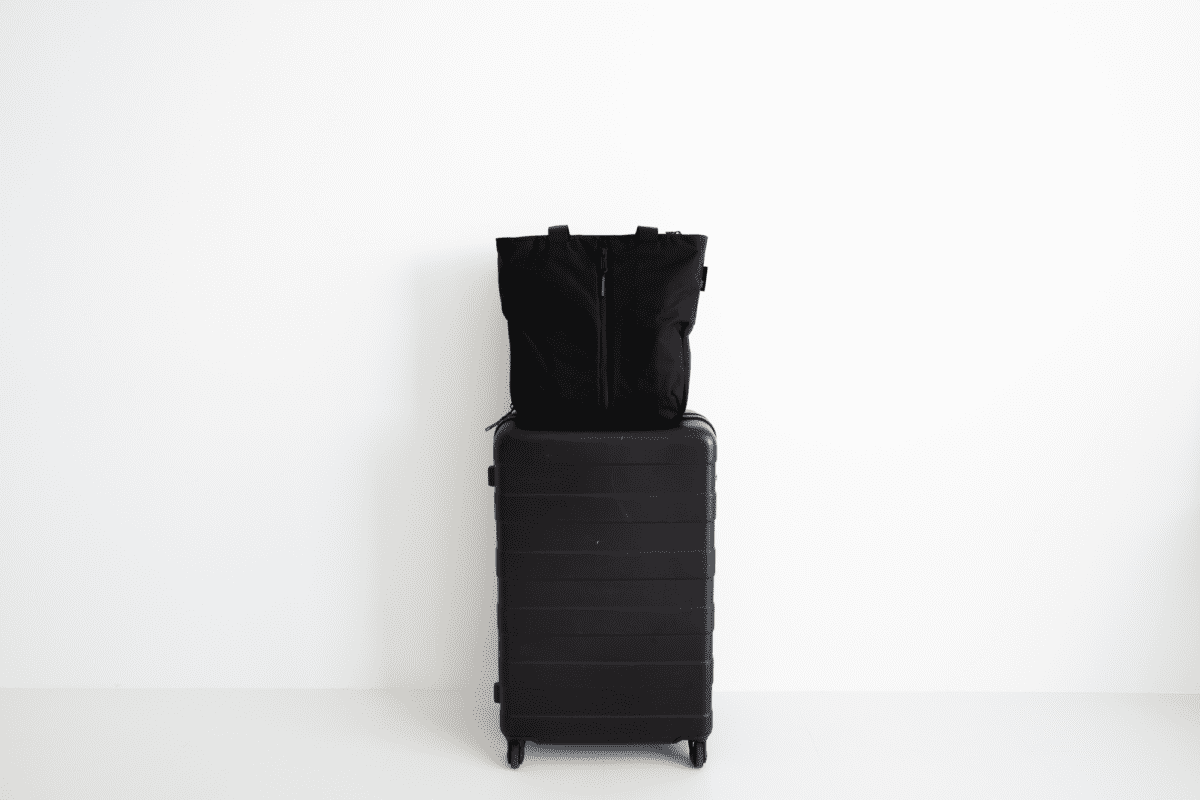 As you can see, the height of the tote will likely engulf the handle, making it a little less comfortable to hold.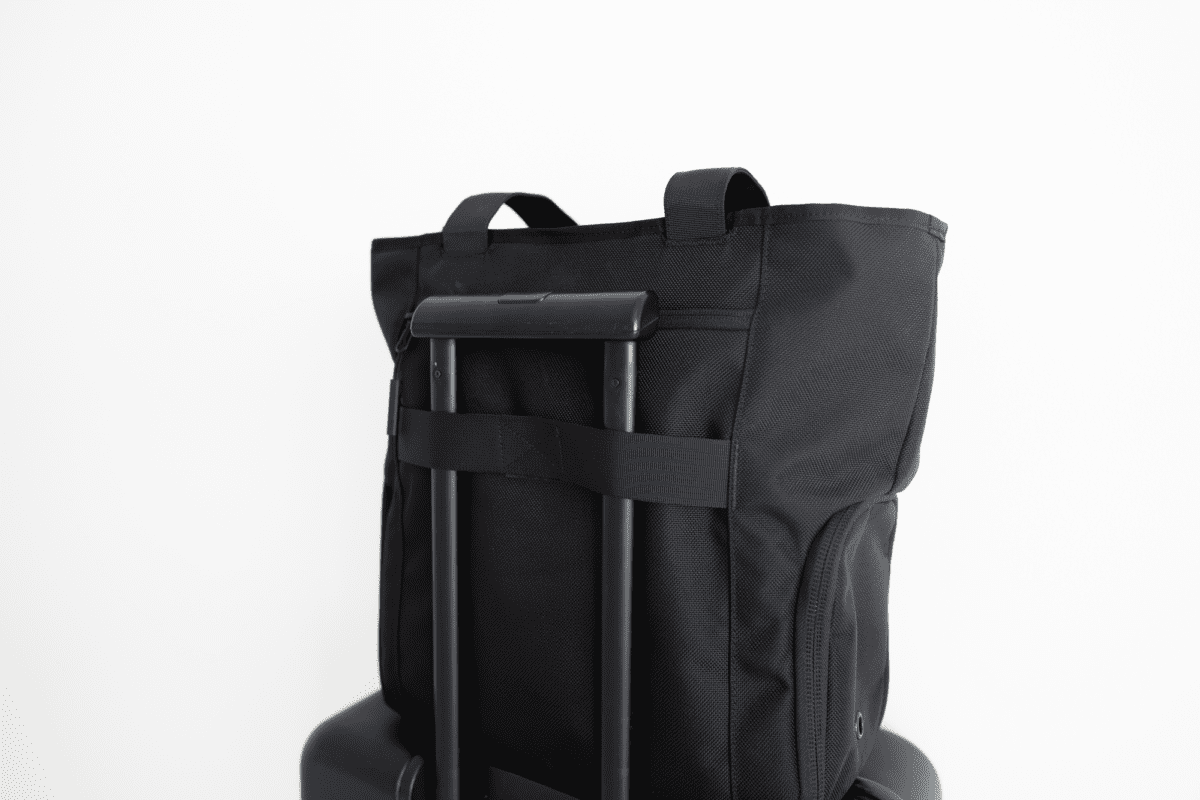 The velcro in the middle keeps it in place. It's a relatively simple design.
Conclusion
The Gym Tote is not only my favorite tote; it has become one of my favorite bags. It feels like the bag was custom-made for me.
Some features like the shoe compartment and luggage pass-through probably won't see as much use. The nice thing is that many of these "unnecessary" features don't take up space if you don't use them.
Admittedly, I'm a "backpack guy," but mostly because I haven't experienced a tote that works. Until now.
Additional Images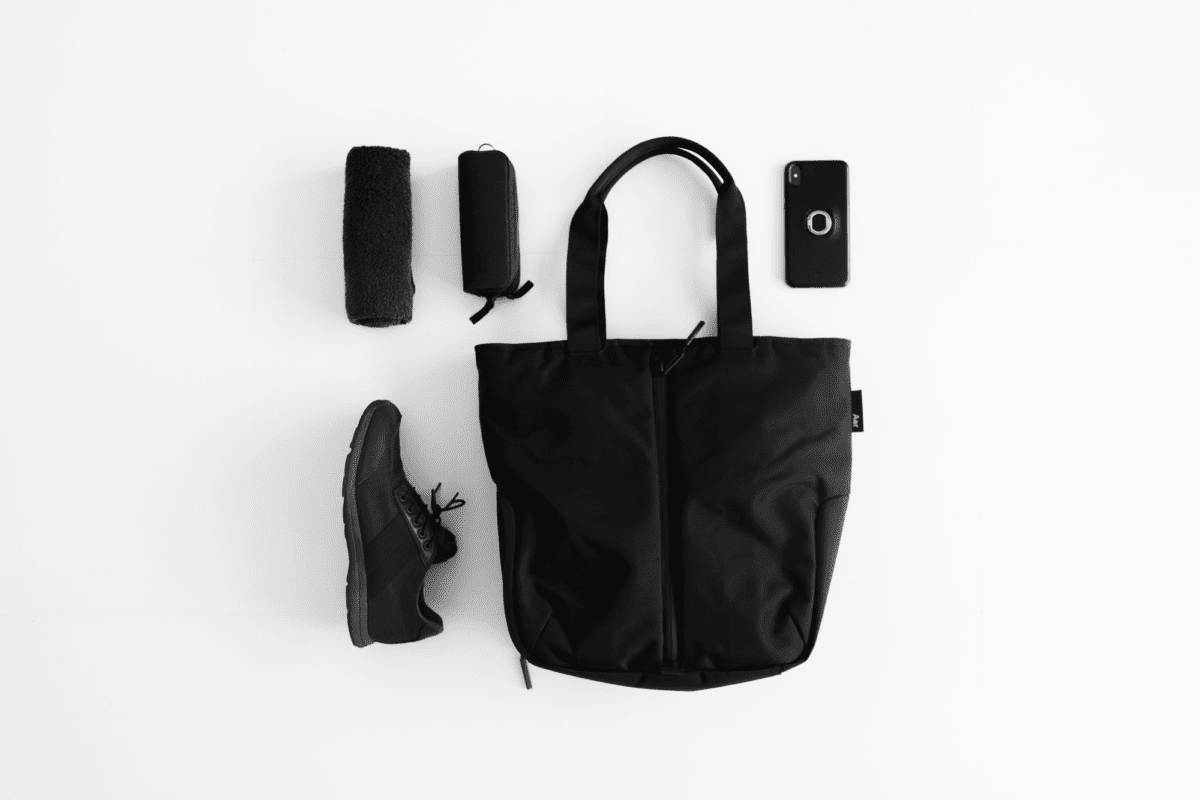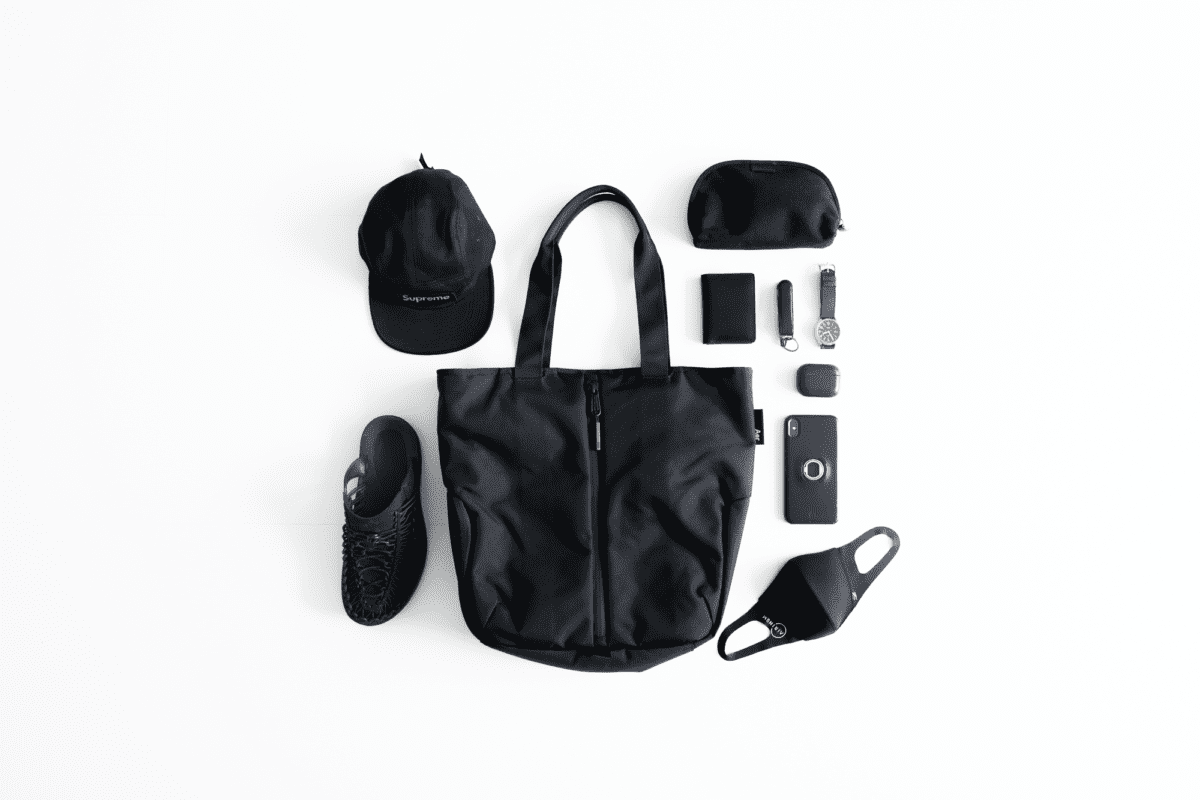 Like this review? See all of my in-depth reviews.
Also, consider supporting me by being a Patreon. Every cent given will go back into improving the content of this website.
Tagged aer bag ballistic nylon review tote bag