This website is made possible by readers. I may earn a small commission when you buy through the links in this article at no extra cost to you. Learn more.
Some of you might be thinking of moving to Japan and, instead of using a Japanese broker, might want to continue using Interactive Brokers as your security platform. While I would advise those intending to live long-term in Japan to use a Japanese broker to take advantage of tax-free programs like Nisa or iDeCo, you might have reasons for wanting to continue using Interactive Brokers.
So, can you deposit funds into Interactive Brokers while living in Japan? What are the considerations before doing so?
This guide is specifically for those living in Japan who would like to know how to deposit the Japanese Yen into their Interactive Brokers account.
Which type of Interactive Brokers account allows JPY deposit?
In case you don't already know, Interactive Brokers accounts are region-specific due to tax reporting requirements. In most cases, the region of your account is based on your residential address at the time of account creation.
If you are reading this guide, I assume you have one the following types of account:
Japan account
International "LLC" account
Account of your country (non-Japan account)
I bring this up because there are account types that do not allow JPY deposits. For example, if your account is a Singapore account, you will find no option for JPY deposits. If you have an IBKR account already, you can check to see if JPY is available in the dropdown on the deposit funds page.

Unfortunately, there isn't any clear documentation by IBKR that details the currency supported by each type of account, but there are two types of account that I know supports JPY deposits.
One is the Japan account. This will be your account type when you register a Japanese residential address.
The other, is a LLC account, sometimes referred to as a global or universal account. The LLC account, among other features, lets you deposit in a wider range of currencies, including JPY.
If you already have an account and find that JPY deposits is not an option, unfortunately, as confirmed by IBKR support staff, there is no way to convert your account to a Japan or LLC one. You will have to create a new Japan or LLC account.
But no one likes ads, so I got rid of them. If my articles helped you, I ask for your support so I can continue to provide unbiased reviews and recommendations. Every cent donated through Patreon will go into improving the quality of this site.
How to Deposit JPY in IBKR?
It is important to first understand what kind of account you need to transfer to in order to deposit funds into your account. If you get the instructions for JPY, you will be presented with the following account details to make transfer to.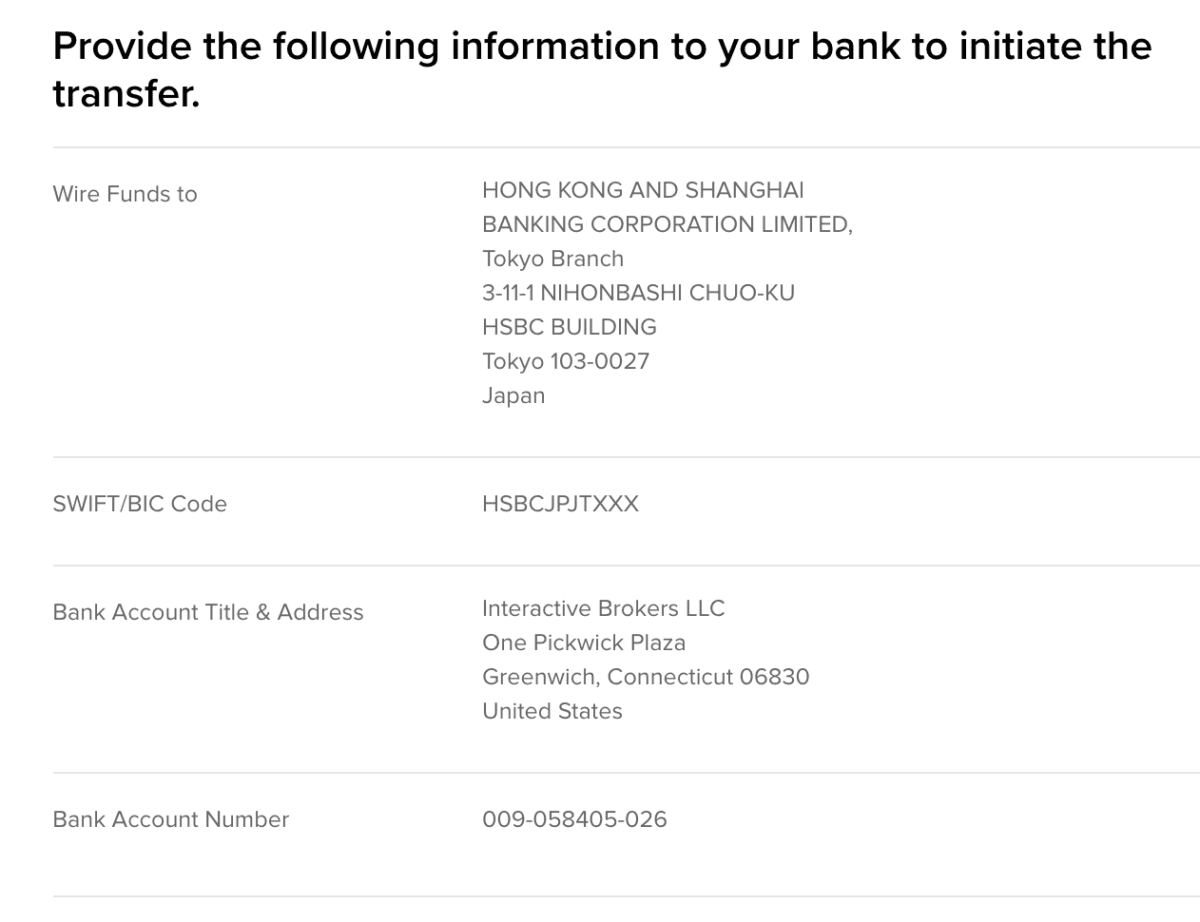 Depending on your account type, this could also be a Citibank account.
Regardless of the bank or account number, it is important to note that while IBKR uses a Japanese bank, the account owner (IBKR) has an American address, which means that it is a non-resident account. As such, you cannot make a regular transfer from your own Japanese bank.
In order to transfer to this kind of account, you need to do an overseas remittance.
What is the cheapest way to deposit JPY in my Interactive Brokers account?
Let's take a look at the fees from a few popular banks using this excellent comparison from this Japanese article.
| 銀行 | Remittance Method | Fee |
| --- | --- | --- |
| SMBC Bank | Online | 800 yen |
| Mitsubishi UFJ Bank | In-Person | 800 yen |
| Mizuho Bank | In-Person | 5,500 yen |
| Rakuten Bank | Online | 3,750 yen |
| Shinsei Bank | Online | 2,000 yen |
| SBI Net Bank | Cannot transfer to account that doesn't have the same name | NA |
| PayPay Bank | Not supported | NA |
As you can see, the cheapest fee is 800 yen at either SMBC Bank or Mitsubishi UFJ Bank. Seeing as you probably do not want to head down to the branch every time you need to fund your account, SMBC Bank is currently the most recommended bank for this transfer. Note that SMBC Bank is not the same as SMBC Prestia Bank (SMBC信託銀行プレスティア). To get this rate, you should be opening an account with SMBC Bank, not SMBC Prestia Bank.
SMBC Bank does not have account minimums and the only type of fee to owning an account is an account inactivity fee when your account has no activity for a very generous five years AND has less than a 1000 yen account balance. Even then, the bank staff will contact you a few months before you get charged so I think it's safe to assume there is virtually no cost of account ownership.
For details on the 800 yen transfer fee, you may refer to this document from SMBC Bank (under 国内非居住者円建送金). It's worth noting that the fee is 600 yen if the transfer amount is less than 30,000 yen.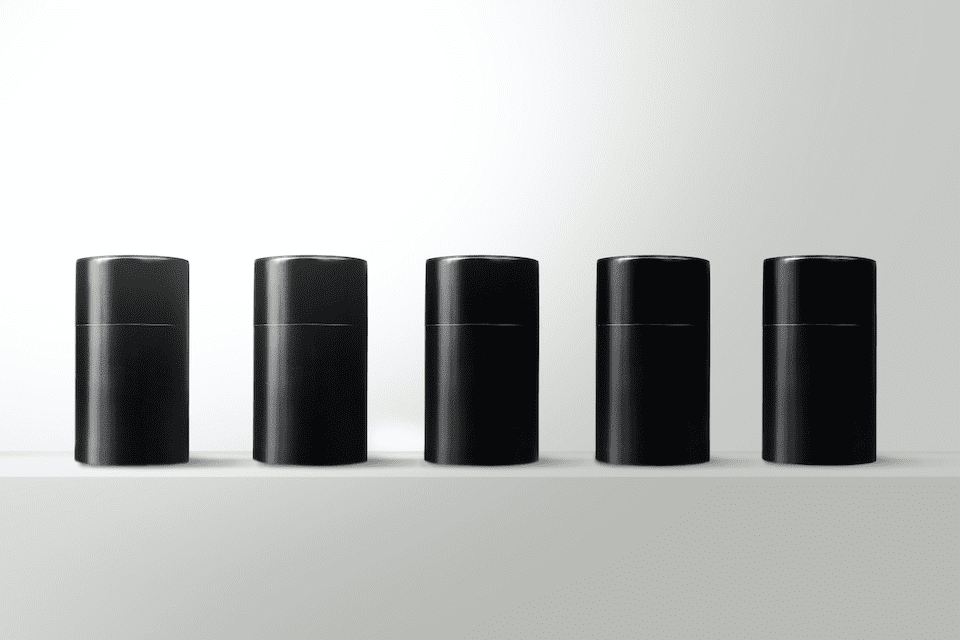 I found a 100 year old company that would create these heirloom quality canisters for me. They are handmade and will keep your tea leaves, coffee beans or anything that you need dry for years to come.
or read review
If you have a Shinsei Bank Platinum account by having an average account balance of more than 3M yen, it's worth noting that you can get 1 free overseas remittance a month, which lets you fund your IBKR account. Assuming you do not want to keep 3M yen uninvested, this guide will share the exact steps required to make the transfer using SMBC bank.
Step-by-Step Guide to Transferring Japanese Yen to Interactive Brokers via SMBC Bank
The article often mentioned in the r/JapanFinance subreddit when talking about the 800 yen transfer is this Japanese one, on which I have loosely based some parts of this guide on.
However, as that article is in Japanese and that SMBC recently updated their interface, I intend for this to be an updated guide, catered to those who prefer following an English guide.
Step 1: Create an account (if you don't already have one)
Opening an account with SMBC was relatively painless, but here are some pointers I can share having gone through the experience.
SMBC has an app for new account registrations, and it touts that you will be able to open your account on the same day. I used the app, but as I wanted my bank account to use my alias name instead of the name on my residence card, I got a call from the bank telling me to go down to the branch.
If you decided to head down to the branch to open your account, you would be able to skip waiting times if you make a reservation here (Japanese link).
If you head down to the branch, assuming you are a foreigner, you need your residence card and your hanko at the minimum. If you have your driver's license and My Number card but forgot your residence card, you will be asked to come back with it.
I am usually pretty negative about Japanese banks when compared to the banks in my home country, but I have to say SMBC is relatively advanced, and SMBC handled the entire registration process at the branch digitally with fancy touch screens and iPads. It took me less than 40 minutes from the moment I walked into the store to get my account.
While the bank will send the cash card to you within a week, you can log in to the online banking system immediately after you get the account with the account number and passcode that you set during registration.
Step 2: Enable Overseas Remittance
This service is not on by default. You have to register for it.
To do so, log into internet banking and navigate to 振込・振替 > 海外送金 and click on the register button. For me, it took less than a day for the service to be approved. Once it gets approved, you will receive an email notification to your registered email address.
Step 3: Pre-Register the Payee
In order to send money, you need to first register a payee. To do so, go to the overseas remittance page (振込・振替 > 海外送金 from the left side menu) and click on Request New Registration (新規登録依頼).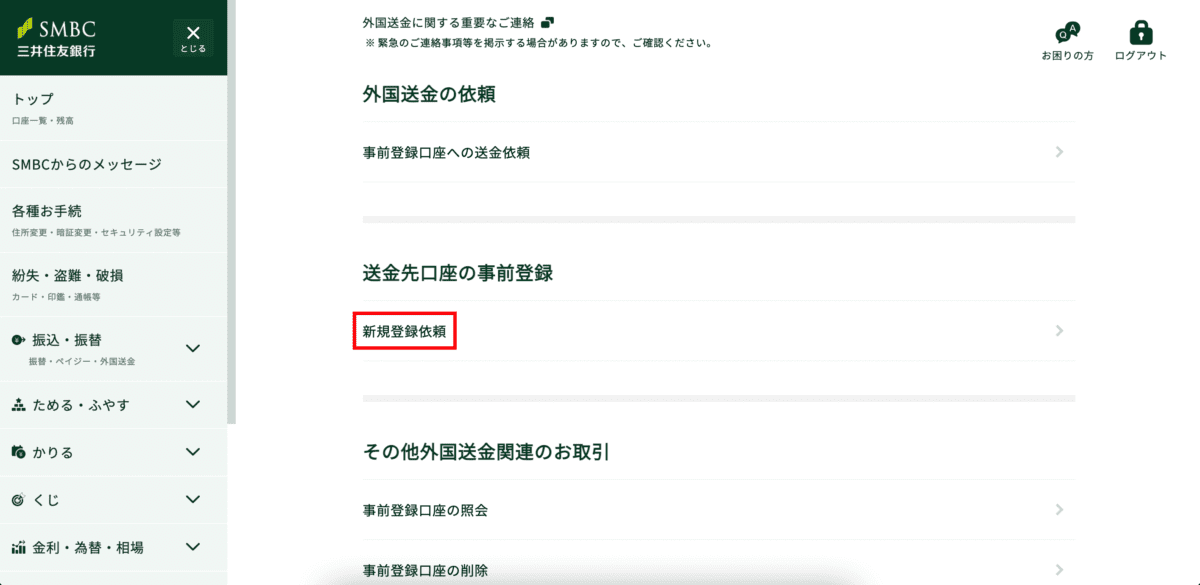 You will come to a form and here is the exact way I filled it up
日中のご連絡先(CONTACT TELEPHONE NO.) Your contact number
送金通貨種類 (CURRENCY OF TRANSFER) 日本円(JPY)
For beneficiary information, be sure to copy exactly the instructions that Interactive Brokers provided. The below is just for formatting reference.
受取人口座番号(BENEFICIARY'S A/C NO.) 009-058405-026
おなまえ(BENEFICIARY) INTERACTIVE BROKERS LLC
住所(BENEFICIARY'S ADDRESS) ONE PICKWICK PLAZA, GREENWICH, CONNECTICUT 06830
国名(COUNTRY) U. S. A.
Enter this and click on the 検索 button and select the アメリカ合衆国(U. S. A.) option.
電話番号 (任意)(TELEPHONE NO.) Left Empty
Click the Next (次へ) button
受取人取引銀行の検索
Select BICコード(SWIFTコード)入力による検索 (前方一致条件)and enter the SWIFT/BIC code from the IBKR instructions, and click on the green 一覧検索 button.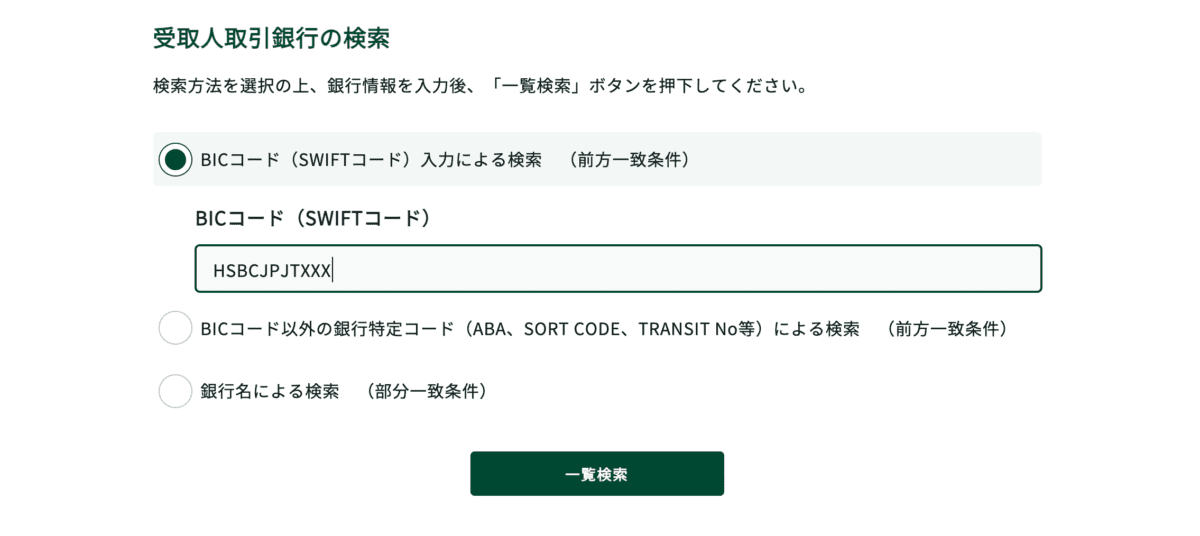 A result should pop up like this. Select it and click on the green Next (次へ) button below that.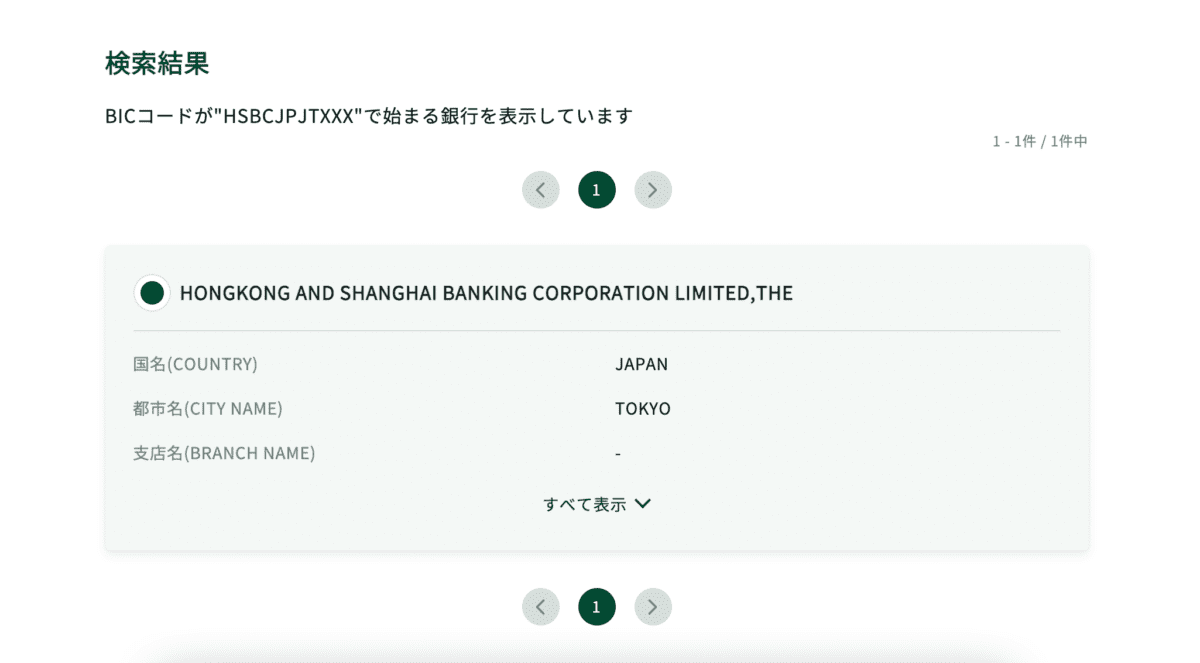 The last page is a confirmation page, where you have to agree to all the terms by checking any checkboxes you see and verifying your identity via one-time password. You can get your one-time password by logging into the mobile app.
When that is done, you will be able to see a new link 事前登録口座の照会 in the 海外送金 page. Clicking on that, you will be able to see the registered payee. However, it does not mean that you can start transferring immediately. Each payee registration requires approval.
The main piece of information on this page is the row that says 受付状態 (application status). You can refer to this documentation that tells you what each status means. But, you basically want it to change to say 利用可能 (usage possible), which should take about a day.
Step 4: Make the transfer
When a pre-registered payee has been successfully approved, only then will you see a new option in the 海外送金 page called 事前登録口座への送金依頼.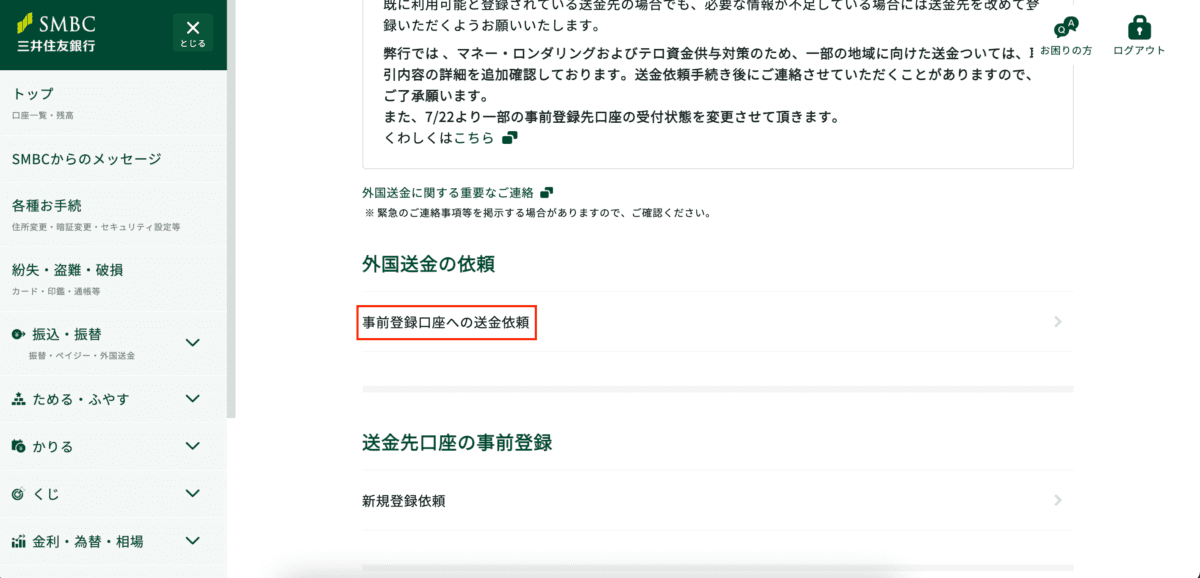 Click on the link and select the payee you just registered and click Next (次へ).
Enter the amount you wish to transfer in 送金金額(AMOUNT). The amount you enter does not include the 800 yen fee. The 800 yen fee will be taken from your account so make sure you have at least 800 yen left in your account after transferring this amount.
You might want to note that there is a transfer limit of 3M yen per transfer, and 5M yen per month imposed by SMBC as pointed out by this comment.
IMPORTANT For 関係銀行手数料(PAYING BANK'S CHARGES), you should choose 受取人負担 which is the default selection. This means the payee, IBKR in this case, is responsible for any additional bank charges. You are still responsible for the 800 yen fee. But, if you choose 依頼人負担 instead, you will be charged an additional 2,500 yen according to this redditor's experience.
Click on the Next (次へ) button.
For 送金目的・国際収支コード(REMITTANCE PURPOSE), select 送金目的をリストから選択する and select 外国にある預金口座への預け入れ(foreign deposit)
You can leave 商品名・送金内容(MERCHANDISE・DETAIL) blank.
IMPORTANT Remember to include your IBKR account number in the field 受取人宛連絡事項(MESSAGE TO BENEFICIARY), and not 整理番号(YOUR REF. NO.) on the first screen. This will enable the funds to go to the right account.
If you forget to do so, contact IBKR support and you will be required to provide verification of transfer. In this case, you can provide a screenshot of the transfer transaction found in 海外送金 > 外国送金明細の確認.
Submit the form and that's it. It will take about 1 business day for the funds to show up in your account. According to this comment, if you make the transfer before 11am, then the funds should be in your account within a few hours on the same day.
Have a question? Leave a comment and I will try to update the post with the answer.
Tagged interactive brokers investment smbc