This website is made possible by readers. I may earn a small commission when you buy through the links in this article at no extra cost to you. Learn more.
Right after my Aer Travel Kit experience, I'm ready to deliver a detailed Aer Dopp Kit review, complete with as many images as I can muster and a comparison with the Travel Kit.
Details
Price $45 on aersf.com
Material 1680D Cordura® ballistic nylon
Dimensions Length: 9.5″ (24 cm), Width: 5″ (12.7 cm), Depth: 4″ (10 cm)
Volume 2.9 L
Weight 0.4 lbs (181g)
Overview
There is a boundless amount of backpack companies out there, and to stand out among them takes a special something. And Aer has that, and I'll be telling you why in this Aer Dopp Kit review.
Product after product, Aer has smashed my expectations with thoughtful design and rugged durability. As someone who wears only black and has an aversion to color and external branding, Aer is a luminary presence within my collection. It almost feels like Aer designed their collection specifically for me.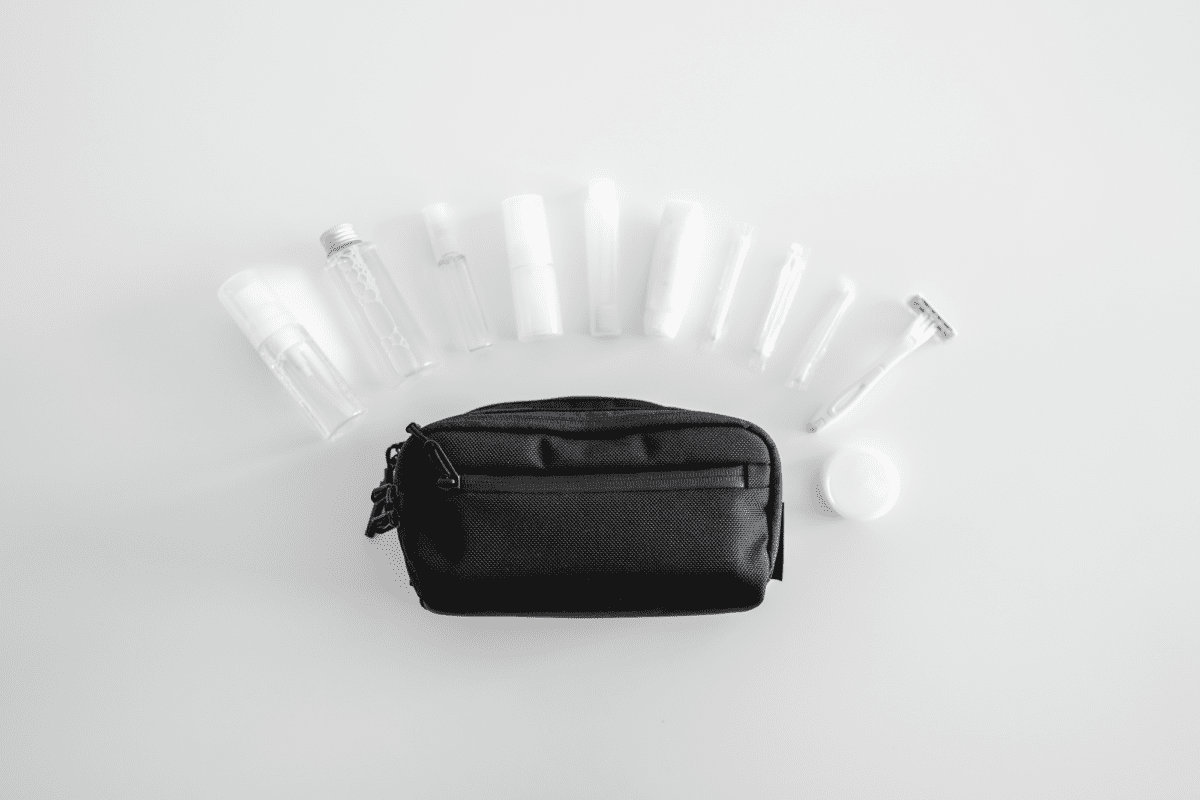 Welding a masterful combination of simplicity, utility, and durability, three of Aer's brand values, Aer's products have an air of quiet strength. It's not as apparent in product specifications but surfaces when experienced.
My experiences with the Aer Travel Pack 2 and Aer Tech Pack 2 were overwhelmingly positive, both of which remain in my regular rotation of backpacks. The Aer Cardholder, my current wallet, and the Aer Travel Kit were also satisfying additions to my collection. So much so that the Aer Cardholder is my wallet currently.
The Aer Dopp Kit bears many similarities to the similarly-sized Aer Travel Kit that one might easily confuse the two. However, there are key differences if you really look. These differences will be pointed out throughout this article.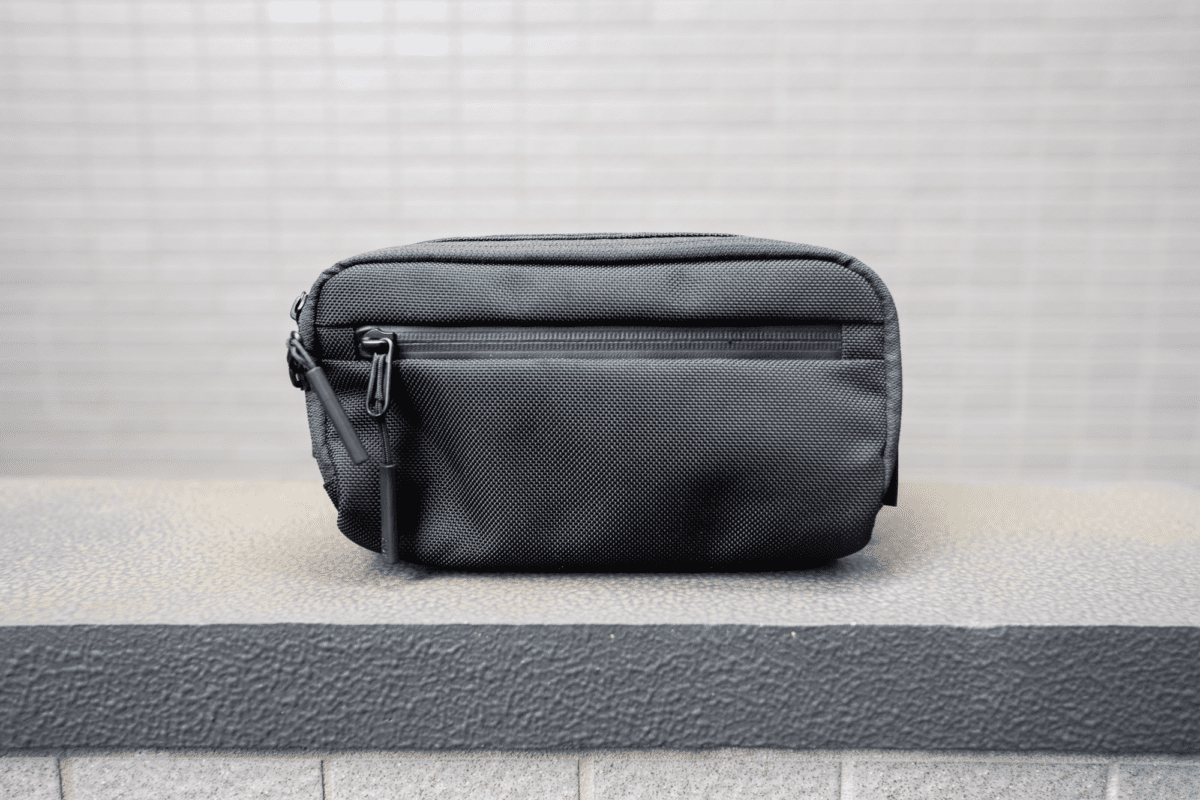 Style
It's tempting for me to copy and paste from my previous reviews of Aer's product when writing about the style because their products are just so consistent. While some brands, like the military-influenced GORUCK or the retro dad-bag vibe of TOM BIHN, have a distinctive look, Aer manages to show consistency without standing out. Arguably, not an easy thing to accomplish.
The Dopp Kit comes in two colors, black and grey. As with every other review on this website, the black version is the subject of this review.
The Dopp Kit is consistent in color, down to details like the zippers. The only contrast on the exterior lies with a bold and proud Aer tag, hinting at an influence of the Bauhaus style with the use of Helvetica font for the logo.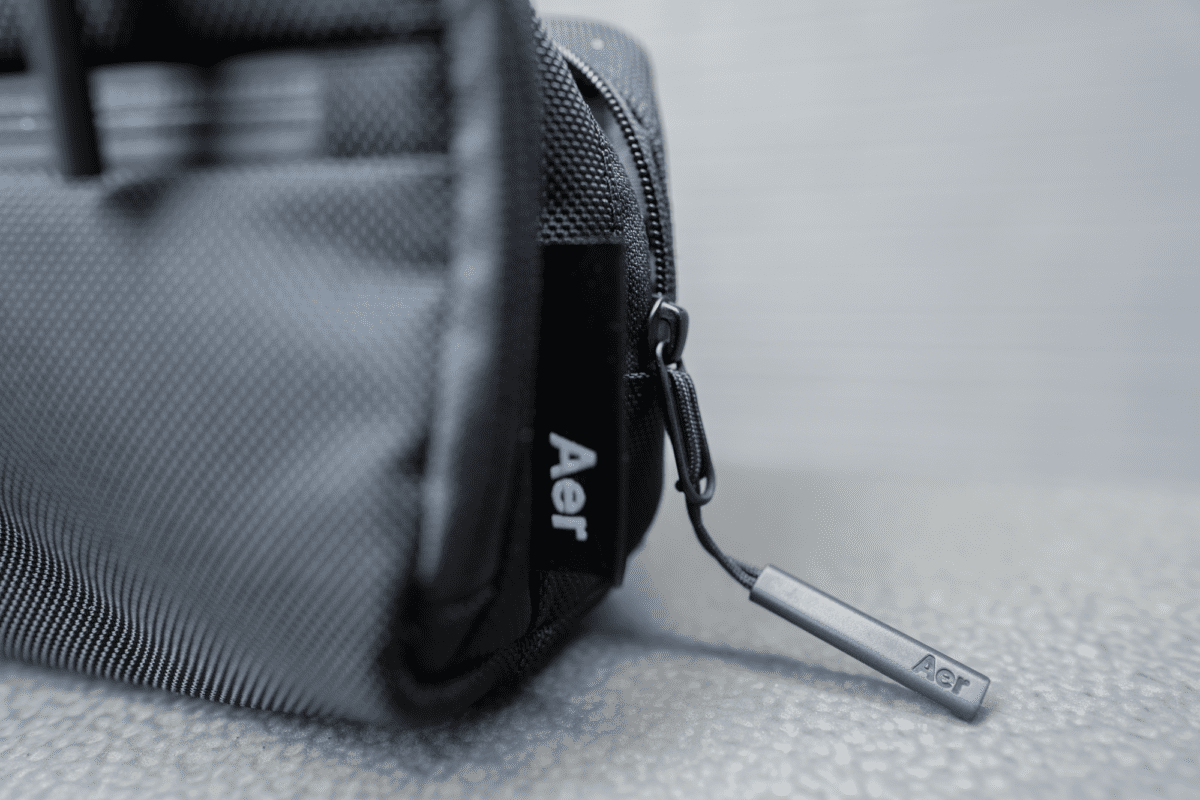 The material, a recognizable 1680D Cordura® ballistic nylon, has a signature thick weave. The higher sheen of the carry handles elegantly complemented the matte surface.
But no one likes ads, so I got rid of them. If my articles helped you, I ask for your support so I can continue to provide unbiased reviews and recommendations. Every cent donated through Patreon will go into improving the quality of this site.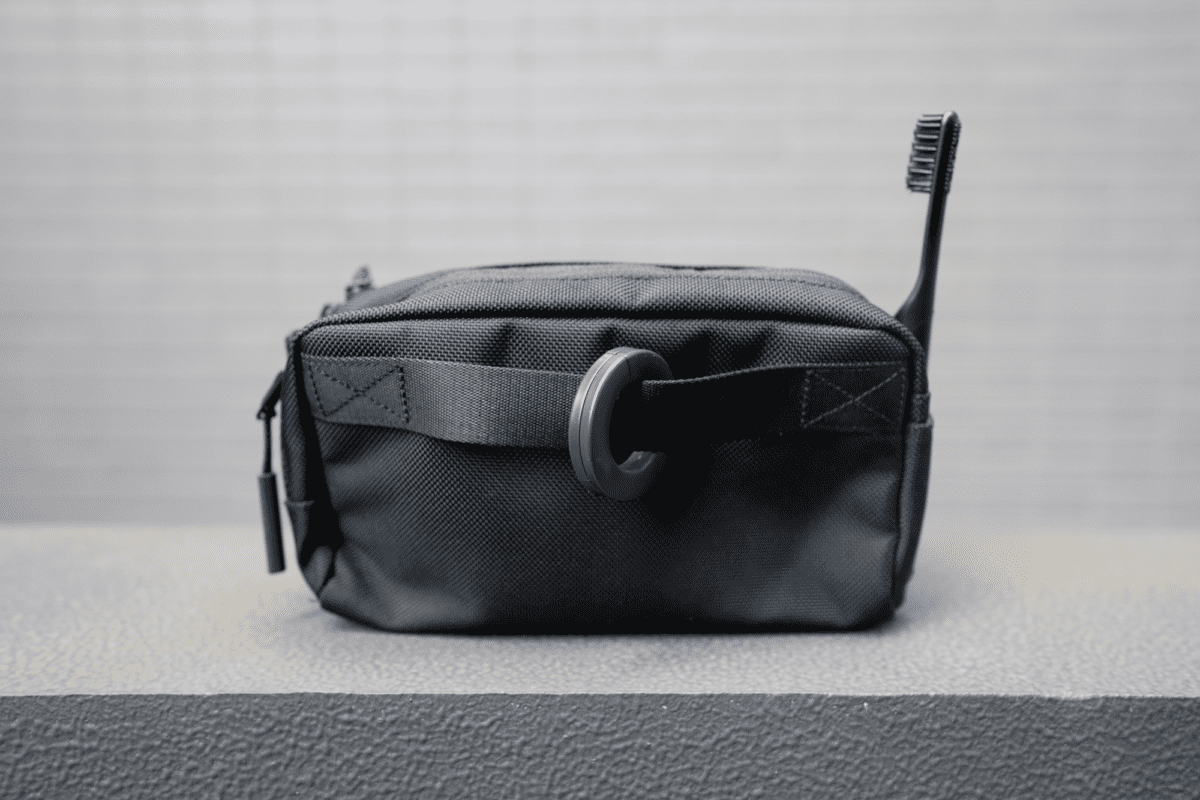 Nothing stands out with the Aer Dopp Kit, which I believe is the point. It's muted to an imperceptible state, one of tranquil reservation. This is something surprisingly hard to get right and seldom even considered.
Understandably, the intentional lack of character might not be for everyone, but there is a certain sense of stability in the coldness that is Aer. But that's just me.
Material
I might have gone over the cliff of fanaticism when I say that there are certain materials that I gravitate towards. 1680D Cordura® ballistic nylon is one of them. With this material being synonymous with the brand, I knew what I was getting into when writing this Aer Dopp Kit review.
I wrote an entire guide to ballistic nylon here, so I'll write specifically about 1680D in this section.
You want to note that the Cordura® ballistic nylon is different from the Cordura nylon fabric most of us associate with when we hear the name. While brands like TOM BIHN use off-brand ballistic nylon, these are ballistic nylon made by Cordura.
What's compelling about 1680D is that it's actually not stronger even though it has a higher denier count. 1680D is woven with a single ply of 1680 denier yarn, while some other lower denier counts ballistic nylon, like the 1050D, is woven as two-ply, making it effectively 2100 denier.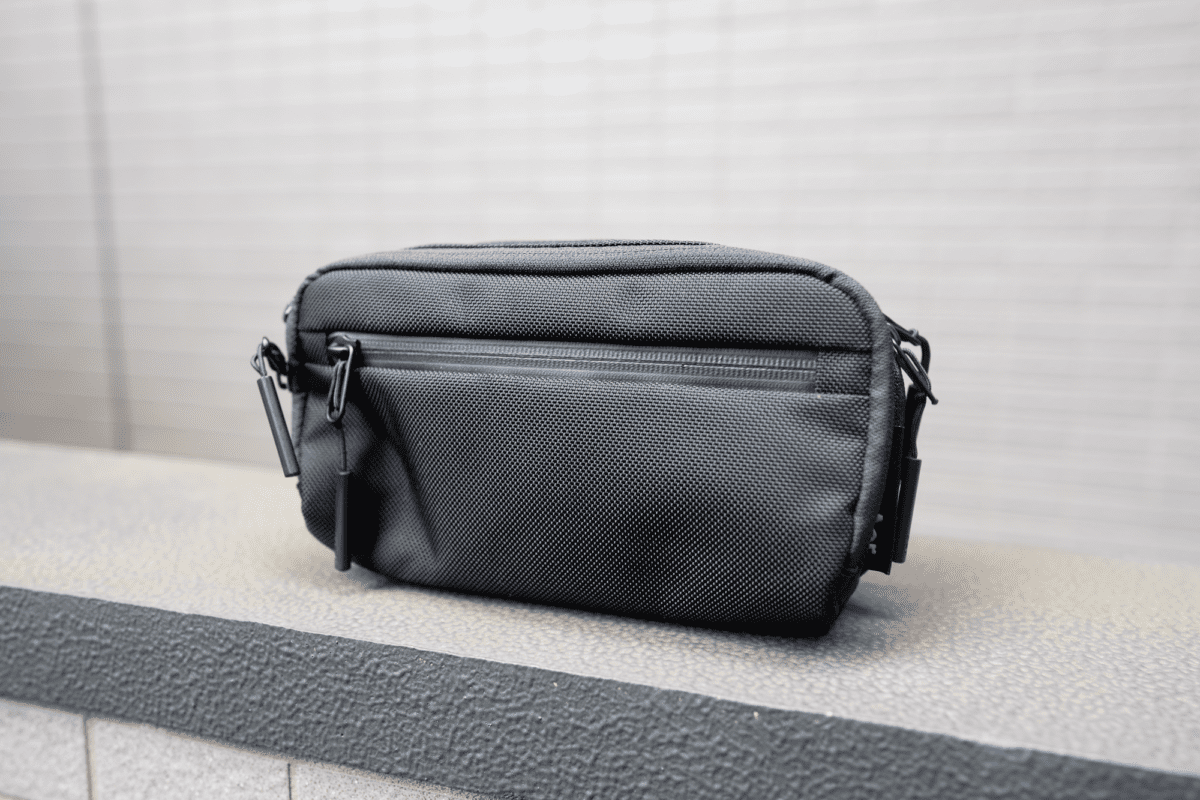 However, even at the single-ply 1680D, you'll not be misrepresenting if you translate it to one word—overkill. Unless you intend to bring it into a battlefield, ballistic nylon is unlikely to be worn down. So far, I haven't had any abrasion issues on my 1680D Ballistic nylon backpacks, let alone an accessory of this size.
YKK zippers, widely known as the industry best, have been deployed in the Dopp Kit. Aer uses YKK zippers for all their product, so this should come as no surprise. Most of the bags reviewed on this site use YKK, and it has never once failed on me. Use the best; expect the best.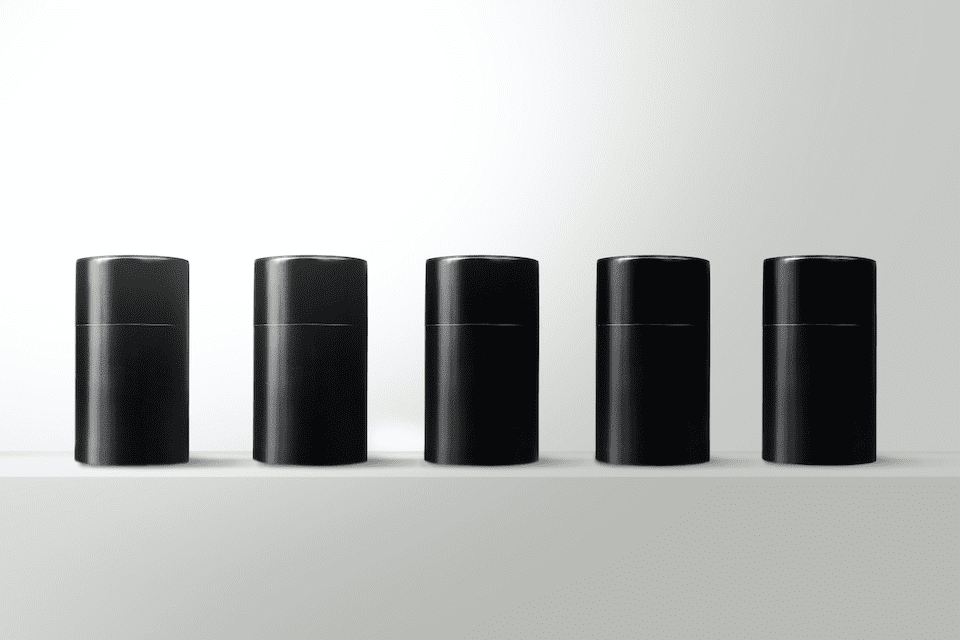 I found a 100 year old company that would create these heirloom quality canisters for me. They are handmade and will keep your tea leaves, coffee beans or anything that you need dry for years to come.
or read review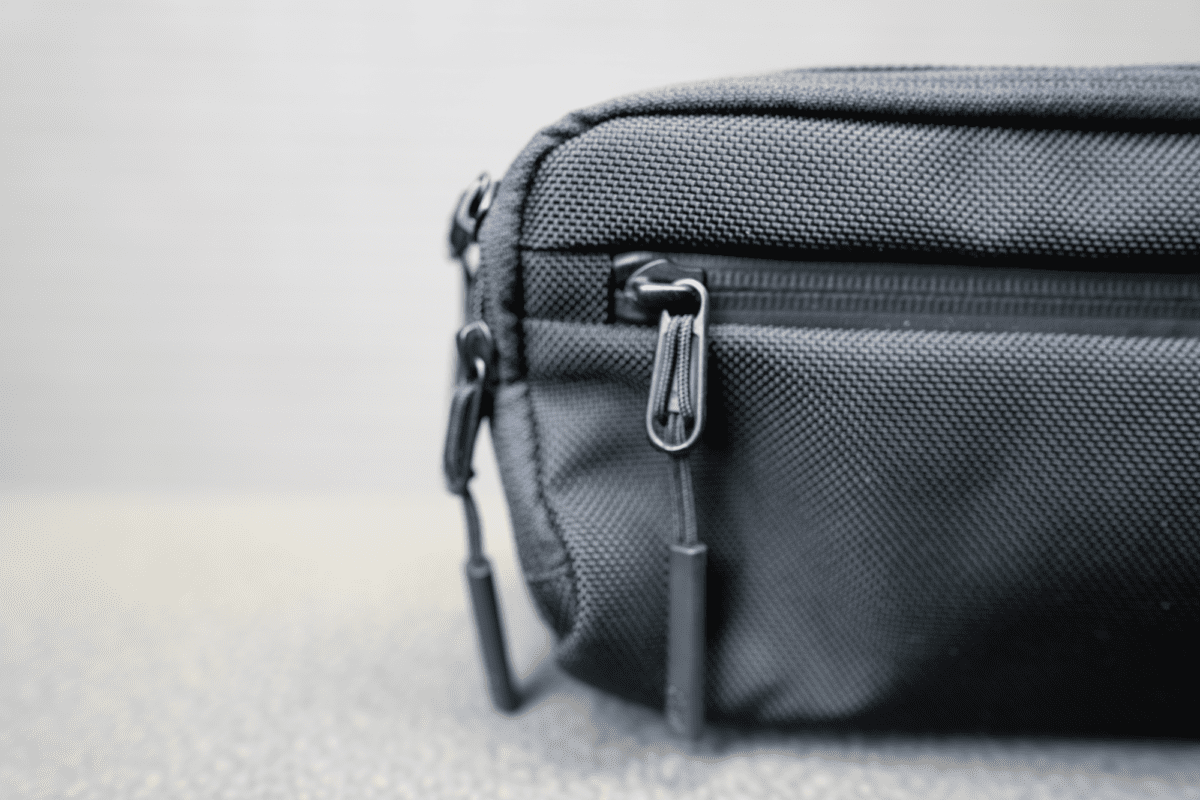 You usually place your Dopp Kit inside your bag, so you really don't need top-of-the-line materials. But one-baggers are a special lot that won't accept anything less. And Aer indulgingly uses only the very best, even for a dopp kit.
Organization
Apart from the classy design, there's one other thing that Aer does well. It's the organization. It's one of the departments that Aer shines in, so it's important to take a look at how they went about the organization in the Dopp Kit.
External Organization
There is a single quick-access zippered pocket right in front of the kit. It's deceivingly shallow and doesn't fit a whole lot. As the Dopp Kit belongs inside your bag when you're on the move, you are unlikely to need quick access to the Dopp Kit.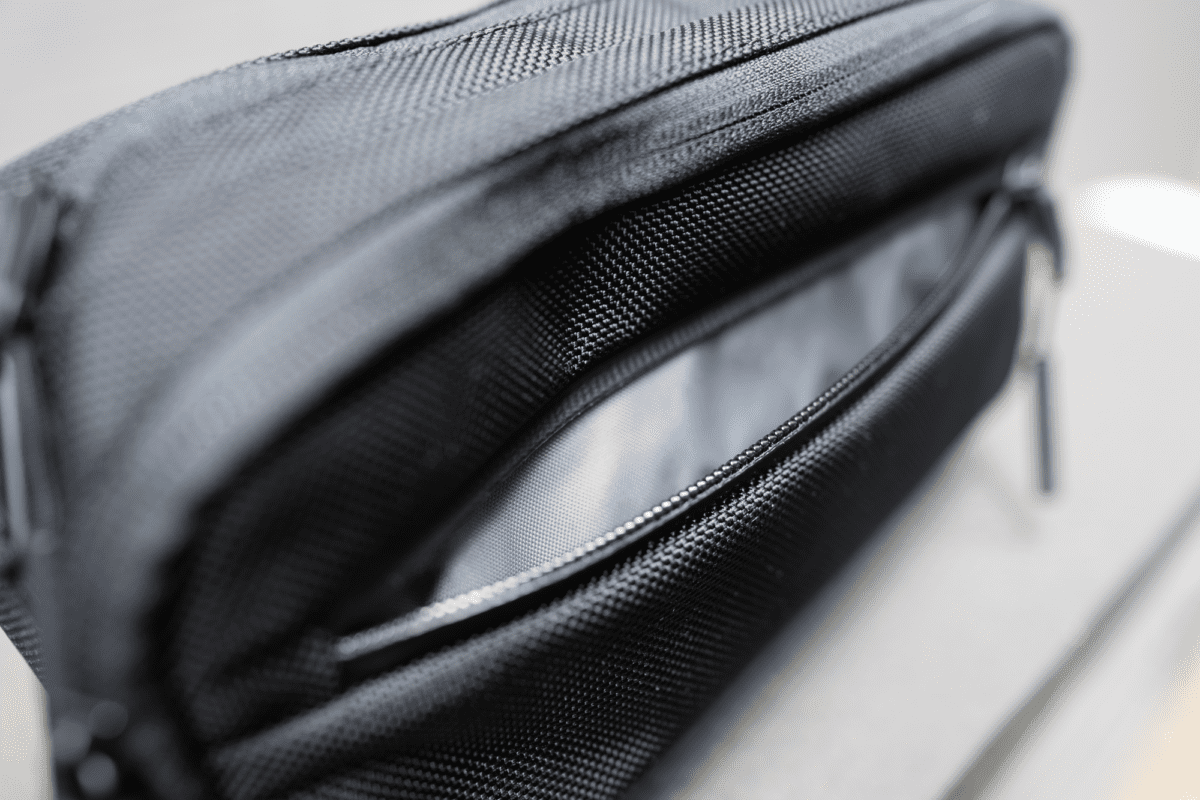 On the left of the Dopp Kit, there is a loop to hold your toothbrush. This is for the times that you need it to dry after use.
Front Compartment
The rest of the Dopp Kit is essentially divided into two sections.
In the front half, there is slightly less depth than the back. Here, there is a flat, mesh zippered pocket against the back of the compartment. Against the front, there are three elastic loops lined vertically across the middle. The loops look like they are designed to hold long items that take up the entire length of the Dopp Kit, like your toothbrushes and toothpaste tubes.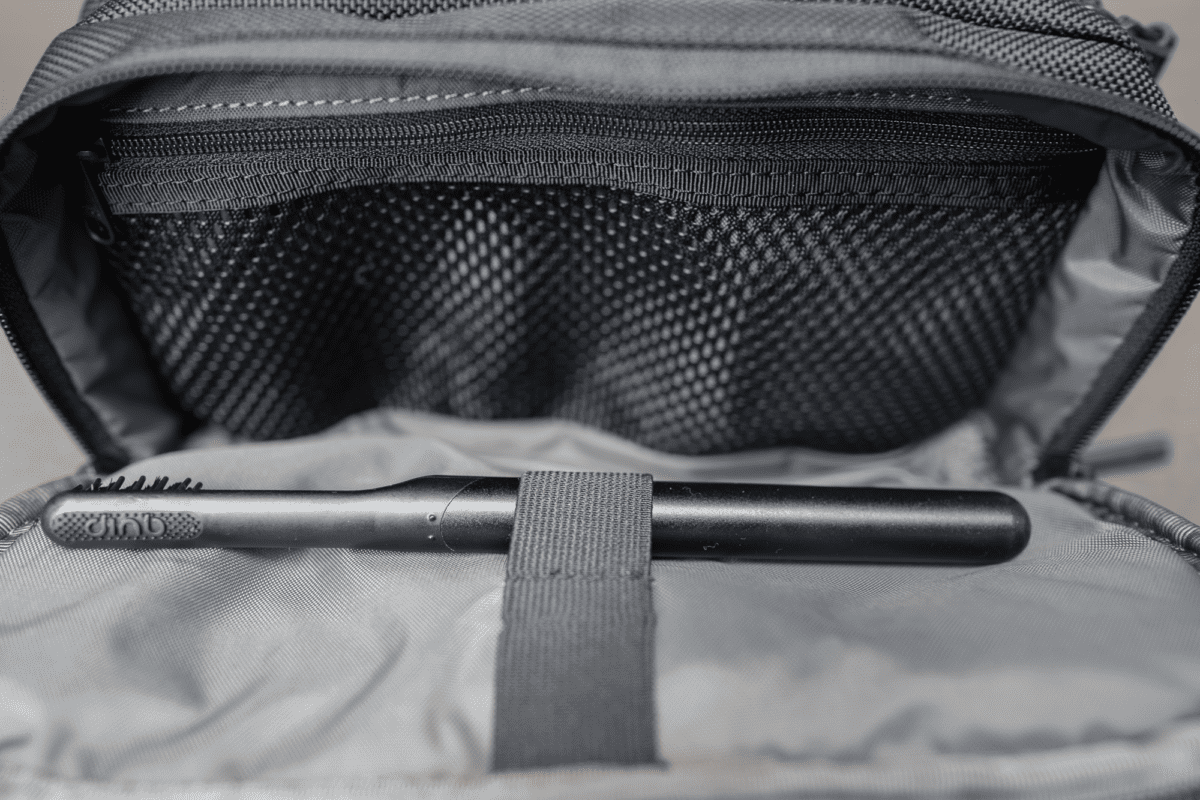 Back Compartment
Against the back compartment are two mesh slots. The mesh slots are not zippered, unlike the ones in the front compartment.
On the other side of the compartment are four loops. But unlike those in the front compartment, these are lined horizontally across. The loops are also much looser compared to those in the front, making it ideal for tubes.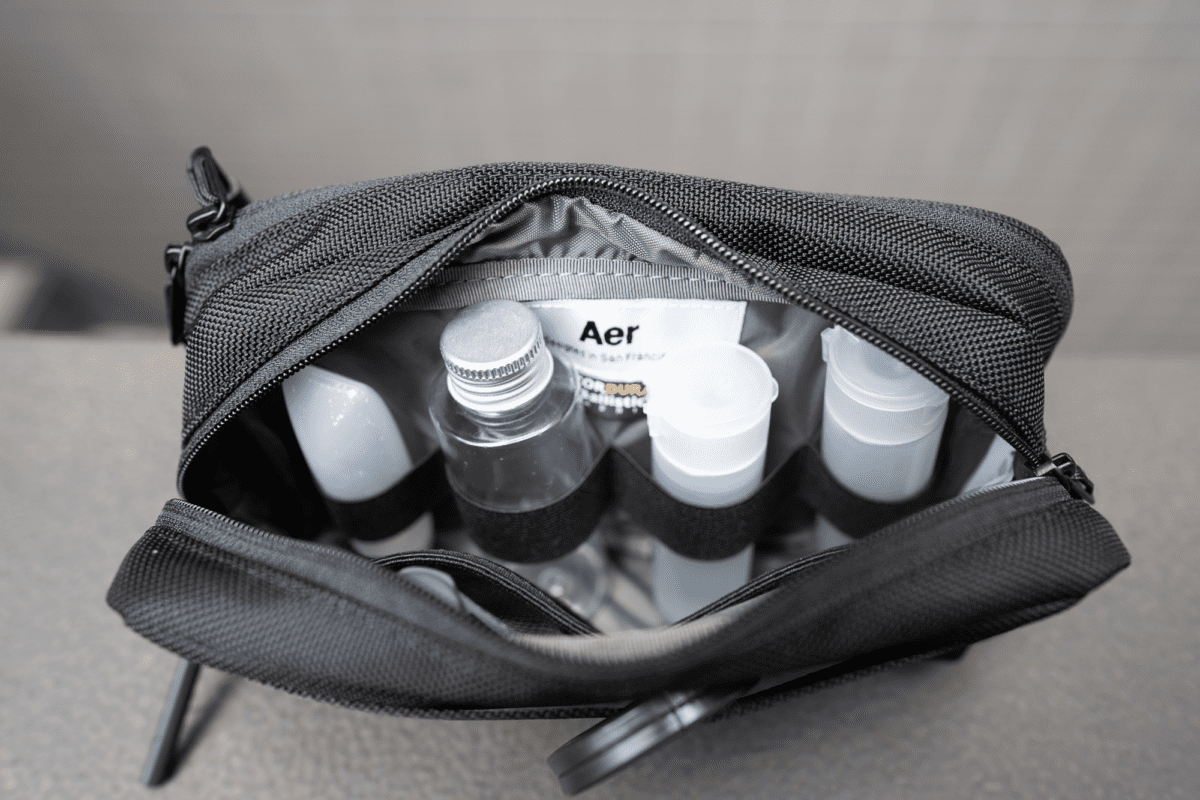 These loops can even comfortably fit a fully-filled Matador FlatPak™ Toiletry Bottle, although I would choose to put it into the mesh slots instead. This might be hard to notice at first, but the two loops in the middle are looser than the two at the ends, assumably to accommodate different sizes of containers,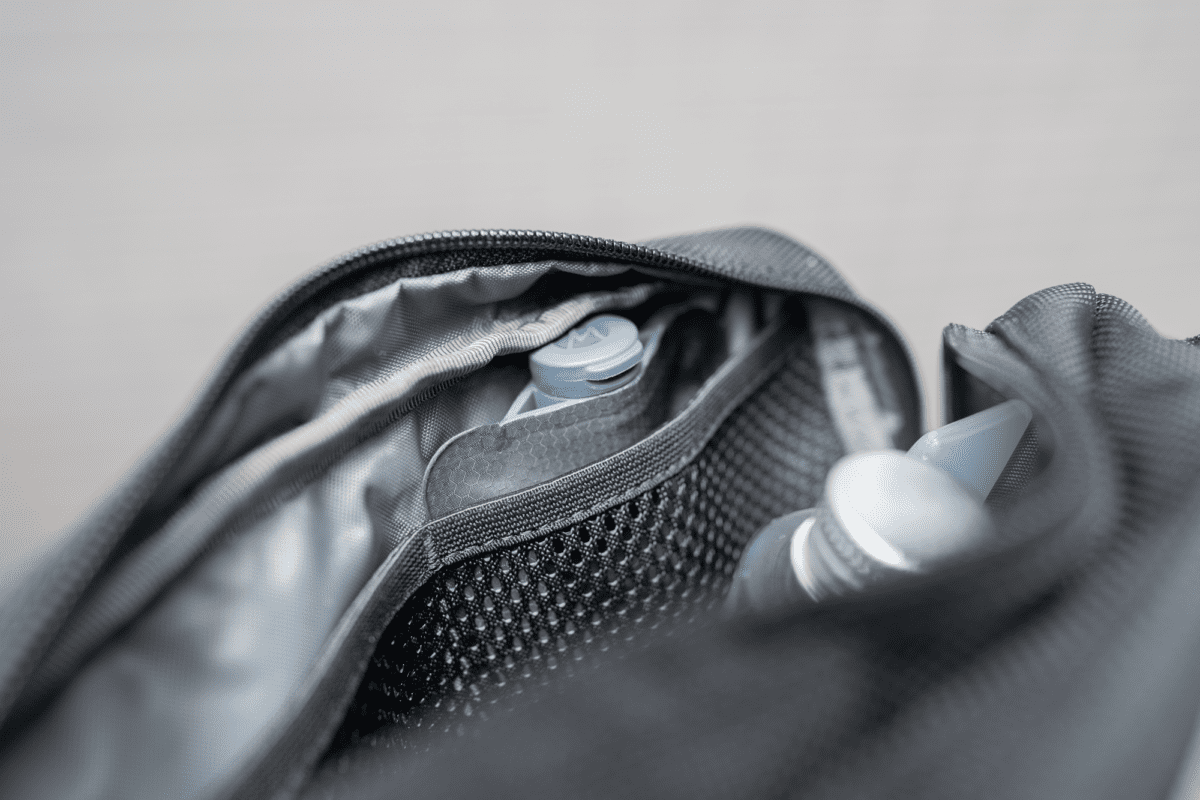 Usage
When shared showers were unavoidable during my time in the military, a hook to keep your toiletries off the gunk on the bathroom floor is critical. For me, a hook is essential if I'm thinking of using it in shared hostel showers.
The Dopp Kit does not come with a stow-away hook like the Travel Kit. While you can hang the Dopp Kit from the carry handle on a towel hook (those shabby ones on the shower door) but you'll have to hang your towel under or over it. I really want to see a stow-away hook included in the Dopp Kit.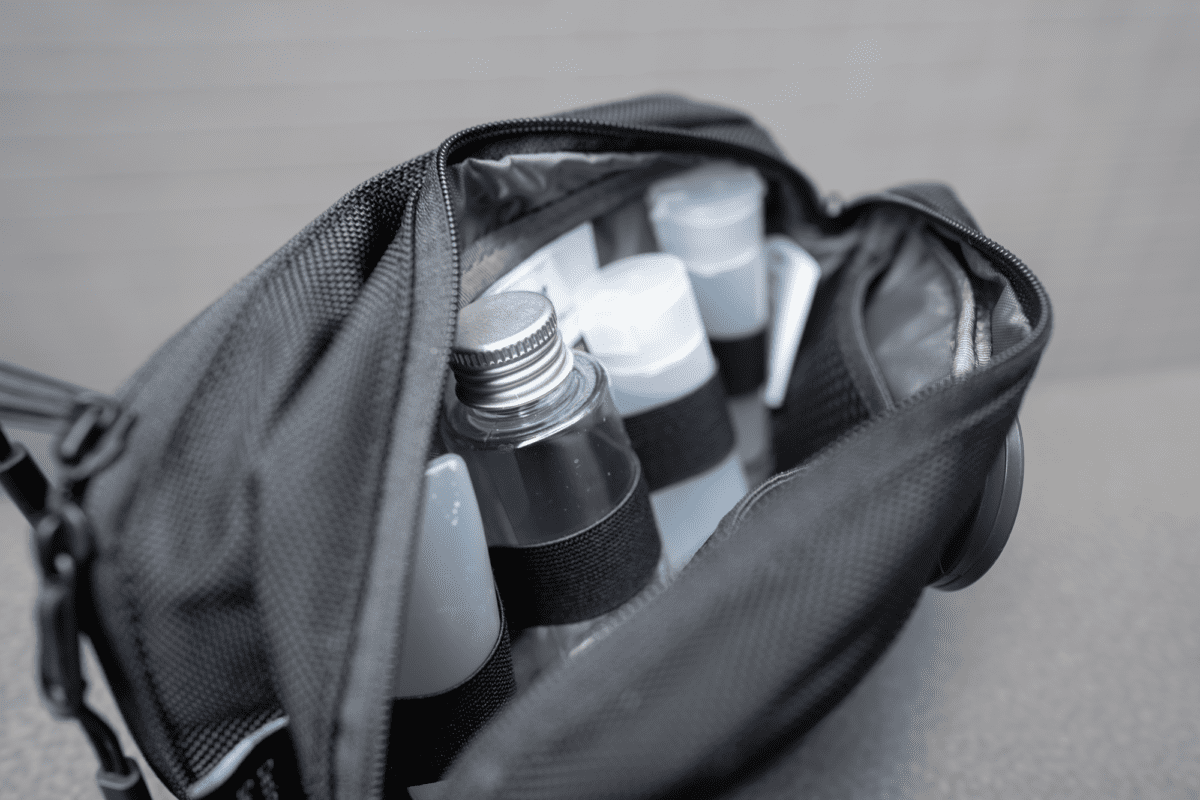 The interior uses a nylon material that is not ballistic nylon like the exterior. It's also grey in color. If you drop toothpaste or lotion onto it, the chances are that it'll stain. Stains on the interior are hard to completely wipe off, even with furious scrubbing with alcohol wipes.
What I like about the Dopp Kit is that it has two completely separate compartments. I don't carry many toiletries along, so one side is usually all I need.
The zippers of the two compartments don't open completely. This is probably by design since you don't want to drop your toiletries all over a filthy shower floor.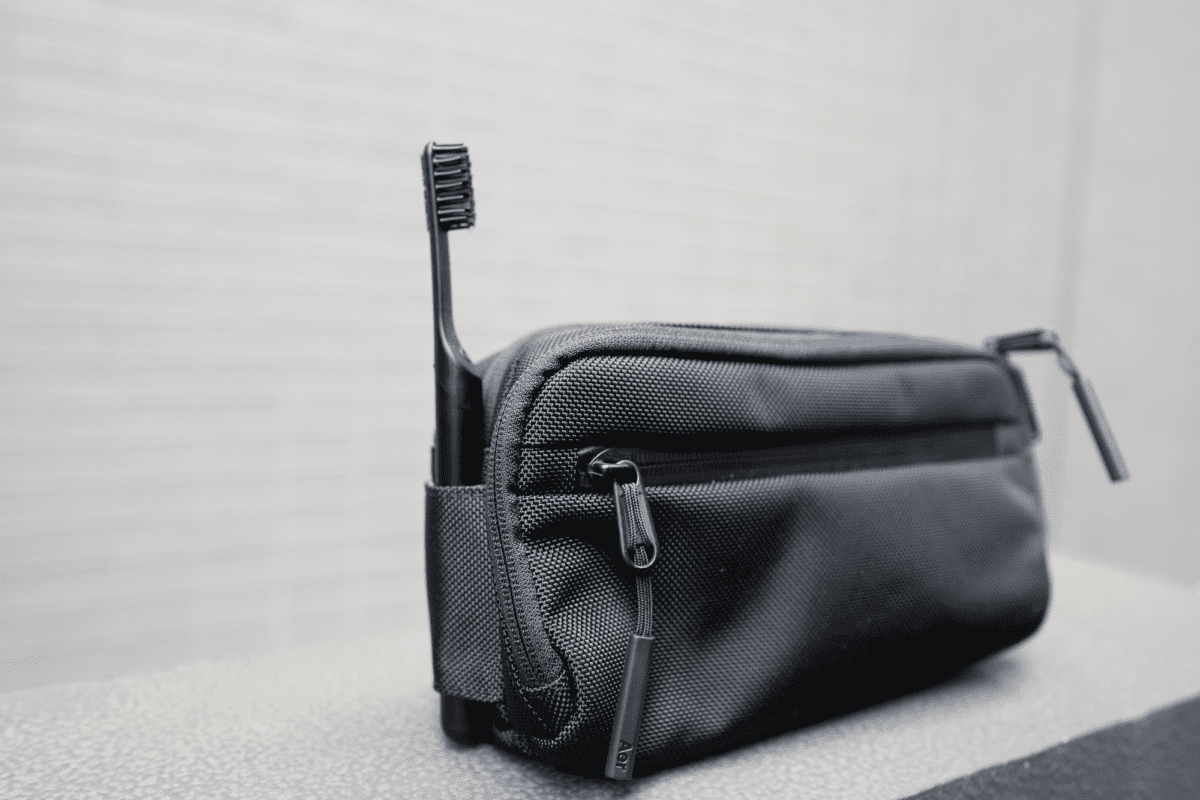 There is a toothbrush holder on the outside of the Dopp Kit that comes in pretty handy. You can leave your toothbrush out after use instead of shoving a wet toothbrush into your kit. The Dopp Kit stands on its own easily, so your toothbrush should stay upright. However, you want to note that, unlike the Aer Travel Pack, it doesn't stay upright if you knock it over by accident.
Aer Travel Kit vs Aer Dopp Kit
As mentioned, I wanted this Aer Dopp Kit review to help you choose between these two very similar products from Aer.
Just from product photos, it's hard to tell the difference between the Aer Travel Kit and Aer Dopp Kit. While the differences between the two are minute, they are clear enough for you to choose between the two.
The Dopp Kit is shorter but has more depth
The Dopp Kit has a height of 5″ (12.7 cm). It's 1.5″ (3.8 cm) shorter than the Travel Kit, which has a height of 6.5″ (16.5 cm). In return, the Dopp Kit has a depth of 4″ (10 cm), while the Travel Kit has a depth of 3″ (7.5 cm).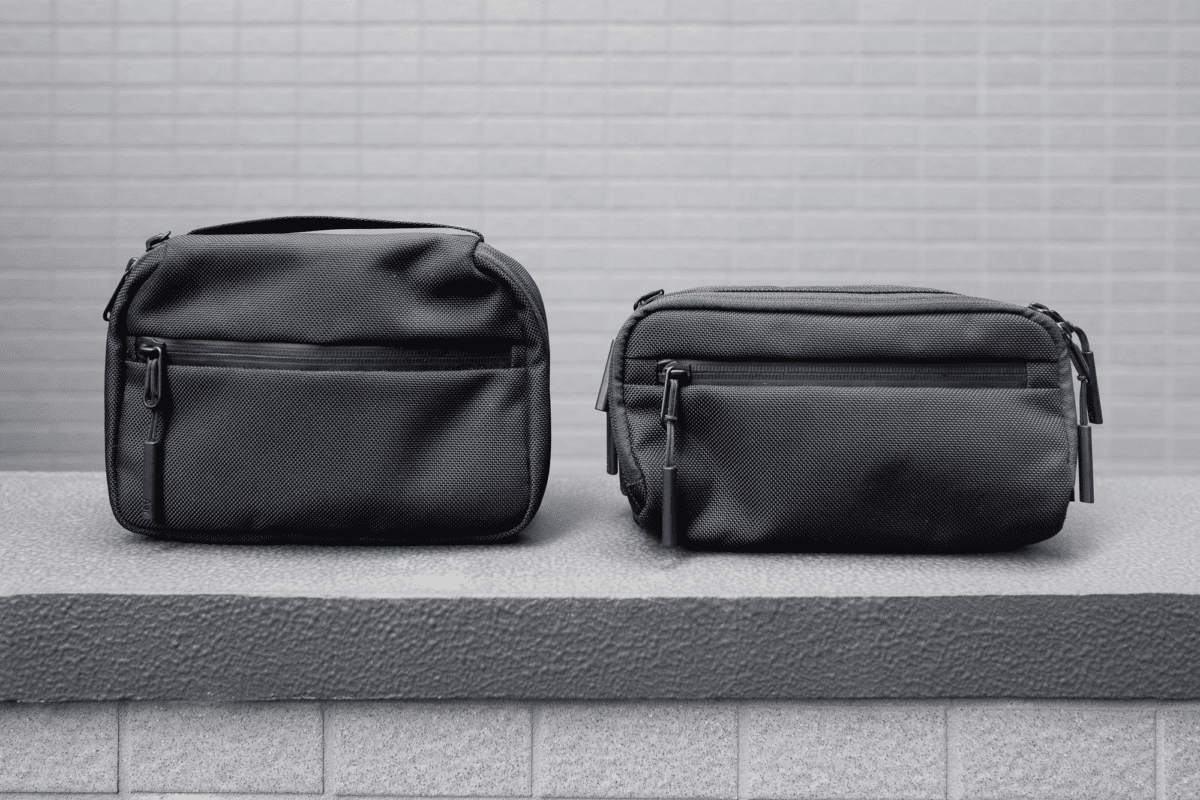 However, this difference in size does not offer any practical benefits of one over another. It is merely to accommodate the different number of compartments that each has.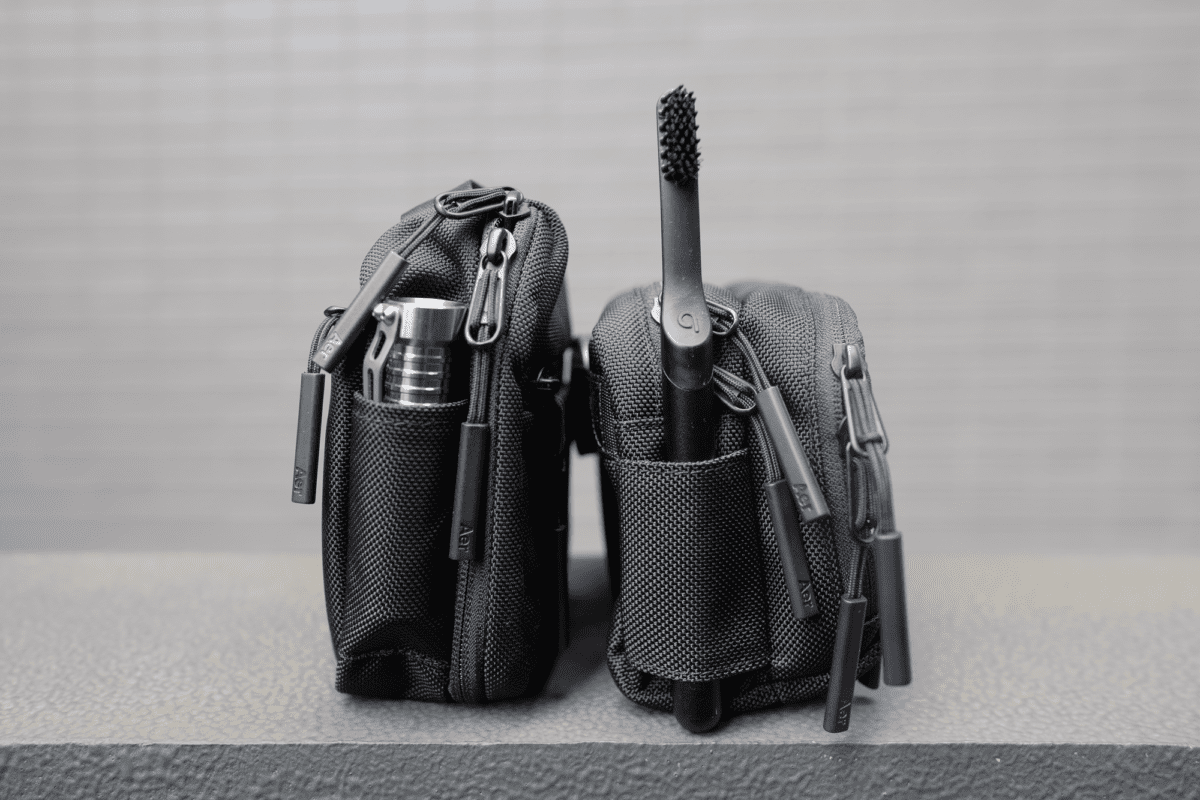 The Travel Kit has a stow-away hook, while the Dopp Kit doesn't
One big factor when it comes to deciding between the two might be the stow-away hook. With the hook, you can hang the Travel Kit, safe from the bathroom gunk. But for the Dopp Kit, you would have to find or make a spot to place it.
Different positions of carry handle
The carry handle on the Travel Kit is right on top of the kit, while the Dopp Kit has it positioned slightly to the back. While the Dopp Kit doesn't have a hook, the carry handle position allows it to hang from a towel hook behind the shower door comfortably.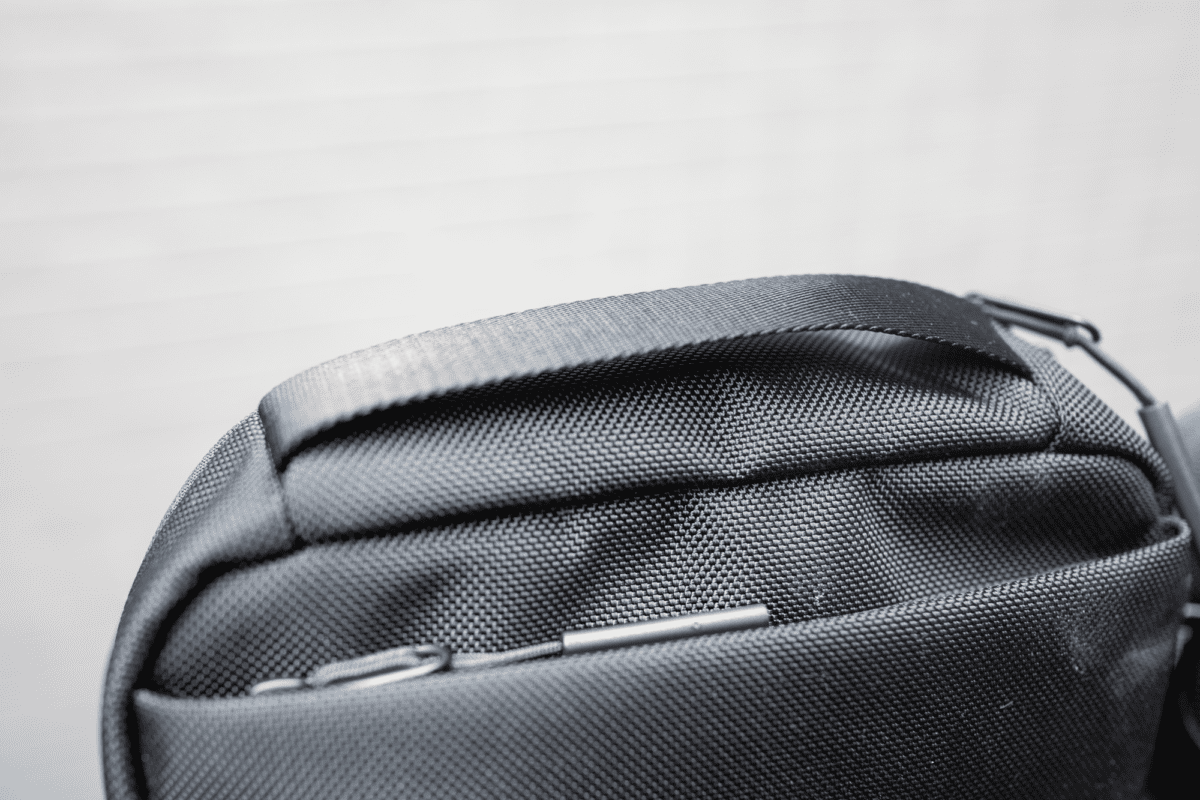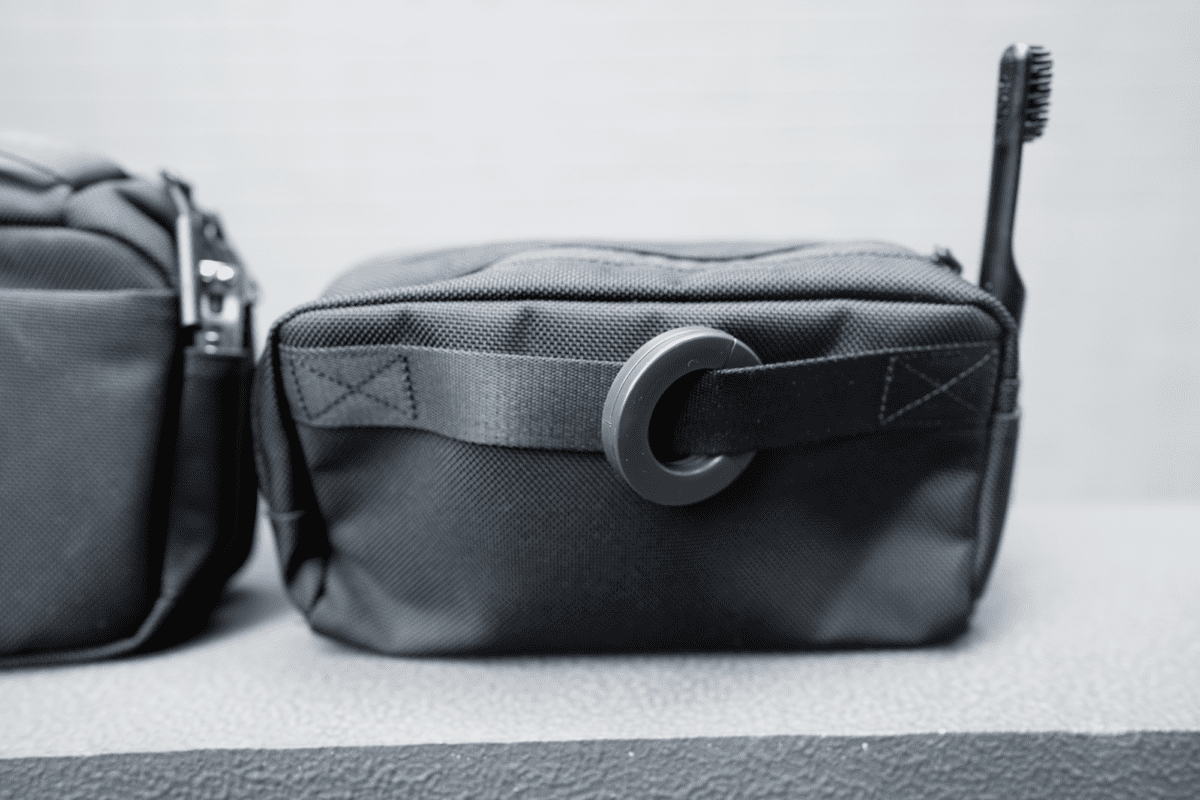 The Dopp Kit has two compartments, while the Travel Kit has one
One of the reasons the Dopp Kit has more depth is to accommodate two compartments. You want to note an interior divider within the Travel Kit that lets you separate the contents. However, the Dopp Kit is the way to go if you prefer two completely separate compartments.
The Dopp Kit has one external zippered slot, while the Travel Kit has two
Aer designed the Dopp Kit for toiletries, so there is less external quick access. Quick access with more external slots in the Travel Kit makes it more suitable for frequent access.
Conclusion
When I started out writing this Aer Dopp Kit review, I didn't any expect any surprises. Aer's signature design and quality have always been consistent, and sure enough, there were no surprises.
You should ask yourself if you should get this, but which of the two–the Dopp Kit or Travel Kit–should you get. If you ask me, I prefer the Travel Kit, which comes with a hook to keep it off of gunky surfaces.
Additional Images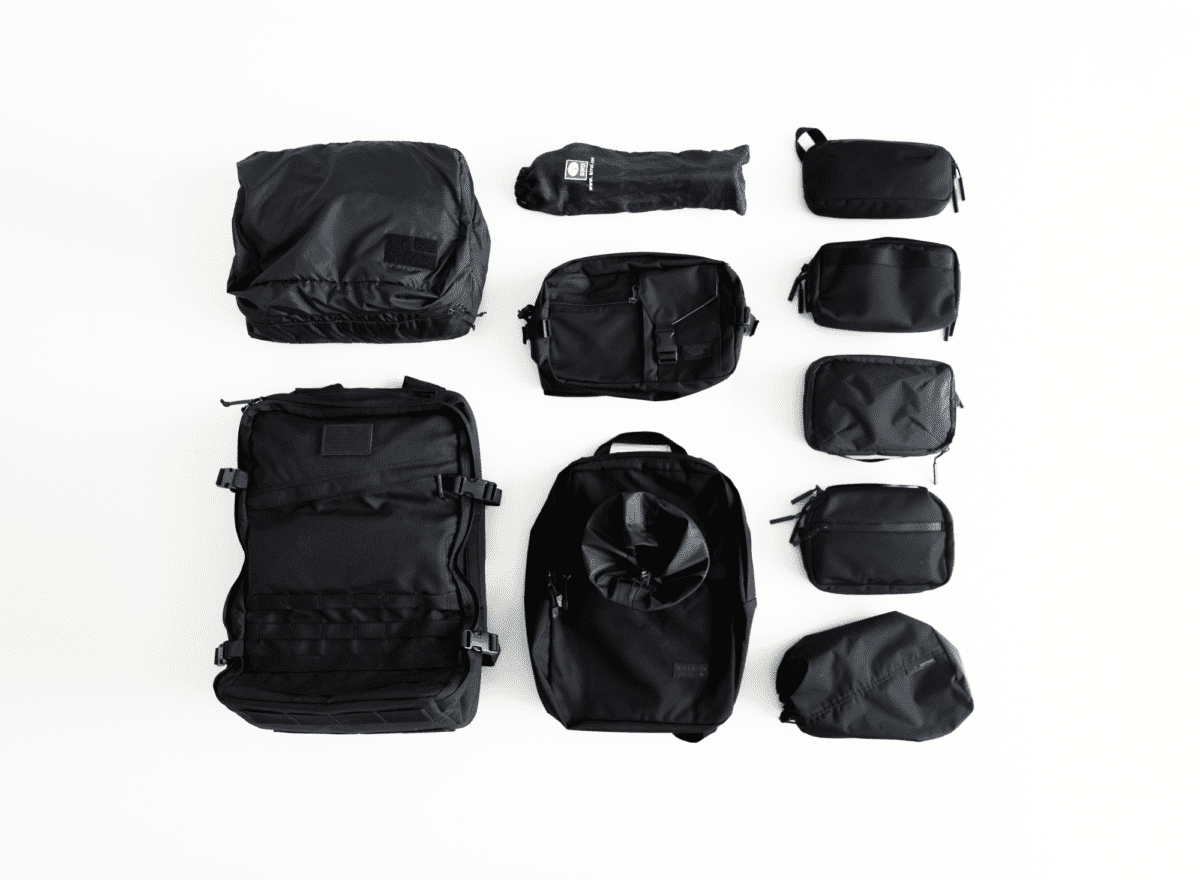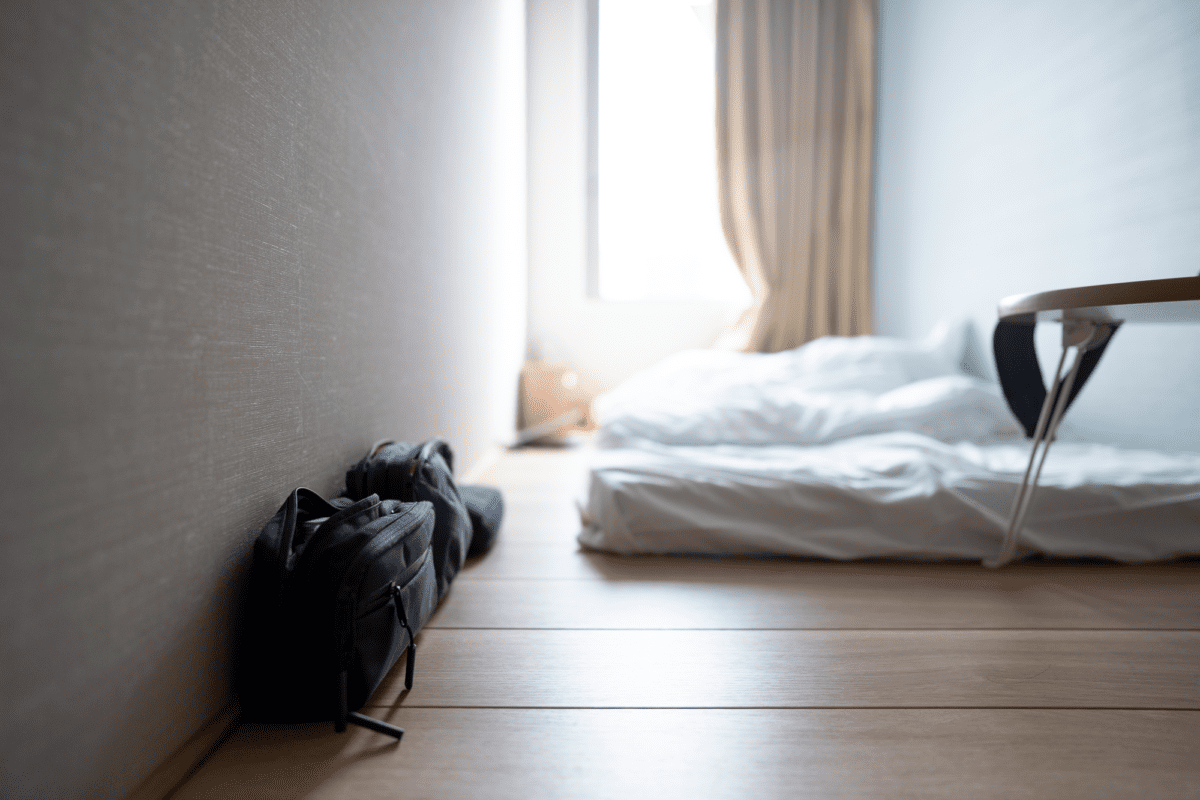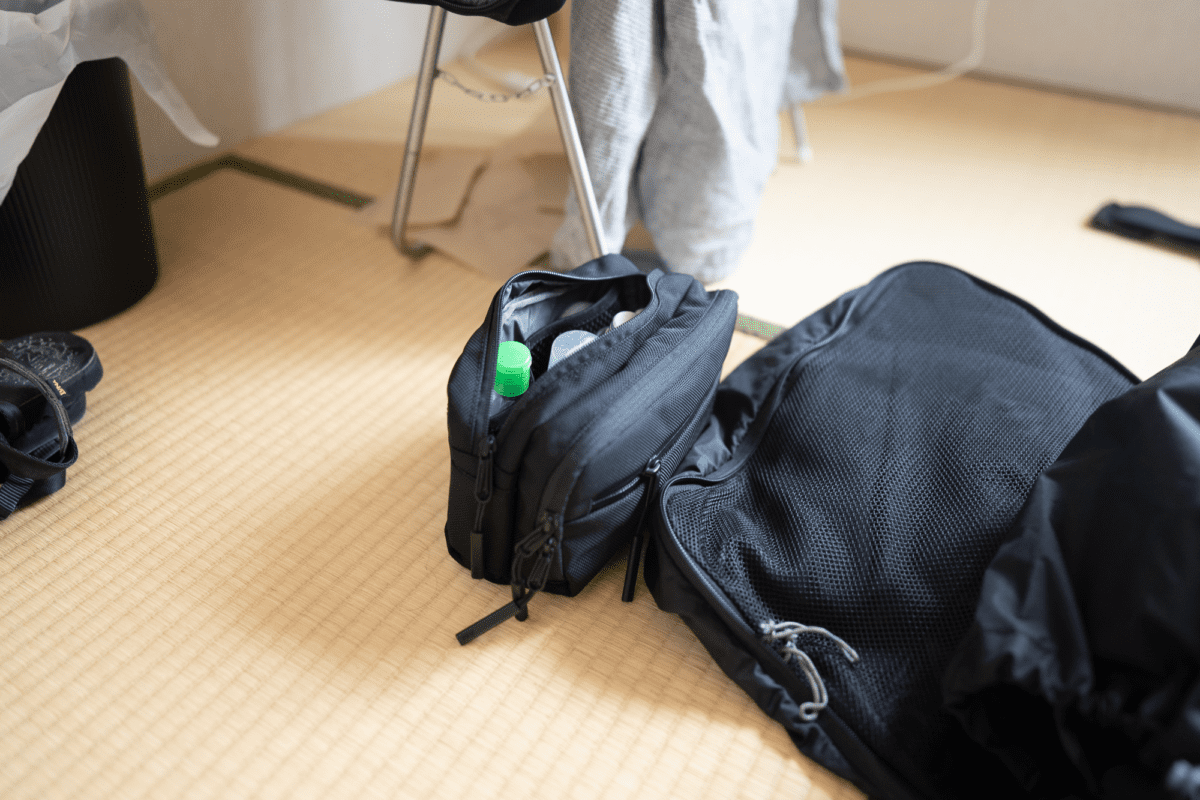 Like this review? See all of my in-depth reviews.
Also, consider supporting me by being a Patreon. Every cent given will go back into improving the content of this website.
Tagged accessory aer dopp kit organization review