This website is made possible by readers. I may earn a small commission when you buy through the links in this article at no extra cost to you. Learn more.
As a huge proponent of cashless payment, I am constantly looking for ways to not use cash, even especially when I am abroad. Bangkok was the go-to destination for broke young Singaporeans but it has been a while since I've visited. So when I was in town to attend a conference recently, I decided write this article on the cashless situation which I had a horrendous time trying to find out about online.
How cashless is Bangkok?
Well, very cashless. 99.9% of shops and even street side vendors have QR code, mostly through PromptPay. The caveat is that one can only use PromptPay if you have a Thai bank account, which unfortunately eliminates this option for most.
Credit card acceptance is limited to established shops, so mileage may vary. Even some of the hostels I have been to didn't accept credit cards.
Using PromptPay via DBS PayLah!
I thought Singaporeans might have a silver lining when I learnt that DBS PayLah! allows you to scan PromptPay QR codes. The mark up from market exchange rate is 2%, still doable if you are in a pinch.
The actual experience is less than desirable. My first meal was at a nice restaurant called Addictions near Terminal 21. I loaded my PayLah! app and scanned the code only to be met with an error that says the code is not recognized. I struggled for five minutes while the staff waited patiently before giving up and using cash.
Upon further digging, I found that PayLah! only reads QR codes that are tagged to registered businesses, effective eliminated most of the street hawkers. Even the restaurant, which looked like a full business, did not have a QR code tagged to a business entity.
But, it was when I tried to use it for Shopee, which accepts PromptPay that I had the worst experience. I paid via the QR code and my PayLah! app shows me a success screen but the purchase remained unpaid. I contacted customer support immediately through painful use of Google translate but it seems like Shopee cannot detect the payment automatically and the payment period expired.
Then I had to go through the excruciating process of getting verified for ShopeePay to get my refund.
The Best Way to Go Cashless in Thailand for Tourists
The best way is absolutely with a Wise card. It charges spot rate (the rate you get when you search on Google) with a small fee. Even with the fee, it is way cheaper than the well-known money changers like SuperRich. Most POS machine is contactless so you can just tap the card.
The biggest problem is trying to find places that accept credit card. If you go to nice-ish restaurants, they would accept it with no issues. If you go to street side restaurants, they would likely charge an extra 3% to use a credit card or not accept it at all.
But no one likes ads, so I got rid of them. If my articles helped you, I ask for your support so I can continue to provide unbiased reviews and recommendations. Every cent donated through Patreon will go into improving the quality of this site.
Either way, you can almost never survive Thailand without baht.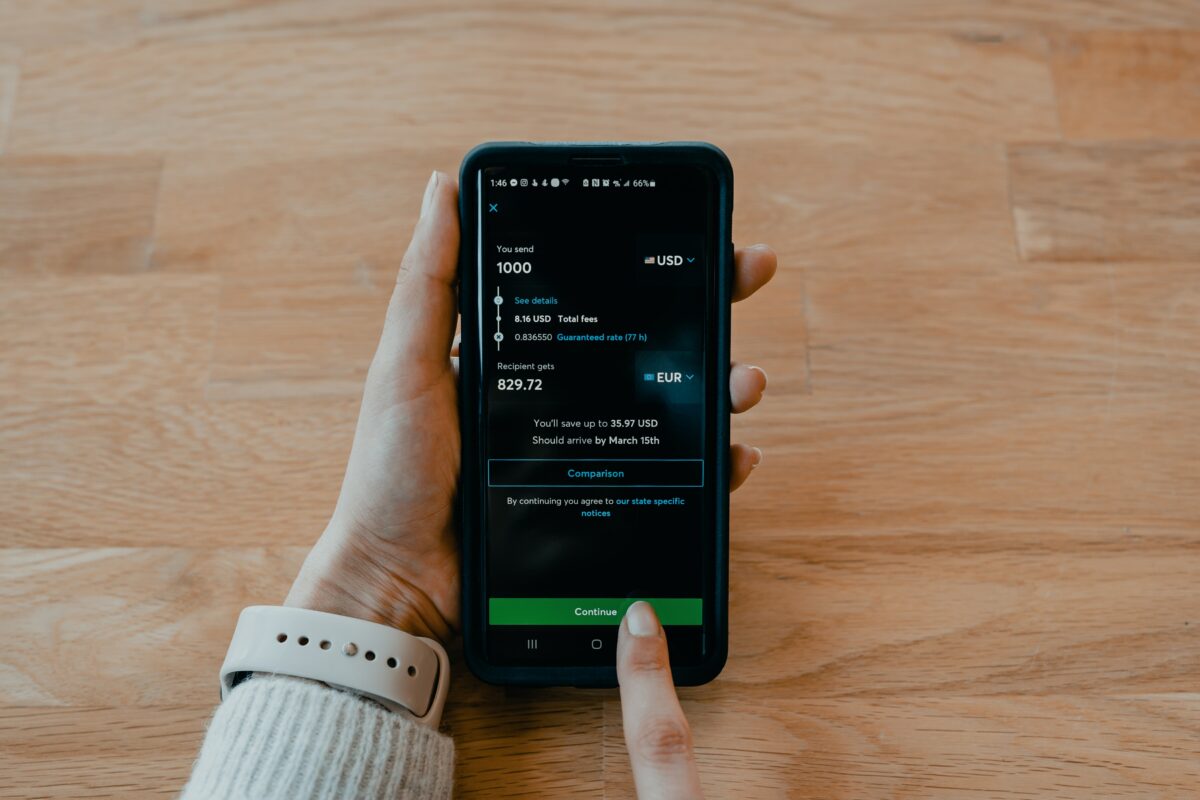 Wise vs Revolut
Some of you might think that Revolut might another good option. But Revolut regards THB as illiquid currency and charge a 1.5% markup on the spot rate. This is on top of the 1.5% it adds on weekend, which makes it a 3% markup. In other words, Wise, or even a bad money changer, will definitely give you the better rate.
Checking the conversion at the same time, I found that 10,000 JPY would give me 2552.7 THB on Revolut and 2558.2 THB on Wise. Note that this still loses out to the top moneychangers like SuperRich (2560 THB) and Siam Exchange (2565 THB).
How to pay on the bus in Bangkok?
I used Grab exclusively for the first couple of days of my trip because I knew it would work seamlessly with my Wise card. However, no matter how much you save with currency exchange fees, you can't beat the low cost of taking a bus, which cost any where from 10 to 25 baht with 10 baht being most common.
With advanced card systems in cities like Singapore and Tokyo where I lived, I was nervous at first. The system of Bangkok bus seemed tricky. But here is how I do it each time.
The gist is that you need to know your destination and pay cash directly to the attendant. Here's how I do it.
Before boarding the bus, make sure I have at least 25 baht of loose change. They can be notes or coins. If you use larger notes, the attendant might not be able to give you change.
Assuming you used Google Maps to figure out the route, copy the destination and translate it to Thai in Google Translate. Then, copy it onto Apple notes. I personally increase the font size so it is easy for the attendant to read it.
Board the bus, take a seat if available. When the attendant approaches you, show her the destination name and hold out 25 baht. She will take what is needed and hand you change and a ticket.
This is the most optimal way I've found to work each time as long as you prepare it. The buses frequency can be pretty brutal so I am sure you have time to get ready.
Which is the best money changer in Bangkok?
There are tons of money changer, especially in the touristy area, but here are some that are known for offering the best rate.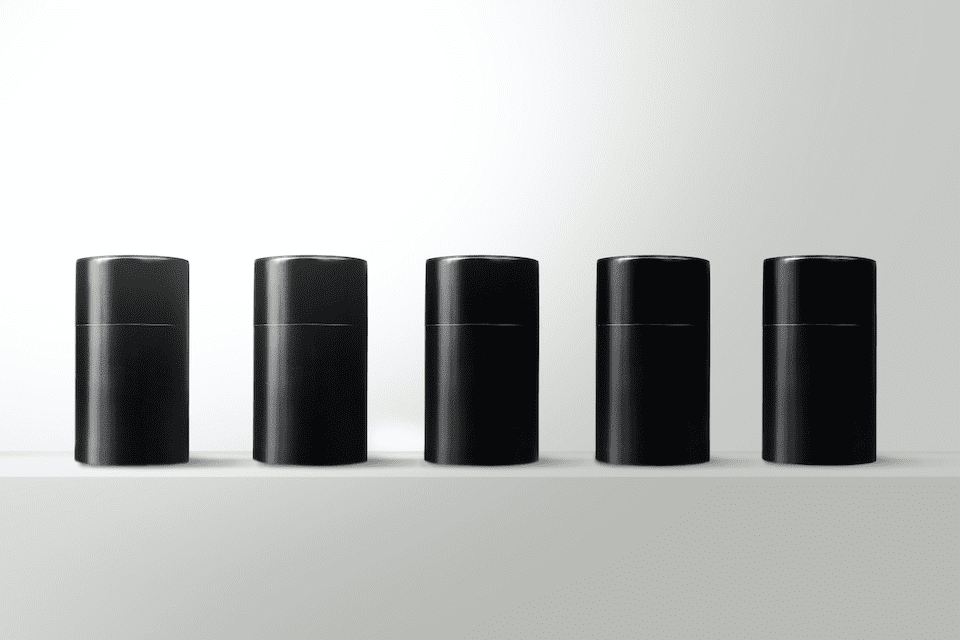 I found a 100 year old company that would create these heirloom quality canisters for me. They are handmade and will keep your tea leaves, coffee beans or anything that you need dry for years to come.
or read review
If you are in Thailand for long term, you want to note that there's a superior tier rate for those exchanging more than USD 1000 at a time. You might want to consider doing that if you are not afraid of pickpockets.
Superrich
The brand name you would hear the most is Superrich. Note that there are two Superrich brands, which you can easily tell apart with their brand colors, orange (or Superrich 1965) and green (or Superrich Thailand).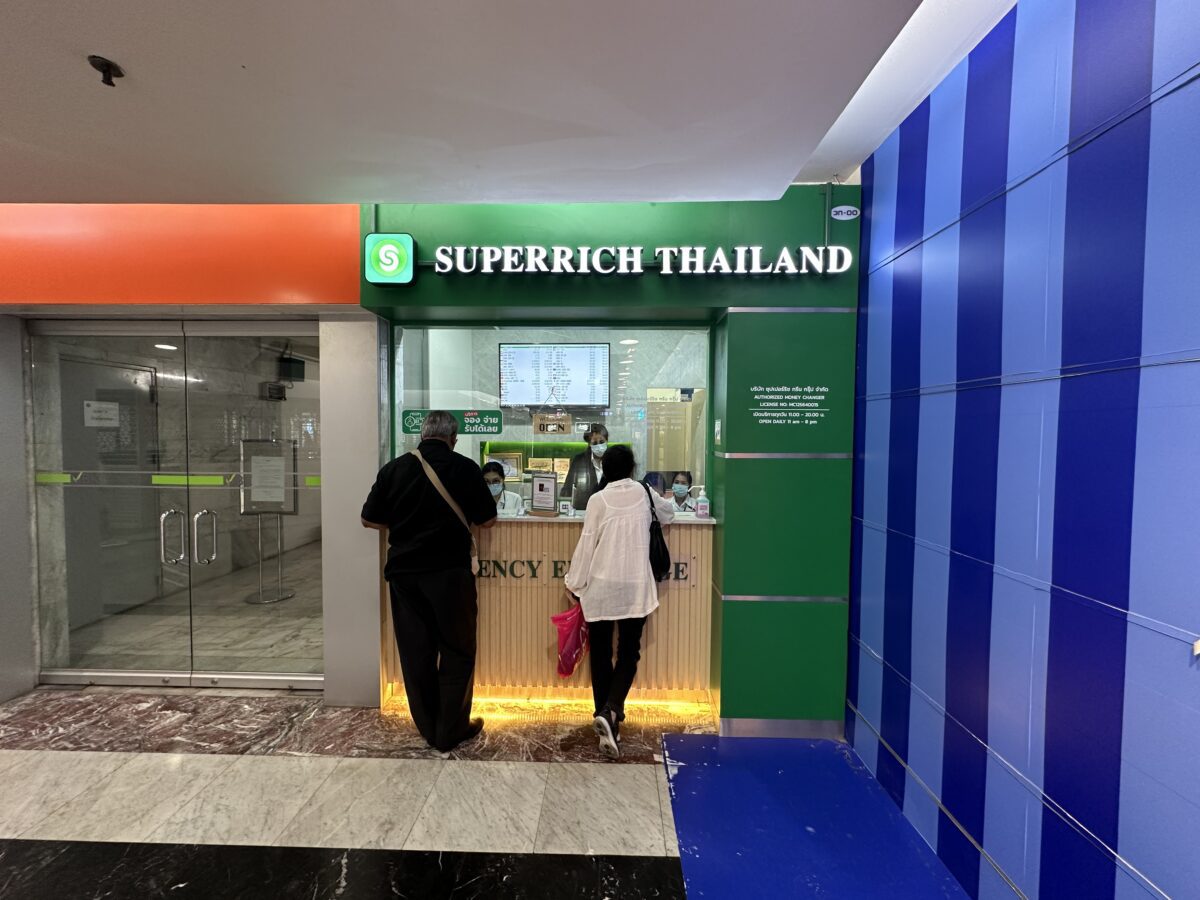 The orange is the original but it does not mean that it will offer the best rate. I've heard that the green is started by a disgruntled partner of the orange. Either one has great reputation and will give you a better rate than any random money changer.
A few things to take note
There might be more copycats of the Superrich brand and best to check the outlets on their website
The queues are usually gruelingly long. And sometimes you might not save as much compared to a lesser known money changer. If you are changing small amounts, you might want to reconsider going out of your way.
Like most money changer, your passport is required. Don't try to get by with a copy or some other ID. You will be rejected. Bring your original passport.
Your notes need to be of impeccable condition. I mean no marks and no tears, no matter how small. The staff will inspect them carefully and reject them if there is even a slight flaw. You can be a Karen all you want but they will just ignore you.
The rates on the site does not guaranteed you the rate at the store. Each outlet has different rates. I found that the rates on the site are relative and do tell you which site offers the best rate compared to other outlets.
Siam Exchange
Another brand I've heard often is Siam Exchange. Based on their site, they do indeed offer the best rate, even compared to Superrich and Wise. However, they only have one outlet and the Grab fare down is almost never worth the amount you save.
Luckily, it's near spots like MBK Center which you will likely have on your list of places to go in Bangkok,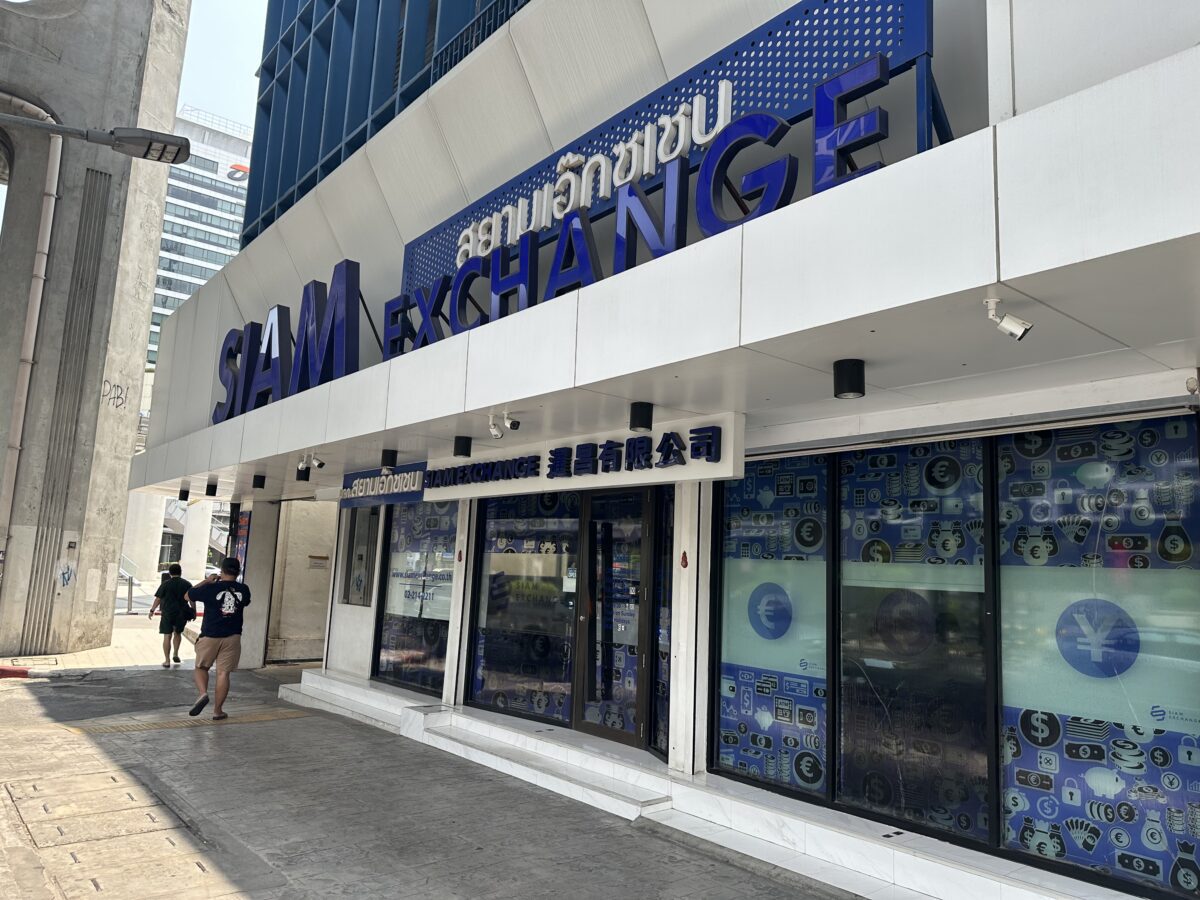 When I was there on a weekday afternoon, there was no queue. Instead of an electronic board, the staff ended me a paper with the rates. The SGD rate was the same as Superrich Thailand (green one), which also didn't have much of a queue across the street at MBK Center.
So, there is no guaranteed best rate most of the time, so it might just be less hassle to change at the nearest outlet of any of the above brands.
How to get a Thai bank account as a tourist
TL:DR You can't no matter what others are saying.
I've read that it is was once possible with a guarantor letter. However, the latest as of April 26th, 2023 is that this is no longer possible.
I waltzed down to my embassy only to be told that due to a recent policy change, you would not be able to get an account. Even with a letter. Tough luck.
Conclusion
Getting sorted in Thailand needs a little more work with the general lack of cashless payments. Since the best food in Thailand is street food, I'd say it is worth the effort.
Tagged bangkok onebag travel thailand wise