This website is made possible by readers. I may earn a small commission when you buy through the links in this article at no extra cost to you. Learn more.
Details
Price $449 on watsonpack.com
Dimensions 17 x 11 x 6.5 in / 43 x 28 x 16.5 cm
Weight 4 lbs / 1.8kg
Capacity 19L
Overview
This site has seen it's fair share of kickstarted projects that gone on to become some of my favorite brands, such as Aer, Wool&Prince, and Minaal. Suffice to say, Kickstarter is a great way for another backpack to get off the ground and the Watson Pack is yet another to take advantage of the platform.
However, you don't need to read a Watson Pack review to tell that it is different from the rest. It's not just another travel backpack that is somehow better than the millions of options out there. It's battle tested with 10,000 hours of user research and has the supply chain utilized by the likes of Rimowa, Pelican and AWAY.
Seeing as how the company as gone full remote and various mentions of tech leaders carrying the pack, I could tell the tech startup spirit ingrained into the culture and innovation—something I can appreciate, being part of the ecosystem.
As cool as the backpack looks, there is no bag without it's flaws. My aim with my reviews has always been to provide an objective closeup on those flaws so you can buy it with the knowledge. Let's dive in with this Watson Pack review.
Style
Even from product images, you can tell that form is a key focus for the Watson Pack. It is designed to impress but without being audacious. It's slim profile and distinct silhouette would usually draw attention, but the details are kept subtle and colors, stealthy, resulting in a careful balance.
Apart from just offering one product, the Watson Pack comes in one color, black. As someone who detests the fallacy of choice and has been wearing only black for many years now, it was almost a relief.
In world of colors, styles, size options, it's nice to have limited options to choose from; you either want it or you don't.
From the front, the Watson Pack looks futuristic, almost like it could be worn by Ethan Hawke in Gattaca. There are distinct lines created by the artful contrast of ballistic nylon and matte leather. Every detail looks carefully considered, which is a result of the third iteration of the same pack over seven years.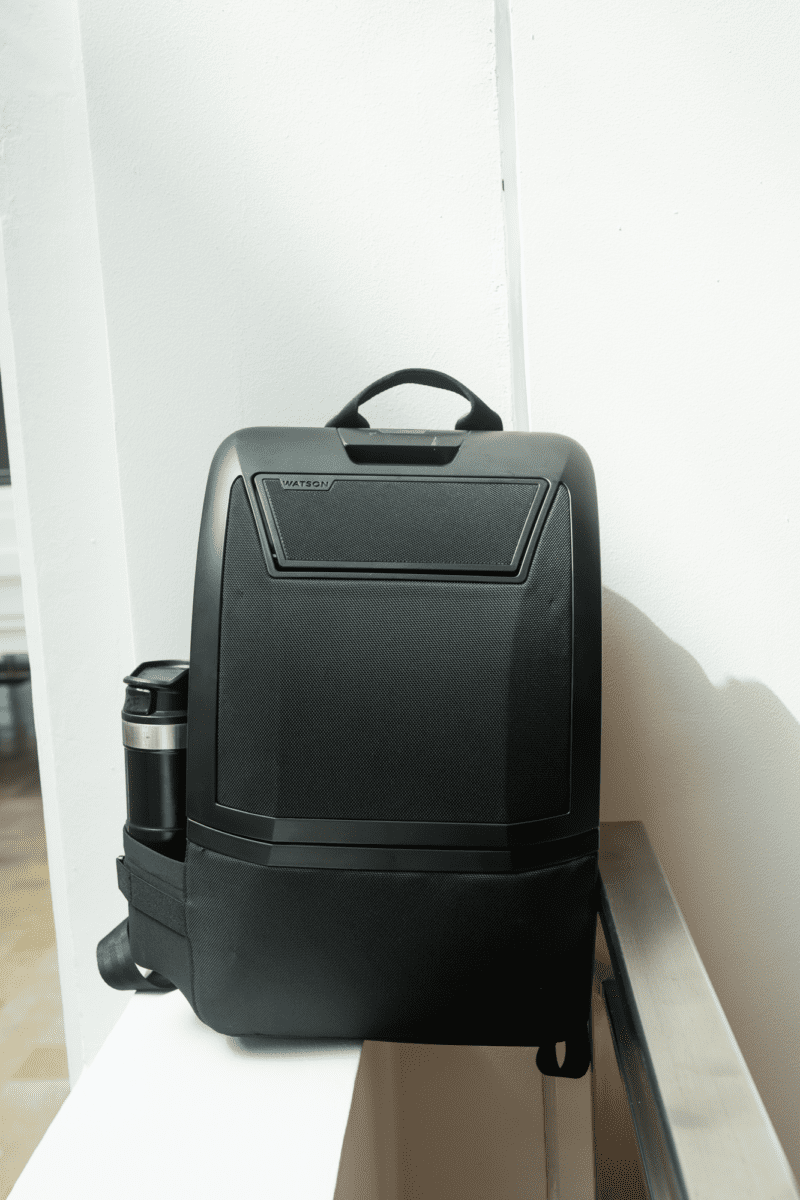 I was afraid that the pack would look almost too well put together for my usually-casual attire.
To combat the tropical weather in Singapore, you'll usually find me in my Wool&Prince Crew Neck T-Shirt, Outlier Futurecargoshorts, and flip flops. However, I was glad that it didn't look too out of place and I felt comfortable in the getup.
But no one likes ads, so I got rid of them. If my articles helped you, I ask for your support so I can continue to provide unbiased reviews and recommendations. Every cent donated through Patreon will go into improving the quality of this site.
The fact that I do not give a rat's ass about what others think about my attire definitely helped.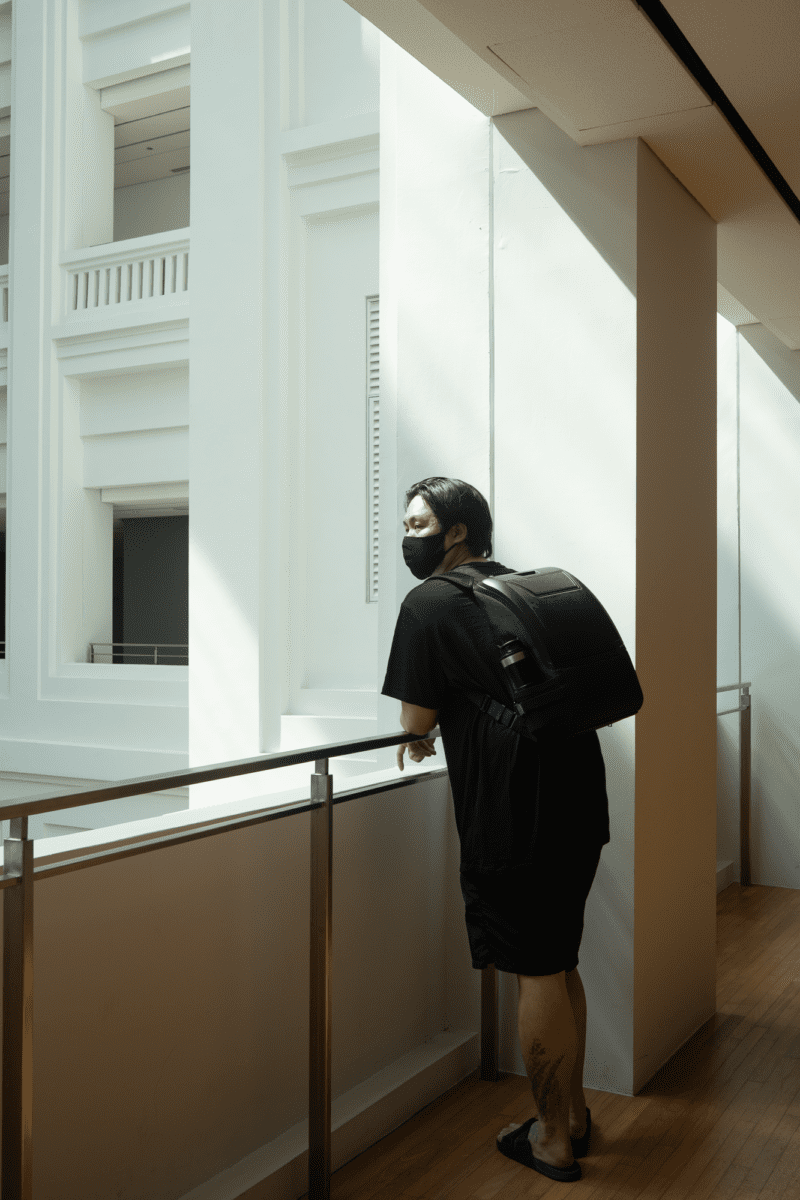 Material
The Watson Pack is crafted from 1580D ballistic nylon and matte leather with glass-filled nylon components. Unless brands like GORUCK or TOM BIHN that can geek out on their materials, Watson offers little details, not unlike most newer brands.
Ballistic nylon is one on the usual suspects when it comes to high-end backpack materials. However, this is my first time coming across a 1580D ballistic nylon; the 1680D ballistic nylon is more often used. Without any further infomation, I can only assume that it is a similar make to the 1680D, although the weave does look noticeably tighter and smoother.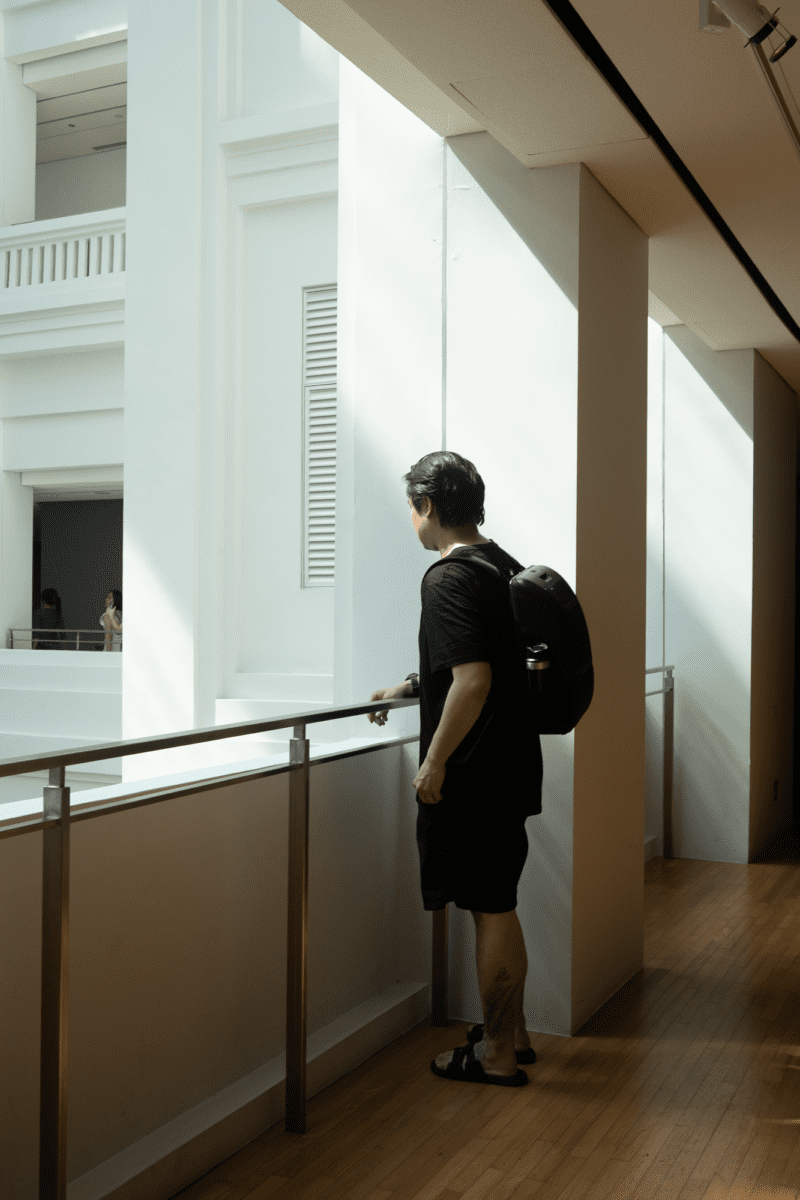 One important difference with other backpacks is that the fabric here is not actually what protects the contents of the bag. Unlike most backpacks where the fabric is what makes up the bag, the ballistic nylon on the Watson Pack is merely a cover for the hardshell that does the protecting. In other words, the ballistic nylon is nothing more than an over-engineered cherry on top.
Details are scarce on the leather used as well but it does look treated and is has a slight sheen for a "matte" leather.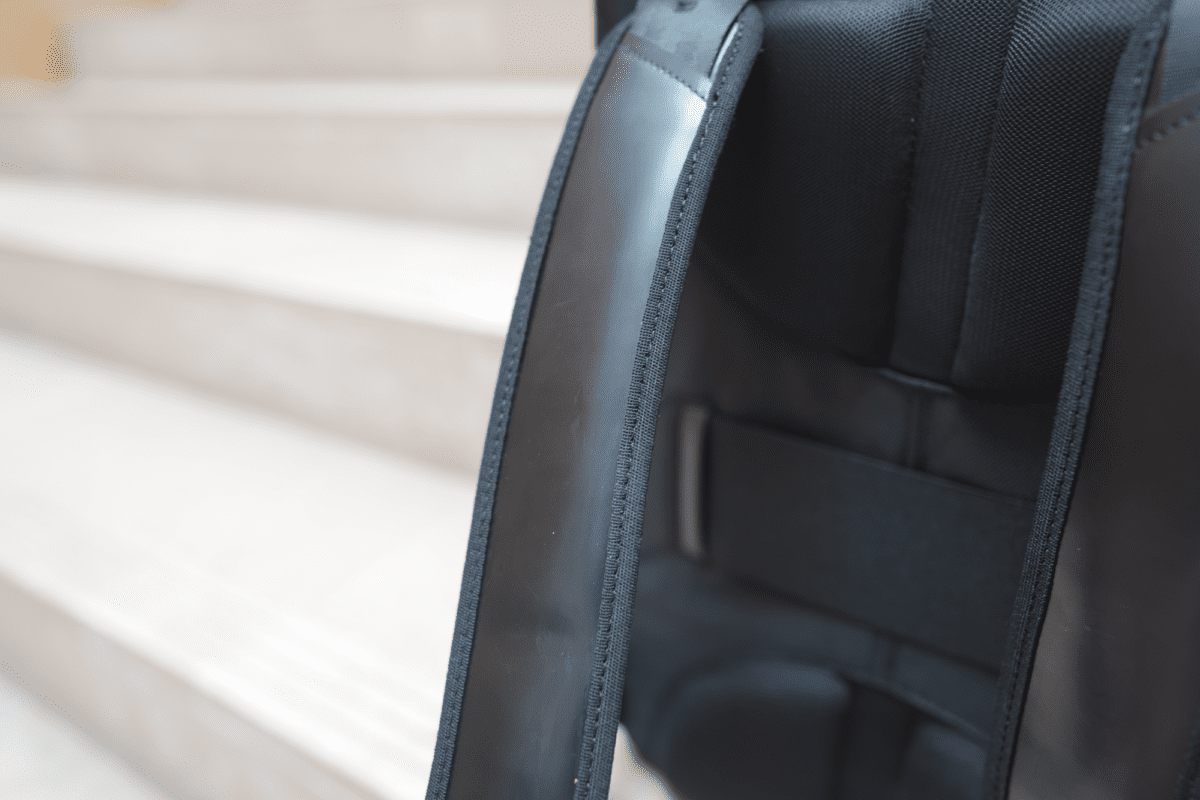 Usage
Watson certainly sells a good pack, but does the product really live up to the pitch? I'll find out.
Main Compartment
Let's start with main compartment and its automated opening, arguably the main selling point of the pack. There is a button that you press down to open up the pack.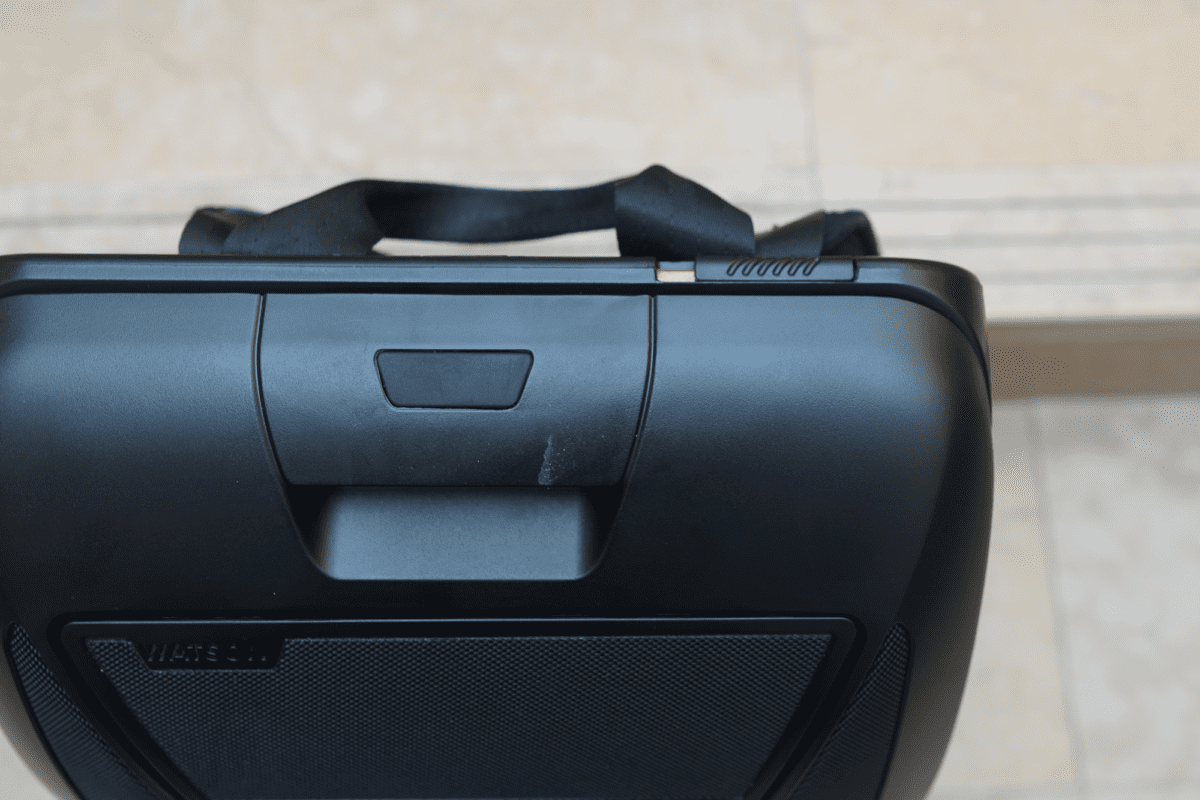 While I don't think most pickpockets would instinctively know how this works, there is a way to lock the bag via a slide on the wearer's top-right. While I am usually against any hint of color, I thought the red lock indicator is a nice affordance.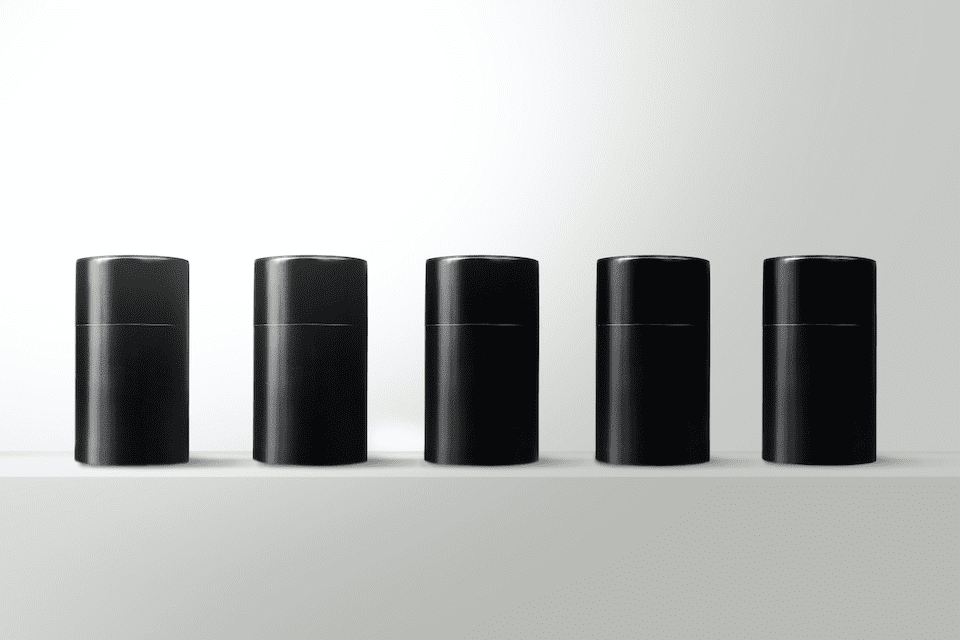 I found a 100 year old company that would create these heirloom quality canisters for me. They are handmade and will keep your tea leaves, coffee beans or anything that you need dry for years to come.
or read review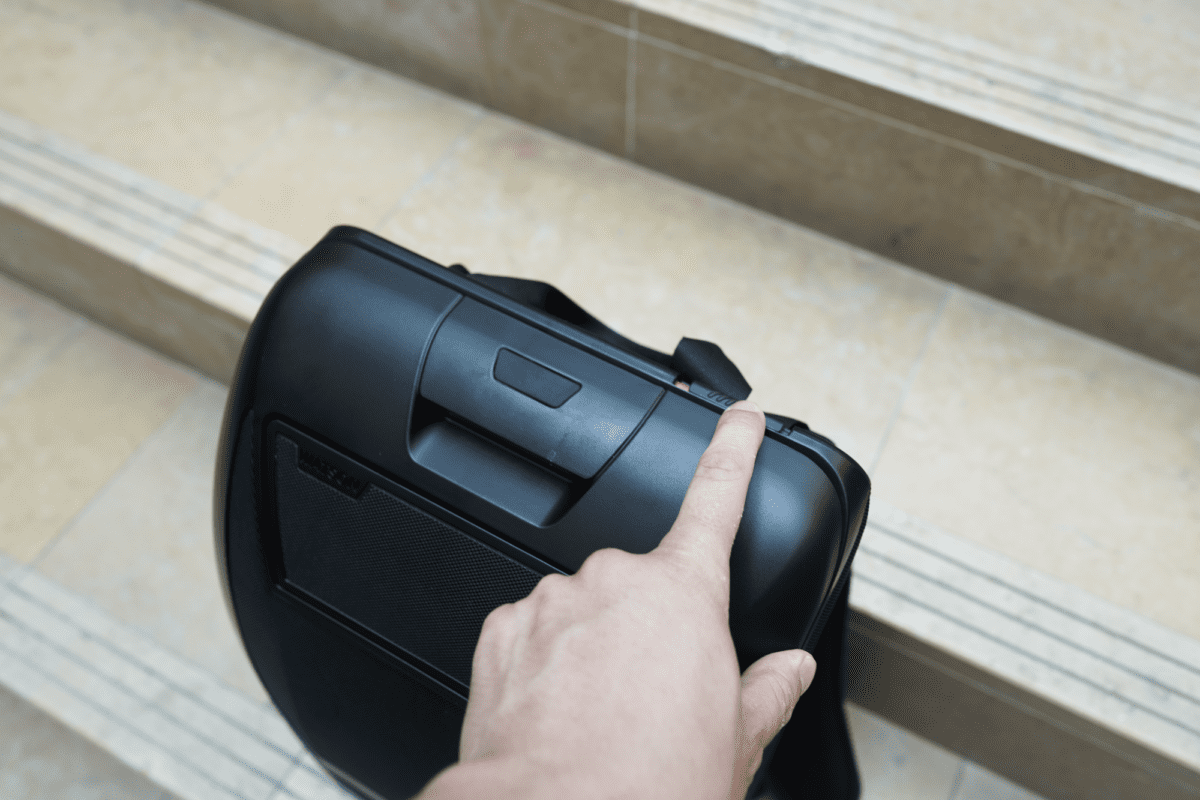 Closing it is equally fuss-free. You pull up on the handle till you hear a click. You won't get a situation where you don't close it properly since it will open up again if the clasp is not engaged.
The pack opens up to reveal so that you can see the contents of the bag easily.
There's a device slot with a magnetic strap-clasp. The slot is designed to fit up to a 13.75-inch laptop but I was able to barely fit my 14-inch M2 MacBook Pro. You won't be able to slide it in easily but need to adjust as you get it in. I would bring out this pack if I only have my 12.9-inch iPad Pro with me.
The magnetic strap to secure the device is a nice touch. But, if you pull your device out, the strap would flip over the bag and you would have to flip it back into the bag in order to close it.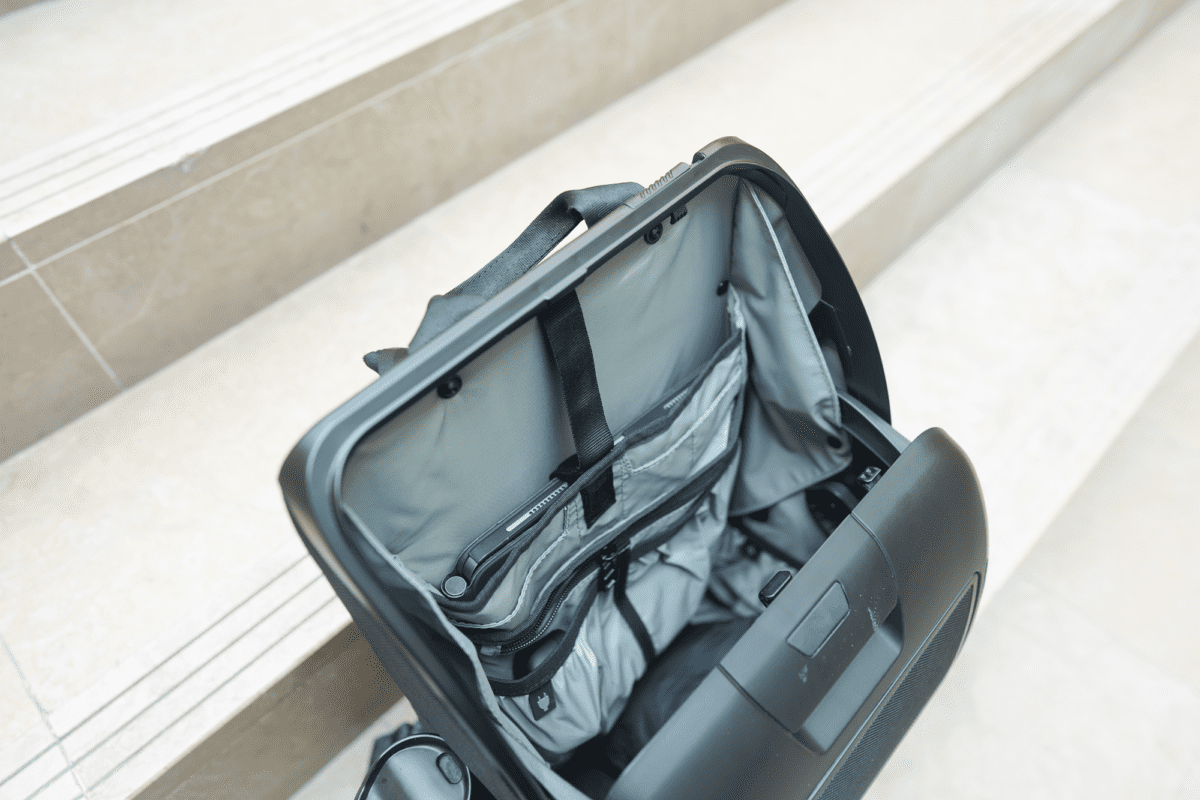 In front of the tablet slot, there are three open slots. Two pen/cable-sized ones on the right and one on the left that was very fitting and shallow enough to easily reach for my Sony WF-1000XM4.
In front of those, there is a full width slot that looks great for headphones. Although, given the capacity of the pack, headphones are not something I would recommend over earphones.
In front of the full width slot is a zippered pocket. It looks great for valuables or a passport.
There are two equal-sized, elastic pockets in front of it. These are relatively deep so I have larger items that I want to easily reach for, like a portable fan.
The rest of the main compartment could fit my Sony α7R IV in Matador Camera Base Layer, but I had to make sure it was in the center of the pack to be able to close it. If you have stuff in the bottom of the pack, you run the risk of not being to get a large item in the sweet spot where the breath is the widest.
Waterbottle Slot
There is a waterbottle slot on the wearer's left. I had, at first, thought this slot was too shallow to hold my Stanley Travel Mug, but I was proven wrong. It felt secure in the slot.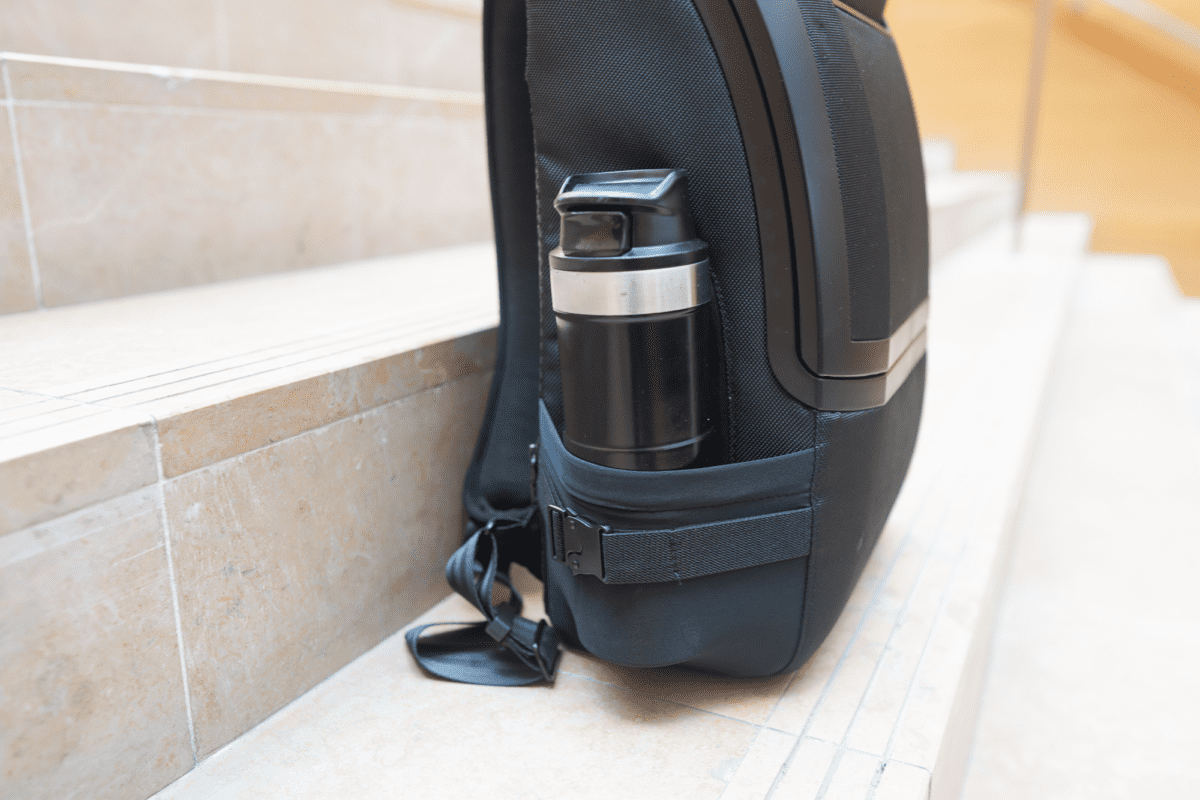 The only issue was that when you try to slide your bottle in with one hand, you would push that strap, responsible for keeping your bottle securely in place, down. You would then have to move it up.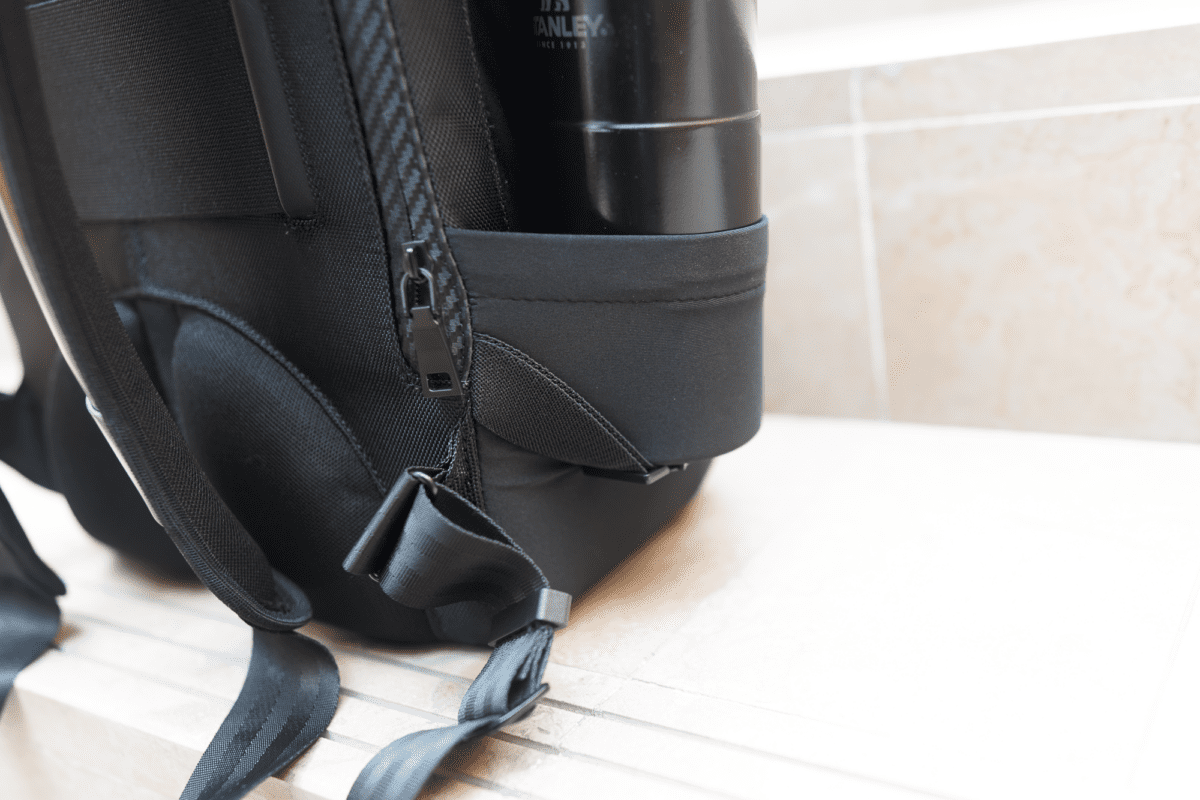 Sunglasses compartment
One of the most unique features of the Watson Pack is the dedicated sunglasses compartment. I bring my Raen Sunglasses everywhere I go and I access them pretty frequently throughout a day. You open this compartment by pushing on the corner.
The compartment was able to fit my Raen Sunglasses perfectly but not with the case. I guess the hardshell compartment is protection enough. However, as someone who frequently switches bags, it is a small hassle to have to change configuration for the Watson Pack.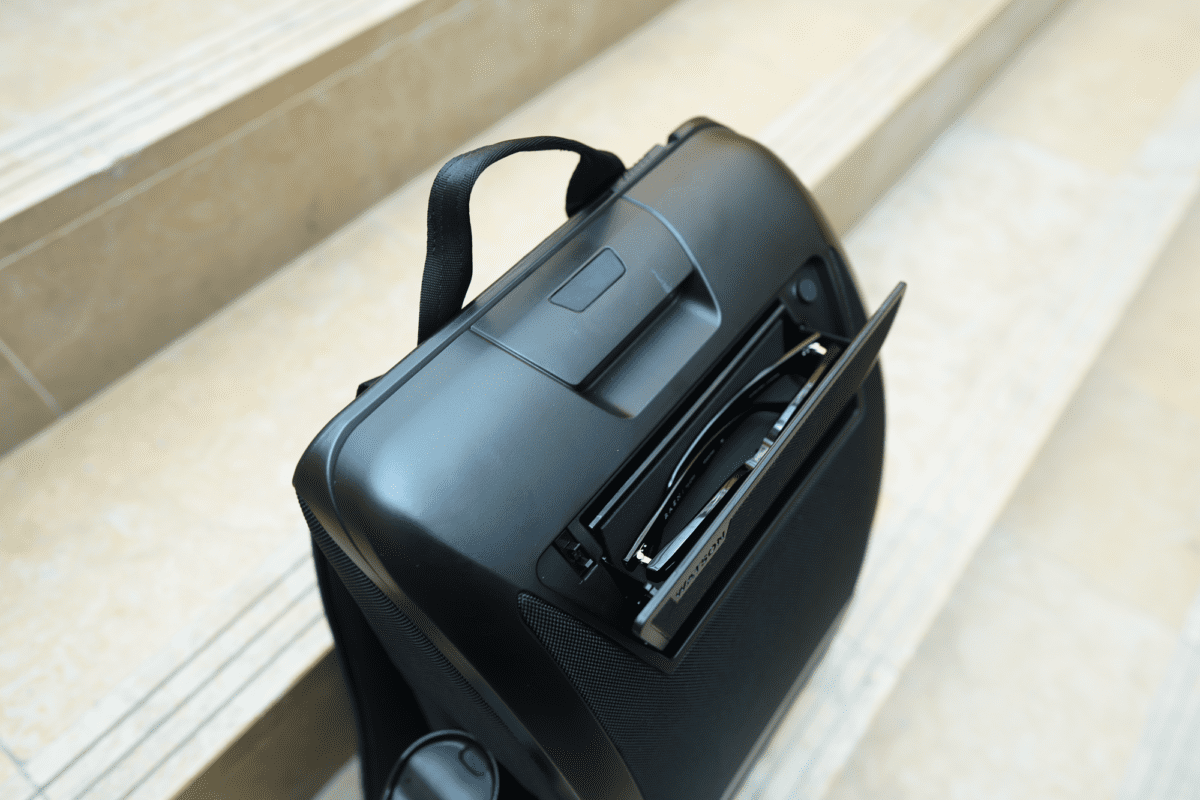 As much as I love this compartment, half the time my sunglasses would be lodge in an awkward angle and get caught in the clasp mechanism.
The compartment would not open fully with my sunglasses stuck in the side and I would have to use a finger to push it out of the way for it to open. If you have expensive sunglasses, there is a risk of damaging it after too many times.
Hidden compartment
Along the back of the bag is a passport-sized, hidden zippered compartment that is great for valuables.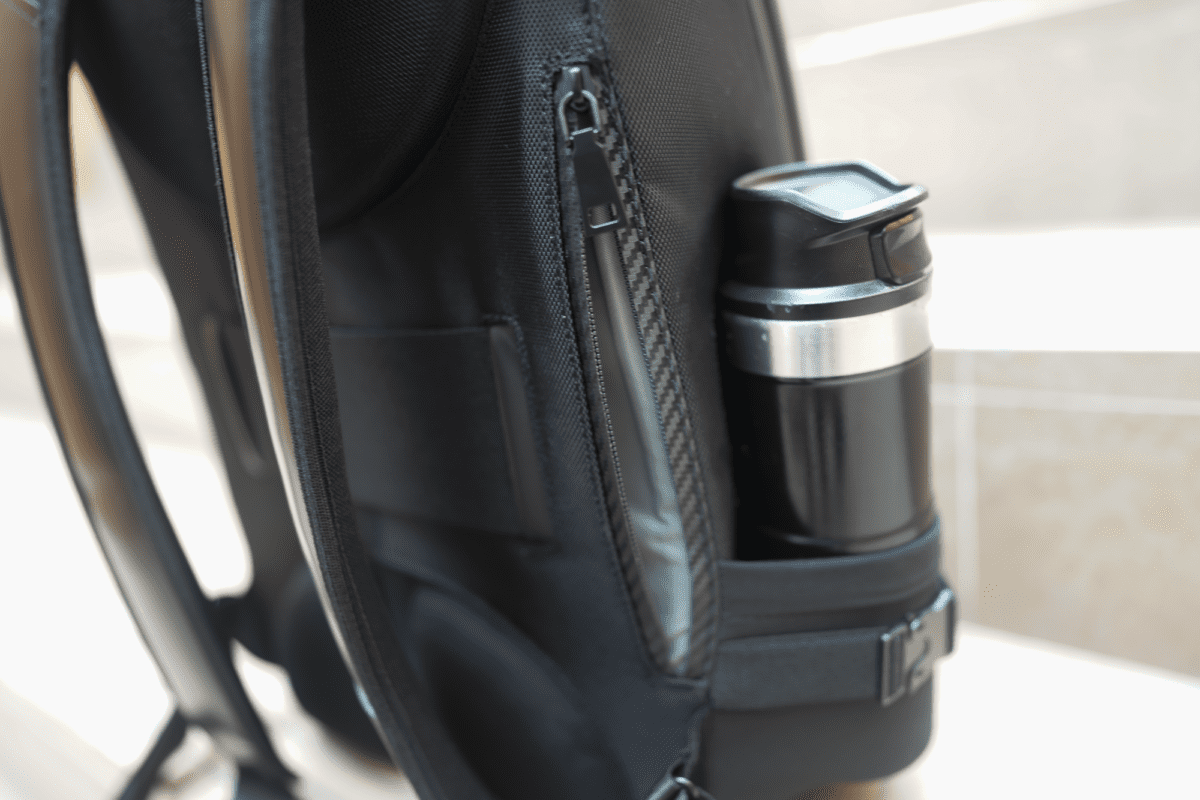 Charger slot
There is a slot in your bag meant for your mobile charger and you can rope a cable to the outside of your bag so you can charge on the go. I've tried this setup before but dealing with cable when you take off your bag can be a hassle.
I'm normally diligent when keeping my battery charged and prefer charging when I am settled in a cafe so I never see the need for this feature.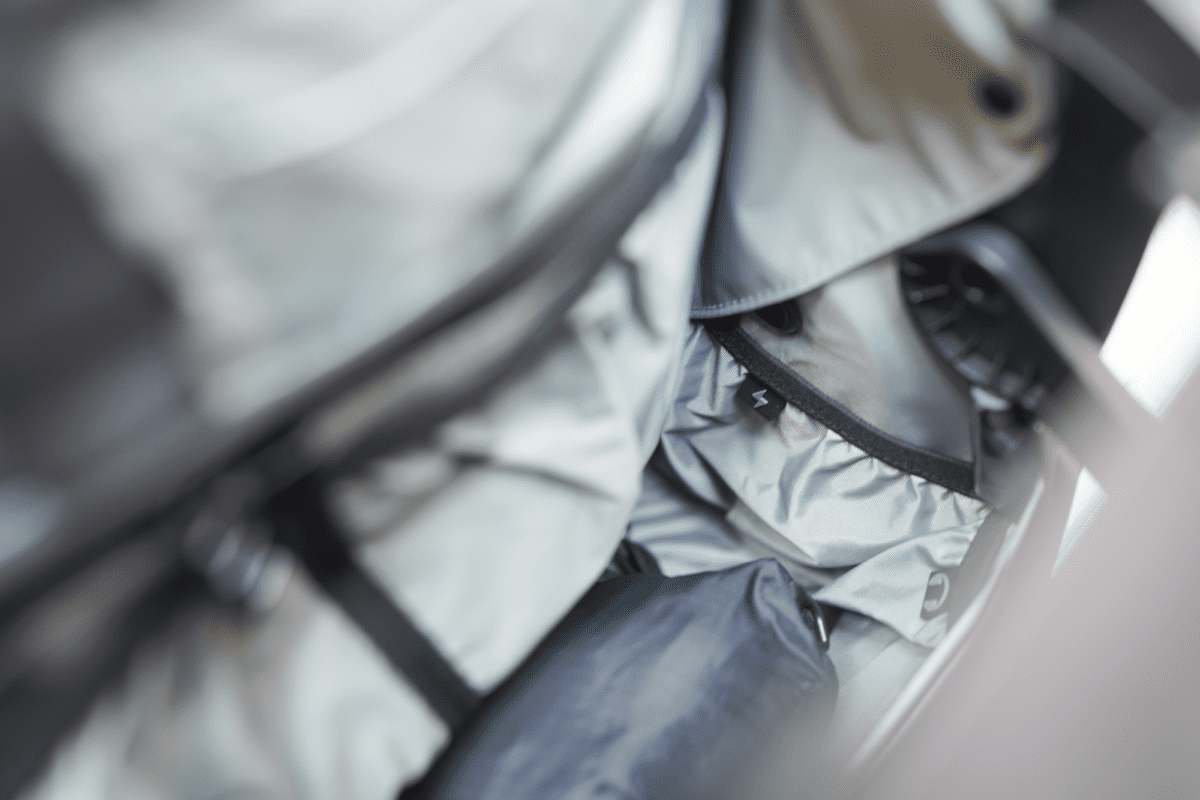 However, if you do use this feature, this is actually one of the most sophisticated implementation I've come across. You put your charger in that slot and weave your cable through a hole.
You can open a buttoned flap to reveal the side more. The cable would end up in the hidden compartment and you could leave your phone in there as it charge. I am impressed they managed to do this without sacrificing on aesthetics.
Support system
The Watson Pack is not something I would recommend for travel due to its weight to capacity ratio. However, they did a great job with the memory foam and structure the redistribute the weight. That said, this does not offset the extra weight caused my the hardware.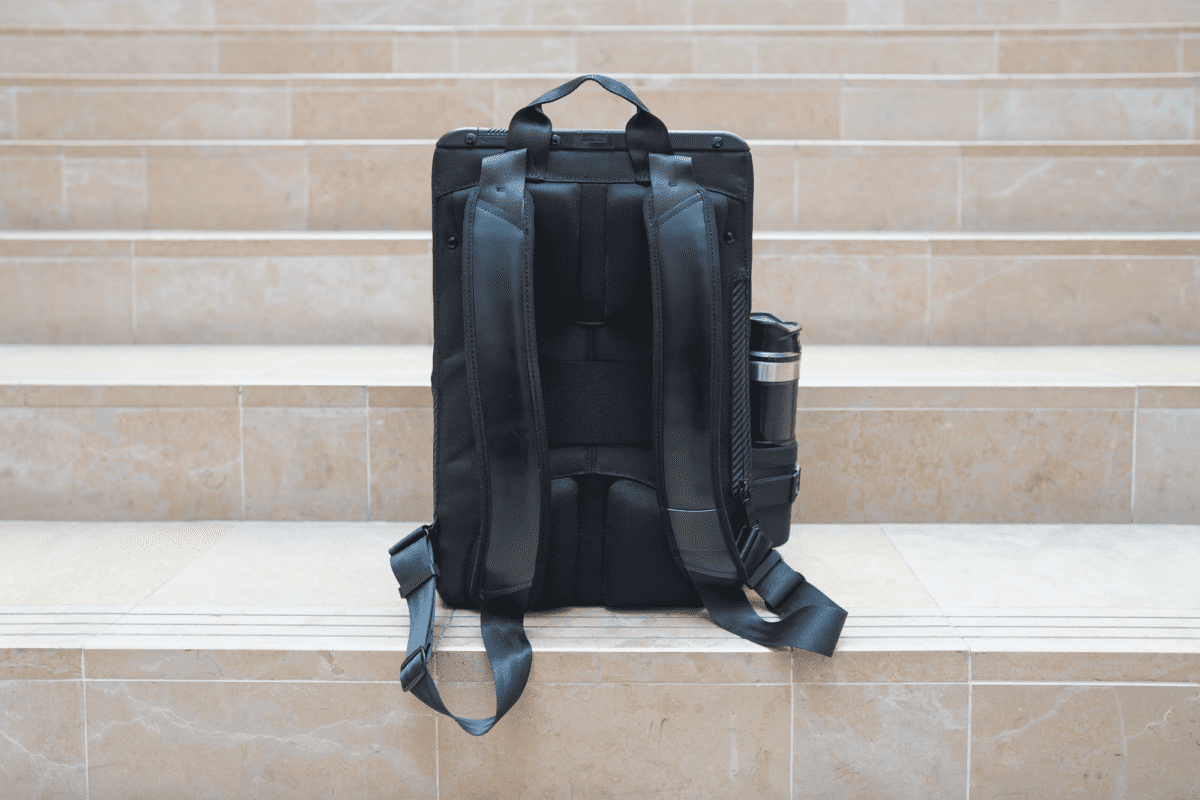 While the Pack's concave shape allows air to pass through the center of the back, this was not something that was noticeable for me.
Conclusion
The Watson Pack is not designed for those who like to carry a lot. It is a minimalist pack for the tech essentialist.
If you like to carry a lot, you should immediately look elsewhere. Unlike soft shell bags that have some flexibility for overstuffing, the Watson Pack is unforgiving in that aspect.
If you can deal with the capacity, the Watson Pack is a pristine, high-end statement piece that somehow doesn't draw unwanted attention. While the price tag is pretty steep, it targets a subset of tech professionals looking to stay organized.
Additional Images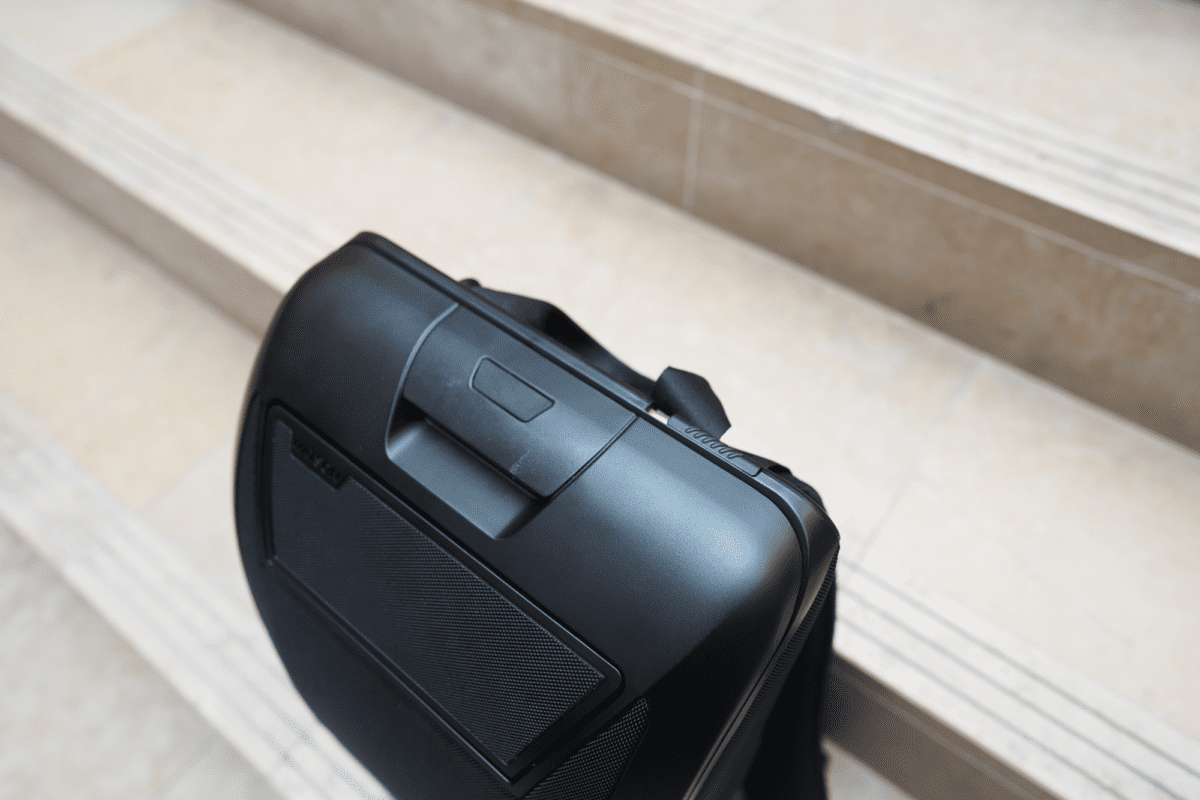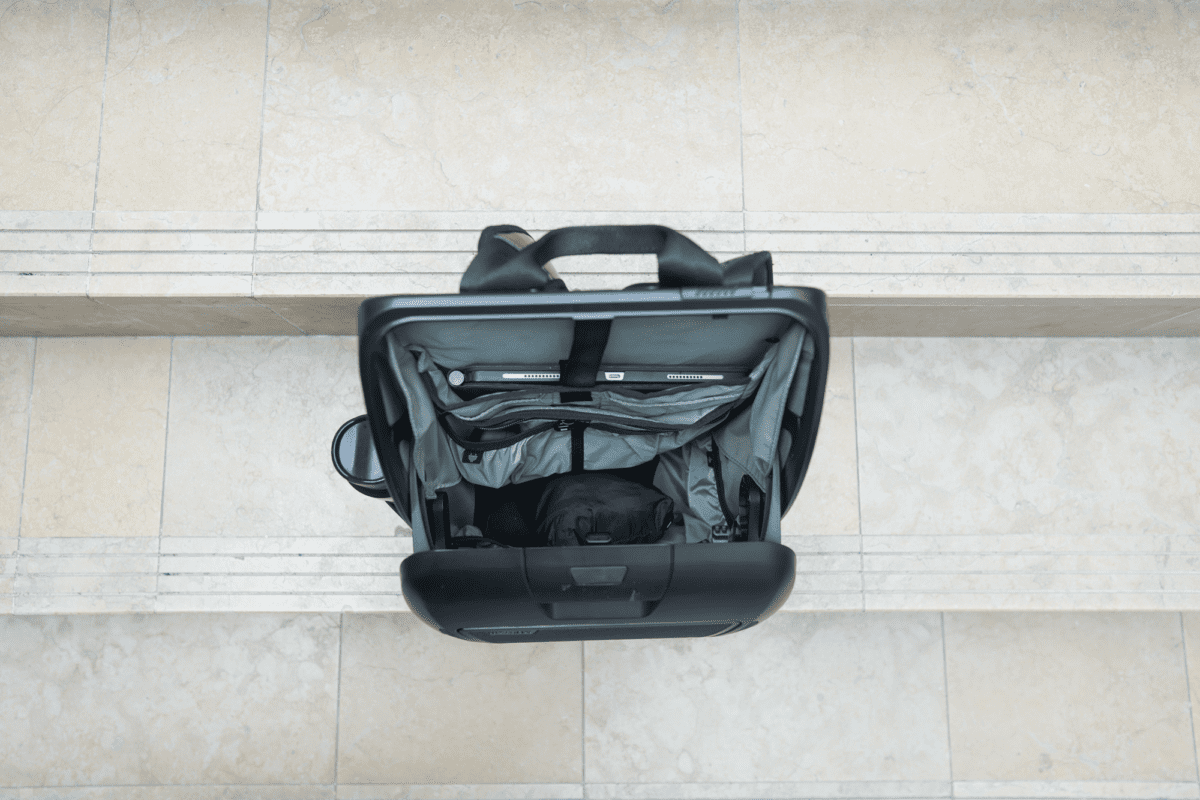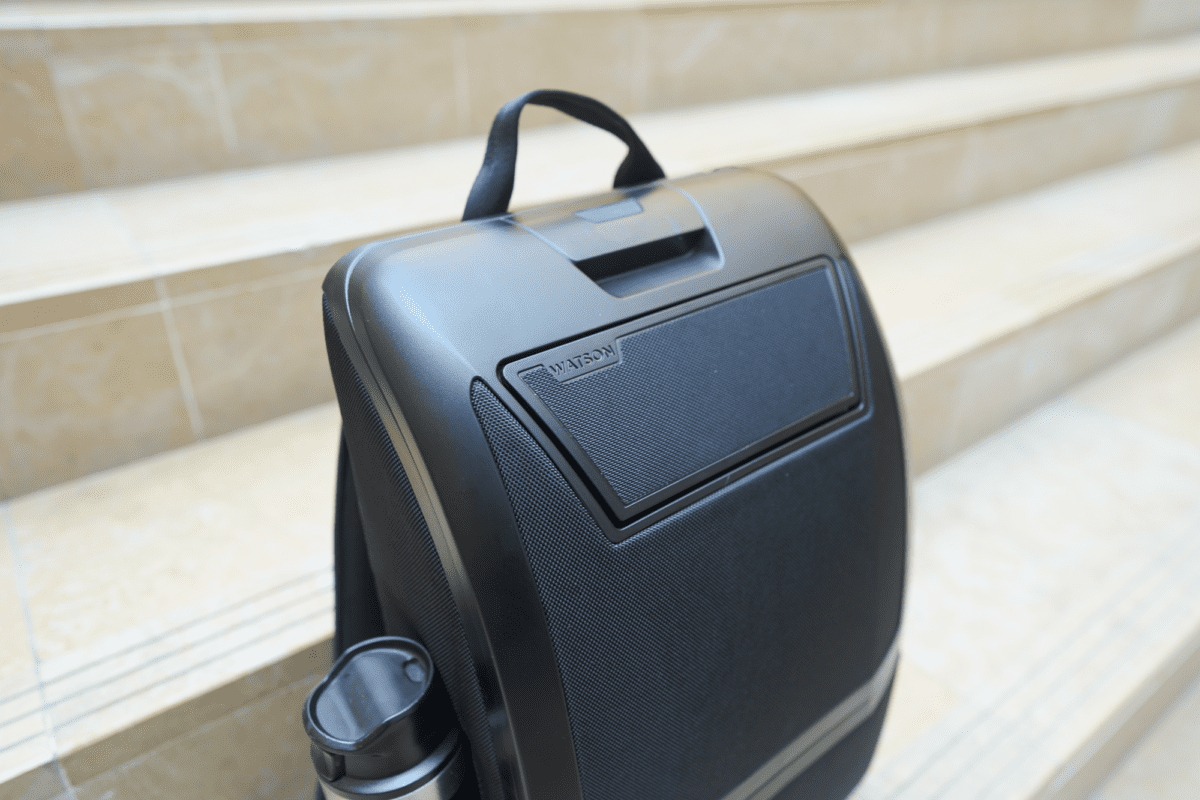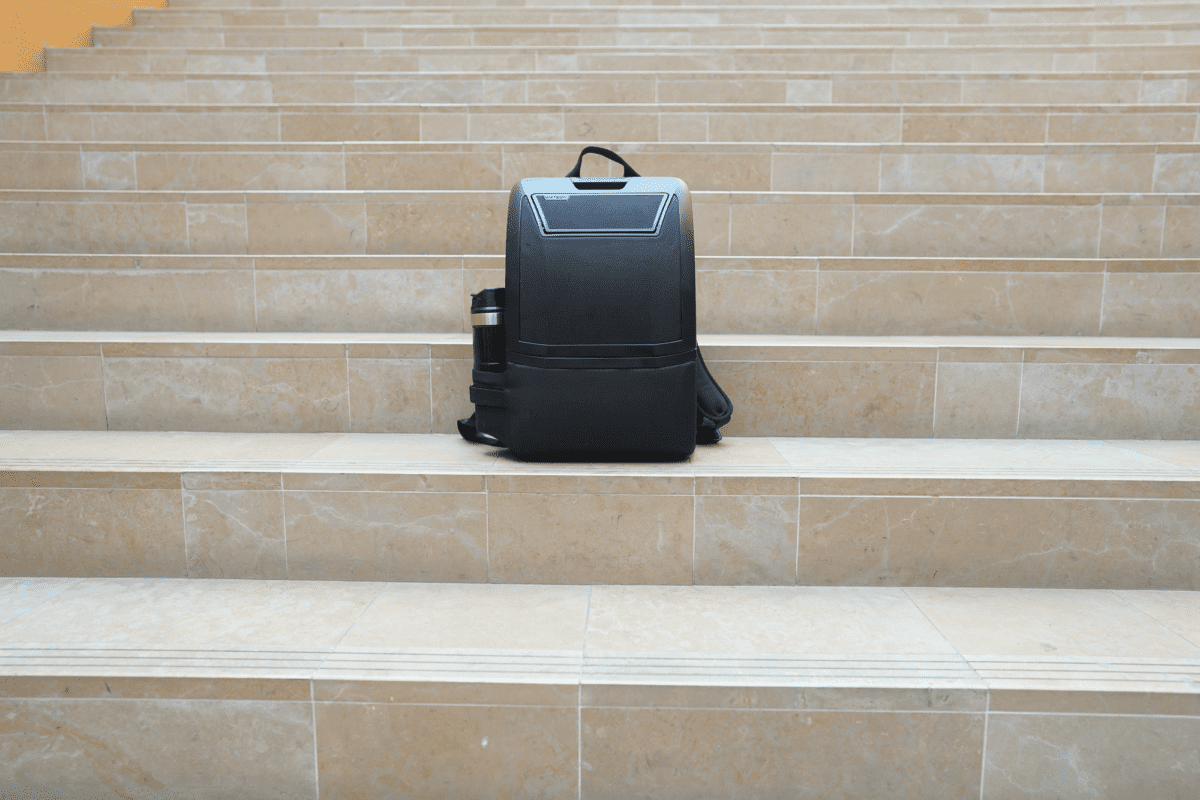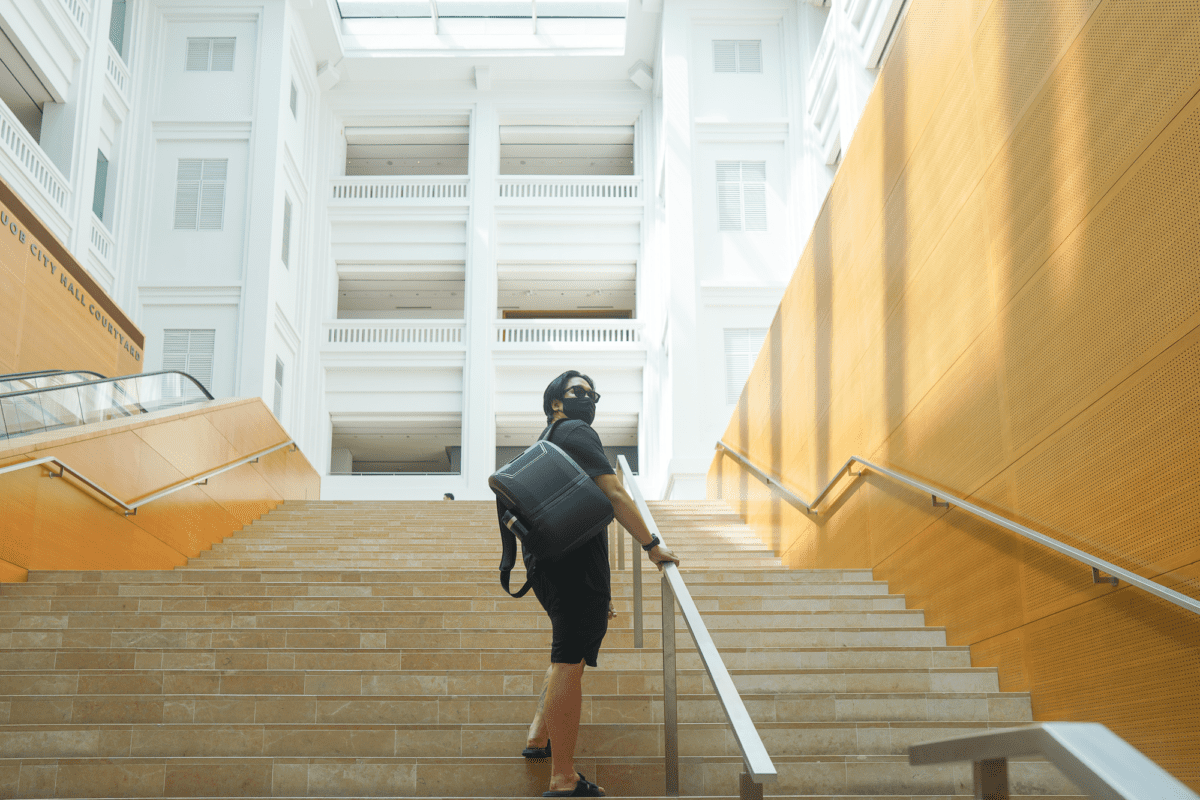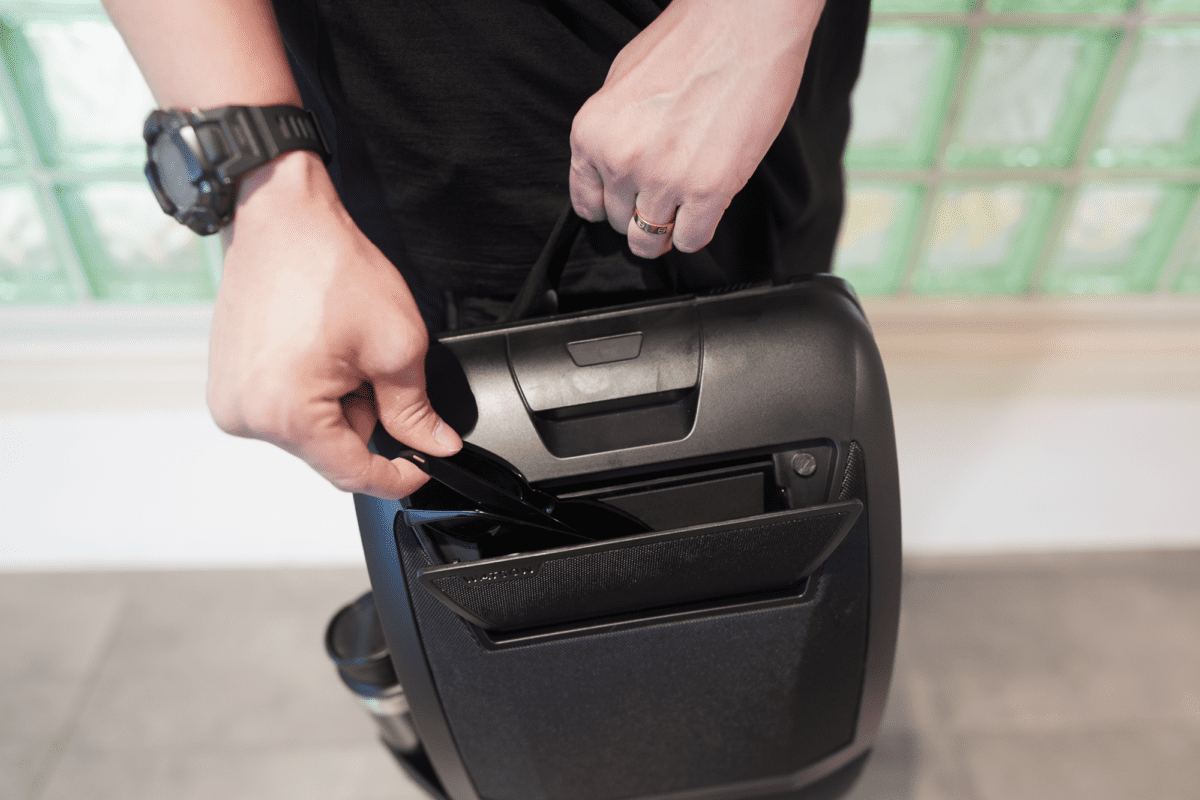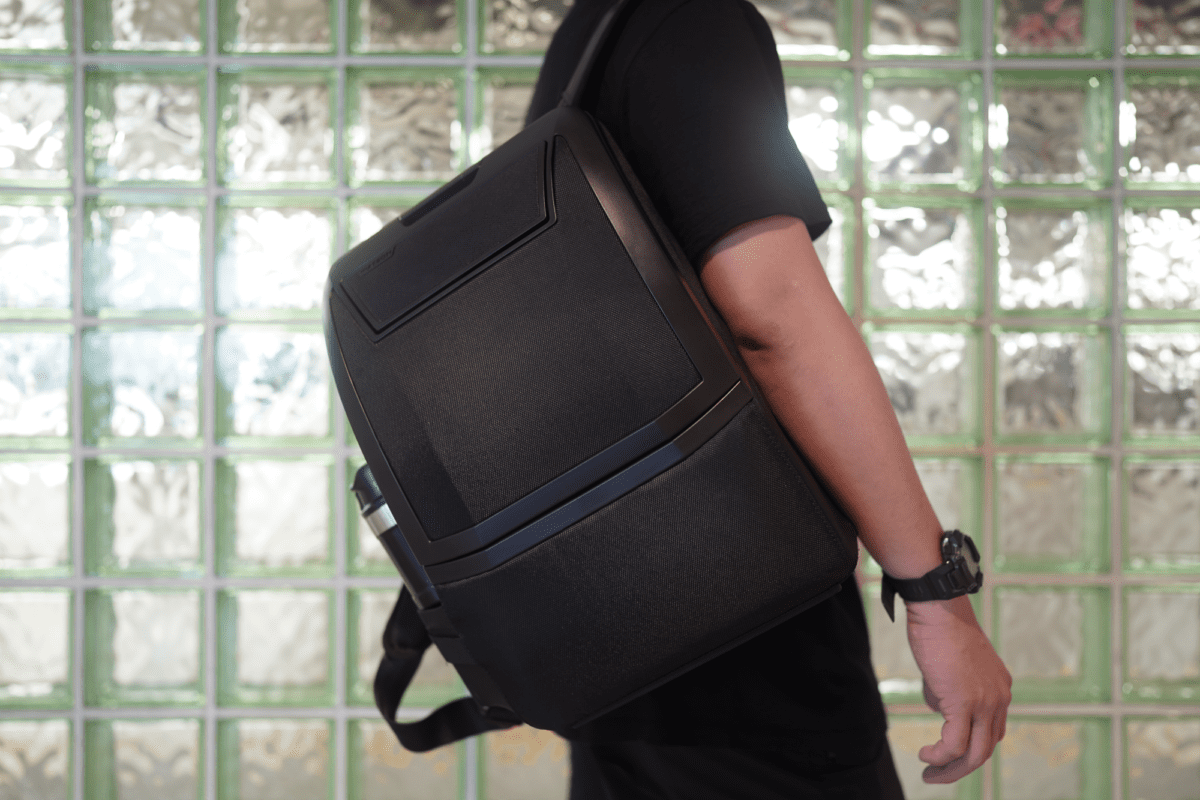 Like this review? See all of my in-depth reviews.
Also, consider supporting me by being a Patreon. Every cent given will go back into improving the content of this website.
Tagged backpack bag minimalism review water-resistant watson