This website is made possible by readers. I may earn a small commission when you buy through the links in this article at no extra cost to you. Learn more.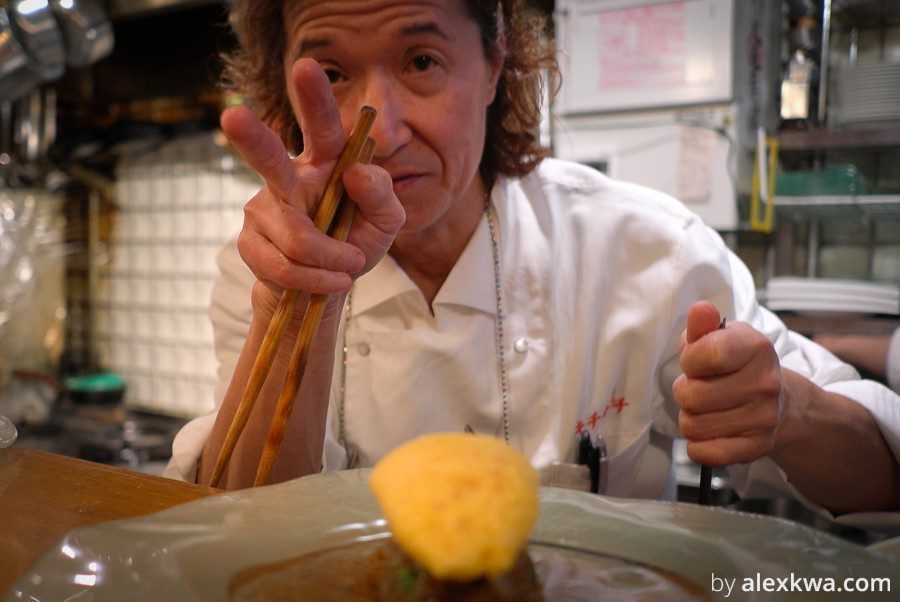 If you've ever watched the 2002's Fuji TV's Lunch no Joou, you'd have constant flashbacks of fluffy omelette wrapped rice (or Omurice) topped of with the beautiful demiglace source. How could such a simple dish be so magical?
I've eaten my fair shares of omurice but none of them come close to the level of Kichi Kichi. Tucked in the back streets along Shijō Kawaramachi, this shop has taken the internet by storm with videos of the chef skilfully preparing the dish. I decided to visit it myself and find out.
With only 8 seats by the counter and a solitary chef (he had an assistant the second time I visited), Kichi Kichi is by no means your everyday restaurant. I ordered the Omurice Mini Course on my second visit, after finding that the omurice itself isn't quite filling enough for me. A serving of omurice here will set you back ¥2,500, but I gurantee you its well worth your money.
The charismatic chef speaks no English, but accomodates by his friendliness. Even with my giant DLSR filming his every flip of the pan, the chef gladly puts on a show. He winks at the camera while flipping the rice. He displays mad skills with the egg, carefully monitoring the temperature. Placing the egg on top of the rice, he cuts it open in front of you and reveals the fluffy insides. The three of us was like, "Waaaaaaa". Topped with demiglace sauce, the dish tastes as good as it looks. The egg melted in your mouth and the demiglace sauce and rice combo will set a tastebuds fireworks. I savoured every mouthful, and wished for more. If you are a big eater like I am, I highly recommend getting the course. The soup, antipasti and the salad are to die for.
The chef explained that he knew about his internet popularity. But indirectly said that the real draw was actually the level in which he can cook his eggs to. Many chefs in Japan can cook an omurice the way he does it, but to get it to that level of perfection, only can you be considered a pro. Just like a photographer who takes thousands of shots and chooses the best one, making an omurice is the same, where practice and experience will get you to where he is.
If you are ever in this popular part of Kyoto, drop by with a video camera. You won't look back.