This website is made possible by readers. I may earn a small commission when you buy through the links in this article at no extra cost to you. Learn more.
I know I throw around the "best" a lot, but I challenge any of you to tell me one that is better than Bánh Mì Huỳnh Hoa. After I tried this, I had to take the "best" title from Bahn Mi Hong Hoa. This place comes up quick with just a simple search on Google Sensei. I tried to go down one afternoon for lunch but realized it only opens after 2:30pm.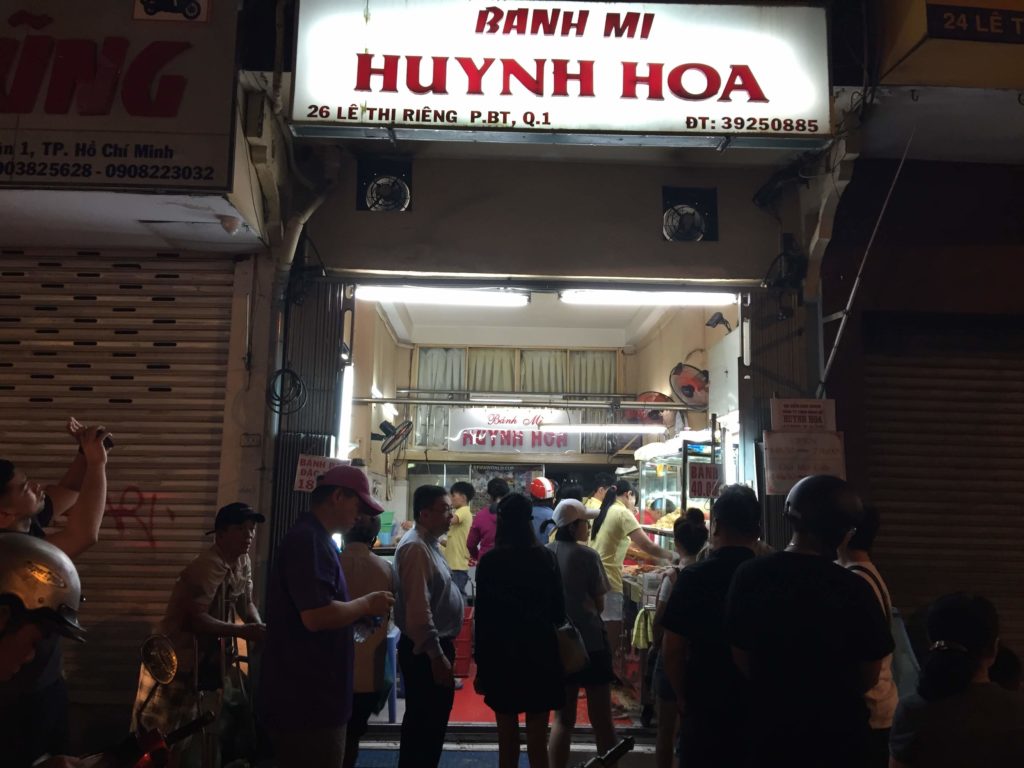 Luckily, I had enough curiosity to come back again. This time, there was a queue of about 15 minutes. I read somewhere that there was a non-existent queue system and you had to barge through the crowd and insist on your order. But in the time I went, there was a orderly (for Vietnamese standards) queue formed. While in the queue, the view of slices of meats and pate being slathered into the Banh Mi is enough to get you hungry. One thing to note is there is no dine in option here.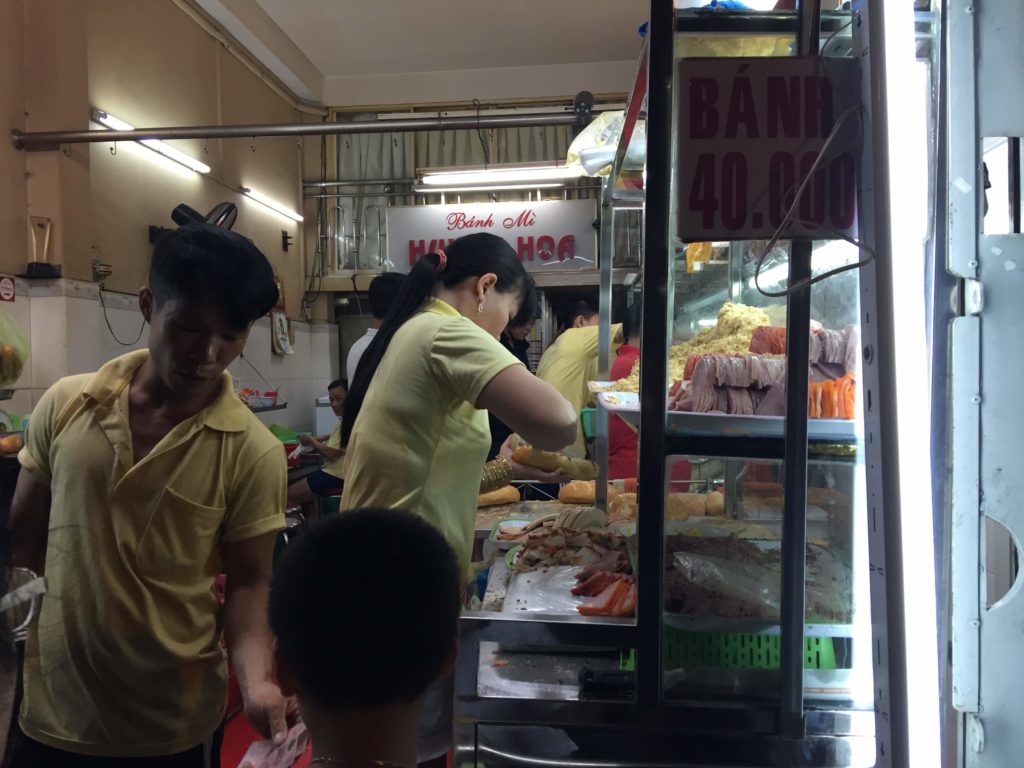 After about 15 minutes of waiting, I was able to put in an order. There is only one choice of bahn mi for 40,000 ₫ here, one of the most expensive for bahn mi but you'll see why it's worth the money. It's the one with a bunch of sliced luncheon meats, grilled pork in all shades and a sprinkle of pork floss, slathered with a layer of mayonnaise and pate. The heavy amount of meat is half-heartedly accompanied by a few slices of cucumber, cilantro and some Vietnamese daikon and carrot pickles.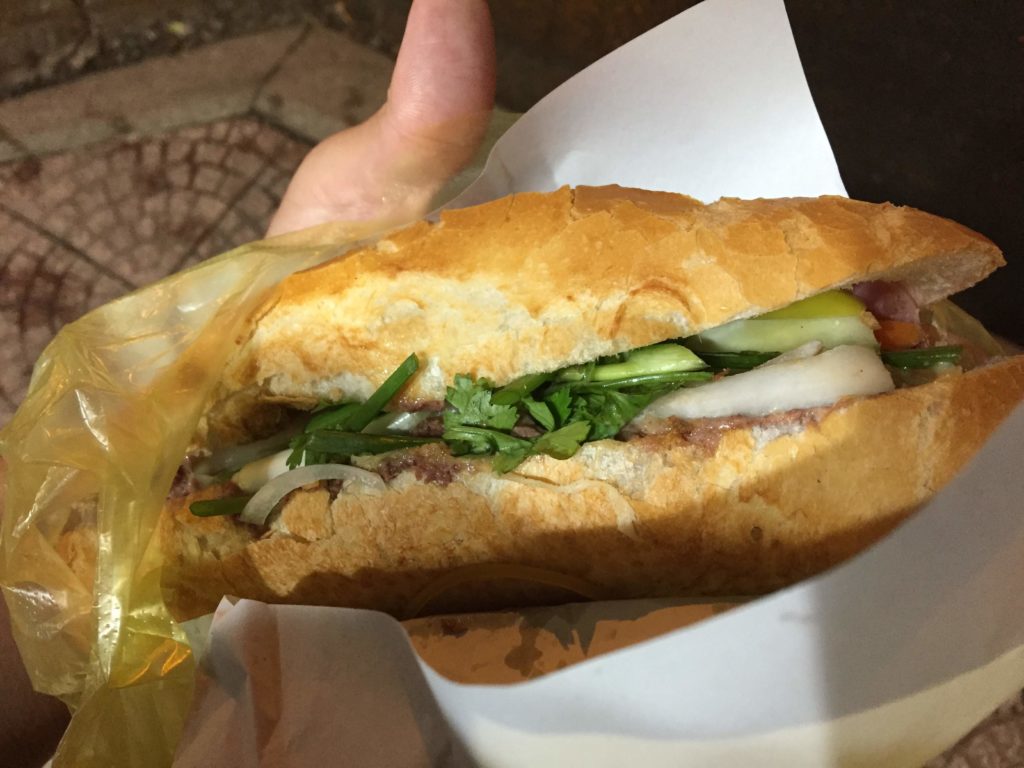 I took the sandwich down the road and started eating on the roadside. All that anticipation have left me with very little patience. The taste of the first bite was expected, as you could imagine based on the contents of the sandwich. Salty and meaty, slightly offset by the vegetable gives a full, satisfying rich taste. Each following bite was as satisfying but definitely risky of getting sick of the salty taste. As you work your way through the sandwich, you would be hit by intense spiciness from the surprise chilli pepper they slipped inside, but a rather good distraction from the meats. Eating this on a summer evening made me sweat profusely. I would recommend having a bottle of water handy or even taking out the chilli if you can't handle the heat.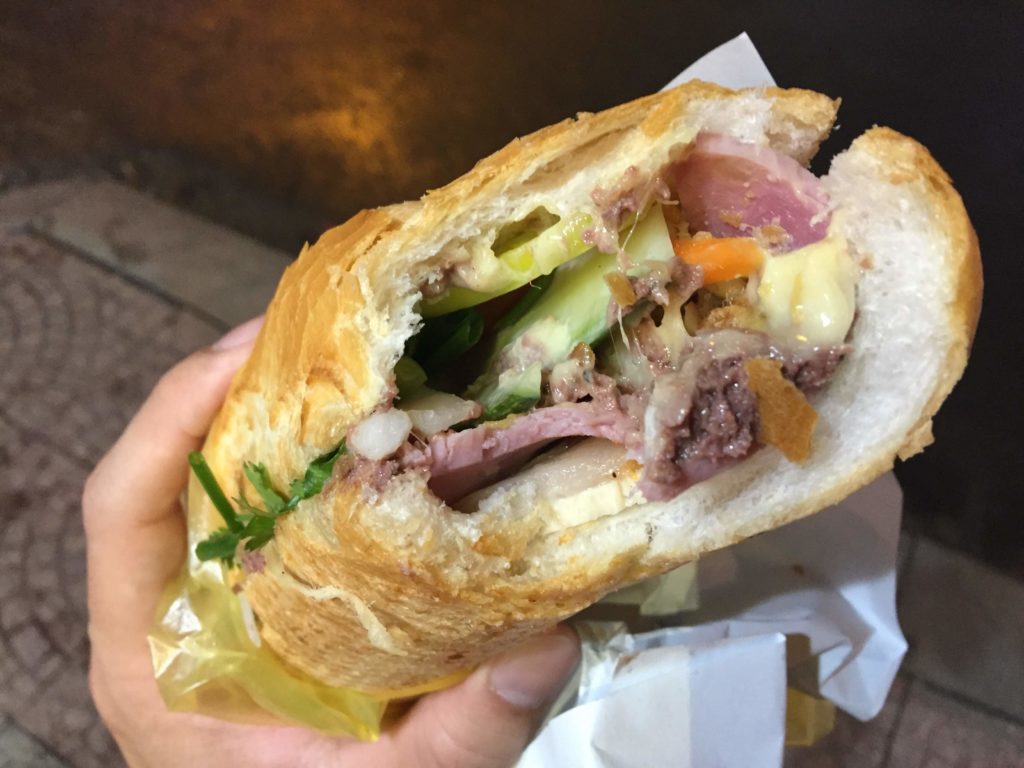 All in all, this was one of the best Banh Mi I've had. This was because I love meat and a bit of spice, which is why I could certainly see how some could have a different opinion.
But no one likes ads, so I got rid of them. If my articles helped you, I ask for your support so I can continue to provide unbiased reviews and recommendations. Every cent donated through Patreon will go into improving the quality of this site.
Tagged banh mi ho chi minh saigon sandwich vn