This website is made possible by readers. I may earn a small commission when you buy through the links in this article at no extra cost to you. Learn more.
Details
Price EUR100.42 (approx USD$118.99) on bagjackshop.com
Weight 0.66 lb (300g)
Material Cordura
Dimensions 16.53 x 10.62 x 2inches (42 x 27 x 5cm)
Overview
A part of my life that I don't often write about on this website is that my bicycle is a big part of my life. I got my bicycle, a Tokyobike SS, in the first few months I've moved here and I've been riding it for six years now.
With my move last year from Shinjuku to a suburb near Tokyo, along with the restrictions of travel, I've stepped up my bicycle-commuting frequency. Bicycle commuting is a widely adopted transportation method in Japan suburbs. With that, I've also been stepping up on maintaining and accessorizing my bicycle with recent upgrades like the TiGr mini Ulock.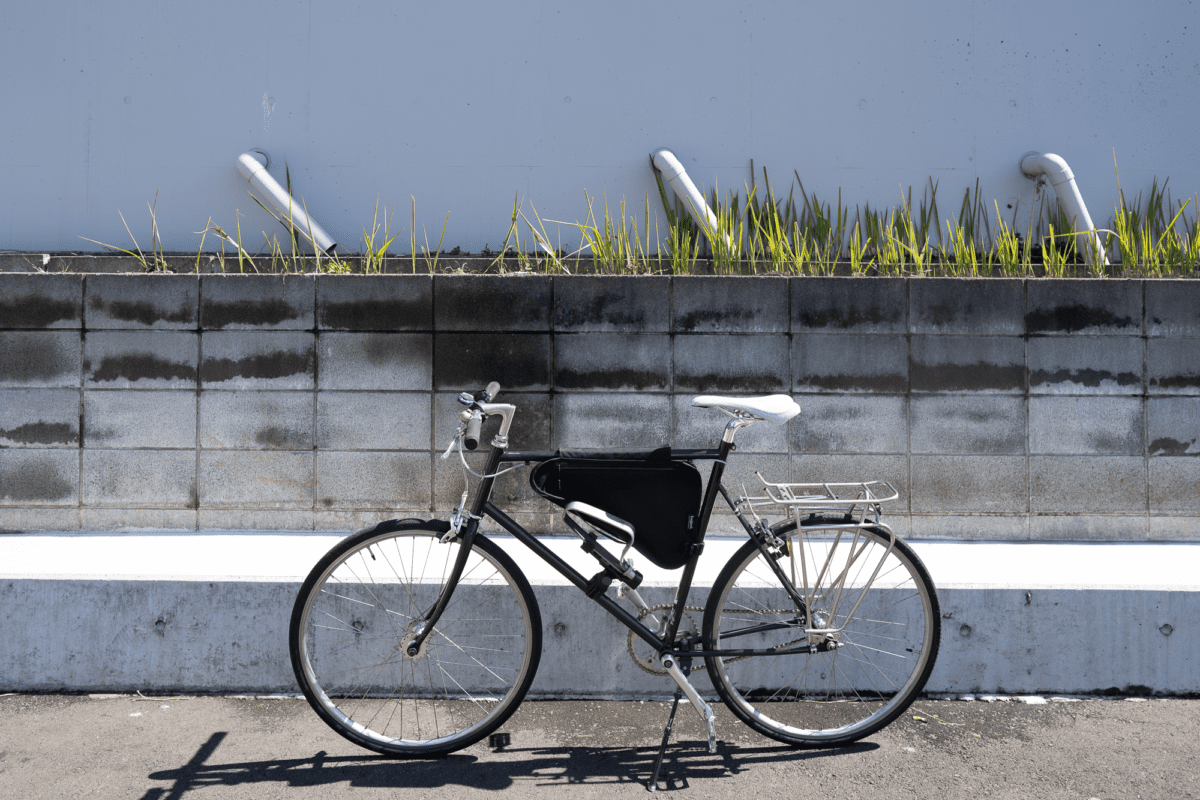 Because of my renewed interest, bagjack came into my radar. Like the VETRA Workwear Jacket, I've always admire brands with deep heritage. Heritage brands have designed for a niche for a long time, which is why such brands are held in high regard. Bagjack is one such brand.
Bagjack made their first bag in 1993 for a person named Vossi, one of the first bicycle messengers in Berlin. Fast forward today, they are established in the niche with products branching out of the niche.
The Frame Bag is a product that draws on bagjack's roots and years of experience designing for bike messengers.
Style
From the moment I saw the Frame Bag, I was drawn. As a striving minimalist, I often go for products that are highly versatile, like the GORUCK GR1 that lets me use it as a travel and daily backpack.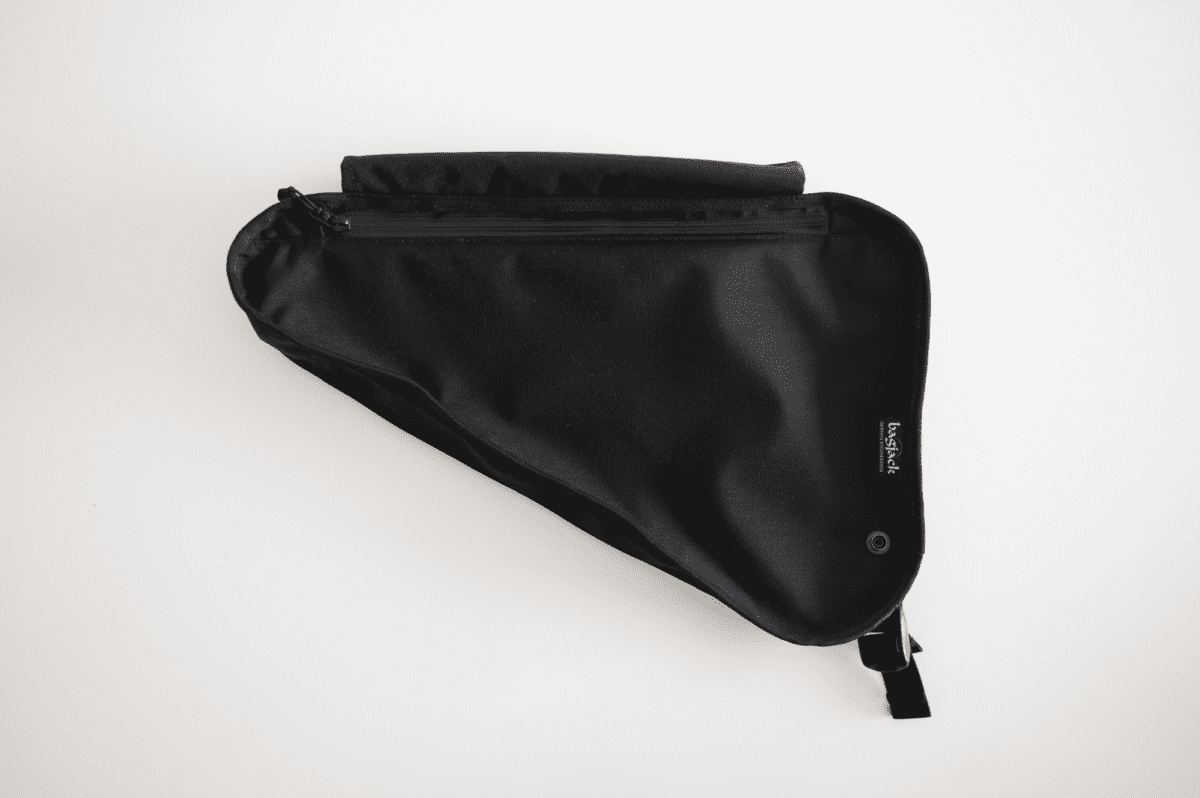 The frame bag was designed for such a specific use case. It is a three-sided bag that sits between the frame of your bicycle, to be attached to top tube and seat tube. The rounded corners of the bag helps it blend nicely into the lines of my bicycle. It comes in only black, which was part of the reason why I was drawn to it as someone who only wears black.
The 16.53 x 10.62 inch size is for maximum storage and compatibility for a widest range of frame sizes.
The Cordura fabric is matte black with the zippers being reflective with its waterproof taped seams. The entire bag is understated and as minimal as it can get with the exception of the bagjack brand tag.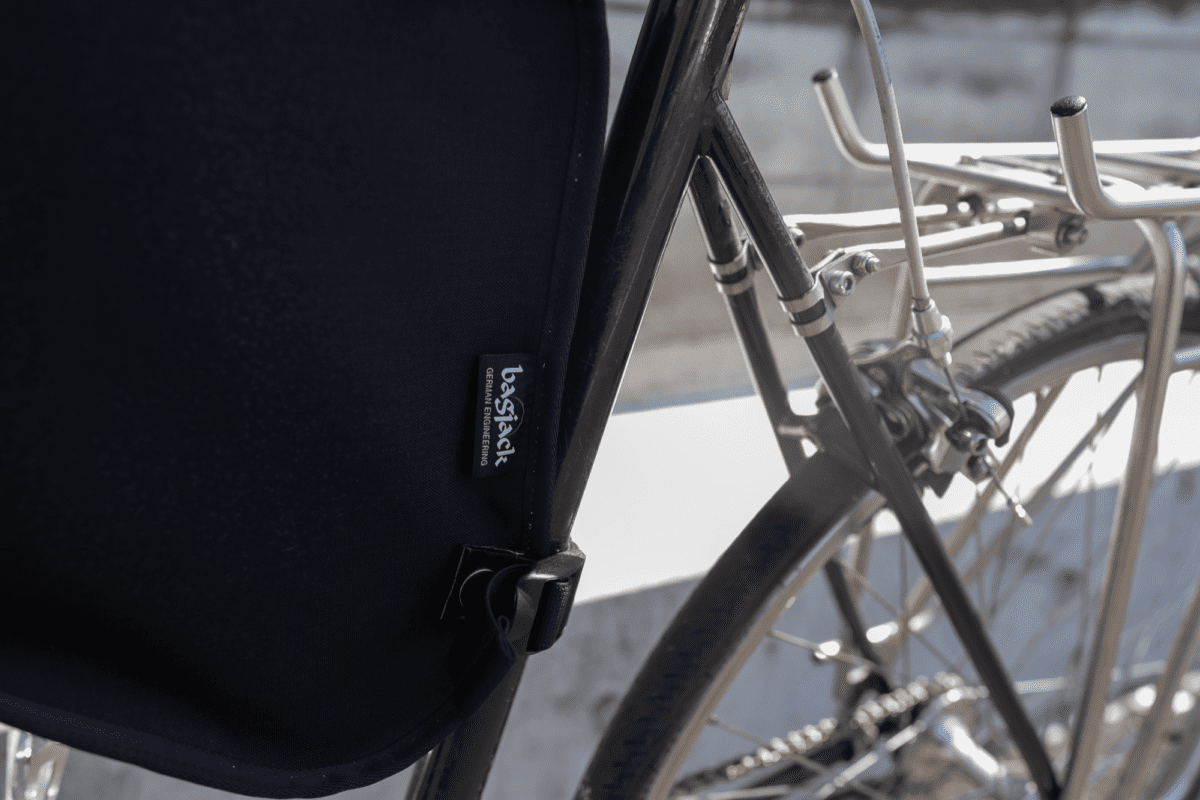 However, this not a bag designed for you to carry around an entire day. With only a handle, it is appropriate for short time carry like from your bicycle to the office. The shape of the Frame Bag also makes it unsuitable as a packing cube that sits inside your backpack.
But no one likes ads, so I got rid of them. If my articles helped you, I ask for your support so I can continue to provide unbiased reviews and recommendations. Every cent donated through Patreon will go into improving the quality of this site.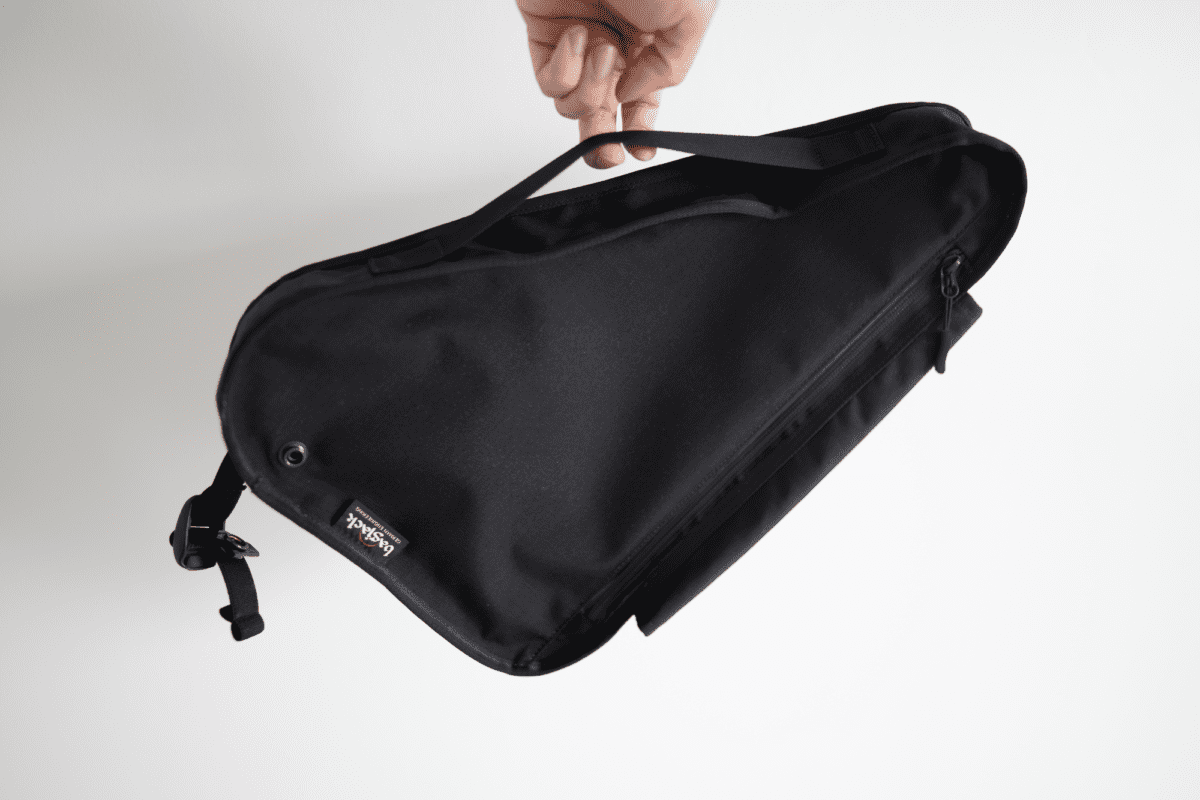 Material
The Frame Bag uses Cordura fabric, widely considered as one of the best fabrics in the industry. Cordura is legendary for its durability and technical properties. The most important advantage of Cordura in this use case is how it is 100% water repellent.
Cordura is woven from high tenacity air jet textured nylon 6,6 filament yarns in a variety of denier count—330D, 500D, 700D and 1000D. One of my favorite backpack brands GORUCK uses 1000D Cordura for their near indestructible backpacks like the GORUCK GR1.
Bagjack, on the other hand, uses 500D. Since your Frame Bag is unlikely to face any kind of abrasion, 500d may sound lower, but is actually much more durable than most non-Cordura bag. I can't imagine that the Frame Bag will ever wear out sitting on your bicycle frame.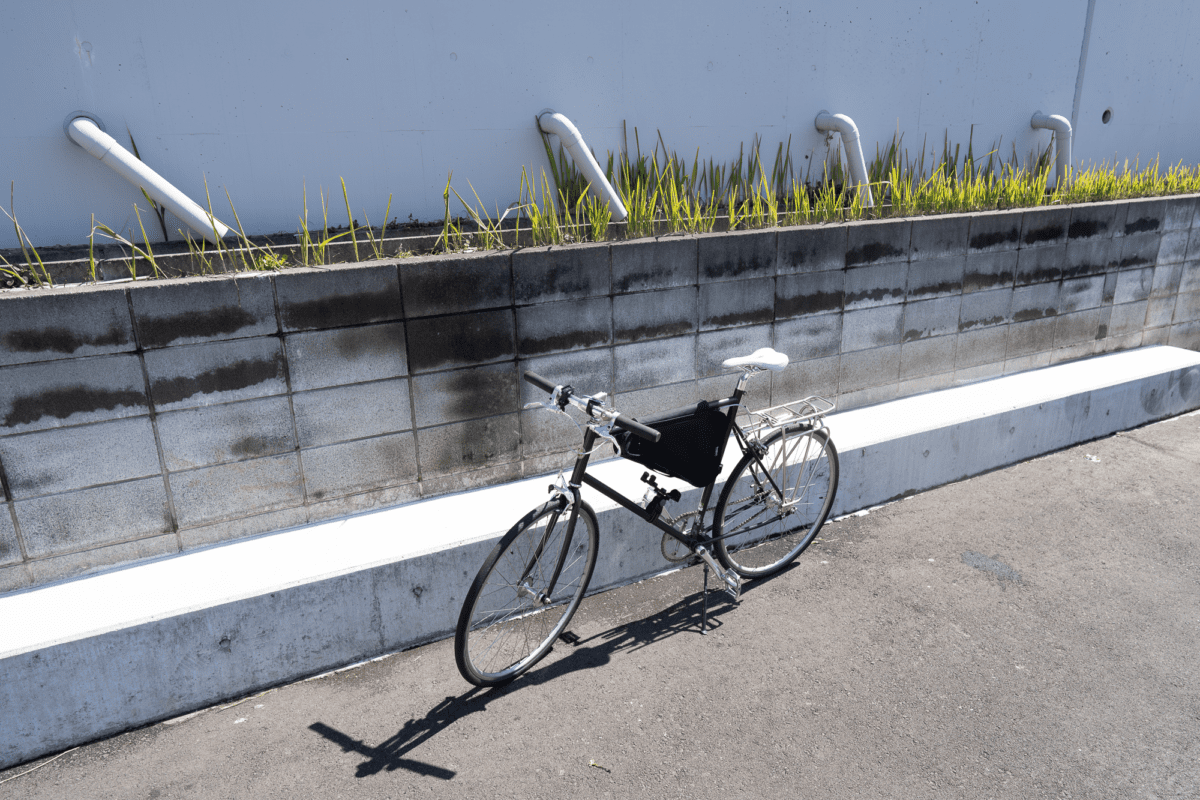 With my extensive experience with Cordura products, I can say that Cordura will likely outlast you and it suited for the harshest of environments. If you want to worry about durability, it's not the fabric, but more the seams that you should care about.
The zippers are from YKK in Japan. YKK zippers are the best of the best and used by every respectable bag brands out there. I've never had a YKK zipper break on me ever.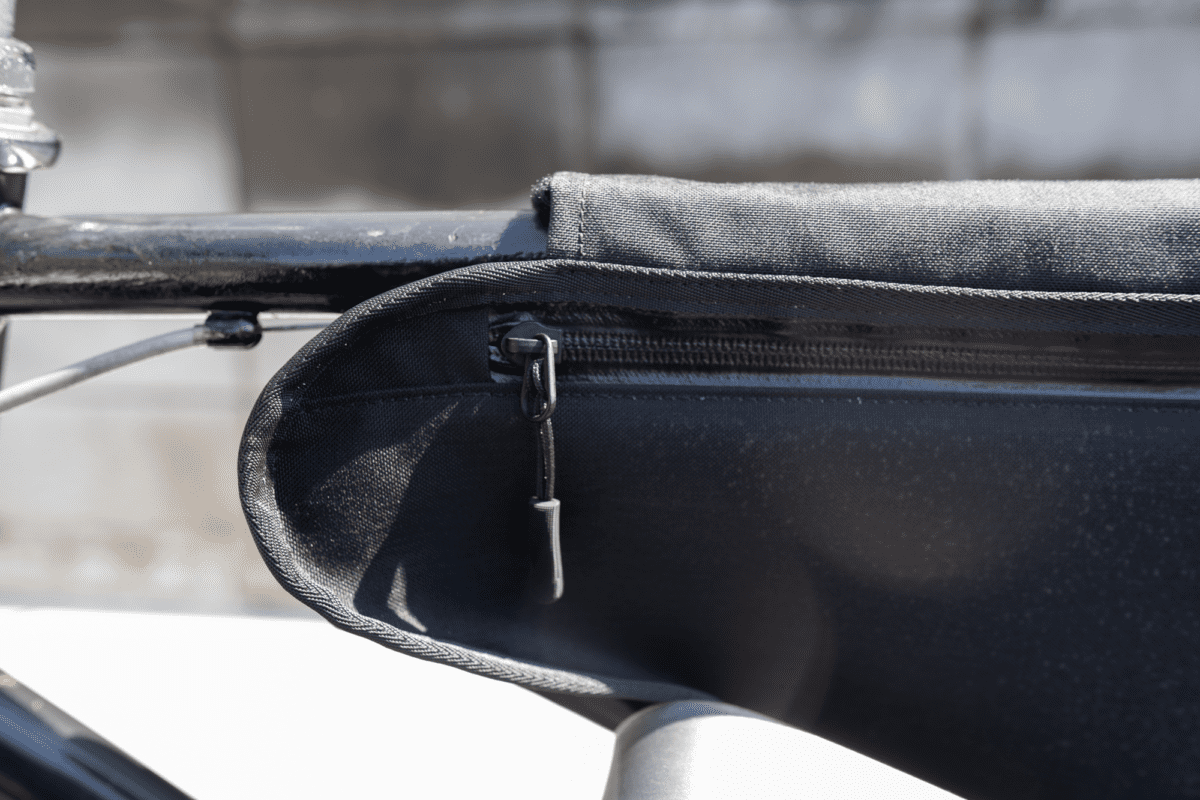 The Frame Bag mostly uses industry-leading materials and the chosen materials go beyond what is necessary in its use case.
Usage
When I first got the bag, I thought that it could hold my everyday carry that I don't want to risk falling out of my pocket. But it turns out that the use for the bag was more limited than I thought. Since I usually have zippered pockets, it's just much easier to put my wallet and phone in my pockets.
While Japan is relatively safe, unsecured bicycle accessories still risk getting stolen by bored delinquents and I don't want to risk it. There also isn't an easy way to secure your bag to the bicycle frame. Seeing as the bag can be removed in under a minute, I wouldn't recommend leaving it unattended in a high crime area.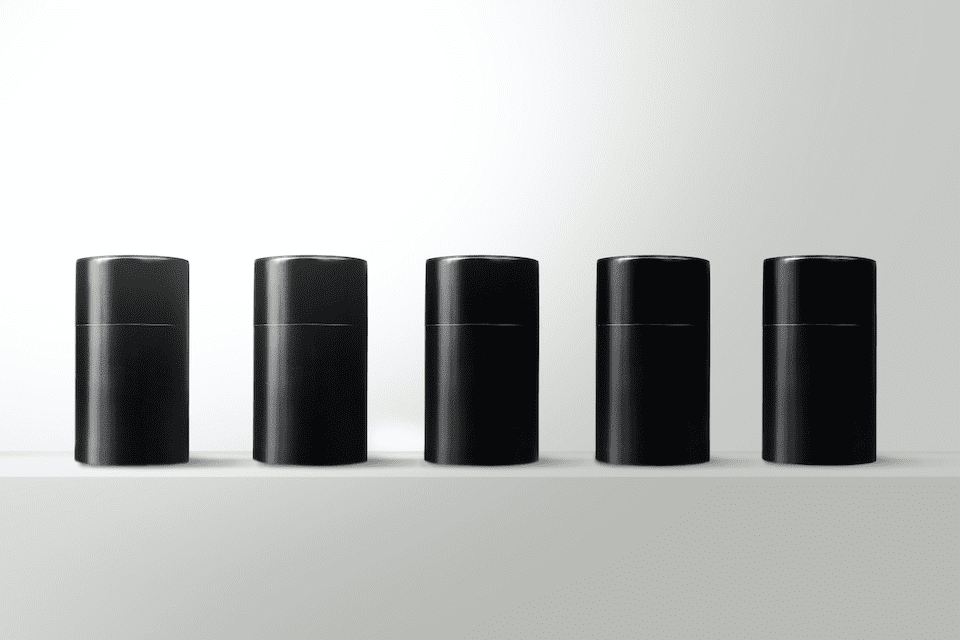 I found a 100 year old company that would create these heirloom quality canisters for me. They are handmade and will keep your tea leaves, coffee beans or anything that you need dry for years to come.
or read review
According the bagjack, this bag is not designed to be left unattended on your bicycle. Even in Japan where people leave their laptops to "reserve" Starbucks' tables, your bag is not safe unattended. Instead, it's designed to quickly attach and detach from your bicycle frame.
Another thing to note is that since it uses velcro and a buttoned strap to secure it to your bicycle, so when you do remove it from the bicycle, you would have to close the velcro or strap if you want it to look neat.
The bag is also very narrow. There is a limit to what can fit in there given the dimensions. Even if it fits, getting it into the tight zipper opening presents another challenge. I wanted to fit a slice of pizza (in a plastic container of course, I'm not a barbarian) in there once but the opening would crush it on the way in.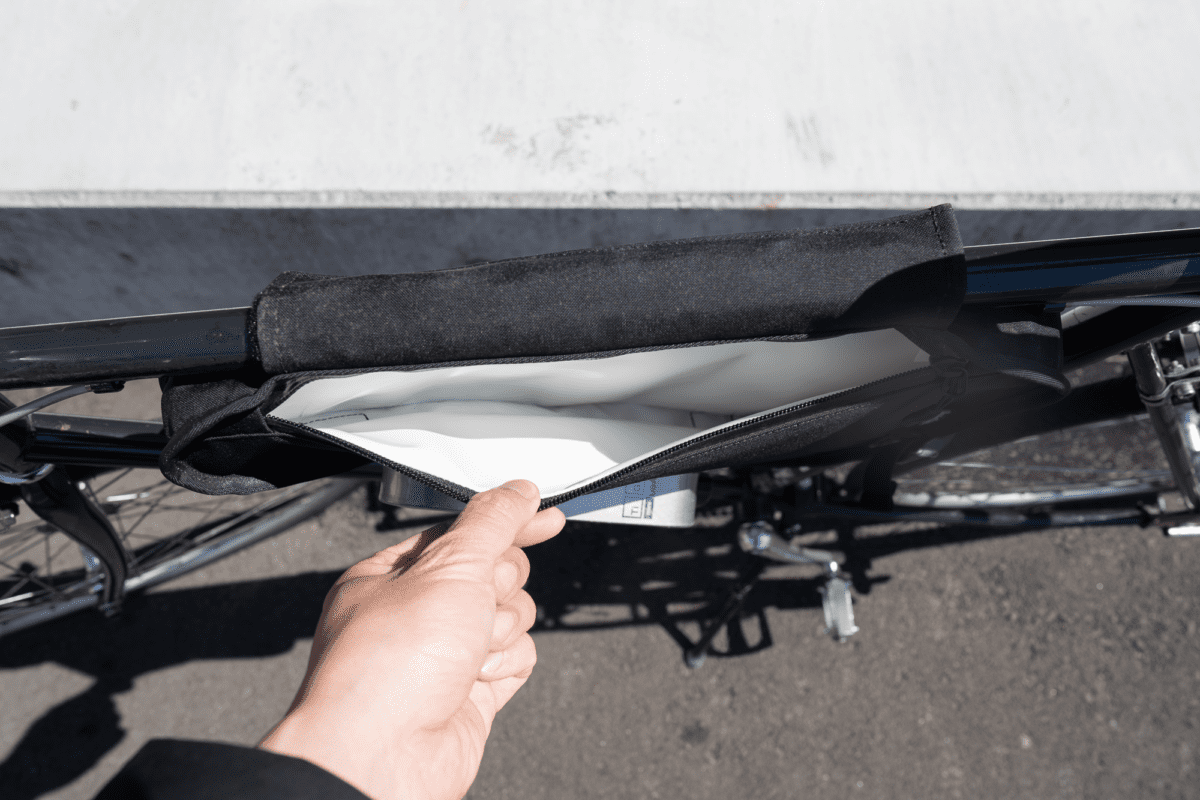 Contrary to the texture of the Cordura outer, the white interior is smooth and I just want to stick my hands in there all the time.
While Cordura is tough as nails, if you park your bicycle in an open area, dust and dirt will gather on it. With the texture, it's not something you can wipe off easily with wet wipes since the wipe will get caught by the abrasion.
The Frame Bag sits between the frame of your bicycle. That area, unsurprisingly, is prime real estate of bicycle accessories such as a bottle cage or the holder for my TiGr mini Ulock. So while I was able to twist my lock outwards to accommodate both the lock and the bag, it was a little awkward and definitely not ideal.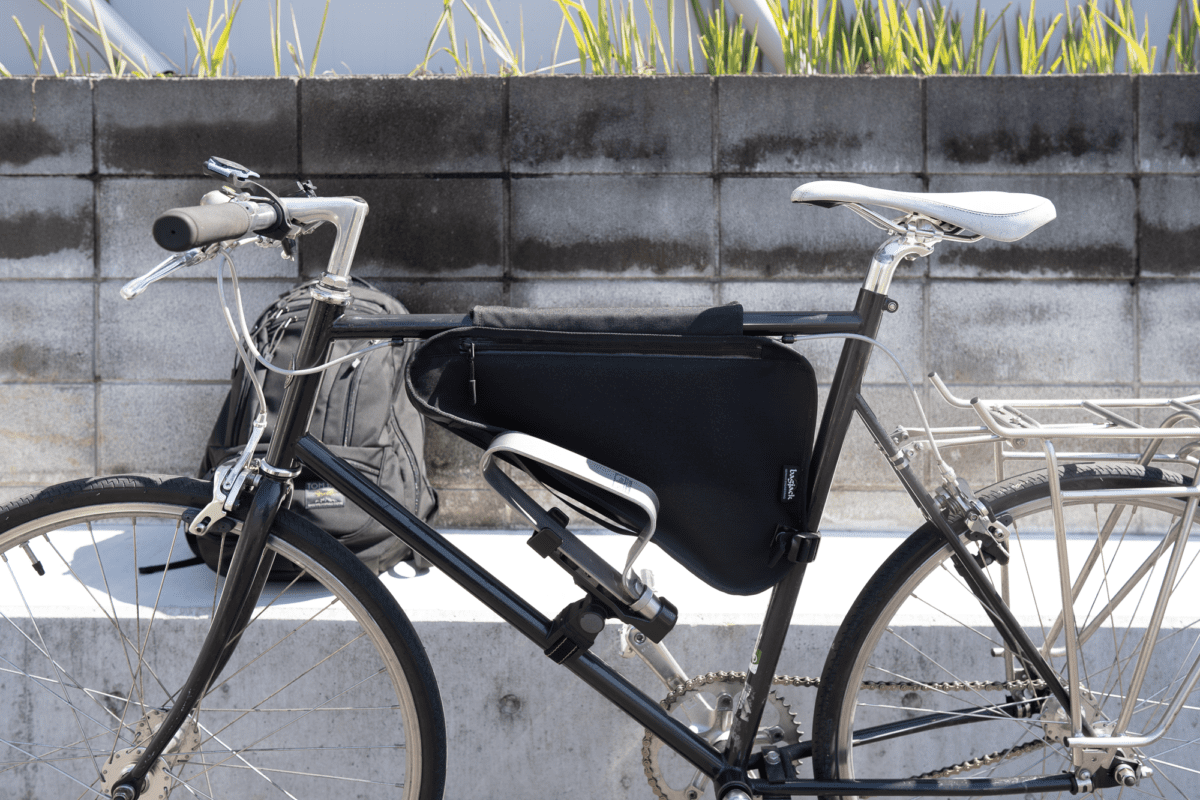 How I Use the Frame Bag
So, we have a bag here that you can't leave it on your bicycle, you can't really fit into a backpack, and so narrow that it'll be appropriate only for a few use cases, what should you use it for?
I personally use it to store bicycle accessories and tools. Even living in a country with one of the lowest crime rates in the world, I have had my bicycle lights stolen. Every time I head out intending to ride my bike, I would bring along my TOM BIHN Travel Sack, which contains my bicycle lights, wet wipes, Lezyne Multitool and a small tube of black paint to do quick paint job repairs. With the Frame Bag, I was able to add to that arsenal with larger things like a bungee cord and small water bottle.
If I am leaving my bicycle unattended for long periods of time, like to a cafe to write a review, I would take the frame along with me.
Conclusion
The Frame Bag is beautiful with top-notch materials. However, the way it has to be used is very specific. In the review, I've provided some considerations that you should think about before getting it.
Additional Images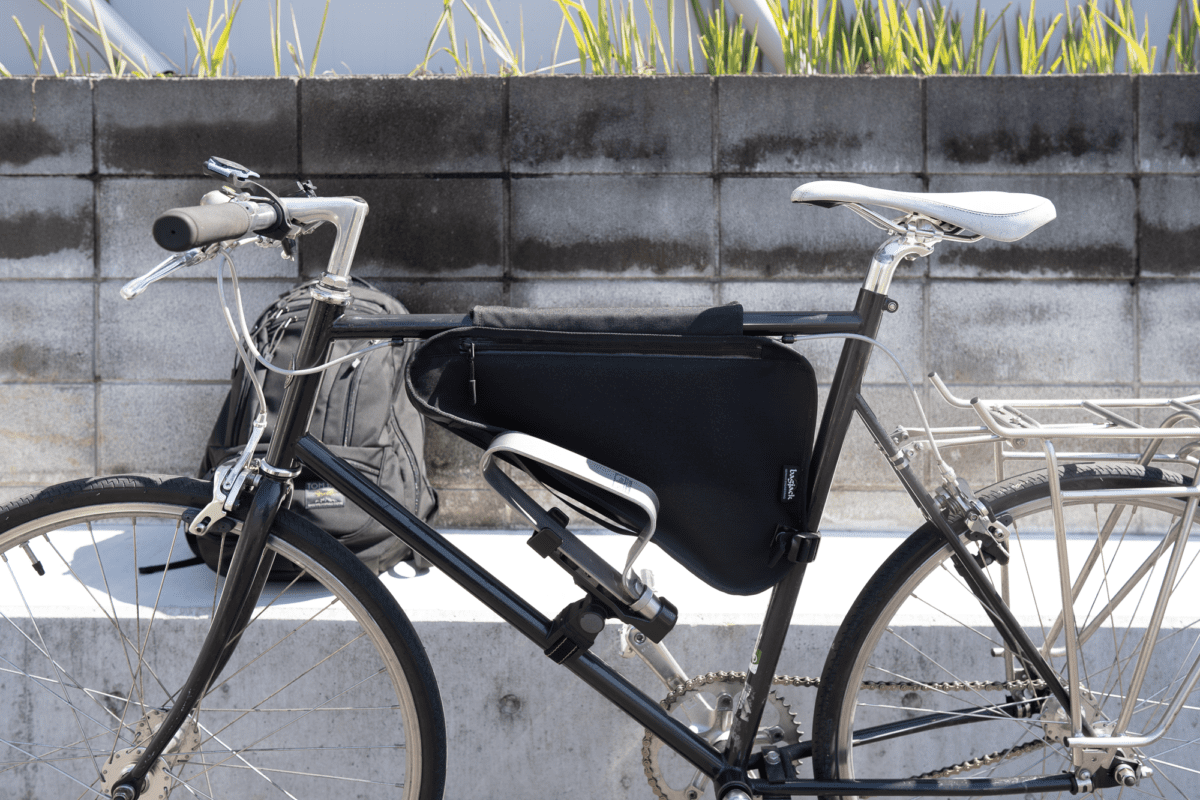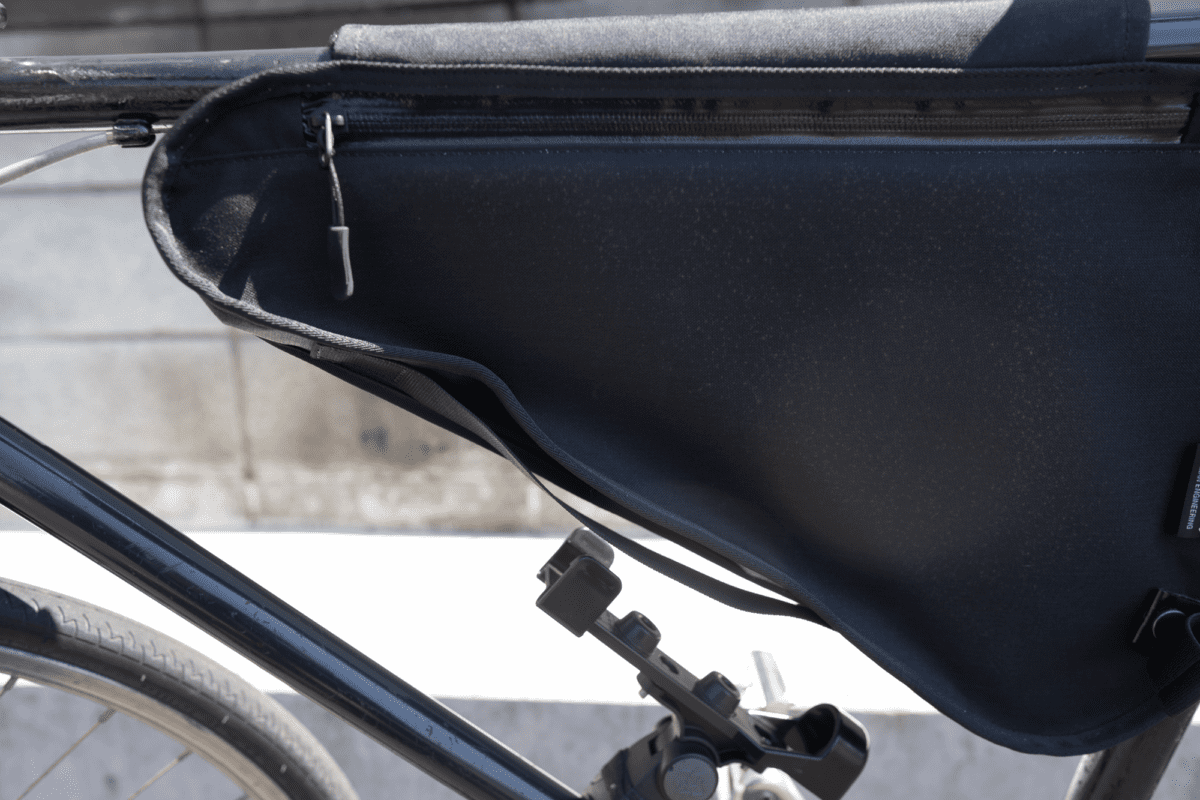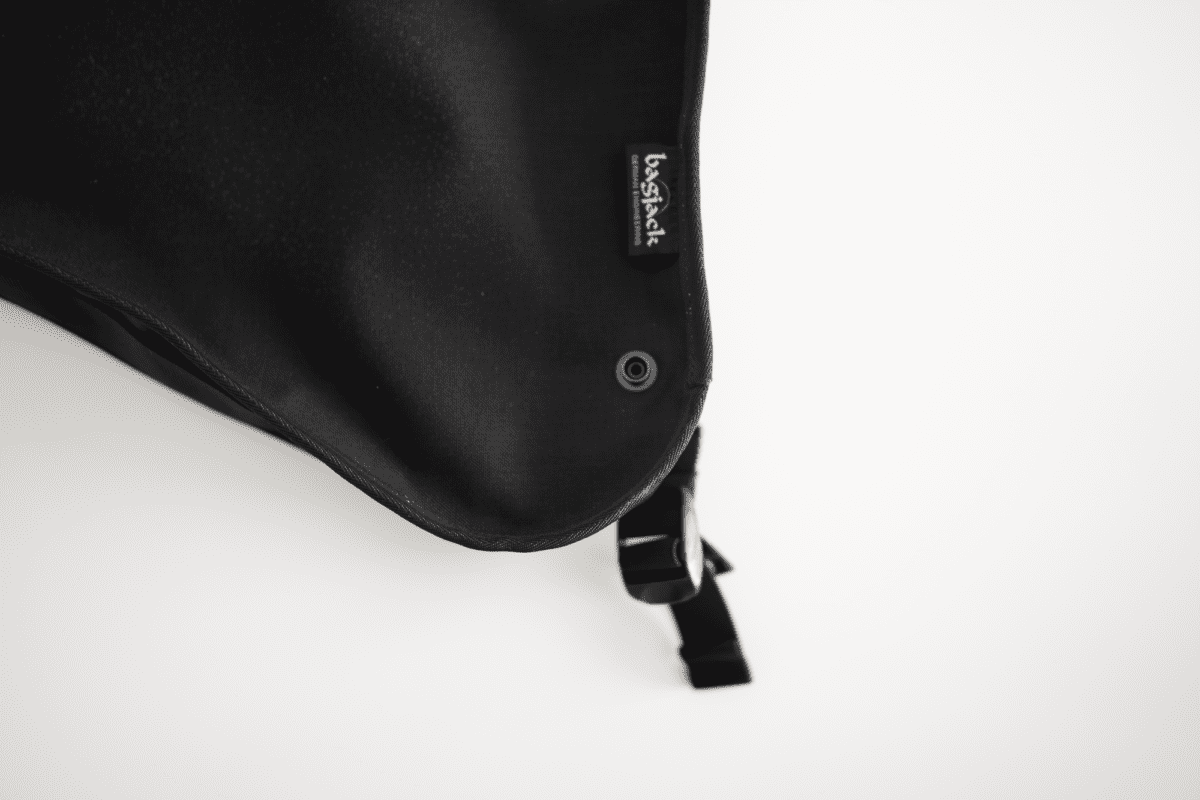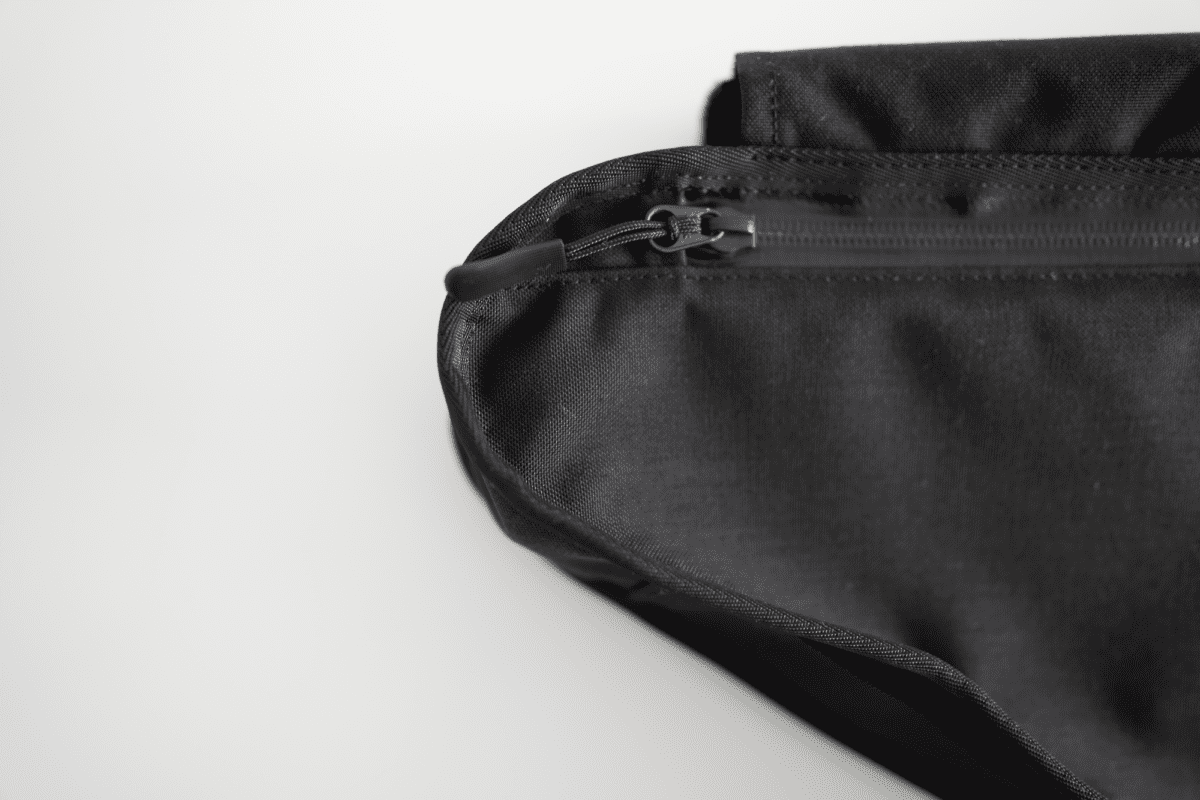 Like this review? See all of my in-depth reviews.
Also, consider supporting me by being a Patreon. Every cent given will go back into improving the content of this website.