This website is made possible by readers. I may earn a small commission when you buy through the links in this article at no extra cost to you. Learn more.
Previously, I wrote about my experience with Comp, a meal replacement powder from Japan. I also added that the cheapest meal replacement powder you can get if you live in Japan, was UK-based Jimmy Joy. Now, after about 7 meals of Jimmy Joy consumed, I am ready to write my review on the cheapest option. I will be making some comparisons to Comp, which is the only other meal replacement powder I have tried.
Ordering
Really, it's the cost that made me try Jimmy Joy. I managed to bring the cost per meal down to ¥298 even after including shipping cost. To get it to this price, you should make sure to do the following
Order over €50 worth. Your shipping to Japan is €60 instead of €75 if your order costs above €50.
Order 30 bags or more. It's 

€5

 / bag for that amount. €5.5 / bag for 10-29 bags. €6 / bag for 1-9 bags.
I also used a coupon code from Twitter which is now no longer valid, but if you look at their Twitter, they post occasional coupons codes for new flavors.
If you already have shaker bottles, you can do your part for the environment by not opting for the free shaker bottle for first-timers. However, I would recommend that you include the scoop as it allows you to scoop the exact amount needed for a meal.
As a comparison, the lowest per meal cost for Comp is ¥504, and that is if you order 8 packs (approx 5 meals per pack) on a scheduled delivery (monthly or bi-monthly). That is about a 21% savings.
I was in Singapore when I ordered, and emailed them to ask how long it would take to get to Japan so I could receive it just when I arrive back. They said within 7 days was the fastest they did but 1.5-2 weeks was maximum. Mine took exactly 9 days to arrive.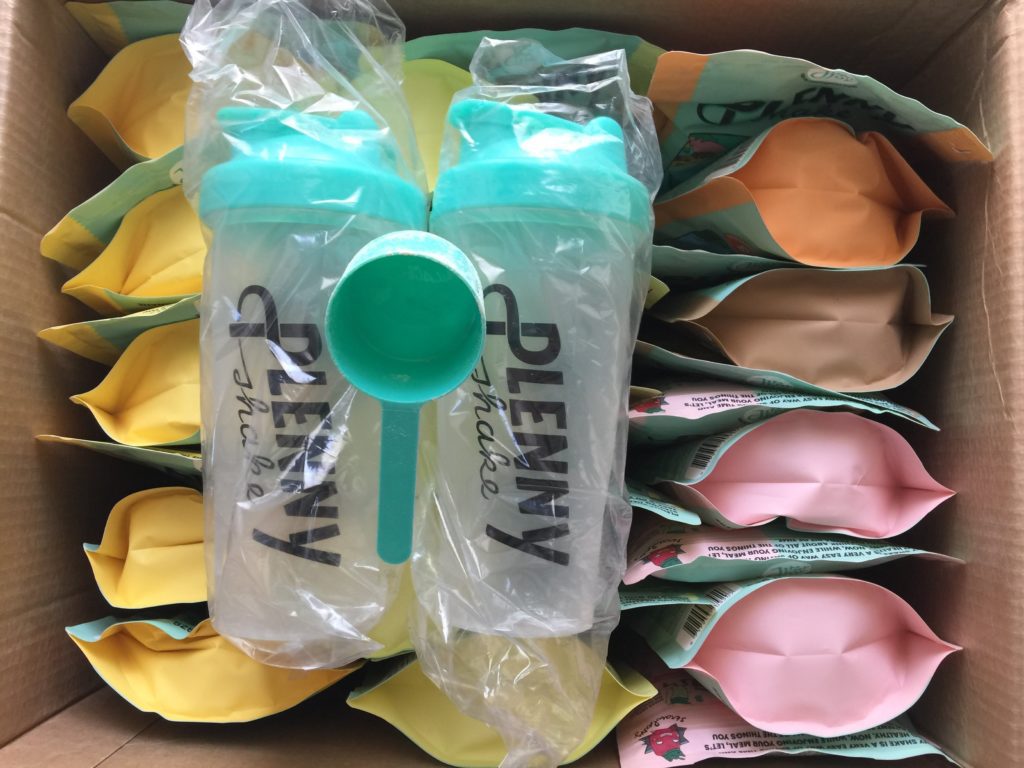 First Impressions
The branding of Jimmy Joy, previously known as Joylent, is a lot more fun and colorful than Comp. While not a fault, but a matter of personal preference, it is cheerful to look at but stands out a little more than I like, since I use it in the office. Since Comp only had one flavor, I guess the colors were necessary to help distinguish the flavors, since you do find that you will alternate between flavors often.
Although I opted for a free shaker bottle, I got two of them. I wonder if its a mistake or just an unwritten extra service for the number of bags I ordered.
Mixing
Jimmy Joy's instructions were to specifically add 500ml of water before adding the powder, while Comp's instructions was to add water to the powder. For practical reasons, I like to add the powder to the shaker bottle and bring it to work. I top up the water only when I reach my office to prevent potential spillage. But, for all meal replacement powders, it is definitely easier to mix if you add water first as the powder tends to get stuck on the bottom of the bottle.
Also, because of the shape of Comp's scoop (spade shape), you have to put the powder in first and the indicator on the shaker bottle will tell you if you had enough. This is because Comp tries to offer customized amounts to match each individual's calorie needs. But, Jimmy Joy's instructions, on the other hand, is designed to direct the same amount of calories to each individual, which is about 705 kcals per meal, based on 3 meals a bag. As such, their scoops will let you add the right amount of powder you need for a meal, which is 3 and a half scoop. I personally prefer this, though less customized, as the whole point of these shakes is to save hassle and have a quick and nutritious meal. You will also find that you will not get the exact amount just using the scoop, as it depends on how packed the powder is. The half scoop is also a little tricky to get. The only way for you to be exact with any meal replacement powder is to use a weighing scale.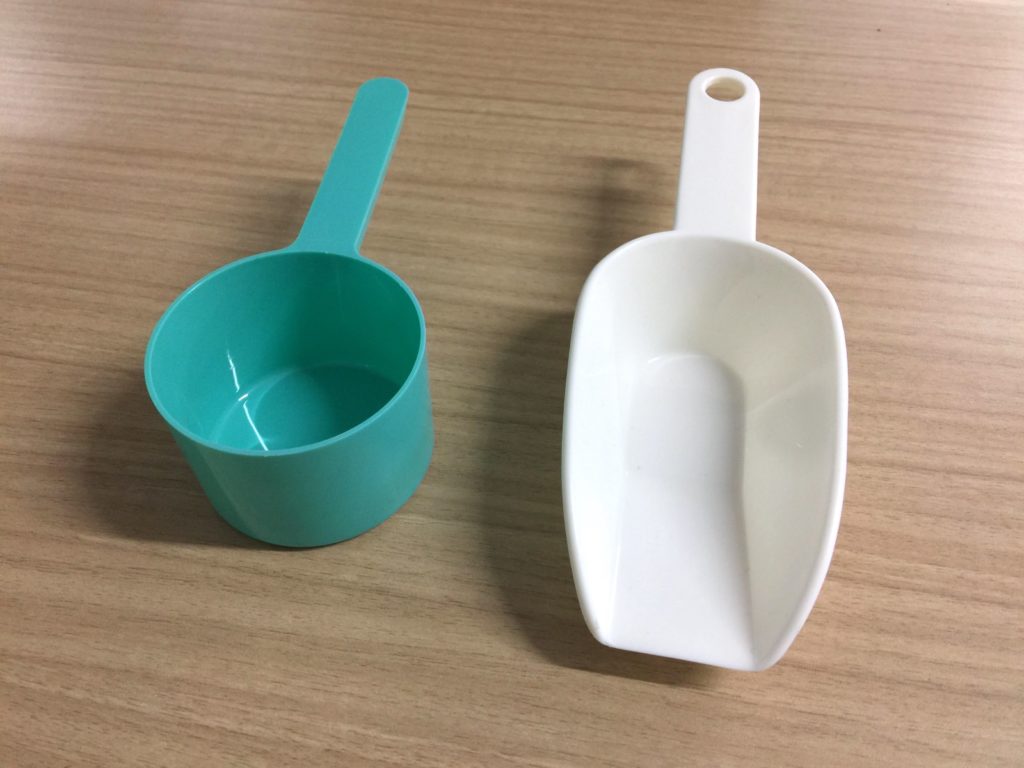 While 500ml is the recommended amount of water, I find that this makes the shake a little bland. I am also using my Comp shaker bottle as it looks simpler and more low profile in white, and 500ml of water with the powder will cause it to overflow. I use about 400ml of water instead.
Jimmy Joy is, in general, not as soluble as Comp. You will still find small chunks of powder even after vigorous shaking, but this is partially due to me using slightly less water than recommended. But, I also would like to mention that Comp mixes better with even lesser water to powder ratio.
But no one likes ads, so I got rid of them. If my articles helped you, I ask for your support so I can continue to provide unbiased reviews and recommendations. Every cent donated through Patreon will go into improving the quality of this site.
Another thing is that, because of the shape, the scoop gets harder to use when you try to scoop your last portion of powder. Just as I was trying to move into an all-black wardrobe, I usually end up with a little powder on my clothes each time.
Taste
I ordered the Vanilla, Banana, Chocolate, Strawberry and Mango flavors. They had limited-edition flavors like Caramel and now Raspberry but was out of stock when I was ordering.
Before going into individual flavors, Jimmy Joy's Plenny Shakes taste good in general. But after moving on from Comp, the thing that needed getting used to was the texture. At first, I thought it was to do with using too little water or not mixing it well enough, but I realized that the Plenny Shakes were just gritty by design. I definitely prefer it less gritty like Comp, but this is something I quickly got used to.
Without being too detailed, here are some quick thoughts on the flavors;
Vanilla – Pretty much what you expect.
Banana – Maybe I am used to sweet banana shakes, but this is more bland than what I expect. It is really just a hint of the flavor.
Chocolate – This is more like cacao taste rather than a rich milk chocolate taste, but still one of my favorite.
Strawberry – This is the perfect dessert. Probably my favorite in terms of taste, but I can't see myself having this often.
Manga – Will update when I try it.
Overall, all of them taste fine and since taste is very subjective, I would recommend you try it out yourself and before getting a whole lot like I did. Like, I usually like banana-flavored drinks, but found that there were flavors I liked better.
Conclusion
Taste-wise, I preferred Comp slightly more, but I think that Jimmy Joy is a better pick if you are looking to save money like me. If you have money and prefer a local vendor and a better, but more limited, flavor, Comp might be better for you.