This website is made possible by readers. I may earn a small commission when you buy through the links in this article at no extra cost to you. Learn more.
On my first trip to Tokyo, I was wandering around the maze of a street of Shibuya with friends, and something drew us into this place near Tokyu Hands. It was in such an obscure location, that I had trouble trying to find it the second time. It wasn't until I familiarized myself to Shibuya that I managed to find it again. I could get a seat almost everytime I come here, with the exception of Halloween eve, when it's low capacity simply could not sustain the holiday crowd.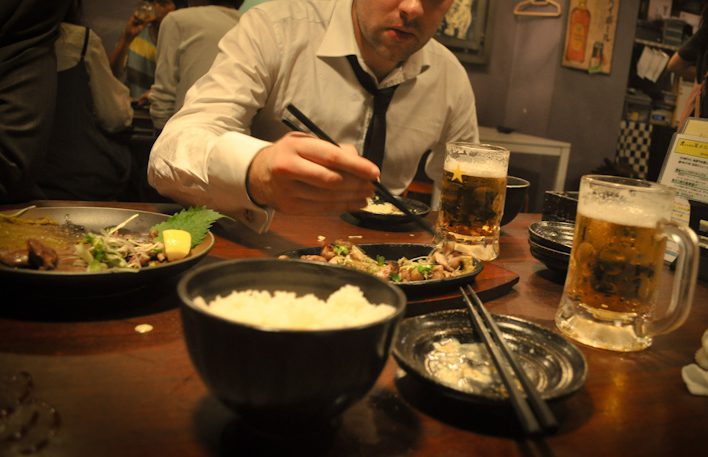 Entering the traditionally-styled izakaya, a burly yakuza-like bartender bellows his welcome, as we took a seat in the small establishment. The fully Japanese menu did not need much explanations as there was the international language of tasty food pictures. The pamphlets will inform you of the 2 hours all-you-can-drink buffet for just a 1000 yen. We ordered mostly fried food, yakitori complete with rice and beer. After the pumpkin paste appetizers, I gobbled my favourite dish of the establishment, "Chicken Namba", which is a bit like chicken karaage with tasty salad sauce.
The vibe was great and the atmosphere was relaxed, making it an excellent place to unwind after a long day of sightseeing. The prices are very reasonable for the quality of food and drinks, making this my favourite izakaya to date.