This website is made possible by readers. I may earn a small commission when you buy through the links in this article at no extra cost to you. Learn more.
Tonkatsu is one of my favorite Japanese food. I was a regular at Tonchinkan when I lived near Shinjuku.
However, after moving to the suburbs, I must be content with the nearby Katsuya. Those who have heard of Yoshinoya might find the concept of Katsuya familiar. It is a Japanese fast-food chain, like Yoshinoya, that specializes in tonkatsu.
For this post, I decided to introduce my favorite dishes on their menu to you. And what better way to do so than to try all of them! Just like what I did with OK Supermarket's ¥299 bentos. I got a feeling I was going to regret this.
All the prices listed are inclusive of tax. You'll get a ¥100 off coupon after payment that you can use for the next time you visit. So the prices should be virtually lower by ¥100 if you bother to bring it each time.
For items with katsu, you can choose between rosu (pork loin) and hire (pork fillet). The hire is usually slightly more expensive. I will be rotating between the two types of meat.
In no particular order:
1. Katsudon (カツ丼 梅) 1127 kcal 539 yen
What gyudon (beef bowl) is to Yoshinoya, is what the katsudon is to Katsuya. It is their base dish, and you can't go wrong.
Katsudon is rice topped with a deep-fried pork fillet in simmered eggs and is my ultimate comfort food. Like select menu items, it comes in three sizes, ume (梅), which is 80 g of katsu, take (竹) with 120 g of katsu, and matsu (松), which comes with two pieces of 80 g katsu and two eggs.
I had a few pretty big meals on Snow Peak Glamping trip, so I went for the ume size. I've had the other sizes before, but the ume is more than enough to fill you up.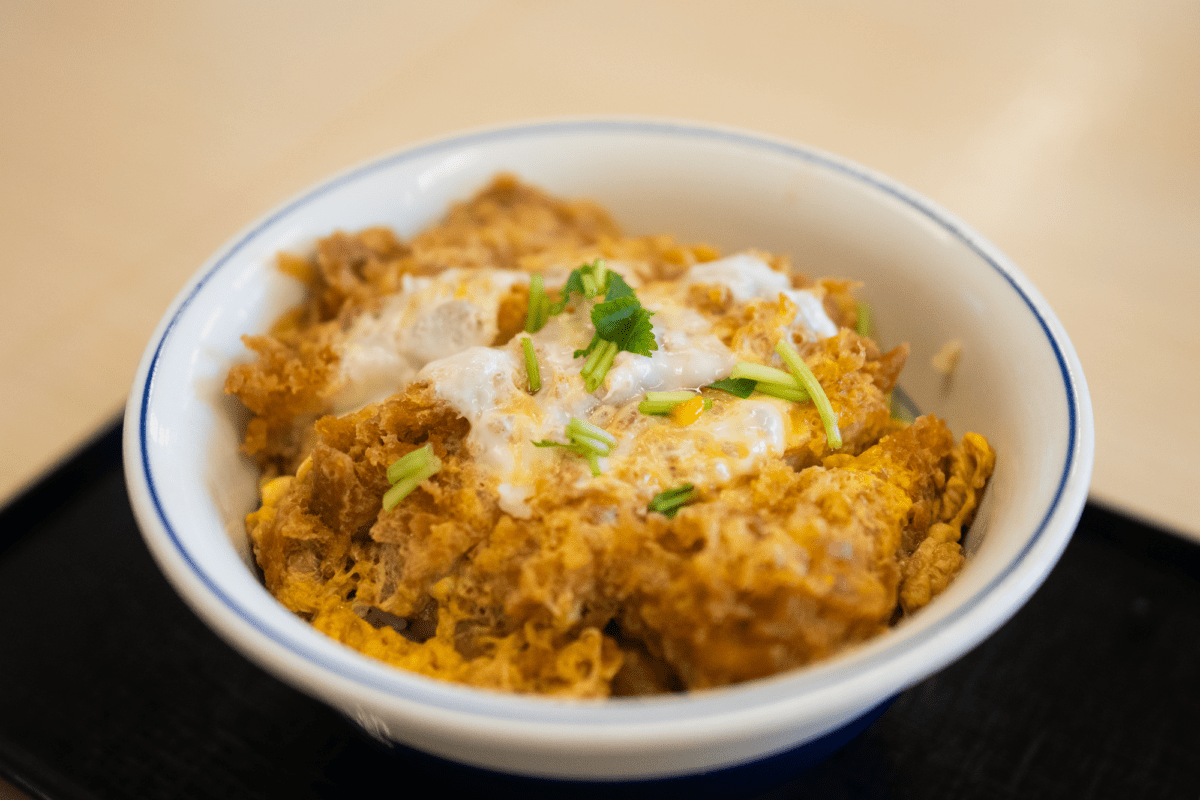 Prepared upon order, each bite of katsu goes perfectly with the eggs. The savory pork cutlet offsets the saltiness of the sauce.
But no one likes ads, so I got rid of them. If my articles helped you, I ask for your support so I can continue to provide unbiased reviews and recommendations. Every cent donated through Patreon will go into improving the quality of this site.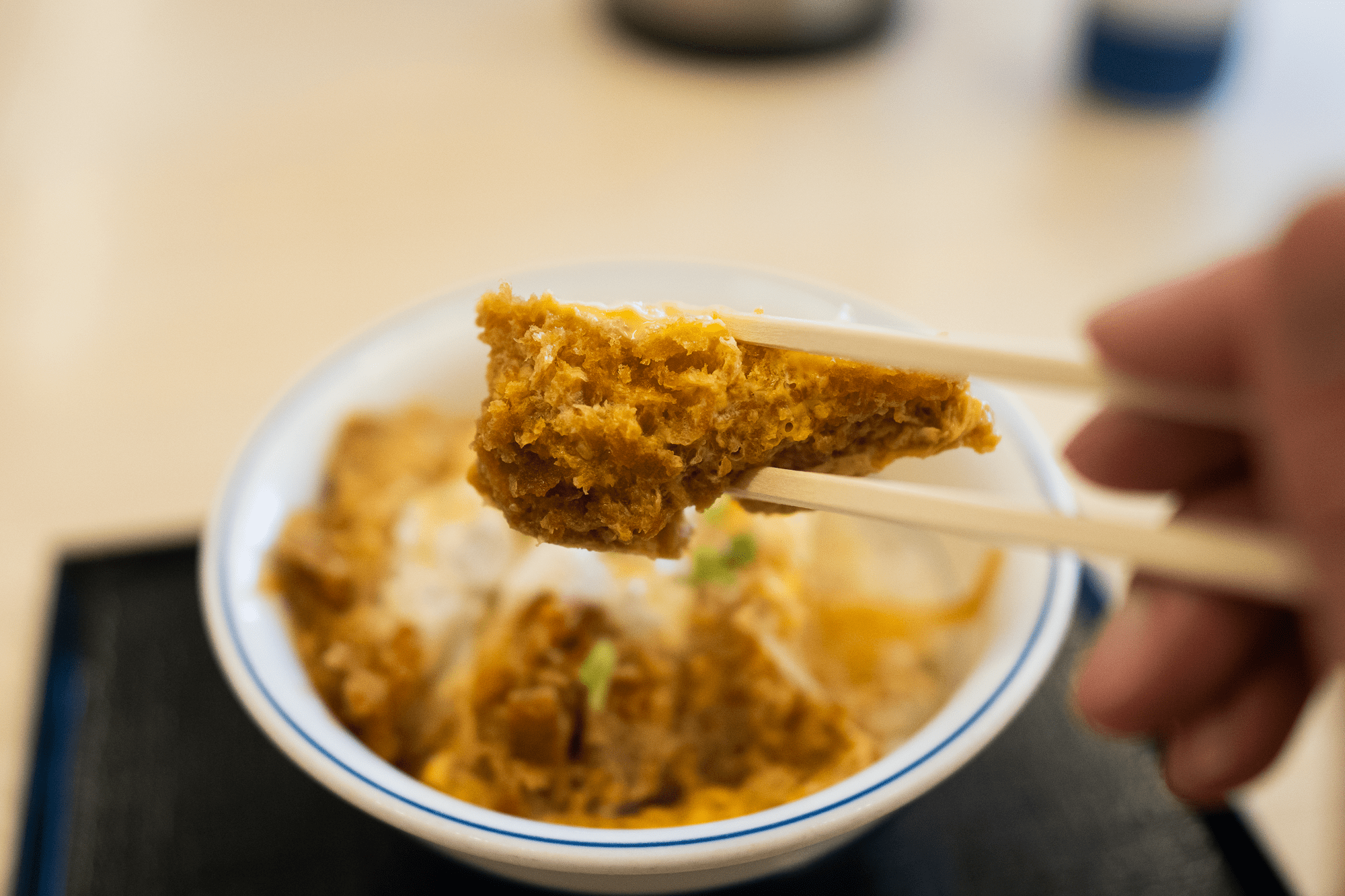 The sauce does make the katsu and rice a little soggy. You can request a spoon, but I always whip out my Snow Peak Spork to clean up the bowl.
Once again, it is hard to go wrong with their signature dish.
Verdict: 4/5
2. Prawns and Pork Cutlet Meal (海老・ロースカツ定食) 1418 kcal 869 yen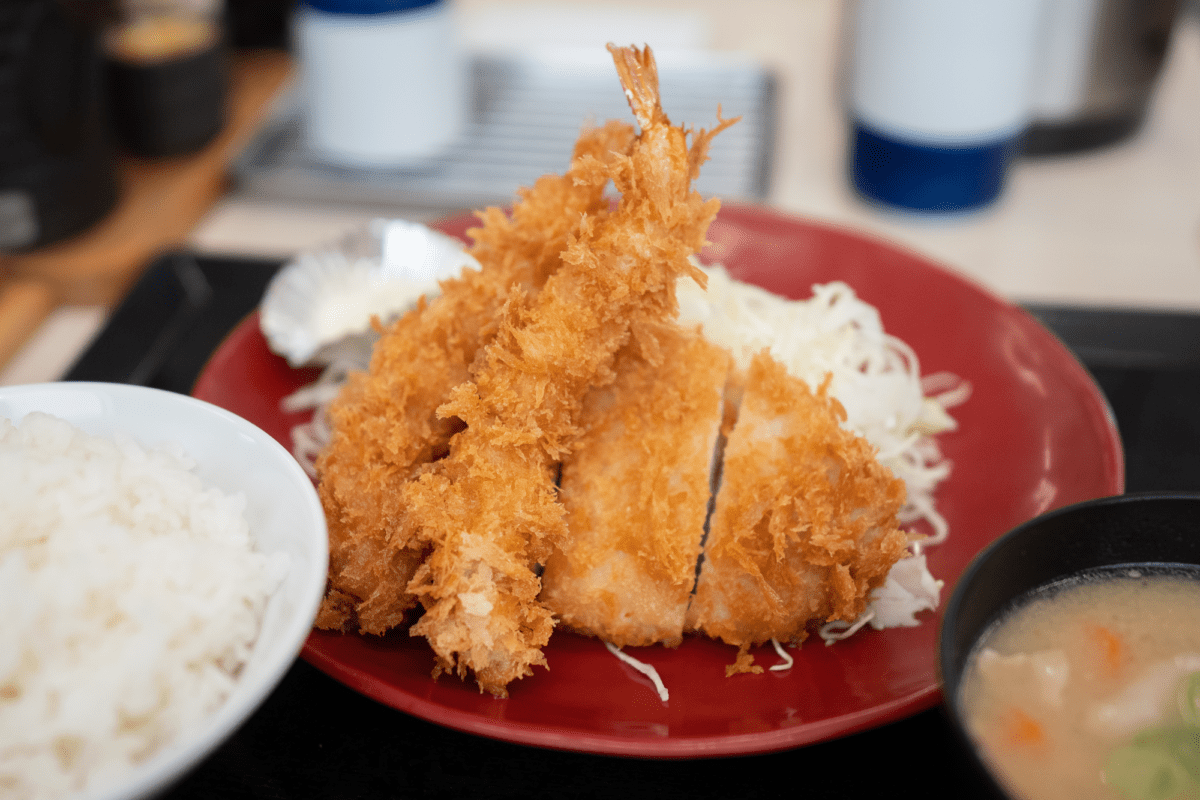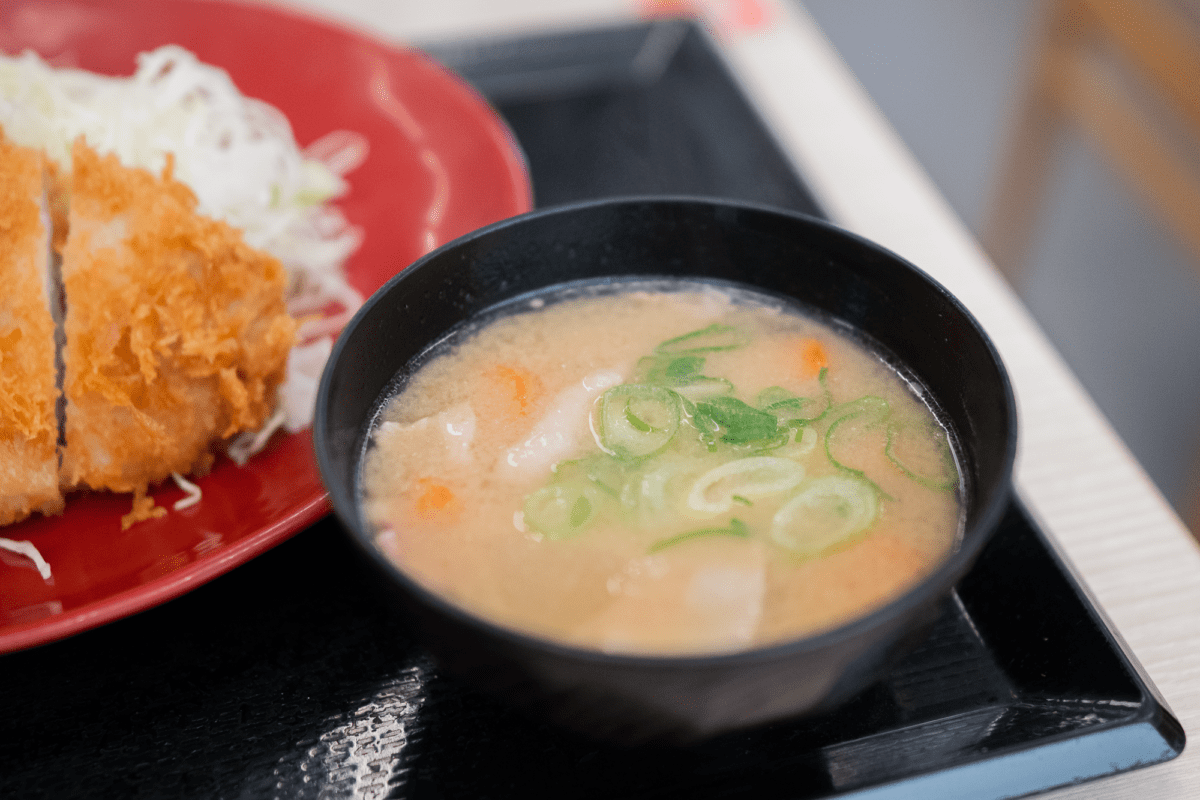 The set meal comes with cabbage, tonjiru (pork and vegetable miso soup), and rice, giving you a complete meal.
Without the egg mixture of the katsudon, each piece of rosu (pork loin) katsu can be savored in its full flavor. Unfortunately, I found the pork a bit tough to chew through with a single chomp. Perhaps it is the same with the katsudon, but it is more apparent served like this.
Served separately from the rice, the katsu, cut into just four pieces, somehow feels less even though it has the same grammage as the katsudon.
There is a side of tar tar sauce which I happily dipped each piece of prawns with. The tar tar sauce doesn't go too well with the rosu katsu, and you are better off with the house sauce and a dab of mustard.
The meal was satisfying, but that was only made possible with the finisher of tonjiru. The flavor depth is not as sophisticated as those you get at Tonchinkan or select izakayas; it is still delicious nonetheless. It is a teiban (定番 or go-to/staple) taste. I love adding a few sprinkles of shichimi (seven spices) for a small kick.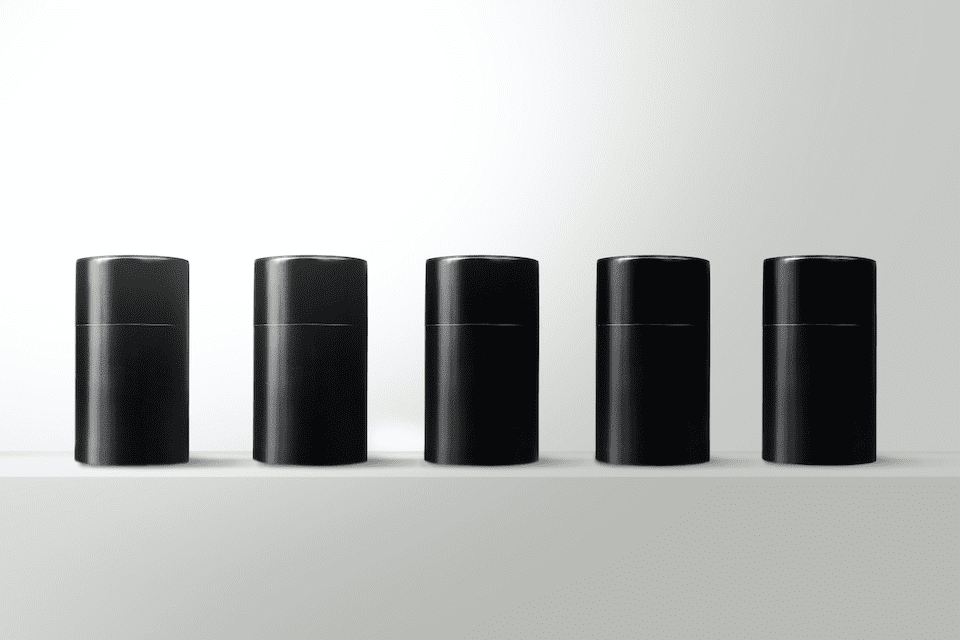 I found a 100 year old company that would create these heirloom quality canisters for me. They are handmade and will keep your tea leaves, coffee beans or anything that you need dry for years to come.
or read review
Verdict: 2.5/5
3. Hire Katsu Curry (ヒレカツカレー) 1317 kcal 825 yen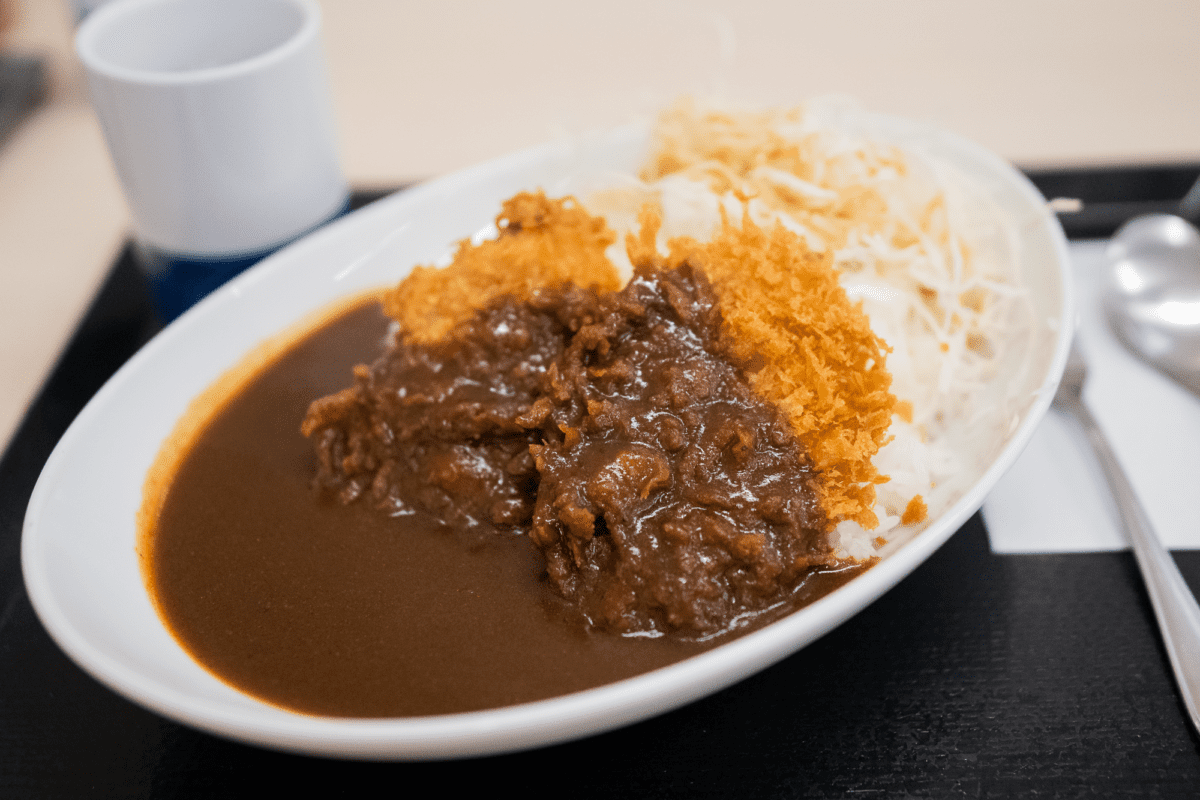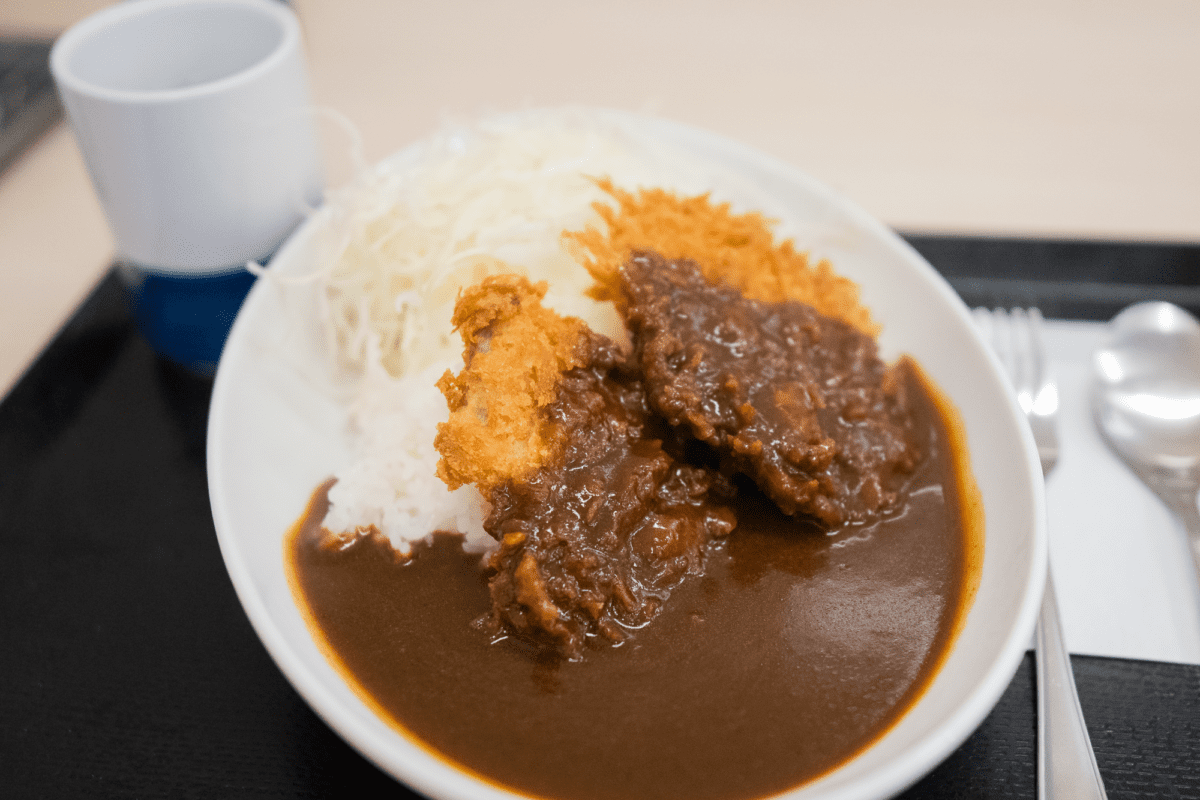 If katsudon isn't the go-to menu, then the katsu curry definitely is. I went with the hire katsu for this. Compared to the rosu, the hire bites better and is leaner.
The dish comes with cabbage that I love to top up with their salad dressing.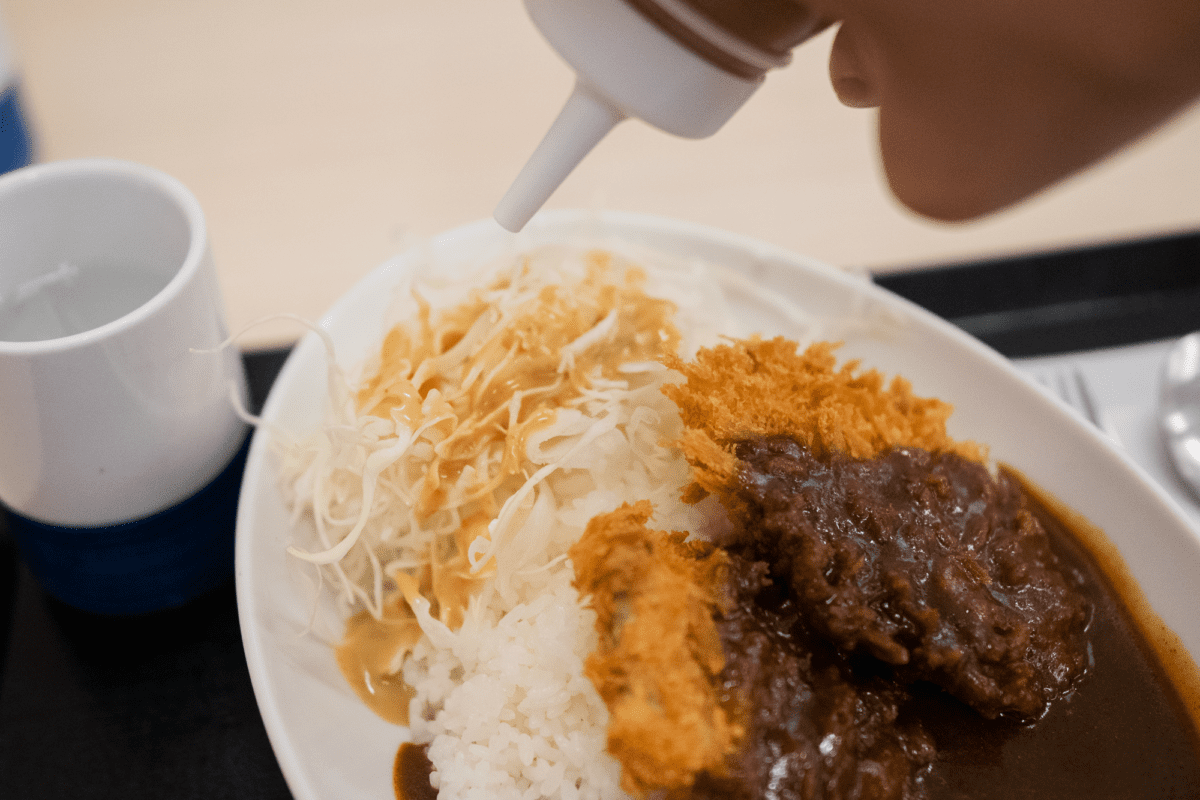 Even with the ume size, the smallest of three, the amount of curry and rice is well-balanced, while the katsu is a little too small. I would recommend getting the take or matsu-sized katsu if you are bad with rationing like I am and want to ensure you'll have a piece of katsu with every bite.
As mentioned, this is one of the to-go menu items of Katsuya, and I am not disappointed. Each bite of the sweet Japanese curry goes well with the crunchy katsu.
When I finished with my katsu, I mixed the remaining rice and curry and polished the plate off. I can eat this every day.
Verdict: 4.5/5
4. Prawn, Pork Cutlet, Minced Meat Katsu Set (海老・ヒレ・メンチかつ定食) 1317 kcal 869 yen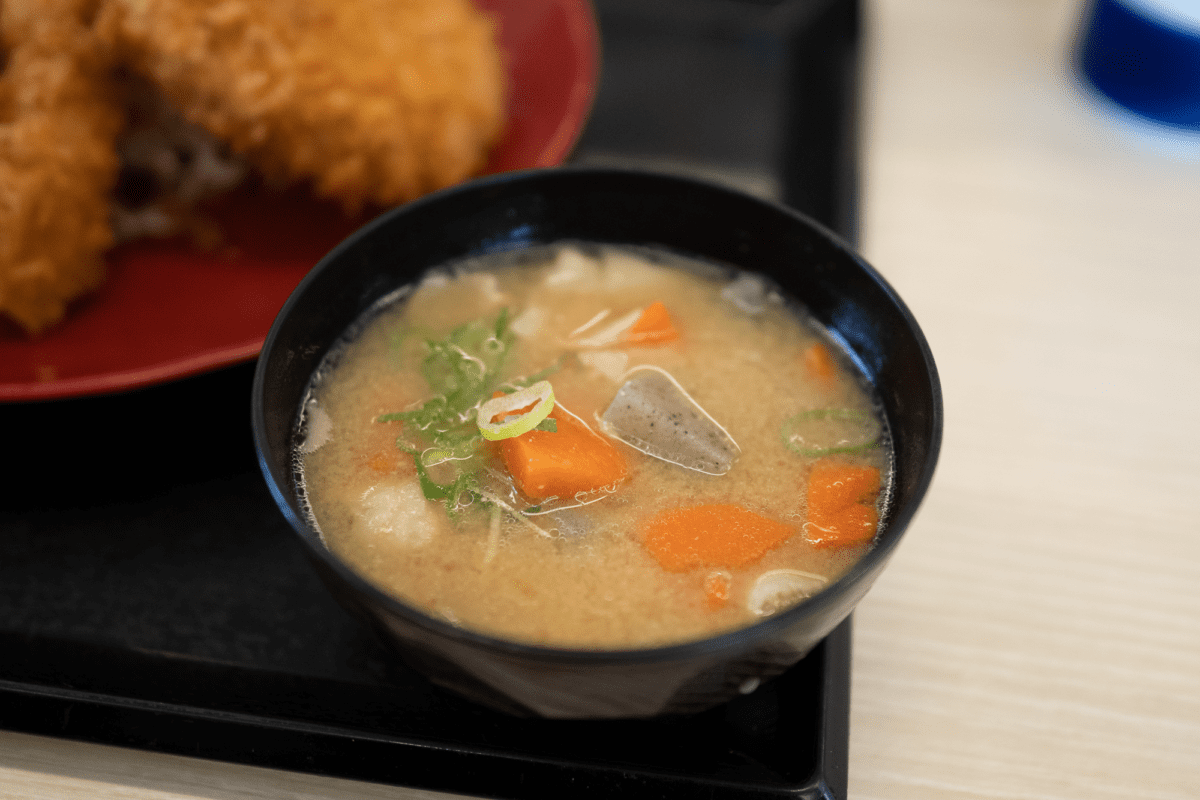 Have a hangover and want some deep-fried goodness to soak up some alcohol and shame from late-night misbehaving? Katsuya has something for you. You can try a bit of everything with this all-in-one meal. Some variations offer a pork loin katsu in place of the minced meat and pork cutlet or a hire in place of the minced meat katsu.
The star here is that side of tar tar sauce that goes perfectly with the prawns and minced meat katsu. Pork katsus still need the signature Katsuya sauce. Wash it all down with the miso soup that comes with the set.
Verdict: 4/5
5. Karaage Set Meal (から揚げ定食) 897 kcal 649 yen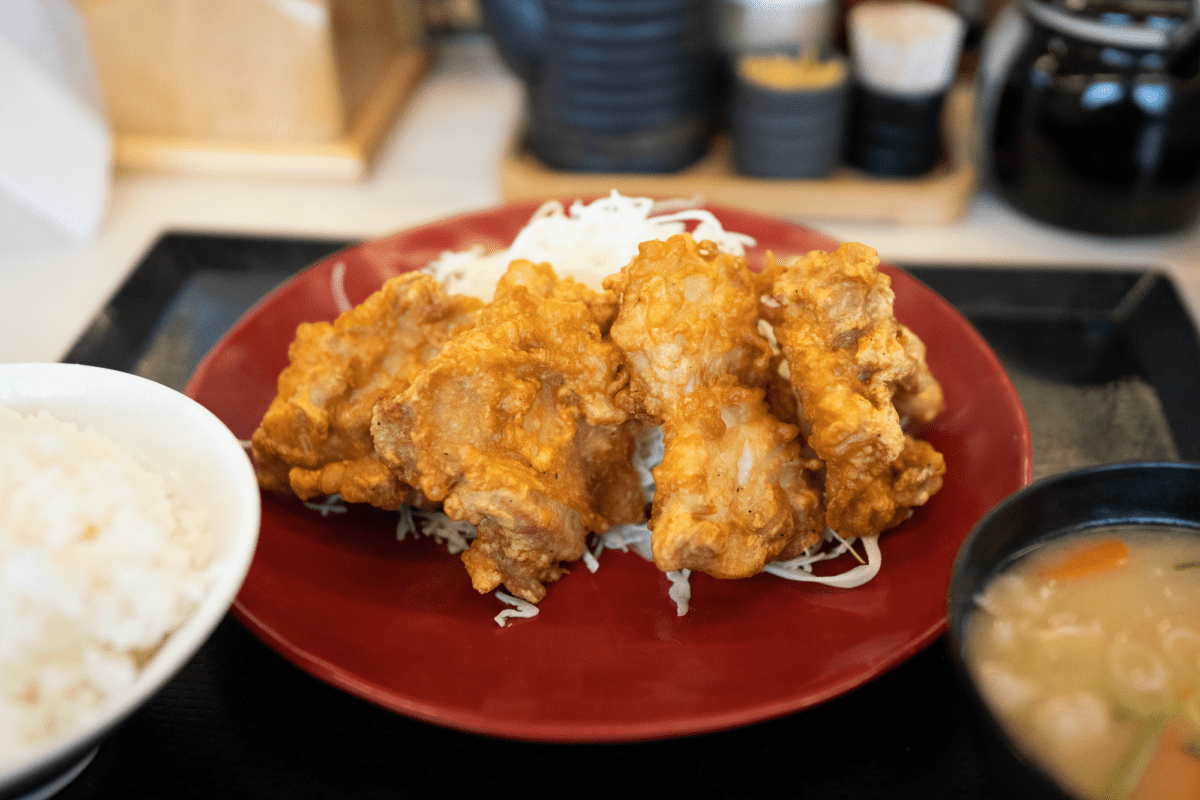 Eating karaage at a katsu restaurant might sound odd, but the karaage (Japanese fried chicken) impressed me. At 649 yen, the meal is one of the cheapest on the menu.
Each of the four pieces of chicken is huge, and you'll have to worry about not having enough rice to wash it down with. The staple soup and cabbage provide a balanced meal.
The only problem is the lack of suitable sauce for the karaage. The katsu sauce doesn't quite go with the karaage, and Katsuya doesn't provide mayonnaise. The only option is the tar tar sauce, but it isn't free.
Verdict: 4/5
6. Prawn, Hire, Menchi Katsu Set Meal (海老・ヒレ・メンチカツ定食) 1030 kcal 869 yen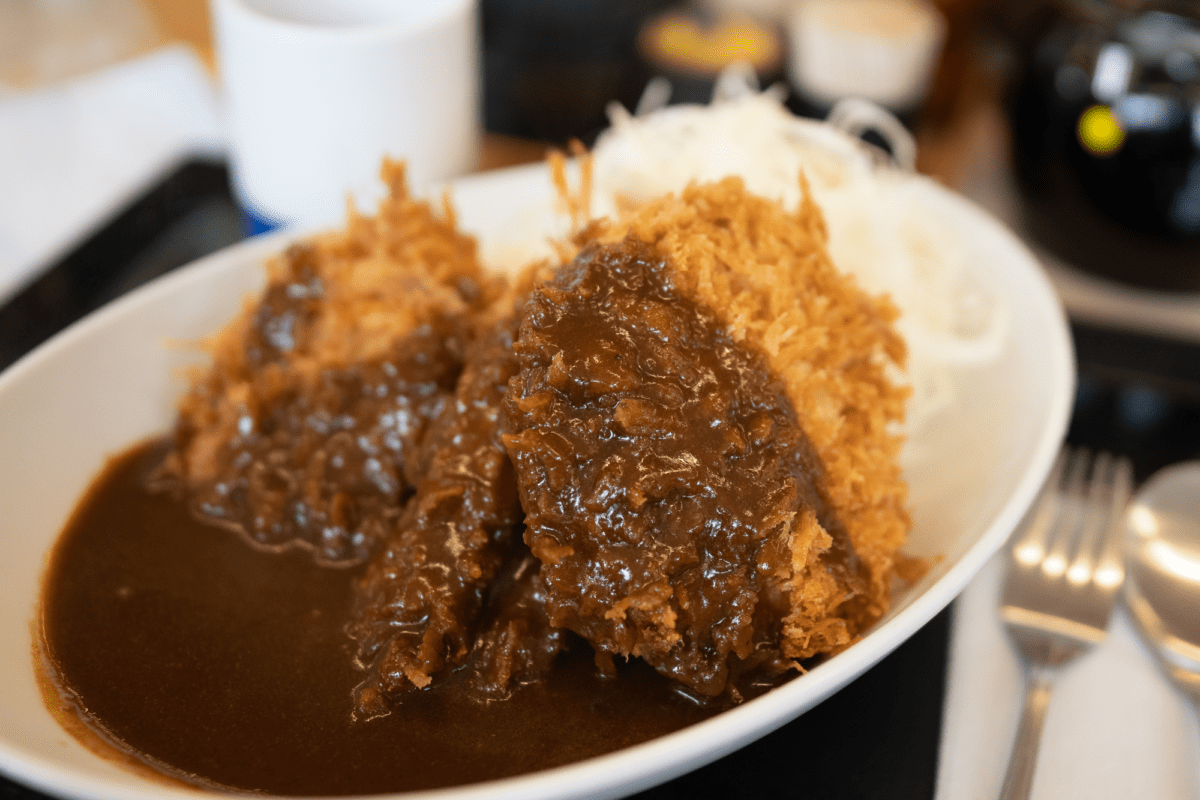 A bunch of katsu with curry is likely to be as good as the well-loved katsu curry, right? Wrong.
The menchi katsu is the largest piece of katsu of the three. The mushy texture of the menchi didn't go as well with the curry as I expected. It wasn't bad, but when compared to the crunchiness of an all-tonkatsu curry dish, it tasted lacking.
The hire and prawn katsu were gone in a few bites and there wasn't enough curry to coat every bite of rice well. I found myself eating it for the sake of it (my parents used world hunger to instill the habit to leave no food uneaten).
Verdict: 2/5
7. Sauce Katsu Don (ソースカツ丼) 987 kcal 539 yen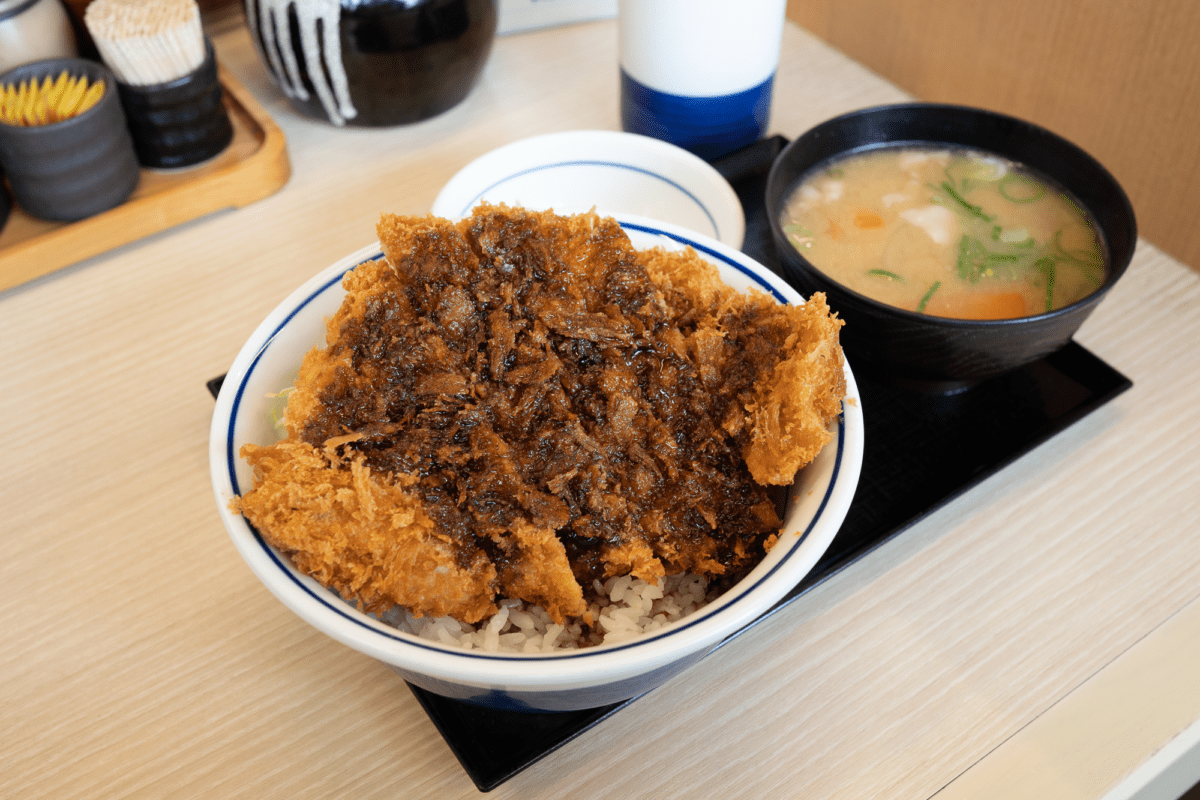 I thought that the Katsudon was the epitome of what Katsuya had to offer, but I didn't know the sauce would give it another layer of depth.
I had started out trying to keep it to the original taste for each dish, but I couldn't resist adding a set of miso soup and onsen tamago (soft-boiled eggs) for an extra 140 yen. I even sized up the katsu to a "take" size which cost 715 yen.
The result is an awesome mix of katsu, gooey egg yolk, and savory sauce that is delicious like no other. Might be blasphemy to die-hard katsudon fans, but I think this dish (with the toppings) is the best dish on the menu.
Verdict: 5/5
8. Kid's Lunch for Adults (大人のためのお子様ランチ) 759 yen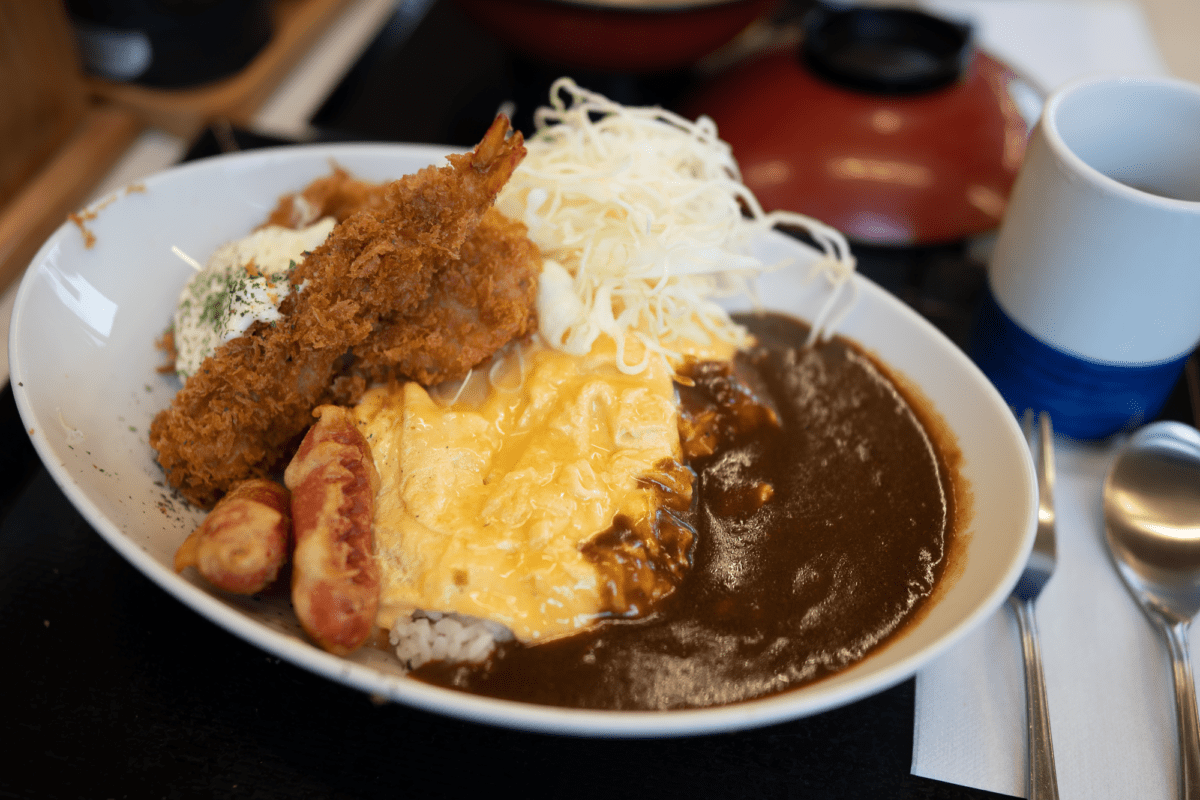 You probably won't have the chance to try this once Japan opens its borders, but I thought I just had to feature this limited menu item.
Omurice, wieners and ebi fry are commonly included in kids' dishes. But Katsuya doesn't think these should be just for kids. So they decided to create something that even adults could enjoy.
With ebi fry, katsu, wieners, omelette, and curry, it has everything I love. I guess I am a kid at heart. I have to, this is one of the best meals I've tried, better than their usual favorites. The savoriness of the curry and eggs matches perfectly with the crispiness of the katsu, wieners, and ebi fry. Every bite brought me back to my childhood.
9. Fried Pork Skirt and Sauce Chicken Katsu Rice Bowl (豚ハラミのスタミナ炒めとチキンソースカツ丼) 759 yen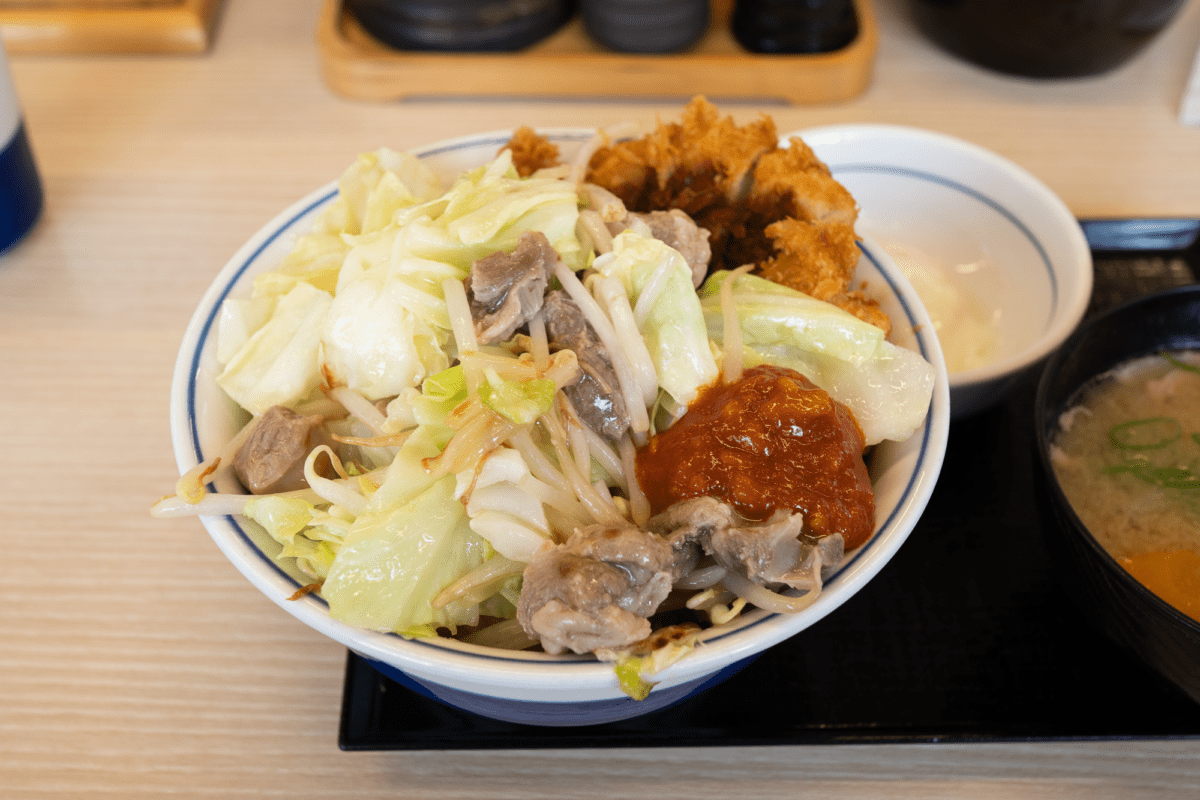 Here is another special limited-period meal that I couldn't resist. I have long loved Japan's stamina dons, which are pork rice bowls that give men the stamina they need, usually full of garlic goodness. Katsuya's rendition keeps your meal balanced with lots of cabbage and bean sprouts.
For once, the katsu seems to take a backseat in this dish, hidden under the mountain of vegetables and pork.
The star of this dish, is without a doubt, the chili sauce that gives it a tinge of spice. As a Singaporean who grew up eating chili, I could do with another three servings of sauce to coat everything.
Verdict: 4.5/5
10. Bacon Egg Sauce Rice Bowl (ベーコンエッグソースカツ丼) 759 yen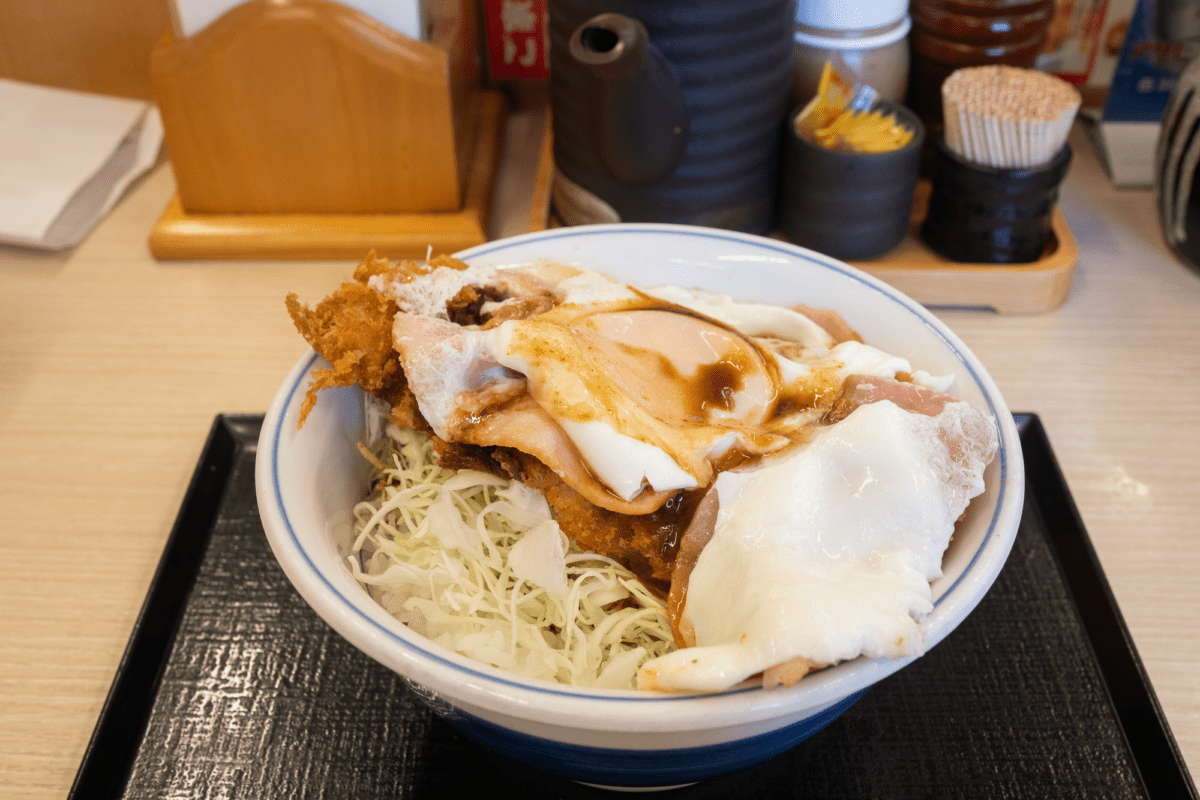 Bacon and eggs are a combination made for kings. You can never go wrong. Add a piece of katsu, you have a combination for the gods. The gooey egg yolk matches wonderfully with the crispy katsu. It's heavy but perfect for breakfast.
It also comes in a set meal version for 869 yen.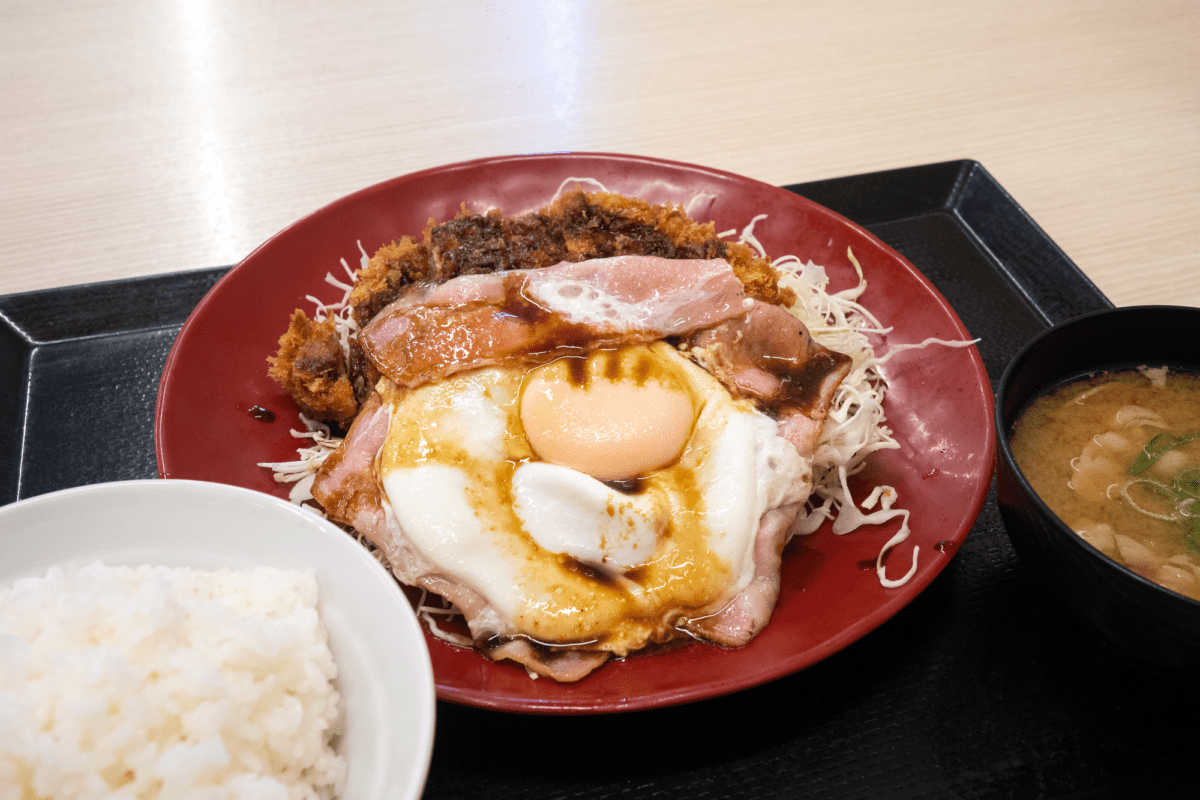 Unfortunately, this was a limited edition menu item, so you probably won't have a chance to try it when Japan opens its doors to foreign visitors.
Verdict: 3.5/5
11. Fluffy White Katsu Bowl (ふわたま白カツ丼(梅)) 715 yen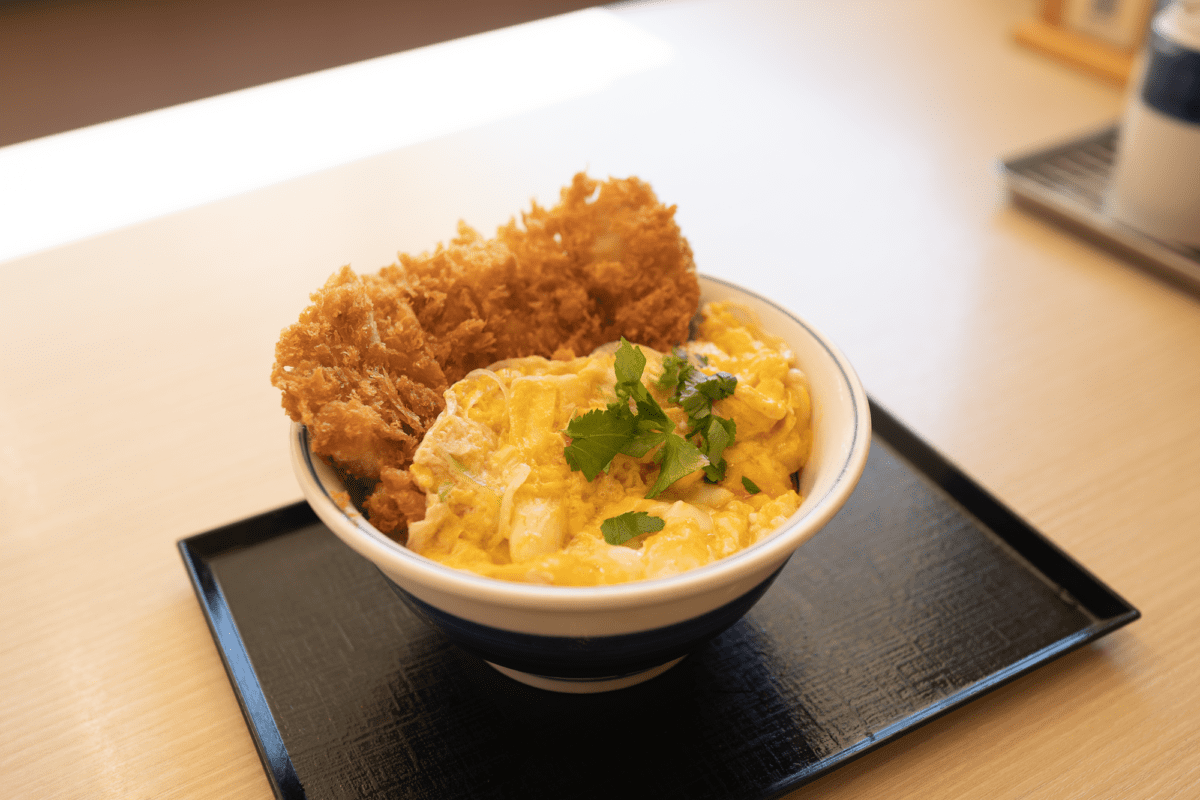 Another limited menu item that looked perfect for breakfast. It came with either ume (80g katsu) or take (120g katsu at 154 yen more) size.
Rather than a breakfast scramble, the egg tasted a little like what you would get with an oyakodon. It's sweet and goest pretty well with that katsu. When eating such dishes, I always ask for a spoon which the staff would happily accommodate.
It's nice that the egg does not make the katsu soggy, so you are able to enjoy the savory egg, contrasted by the crispy katsu.
Verdict: 3/5
---
I would love to hear from you!