This website is made possible by readers. I may earn a small commission when you buy through the links in this article at no extra cost to you. Learn more.
Product reviews are still ongoing, but I'm trying something new with this "review." Well, I knew when I started this website, I didn't want to put on a front and present a side of myself that wasn't real.
In this article and perhaps more to come, I wanted to provide you a glimpse of Japan life beyond the temples and Robot Restaurant you see online. While your favorite influencer is living the high life, drinking champagnes on yachts, I'm going to write about these 300 yen bentos from OK Supermarket.
OK Supermarket is a chain supermarket that can be found all around Japan and is known for its reliably low prices. In fact, they have a sign in-store that says that you can quote them a place that sells the same product for a lower price and get your money back.
The prices are cheap, but the bentos are really cheap; they are listed for 299 yen.
For reference, an average bento costs anywhere from 500 to 800 yen depending on the ingredients and supermarket you buy it from. If you try to buy bentos from the food floors of a department store, they'll go all the way up to 1500 yen. So, 299 yen is very cheap.
While these are listed for 299 yen, this price is only available for OK Supermarket cardholders, a card that you can get issued on the spot for 200 yen. This card grants the cardholder 3% (calculated as 3% off out of 103%) off any item (excluding tax) from the store; however, you can only pay with cash. Therefore the actual price of each bento is
Applying the card discount 299*(100/103) = 291 (rounded up from 290.2)
Add 8% consumption tax 291*1.08 = 314 (rounded down from 314.2. The tax is calculated from entire order so it might be more or less)
So, while these are technically 314 yen, that's still insanely cheap.
But are they any good? Well, while I've been eating these for years now, I haven't tried half of them. So (attempting) to try all of them was exactly what I did.
On the first day, I entered the moment the store opened at 830am, and these five bentos were available.
1. Loin Katsu Rice Bowl (Canadian Sangen Pork) (986 kcal)
ロースかつ重(カナダ産三元豚使用)
Rosu, or the loin, is a fattier part of the pig, and it has been breaded and deep-fried into a katsu. The pork used is from Canada because it is usually cheaper compared to local pork. Sangen pork refers to pork that has been interbred between three breeds to ensure the good characteristics of each contributes to good quality meat.
But no one likes ads, so I got rid of them. If my articles helped you, I ask for your support so I can continue to provide unbiased reviews and recommendations. Every cent donated through Patreon will go into improving the quality of this site.
While admittedly not the most good-looking bento, this has to be my favorite bento, probably influenced by my love for tonkatsu dons which stews the katsu in egg.
The flavor of the egg, which is usually stewed in the trinity of soy sauce, mirin, and dashi, seeps into the rice for flavor in each bite. Don't expect the katsu to be crispy like the ones you find in restaurants. Supermarket bento katsu usually gets soggy, and this one is not different even though I got it first thing in the morning. Still, it doesn't make it less delicious. I eat this at least once a week.
If I have one complaint, it would be that the calorie-to-volume ratio is a little high. At 986 calories per pack, this is almost half the average caloric requirement for adult males. I guess, if you look at it from another perspective, it makes it even more worth the money!
Verdict: 4/5
2. Beef Burdock Okowa and Japanese-Style Bean Paste Stew Bento (394 kcal)
牛ごぼうおこわと和風あん煮物弁当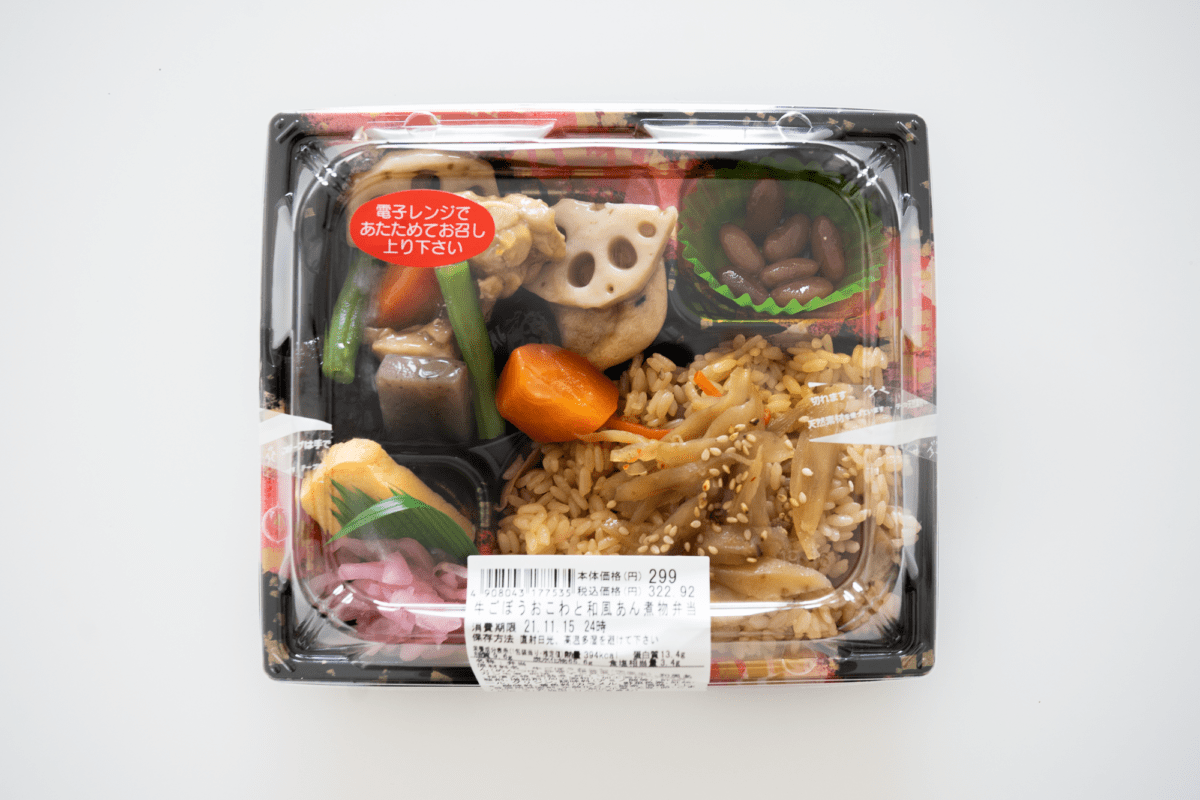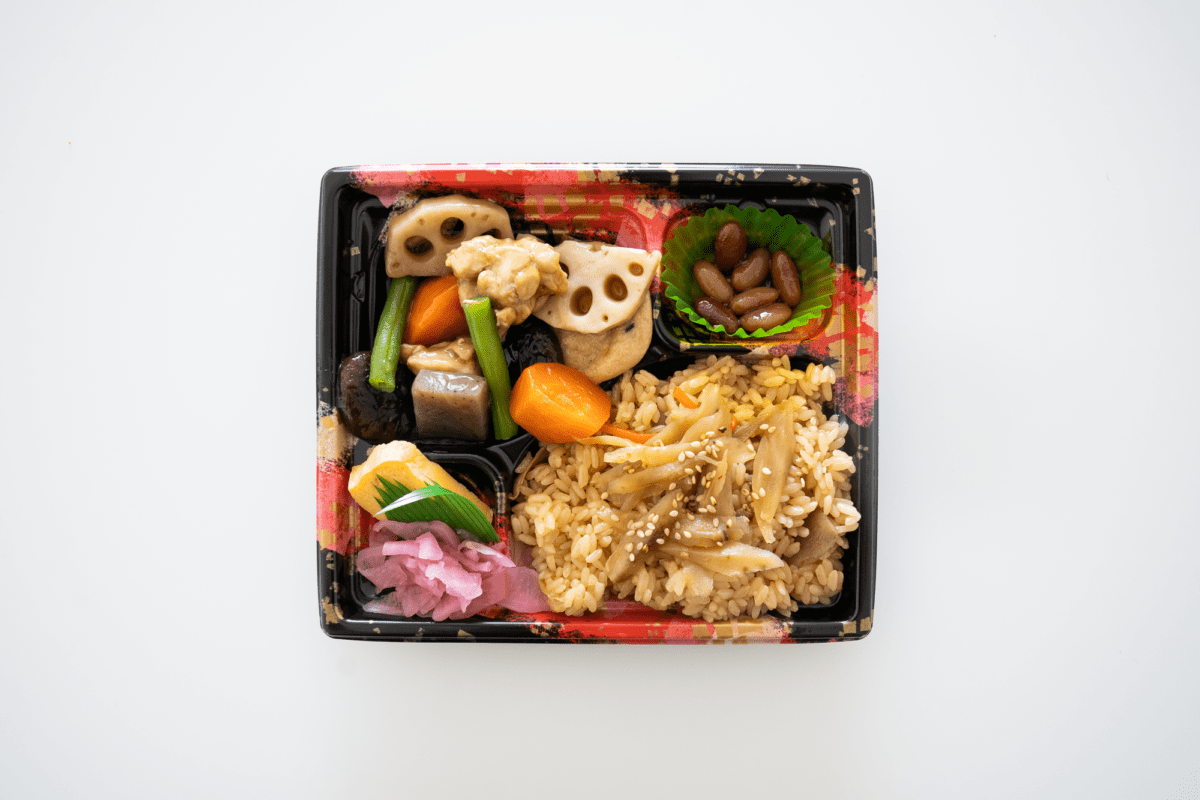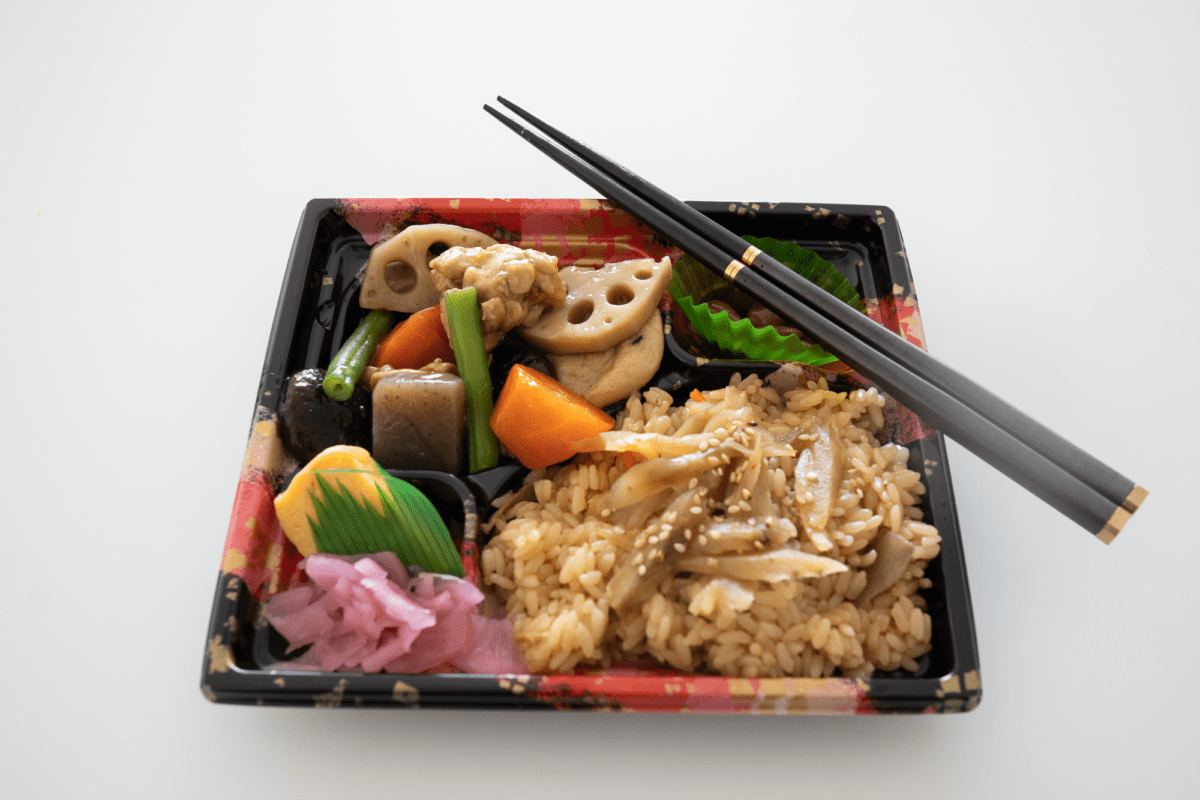 Okowa is a kind of sticky rice, and this one has been stewed and topped with burdock. This is a very healthy bento with little meat. There are many stewed vegetables like carrots, mushrooms and they are topped with a Japanese-style sauce.
While this looks and tastes very healthy and savory, this isn't something I would normally get since I'm quite the meat-eater. Also, the taste sauce feels a little repetitive since all the vegetables were coated with it.
Verdict: 2.5/5
3. Makunouchi Bento (559 kcal)
彩り幕の内弁当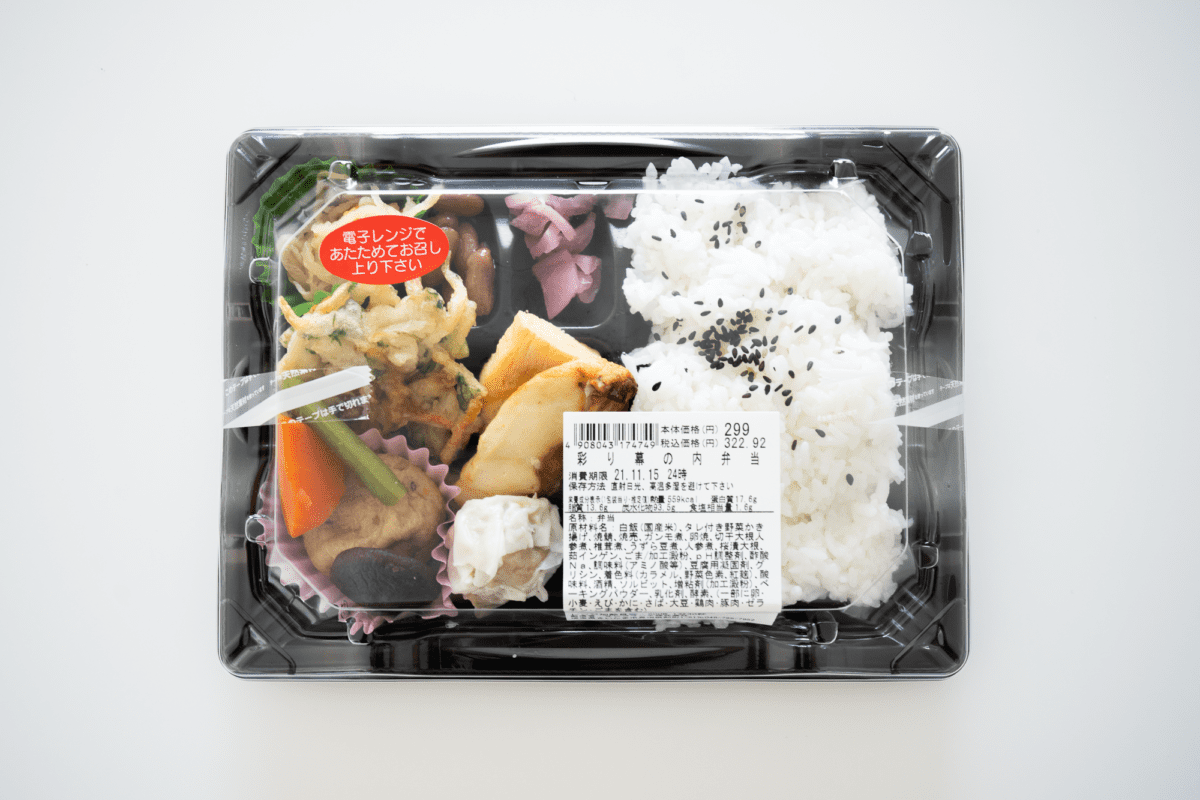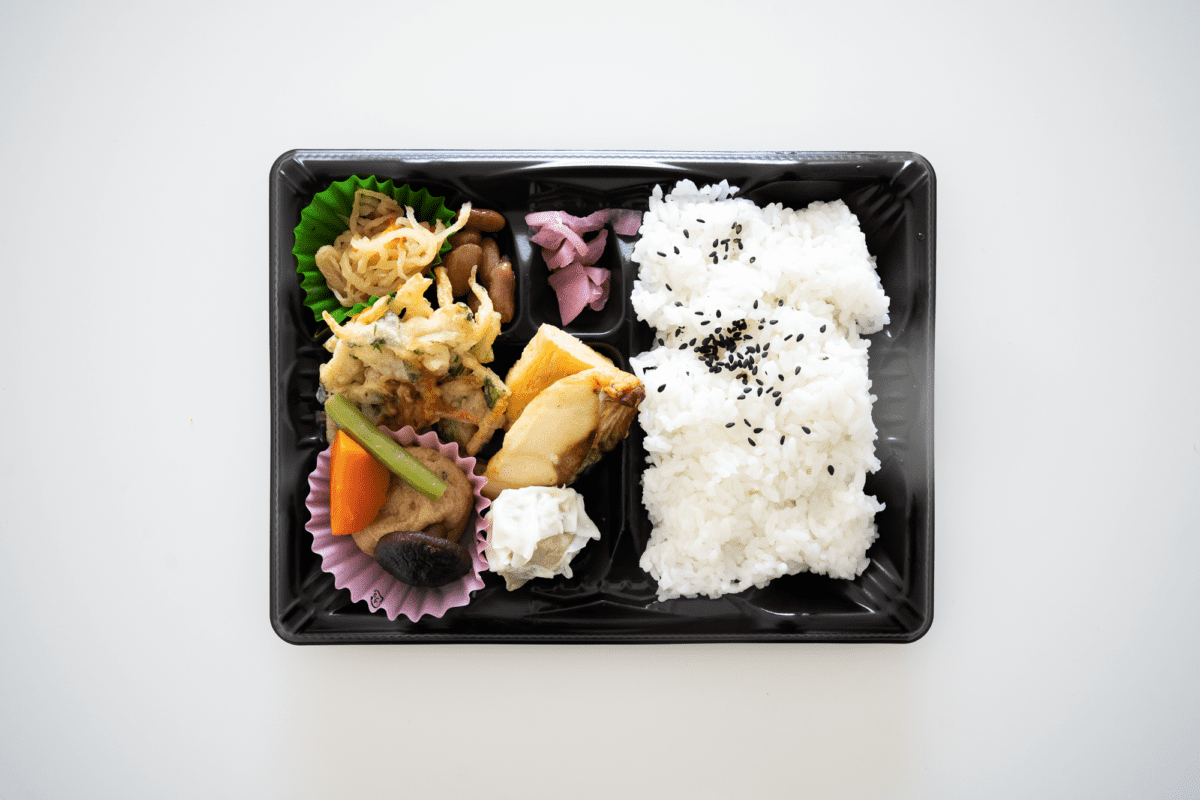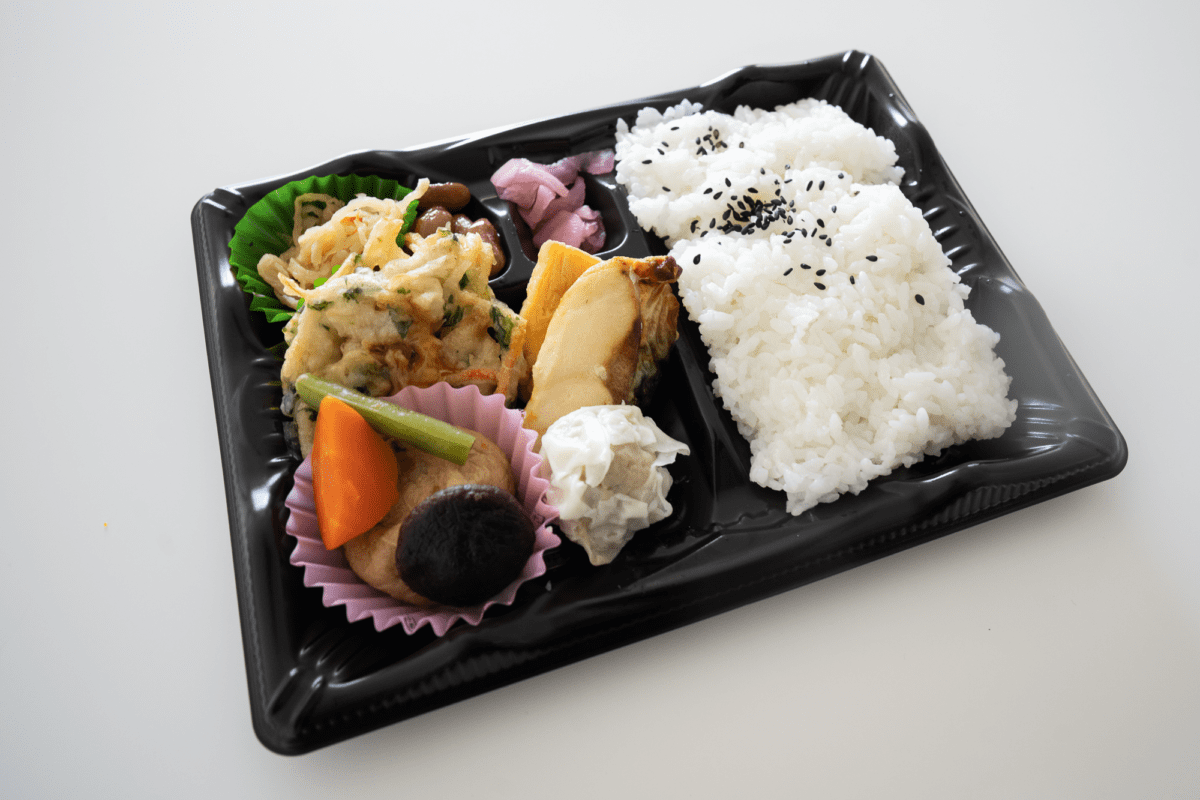 This bento comes with a bunch of random stuff like a piece of fish, tempura, pickles. Each piece tastes good on its own, but the lack of direction makes it probably one of my last choices. The tempura, not unlike most supermarket tempura, is soggy and has a texture that reminds me of cardboard.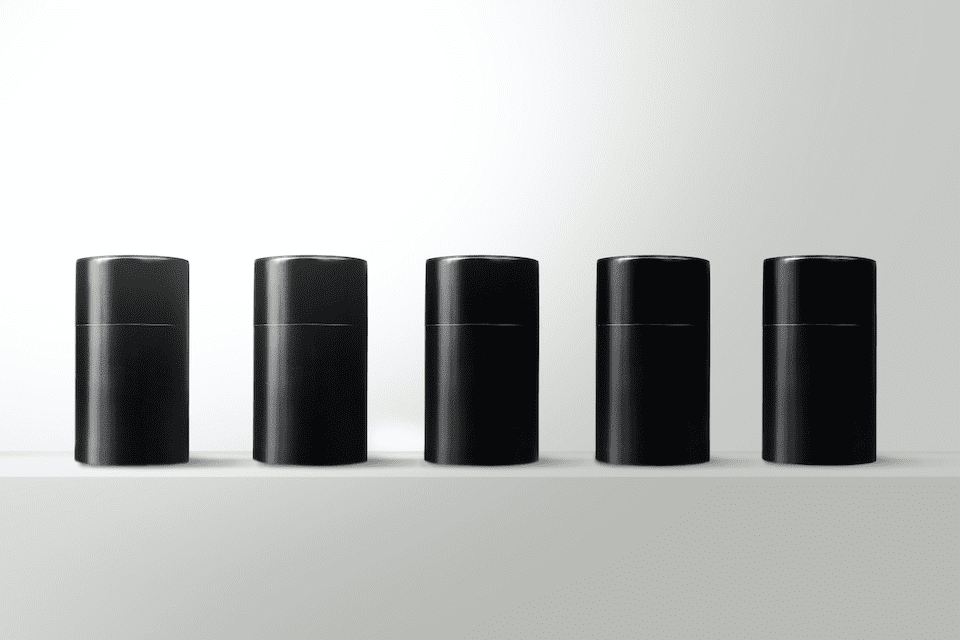 I found a 100 year old company that would create these heirloom quality canisters for me. They are handmade and will keep your tea leaves, coffee beans or anything that you need dry for years to come.
or read review
Verdict: 1/5
4. Sauce Katsu (Sesame Sauce) (877 kcal)
ソースカツ(ごまソース使用)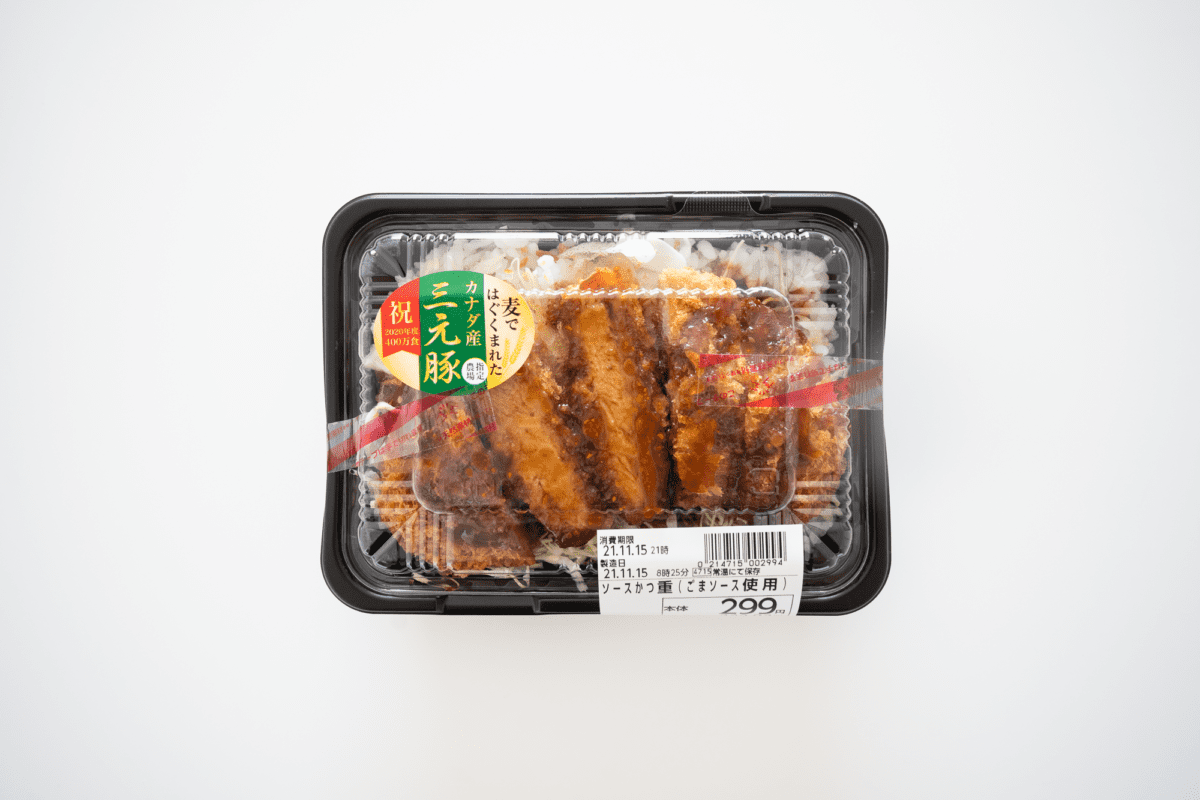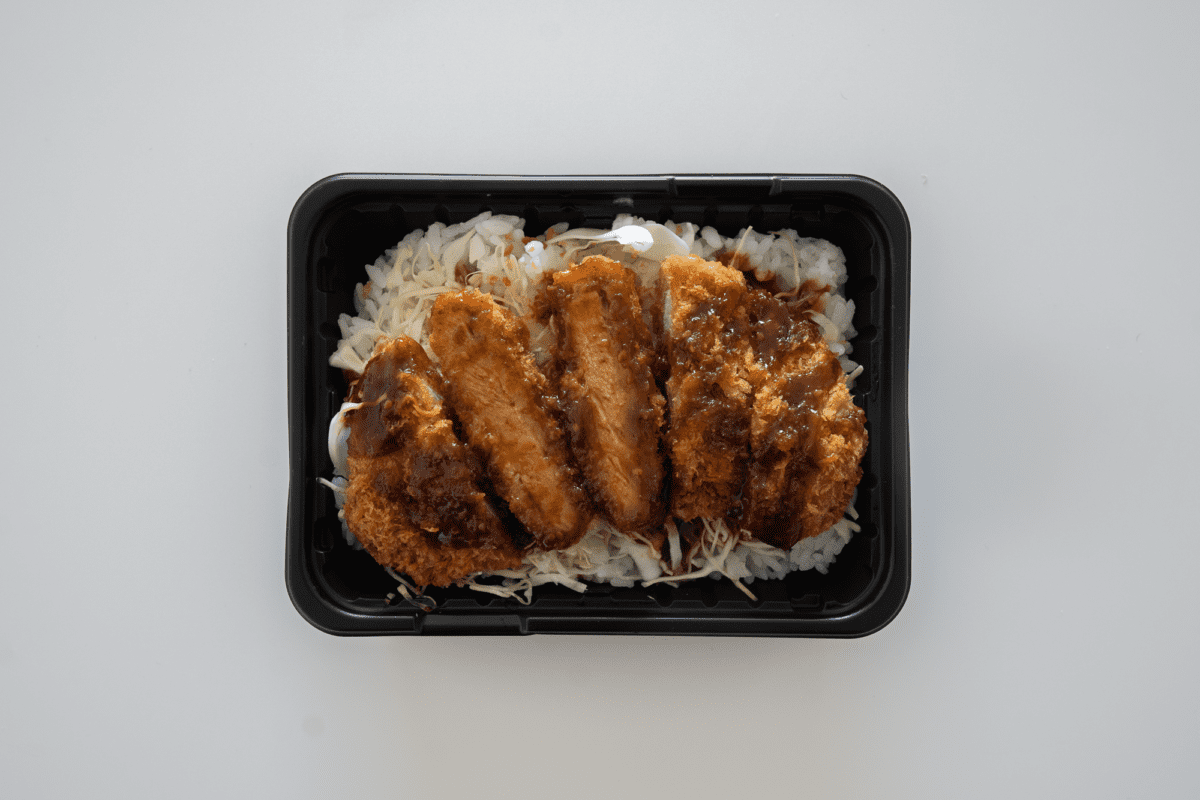 This one is a little crispier than the rosu katsu bento since it wasn't stewed in eggs but is still relatively soft. The sauce on this was awesome and matched the katsu and rice very well—great bento at this price for katsu-lovers.
Verdict: 4/5
5. Mushroom Hamburg Bento (552 kcal)
きのこハムバーグ弁当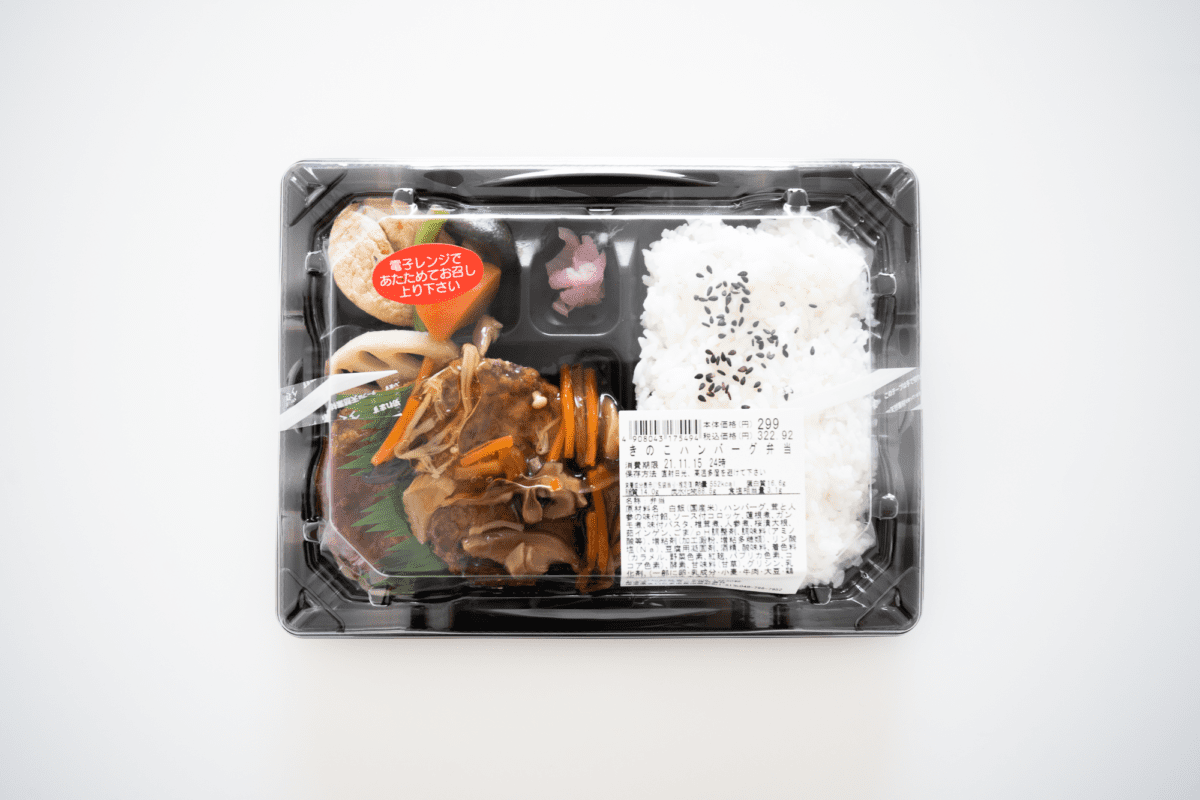 Meat patties and mushrooms. What's there not to like? If you think that you can imagine this taste from looking at it, you are probably right. While this tastes alright, there isn't anything special in variety or taste that makes me want to get it again.
Under the patty, there is a croquette that's pretty mushy and soaked with the sauce. I probably won't get getting this again.
Verdict: 1.5/5
---
Wow, 3368 kcal in a day. That's why I am getting fat.
While these five were delicious, I knew these were not all they offered as I've seen some different types before. I went back again on a second day, this time close to noon, and the following was what I got. There were more, but I think five bentos a day are the maximum I can do.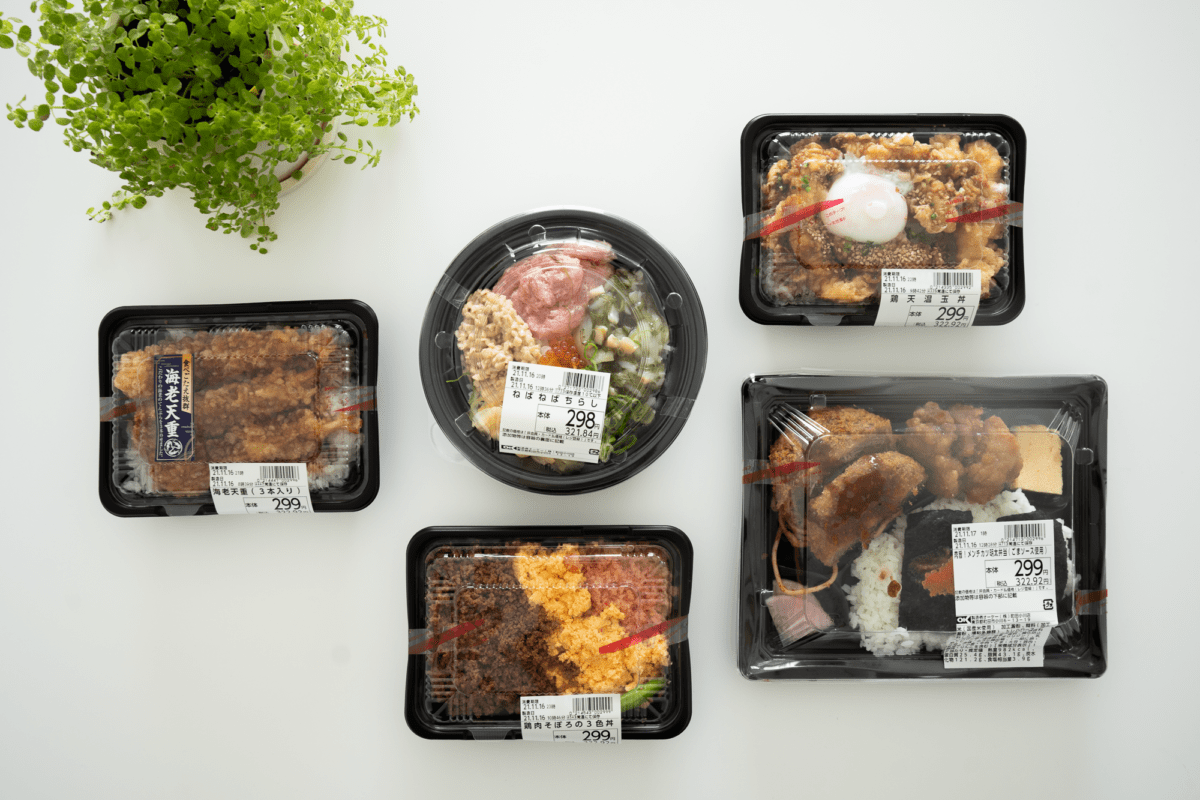 6. Chicken Onsen Egg Bowl (707 kcal)
鶏天温玉丼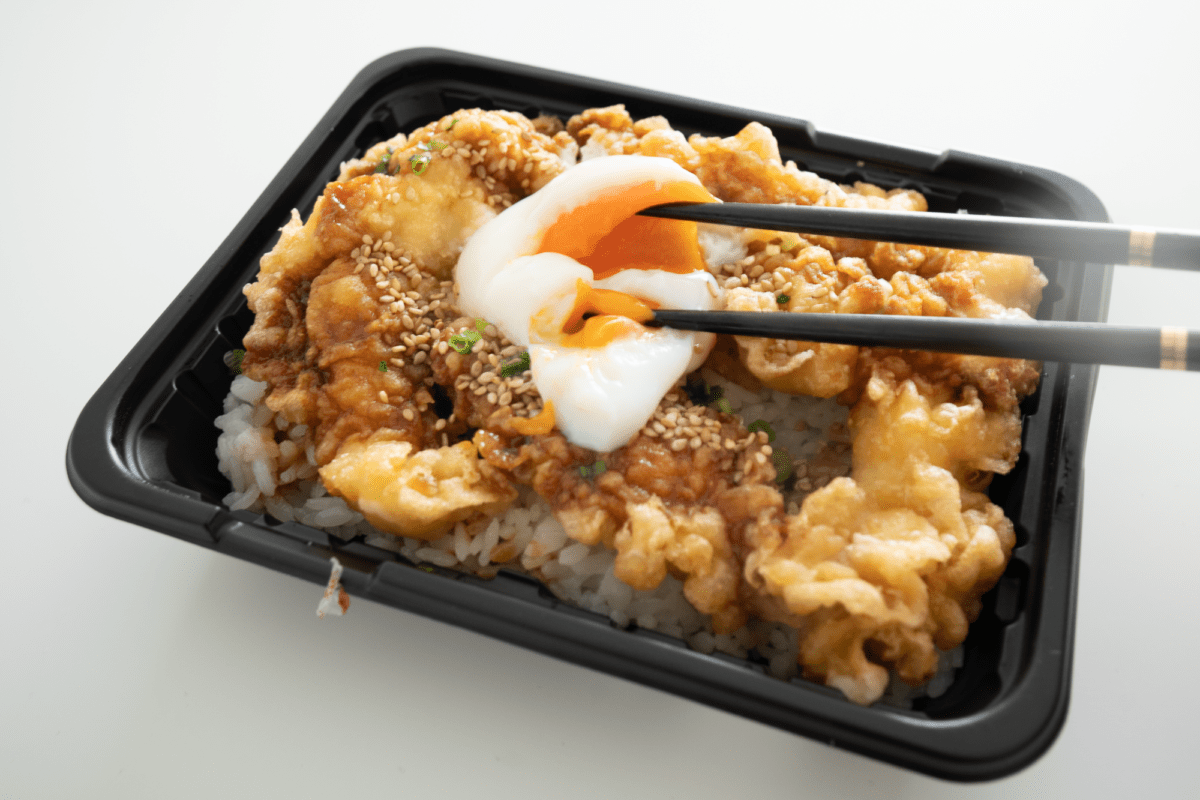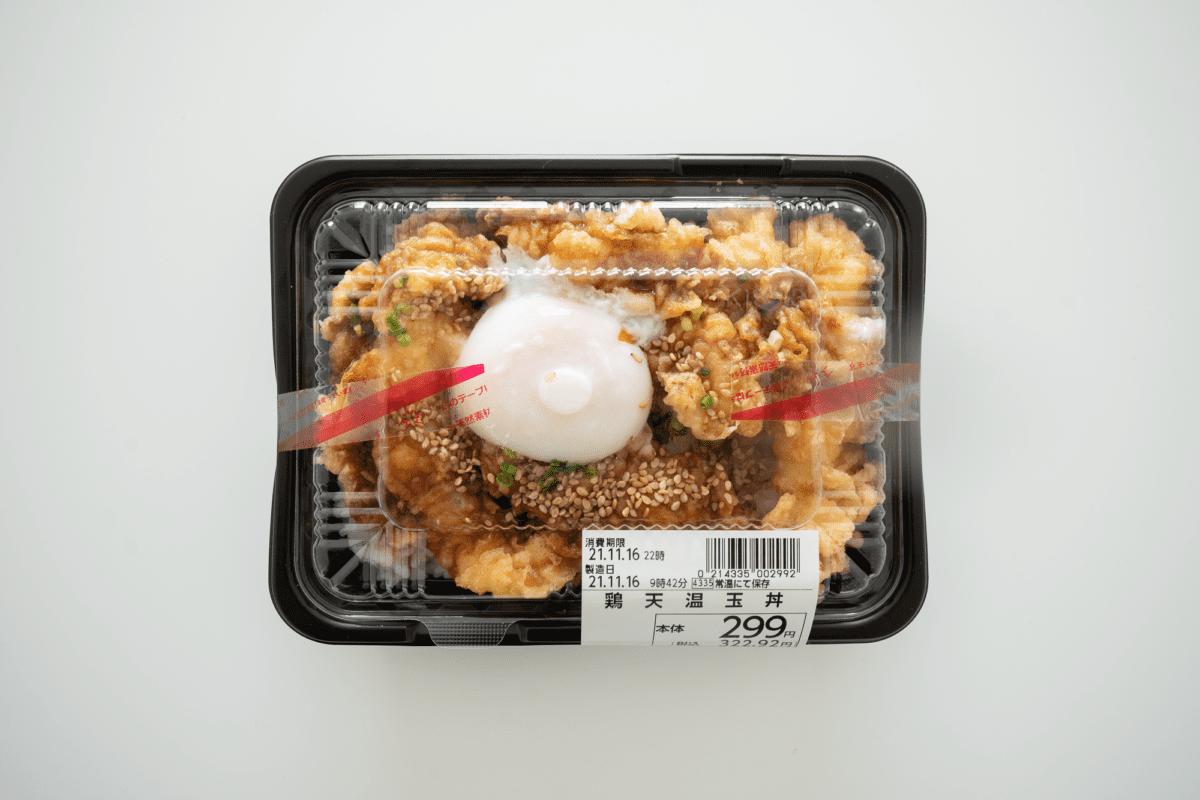 This is a pretty simple bento with deep-fried breaded chicken with an onsen tamago (half-boiled egg). Fried chicken with gooey egg yolk is heaven-sent for me. This combination is basic yet not lacking in flavor, thanks to the sauce.
While the onsen tamago isn't the runny ones I like, the gooey texture has its charm.
Verdict: 3.5/5
7. Sticky Mix
ねばねばちらし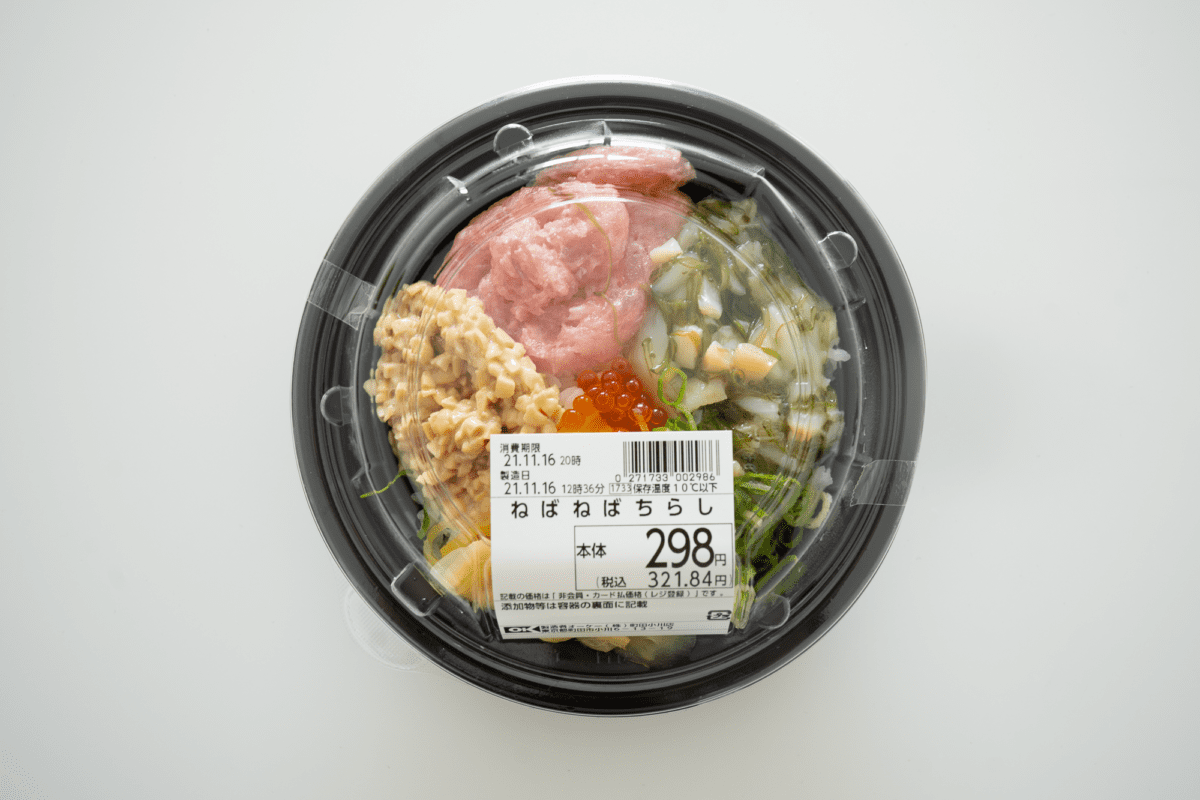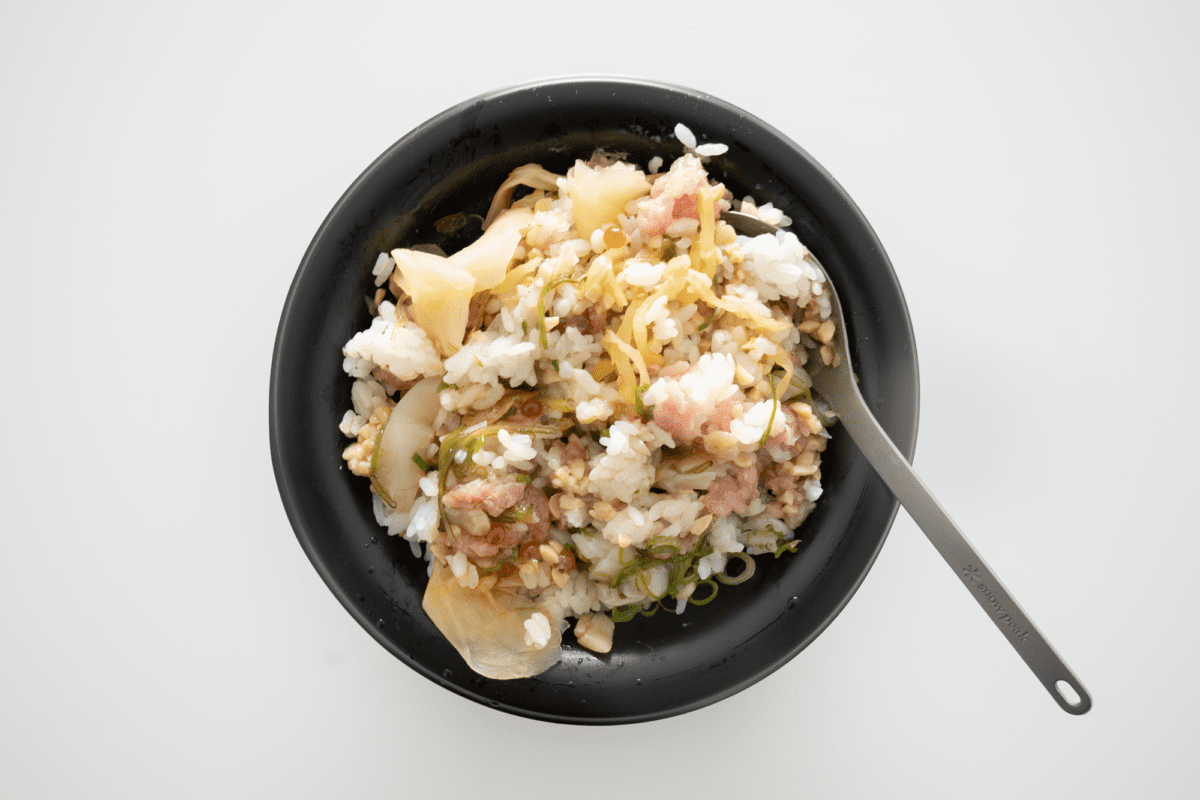 I was contemplating including this since it's technically 298 yen, 1 yen cheaper than the rest. However, this bento is so uniquely Japanese that I thought it would be interesting for those who don't live in Japan. ねばねば (neba neba) stands for sticky or gooey and is not as negative as it sounds in this context.
Natto, a very popular dish in Japan, is likely the symbol for neba neba-ness. Of course, that is included in this bento. With minced tuna, ginger, sliced raw squid, and green onions, this is a flavor explosion for the acclimatized Japanese taste.
I thought I would not enjoy it, given how it looks, but this is surprisingly satisfying.
Verdict: 4/5
8. 3-Color Chicken Soboro Bowl (490 kcal)
鶏肉そぼろの3色丼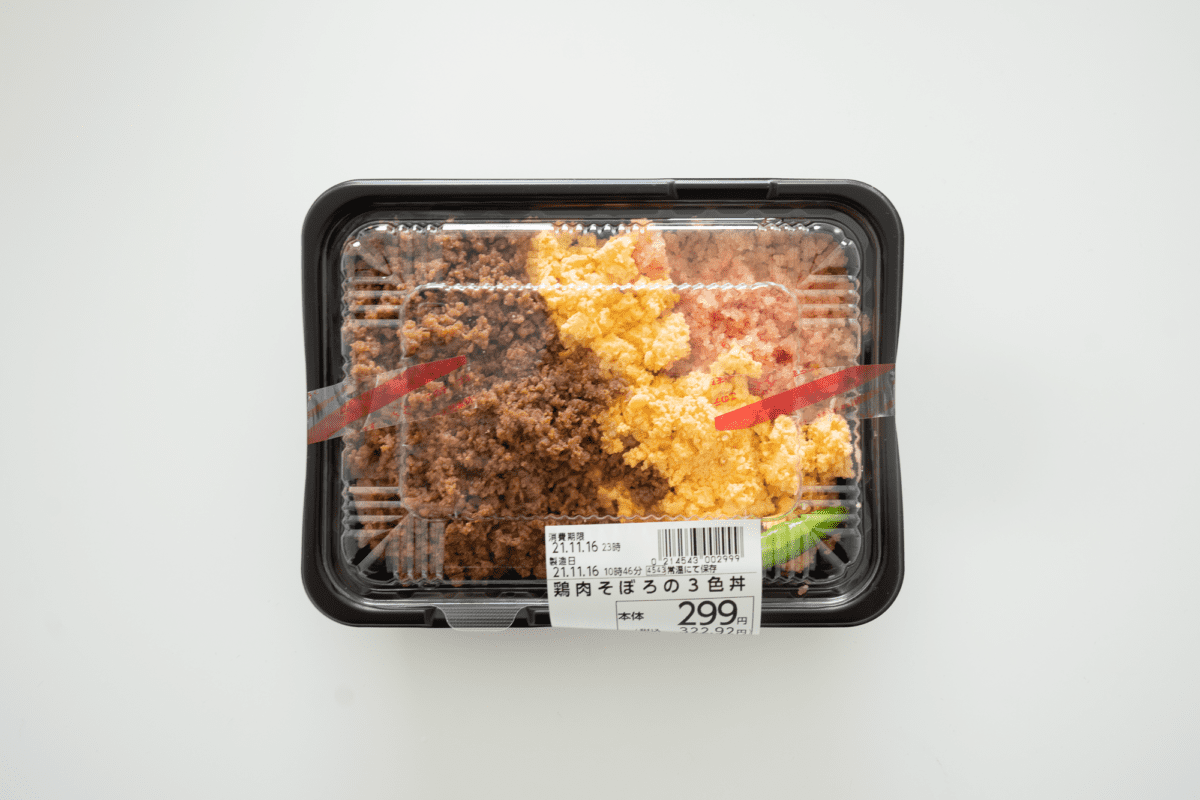 The clear visualization of the three colors is the distinctive feature of this bento, although the more common colors are yellow, green, and brown (egg, vegetables, and meat). It seems like OK Supermarket replaced the green with minced tuna.
I usually do not go for this kind of bento as the taste is not as separated from each ingredient as I like, but like the neba-neba bento, mixing it up will give you a unique flavor.
Lacking the greens makes it a little less nutritional. But that's overshadowed by how salty this bento is. I couldn't finish it.
Verdict: 1/5
9. Prawn Tempura Rice Bowl (575 kcal)
海老天重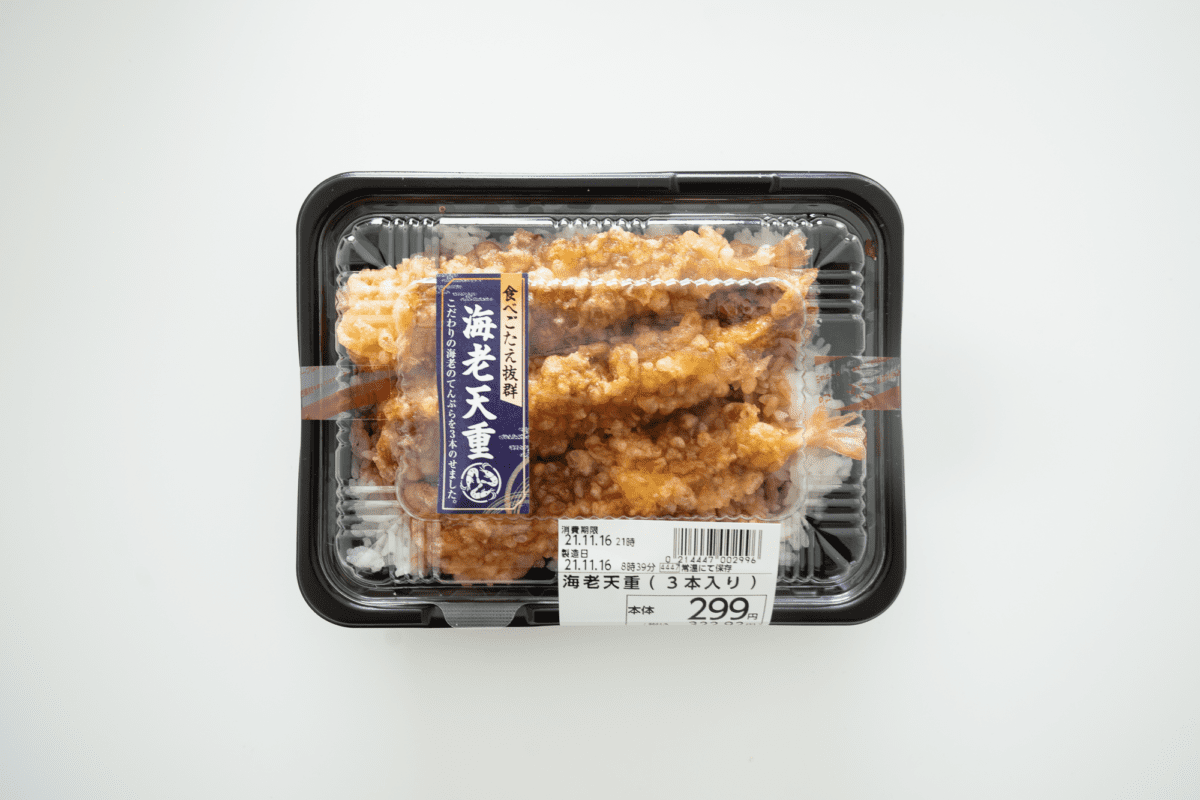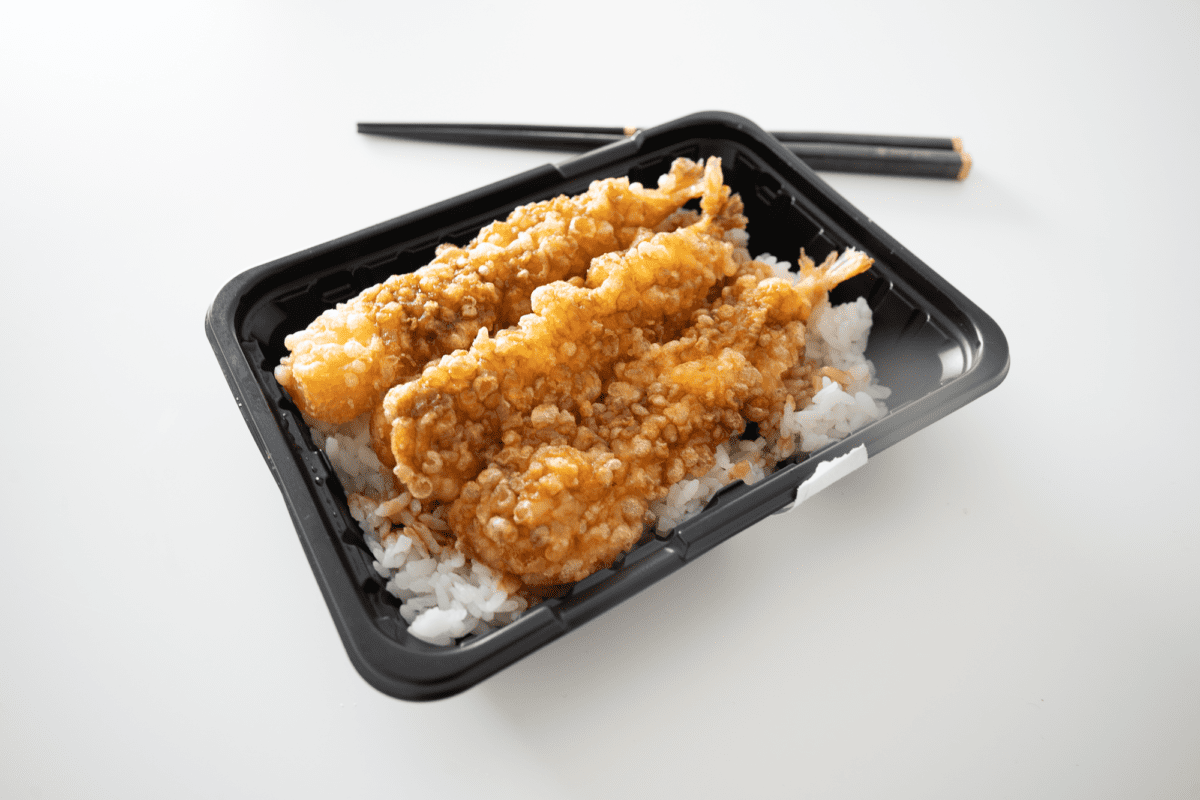 Here's another classic that I get time after time. Having prawns, which are usually expensive in tempura restaurants, and three whole pieces in a 299 yen bento is unheard of.
I bought this in the afternoon and ate it at night and there is still crunch in the tempura, which is kinda rare for supermarket tempuras. The sauce and tempura combination goes brilliantly with the rice. I usually wolf this up, prawn tail and all.
Verdict: 3.5/5
10. Menchi Katsu Mentai Bento
メンチカツ明太弁当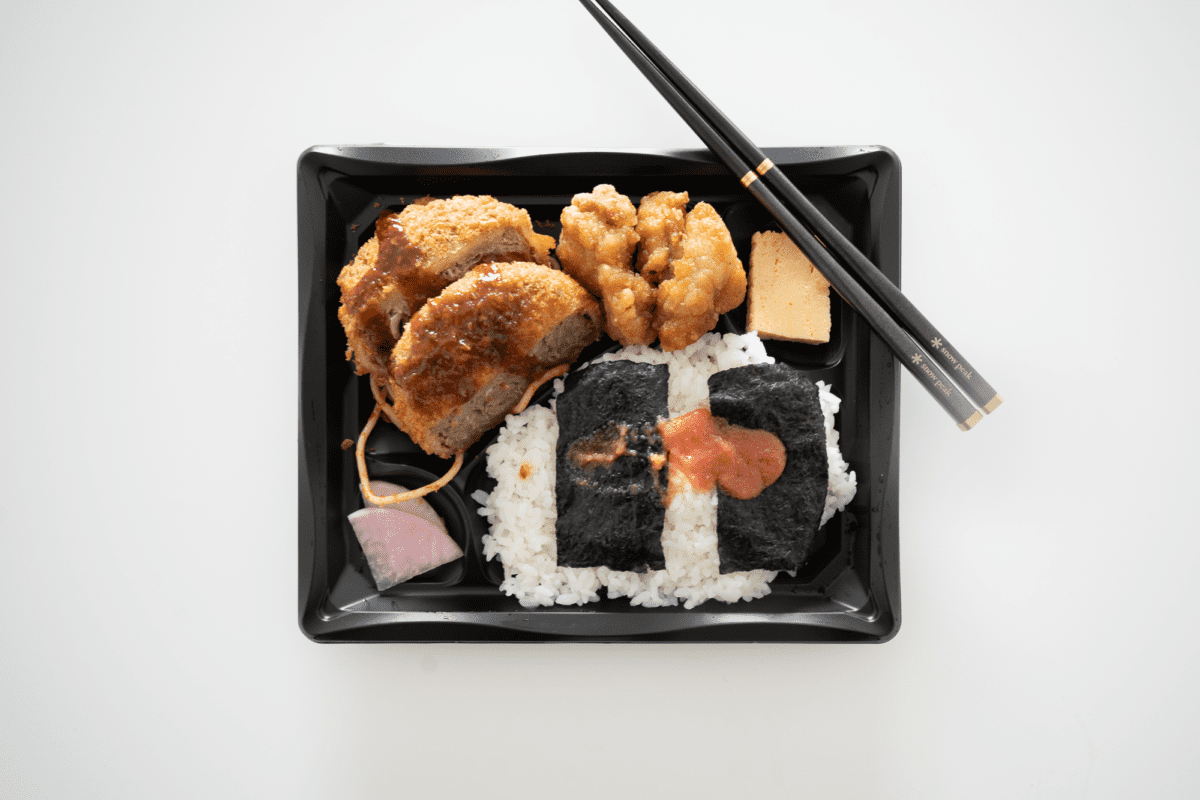 This bento contains a bunch of my favorite elements, such as karaage (Japanese fried chicken), menchi katsu (minced meat katsu), and tamagoyaki (rolled omelet). Sometimes they change the egg side up to some greens.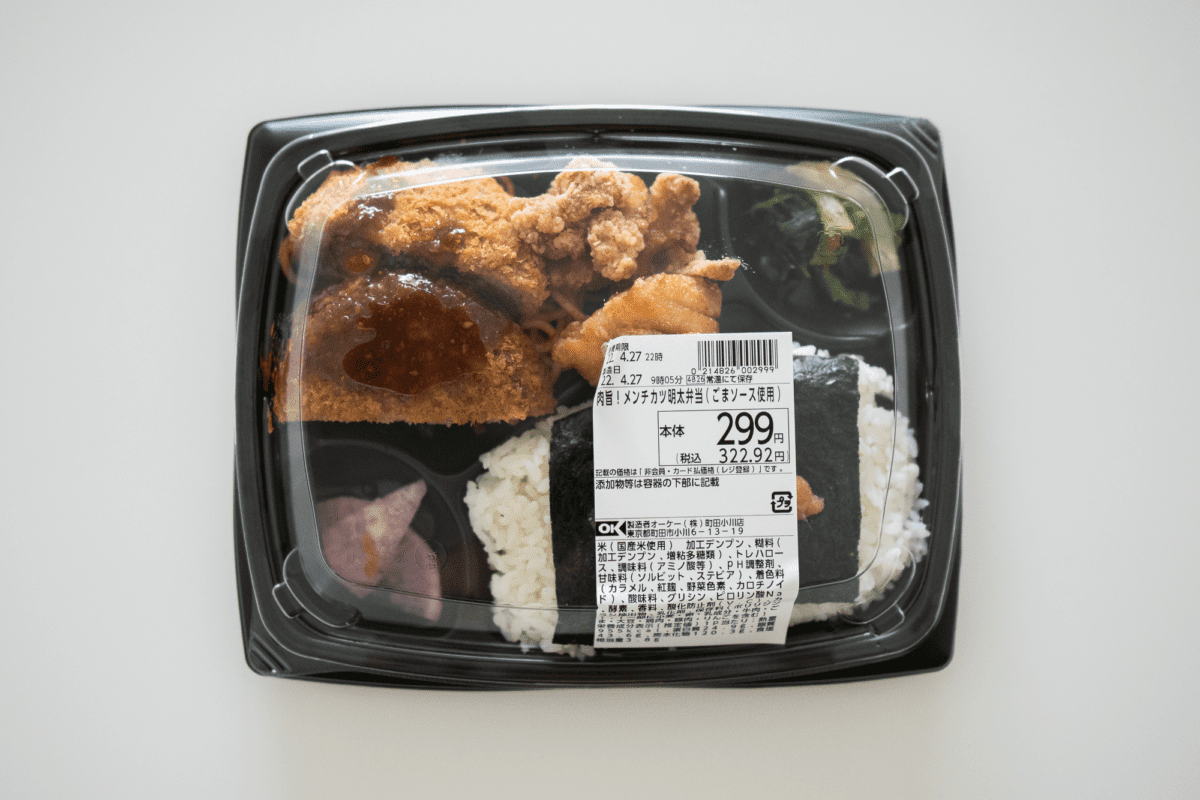 The menchi katsu and chicken were meaty and filled your mouth with meaty goodness with each bite.
I had thought that the strong mentaiko flavor will distract from the flavor of the other stuff, but it somehow complements well.
Verdict: 2.5/5
---
After the second day of five bentos in a row, I couldn't take it anymore and decided to slow down and spread this bentos over a longer period.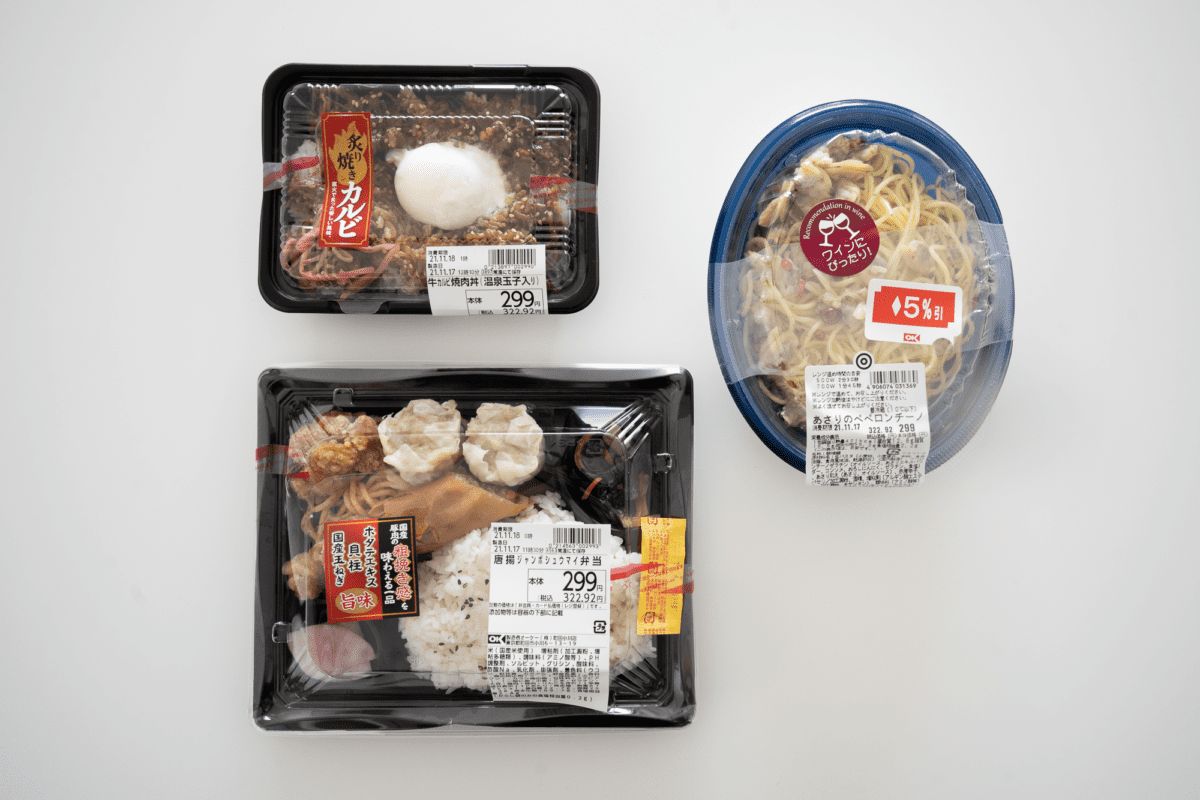 11. Barbecued Beef Short Rib Rice Bowl (with Onsen Tamago) (687 kcal)
牛カルビ焼き肉丼(温泉玉入り)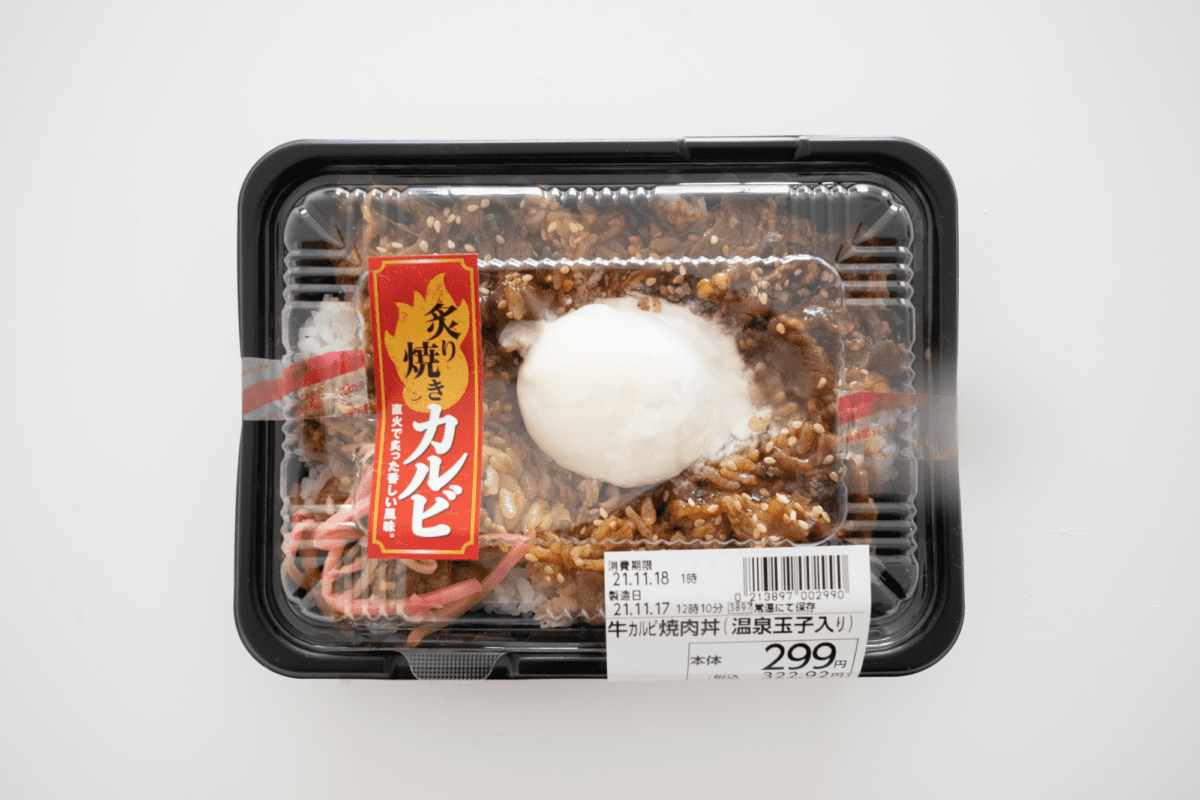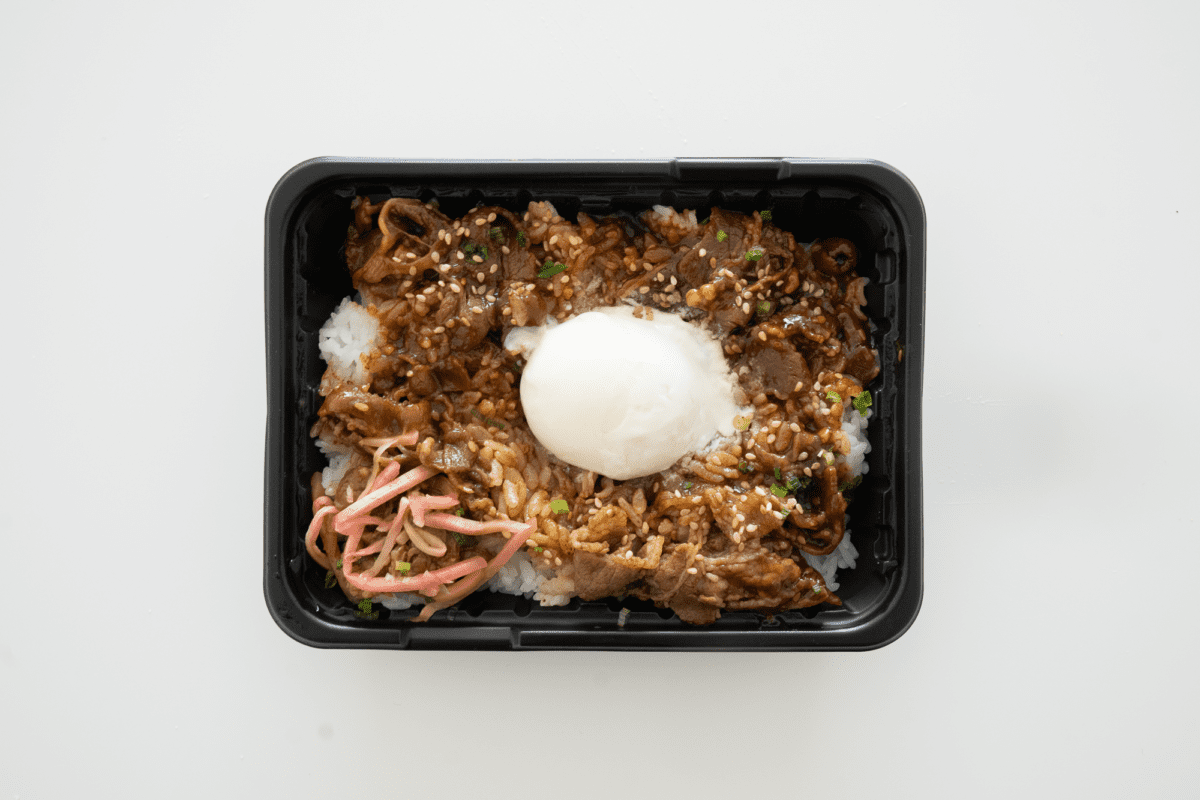 Another classic that is hard to fault. Barbecued short ribs (karubi) topped with the heavenly goodness of an onsen tamago is hard to dislike. The beef, egg, sauce, rice combination was awesome and I couldn't stop after each bite.
Verdict: 3.5/5
12. Clam Peperoncino (421 kcal)
あさりのペペロンチーノ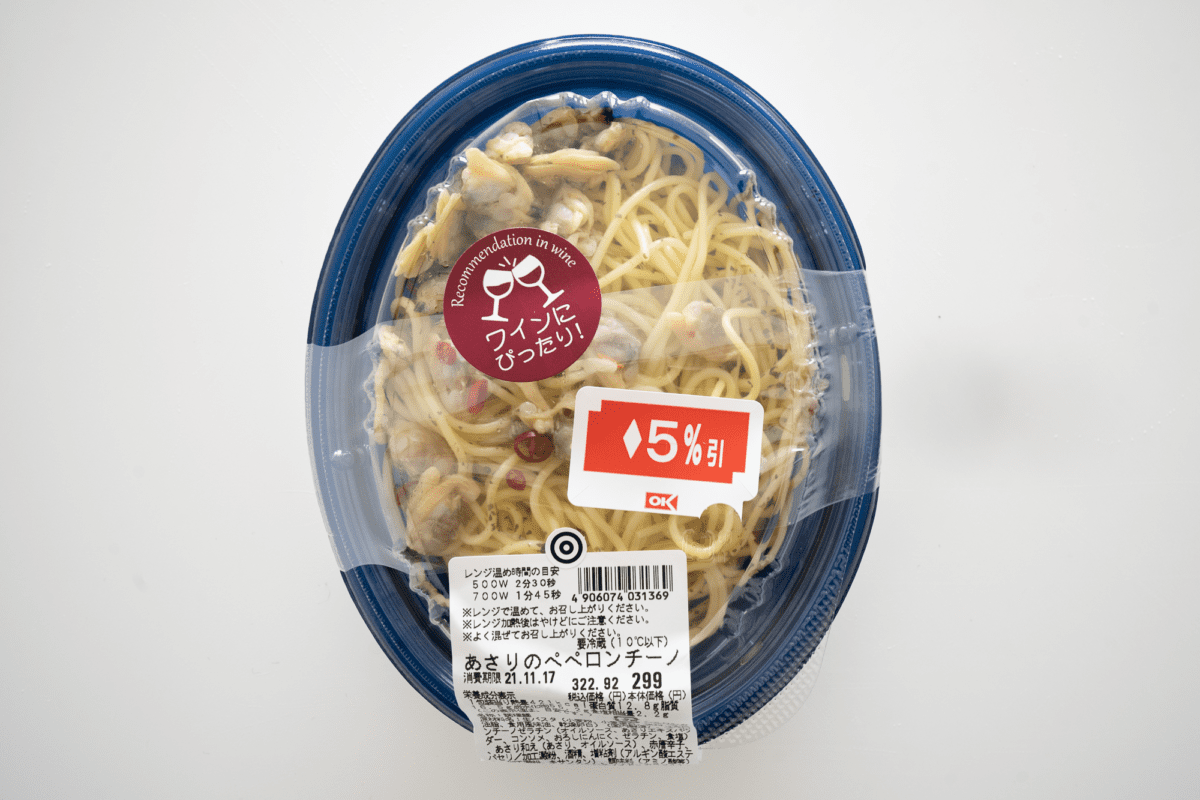 I thought this would be really bad since it's so basic. As long as you stir it well with the sauce on the bottom, it's not as dry as I expected and there was a generous serving of clams. The only thing is that it is pretty bland if you eat the pasta without a clam. Add tabasco, cheese, and some salt, it becomes pretty good.
Verdict: 2.5/5
13. Karaage Jumbo Shumai Bento (817 kcal)
唐揚げジャンボシュウマイ弁当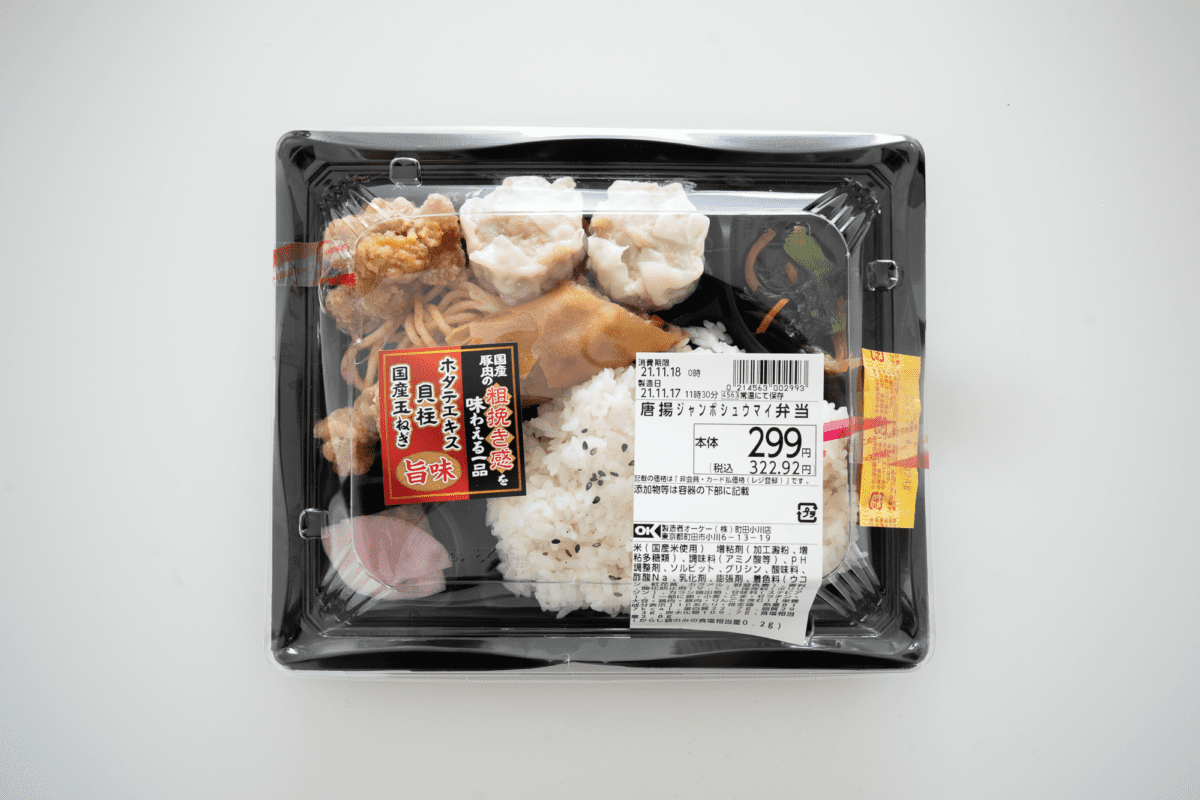 The shumai certainly didn't look jumbo as the name of the bento proclaims. The combination of shumai and spring rolls, which are both Chinese-influenced, with Japanese Fried Chicken (karaage) seems a little odd to me.
It was very mediocre.
Verdict: 2/5
14. Chinese-Style Fried Chicken Bento (792 kcal)
若鶏油淋鶏弁当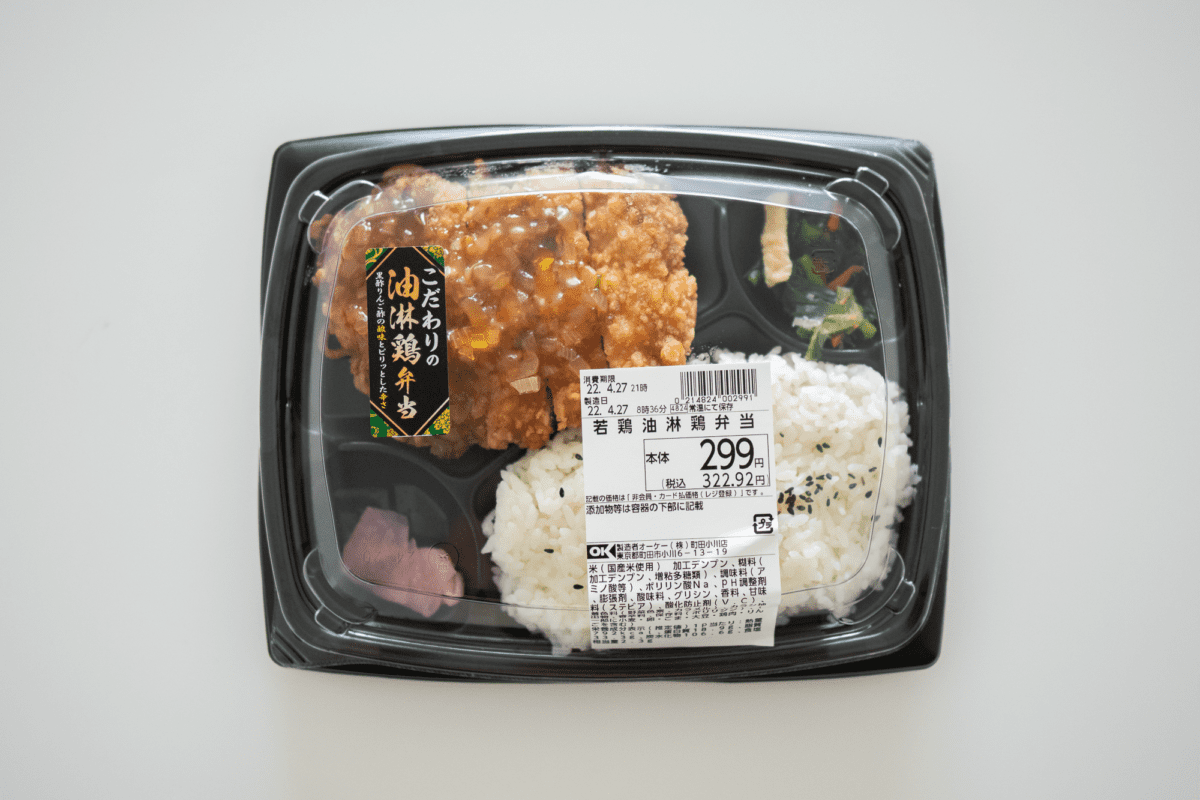 How can such a simple dish be so good? I order this often even though it is just a piece of fried chicken and a small side of greens. The sweet chili just elevates the fried chicken.
Verdict: 4.5/5
Conclusion
Honestly, this was not all the ¥299 bentos. But you know me, I will be sure to add to the list to complete this unnecessary look at a weird slice of Japan life of a gaijin outlier.
Tagged ad supermarket
---
I would love to hear from you!