This website is made possible by readers. I may earn a small commission when you buy through the links in this article at no extra cost to you. Learn more.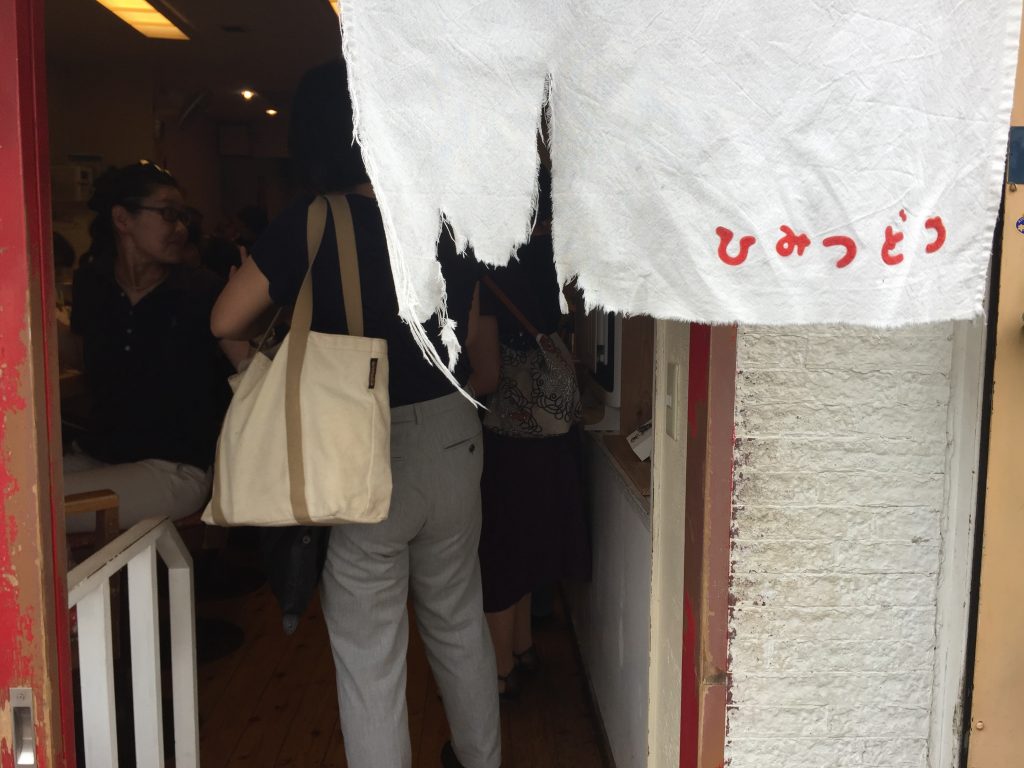 Since I begun working remotely full-time, I sometimes make trips to other neighborhoods to explore for nice cafes that I can work at. It was a hot weekday afternoon so I decided some kakigori (Japanese shaved ice) was in order before I start the day's work. Doing a quick search on Tabelog, Japan's leading food guide platform, I decided to head to Himitsu Do, the highest-rated kakigori specialty shop located in the dainty town of Nippori. To know how popular this place is, I actually told a friend I went to try the "best kakigori shop in Tokyo" a few days after my visit, and she asked if it was Himitsu Do.
The first few times I came to Japan, I home-stayed at Nippori so going back there after a few years was especially nostalgic for me. Arriving to Himitsu Do at about noon, I was a little surprised at the queue of about 20 people, even though Nippori was relatively quiet and empty that day. That wasn't the end of my surprise as it seemed like I underestimated the power of highly-rated food for the food-loving Japanese. Standing at the back of the queue, I was approached by a staff who asked if I had a ticket. It seemed like you had to come get a ticket and come back a given time to even start queuing. I was given a ticket for a 1515-1530 slot, a whole 3 hours away!
Thankfully, Nippori is known for traditional crafts and cheap street foods, so I was able to get my fill of 50-yen yakitori and other street foods like a very good ikayaki (fried squid) at Yakiya. Unfortuntely, Nippori is horrible for cafes with WIFI. I ended up working for a couple hours at a Renoir, a cafe chain popular with the elderly.
Going back to the shop at about 1520, I gave my ticket and joined the back of the queue. You will be handed a menu while midway through the queue. The milk-based kakigori, which was basically shaved ice drenched with condensed milk, is recommended for first-timers. Other options were yogurt-based ones (shaved ice with a huge lump of yogurt on top) or just straight ones (shaved ice topped with syrup), all costing 1100 yen. I ordered the lemon and honey milk kakigori, which you have to pay for on the spot in the queue.
After about 20 minutes, I finally made it into the shop. Two of the staffs were continuously churning the manual kakigori machine which really adds to the ambience. They didn't stop the whole time I was there and I was seriously worried about their arms. One of them was the only male staff in the shop, probably for that very reason. Customers were mostly middle-aged groups of ladies gossiping while happily devouring their kakigori. The interior of the shop, along with the staff dressed casually really adds to the local feel, true to the general feeling of Nippori.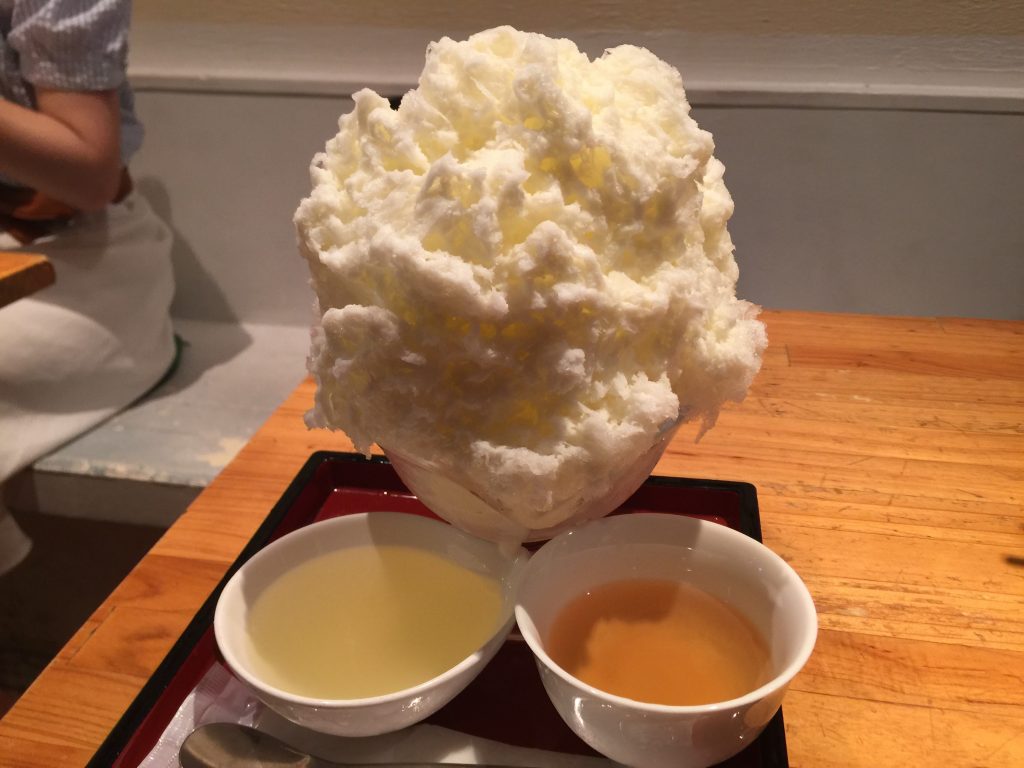 My kakigori came soon enough. The hand-made mountain of shaved ice was uneven and charming to look at. The ice was stacked dangerously high and you could see other customers were having a hard time preventing some from falling onto the tray beneath while eating. I was giving a small bowl of lemon juice which I should add onto each bite of ice. The kakigori was very sweet and satisfying. Since the ice was packed loosely so the condensed milk could penetrate within, it melts a little quicker that other kakigori I've tried. The ice was very fine, which melts more evenly in your mouth. Since this is a specialty shop, the quality of ice and syrup was more carefully controlled and obviously had a better flavor than random kakigori that just dumped store-bought syrup on machine-grinded ice. The flavor was consistent throughout the whole kakigori unlike low quality ones that only has the taste on the outside. Using the straws provided, I finished every last drop.
I've not eaten enough kakigori to declare this will definitely be better than anything else, but I could certainly see why this is the best on Tabelog. I would also recommend for you to take a walk around the town to take in what Nippori has to offer and then complete the experience at Himitsu Do.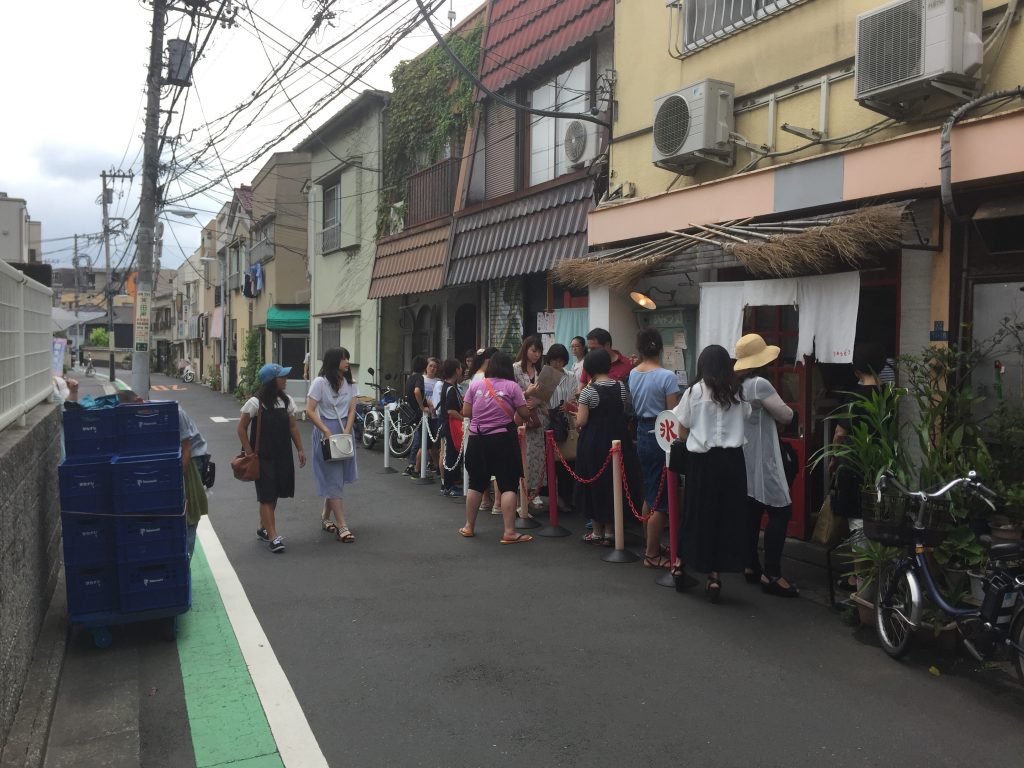 But no one likes ads, so I got rid of them. If my articles helped you, I ask for your support so I can continue to provide unbiased reviews and recommendations. Every cent donated through Patreon will go into improving the quality of this site.