This website is made possible by readers. I may earn a small commission when you buy through the links in this article at no extra cost to you. Learn more.
There are way too little reviews online (I count two written ones) for a bag this awesome. This is an in-depth review for the ultra-sleek Black Ember Forge.
Details
Price $265 on urbancred.com
(10% off entire shopping cart with the code ALEXKWA10, works with any product from the store)
Dimensions 18 x 12 x 6 inches (460 x 305 x 150 mm)
Capacity 20L, expandable to 30L
Overview
As someone who works remotely even before the pandemic, travel has been taken from me like candy from a child. I can no longer look forward to my regular adventures in a new environment and culture.
But, one thing the dreaded virus can't take from me is the feeling of Christmas morning when I get a new backpack for review. Even as my collection of backpacks grow so large that my SO starts complaining about my unfair use of home space, I know there will always be room for a Black Ember bag.
Black Ember offers on their backpacks a level of polish and material overkill that's as rare as Bear Grylls's steak. Black Ember is the brand that spoilt my tastebuds with the Citadel Minimal Backpack.
The Black Ember Forge comes in two versions, the Forge and the Forge-20. The only difference between the two is that the Forge lets you expand the capacity from 20 to 30 liters while the Forge-20 does not. The Forge-20 is also technically 18 liters in capacity.
The Forge also comes in a max version, which is the Forge bundled with four compression straps and a handle.
This review features the expandable, non-max Forge.
From first impressions, the Forge seems very similar to the Citadel Minimal Backpack. After all, the styling, materials and the modular system is the same. But looks can be deceiving. It's a whole different backpack with a different concept.
The Forge is what you would call a 3-way bag.
A 3-way bag simply refers to a bag that can carried in three ways, as a shoulder bag, backpack and briefcase. Apart from being versatile in the way you carry, it's also versatile in the amount you carry, allowing you to expand the capacity from 20L to 30L.
But no one likes ads, so I got rid of them. If my articles helped you, I ask for your support so I can continue to provide unbiased reviews and recommendations. Every cent donated through Patreon will go into improving the quality of this site.
There is so much to cover about such a transformative bag so read on for more.
At a Glance
Pros
Beautiful, sleek, minimalist design
Modular straps allows customization
Can wear it one of three ways
Highly water resistant
Cons
Clunky when expanded
Organization is designed for carrying as shoulder bag/briefcase
Style
After reviewing quite a number of backpacks, you start putting them into categories based on a few common traits. The Black Ember Forge is clearly in the ultra sleek, minimalist category, up there with brands like Aer and Able Carry.
Black Ember, like many leading backpack brands out there like TOM BIHN, GORUCK, Aer, all have a distinct look. That look is a part of their identity, their soul, and is what makes many of us many-baggers come back for more.
The Forge just screams Black Ember.
The matte, all black exterior with a slight sheen of waterproofness, complete with sleek straps and handles gives off a futuristic vibe. The backpack comes only in black.
As someone who wears only black, you'll hear no complaints from me. If Cyberpunk had ninja characters, they would be wearing this backpack.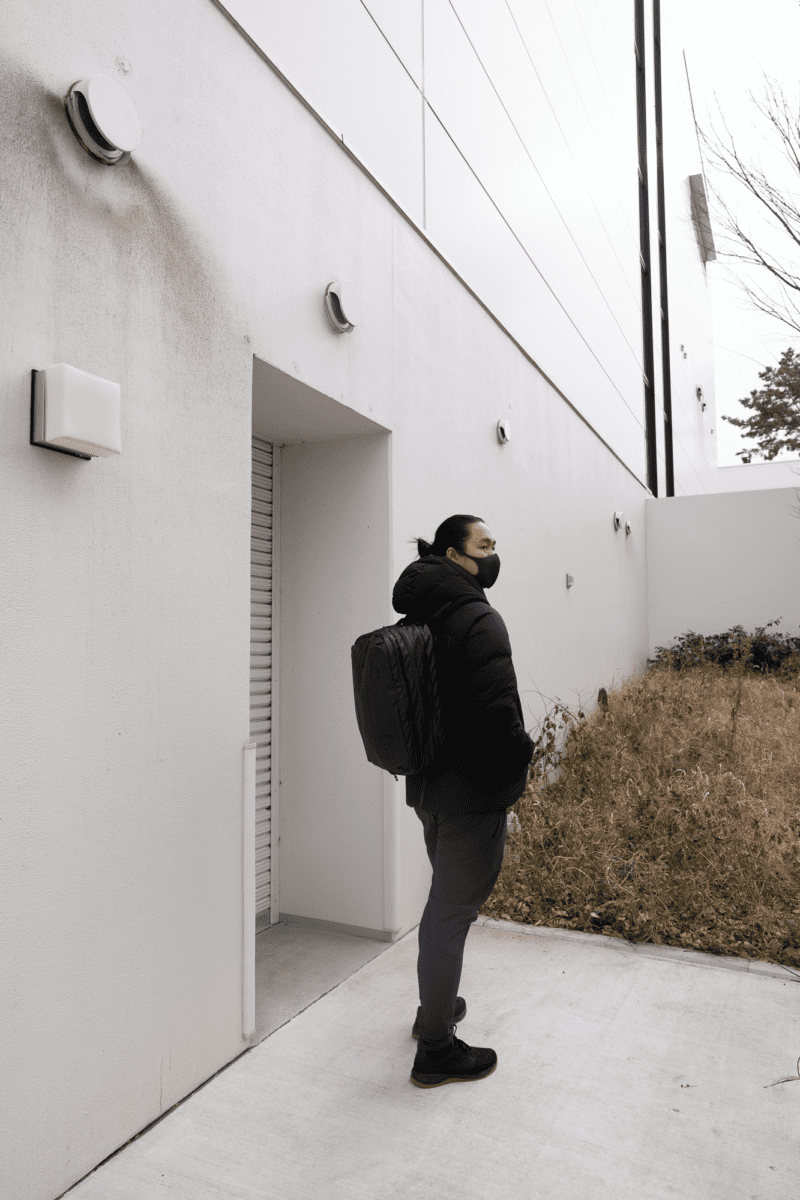 As with most of Black Ember backpacks, the exterior is mostly free of branding. If you've been here before, you'll know that I absolutely avoid any kind of external branding if I can help it. The only branding I could find is on the zipper pulls in the form of a subtle grey "BLACK EMBER" branding. While not completely void of branding like Outlier clothing, it's a lot less compared to other backpack brands.
There is a single zipper that goes vertically across the front of the backpack. Because its seams are taped, it blends into the front fabric in perfect harmony. Without any of the modular attachments, the front of the pack is flat and smooth, with the attachment points adding to the techwear look.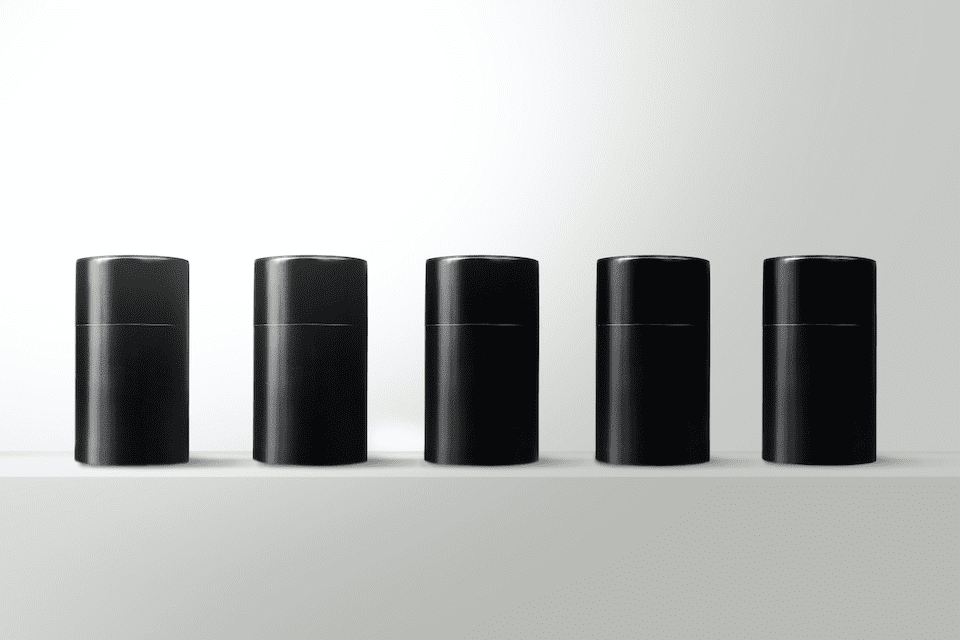 I found a 100 year old company that would create these heirloom quality canisters for me. They are handmade and will keep your tea leaves, coffee beans or anything that you need dry for years to come.
or read review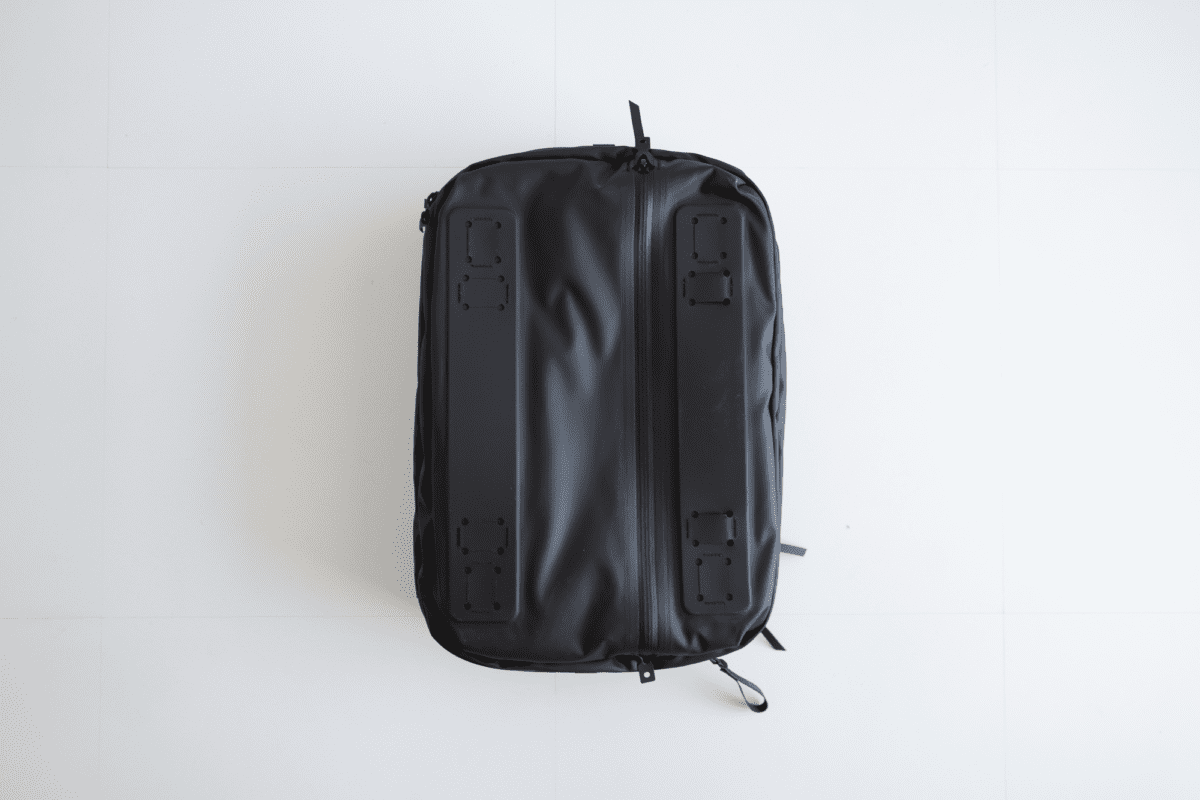 The "noisiest" part of the exterior is around the sides where there is an array of zippers. There are technically three rows of zippers but because they are packed so closely together, the bag looks a little messy when observed from the top.
The Forge, unexpanded at 20 liters, is compact, and a great size for an everyday carry for my 6 ft frame.
However, at 30 liters, the backpack expands outwards about three to four inches. Even though the expansion is not significant, it gives off the undesirable turtleshell look. Because the expansion fabric lacks structure, it slops like an accordion depending on how you pack.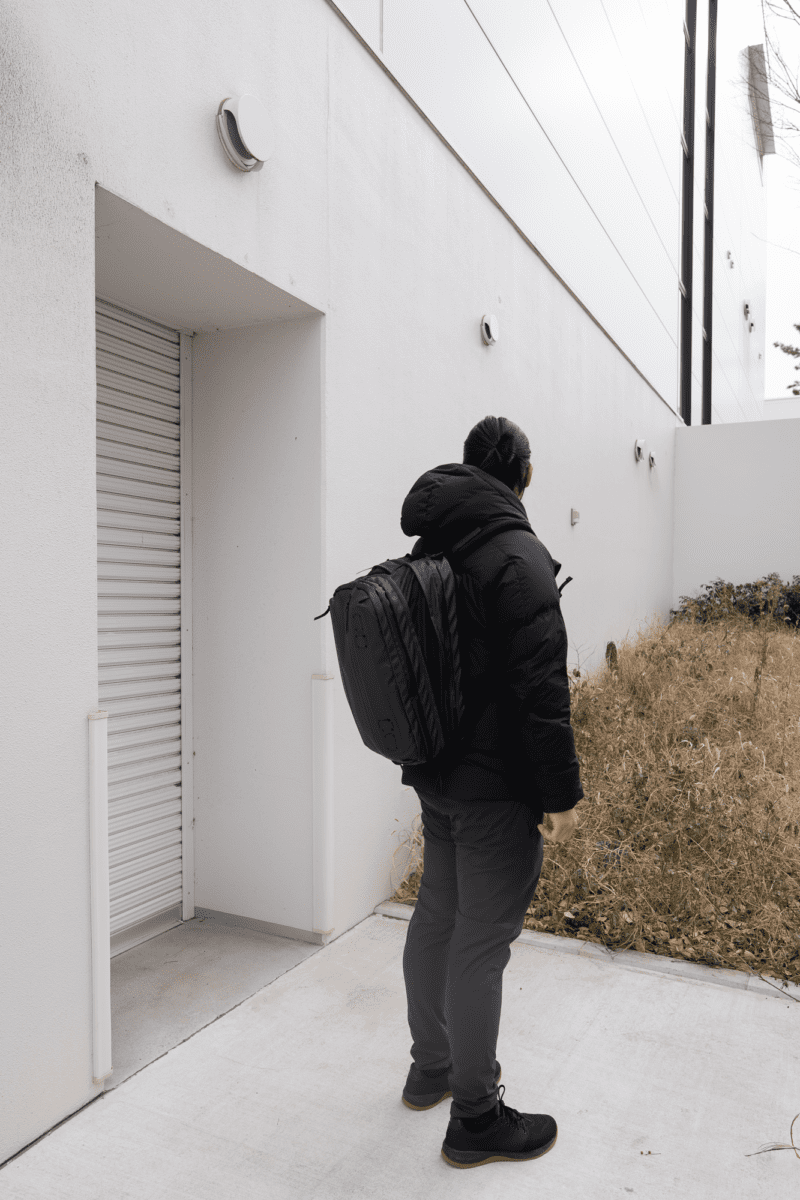 If I were to nitpick, the mesh fabric of the shoulder straps brings down the premiumness of the adjacent materials and somewhat cheapens the overall aesthetics for me. I would have preferred if they used something like ballistic nylon to keep the light sheen and texture closer to the main material.
Material
Black Ember goes above and beyond in the materials department. Let's go through them one by one.
800D 3-Layer Microhex Textile
(Note that this material is no longer available and has been replaced by 750d Cordura)
The main material of the backpack is an 800d, 3-layer Microhex textile. The textile is laser cut, which explains the all-around clean finish.
The "d" in 800d stands for denier. Denier is a unit of measurement as a relative indicator of the thickness and diameter of yarns used in a fabric. General-speaking, the higher the denier count, the more abrasion resistance the fabric will be.
One might be tempted to simply compare denier counts when looking at materials. After all, 800d is lesser than 1000d Cordura on the GORUCK GR1 or 1680d ballistic nylon on the TOM BIHN Synik 30.
However, I would not recommend using denier count as the sole deciding factor. A variety of factors like weave, fabric type and weave density contributes to abrasion resistance. Although understandably, it's not realistic for a layman to reliably assess all these factors so it's useful to know that most backpacks above 600d will be enough for most travelers.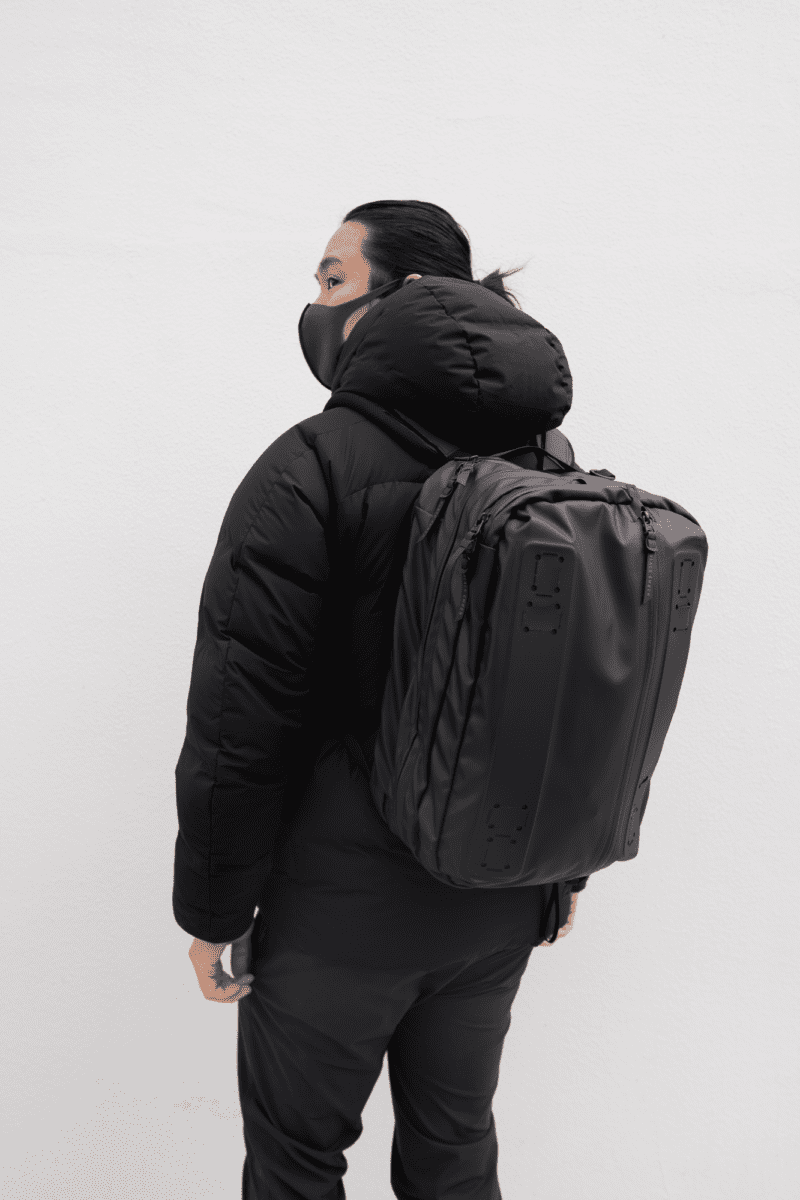 This textile is the same one used on the Citadel Minimal Backpack. Along with the AquaGuard zippers, the backpack is built to resist water like no other. It's one of the few backpacks I have no problem walking in heavy rain with.
Apart from my personal experience, it's hard to find more information on Microhex fabric as the only other brand I could find using it is an obscure brand called Osaka Owl.
YKK AquaGuard Zippers
Given how far travel backpacks have some, it's almost without question that YKK zippers are used. These zippers from Japan are the undisputed best of the best.
Black Ember takes it further and uses the AquaGuard version, specifically the T108 model with matte film (from what I can tell).
Before you decide to go swimming in your backpack, it's important to note that the zippers are water resistant and not waterproof. If you expose it to water long enough, it will seep in to your backpack.
EVA Foam Shoulder Straps
EVA sounds like a brand name but it actually refers to a type of closed cell foam called Ethylene-Vinyl Acetate (EVA).
Foam comes in open and closed cell type. Foam is usually classified as "open cell" when more than half of its cells are open which is usually more springy since it returns to its original shape much easier.
The reason closed cell foam like EVA is often used on backpacks is because it reduces liquid and gas flow. This helps with water resistance from the elements and sweat.
Maglock Hardware
Maglock is a type of clasp that uses magnets to easily open and close straps. It's similar to another brand called Fidlock if you've heard of that.
Magnet closures have been around for a long time but the meteoric rise of Maglock is largely due to how well designed they are, making it an upgrade on any bag's aesthetics simply by using them.
Usage
There are a few things that needs consideration when you consider purchasing the Black Ember Forge. It looks beautiful but the real selling point is the 3-way transformation.
3-Way
The concept of the Forge is the fact that you can carry it in one of three ways; as a briefcase, a shoulder bag or a backpack.
To me, it's really only two ways, since a shoulder bag is a briefcase that you carry over your shoulders.
Admittedly, I am not the right target audience for this product since I do not swing both ways (or three ways). I am exclusively a backpack carrier but for the sake of this review, I gave shoulder-slinging a go.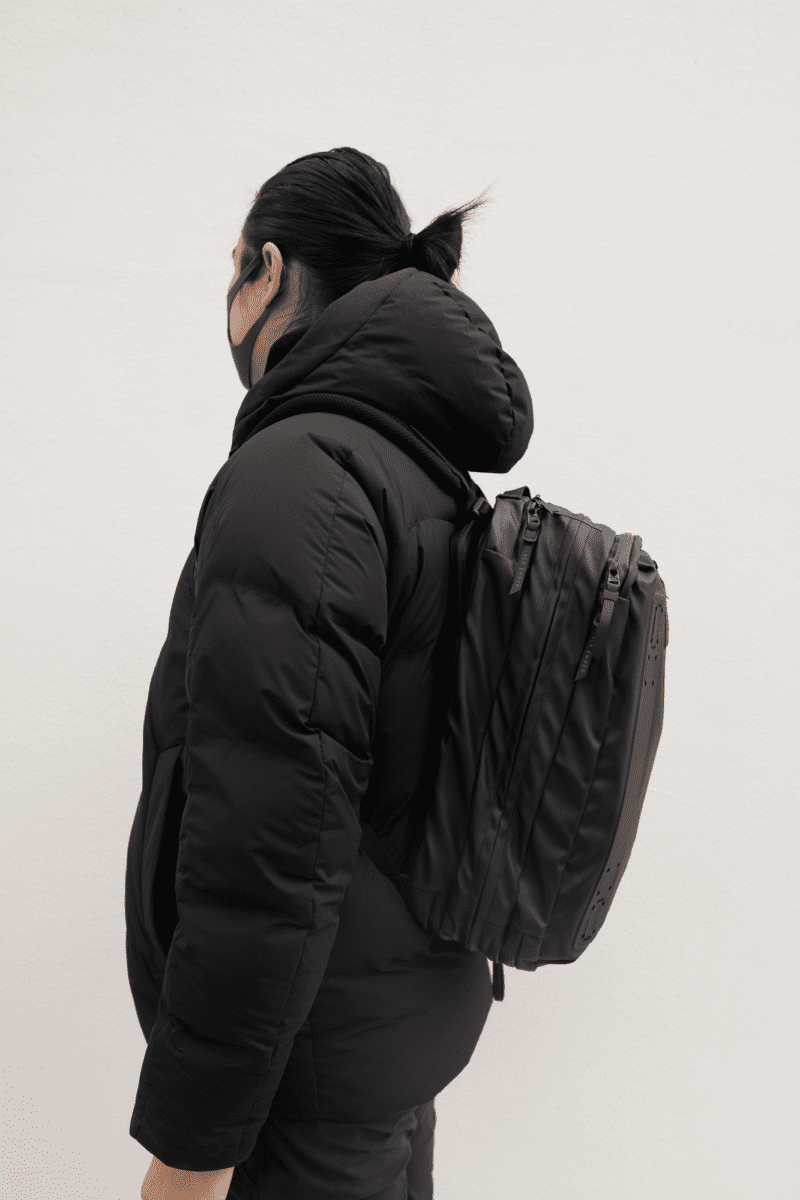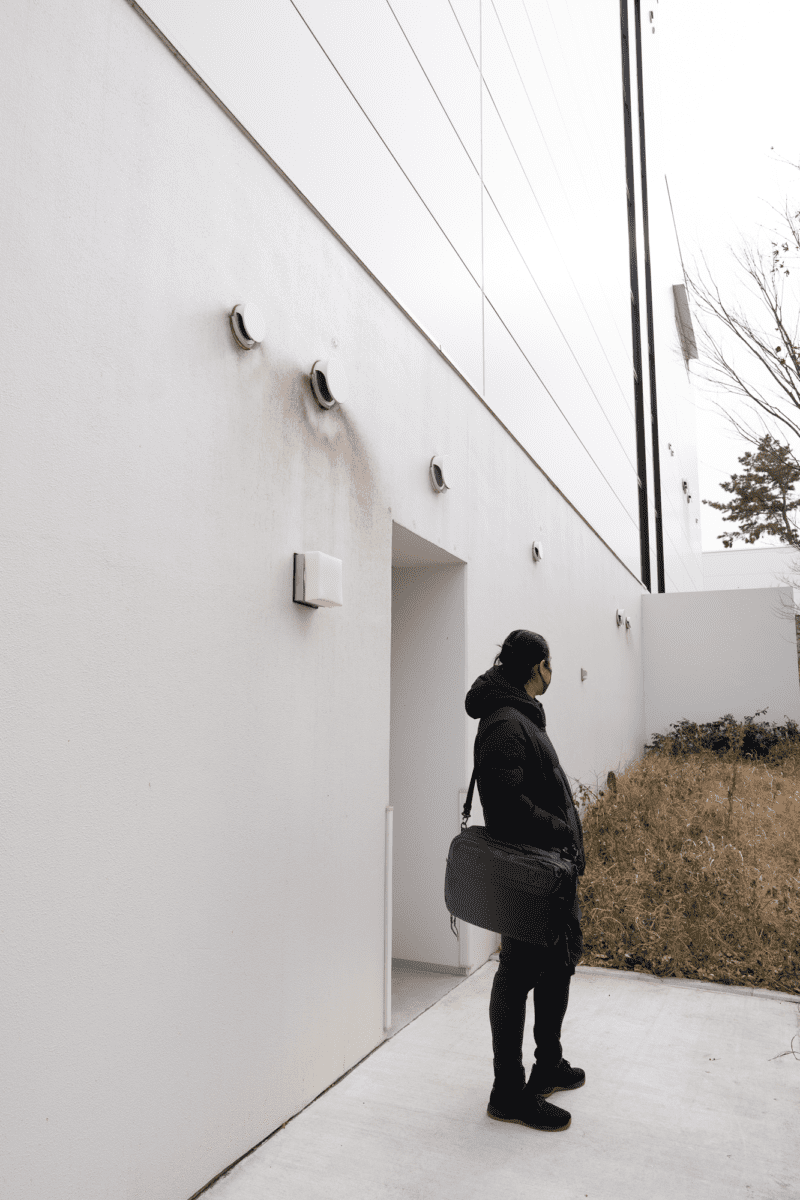 While most similar bags are designed as backpacks that you can use as a shoulder bag, the Forge is the other way round. Looking at the orientation of the internal organization, it's designed as a shoulder bag that works as a backpack.
For example, in backpack orientation, you cannot pull your laptop out from the top as you would with most backpacks. The pocket holding your laptop in the compartment faces one side. This is not ideal for situations such as when you have your backpack under the airplane seat in front of you.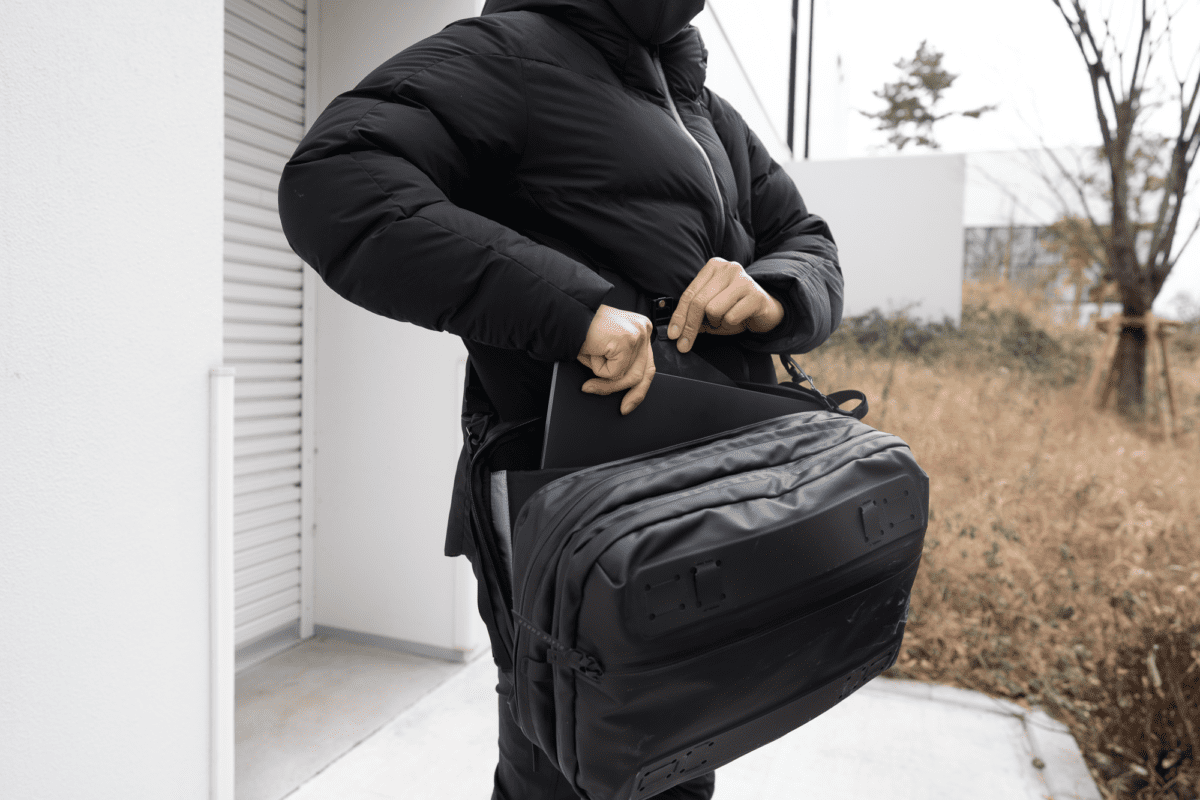 As such, I do not think this is the ideal option for those who want to use it exclusively as a travel backpack. This would be good for those who need to switch between adventurer and office worker, like someone on a business trip who has put aside some time for R&R.
Switching Modes
Switching between the modes is relatively easy.
To switch from shoulder bag to backpack mode, simply detach the shoulder strap and keep it in one of the pockets. I put it in the front quick-access pocket.
To switch it from a backpack to a shoulder bag or briefcase, you would have to tuck the shoulder straps behind some panels. There are specialized compartments for each strap that you can secure with a velcro closure.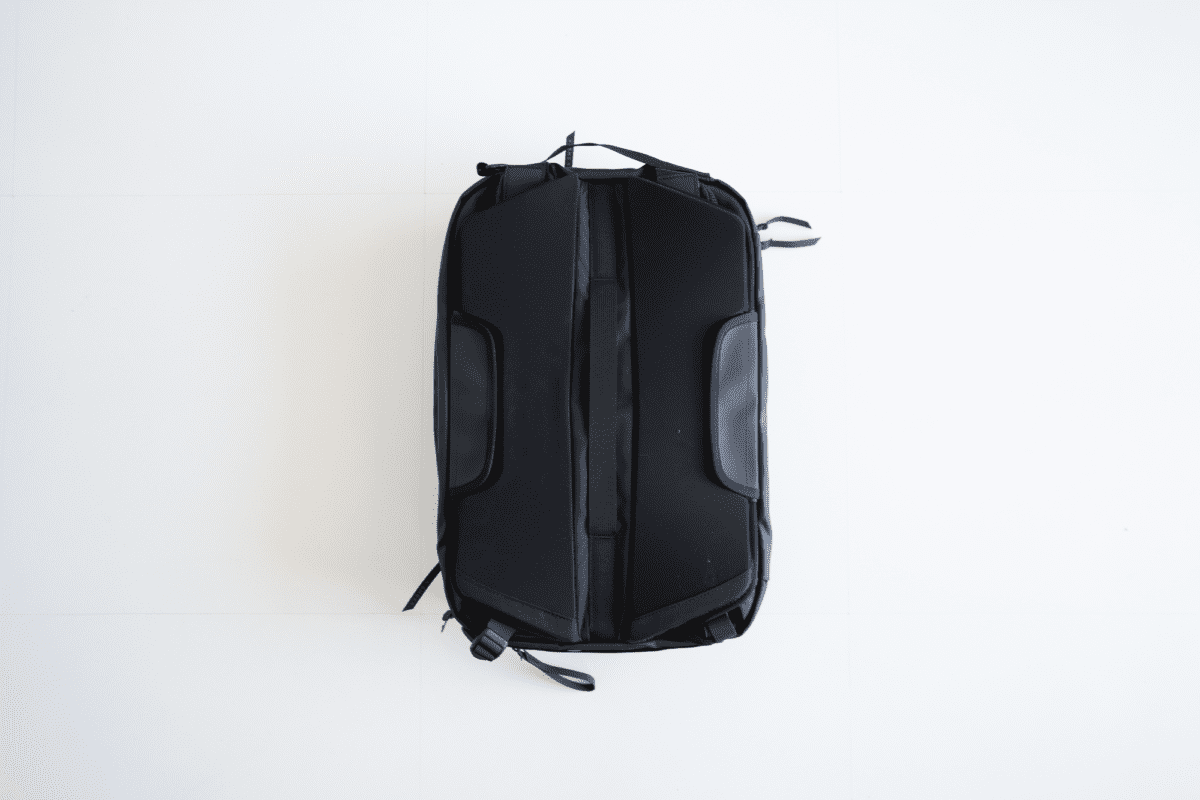 Each time you keep it behind the panels, you would also have to also have to tuck in the bottom part of the straps so it looks clean and neat. Unfortunately, the straps cannot be completely tucked in at the bottom, making the pack look less minimal than I like.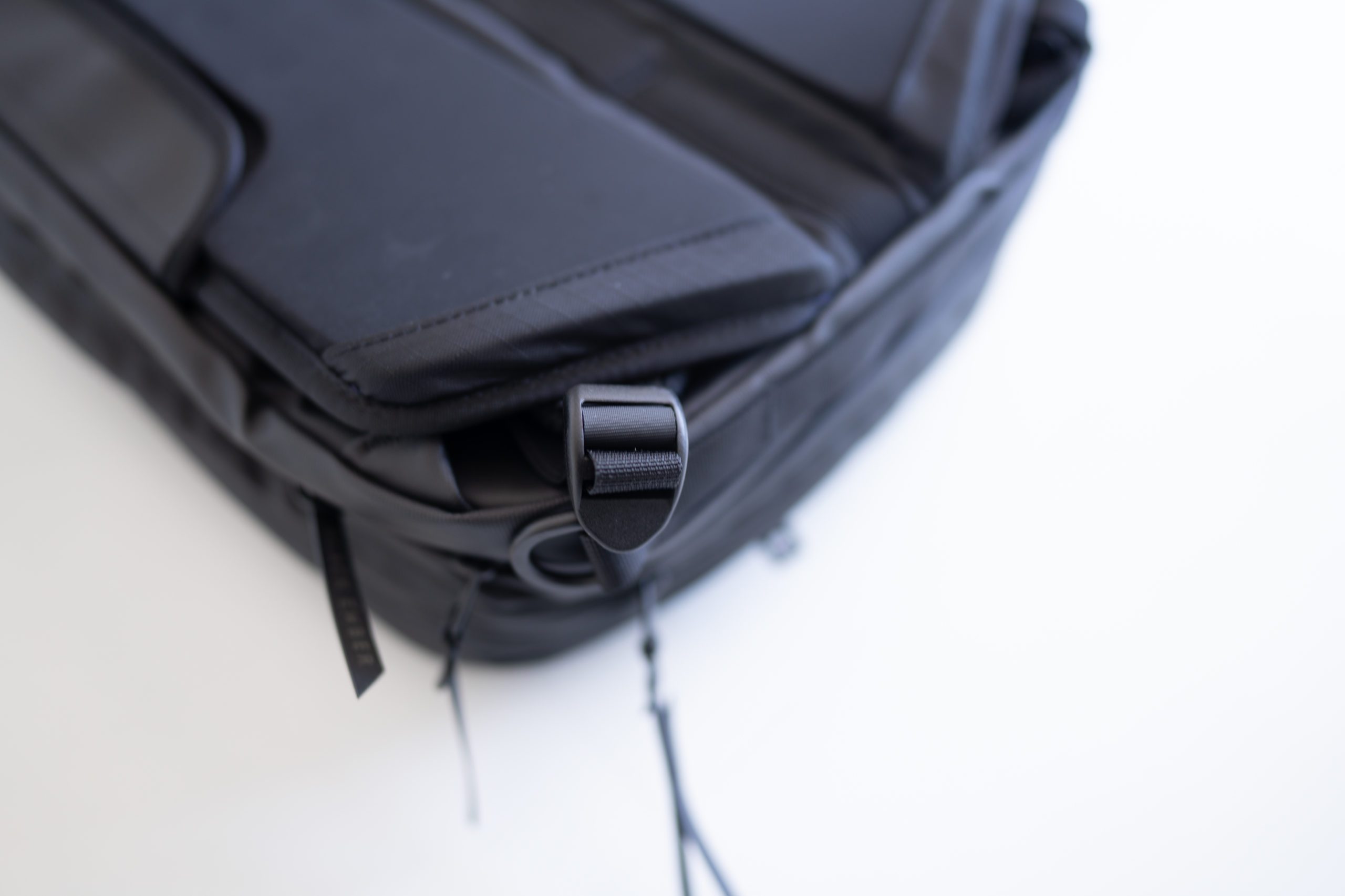 In briefcase/shoulder bag mode, you cannot tell that it can double as a backpack. The only hint that it can also be worn as a backpack is the handle on the side that can't be detached.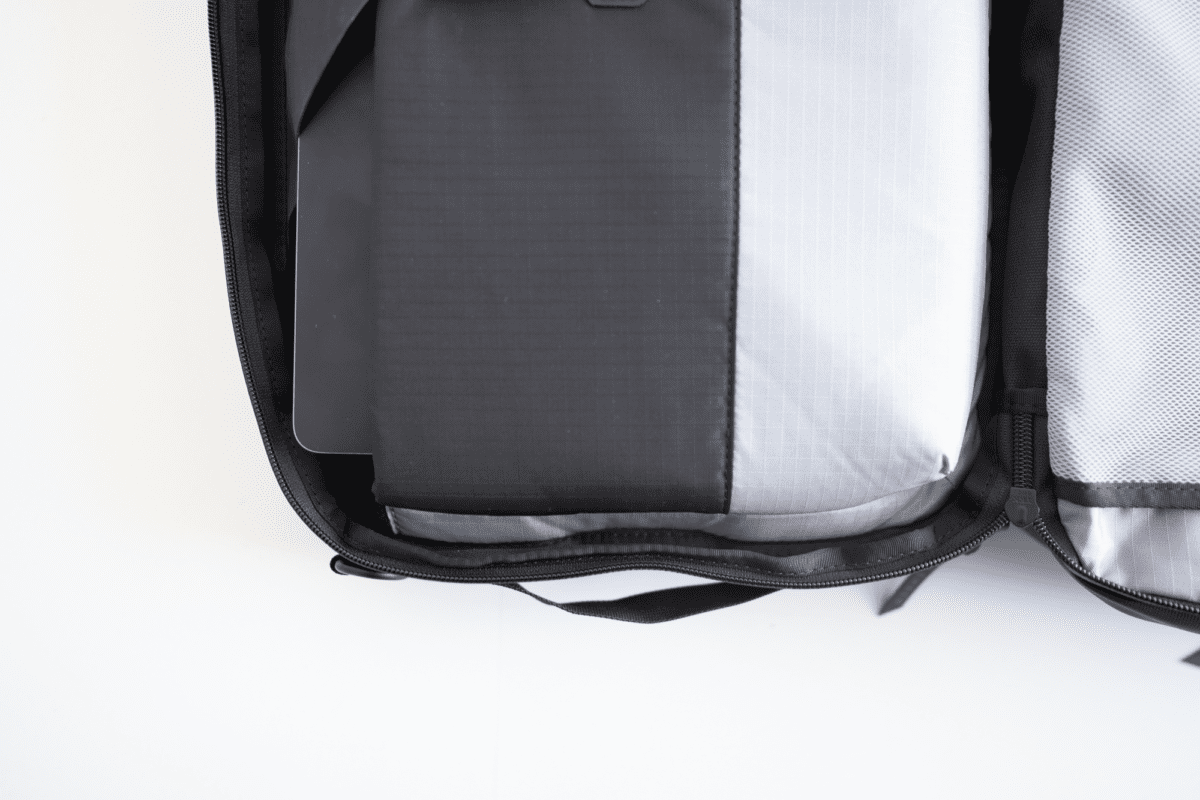 Compartments
Let's quickly go through all the different compartments the bag comes with
Front quick-access
The vertically-zippered compartment on the front has
Three equally-sized mesh slots that goes across the length of the compartment
Above the three slots, is a mobile phone sized slot white a velcro enclosure.
Three pen slots
A Maglock detachable key loop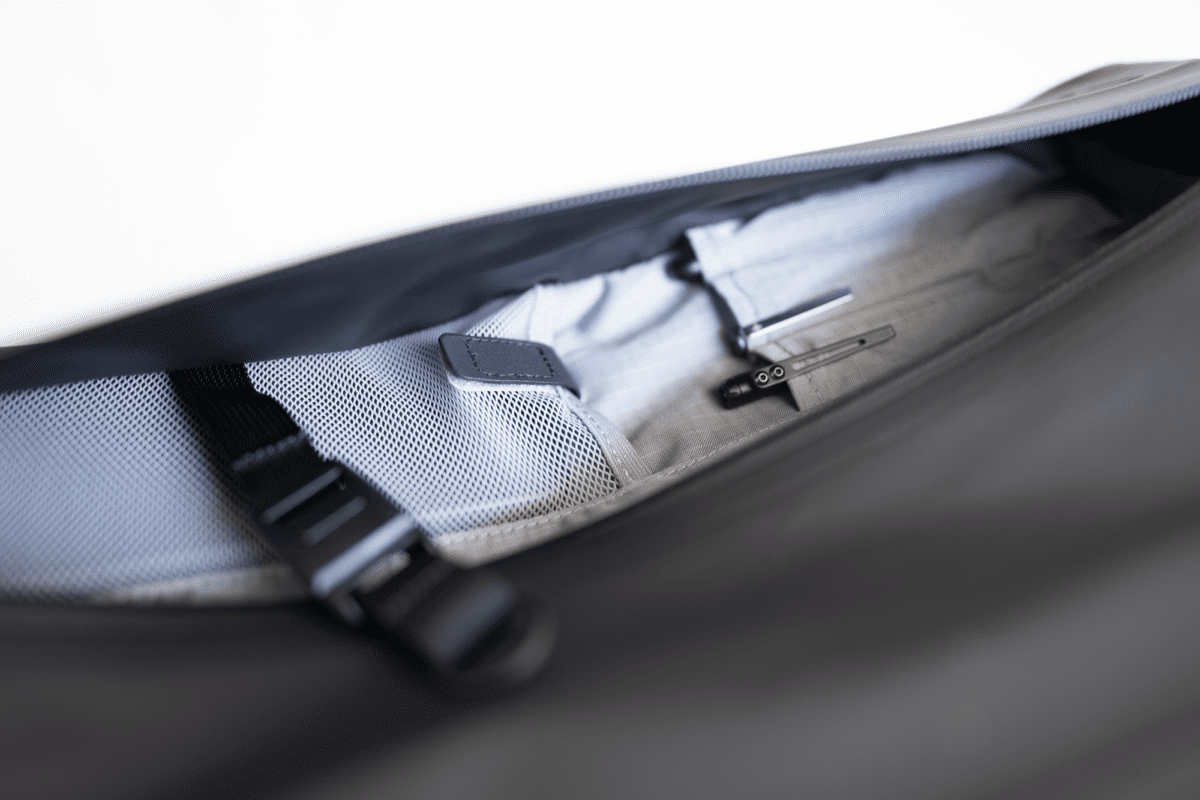 Main compartment
The main clamshell compartment has a pleathora of internal organization.
3D padded device slot
Behind the padded slot, a zippered slot that takes up the entire face area
In front of the padded slot, are two equally-sized slots
On top of those slots are zippered mesh pockets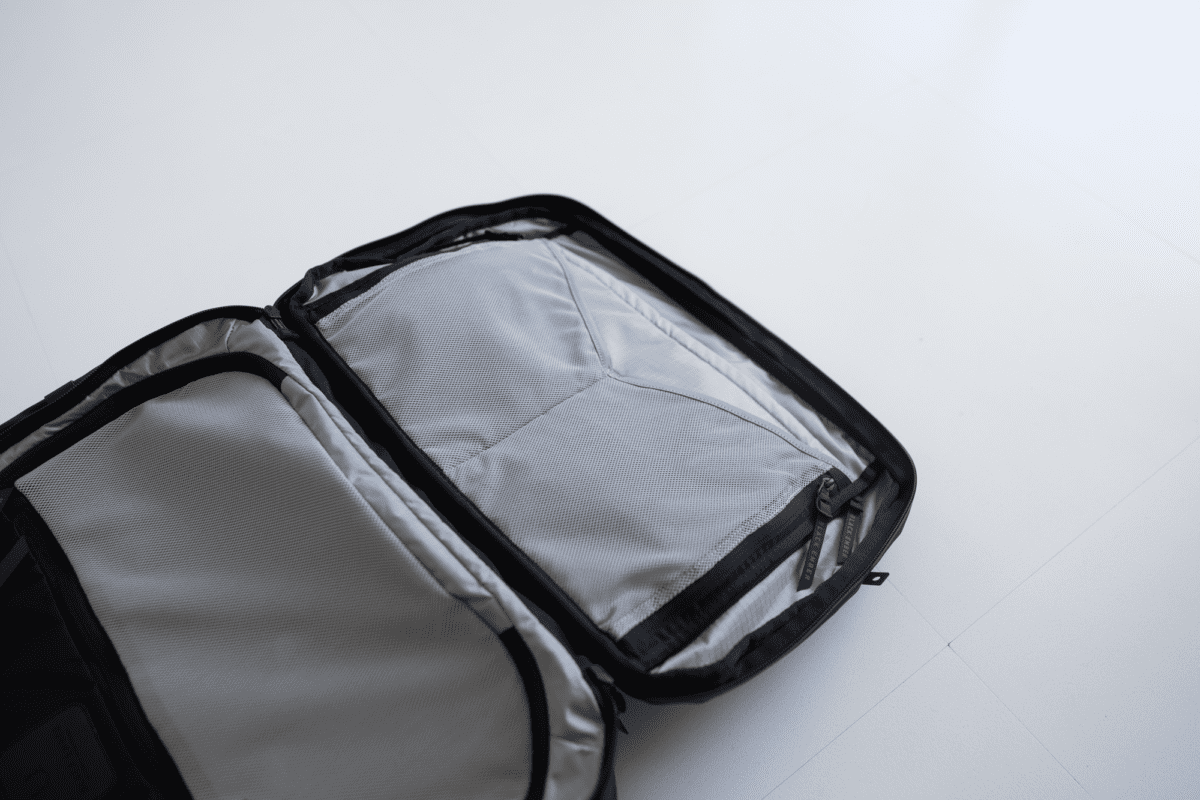 A zippered divider that exposes the expandable compartment of the backpack
A zippered mesh pocket on top of the divider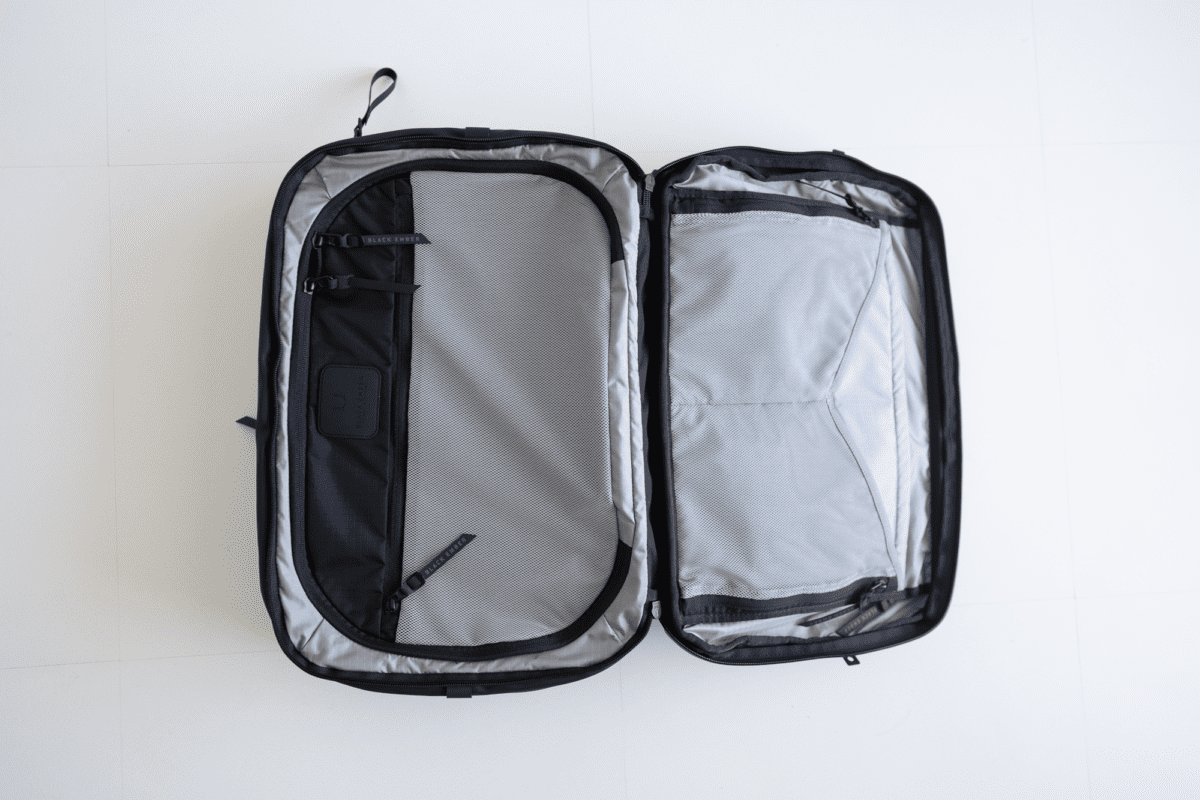 Laptop compartment
A felt-laced, padded laptop slot with a Maglock clasp
A zippered mesh pocket on the other side
Front-Access Compartment
I love the position of this compartment as it's easy to access whether you are carrying as a backpack or shoulder bag. When carrying it as a backpack, I often hang it on one shoulder (you can only hang it on your right shoulder) to easily reach for my stuff.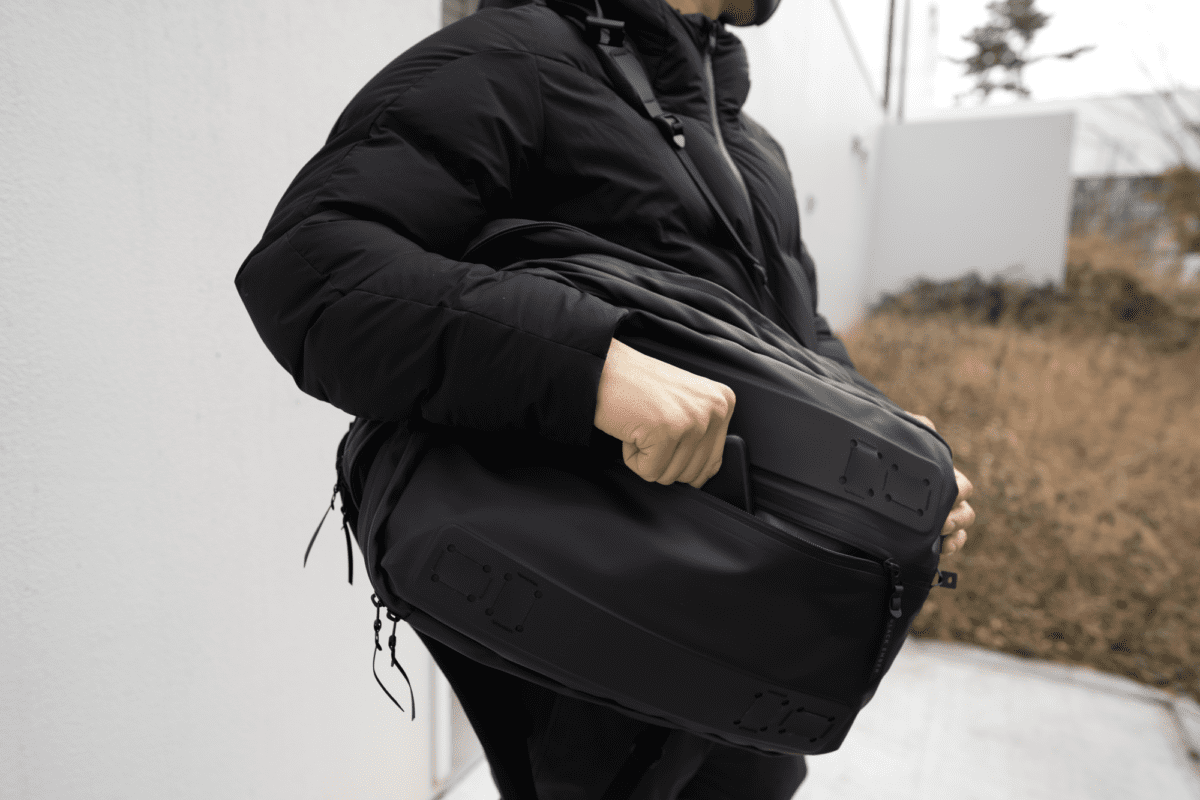 As such, I do not have any issues even with the internal organization orientated for briefcase-mode access.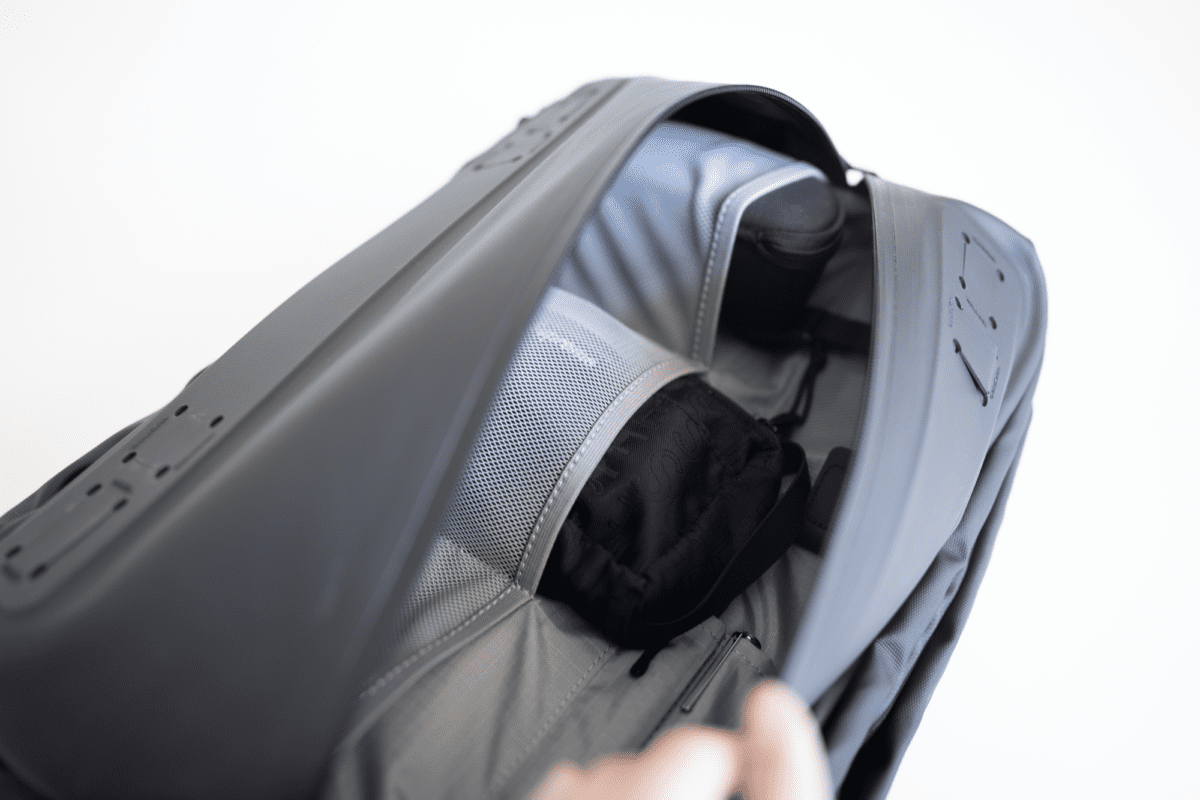 One worry I initially had was with how the smartphone slot was upside down when in backpack mode. Even with a velcro clasp, I was worried it would fall out before I could fasten it. However, I'm glad that the elasticity of the slot opening is tight enough that my iPhone XS Max doesn't fall out once you push it all the way in.
The only complaint I have is how the compartment is pretty flat (similar to GORUCK's front pocket) and you would not be able to slip your phone in and out easily. This is especially so if you don't unzip fully while doing so.
Main Compartment
The expandable compartment is arguably the most intriguing compartment of the bag. It unzips (in the middle of the laptop and main compartment zippers) to open up an extra four inches of depth.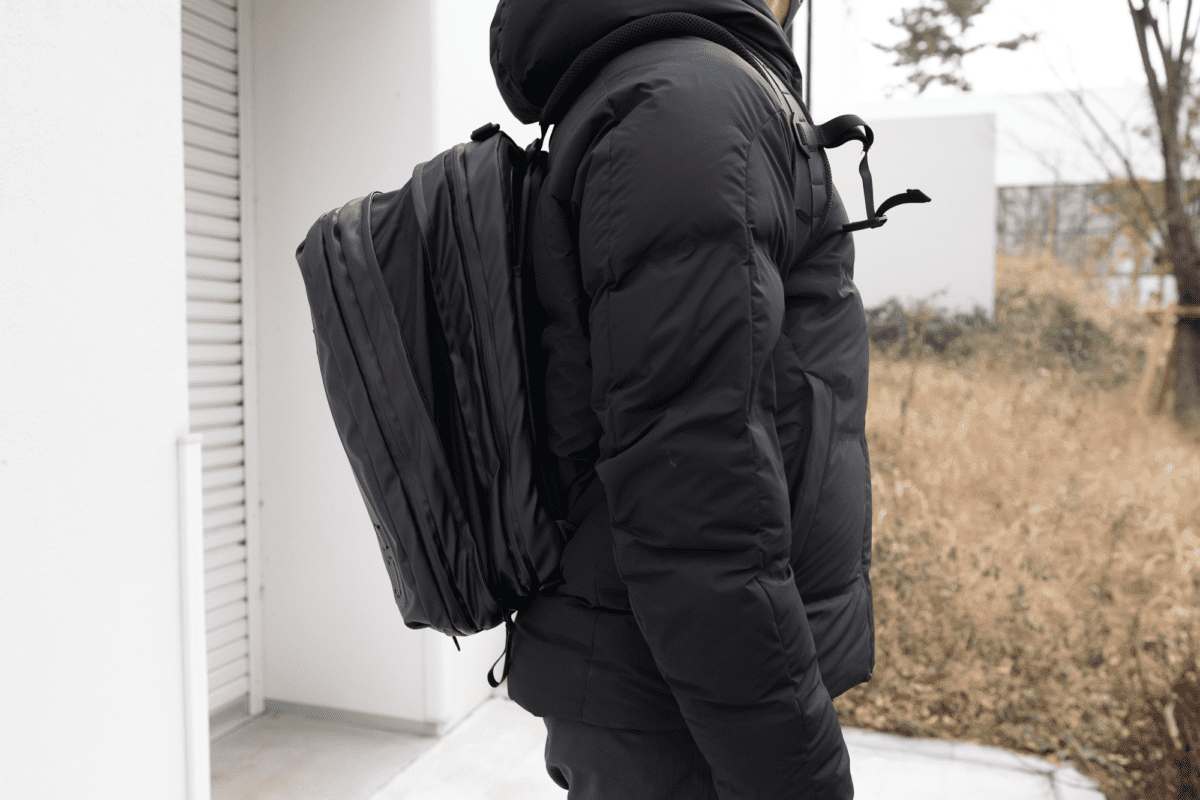 When not expanded, I was able to fit six rolled-up, extra-large Outlier t-shirts. Note that Outlier's extra large are sized like a regular large of most American brands. When expanded, it added enough depth for another layer of six t-shirts.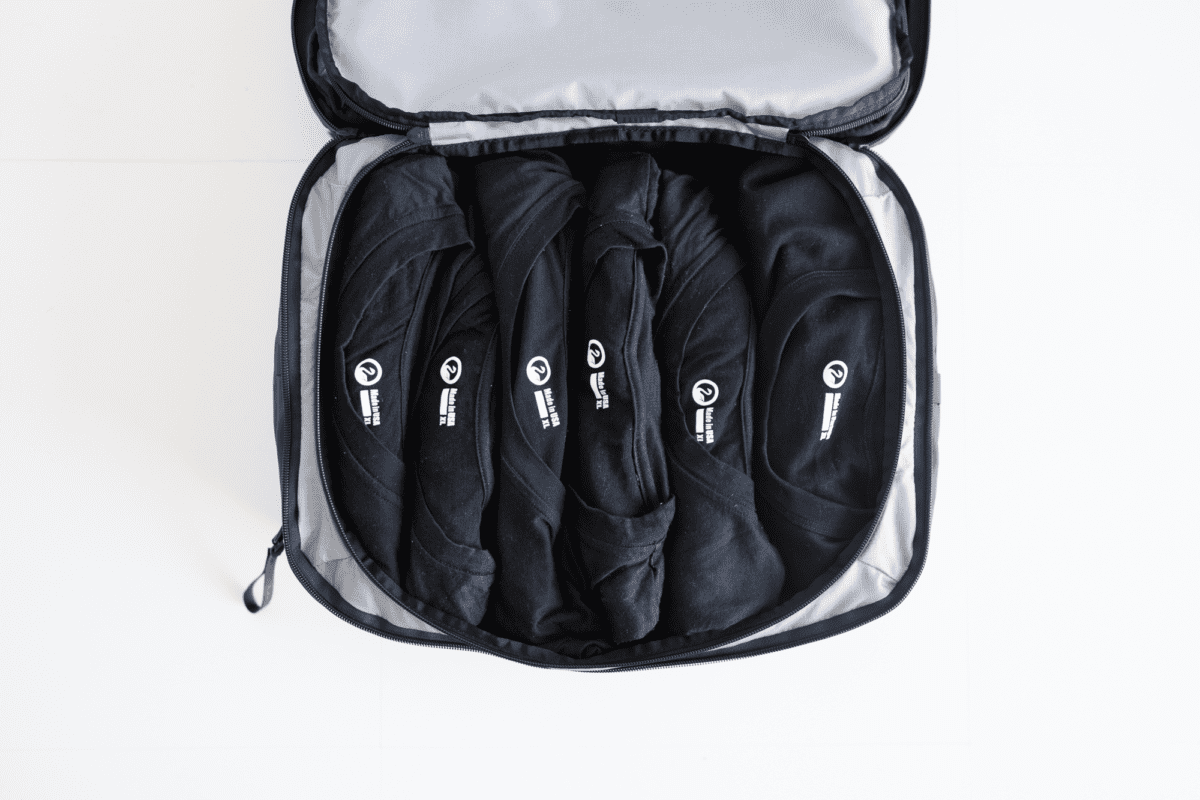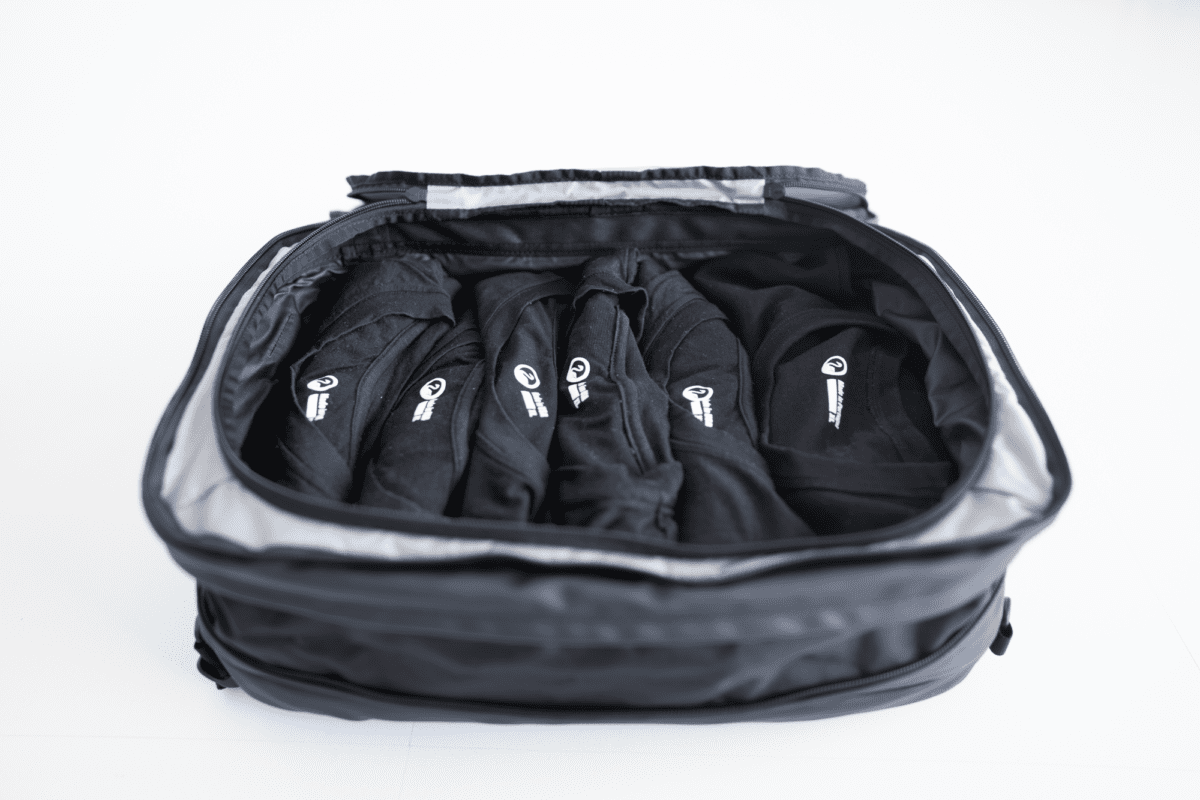 Security Zippers
Given that the front quick-access pocket will give pickpockets a field day, Black Ember has included security zippers. Unlike most security zippers where you can attach a lock, Black Ember opted for a zipper that makes it harder to access your bag, but not impossible to.
As the end of the zipper, there is a little housing you can pull it through and a smaller hole that you can then string the zipper pull through. This significantly makes it harder for anyone to just unzip the bag without you noticing.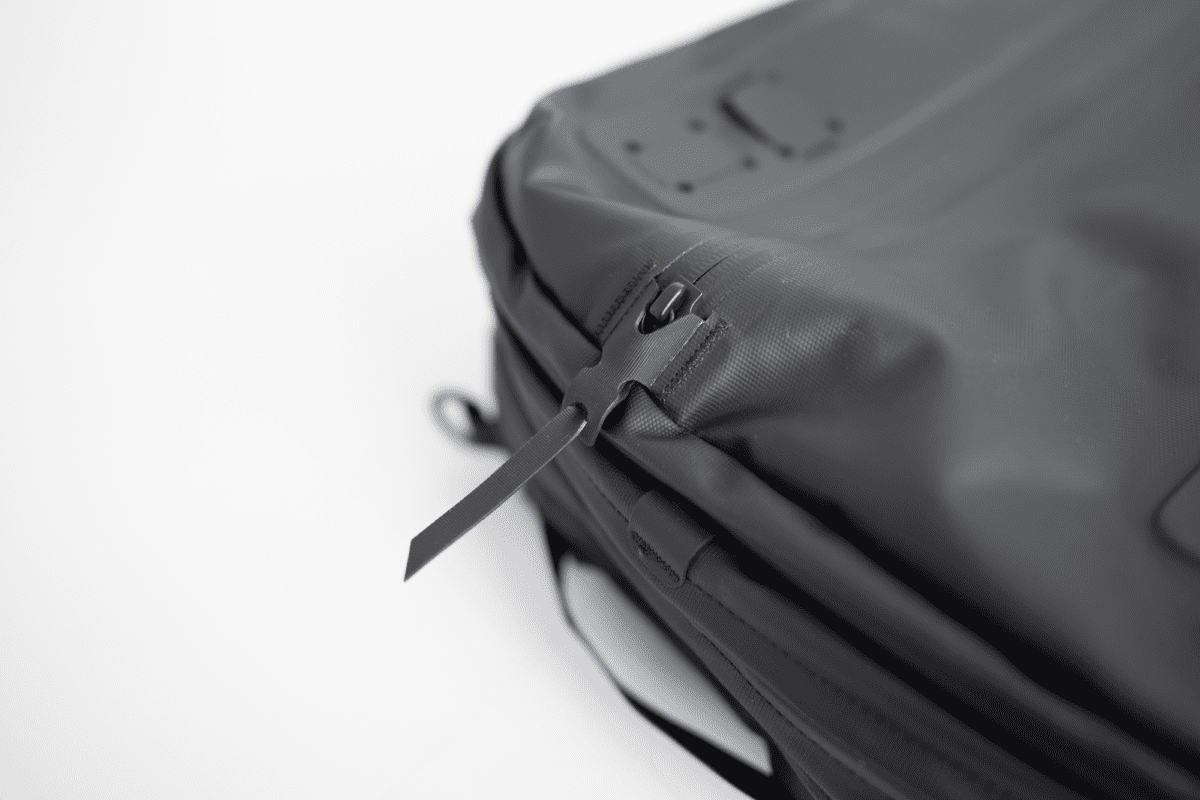 On the flip side, this makes it much harder for you to access the quick access pocket and defeats the purpose for me.
I would have preferred if they had made the zipper hidden at the side or something smarter which doesn't compromise the quick accessibility, instead of this mechanism.
Laptop Protection
The laptop protection is a feature worth mentioning. It is suspended from all sides, is laced with felt to protect from scratches and has padding on all sides.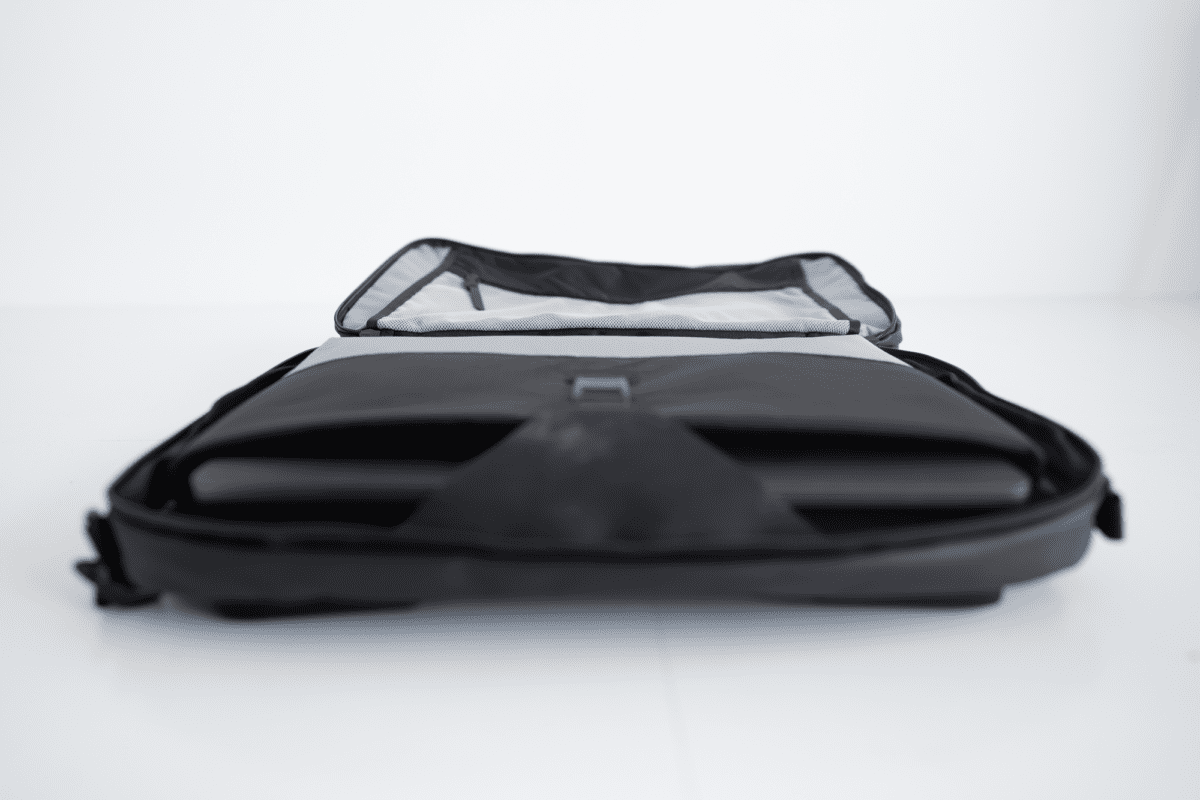 It is spacious enough to fit my 16-inch MacBook Pro, but snug enough so laptops don't move around in it. I feel safe enough to carry my overpriced laptop without my TOM BIHN Cache.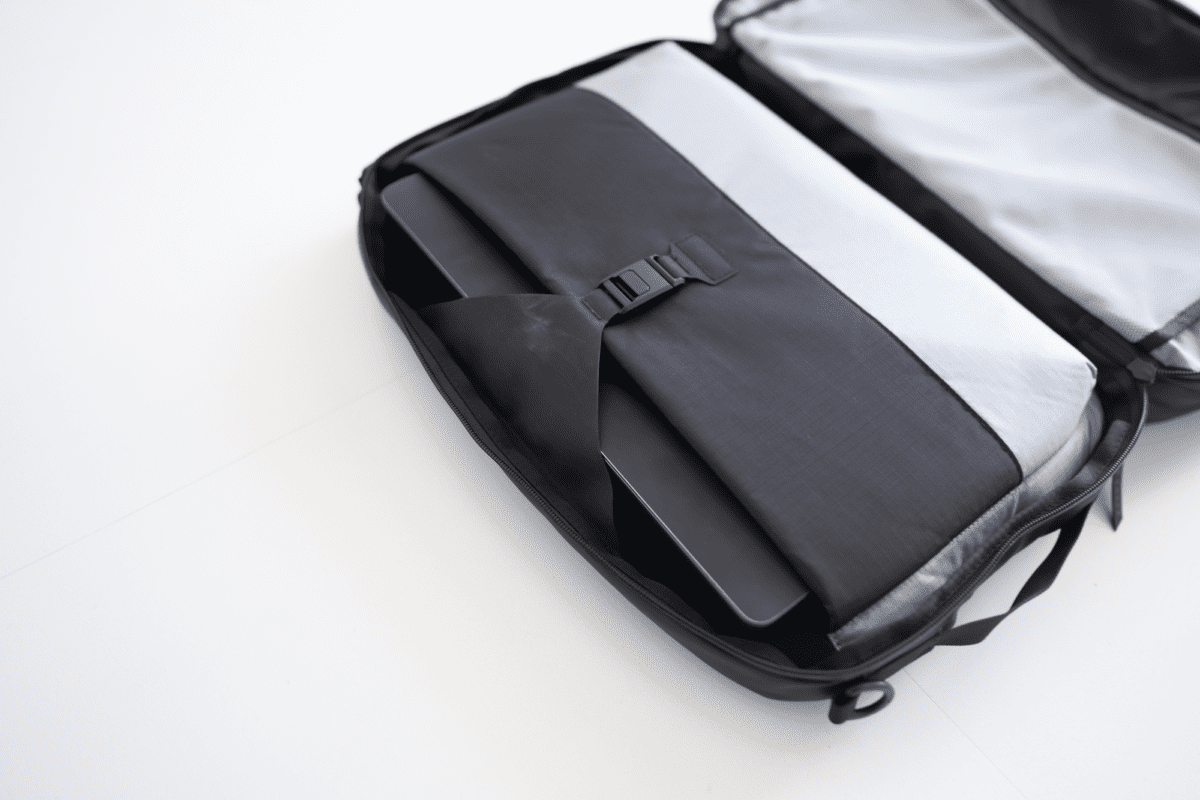 The only complaint I have is that the laptop can only be accessed from the side (or top in briefcase mode). Most of the organization on the bag looks to be designed for shoulder bag/briefcase mode. I thought they could have allowed the laptop to be accessed from two sides.
Durability
I haven't used the backpack long enough to be able to report on if it'll hold up, but if my experience with the Citadel Minimal Backpack is anything to go by, I have no concerns.
The face fabric, however, catches dirt easily. Put in down on the ground and you can almost expect there to be white marks on it. Luckily, the fabric also allows the dirty to be dusted off easily. The worst marks can usually be eradicated by wiping with a damp cloth.
Conclusion
This is an all around excellent bag, as expected of Black Ember. However, there are little details like the security zipper and orientation of organization that isn't ideal for a onebag traveler.
This bag is best for those who have to switch between business and play mode. Those who still want something as sleek but prefer a backpack-only experience, might want to consider the Black Ember Citadel Minimal Backpack instead.
Additional Images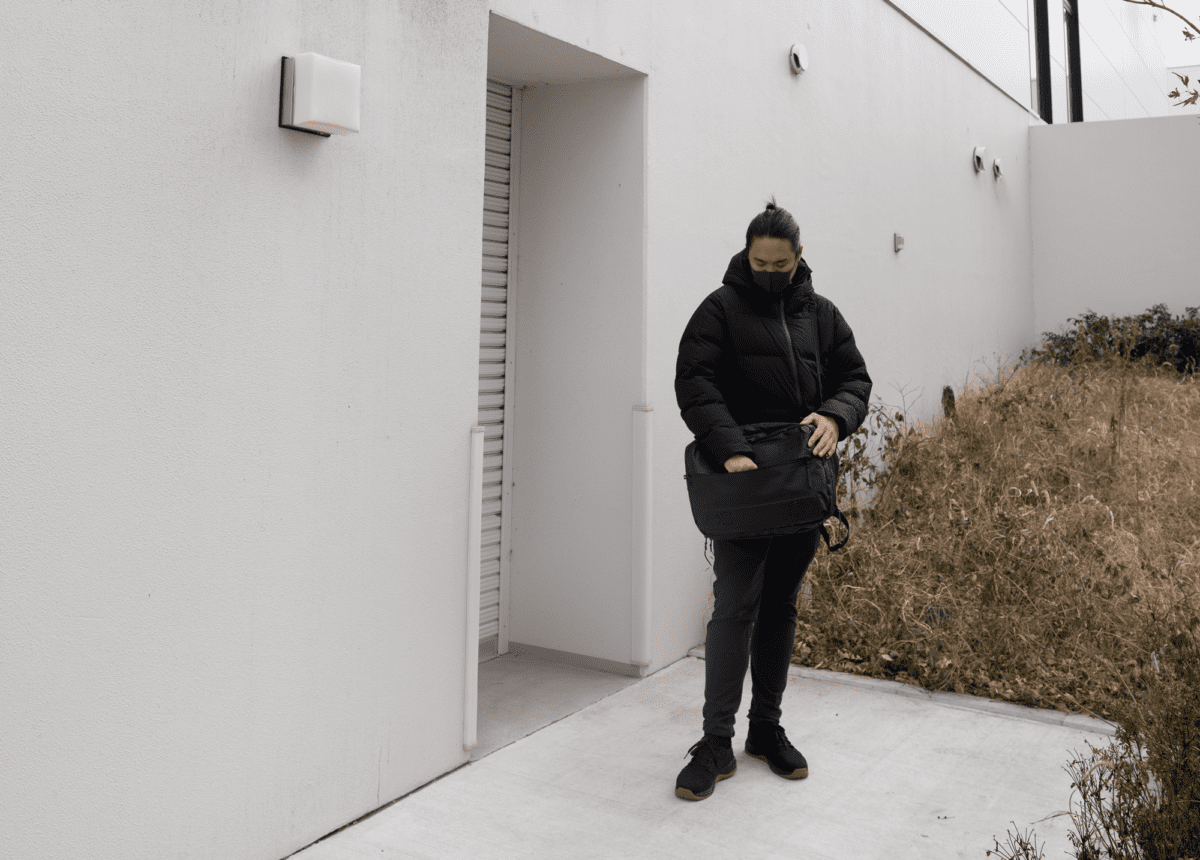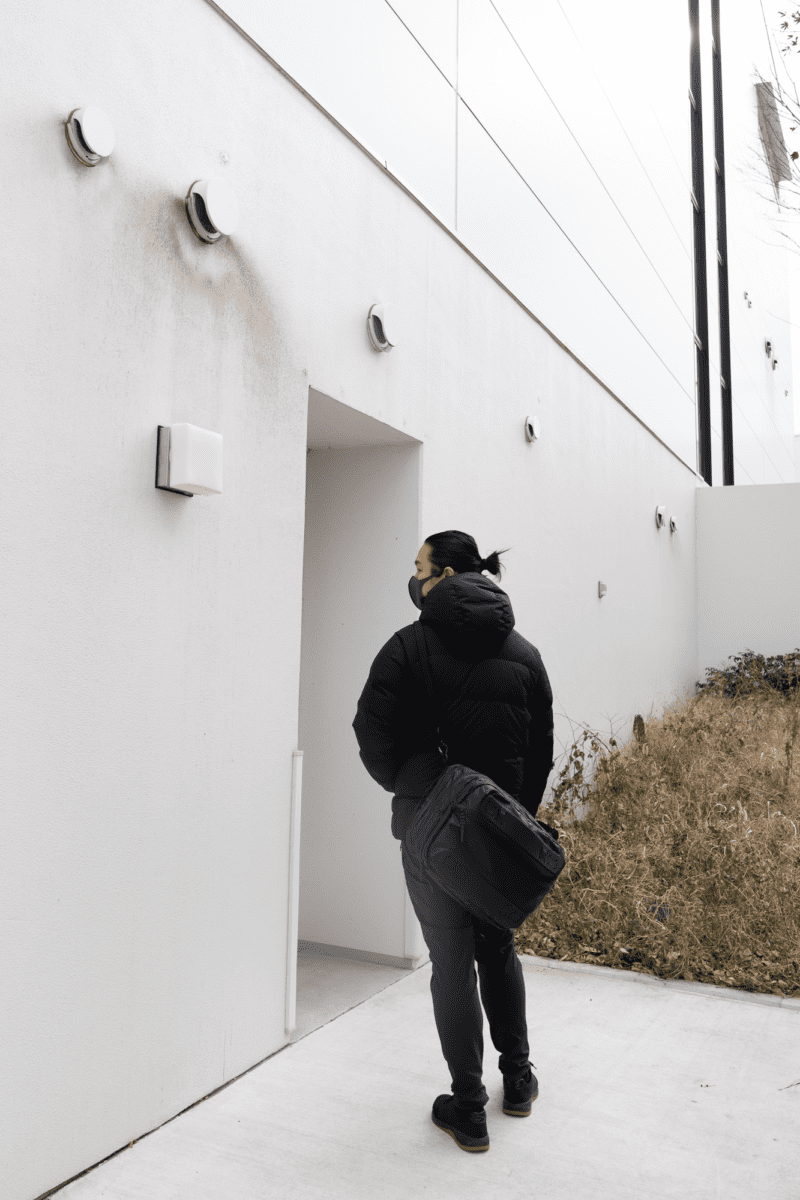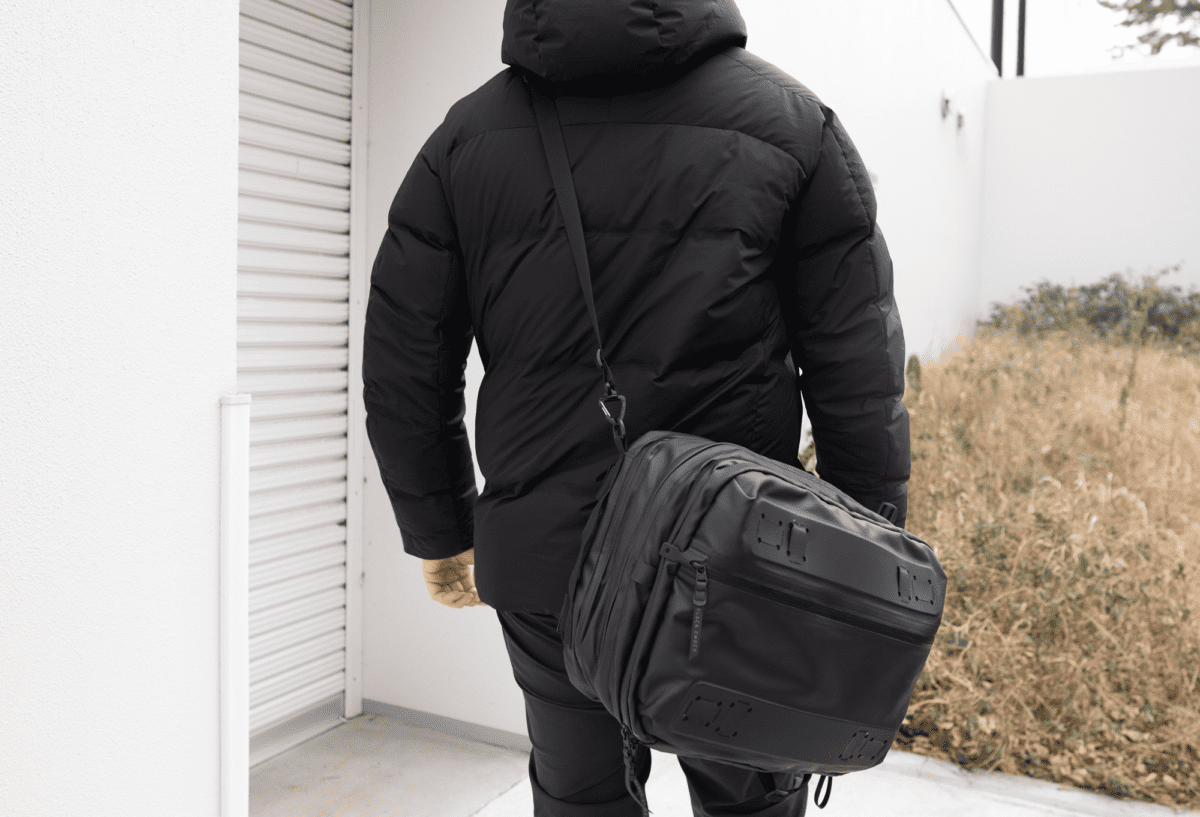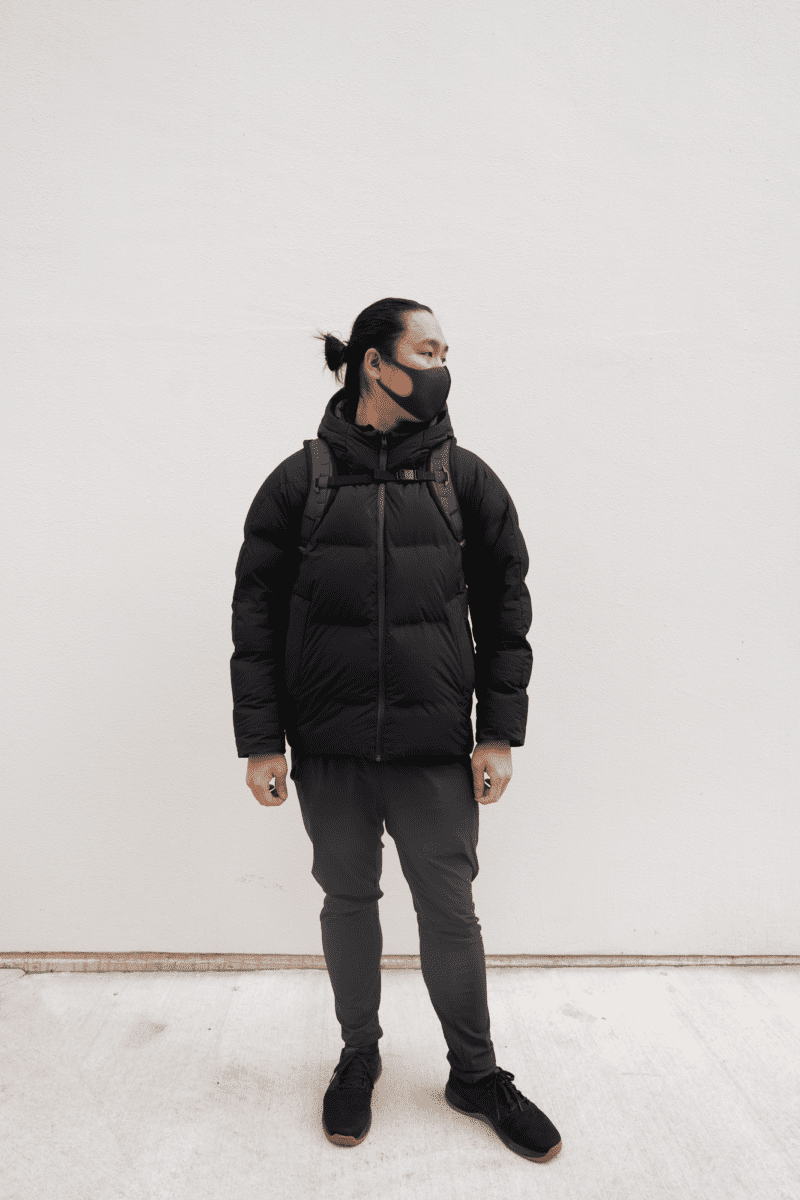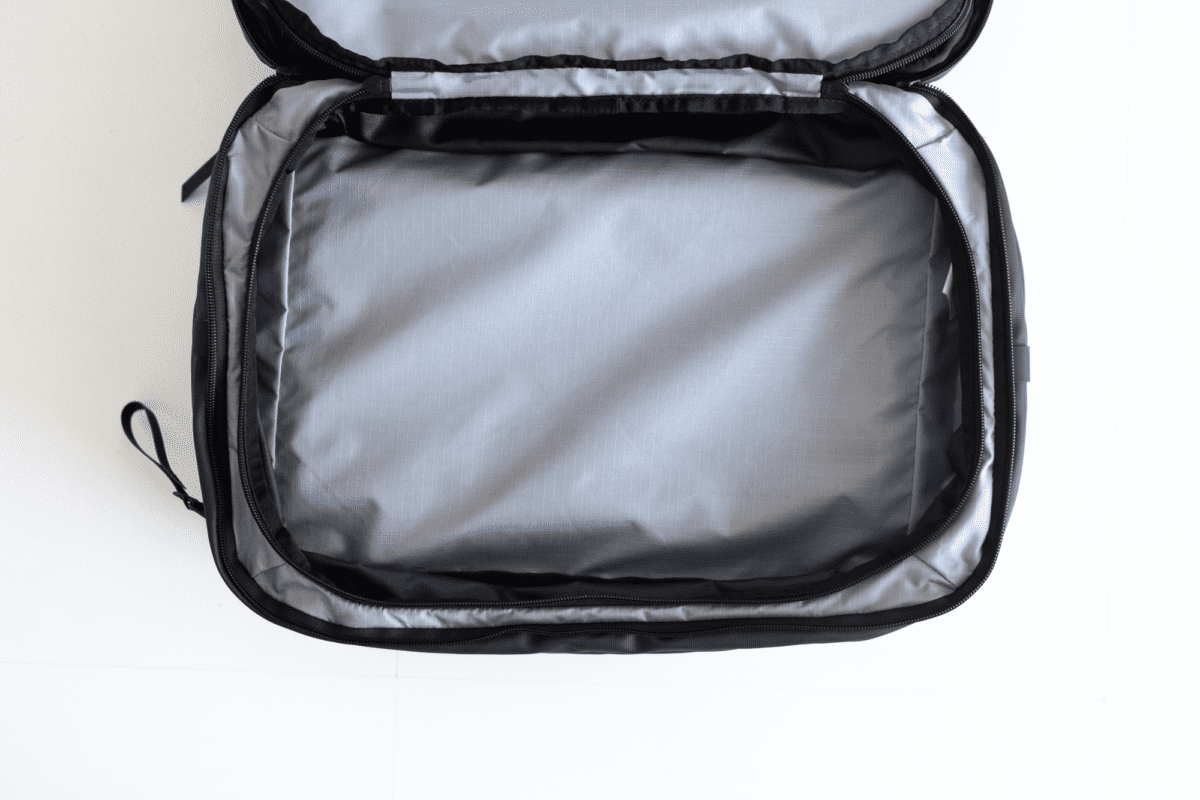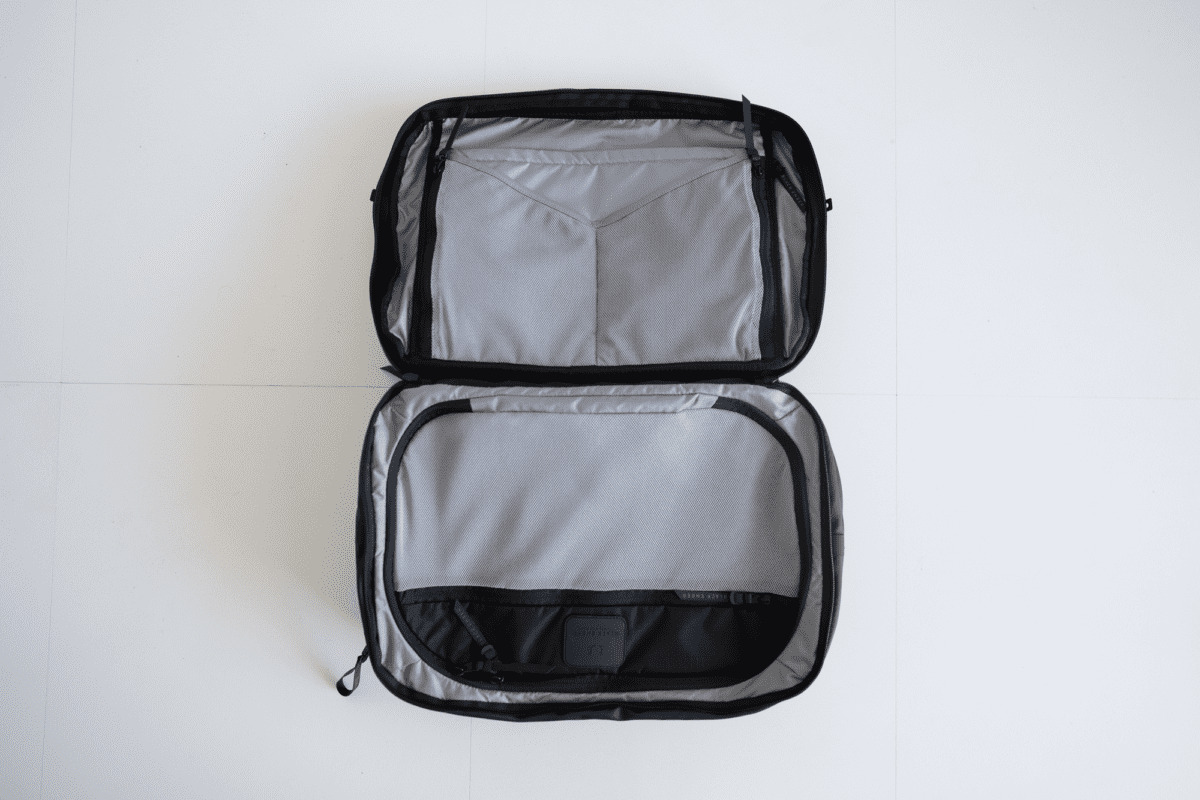 Like this review? See all of my in-depth reviews.
Also, consider supporting me by being a Patreon. Every cent given will go back into improving the content of this website.