This website is made possible by readers. I may earn a small commission when you buy through the links in this article at no extra cost to you. Learn more.
To be perfectly honest, Yu Yu was the last option when selecting a place to stay on my trip to Zamami, Okinawa. I don't usually mind poorer sleeping conditions on a trip if it means I could reduce the budget, but given the summer holidays, all other cheaper guesthouses were full booked.
Heading to Yu Yu right after arriving on the island, the guesthouse was ridiculously easy to find. Only about 5 minutes walk from the pier, you can easily spot the guesthouse from the outside. Yu Yu has live-sized, albeit poorly-crafted figures of some of Hayao Miyazaki's characters like Totoro and the Iron Giant. I didn't ask why. The mother of this family-run guesthouse received us, checking her handwritten reservations notebook. She asked what time we would like breakfast to be served and brought us to our Japanese-styled room on the first floor.
Your room comes with no keys, so you can only lock your doors when you are inside. Lucky for you, theft is not really a big concern in Japan, especially in small islands like Zamami. Yu Yu is relatively clean but not spotless, but good enough for a comfortable night of sleep. If you are on the first floor, kids running on the wooden floors, past the halls will wake you up. As most guesthouses in Okinawa, the WIFI is weak. Your Netflix streams will take intermittent loads.
A stay at Yu Yu comes with scrumptious breakfast each morning. There are 4 shared shower stalls for all guests. You can also do you laundry (laundry powder included) in one of the two washing machines and hang them up on the clothes line around the guesthouse. You can choose to eat dinner in Yu Yu too at a very affordable extra charge. I would recommend you to do so given eating out on the island will give you much less value. The food is very tasty at Yu Yu and the portions are very generous.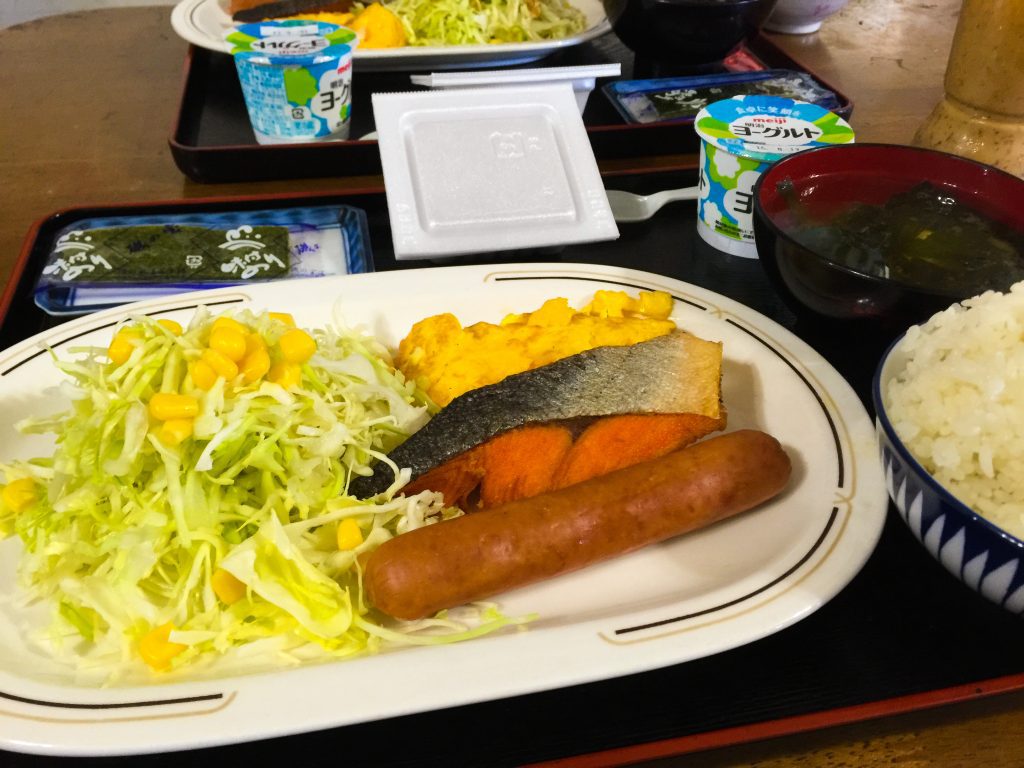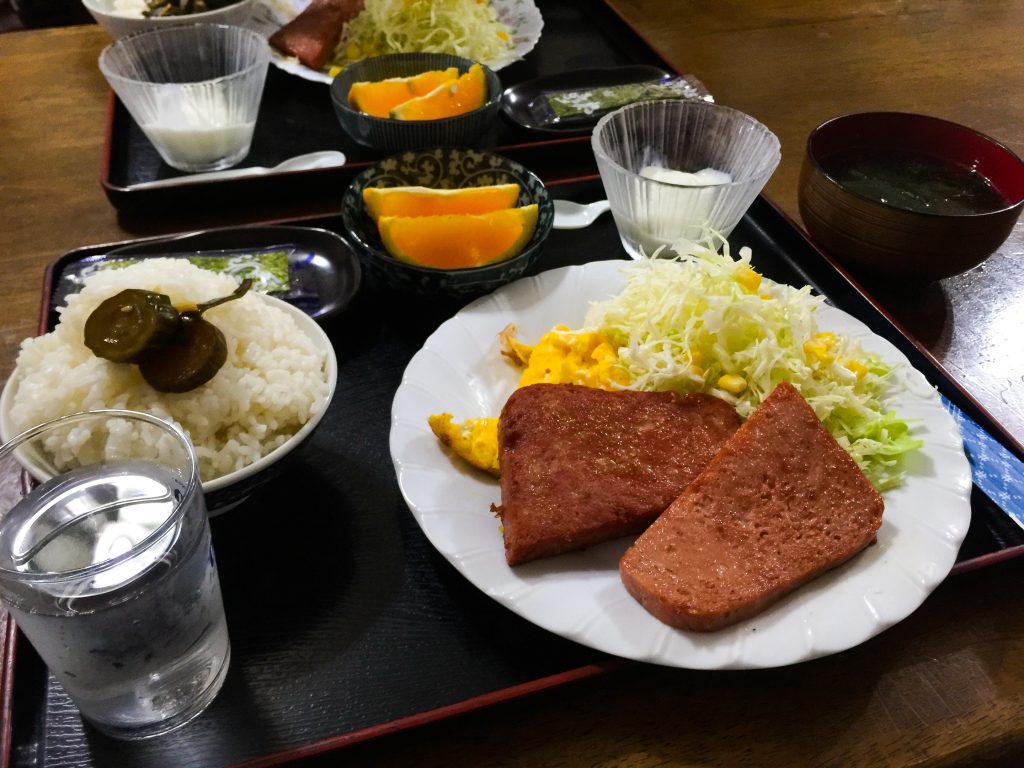 If there are 2 to 5 of you, the cheapest way to get around the island aside from walking is the get a ride from Yu Yu at ¥500 for a one way trip to either one of the two trips. A bus ride for one would cost ¥300, takes quite a while to arrive if you missed one and you would not be boarded if you are still wet from frolicking in the sea. My advice is to keep Yu Yu's number on your phone and give them a call when you are done with your beach activities and they will pick you up.
If you have ever been to Zamami, the island gets pretty boring after the sun goes down. You can hit one of the local izakayas for a drink or just stay in Yu Yu for probably the cheapest draft beer around at only ¥300. An average glass anywhere else around the island would cost you ¥600. You can only order from Mamoru-ojisan, a healthy looking granddad almost always in a tank top and his signature panama hat. He ran out of draft Orion beer and gave me another brand of beer for ¥200. When he ran out of that, he offered a glass of shochu and refused my money for that. He then proceed to show us magic tricks and riddles using chopsticks. Before heading out for a pickup, he challenged me to a round arm wrestling and beat me. We spend a little while more playing with the son of the owner, who was watching television with us and acting all silly. You won't get such an experience in a hotel for sure.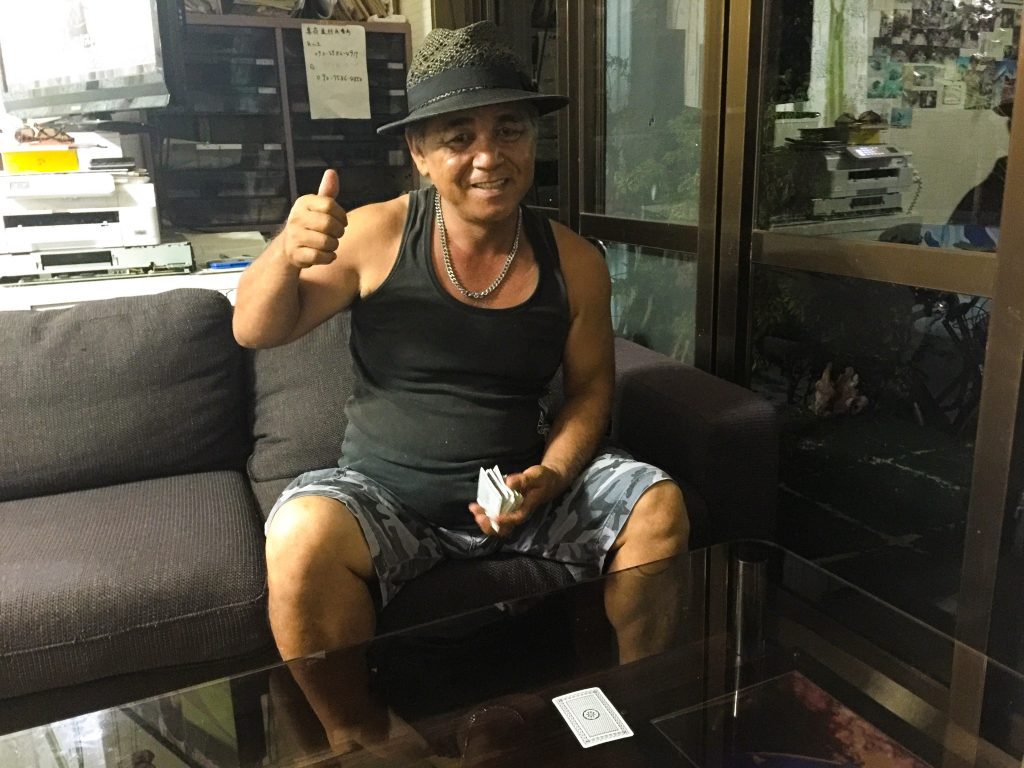 Yu Yu costed ¥4300 per night with breakfast included and an additional ¥1700 if you want breakfast as well. It was a great place to stay in Zamami and I would definitely go back there if I ever return to this beautiful island.
But no one likes ads, so I got rid of them. If my articles helped you, I ask for your support so I can continue to provide unbiased reviews and recommendations. Every cent donated through Patreon will go into improving the quality of this site.
Tagged guesthouse zamami
---
2 comments.

I would love to hear from you!