This website is made possible by readers. I may earn a small commission when you buy through the links in this article at no extra cost to you. Learn more.
Having a carefully thought out everyday carry is key to having good flow in your daily activities. Having what you want, when you want calls for a balance between the space available and having the right tools. For me, I made sure to carry around things that I personally feel good about, or like in Konmari book says, "sparks joy".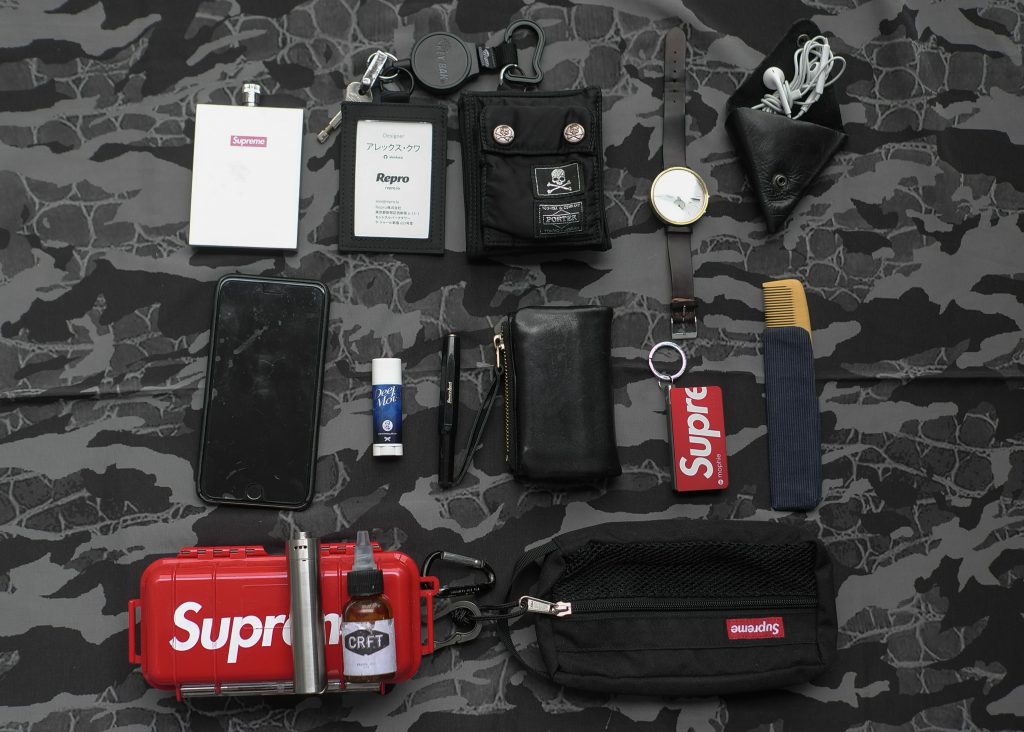 Top Row (left to right)
Second Row (left to right)
Apple iPhone 6 Plus with a ¥100 Screen Protector from CanDo. I used to buy expensive Gorilla Glass ones, but it really is not worth it.
Mentholatum Deep Moist Natural Lipbalm (Best brand in Japan, IMHO)
Vainl Archive x Porter Card Holder (Since Japan is the land of the loyalty cards, all my non-essential cards go here.)
Supreme/Mophie® Power Reserve (I have an Anker portable charger, but this one is infinitely easier to carry around and way cooler.)
Wooden Comb made from Satsumatsuge wood, which is the top quality kind of Japanese boxwood. Purchased from Kintakedo, which has been in the Gion district of Kyoto since the Edo era.
Third Row (left to right)
Supreme/Pelican® Case (These offer crazy protection for my vape kit)
Prax1s Mod with Derringer V1.2 (I don't smoke regularly, but it's nice to have this with you when you are out drinking.)
Supreme Mesh Organizer Bag (Most of my EDC goes in here.)