This website is made possible by readers. I may earn a small commission when you buy through the links in this article at no extra cost to you. Learn more.
This post was inspired by CameraOn's questions on the GaijinPot forums about some myths he'd heard about Japan. Here are my answers with some help of the forum-goers.
1. The Shinkansen is rubbish.
I'm from Singapore where the trains, by international standards, are pretty good. Although Singapore is too small for there to be a comparable train service, I'd say that by any standards, the Shinkansen is pretty damn amazing. There have been no fatalities since it opened in 1964, something which can't be said for the trains here. I can't imagine why anyone would say that about a train you can eat, drink and smoke on. I'd say its pretty much the opposite.
2. The JR pass can't be used on the subway system and is only worth buying if you're touring the country.
This is true in some ways. JR Passes are only available to foreigners, thus making spamming Shinkansen rides a pleasure when you have a pass. However, if you intend to use it on JR lines only, then you should reconsider. While the JR Lines generally covers the more popular stations, depending on where you start your trip, a shorter journey can be commuted if you change between lines or stick to the metro lines altogether. So this myth is on the fence depending on how heavy your usage is and what are your daily routes. Check out my post on JR passes here.
3. Roppongi is full of Nigerians peddling drugs.
Can't say I've had personal experience with this, but I do see a lot of Nigerians on the street trying to get you into their bars. Effected After says, "They take you to a bar, drug you, then while you are all messed up and/or passed out, they bill your credit card for thousands of dollars." As a rule of thumb, never go into a bar you can't see from the main street. As KansaiBen pointed out, Roppongi isn't the only place with them, they are everywhere, and I mean everywhere. The funniest ones to me are those in Takeshita Dori trying to get you to buy ghetto clothes. Not so sure about the drugs part.
4. McDonalds is considered low-class food for scum with zero nutritional value (which of course it is) and Japanese branches employ exclusively staff of Indian and Chinese origin, however the 'food' is of better quality than any other branch outside Japan.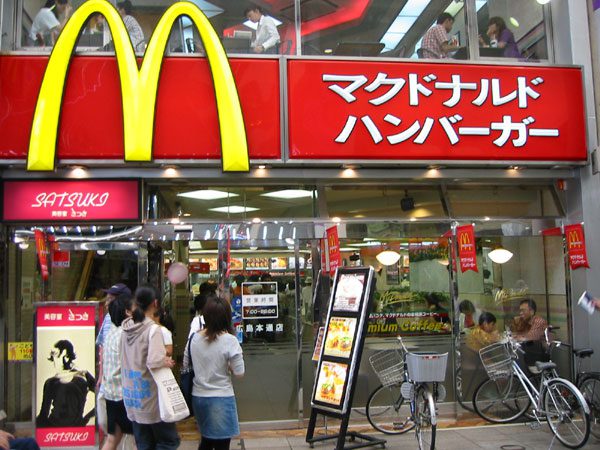 The McDonalds in Japan has some of the cutest staff, especially the one I frequent in Yurakucho. I've never bother to notice if the staff were of Japanese origin or not, and it didn't really matter to me. The food feels a lot less sloppy than the McDonalds in Singapore, and the service is first class. If it's food for scum, I'll gladly be the scum of the universe.
5. A bowl of noodles in Tokyo costs the same as a return ticket from Luton to Aberdeen.
I've never bought a return ticket from Luton to Aberdeen, but I'm pretty sure they don't cost $7.
6. A toilet in Ginza has more value on paper than the World Trade Centre.
Is the pre or post 9/11? The toilets in Ginza are decent-sized, and the property prices are pretty insane in Tokyo, so if you'd like to use that as an exaggeration, I'd say you can.
7. Japan Cupid is a great way to meet 'tour guides' online prior to visiting the country, and they might let you have sex with them.
I've never heard of the site before until I've read the post and the site looks pretty kooky to me. I can't confirm this myth, but I'm pretty sure there are easier ways to hook up Japanese girls. "Don't get your hopes up, bro."
8. The Japanese favor those who are not fluent in their lingo.
On the contrary, most Japanese, while mostly friendly, are very closed off to foreigners. When you talk about getting a credit card application approved or applying for a prepaid SIM card, not being fluent will not work to your advantage. However, if you'd like to play lost tourist and make friends with locals, I'd say it works. "Social English speakers with zero Japanese ability will find it easier to chat with strangers than stuck up elementary level Japanese speakers with no intention in using their English." I've tried talking to Japanese girls in my broken Japanese, and I can say that just makes me look like a retarded Japanese trying to pick them up.
9. Since March 11th, there has been a mass exodus of expats seeking less radioactive shores thus creating hundreds of new job opportunities for qualified English teachers.
I don't think so. It might make people reconsider coming in to settle, but I doubt anyone is leaving. There are a lot of job opportunities for qualified English teachers to begin with since English-teaching schools in Japan are required to have a native speaker to assist the teacher.
But no one likes ads, so I got rid of them. If my articles helped you, I ask for your support so I can continue to provide unbiased reviews and recommendations. Every cent donated through Patreon will go into improving the quality of this site.
10. Japanese men are as neurotic as the women and have a tendency to cry a lot and vomit on you when drunk.
"No. Those are Korean men. " I don't think so as it depends on the individual. But they do get drunk and pass out a lot, all over the streets.