This website is made possible by readers. I may earn a small commission when you buy through the links in this article at no extra cost to you. Learn more.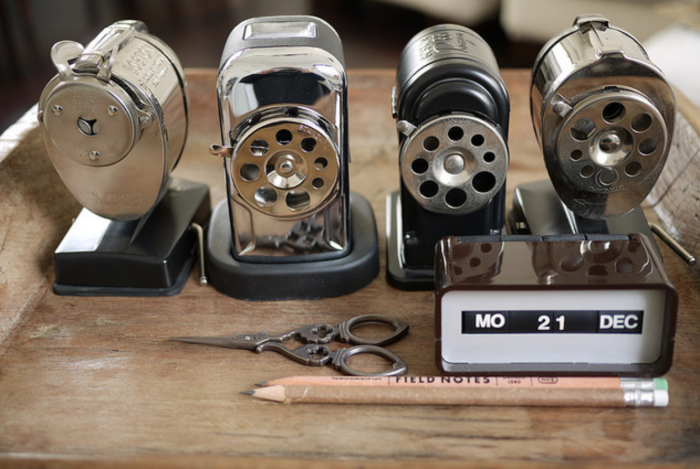 Along with the search for everything great, you often find something legendary. The Boston Pencil Sharpener Company took the humble pencil sharpener to the next level. Founded in 1899, acquired by Hunt Manufacturing Company in 1925, bought over by X-Acto and then Elmer, the brand has seen its fair share of change. The most devastating change was the drop in quality and charisma in recent years. While you are still able to get relatively low-priced, Boston-style sharpeners from X-ACTO in either desk or vacuum mount, the Boston Pencil Sharpener Company roots have now been lost when their manufacturing moved to China.
 
The Original Original
Of all the sharpeners from Boston Pencil Sharpener Company, the Boston Ranger 55 was the most durable and heavy-duty of the lot. Strong as a brick, the vintage lettering and adjustable pencil guide are parts of the sharpener that sits well with classic-lovers everywhere. While fans have claimed generations of use of this virtually indestructible sharpener, the butterfly screw mount is the weakest point. Perhaps that is why it's being discontinued. After all, who wants to have to hold the body when sharpening, right? Talk about first world problems.
Got spare cash for a luxury alternative?
Try El Caso sharpeners from Spain.
The Demise
While Elmer still sells the made-in-China model, the death of the original, that has touched the lives of so many Americans, have transpired over a century through the changing of hands and priorities. It is a tragedy that the original build has been isolated in eBay, so best of luck getting your hands on one.
If you still want a premium pencil sharpener, you can consider sending in your pencils for an "artisanal" pencil-sharpening service at a low price of US$15 each.
Tagged pencil sharpener stationery
---
I would love to hear from you!