This website is made possible by readers. I may earn a small commission when you buy through the links in this article at no extra cost to you. Learn more.
Recently, I visited Ainoshima, off the coast of Fukuoka. As someone who has lived in Tokyo for the past six years, even I need a little help when traveling around the country. There are limited English language posts about the island so I decided to write one myself.
Here's everything you need to know about visiting the island.
How to get to Ainoshima?
The only way to get to Ainoshima is via a ferry from Shingu Port. Shingu Port is located less than an hour away from central Fukuoka.
To get to Shingu Port, I took an 18-minute train to Fukko-Daimae Station. From there, I took a bus called Marinex マリンクス(相らんど線第1ルート)that takes me right to the entrance of Shingu Port. You literally step off the bus into the waiting area of the port to buy your tickets and board the ferry.
You can find the timings of the bus here. Note that the arrival time of each bus to Shingu Port is synced up to the ferry schedule. Since it will be a few hours if you miss a bus or ferry, please come early.
These aren't like the regular Japanese buses you usually ride. These are small, shuttle buses and two will come at each time.
The bus cost a flat 100 yen and you can't pay via Suica or any other IC card. They only accept cash or PayPay.
The ferry takes about 20 minutes one way. You can only buy a one-way ticket from Shingu Port. It costs 480 yen for an adult ticket. You buy the ticket at the port, but it will be collected when you reach the island.
Due to the coronavirus, they were limiting the number of passengers, so there is the chance that you would not be able to board the ferry, even if you come on time.
This actually happened to me, but I waltzed all the way up to the ferry and convinced them to take just one more. Otherwise, I would have to wait another two hours! The other passengers were definitely upset but were simply not as persistent as I was.
But no one likes ads, so I got rid of them. If my articles helped you, I ask for your support so I can continue to provide unbiased reviews and recommendations. Every cent donated through Patreon will go into improving the quality of this site.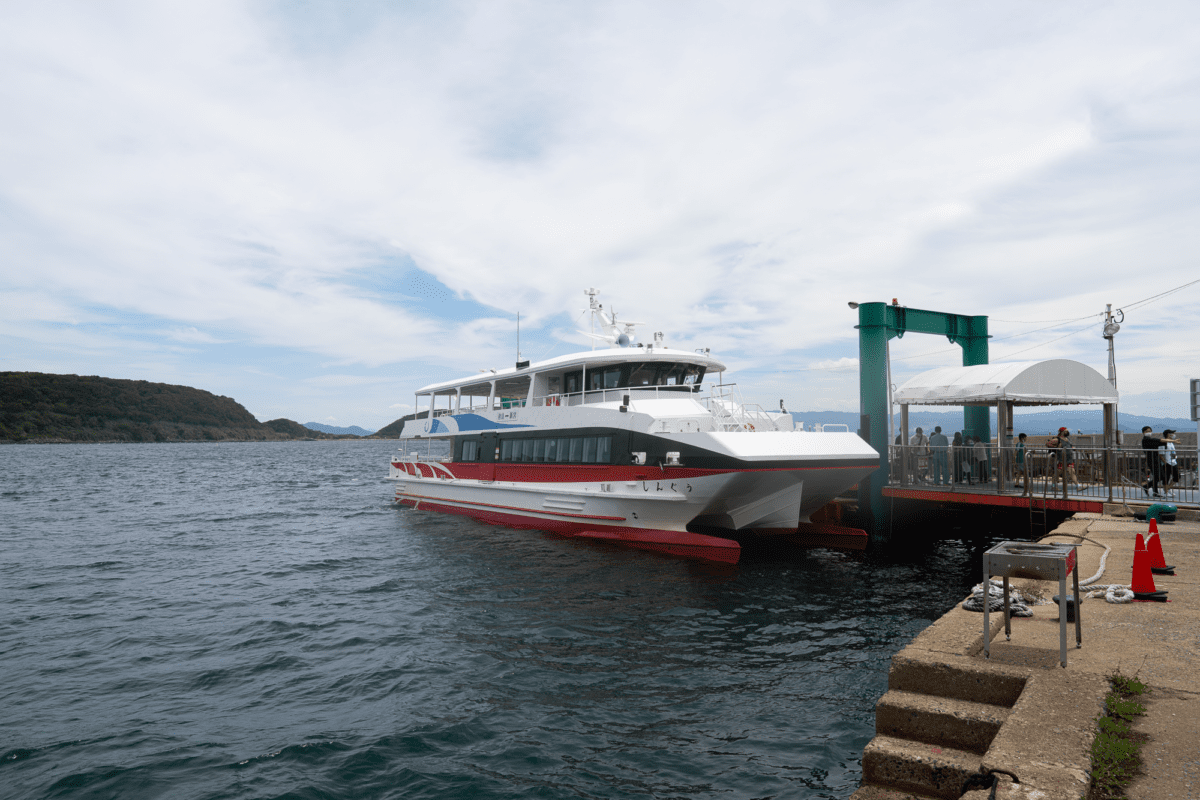 Arriving to the island
The island gives off a very lazy vibe. Many are fishing around the port. You'll also see families jumping into the sea and playing. The people, and the cats, seem to be very laid back. I guess that's not much to do if you are on a small island like this.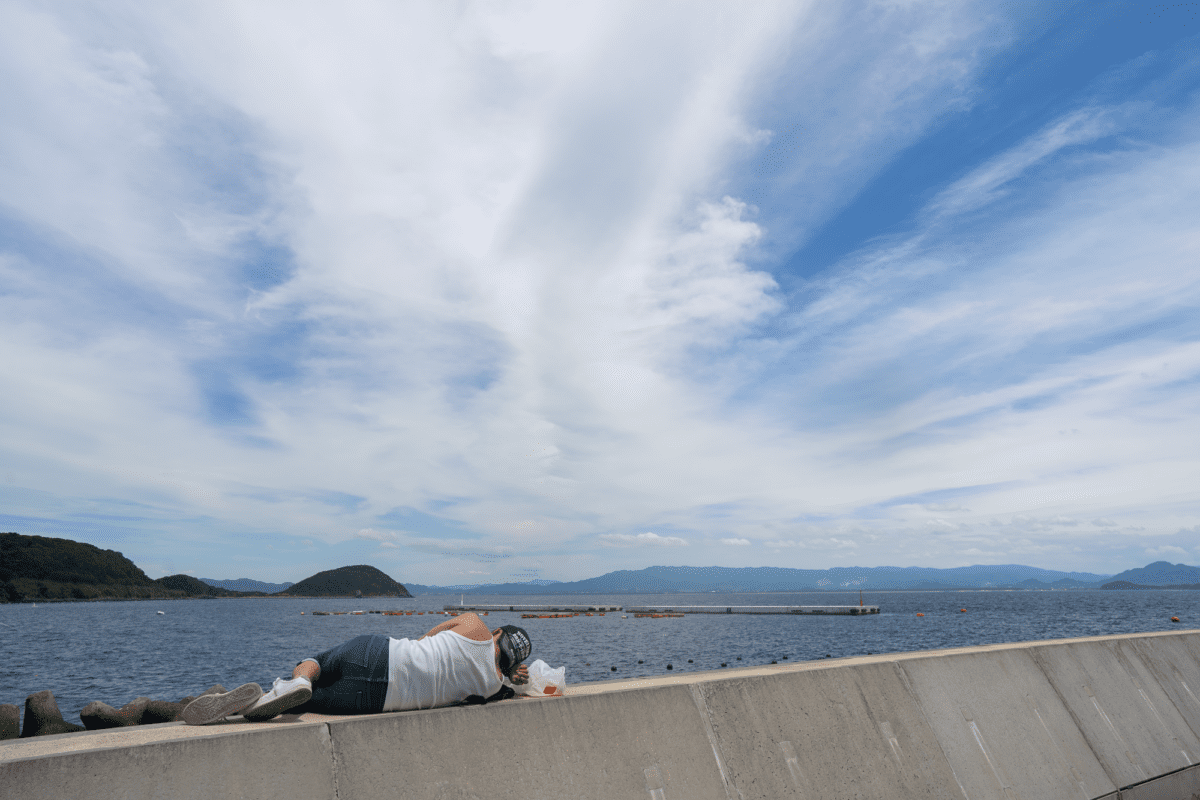 What should you do when you arrive?
Before you get all trigger-happy with the cats, there are a few things you should do the moment you arrive. The cats won't go anywhere, so you'll have time.
1. Buy a return ticket
Head to the building with the rounded roof and buy a return ticket. The last thing you want to do is to rush on your way back and miss the ferry.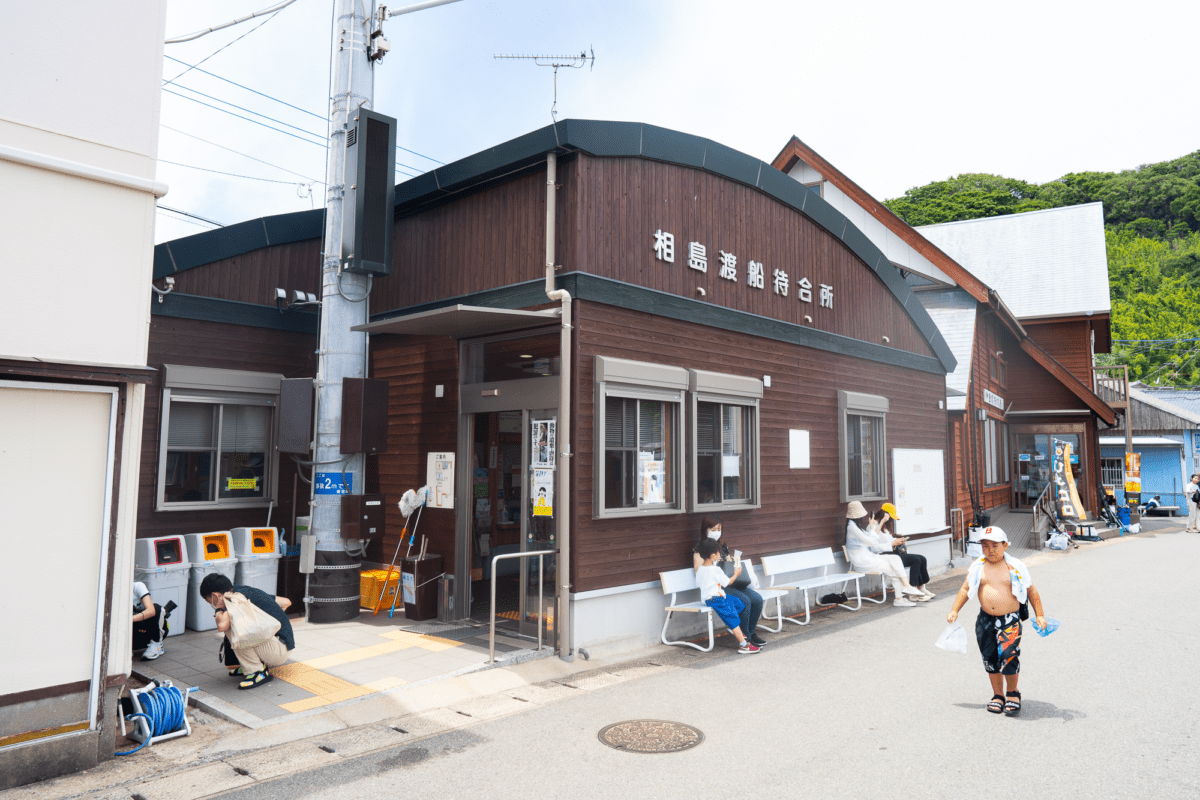 Note that the return ferry allows boarding 15 minutes before departure time. This guy in a security uniform would signal for you to queue up.
Once again, there is a chance that you would not be allowed to board if it's full. I've seen some passengers rejected and they had to wait two hours for the next one. It definitely pays to be a little kiasu (Singaporean slang for scared to lose) for this one.
Unlike the ferry to the island, your tickets will be collected upon boarding this time.
2. Put your name down for lunch at the restaurant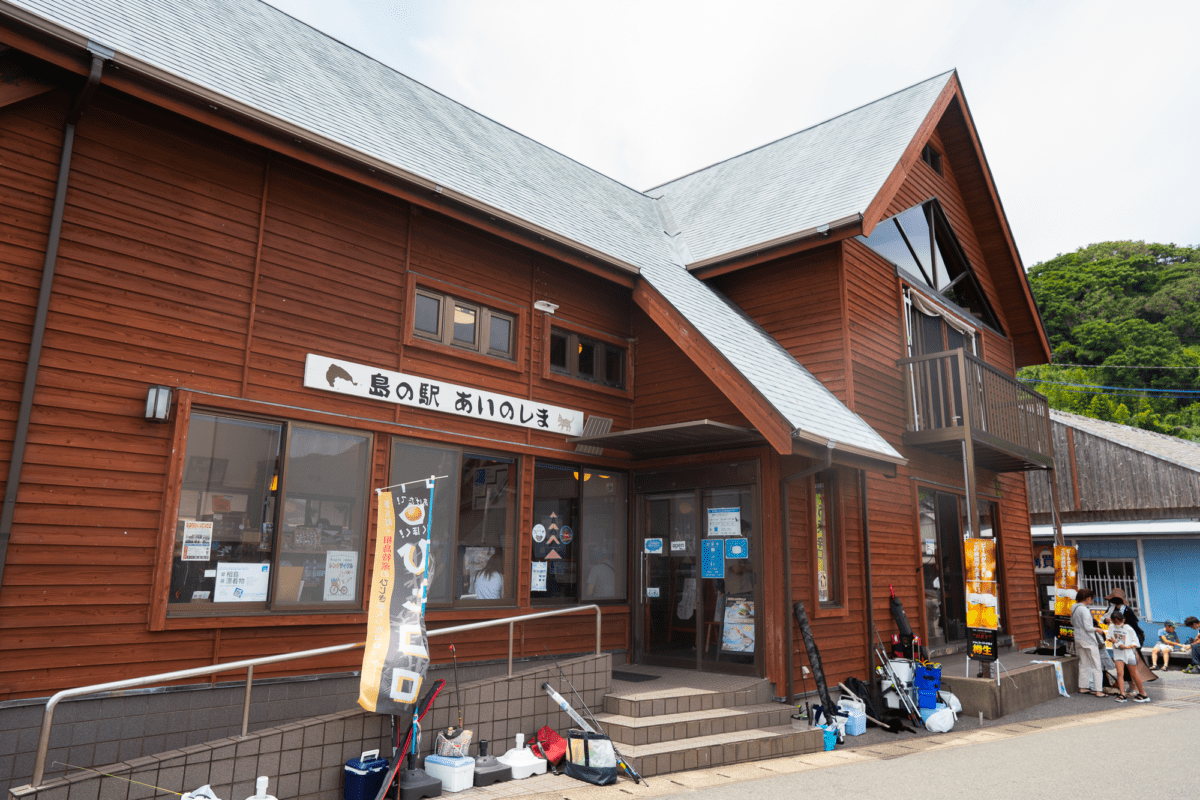 As this is a small island, your food options are limited. Pretty much 90% of the visitors to the island will eat at the restaurant in this building.
The only other option is the cafe on the second floor, but I recommend the restaurant.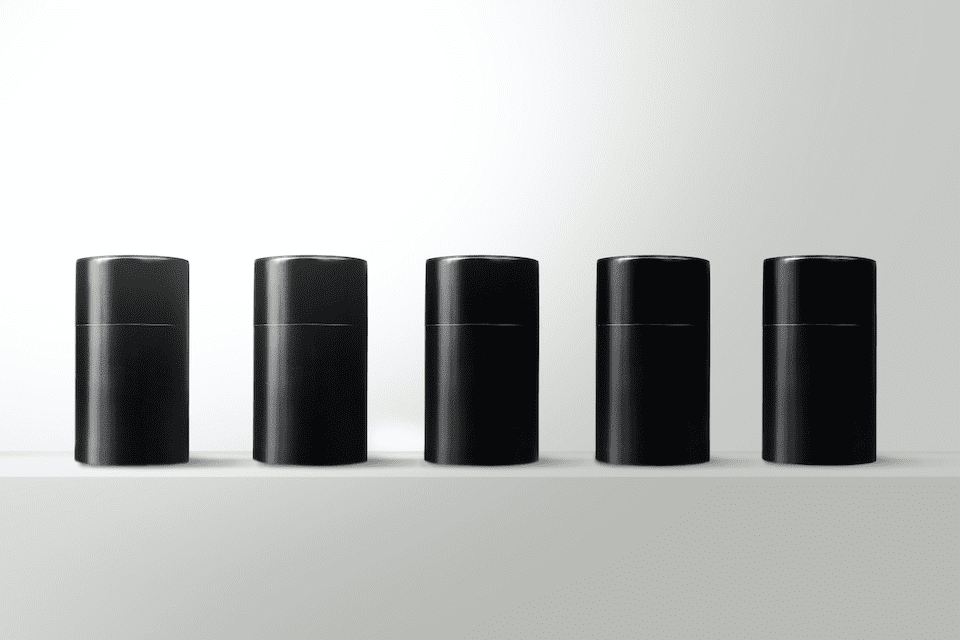 I found a 100 year old company that would create these heirloom quality canisters for me. They are handmade and will keep your tea leaves, coffee beans or anything that you need dry for years to come.
or read review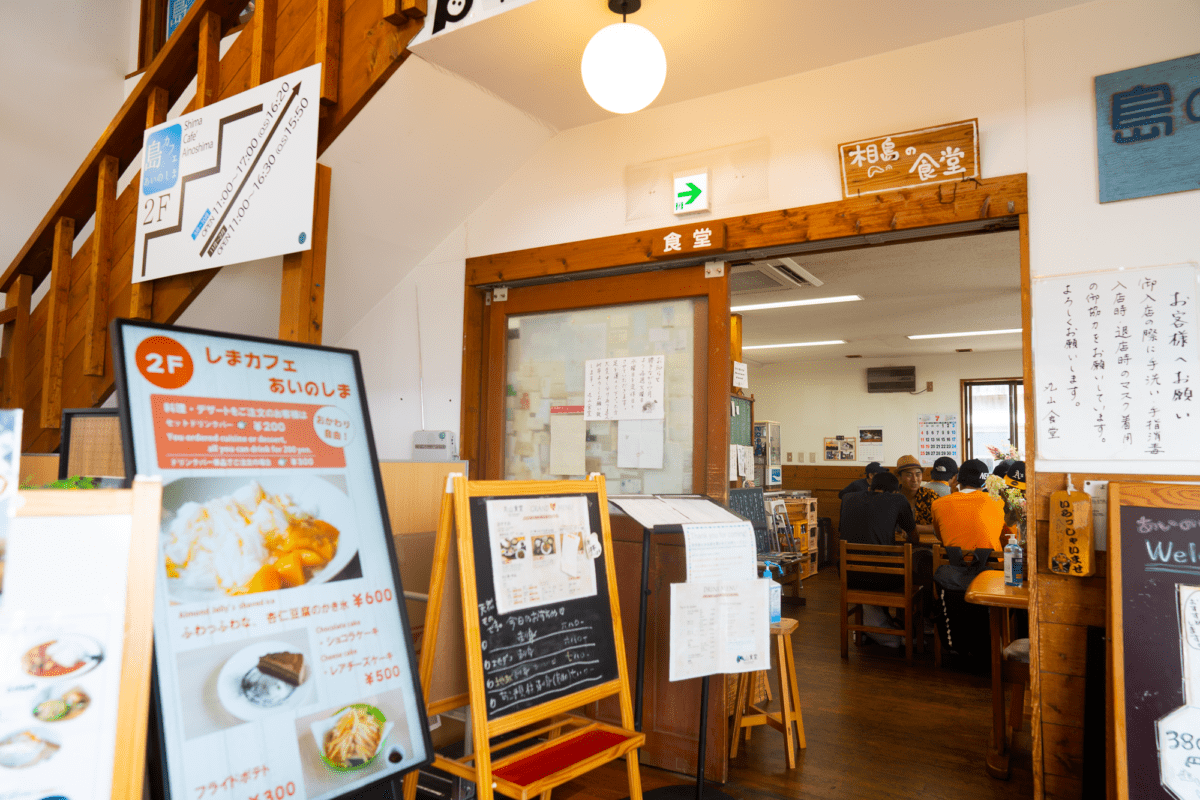 Unless you like waiting for hours for lunch, head straight to the restaurant and put your name down on the list. Then, go take photos of cats while you wait.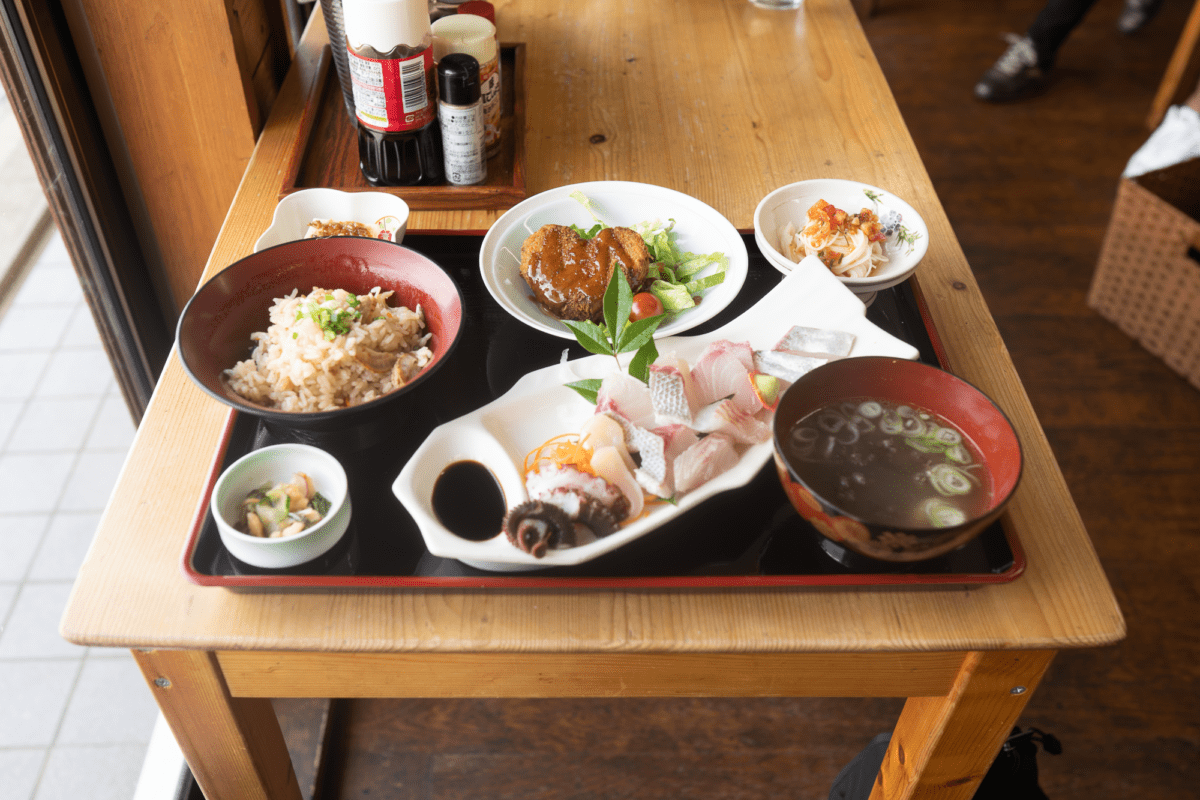 3. Rent a bicycle
If you are intending to head around the island, then I would recommend renting a bicycle. These are on limited supply so rent it as soon as you arrive or it will run out. I do not recommend walking around the island. I did and it was not fun.
You can rent a bicycle from the same building at the restaurant, at the tourism information counter.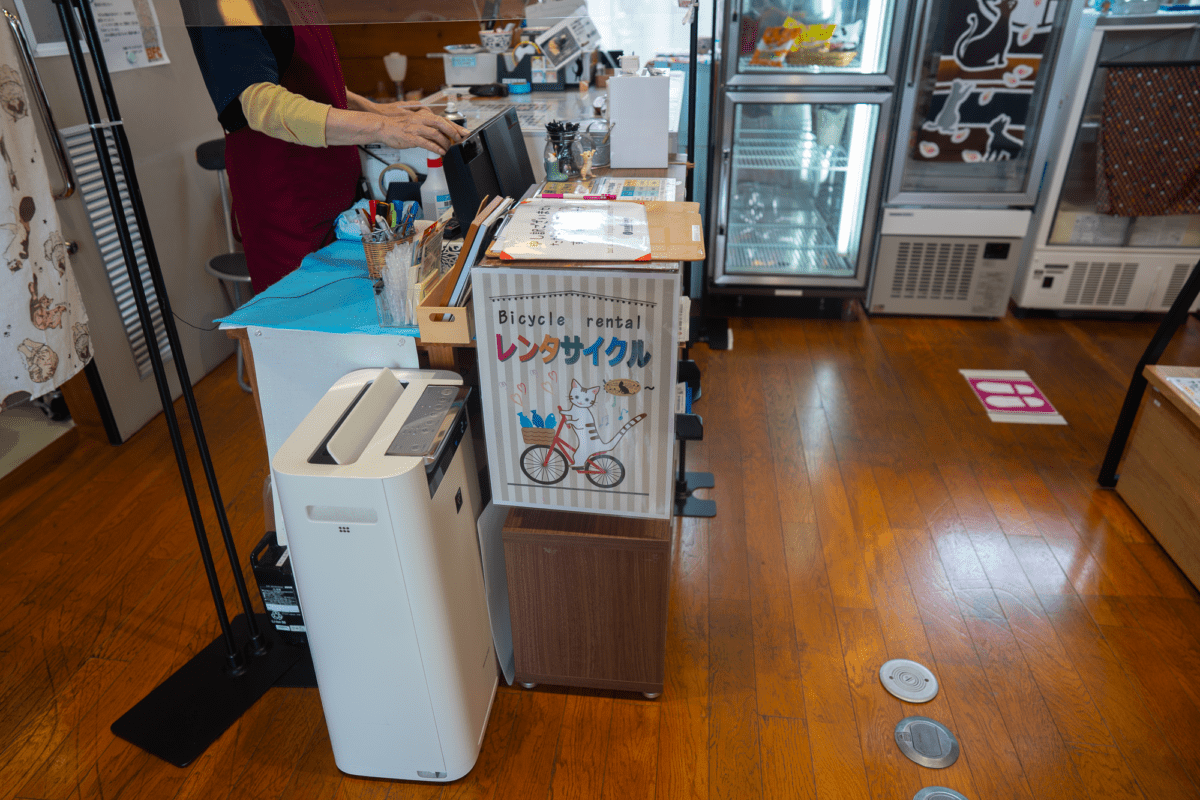 About Ainoshima's Cats
Ainoshima is a quiet fishing island. It's famous for the cats, which the fisherman brought over. However, if you expect hundreds of cats to flock to you and offer you cuddles the moment you step off the ferry, it's not quite like that.
While most of the cats are near the port, they aren't really in droves that will come to you like the Disney princess you are. The most I've seen in a single spot is maybe four cats that were drawn to a feeding spot.
But there are maybe a couple of dozen cats spread around the port, most of them hiding under any shade they can find while I was there during the brutal summer.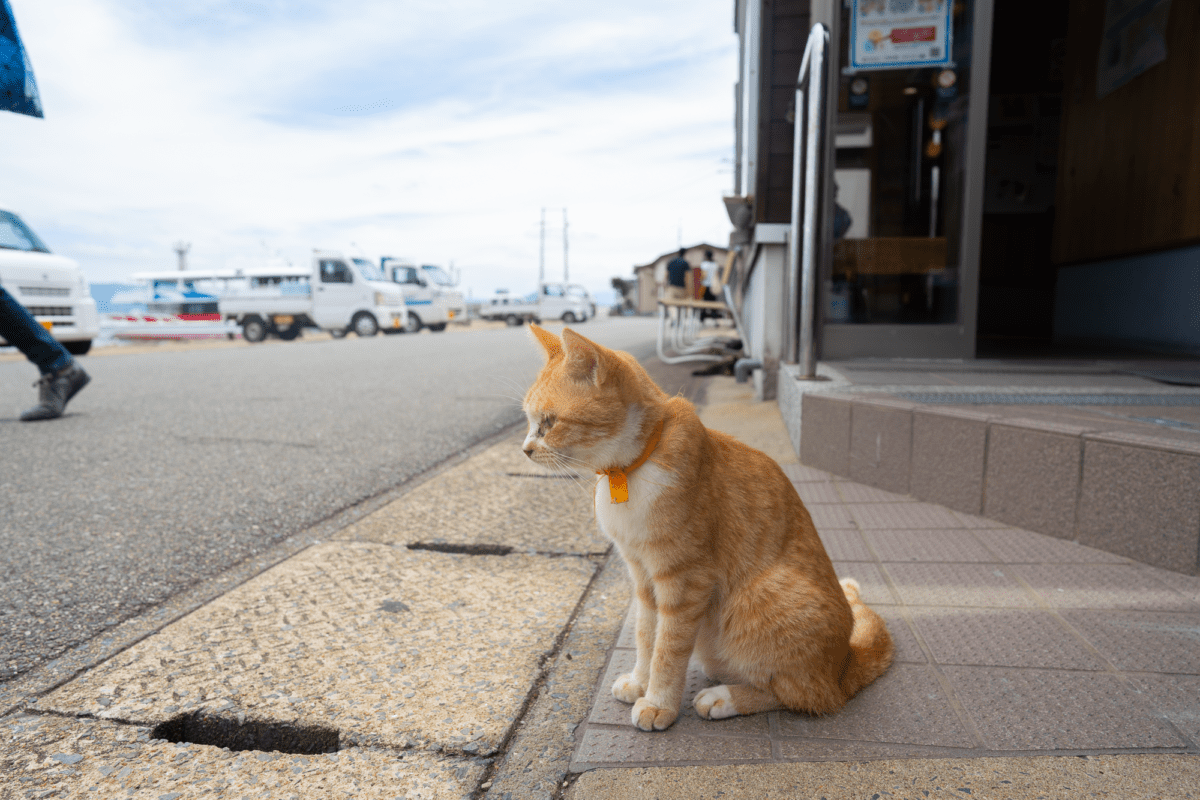 Some with collars, but most are strays. They just laze around and watch the world goes by as most cats do.
Most are friendly and will let you pet them if you approach them slowly. I usually let them smell my hand first and if they are interested, they will come closer. If not, they will move away.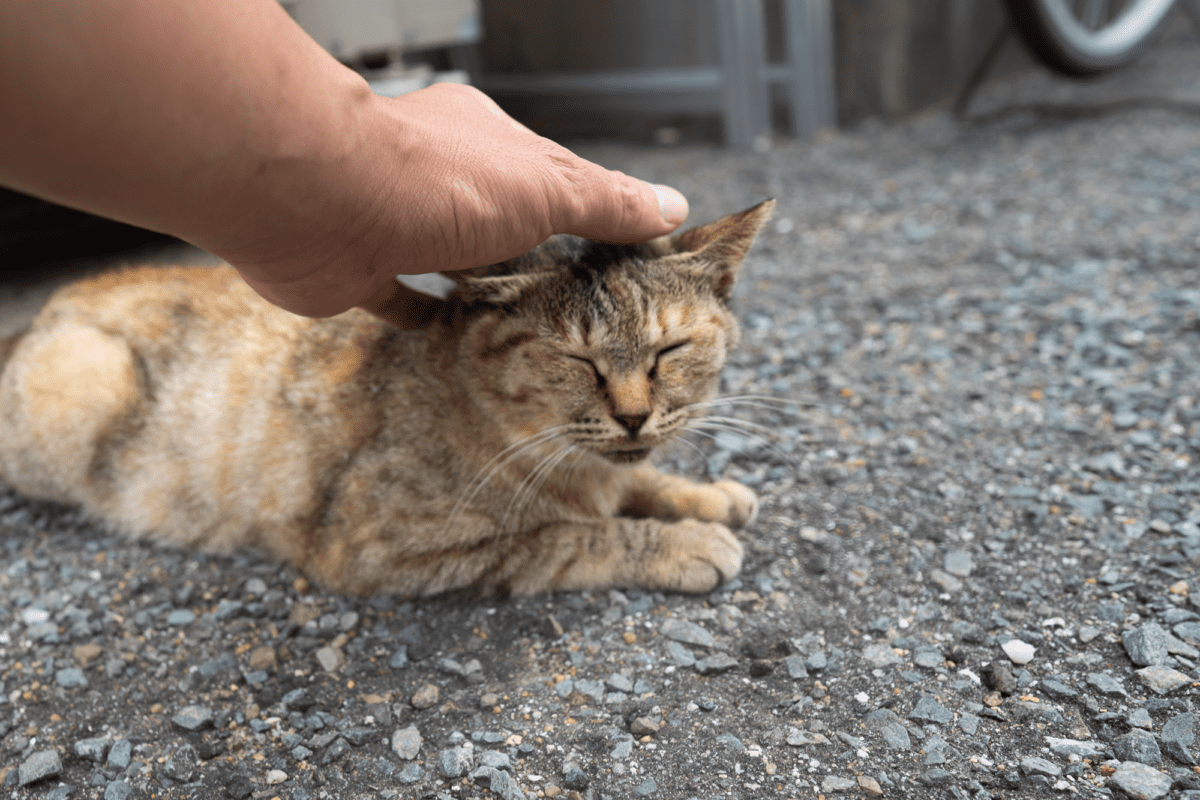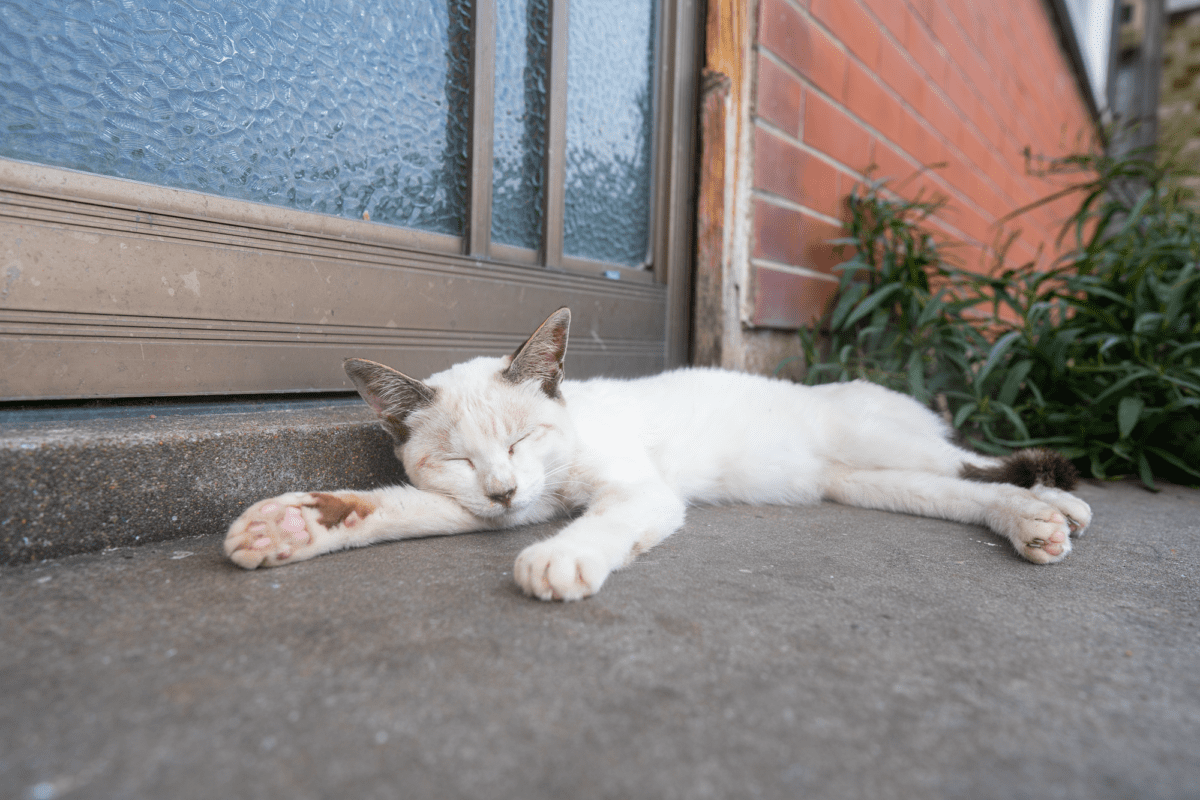 Visitors are not allowed to feed the cats on the island, as too much nutrition in the cats' diet can be dangerous. But don't worry, the residents do leave feed out for the cats, and sometimes even cooked fish. Damn, these cats eat better than I do.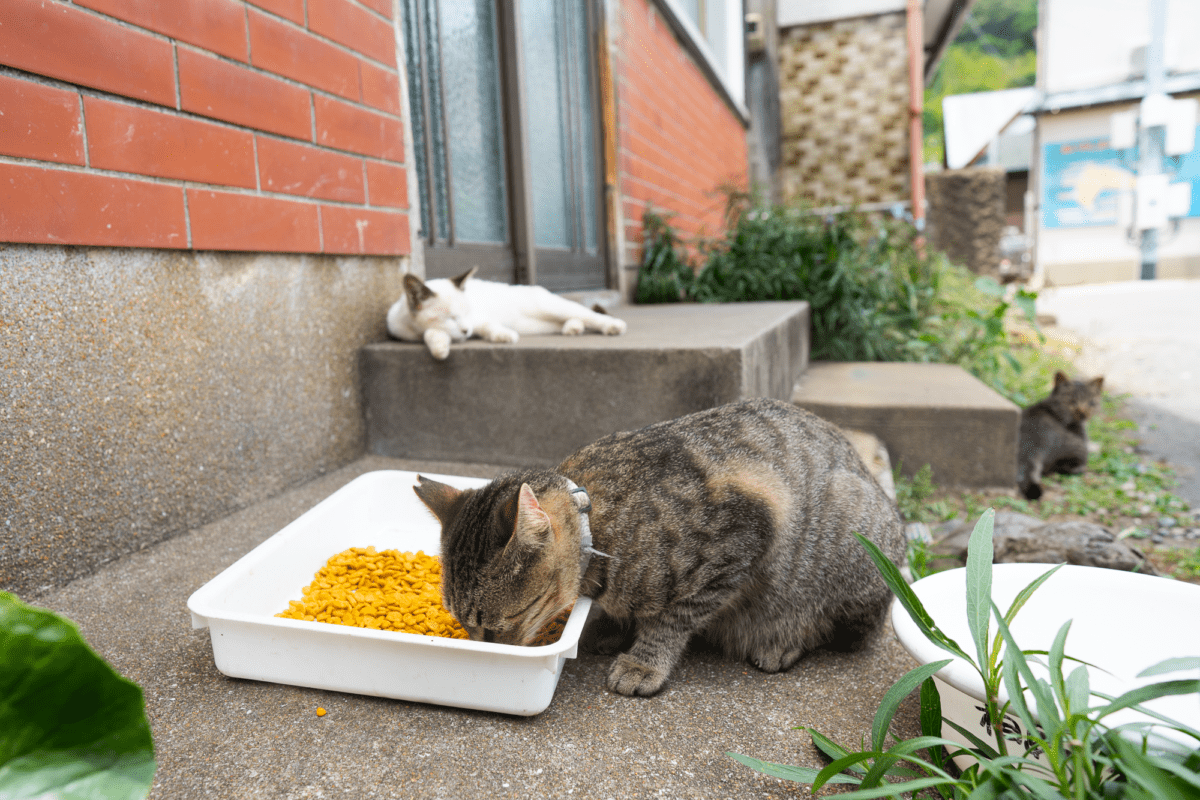 These cats are used to photo taking. They won't run off if you go up close to take a photo.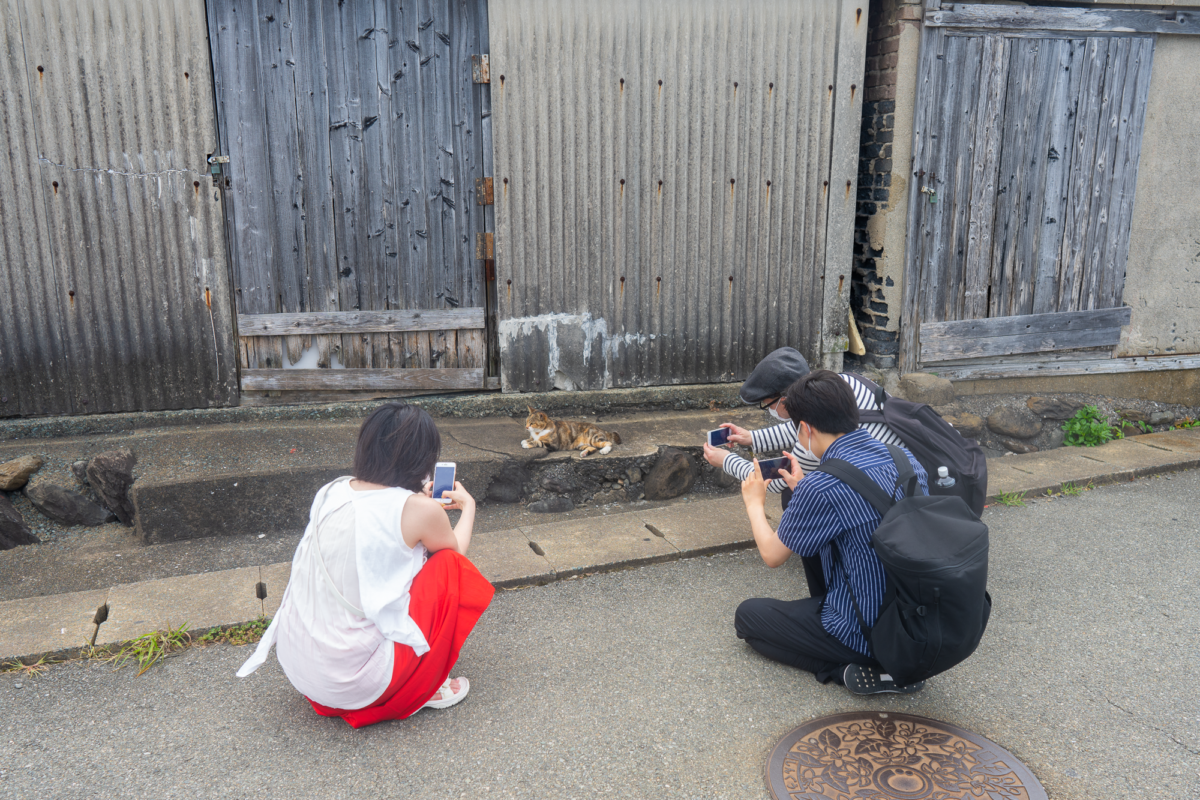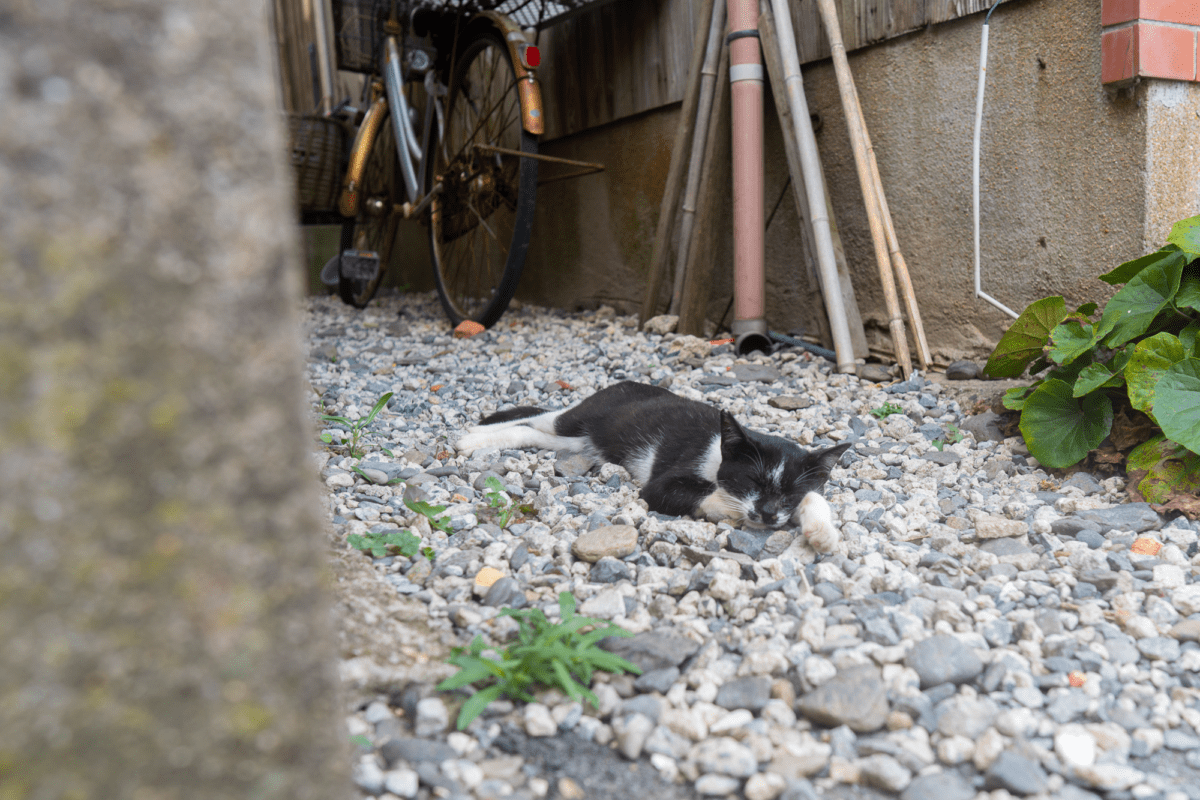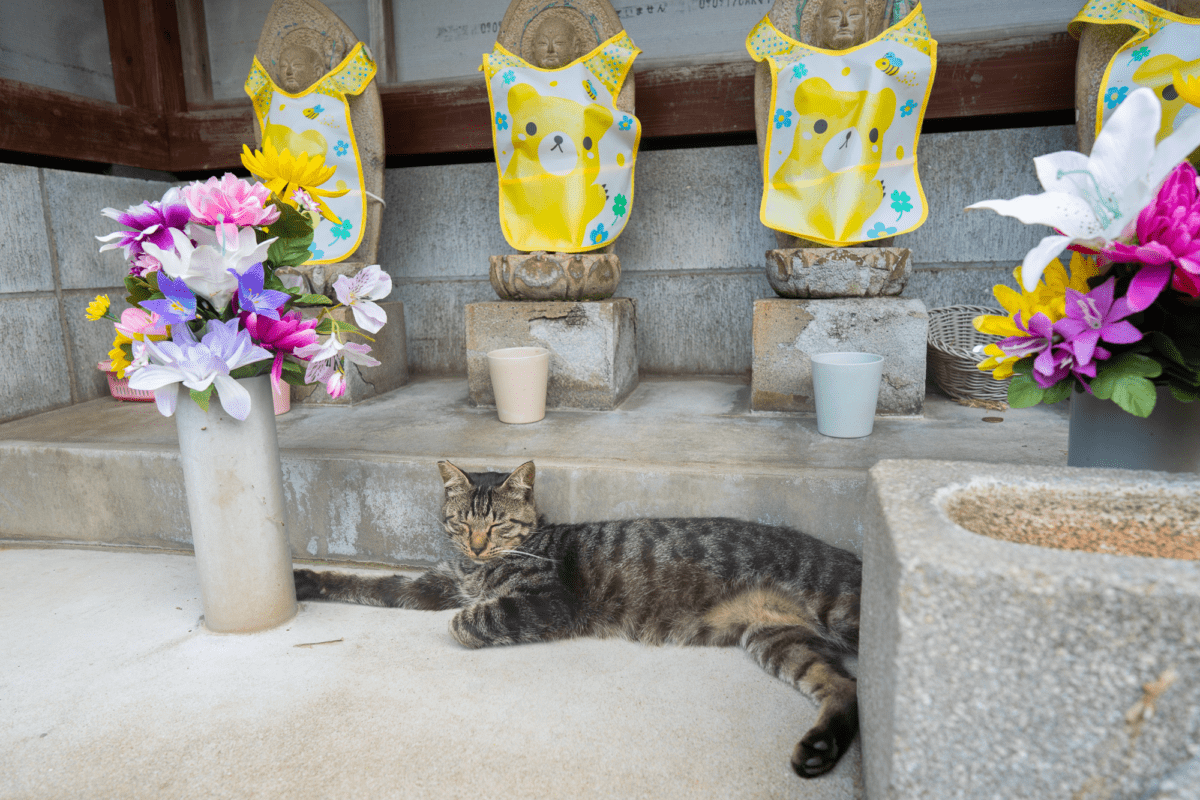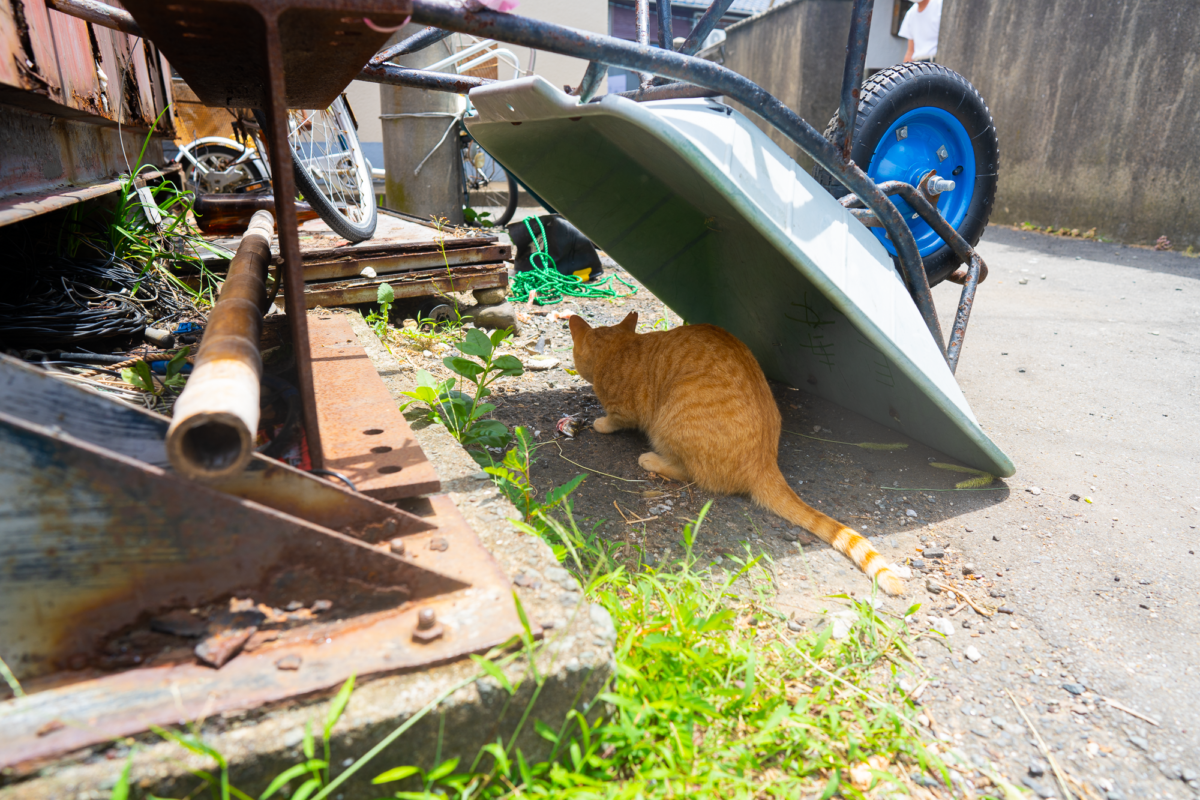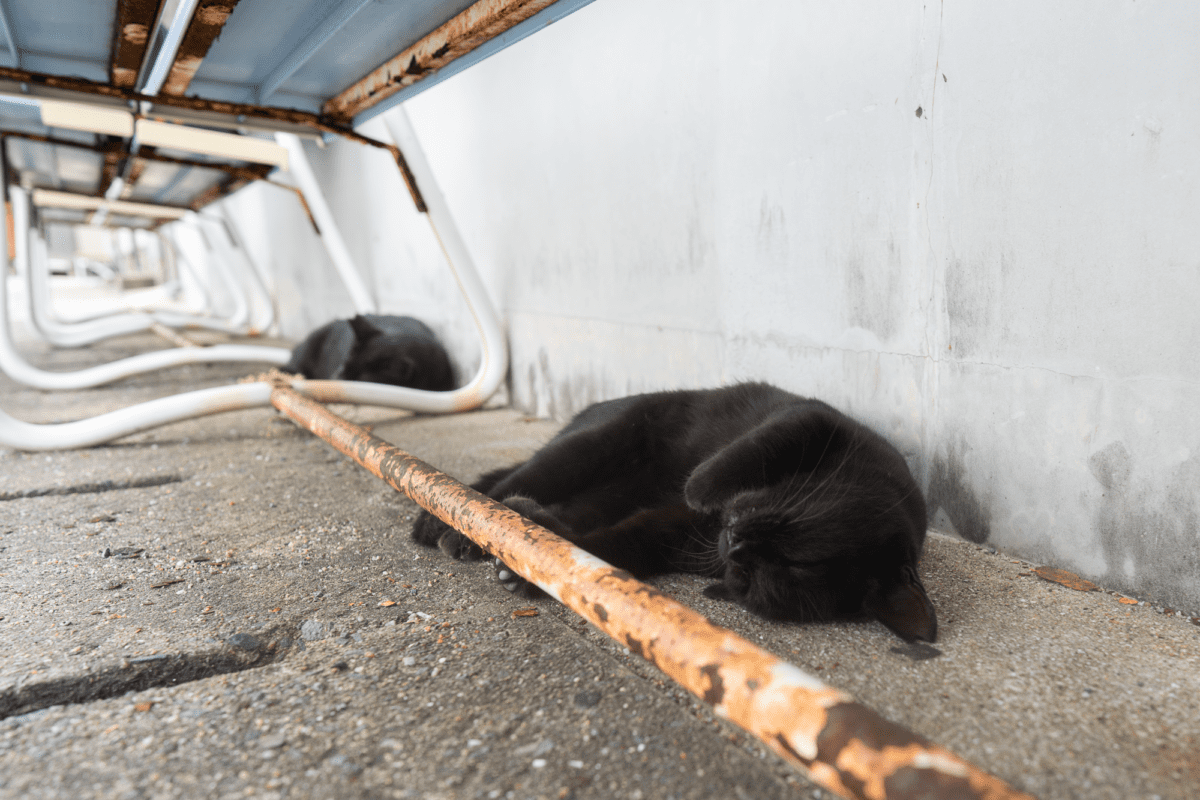 Take a walk around the island
Enough cats? Well, you can take a walk around the island. It's a linear path following the main road.
Just a word of warning, I do not recommend doing this. If you absolutely have to, rent a bicycle.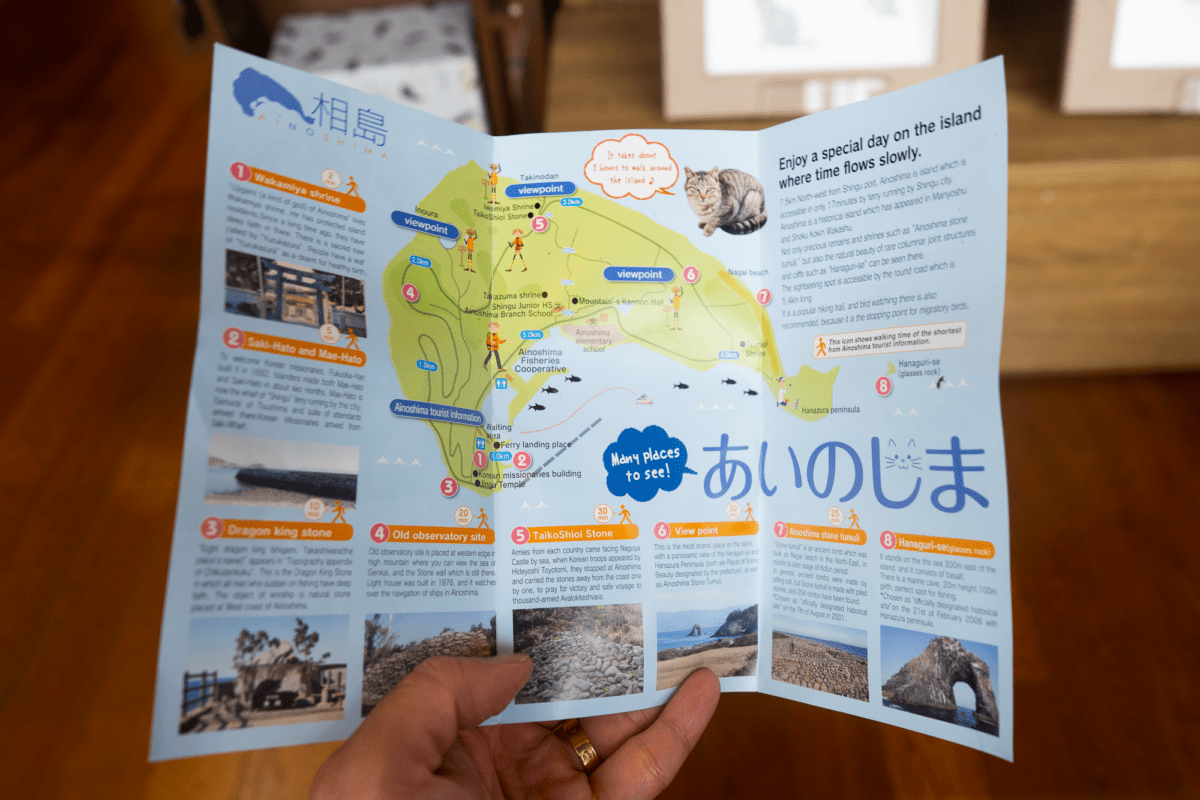 Since they were out of bicycles to rent, I decided to put my national service training to good use. For some reason, I went in the reverse direction from the numbers on the map; towards the right based on the above map.
First of all, once you leave the port, you are not going to see any more cats. Also, there are going to be very, very few signs of life. I saw one vehicle past, and a few visitors, on bicycles of course.
In the direction I went, there is only one washroom at the start. If you need to go along the way, then you have to be one with nature.
Past the school, I see a carving of the words "おに" which means demon on the walls along the road, with a statue of a goddess a few meters now. Eerie enough for me to not take a photo and nope my way forward.
Along the way, you are going to pass by some view spots.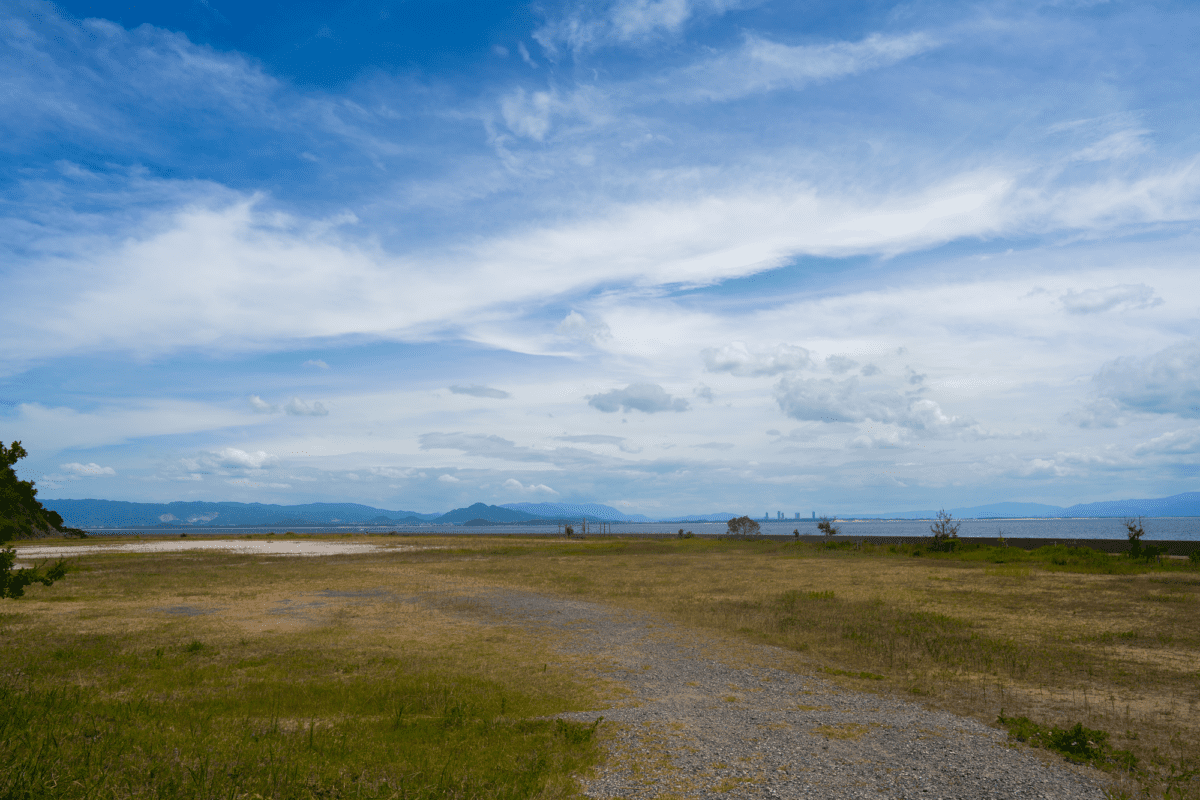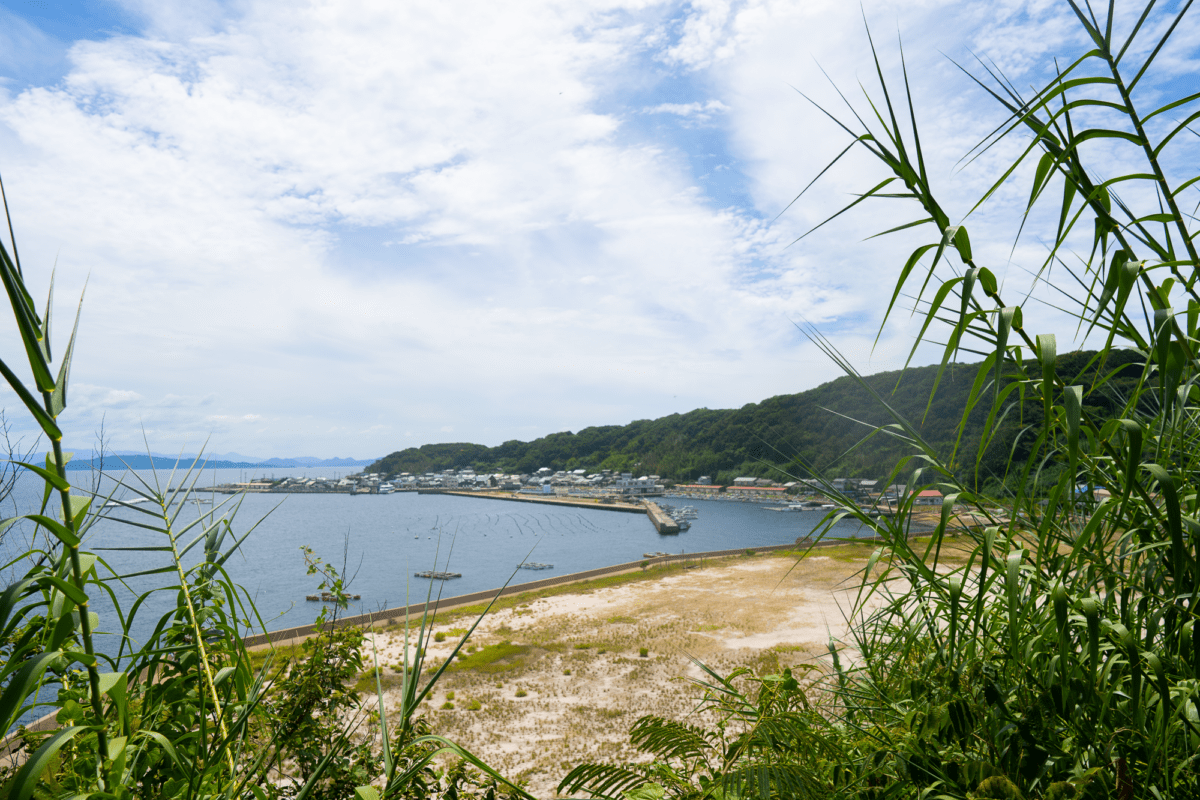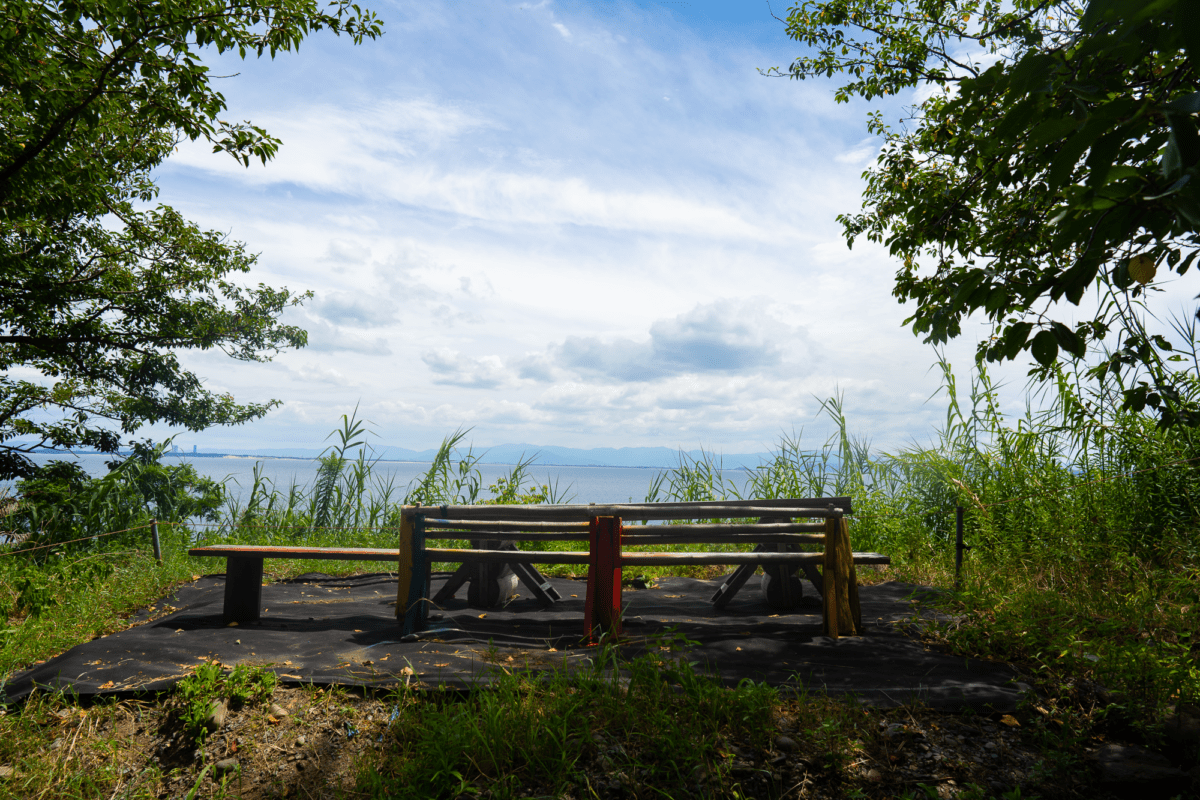 You are also going to see a few rock formations if you follow the map.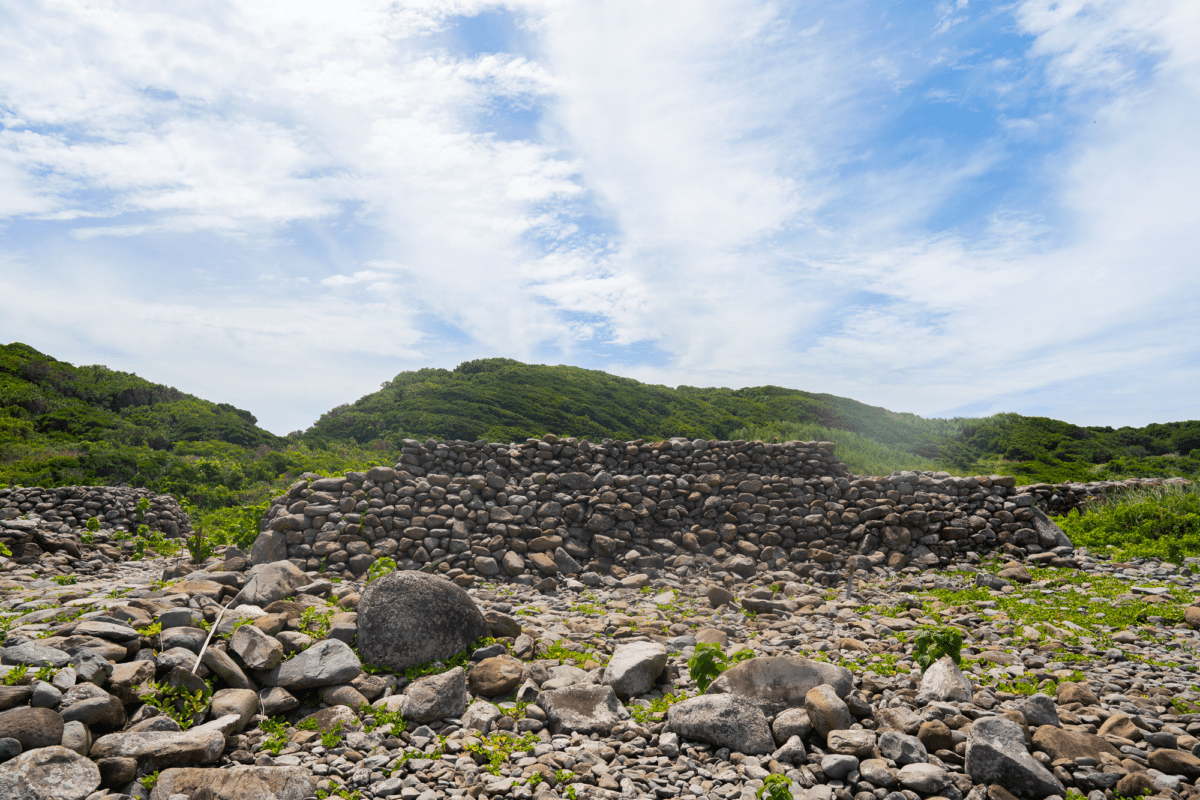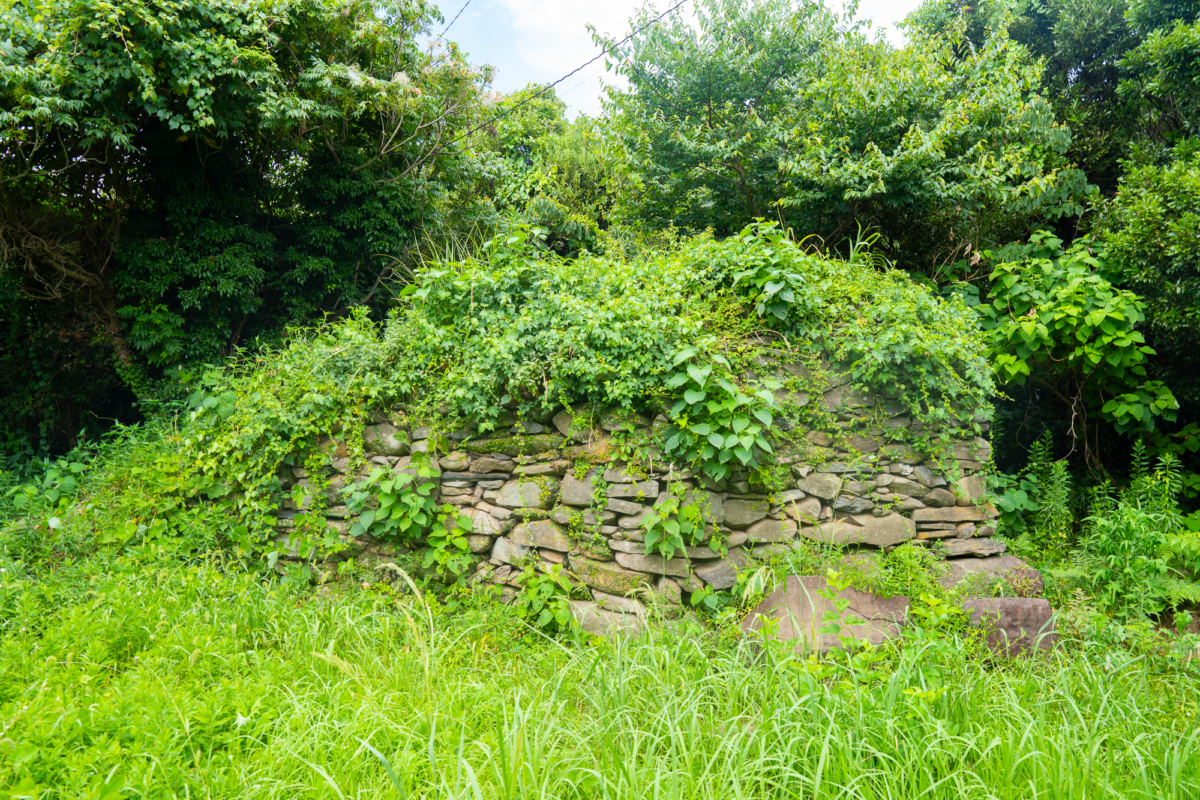 But, it's going to be a lot of this.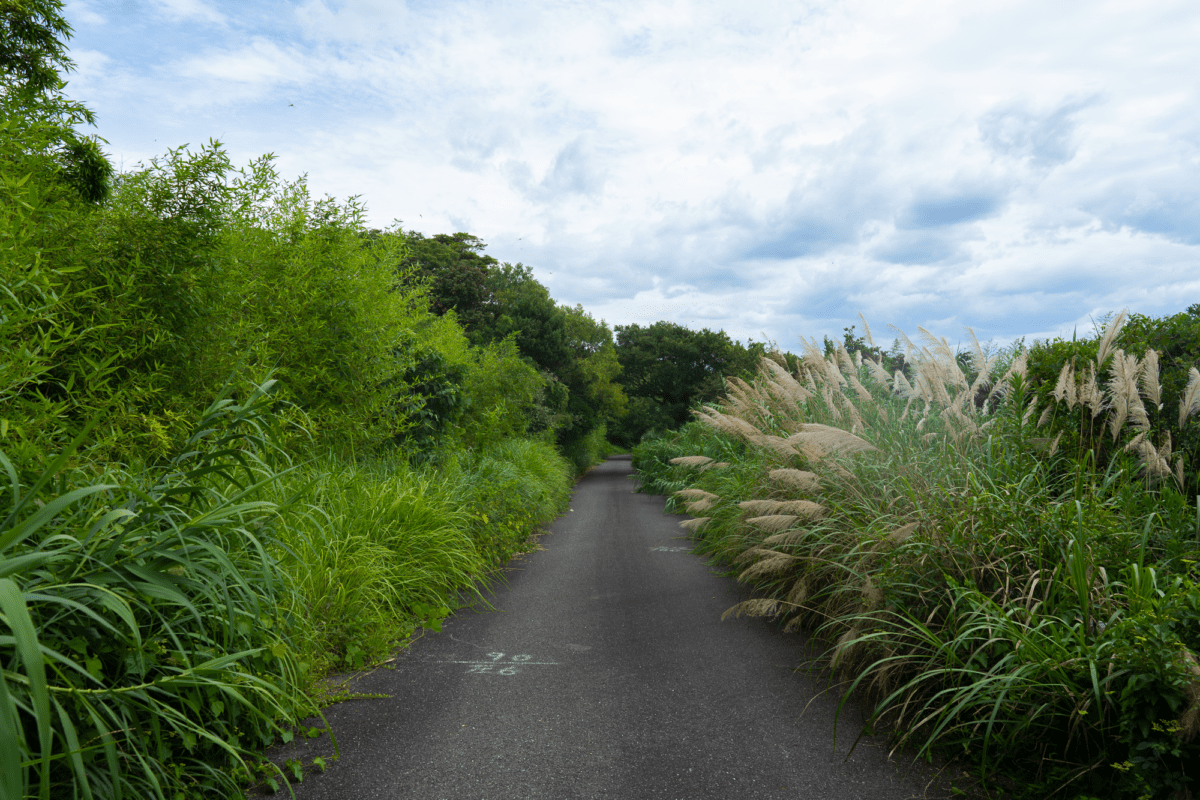 Just a lot of empty roads. I absolutely do not recommend doing this during summer.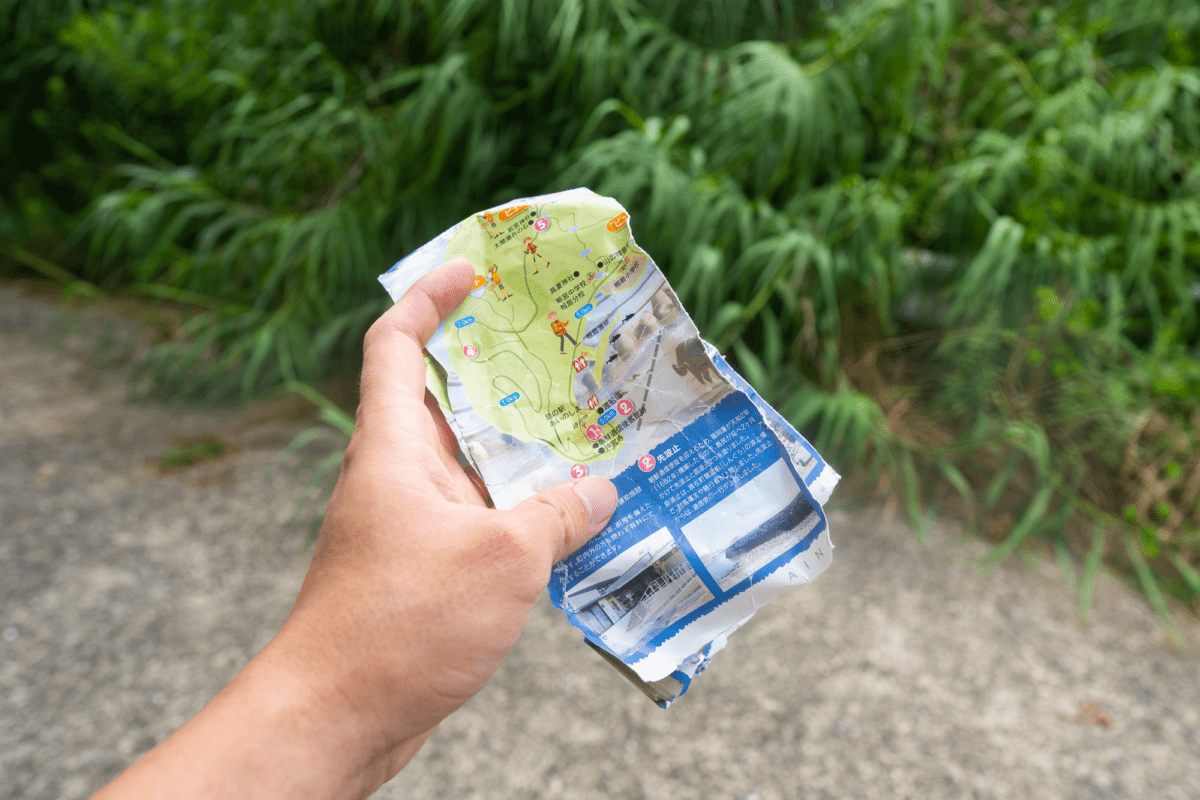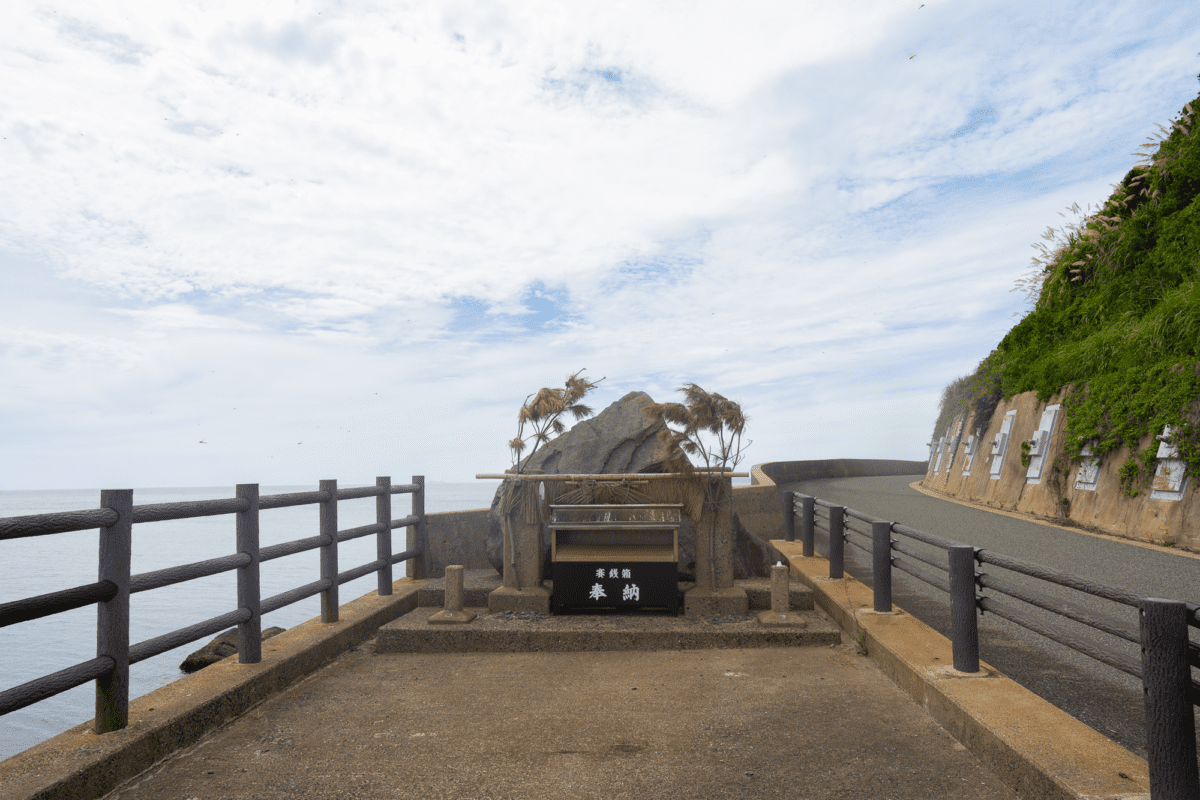 The entire walk took an hour and a half. But I skipped a few attractions and blazed through the route. At the most leisure pace, you should take at most two and a half hours.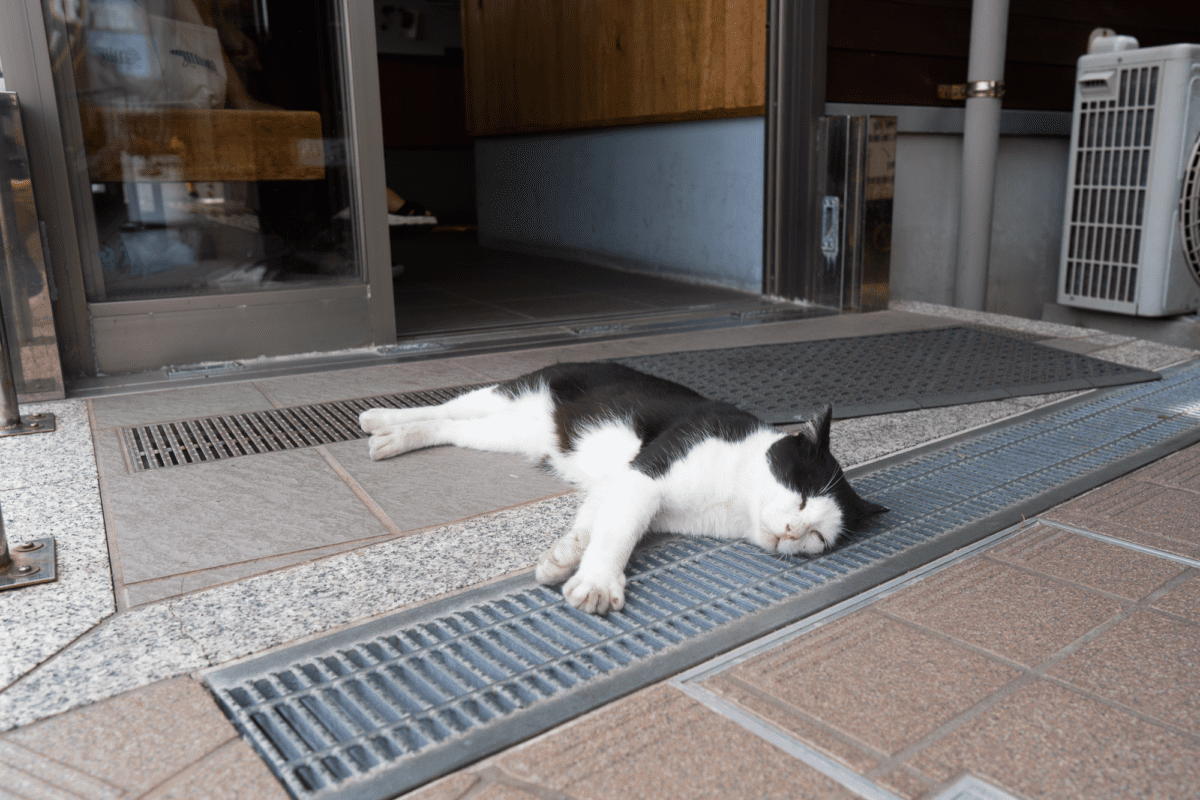 ---
I would love to hear from you!