As an affiliate for various programs such as Amazon Associate, I earn a small commission on some of the purchases you make at no extra cost to you. Read my disclaimer here.
Started in 2013, the Ikinari Steak chain now has over 300 outlets in Japan and is the most popular steak restaurant in Japan. As a resident of Tokyo for the past five years, I've been patronizing the restaurant since the year I arrived.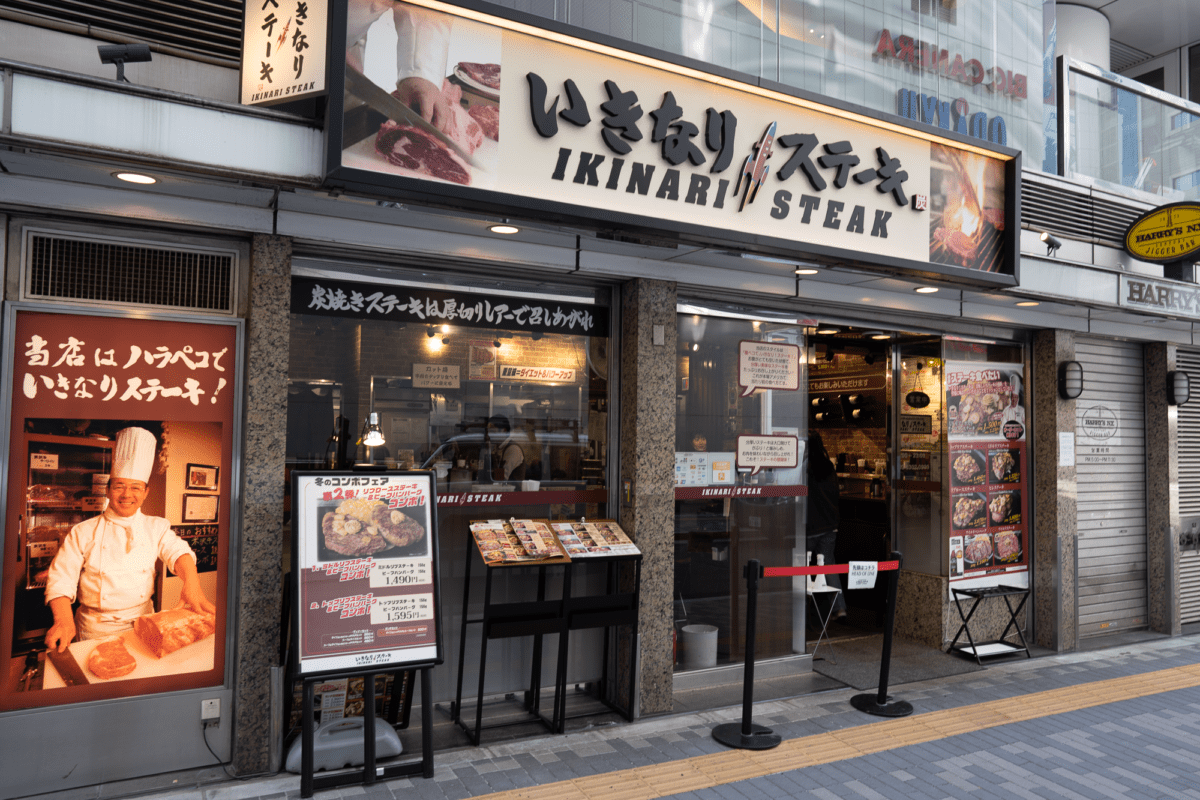 Ikinari Steak is known for its thick chunks of steak, provided at an affordable price. Till now, I've eaten more than 12kg of meat. I consider myself a little of an expert when it comes to Ikinari Steak, one of my favorite restaurants.
What is served at Ikinari Steak?
Here's everything that is served at Ikinari Steak Japan.
Lunch Set Menu
The lunch set menu is available from the opening time to 1700 every weekday. This menu is not available on weekends or public holidays, except for select outlets. See the list of outlets (Japanese only0 that serve this lunch menu on weekends and public holidays.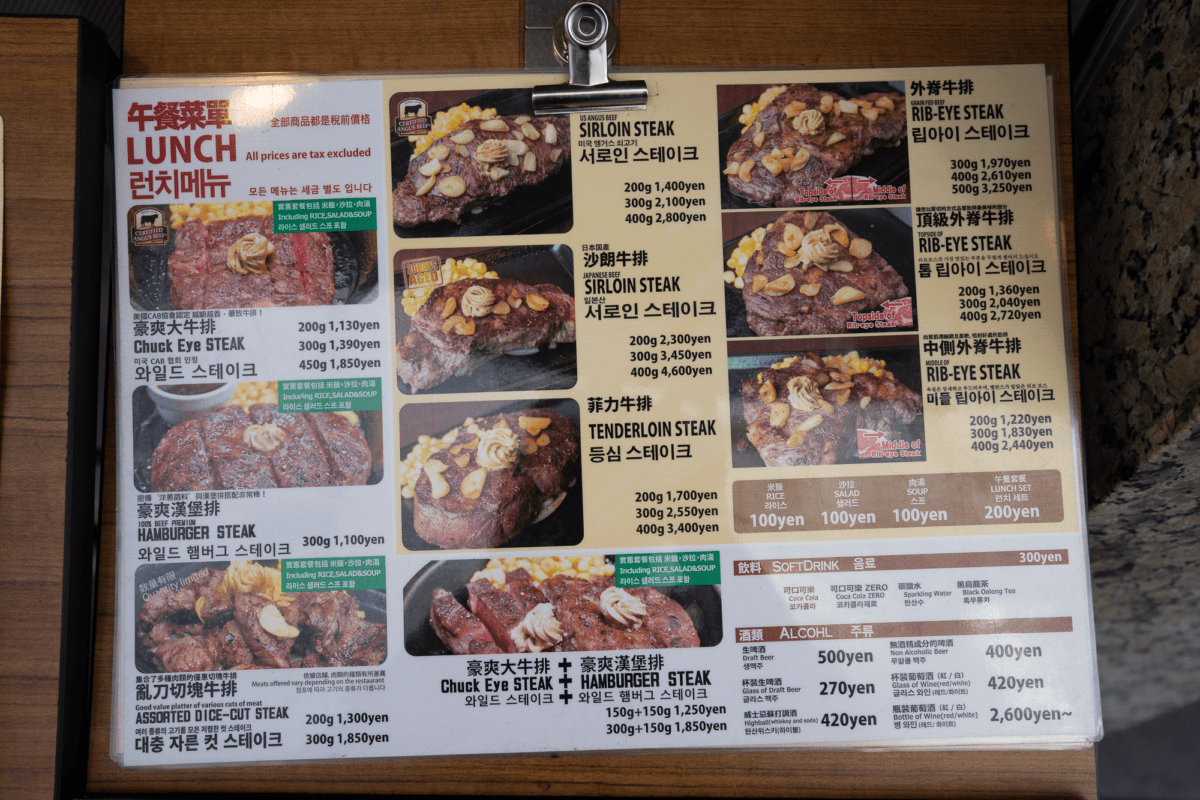 All prices exclude taxes (which is 10% for dine-in at the time of this article)
But no one likes ads, so I got rid of them. If my articles helped you, I ask for your support so I can continue to provide unbiased reviews and recommendations.
By becoming a Patreon, you get
Exclusive deals and coupons
Insider news to product releases and sales
Personalized style advice
Menu Item
Price
Notes
CAB Wild Steak (CABワイルドステーキ)
300g ¥1,390
200g ¥1,130
400g ¥1,850
Includes soup, salad, and rice.
Wild Hamburg (ワイルドハンバーグ)
300g ¥1,100
200g ¥900
Includes soup, salad, and rice.
Assorted Steak (乱切りカットステーキ)
300g ¥1,850
200g ¥1,300
Includes soup, salad, and rice. ¥100 off without rice.
Wild Steak & Hamburg Combo (ワイルドステーキ&ハンバーグコンボ)
Steak 150g + Hamburg 150g ¥1,250
Steak 300g + Hamburg 150g ¥1,850
Includes soup, salad, and rice. ¥100 off without rice.
For the dinner menu, the items are cheaper if you come during lunchtime as well. For the items that have a price per gram, you can choose the weight you want even if it's not listed here.
Menu Item/Price per Gram
Lunch Price
Dinner Price
Ribeye Steak (リブロースステーキ)
¥6.9/g
300g ¥1,970
400g ¥2,610
500g ¥3,250
300g ¥2,070
400g ¥2,760
Top Ribeye Steak (トップリブステーキ)
¥7.3/g
200g ¥1,360
300g ¥2,040
400g ¥2,720
200g ¥1,460
300g ¥2,190
Middle Ribeye Steak (ミドルリブステーキ)
¥6.6/g
200g ¥1,220
300g ¥1,830
400g ¥2,440
200g ¥1,320
300g ¥1,980
Fillet Steak (ヒレステーキ)
¥9/g
200g ¥1,700
300g ¥2,100
400g ¥2,800
200g ¥1,820
300g ¥2,700
CAB Angus Sirloin Steak (CABアンガス牛サーロインステーキ)
¥7.5/g
200g ¥1,400
300g ¥2,100
400g ¥2,800
200g ¥1,500
300g ¥2,250
Aged Japanese Sirloin Steak (本格熟成国産牛サーロインステーキ)
¥12/g
200g ¥2,300
300g ¥3,450
400g ¥4,600
200g ¥2,400
300g ¥3,600
Aged Japanese Rib Roast Steak (本格熟成国産牛リブロースステーキ)
¥12/g
200g ¥2,300
300g ¥3,450
200g ¥2,400
300g ¥3,600
Other items
Menu Item
Price
Rice & Ikinari Small Salad Set (ライス&いきなりスモールサラダセット)
¥350
Soup and Rice Set (ライス&いきなりスモールサラダセット)
¥350
Rice & Soup & Ikinari Small Salad Set (ライス&いきなりスモールサラダセット)
¥480
Ikinari Salad (いきなりサラダ)
Small ¥180
Regular ¥330
Caesar Salad
Small ¥230
Regular ¥350
Curry Sauce Topping (トッピングカレーソース)
¥100
Original Blue Cheese Sauce Dressing (オリジナルブルーチーズソース(ドレッシング))
¥100
Soup (スープ)
¥190
Rice (ライス)
¥200
Garlic Rice (ガーリックライス)
¥200
Drinks
Depending on the outlet, there might be small differences in the drinks prices.
| | |
| --- | --- |
| Menu Item | Price |
| Coke (コーラ) | ¥300 |
| Coke Zero (コーラZERO) | ¥300 |
| Sparkling Water (炭酸水) | ¥300 |
| Oolong Tea (黒烏龍茶) | ¥300 |
| Calpis (カルピス) (Not available in all outlets) | ¥300 |
| Orange Drink (オレンジドリンク) (Not available in all outlets) | ¥300 |
| Non-Alcohol Beer (ノンアルコールビール) | ¥400 |
| Draft Beer (生ビール) | ¥500 |
| Glass Beer (グラスビール) | ¥270 |
| Highball (ハイボール) | ¥420 |
| Glass Wine (Red/White) (グラスワイン(赤/白)) | ¥520 |
| Bottle Wine (Red/White) (ボトルワイン(赤/白)) | ¥2,600 |
| BYO(Bring Your Own) | ¥1,000 |
How to Order?
If you are ordering the lunch set, which is probably the most popular menu item in the store. You get to choose the following
Type of Meat
The Wild Steak is the most popular.
Grammage of Meat
I would recommend either 200g or 300g. I personally go for 300g each time.
Type of Vegetable
You won't be asked about this, so unless you request a change, you'll be served with corn. You can choose between corn, saute garlic, green beans, potato, broccoli, grated radish, onion, and carrot. I personally get the broccoli each time.
Portion of Rice
You can choose between small, regular or large size. Note that you can also ask for a refill just once, at any of the sizes.
So, for me, I would order Wild Steak 300g, change to broccoli and a large portion of rice.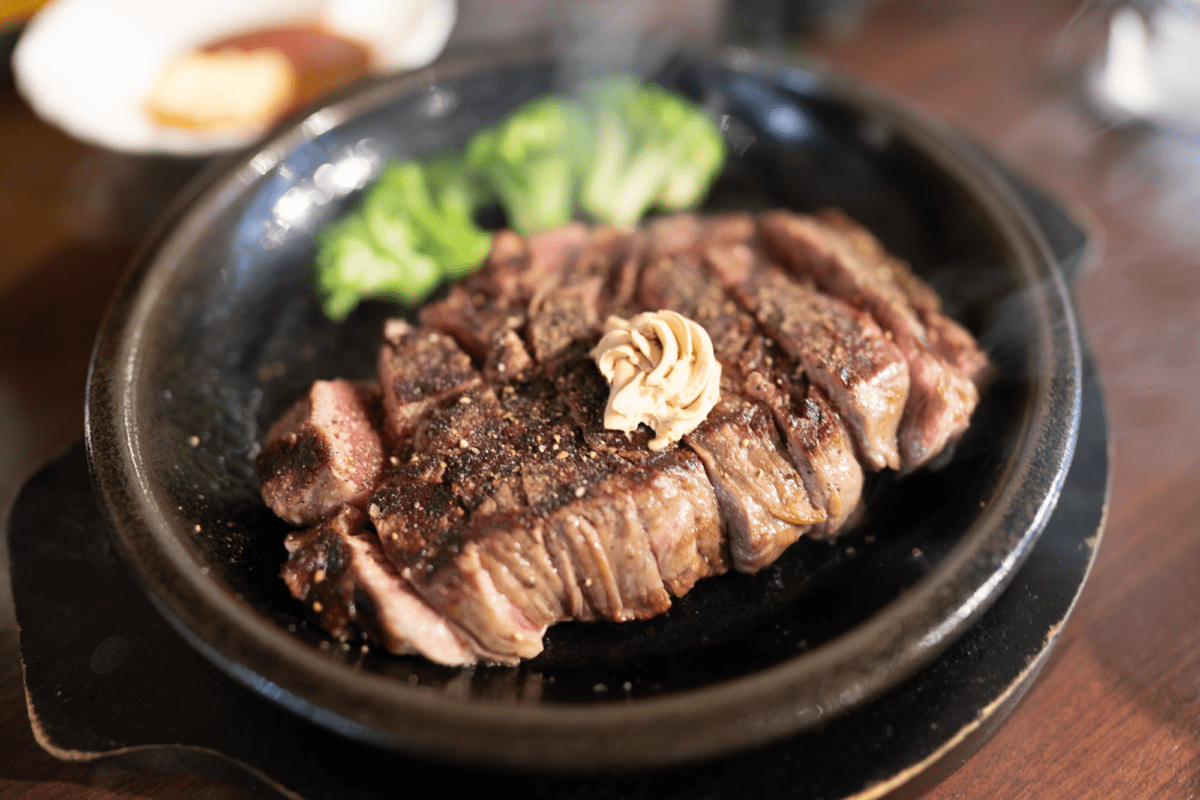 If you are going for the non-set menu items, then you'll be given a card. You take the card to the person by the counter with a weighing machine, and tell them the type of meat, followed by the grammage you want.
They would then cut a piece and put it on the weighing scale in front of you. The weight will usually be off by about a few grams and they would ask you to confirm if it's okay, as you would be paying for the extra as well.
You can also specify the doneness. If you don't specify anything, it will be served to you medium-rare. Of course, you can see them grilling it in front of you if you like.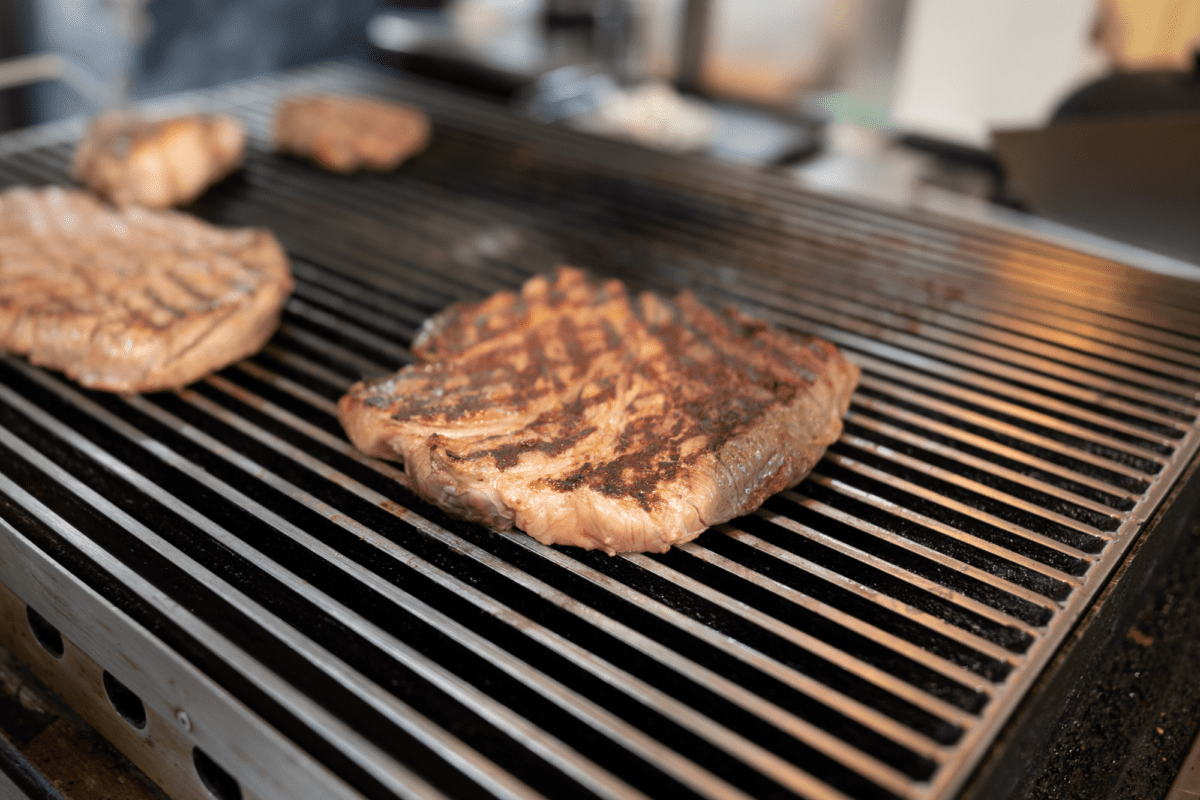 Confirm your order and pass them your card and they would bring it to you once it's done.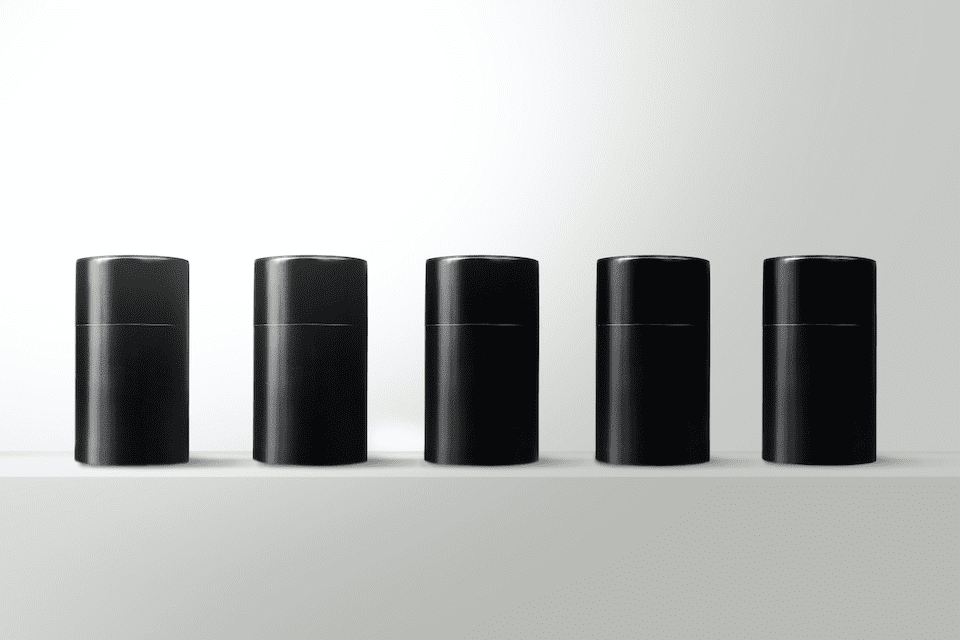 I found a 100 year old company that would create these heirloom quality canisters for me. They are handmade and will keep your tea leaves, coffee beans or anything that you need dry for years to come.
or read review
Niku Mileage Club
Alright, now that you've gotten the basics now. Here's how to go down the rabbit hole. Ikinari Steak has a loyalty program called Niku Mileage Club which grants you a few membership status the more you eat.
With each level, you also gain some perks.
Level
Required Grammage
Perks
Member's Card
0g
¥500 birthday coupon
Ikinari Steak app is required to use it.
Gold Card
3,000g
¥1,000 coupon
300g US Ribeye on birthday month.
1 free soft drink per visit
Platinum Card
20,000g
¥3,000 coupon
300g of any steak on birthday month.
1 free drink (including alcohol) per visit
Coupons every 20,000g
– 40,000g ¥3,000
– 60,000g ¥4,000
– 80,000g ¥5,000
Diamond Card
100,000g
¥10,000 coupon
300g of any steak on birthday month.
Skip the queue for you and a friend
1 free drink (including alcohol) per visit for you and one friend.
You are required to sign up for the newsletter.
I personally have the gold card, and I think it's relatively easy to attain it. You just need to eat the 300g steak 10 times. But it gets hard after that. Unless you eat regularly or be smart about it, you will not easily get the next level.
So, here's are some tips for you to level up quicker and spend less doing so.
Use the app to pay for your meals to get a small discount on your meals. Check out Niku Money for details.
Calculate the amount of money you will spend to see if it's worth it to go for the next tier. For example, to get the gold card, you need to eat at least 10 Wild Steak lunch sets, which will cost you a total of 15,290 yen if you eat the 300g each time. You should decide if it worth it.
Niku Money
So, while they issue physical cards, you can also use the app to show your membership card when you are claiming your free drink. Apart from the loyalty program, they also have their own form of mobile payment called Niku Money. It's basically a wallet that you charge and use to pay in-store.
But how it helps with leveling up, is that you can reduce the money you spend here by topping up on certain days. Here's how the system works.
You can charge in only the following amounts: 3,000 yen, 5,000 yen, 10,000 yen, 20,000 yen, 30,000 yen, 40,000 yen and 49,000 yen. The maximum amount that can be stored on the wallet is 50,000 yen. Why charge? You get a small bonus by doing so. The bonuses are
3,000 yen and above – 1%
5,000 yen and above – 2%
10,000 yen and above – 3%
So, for example, if you charge 10,000 yen, you get an extra 3%, which is 300 yen as a bonus. But, if you charge on the 29th of each month, which is Meat Day in Japan, the bonus will be five times! So, it will be
3,000 yen and above – 5% (3,150 yen)
5,000 yen and above – 10% (5,500 yen)
10,000 yen and above – 15% (11,500 yen)
You have to take note that you cannot use your credit card to charge it at the store for this day. You can only charge with cash at the store. You can charge with a credit card if you use the app.
You want to take note that the stored value can expire! It's a year from the time you charge or last used whichever comes later. But it shouldn't be hard to visit this place at least once a year.
How I Eat My Ikinari Steak
Alright, time to get personal. I've done the rodeo enough times to have a way that I eat. As mentioned, I always go for the 300g Wild Steak set, changing the vegetable to broccoli and a large portion of rice. I make the order the moment I walk into the shop, including all the options so no time is wasted.
The soup, salad, and drink (for Gold Members) will usually come first. I put the Ikinari dressing, which is a sort of onion salad dressing, on the salad. I add a little pepper to the soup. I would be done with the salad and soup before the steak arrives.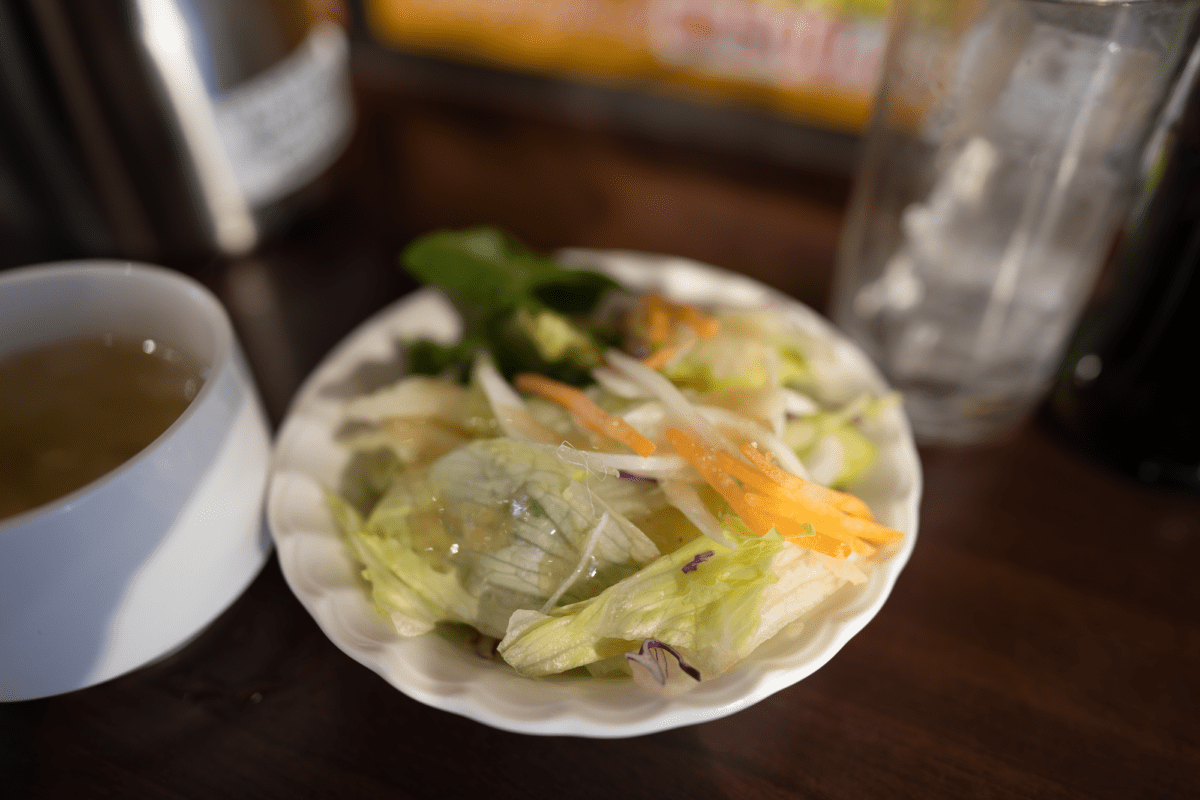 I use the empty salad bowl to hold my sauces. I put a generous amount of the minced garlic and sweet steak sauce. I would dip each bite of steak and broccoli into it. You can imagine how much I like garlic.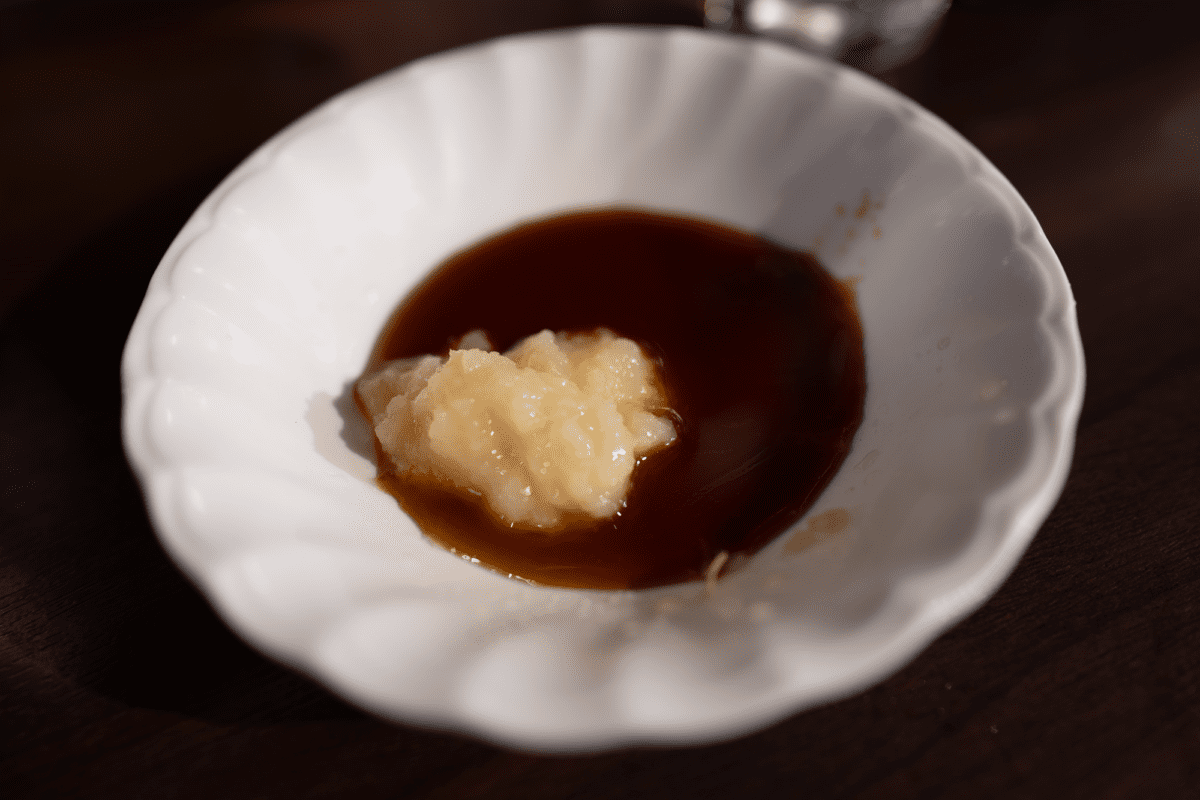 The moment the steak arrives, I spread the garlic butter all over the steak and splash a little steak sauce on it. I hope you are wearing the paper bib, because it's going to fizzle all over the place.
Then, I start flipping each slice of steak onto the side. You need to do this, or you'll end up with very rare steak. While it cooks on the side, I cut it up into bite-size pieces so I can concentrate on just eating once it's ready.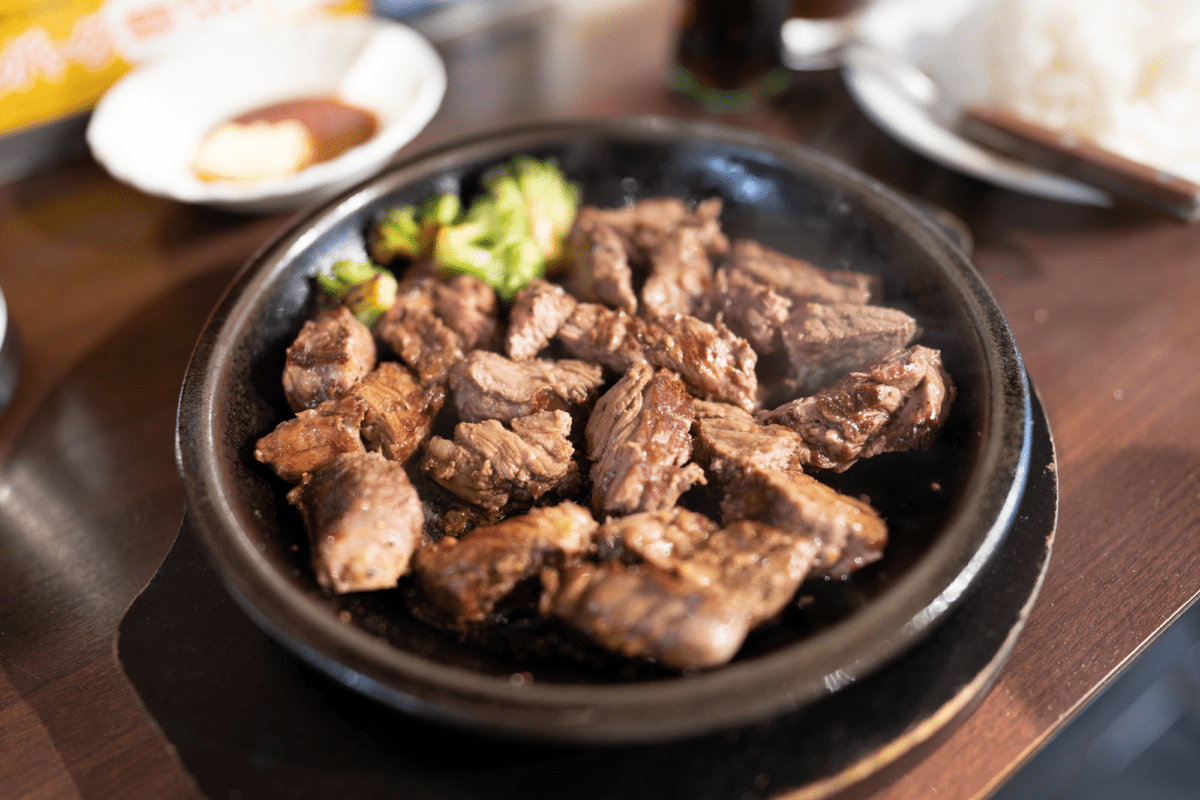 I try to pace the amount of rice eaten such that I finish it by about half the steak and get a free refill. Suffice to say, this is usually my only meal of the day.
While there are some outlets that have seats, the one I go to is usually standing only. So I don't waste much time and usually finish my food within half an hour.
The fun thing about Ikinari Steak is that you can eat your steak the way you want and have fun trying the different sauces available.
Conclusion
Ikinari Steak is without a doubt the go-to place for anyone looking to feast on juicy steaks on a regular basis.
Tagged food ikinari steak japan life